After the storming of the U.S. Capitol on Jan. 6, you heard variations of this line: "This is not who we are." On Inauguration Day, you heard variations of this line: "Now is a time for unity."
Not so fast, say Bates social scientists who spoke on Martin Luther King Jr. Day at Bates.
The idea that "this isn't who we are," that "white supremacy and democracy have not been in fundamental contest for at least the past 150 years, is just a dangerous misconception," said Assistant Professor of History Andrew Baker.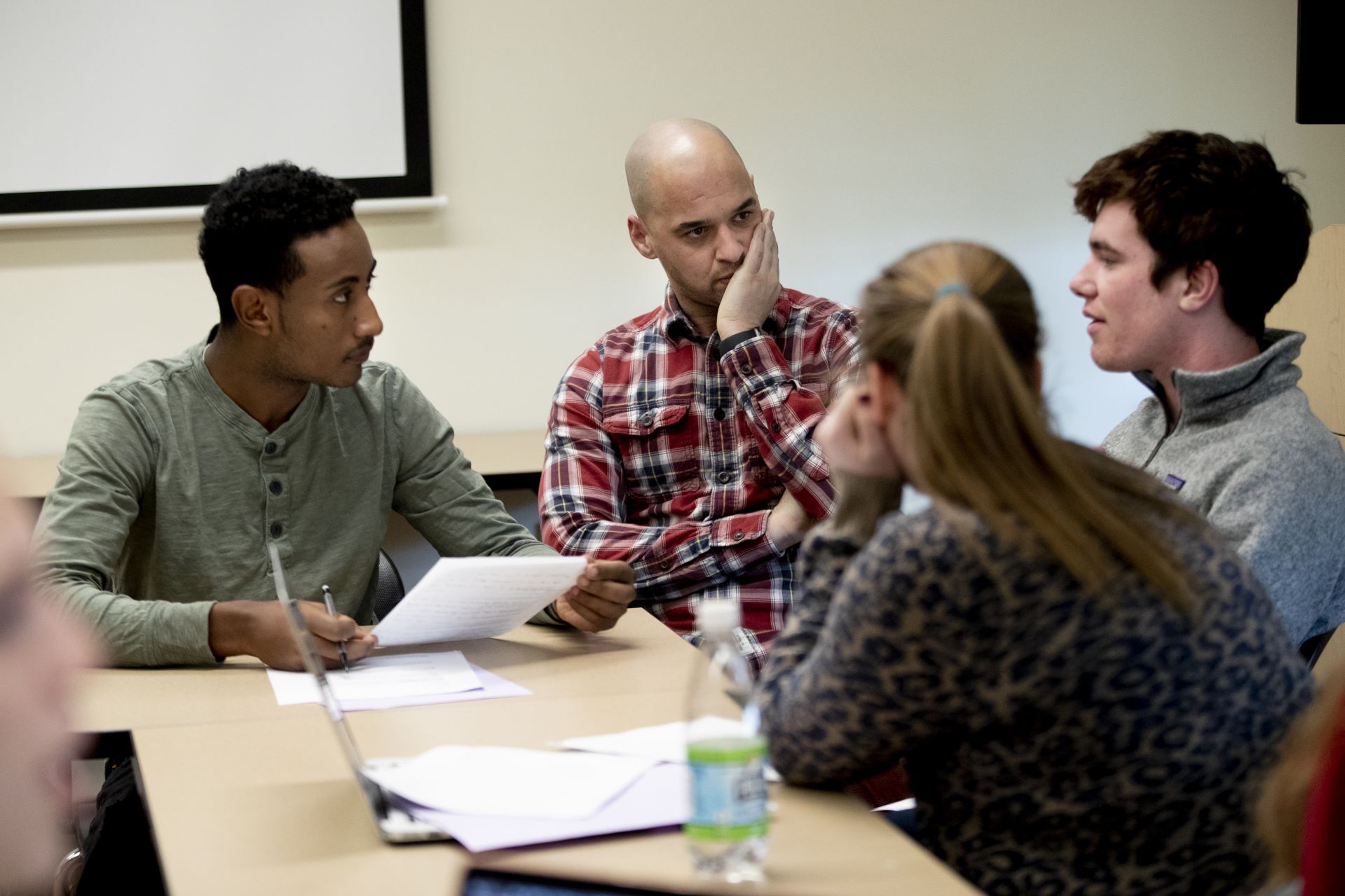 A call for unity is equally problematic, said Professor of Politics Stephen Engel. A functioning democracy depends in large part on the political opposition remaining loyal to the constitution and the rule of law. The events of Jan. 6 clearly violated that idea. But recovering a critical component of democracy, however, does not "come through any blind call for unity," he said. "It doesn't come by sweeping aside the deliberate violation of constitutional principles."
Joining Baker and Engel were Professor Emerita of Politics Leslie Hill, Associate Professor of Politics John Baughman, and budding scholar Allen Sumrall '16, who is working on his Ph.D. in government and completing law school, both at the University of Texas at Austin. The session was moderated by Noelle Chaddock, vice president for equity and inclusion.
One flag tells the real story
Of the various banners and flags toted by the insurrectionists, such as Trump banners, the current American flag, the Confederate flag, and the 1776 flag, Andrew Baker says to pay attention to the latter two, especially the Confederate flag.
The 1776 flag "is essentially how the insurrectionists saw themselves, as American patriots." But don't be fooled: "Fascist or proto-fascist movements often invoke history to justify what they're doing in the present."
For Baker, a historian of 19th-century U.S., "the flag that really stood out to me was the one that said the quiet part out loud": the Confederate flag.
Looking at the Civil War and its problematic aftermatch, Reconstruction, not the American Revolution, is perhaps "the more accurate way of imagining" what's happening now.
Reconstruction "was a contest between white supremacy and democracy." Following emancipation, Black people were given the right to vote, which triggered a "violent white supremacist backlash," including the emergence of the Ku Klux Klan, "a paramilitary terrorist organization designed entirely to subvert democracy and to reorient Southern politics along the lines of white supremacy."
In subsequent years, the South gained "home rule," says Baker, and Jim Crow was born and thrived until the "partial success" of the civil rights movement in the 1950s and '60s.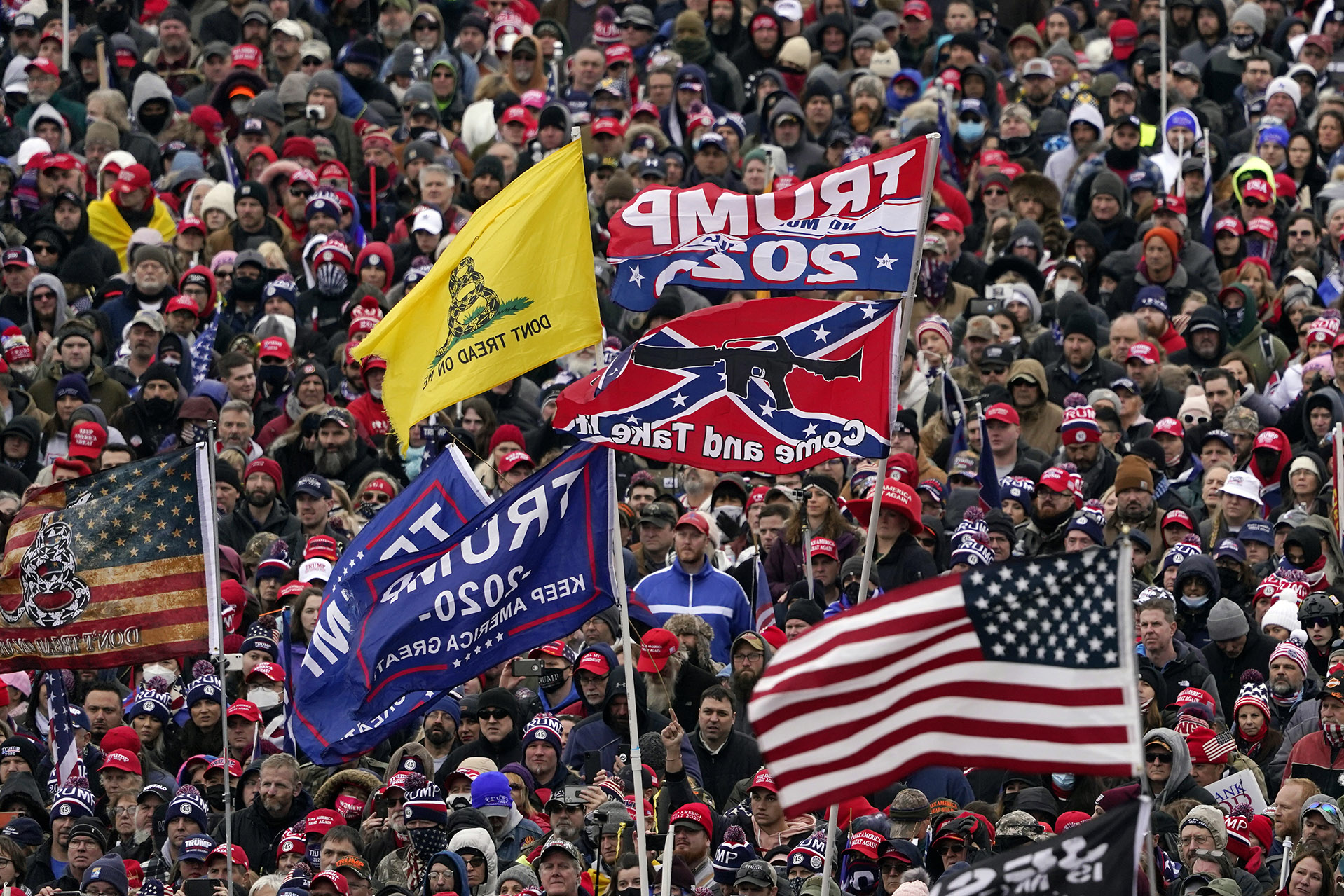 This is who we are
As she watched the insurrection unfold on TV, Leslie Hill was also struck by the "this is not who we are" narrative coming from members of Congress and others.
"I kept thinking to myself, "Wait a minute. What are you talking about? If one thinks about the history of this country and the symbolism of racism, of Nazi ideology, that was on the signs and the symbols used by folks who were breaking in, I thought to myself, 'Yes, indeed. This is who we are.'"
The call to "move on" does a "tremendous disservice, because the responses to this riotous, violent white supremacist mob is indeed characteristic of who we are, and just how central race and white supremacy specifically had been to U.S. politics."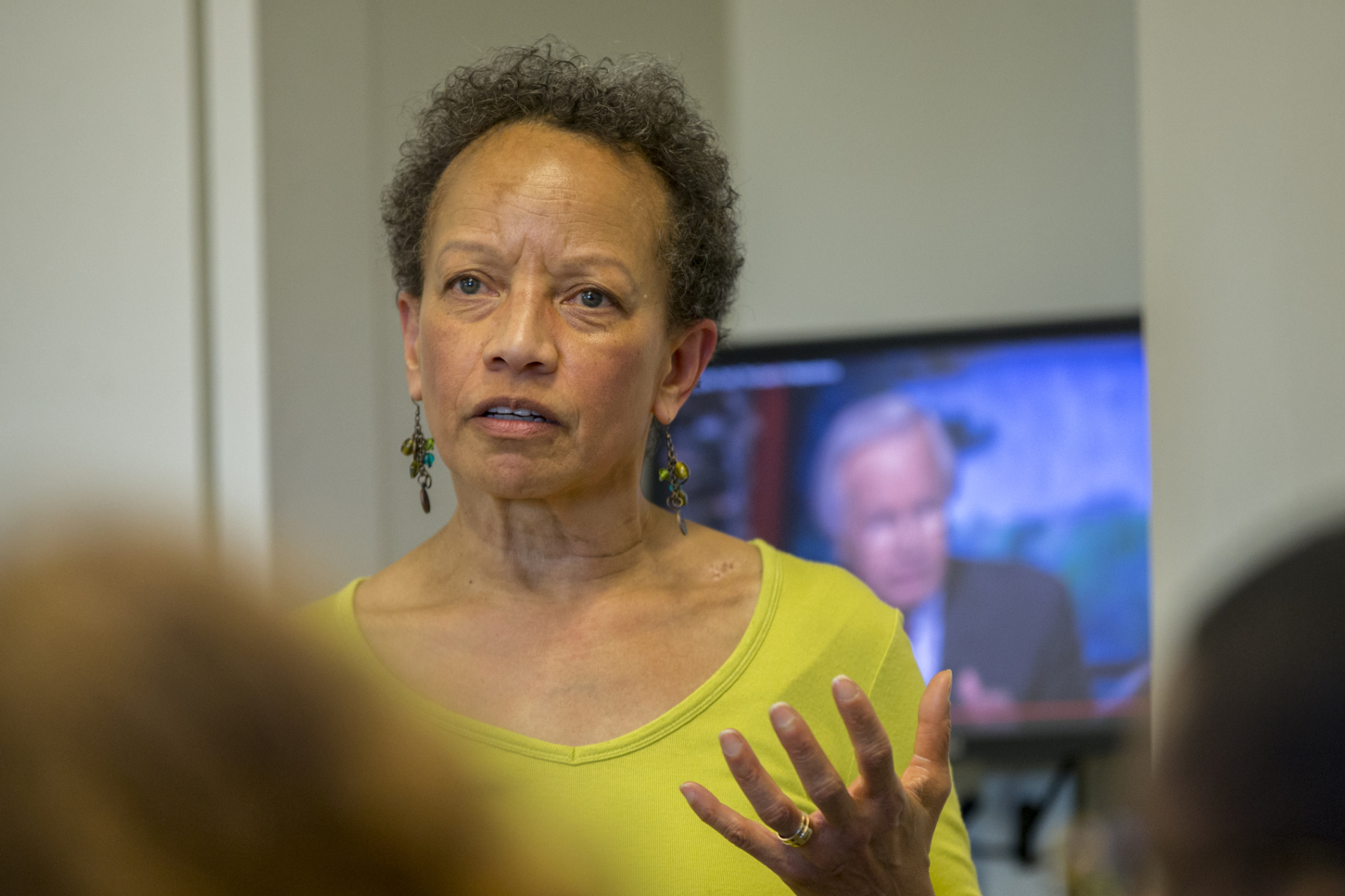 Indeed, "America's original sin — the expropriation of Indian and Mexican lands, the exploitation of African labor, the uses of and undervaluation of Chinese labor and immigrant labor — has been an ongoing, consistent part of our country's history. Trump's speech to marchers on Jan. 6, to 'take back our country,' advances the kind of myths that enabled America's original sin and its legacy."
People misunderstand impeachment
Many people think that "you can't impeach someone unless they've broken a law or done something indictable," Sumrall explained.
But that's not accurate.
In his published research, Sumrall has found that people began thinking of impeachment as a legal process in the early 1800s with the nation's second and third impeachments, involving judges.
Rather than a legal process, impeachment is a tool that Congress has "to remove officials who are abusing their office. It's a punishment," he said, and is needed to assure balance of power among branches.
Alexander Hamilton summed up impeachment "pretty well," said Sumrall, in Federalist 65, saying that impeachable offenses "are of a nature which may with peculiar propriety be denominated political, as they relate chiefly to injuries done immediately to the society itself."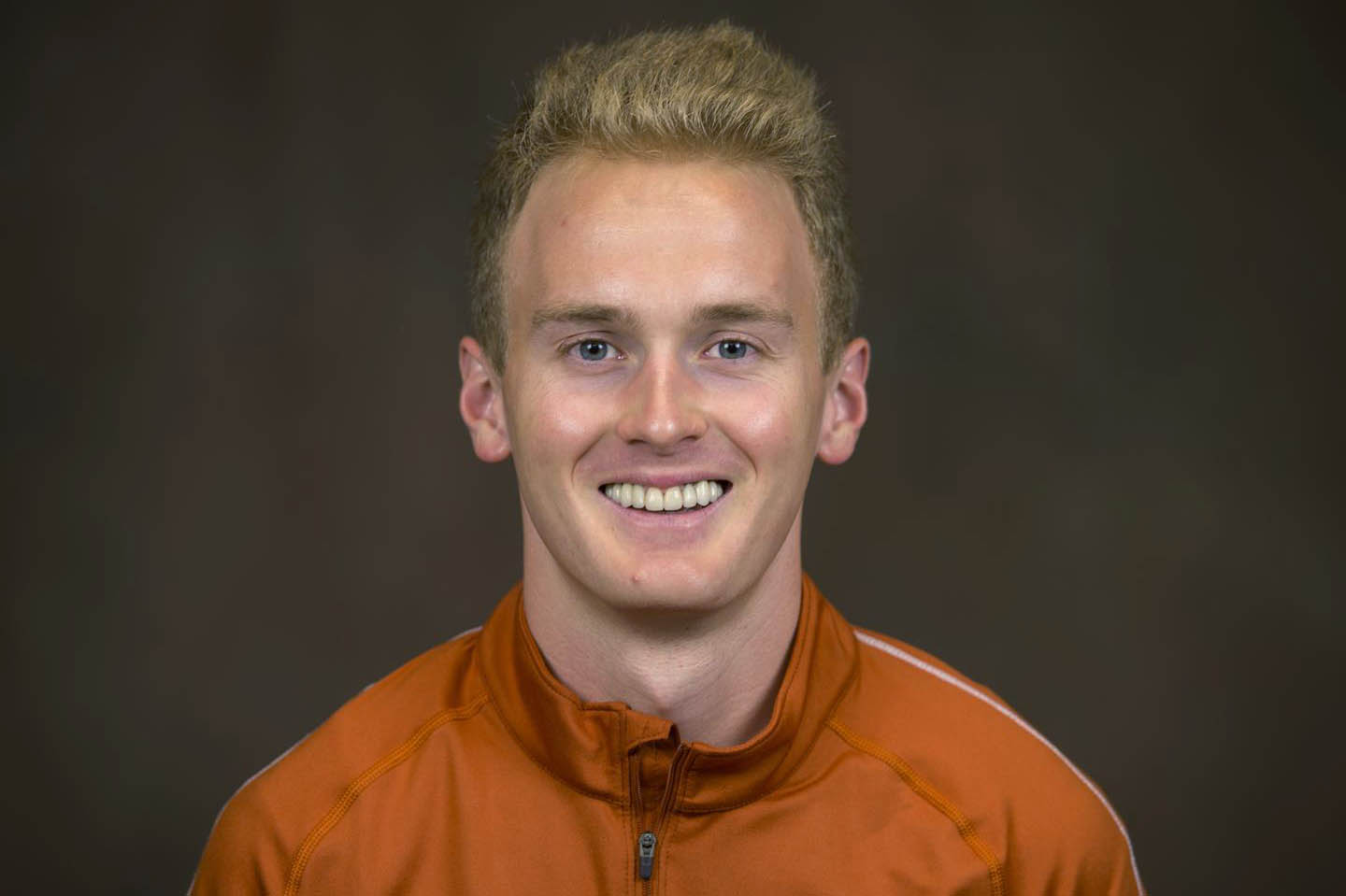 In this sense, "political" doesn't mean ideological or partisan but "the integrity of the political system," said Sumrall, who is pursuing both a law degree and a Ph.D., specializing in public law and American politics.
"Trump's conduct over the last four years, frankly, but particularly most egregiously last week, really fits this definition to a T," he said.
"It's a classic, paradigmatic case for impeachment: inciting a violent insurrection on the steps of the Capitol with the hopes of that members of Congress will be taken prisoners so they cannot certify the results of a legitimate democratic election, and then failing to do anything about it while it plays out on live TV is exactly what impeachment was designed for."
The media and others are advancing individualism at the expense of community
In making sense of the insurrection, Stephen Engel quoted feminist media studies scholar Marian Meyers, who wrote that mainstream media, such as TV, film, and other forms of cultural representation, have effectively sold an "agenda and ideology that supplants as societal goals the notions of democracy, equality, the common good, and community with neoliberalism, freedom, individualism, and choice."
Engel says that those latter ideas and values have been readily "picked up and articulated in legal academia and legal movements, particularly the conservative legal movement, as well as on the Supreme Court, particularly by Trump's three appointees, who were favorites of the Federalist Society."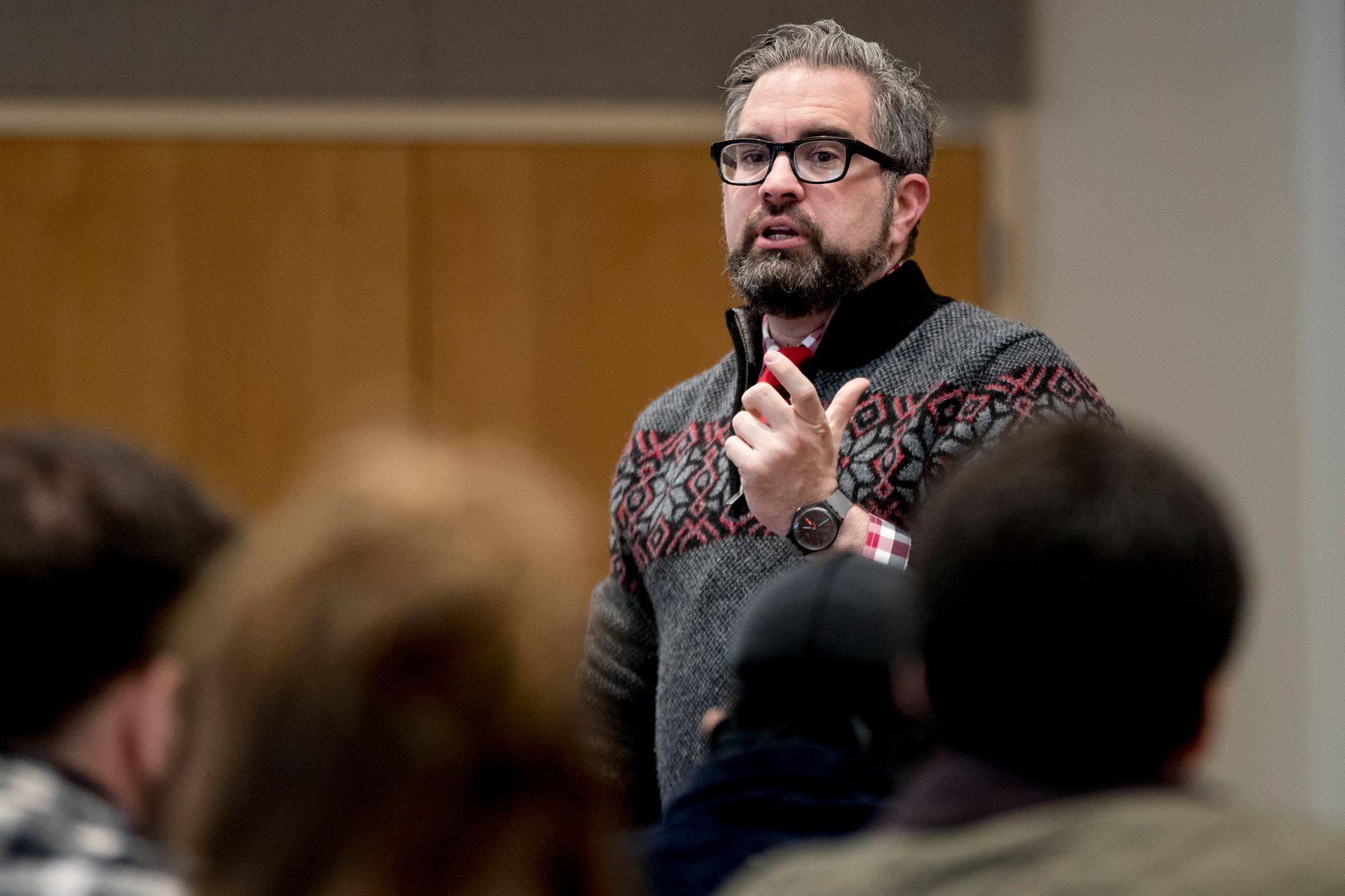 With that reframing ongoing, "it's hardly surprising that a year into a global pandemic, an act of public responsibility and community health such as wearing a face mask can be perversely warped into a violation of individual choice."
And, when citizens come to value individualism over the common good, "we should not be surprised to see a political mob descend on the Capitol with their baseless claims that their freedom is disregarded, that their voices are the ones that are silenced, that their choices are the ones that are disrespected and it's their individual rights that are not upheld — all evidence, of course, to the contrary."
Impeachment is preferable to the 25th Amendment
Engel said it's perhaps better that Trump was impeached, rather than removed from office through the 25th Amendment.
Just maybe, Congress is willing to "reassert its co-equality after ceding so much responsibility to the executive branch over the course of the 20th century."
And, he said, there are sections of the 14th Amendment, Section 3 — which "maddeningly, like so much of the Constitution," seems incomplete — "that permit Congress to "essentially boot out its own members. And this may come into play as we investigate whether there are members that aided and abetted the mob."
But that "power will surely be rebuffed by another part of the Constitution by members' claims that they're protected by the long shadow cast by the speech and debate clause."
The Constitution as "parchment"
The Constitution is "parchment," said Engel, in that "there's nothing within it that compels its pronouncements to be observed." Enforcing the Constitution is "up to us."
We are beyond just "moving on"
Like a dysfunctional family that sweeps problems under the carpet, the current calls for unity, such as those heard at the inauguration, will only sow seeds of future trouble.
Though Trump is gone from office, "you can't move on without any reckoning of accountability," said Engel.
History explains why. During Reconstruction, when the forces of democracy and equality gave in to white supremacy, "it created a hundred years of Jim Crow oppression. Democracy needs to be vigorously defended against anti-democrats."
The Constitution provides the tools for this defense, in the form of expulsion, impeachment, the 14th Amendment, the 25th Amendment, "to say nothing of the popular power of election," Engel added. "I think we shouldn't shy away from learning about and using these tools."
The danger of pushing the myth of voter fraud is now clear
Though the forces of white supremacy have maintained a steady drumbeat of voter fraud for two decades now, numerous studies by scholars and audits by state and local officials have never found "any evidence of systematic or widespread voter fraud," said John Baughman.
And yet, this "drumbeat built sufficiently to the point that states started adopting these voter ID laws and other restrictions on voting," he added. "These laws affect citizens disproportionately due to issues of access and the cost of IDs, and, more insidiously, particularly affect Black voters."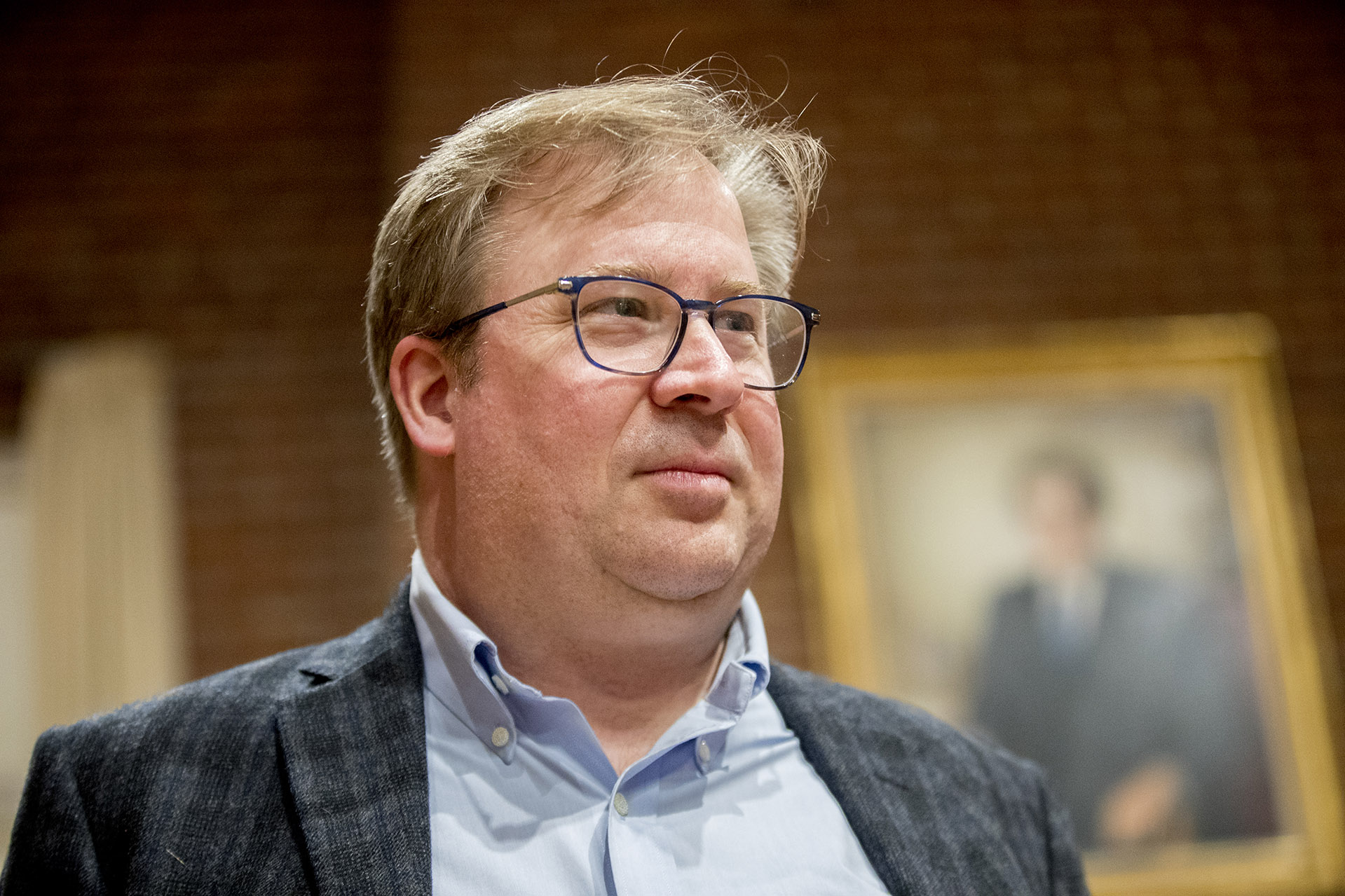 The racist rhetoric around voting "induces changes in election administration that disproportionately affect black voters." For example, "Black voters are more likely to be asked for an ID even in jurisdictions that do not require ID."
Then, when he was elected in 2016, Trump "claimed without evidence that more than more than 3million people had voted illegally."
When he lost the 2020 election — "by all accounts conducted extraordinarily well under extraordinary circumstances" — and then "lost nearly every court case that was brought regarding the election," he continued to claim voter fraud.
Baughman has called Trump's behavior a "grift and a con."
Now, we see that "it was a con with grave effects, because allies and supporters echoed and amplified the claims of the stolen election," Baughman said. When people no longer believe that elections work, "they resort to other methods to hold onto power. That's when they take up violent insurrection."
Don't expect white supremacy to fade away
Sumrall pointed to research in the 1980s by the scholar Verta Taylor suggesting that social movements — she was looking at the American women's movement — don't come and go.
Instead, they sometimes hibernate. "They go into these abeyance periods where they're kind of underground," but continue to exist.
Taylor's research has been extended, Sumrall says, "and it's shown that white nationalist movements have gone through cyclical abeyance periods and multiple iterations from Reconstruction into the 20th century."
Again, when talking about healing and reaching across the aisle, pretending that white supremacy is a fading danger, "all we're going to do is sort of postpone the inevitable."
Exactly, said Baker. "White supremacy historically lashes out in especially violent ways when it's under threat: Reconstruction, the Civil Rights Movement, and the era of Trump."
Enough with the "I have a dream" speech
Hill and others on MLK Day at Bates said that focusing on the dream part of King's speech does a disservice to anti-racist efforts.
A more realistic, and perhaps cautionary, speech by King, is what's known as his "Beyond Vietnam" speech, delivered exactly one year before he was assassinated. (Another helpful speech, suggested by Associate Professor of Michael Sargent during another session, is King's "Letter from a Birmingham Jail," for how King lays out a "framework for direct action.")
In "Beyond Vietnam," King highlighted the three forces that, working together, "threatened to usher in the destruction of America: racism, economic exploitation, and militarization," said Hill.
"This triple threat was on full display during the insurrection and mob violence at the Capitol and in its aftermath: racist and Nazi insignia; the desperation of people who are feeling economic fragility, not only inside the hall, but certainly outside in the supporters, both in Washington and online; and the militaristic, violent tactics that they used to storm the Capitol, were on display."
Rather than the "knee-jerk" response to the violence in Washington, D.C., in the form of a massive military response, what's needed is "leadership that is willing to think critically, leadership that is brave enough to think against the grain."
Leadership is needed "locally so that people come together to protect those Congresspeople who have stood up and said, 'I'm going to try to do the right thing.' They need protection because they're being threatened."
We need verbs, not nouns
It takes an "active citizenry to actually make democracy real," Hill said. "And, I would argue, we need not the noun. We need the verb. We need democracy making. And we each need to see our own responsibility in making democracy."
Sumrall indicated that scholars of democratization and comparative politics know that in other countries, broad pro-democracy coalitions take action to expressly repudiate authoritarian and white nationalist politics. "And insofar as we're just talking about healing, we're not doing that."
Are we a democracy?
The Bates scholars gave the U.S. some tough love when it came to a deceptively simple question: "Are we a democracy?"
"If we're looking at one fundamental tenet of democracy, the peaceful transition of power, we've failed on that," said Baughman. "Not just because of the insurrection, but because now the peaceful transition on Wednesday depends on a military occupation of the capital, to be blunt about it."
Suppose, he said, recent events are an aberration. "There's still another reason why we can't quite call ourselves a full democracy right now." A Democracy entails "shared rules of the game for the allocation of power," he added. "There's no agreement on those fundamental rules currently. Until there is wider agreement on those fundamental rules, I don't think we can call ourselves a real democracy."
Whether the U.S. is a democracy isn't a yes-no answer
Anyway, a binary yes-no discussion of whether the U.S. is or isn't a democracy isn't "theoretically robust or empirically correct," says Sumrall. "It's a process."
In fact, said Sumrall, if one takes a very long view, "the insurrection might not necessarily represent democratic decay or the death of democracy, but rather the very process of democratization."
Political progress in American is not linear
The process of democracy is not linear, said Baker, like a graph that shoots upward with 1776 as its starting point, with Abraham Lincoln and Martin Luther King as key data points in the climb.
The election of Barack Obama fed into that false narrative of linear progress. "We imagined that American racism had been resolved. If we had been more attentive to history, we probably would have realized all along that linearity and linear progress is not a way that we should conceptualize American democracy."
Recognition that the promise of progress can end in failure, "I would hope it would lend urgency to this moment beyond Joe Biden becoming president, and all of us sitting back and saying, 'Wow, we dodged the bullet. America is truly in the clear.' I think that would be the biggest possible mistake that we could make, and history is screaming at us that to do so would be potentially disastrous."
The U.S. might still be having growing pains
The U.S. is a 244-year-old country, but not a very old democracy, suggests Engel. In terms of resembling a democracy, maybe it dates only to the Voting Rights Act of 1965.
"We're a young democracy in that sense. Those who held power for so long are now reacting to the reality that a robust, multicultural, diverse democracy is going to have to be more open to different folks having different power."
And, he concluded, "I think 'what we are' was made manifest in actions like the Jan. 6 insurrection and how we choose to respond to them."