A Bates haunt since the 1950s, Luiggi's Pizzeria, next door to the Blue Goose on the corner of Sabattus and Horton streets, is named for its founder, Luiggi Carmino Talarico.
From Albi to Lewiston
Luiggi "Louis" Talarico was born in 1922 in Albi, Italy. After immigrating to America and settling in Lewiston, he and his wife, Annis, founded the pizzeria at the corner of Horton and Sabattus streets in 1953. A former deputy chief of the Lewiston Fire Department, he died in 1992.
His brother Frank, born in Lewiston 14 years later, was the well-known public face of the family business for years.
Luiggi's is now owned by several partners, including the St. Hilaire family, who also owns the Blue Goose pub next door. "Bates alumni know us pretty well," says co-owner Angie St. Hilaire.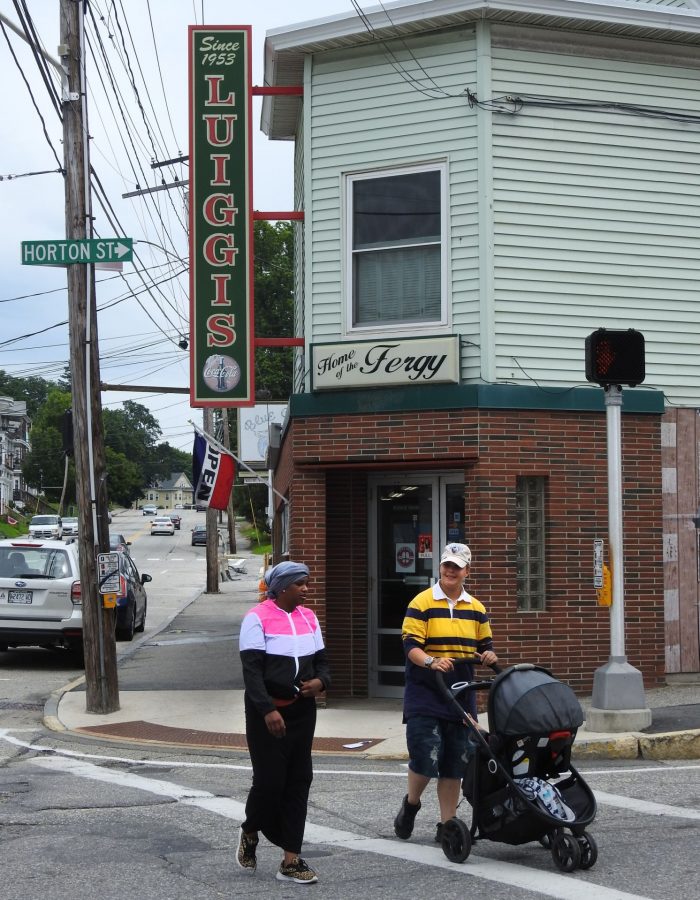 'Two with Onions'
The 1955 Mirror published photos and comments about five popular hangouts:
Luiggi's: "two with onions!"
Blue Goose: "pre-exam paradise"
Steckino's: "rolls and real butter"
Kenmore Hotel: "Saturday p.m. jazz sessions"
Ye Olde Hobby Shoppe: "Mike and the gang," a nod to Mike Buccigross '41, who owned the popular, 1950s-style malt shop.
The latter three are long gone, and the Hobby Shoppe building is now headquarters for Bates Campus Safety.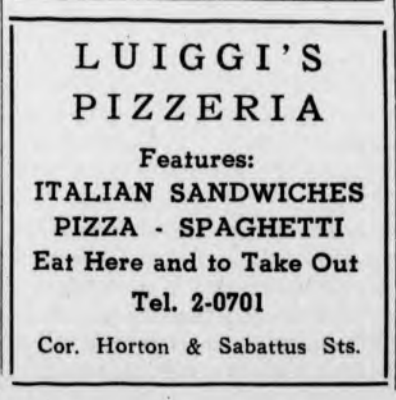 The Fergy
Created in the 1960s, Luiggi's signature sandwich, the Fergy, is named for Lewiston police officer Arthur Ferguson, a friend of the Talarico family, who "should receive a pension for conceiving it," noted The Bates Student in 1974.
Ferguson "was like 6-4 and took no crap," says a reviewer on Yelp!, where the restaurant garners four stars out of five. "He worked with another officer named Murphy, and when Murphy and Ferguson were on the beat down on Lisbon Street all was quiet. Those guys were tough as nails."
Ingredients for a Fergy: ham, American cheese, tomato, onion, lettuce, and mayo on Italian bread.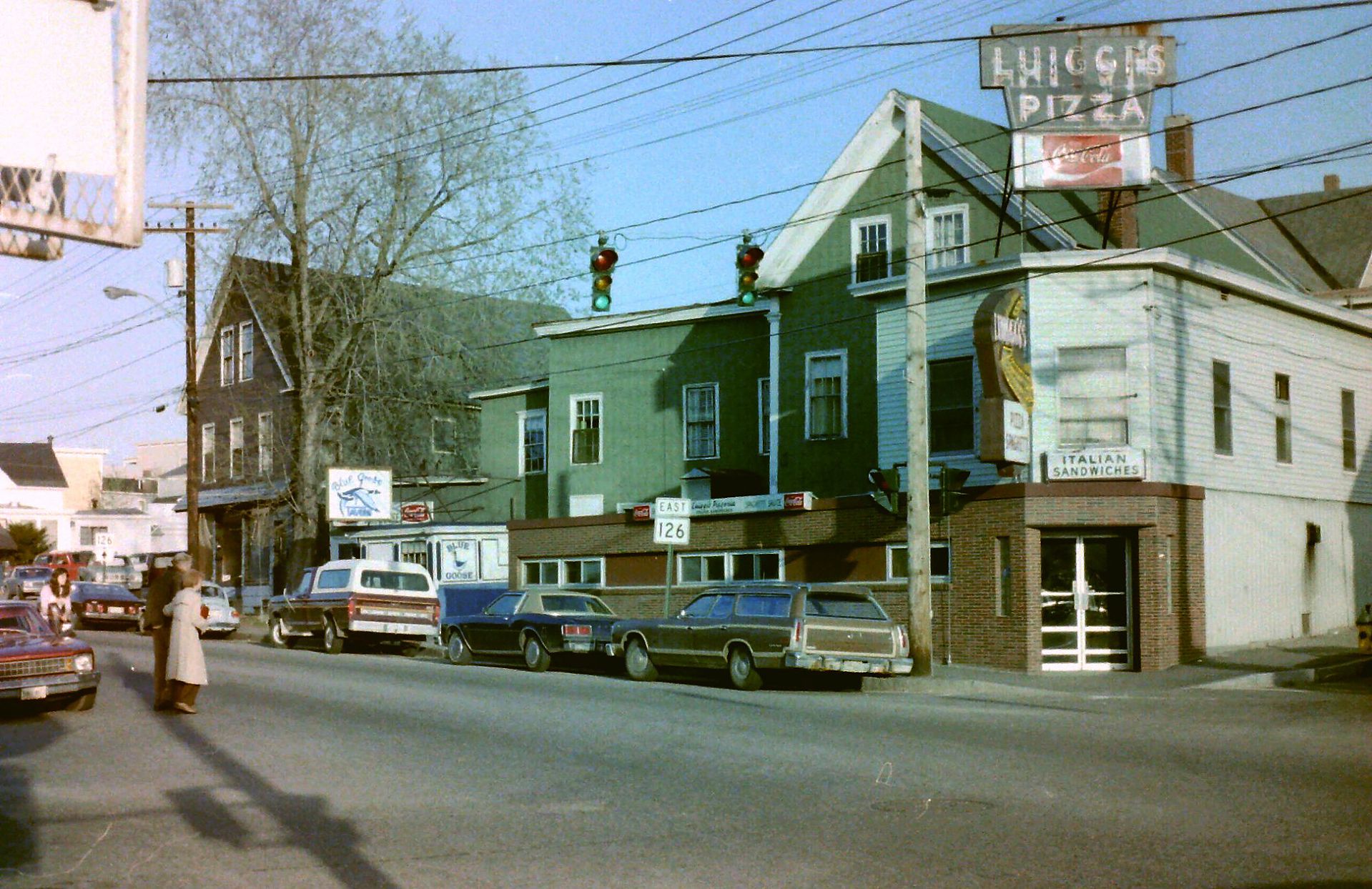 Rule of Three
The distance from the steps of Hathorn Hall to the front door of Luiggi's is exactly 3,000 feet.
Dogging It
By virtue of its meals being available for takeout, Luiggi's is included in Dog-Friendly New England: A Traveler's Companion.
Meat Me There
Iconic eateries have their quirks, and this is Luiggi's': All their pizzas, even a "plain" cheese pizza, have meat on them, a kind of luncheon meat.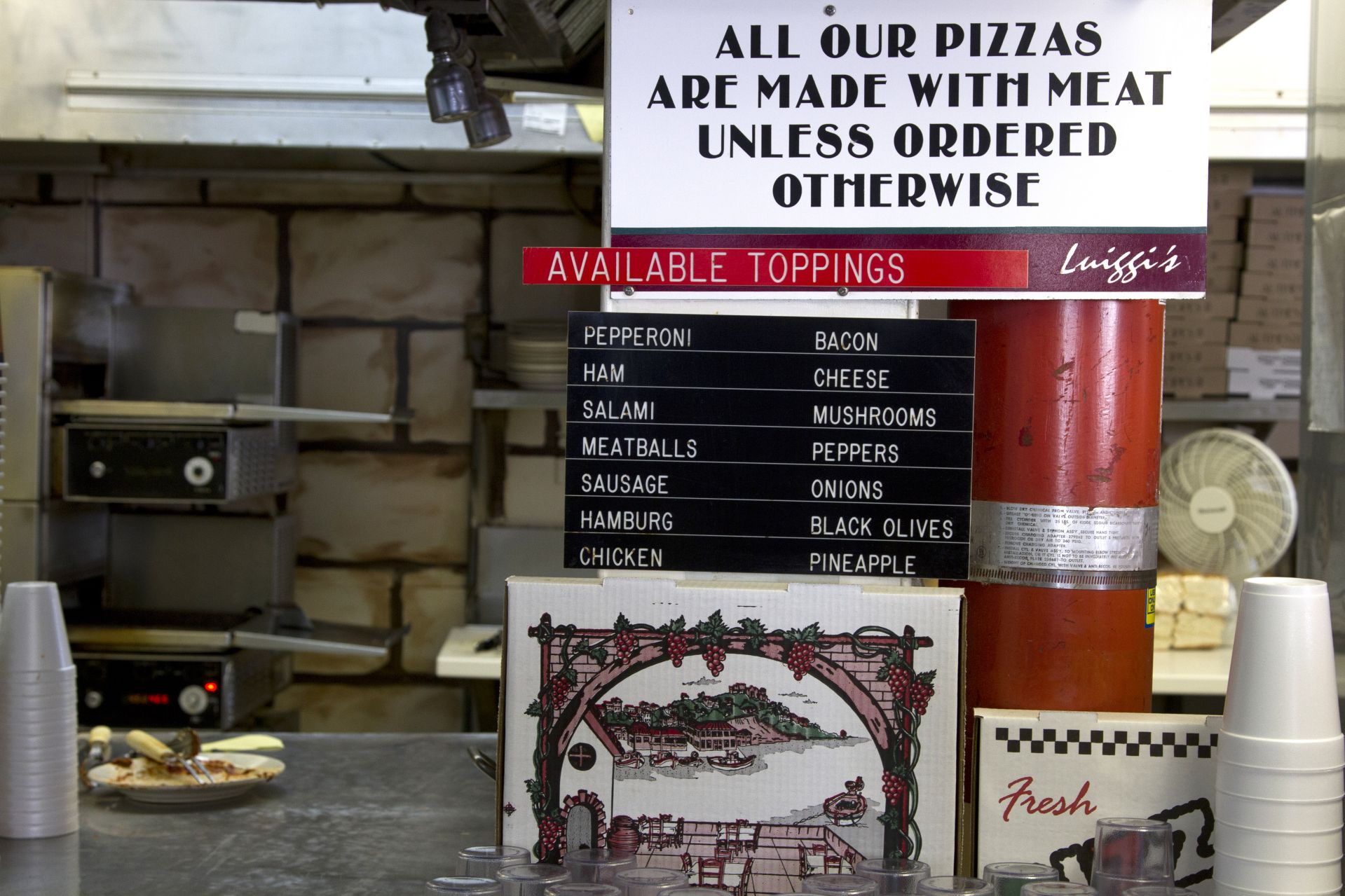 View Comments