Challenged by a surge of COVID-19 cases in early April, the college dug in its heels, implementing 11 days of in-room restrictions for all students.
With an understandable spring in their steps, students sprung from their rooms when the restrictions were lifted, embracing with delight all that April can offer during a pandemic: thesis binding, live theater, athletics, and a beautiful campus heading toward full bloom.
Thesis Bound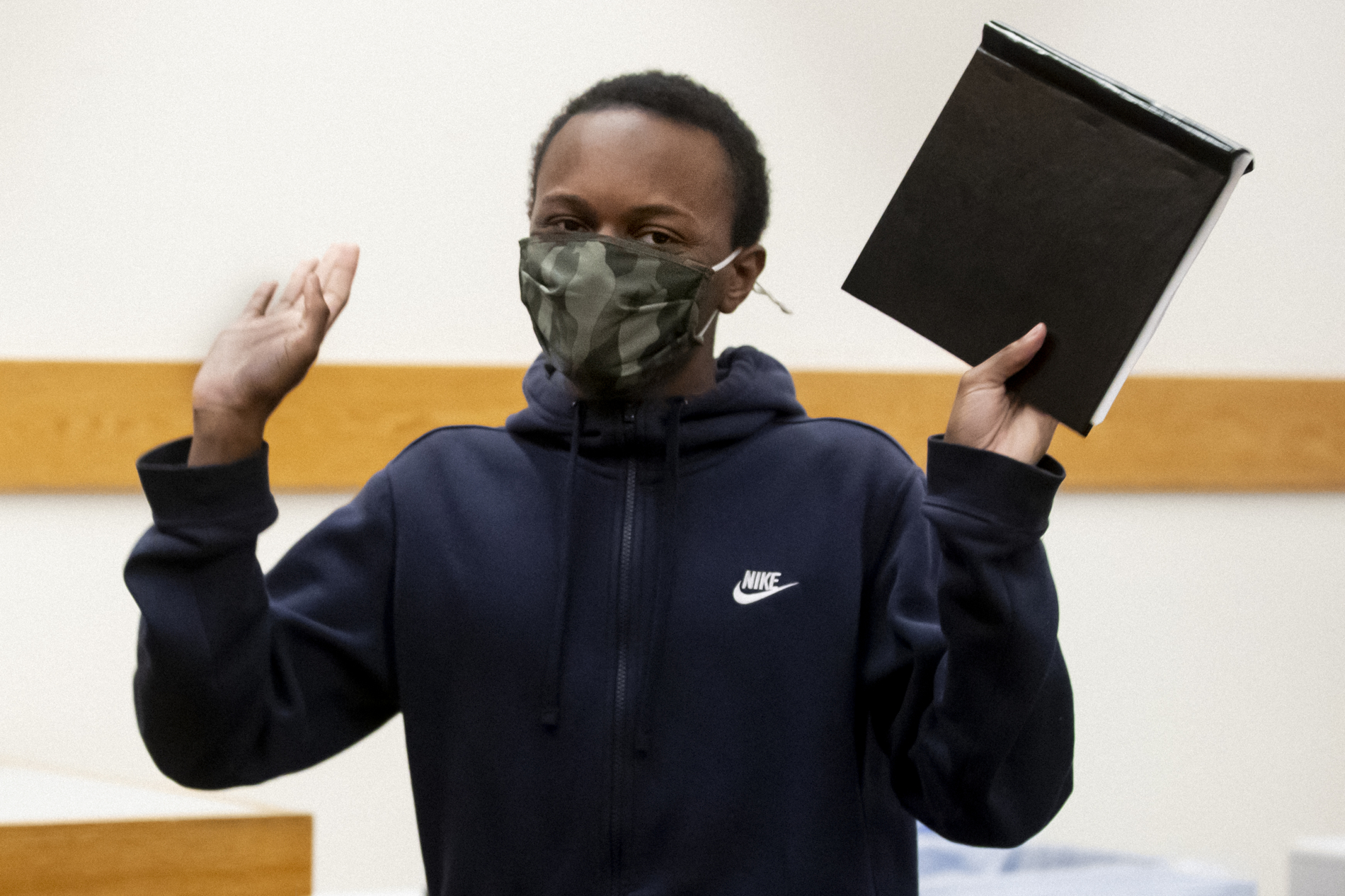 Africana major Joshua Redd '21 of Brooklyn, N.Y., savors a rite of passage: binding a senior thesis with friends in Ladd Library.
"I felt like all of the work that I'd done towards this moment had finally paid off," said Redd, whose honors thesis explores the experience of Black students in several New York City charter schools. "I'm just so happy that I got the chance to apply what I've learned to a project that I genuinely care about."
---
On a Roll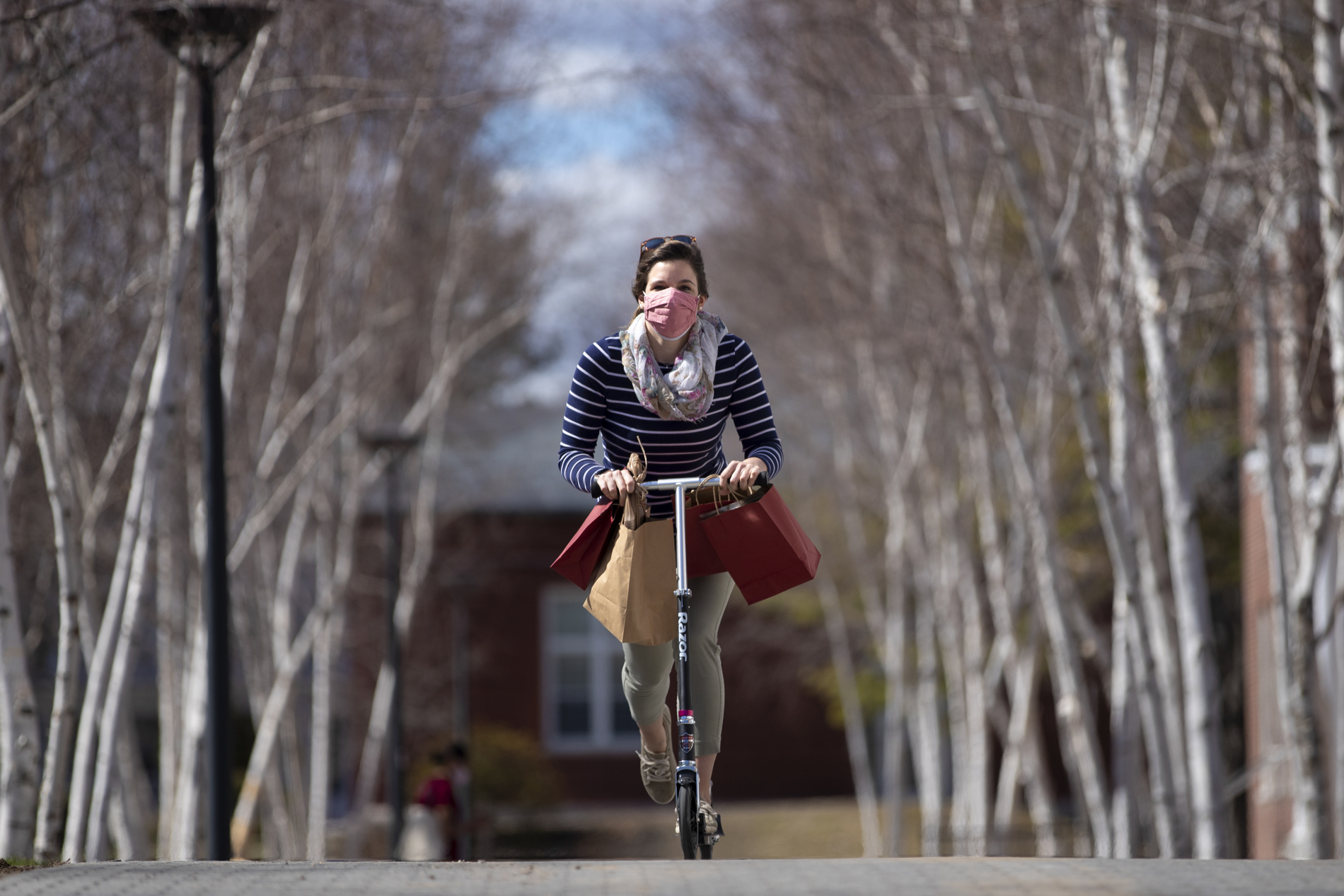 In early April, during an 11-day period of in-room isolation for all students due to an uptick in COVID-19 cases among students, Bates staff stepped up to help meet students' needs, delivering everything from snacks to tissues. Here, Associate Dean of Students for Residence Life and Health Education Molly Newton '11 uses her scooter to make a delivery.
---
Weathered Vane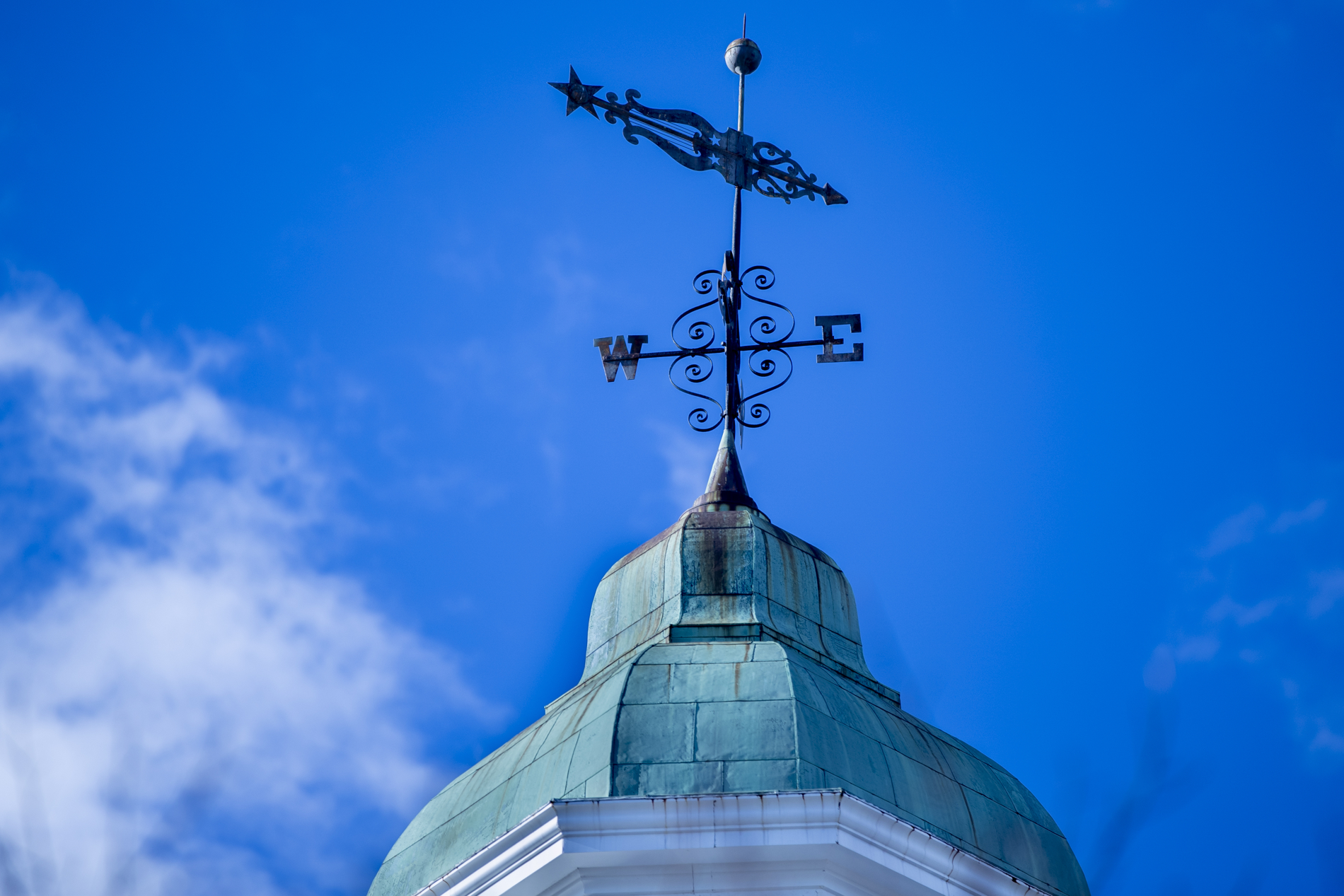 A bright blue sky highlights the iconic weathervane of historic Hathorn Hall. Completed in 1857, it is Bates' first building as well as one of Lewiston's 21 locations on the National Register of Historic Places.
---
Top Spin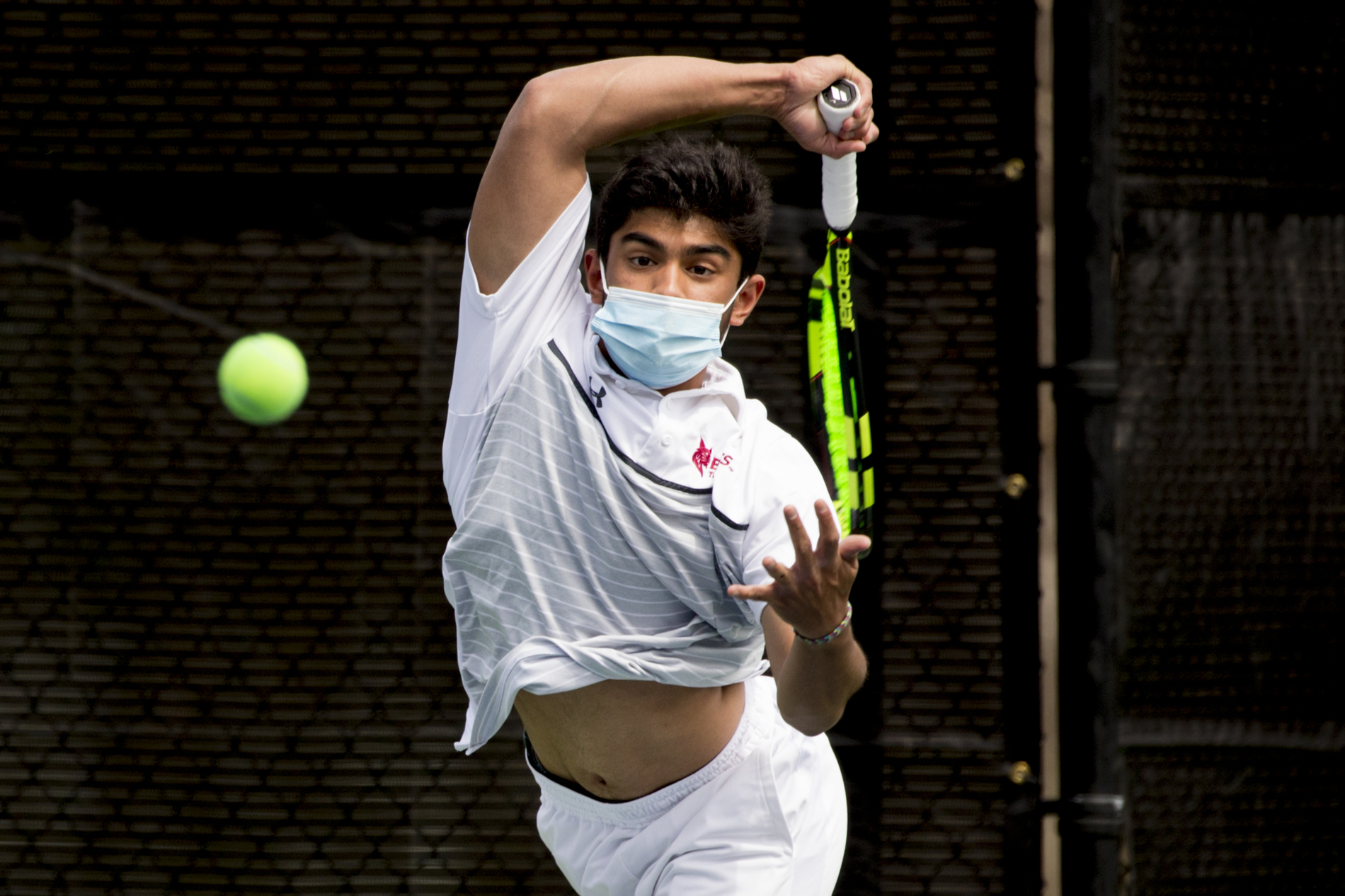 Nikesh Desai '24 of Hopkinton, Mass., rips a return against Tufts in a men's tennis match, the team's first home match since Oct. 13, 2019.
---
Under the Rainbow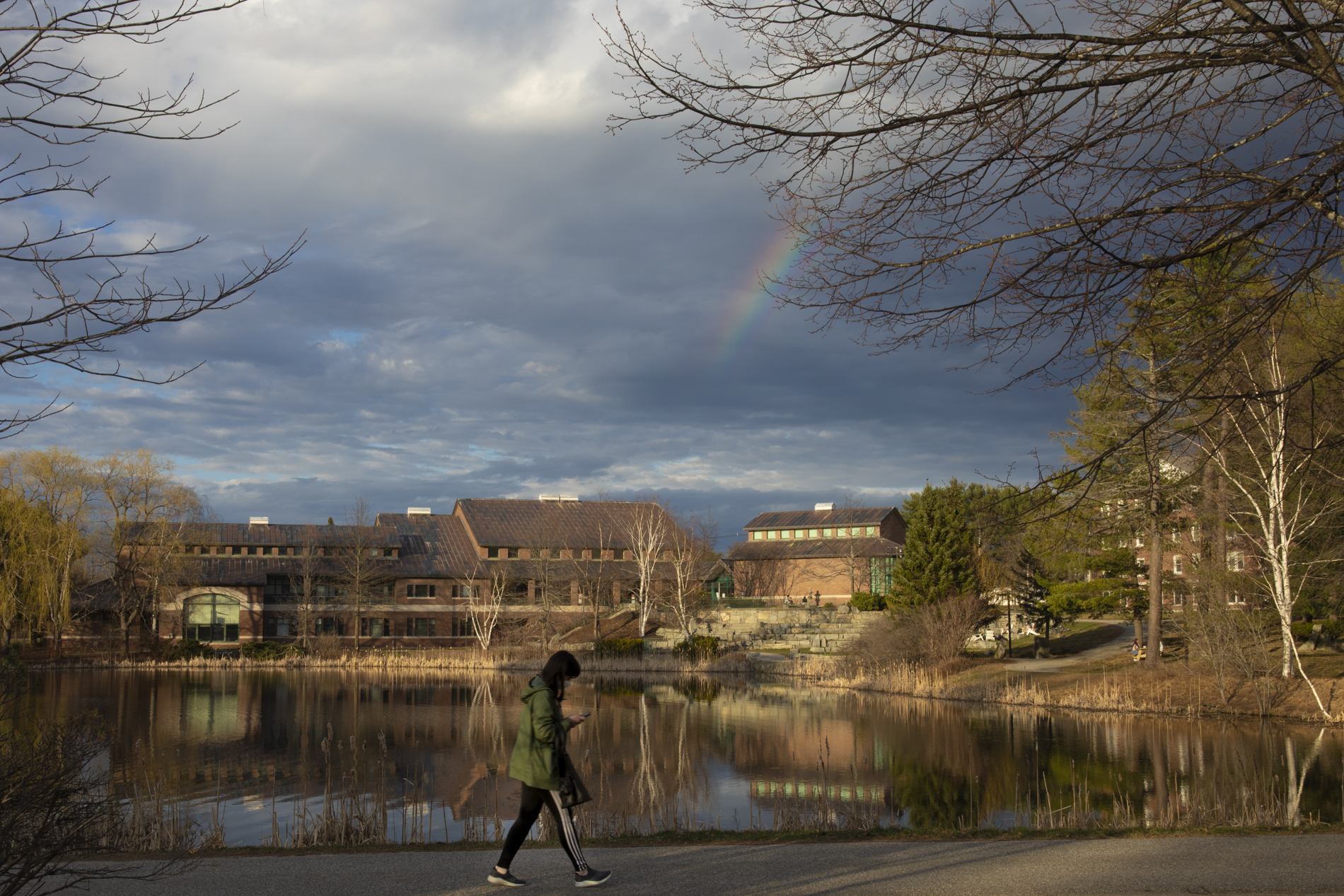 A student passes by Lake Andrews as a rainbow accents a late afternoon sky.
---
Setting the Stage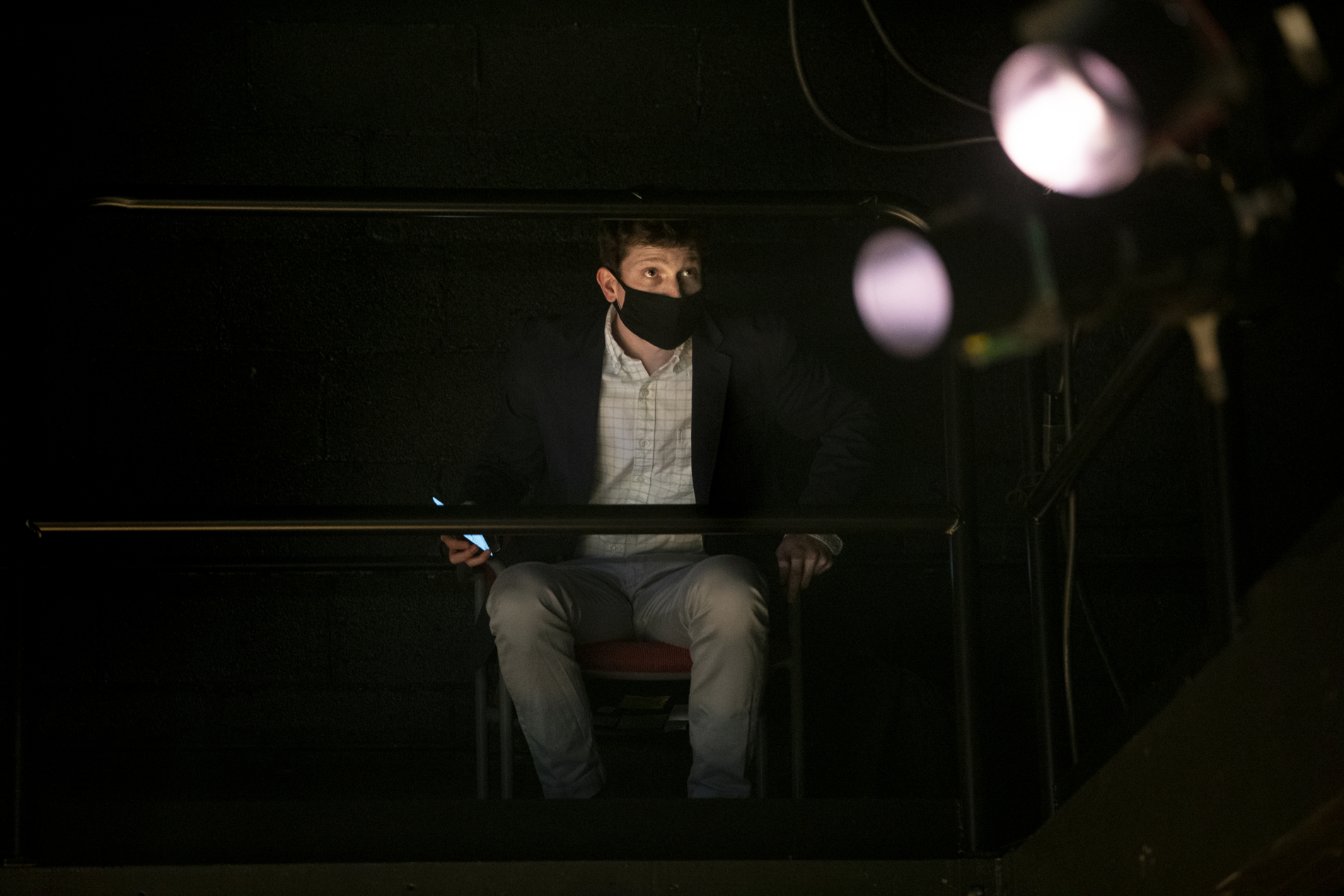 Seated on a Gannett Theater catwalk, theater major Nicky Longo '21 of Cambridge, Mass., takes one last look at the set of Grand Concourse— one of the first live Bates theater performances since the pandemic — before its dress rehearsal. Longo directed the play as part of his senior thesis in acting.
---
Sugar Sweet Magnolia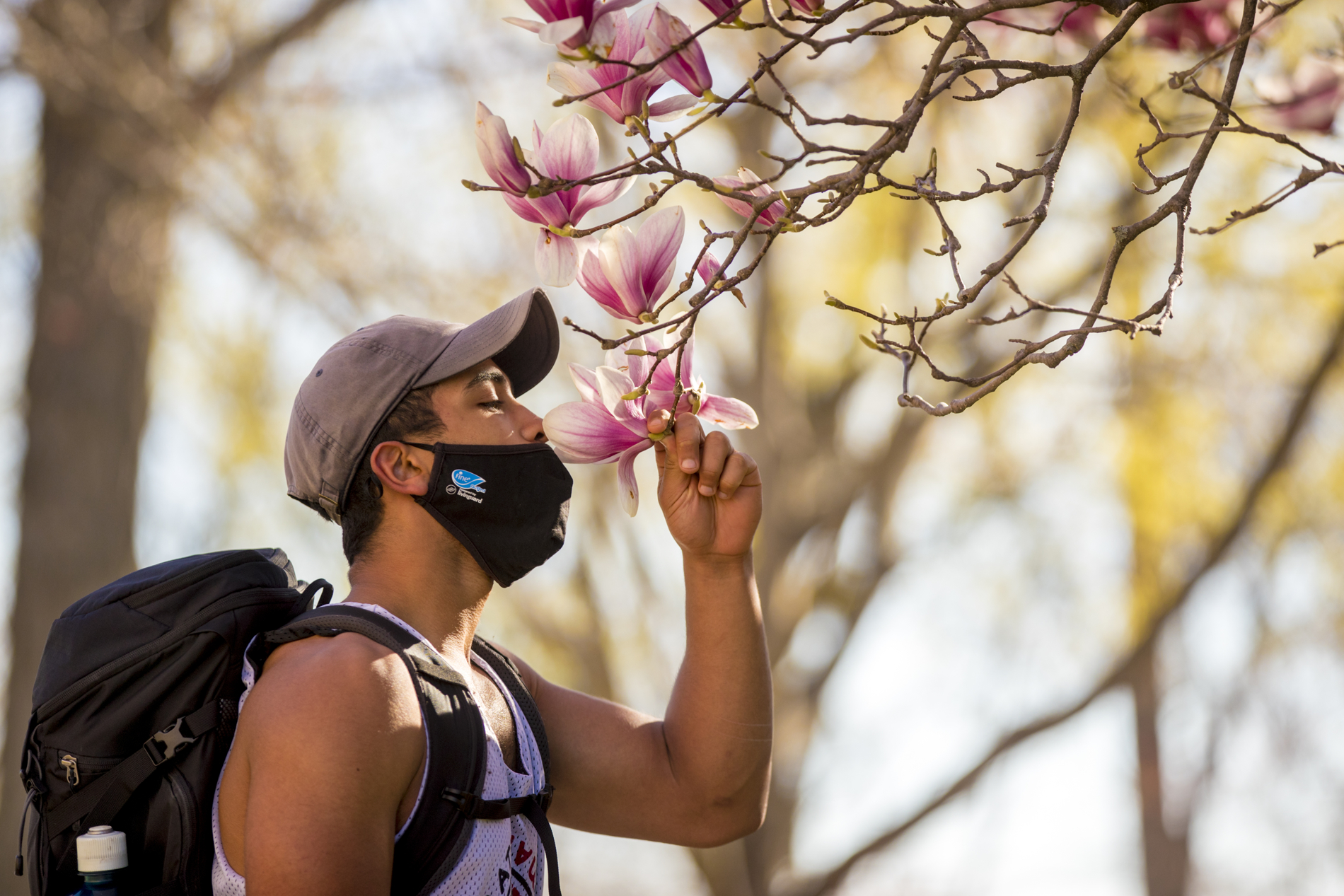 This year especially, the annual blooming of the beloved magnolia next to Hathorn Hall was more than a harbinger of spring; it seemed to promise better days ahead. Adam Banks '21 of Jamaica Plain, Mass., dropped his mask to smell the blossoms on April 27. "Amazing," he said.
---
Alfresco Office Hours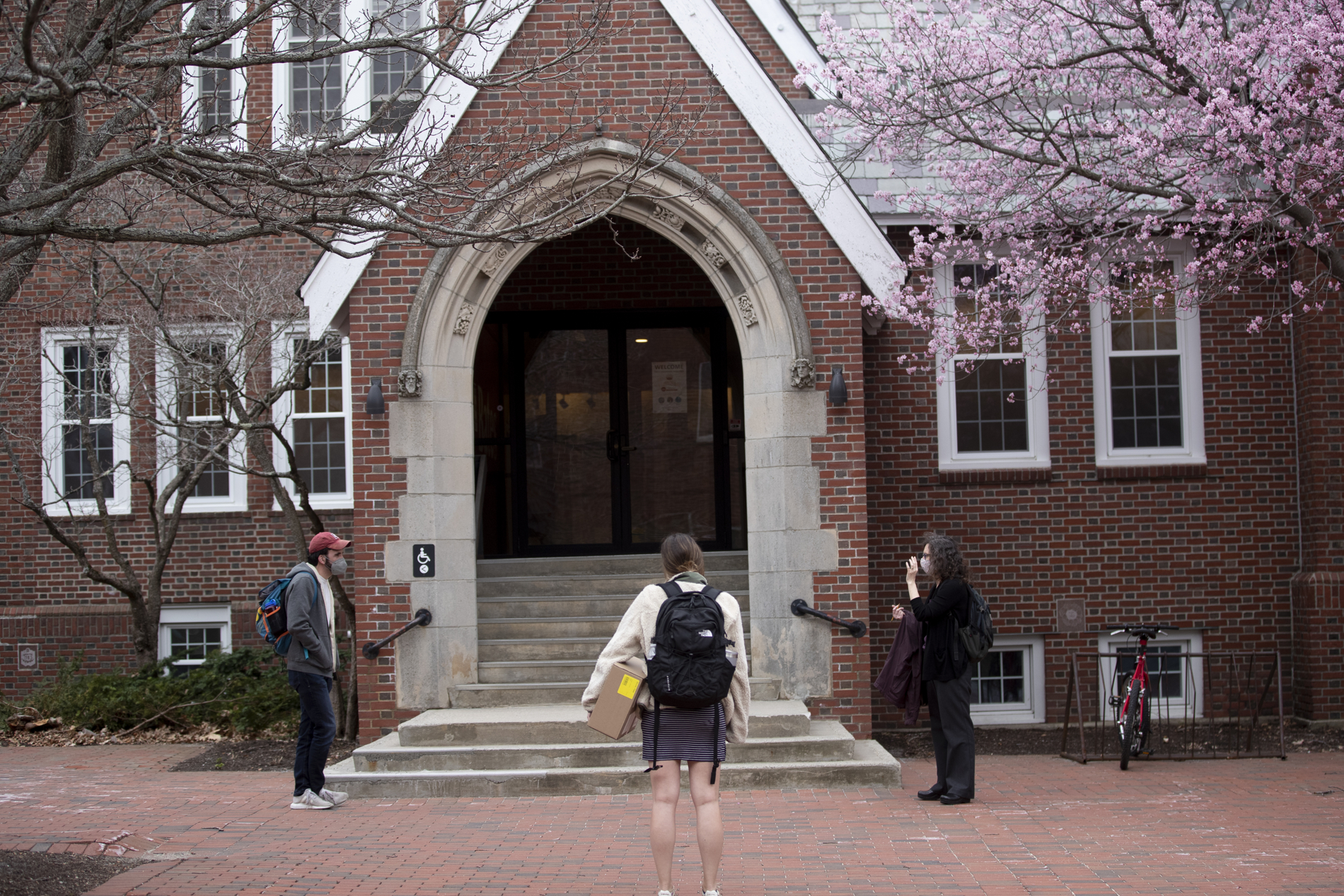 Outside Chase Hall, Lecturer in Education Bronwyn Sale (right) talks with students in her "Perspectives on Education" course. She discusses an upcoming assignment with Harris Manganiello '21 (left) of Collegeville, Pa., as Piper Strunk '24 (center) of Cape Elizabeth, Maine, awaits her turn.
---
What You See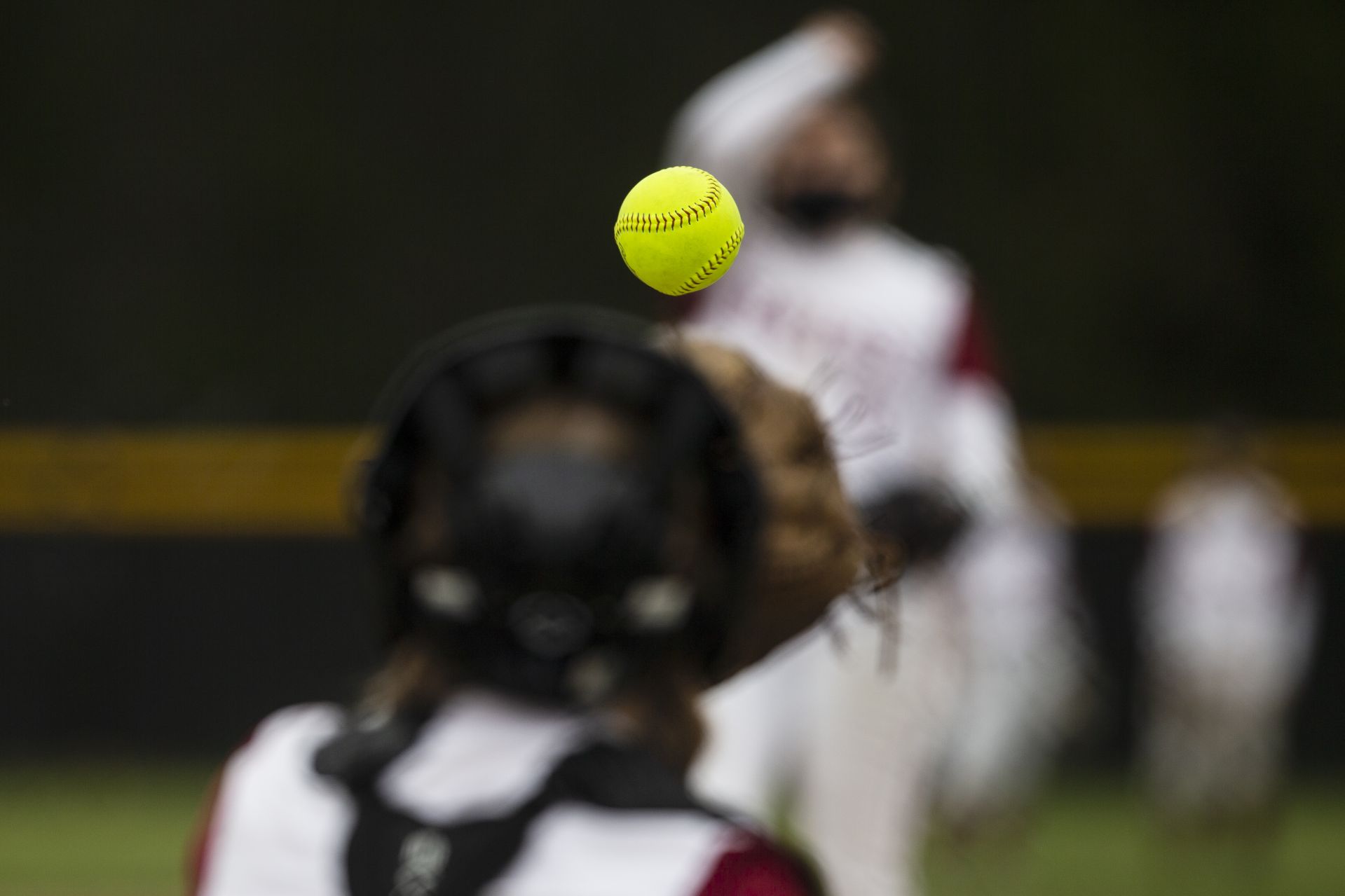 The color of a college softball is "optic yellow" (the same shade as a tennis ball), and you can see why as this pitch from Danielle Polirer '22 of Bellmore, N.Y., sails toward her batterymate Cameron Jones-McNally '24 of Marcellus, Mich., during the Bobcats' game vs. Tufts.
---
Study Session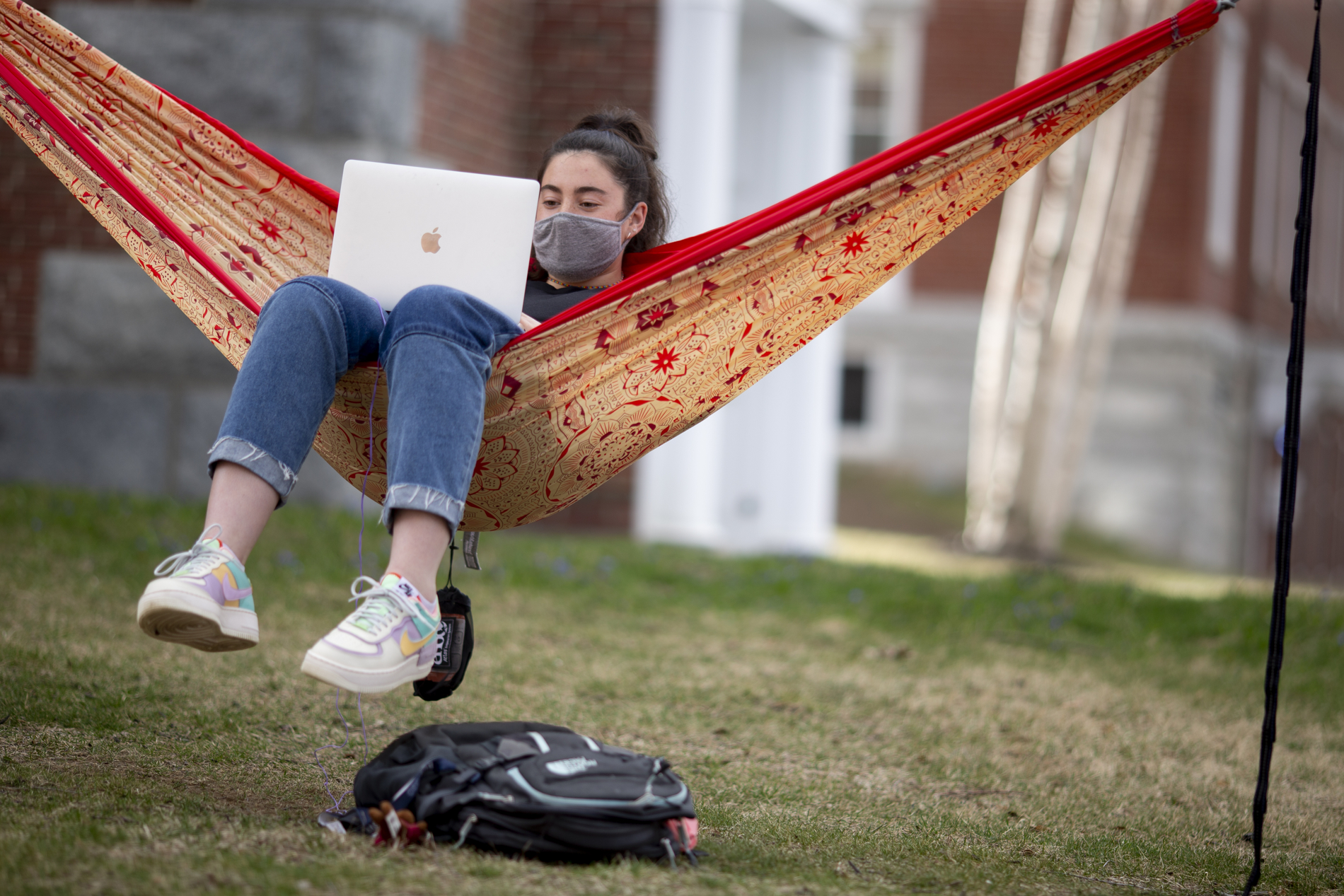 Samantha Shapiro '24 of Needham, Mass., studies in a hammock gently swaying in the spring breeze on Alumni Walk. She was reading for an intermediate Spanish class taught by Visiting Assistant Professor of Hispanic Studies Laura Fernandez.
---
Just in Time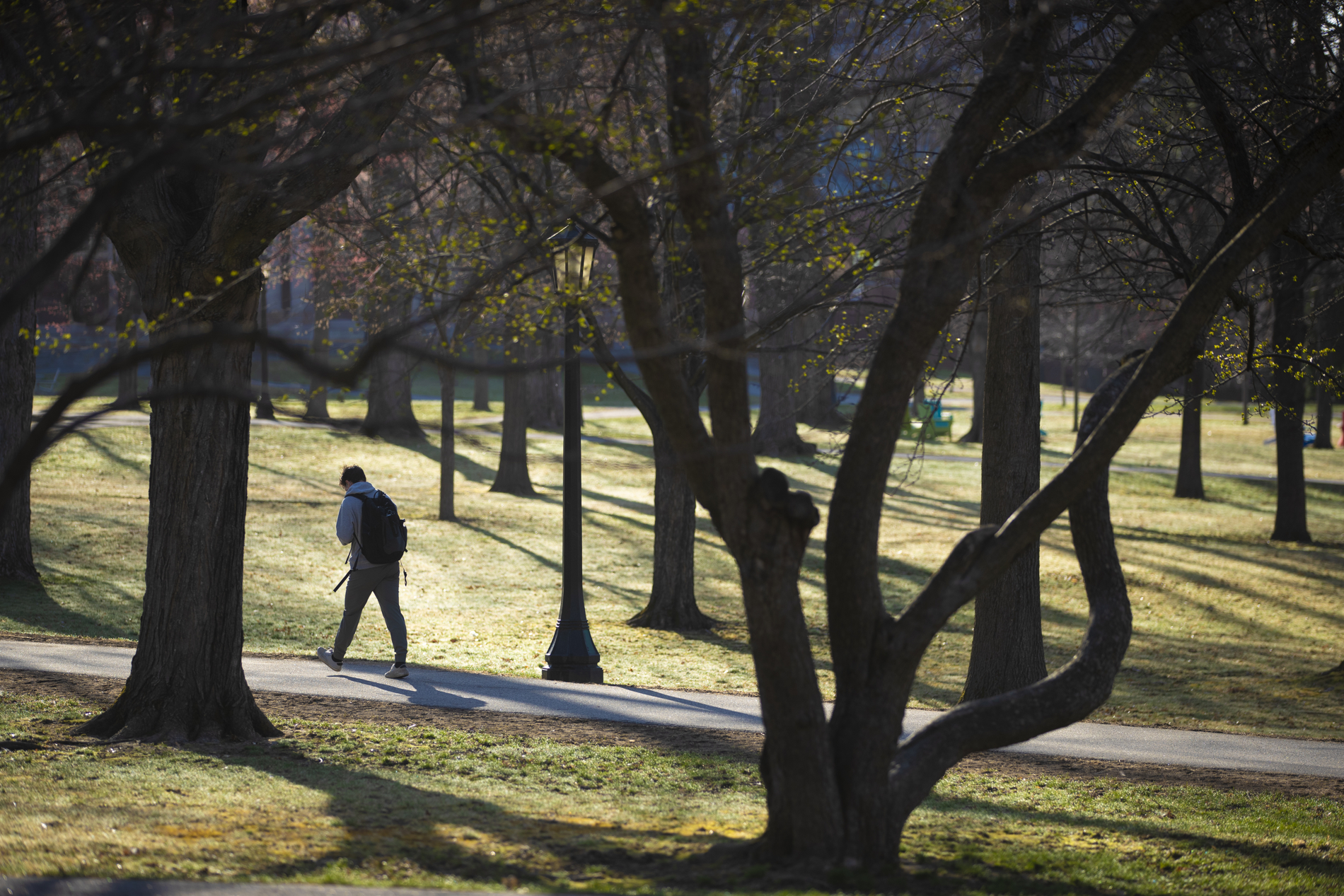 A student heads across the Historic Quad to an 8 a.m. class.
---
Thesis Performance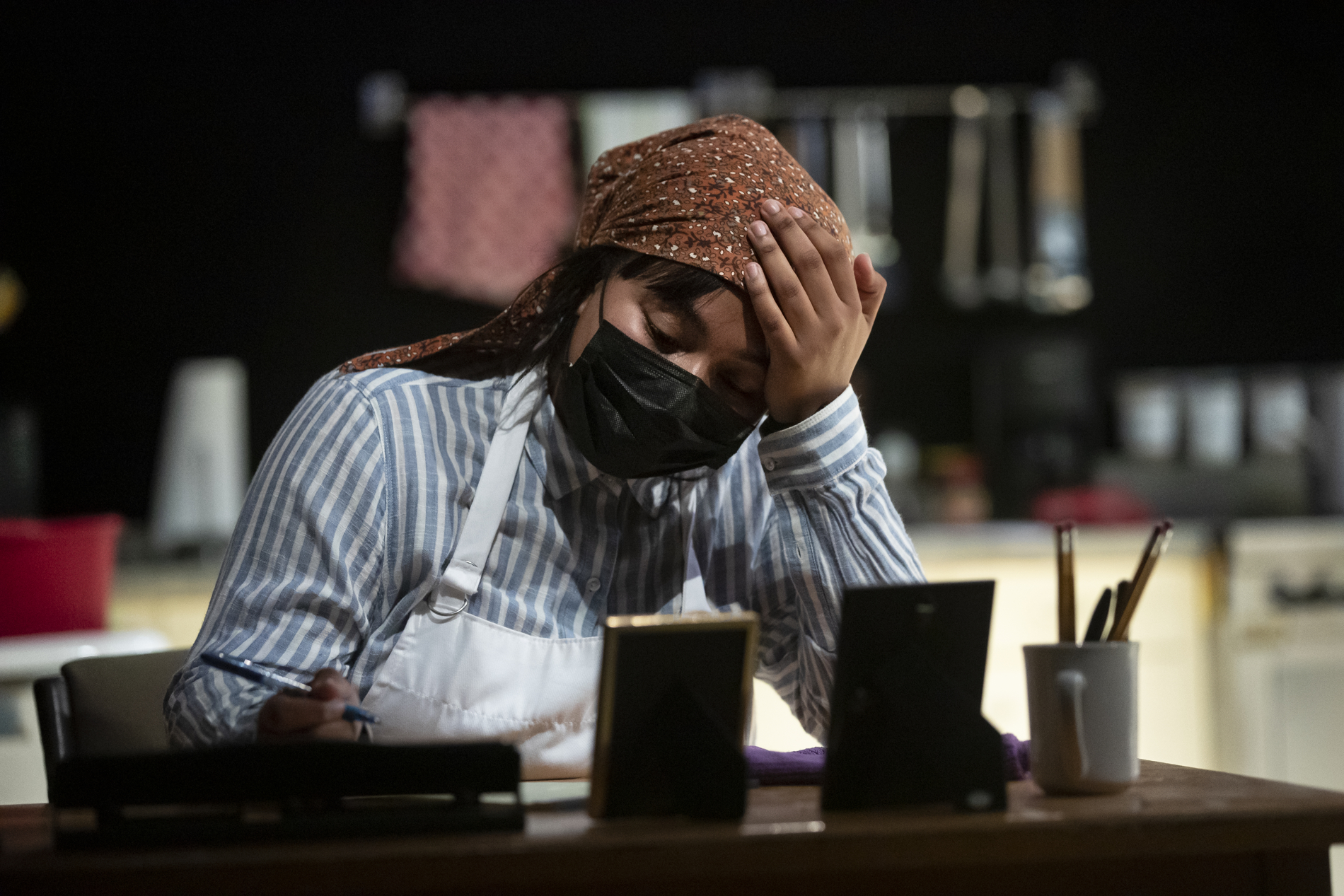 As part of her senior thesis in acting, theater major Perla Figuereo '21 of the Bronx, N.Y., played Shelley, a no-nonsense nun who runs a Bronx soup kitchen, in Grand Concourse. Acting opposite Figuereo, Professor of French and Francophone Studies Kirk Read played Frog, a homeless patron. It was an emotional experience, says Read. "Perla was in my First-Year Seminar four years ago. As she patted my forehead for the last time there were real tears."
---
Break Time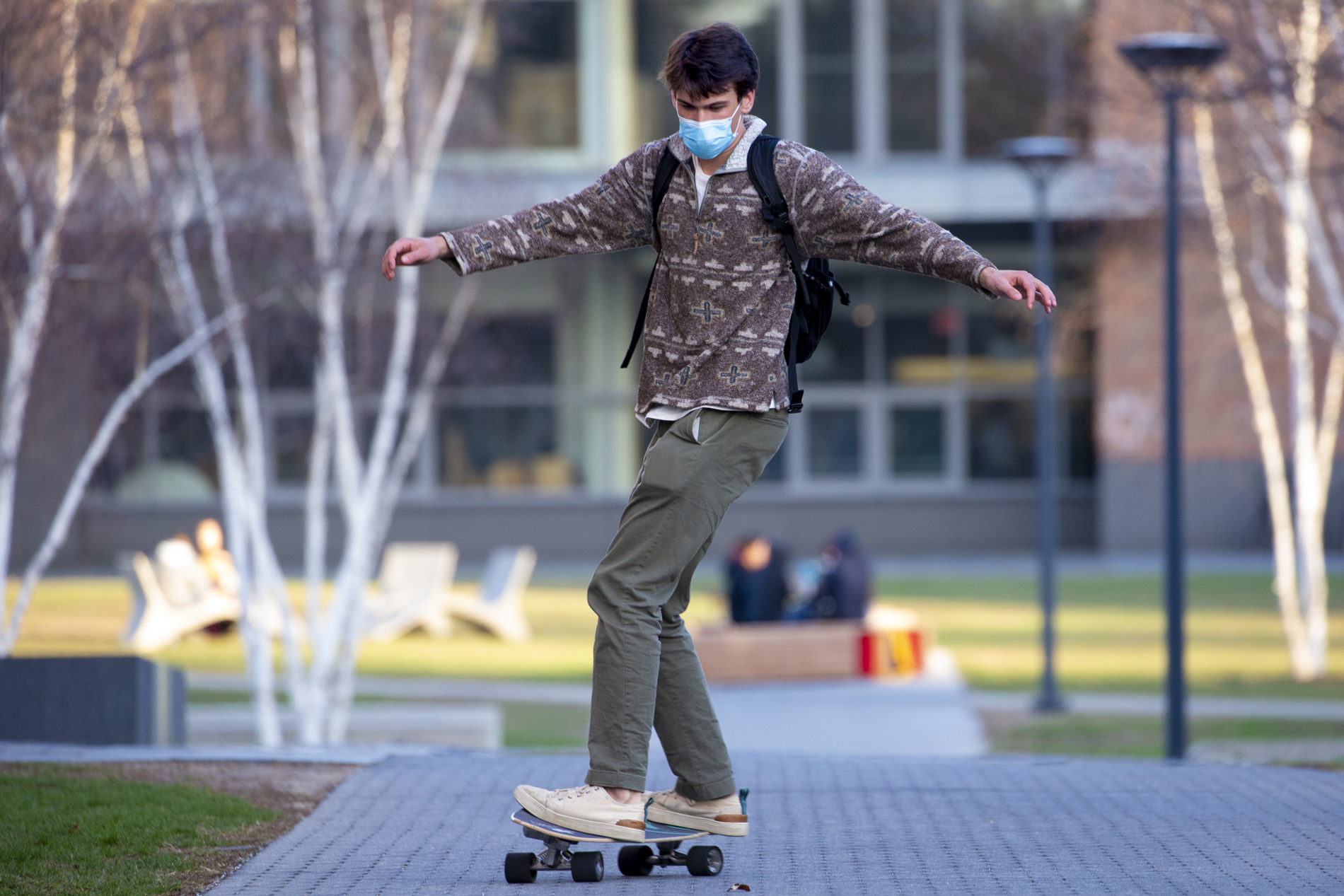 After exiting Hedge Hall, where he was working on a calculus project, Jackson Quinn '24 of Falmouth, Maine, takes a break by skating up Alumni Walk.
---
Come to Bates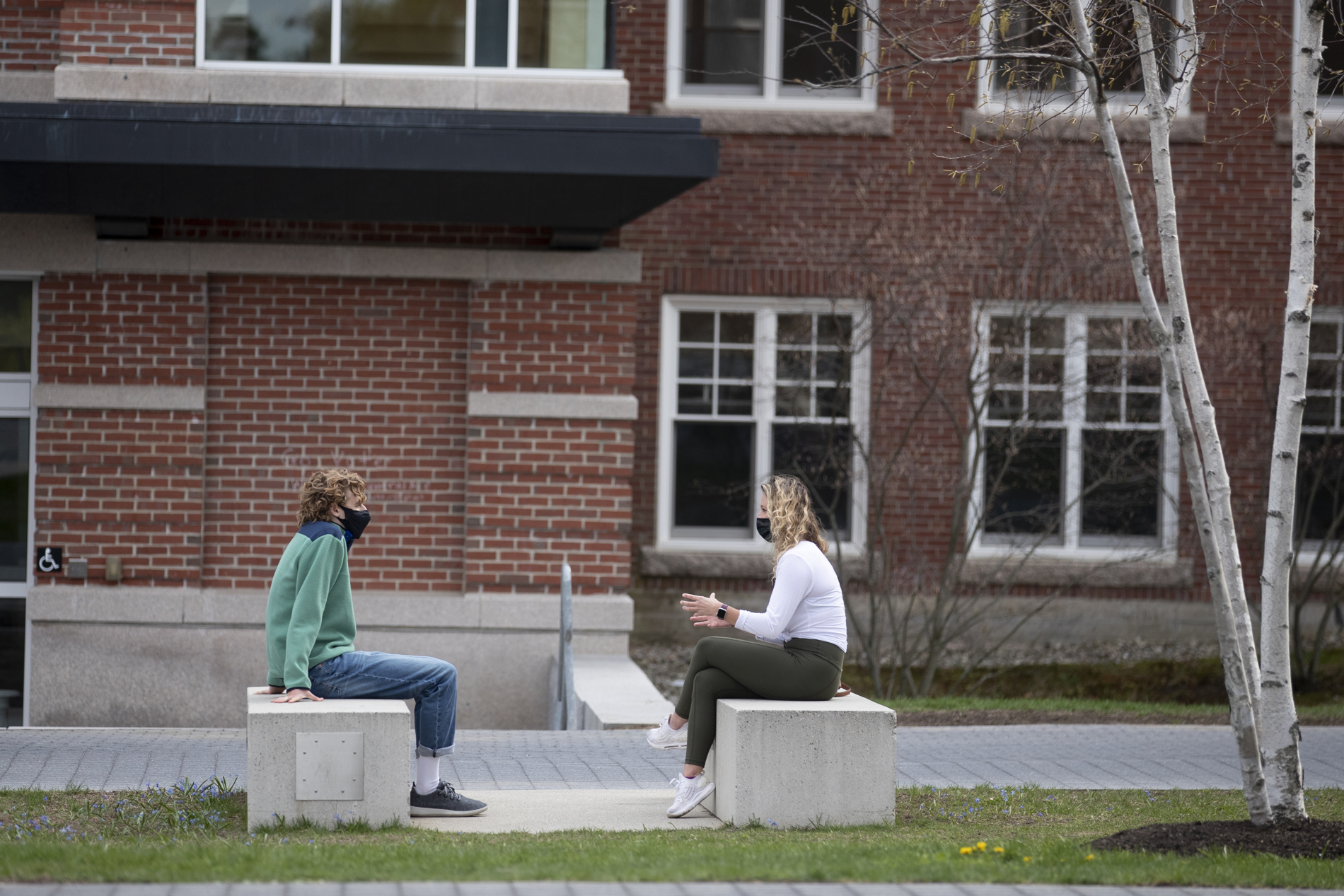 Erin Bucki '21, a double major in environmental studies and psychology from Eagan, Minn., speaks about Bates with visiting student Nate Frank of Mahwah, N.J.
---
The Art of Ceramics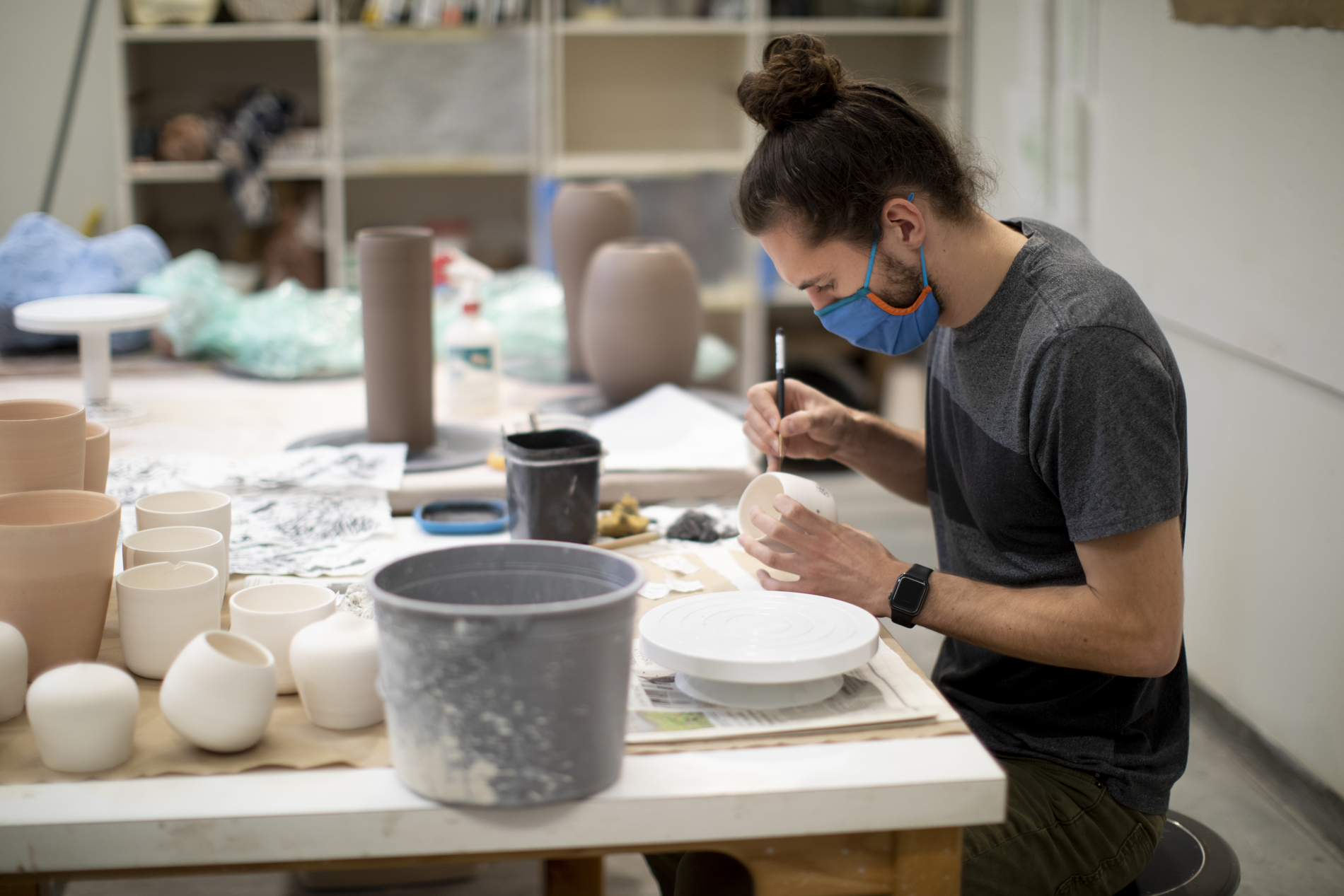 Studio art major Christopher Barker '21 of Burlington, Vt., a ceramicist, works in his Olin Arts Center studio in preparation for the Senior Thesis Exhibition, set to open in early May in the Bates College Museum of Art.
---
Bobcat's Baton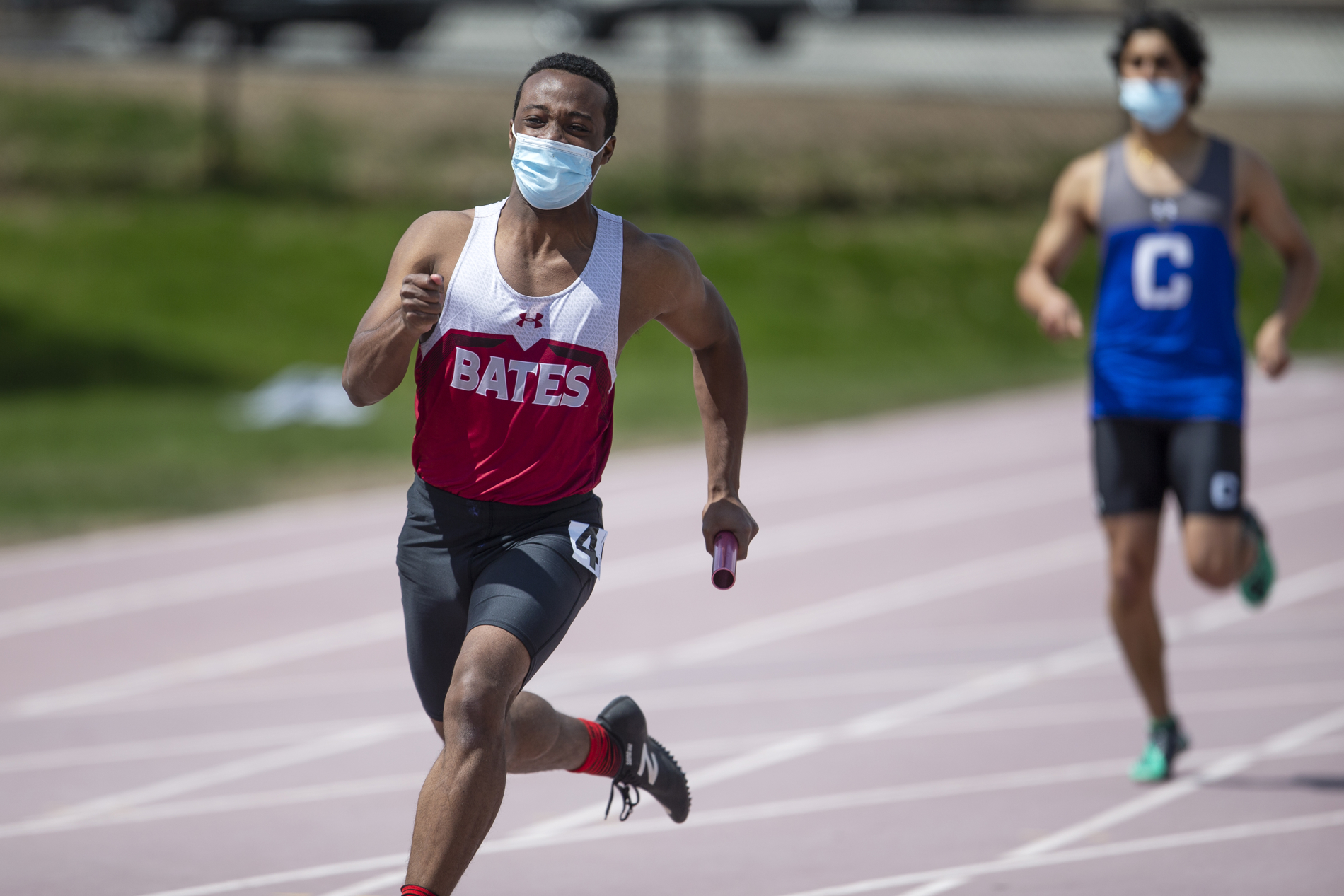 Men's track and field captain Miles Nabritt '21 of Brooklyn, N.Y., competes in the 4×100 relay during a meet with Colby and Bowdoin at Russell Street Track.
---
Magnolia Mode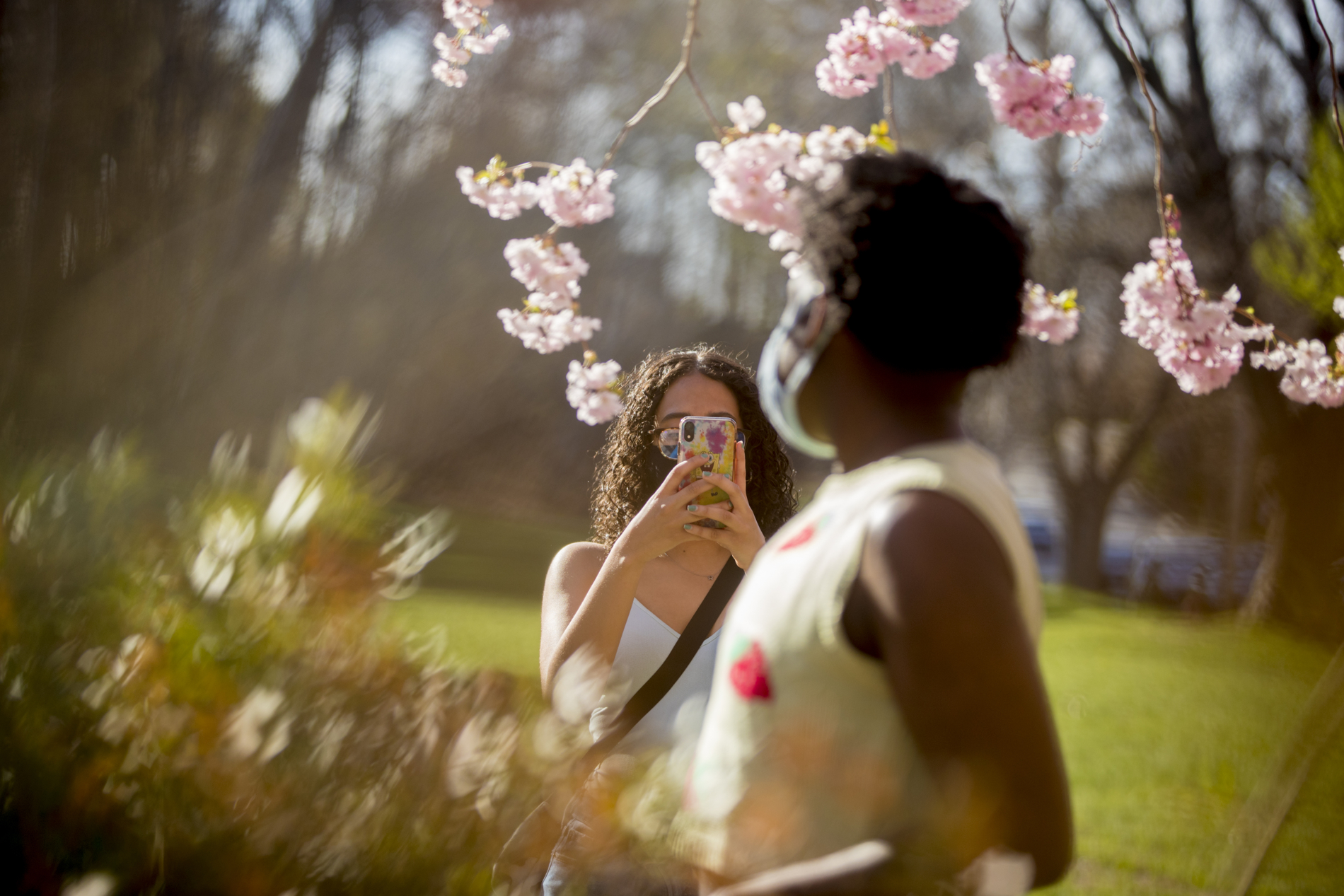 Emily Diaz '23 of Corona, N.Y., photographs Sam Jean-Francois '23 of Everett, Mass., in front of the magnolia tree outside the 280 College St. residence .
---
Slack Dancer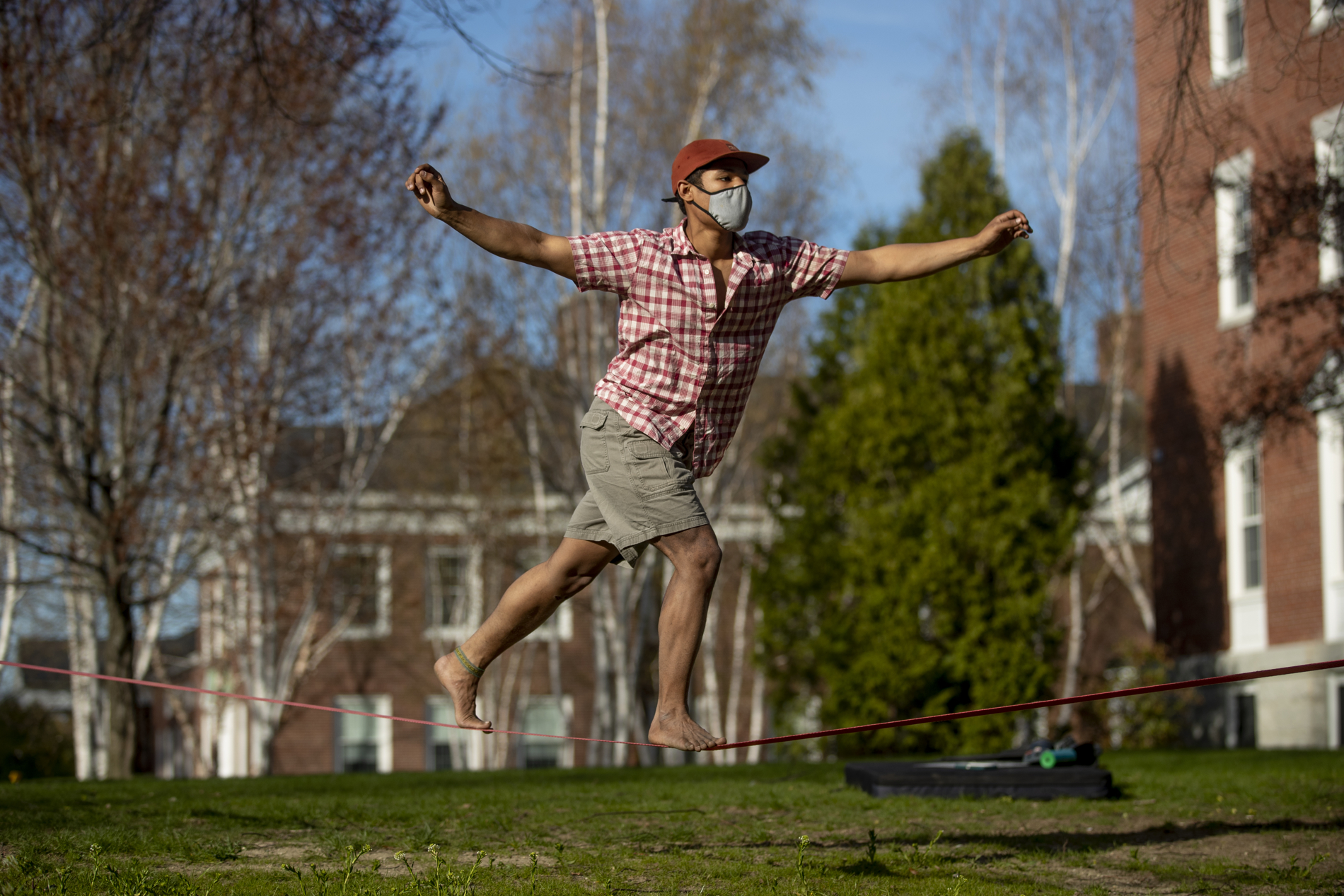 "It's a good way to clear my head," says Henry King '22, a double major in geology and theater from South Salem, N.Y., as he crossed a slackline between two trees on the Historic Quad.
---
In Conversation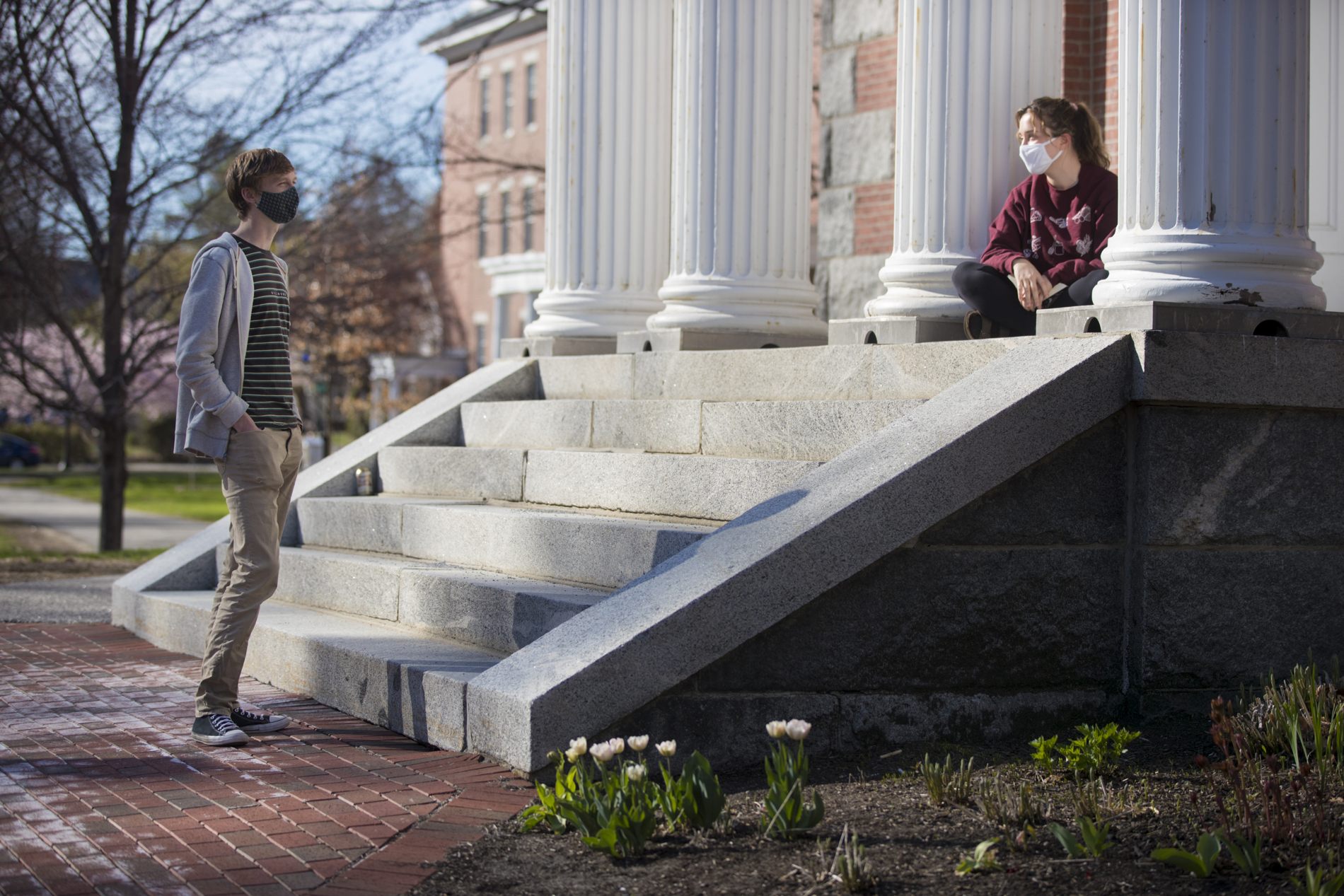 Environmental studies major Jake Lamb '23 of Media, Pa., talks environmental history with psychology major Chloe Baylor '23 of Lincoln, Neb., on the steps of Hathorn Hall.
---
Stay Strong Bobcats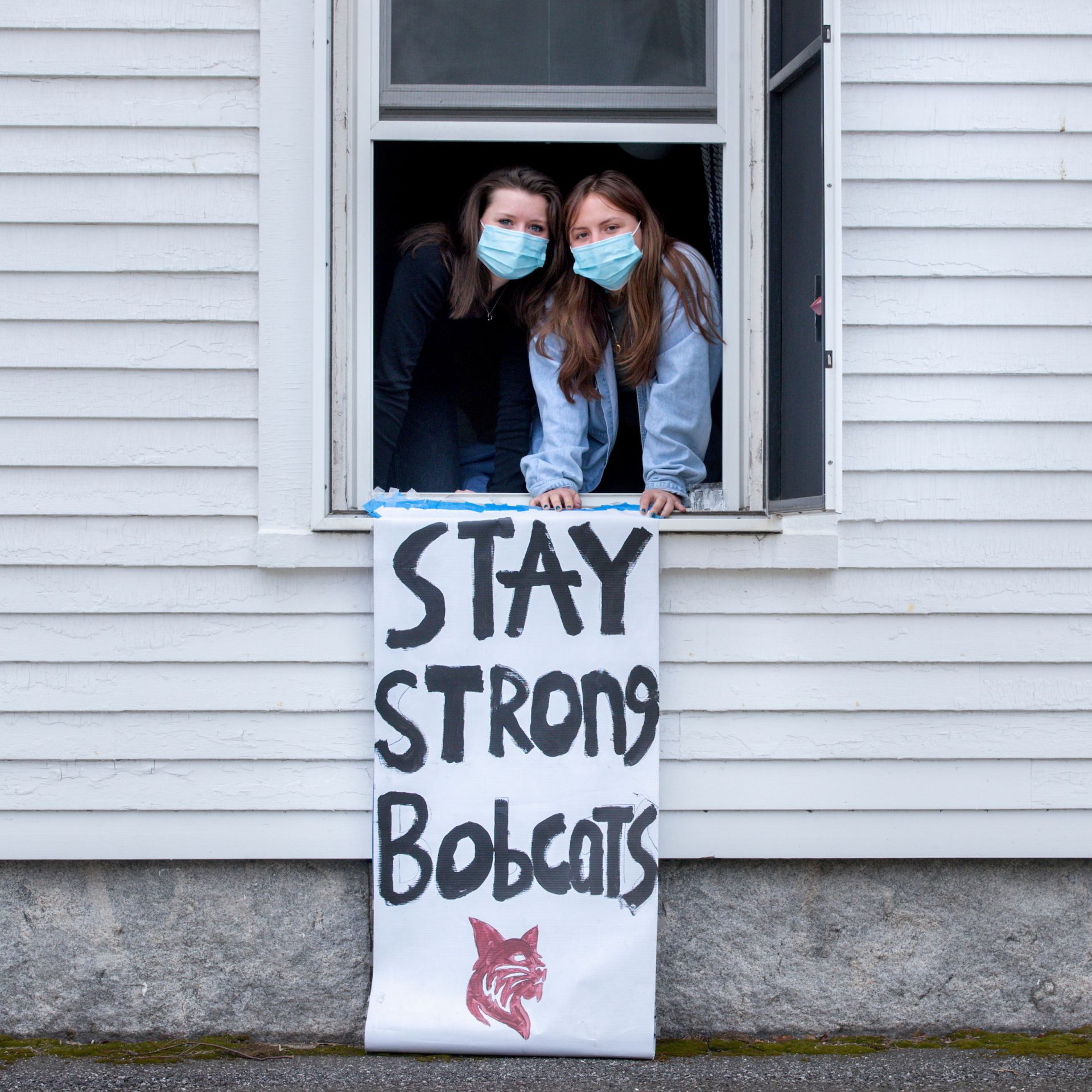 Lauren Nudi '23 of Wayzata, Minn., and roommate Courtney Tally '23 of Hanover, N.H., pose at the window of their Nash House residence, at the corner of Frye and College streets, where they hung their spirit-raising sign in early April during in-room restrictions due to a spike in COVID-19 cases.
Housemate Patrick Bergin '23 had the idea for the sign. He wrote the letters, and Nudi and Tally painted them. "We used a recycled sign from Winter Carnival and some leftover paint to make it happen," Nudi says. "It was a group effort done through contactless handoffs in the hallway."
View Comments