Spoiler alert for HBO's Mare of Easttown, which concluded May 30 with a twist-laiden finale, Mare Sheehan's (Kate Winslet) writer boyfriend Richard Ryan (Guy Pearce) is departing gloomy Easttown, allegedly to spend the next academic year at none other than Bates College.
"It's only a year's contract," Richard tells Mare as he's loading up his Jaguar to leave Pennsylvania for Maine.
"Never even heard of Bates College," she responds. A detective on the Easttown police force, Mare is skeptical by trade and possibly, by constitution. "Bet you're making it up."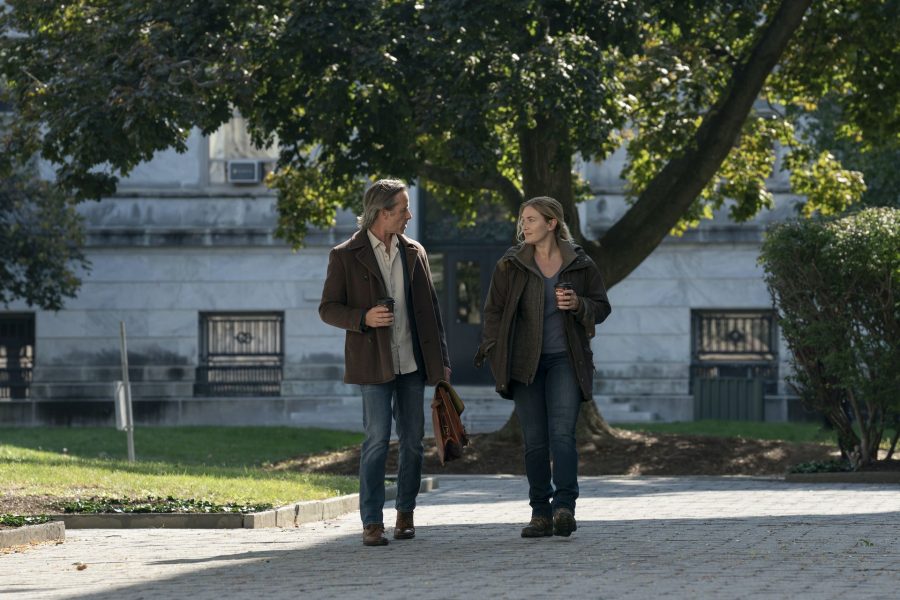 Twitter lit up immediately, with everything from jokes about how Lewiston compares to Easttown ("He better finish that second book!" quipped one tweeter) to a comment from a prospective parent who said they were planning on bringing their daughter for a tour in a few weeks ("Maybe we'll run into Richard signing books").
Some definitely took it as an insult. "That's some Swarthmore shade right there," tweeted Columbia Journalism School professor Emily Bell.
There was a spirited defense from Associate Professor of Sociology Michael Rocque: "That's cold, Mare. Cold. @BatesCollege deserves better" Rocque tweeted. Andrew Mountcastle, assistant professor of biology, weighed in with a suggestion that a future season (one isn't scheduled…yet) might focus on the murder of a convertible Jaguar (Richard's ride) by the Maine winter. 

By Monday morning, even Bates decided to join in on the fun, with a tweet clearing the air as to whether Bates exists and where Mare can find it, that has now been seen more than 45,000 times. Assistant Professor of Hispanic Studies Stephanie Pridgeon noted that she'd beaten Mare to figuring out who the murderer was. Carolyn Ryan '86, deputy editor of The New York Times, was one of many who retweeted the official Bates account, adding a wry note: "Great school. Wonderful alums."
Most of the show's red herrings and loose ends had been explained away, but a mystery remains as to whether the creator and writer of the show, Brad Ingelsby, a Villanova graduate, considers sending novelist Richard to Bates an insult.
A request to HBO for an explanation of the Bates reference led only to a polite no, Ingelsby was not available for comment. He's busy after all; the show was hugely popular, placing that reference to Bates in the pop culture pantheon with Meadow Soprano's tour (complete with test-optional reference) and the Bates-related insults that Lisa Simpson endured in a 2015 episode of The Simpsons (which we answered with a link for her to apply ).
Despite Mare's dismissive "never heard of," we're going to interpret the use of the Bates name as a positive sign for the character of Richard Ryan. He wrote one book, titled May's Landing — after their first tryst, Mare asks if she can take a copy with her — and it was well-received, even winning a National Book Award. But according to HBO's official description of the character, that was a long time ago: "A visiting creative writing professor who wrote a dazzling novel that won the National Book Award 25 years ago, but he has never lived up to his early promise."
So maybe her "never even heard of Bates" is not an insult; it seems Mare doesn't think much out of the Easttown box.
For avid fans of Mare of Easttown, Richard was an immediate suspect in the murder that propels the story. The rationale was that Guy Pearce, a movie star, doesn't show up for minor roles. Plus the character was new to Easttown, saying he'd only moved there a few months ago from Syracuse, for another short term gig as visiting lecturer in creative writing at local Kettleman College. (Scenes involving this fictional institution were shot at Girard College in Philadelphia.)
"You talk about writing, that's a thing?" Mare asks Richard about this position when they first meet.
"It's a thing," Richard says.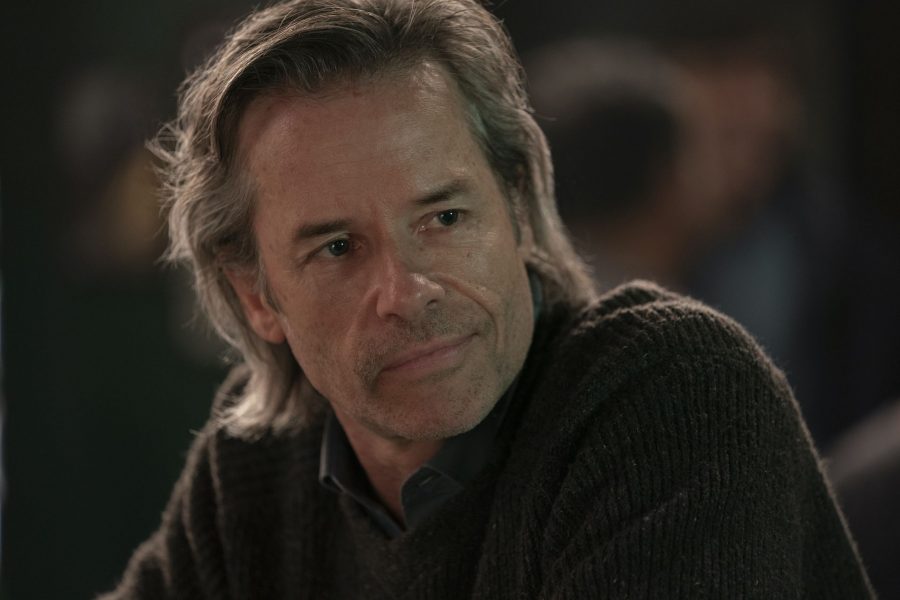 His "one and only" book was made into a TV movie in the 90s, he tells Mare, starring Jill Eikenberry. "I don't know who that is," Mare replies. So maybe her "never even heard of Bates" is not an insult; it seems Mare doesn't think much out of the Easttown box.
"I was the one who gave him that job at 'Bates College' (a code name for my house)."
And arguably, Bates puts Richard on an upward trajectory, like Mare at the end of the series. He's going to be working at a nonfictional college in a whole new setting, which the Los Angeles Times pointed out as its critic and another entertainment writer recapped the finale, would be a fine place for a second series: "As Stephen King and Jessica Fletcher can both tell you, small-town Maine is a great location for murder, intrigue and tricky regional accents. Sign me up," they said.
This despite BuzzFeed senior editor Estelle Tang's insistence that Richard isn't actually going to Bates. "I was the one who gave him that job at 'Bates College' (a code name for my house)," Tang joked in BuzzFeed's assessment of the finale.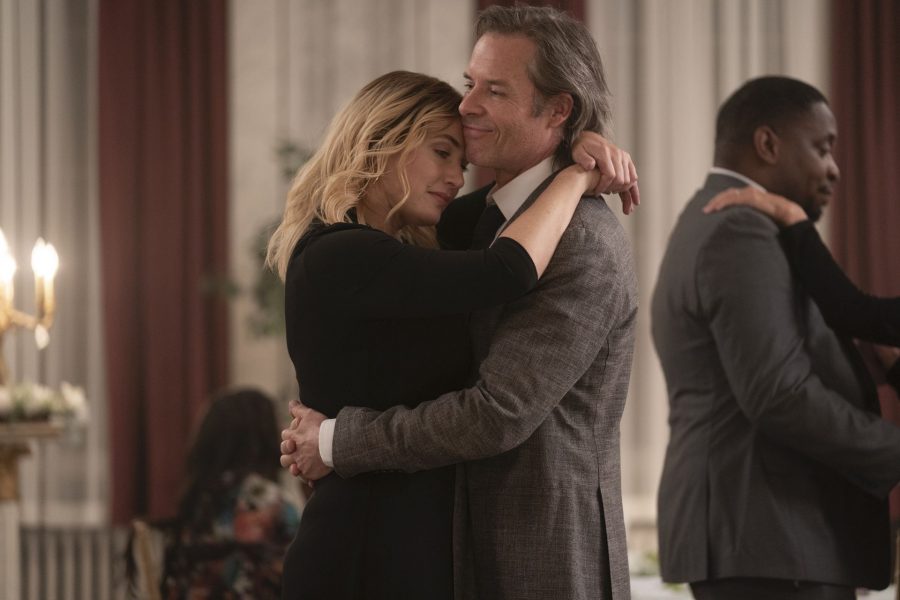 And while Richard may be headed north, Mare, having solved the murder and begun the process of healing from the suicide of her son, may come to visit. "I will call you once I've settled in and found a good place to get a beer," Richard promises Mare.
There's no shortage of those in Lewiston. Keep an eye out for the couple in the Den.
View Comments