Tim Dugan, associate professor of theater, has wanted to bring The Thanksgiving Play to Bates since it was first produced off-Broadway in 2018.
But he knew that in order to produce Larissa FastHorse's satire, which is as hilarious as it is unsettling, the Bates production crew and cast would need help avoiding the very behavior that the play viciously lampoons: performative wokeness by white people who think they're celebrating a Native American perspective.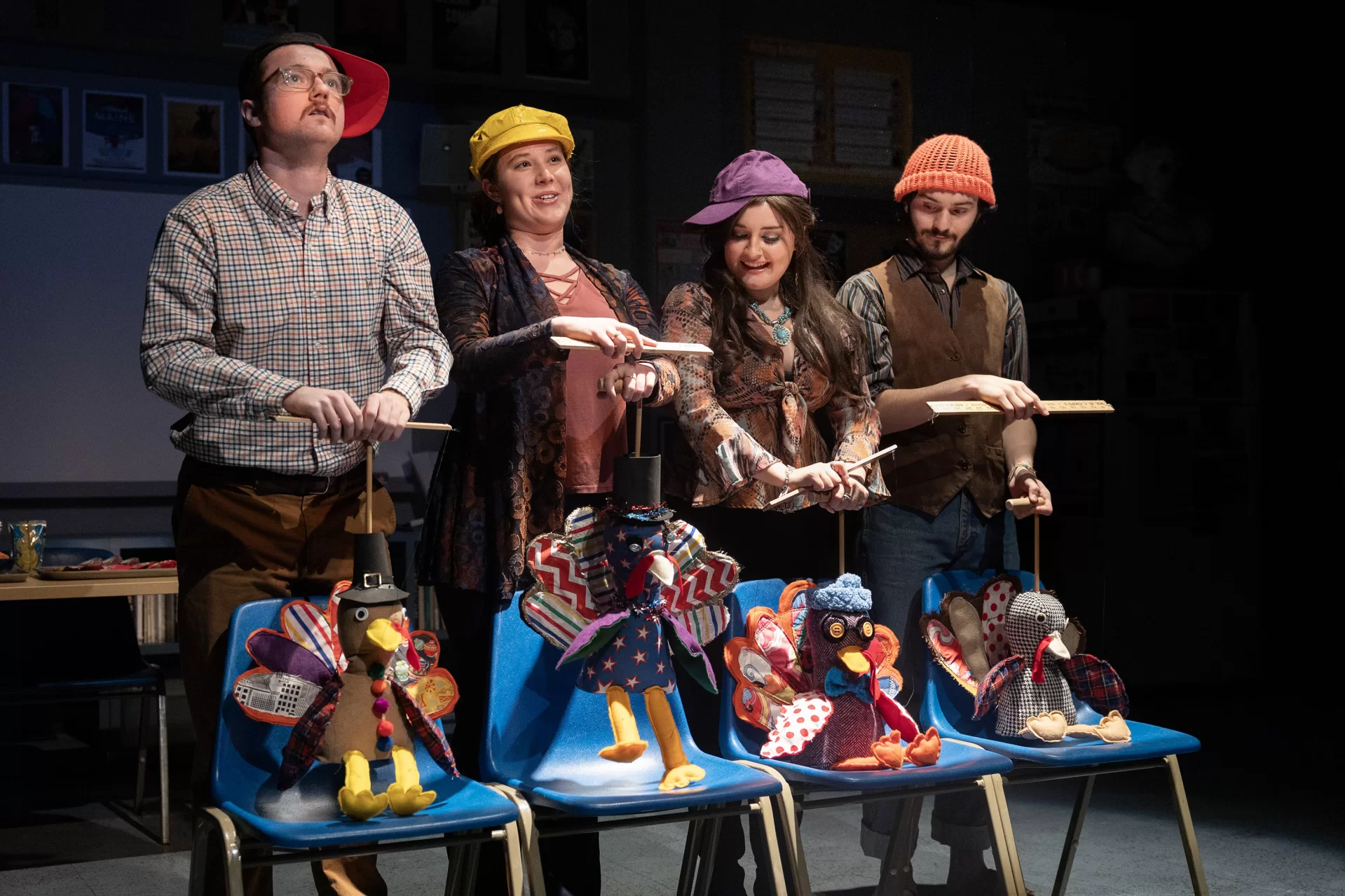 So as Dugan set out to produce The Thanksgiving Play at Bates this fall, he forged a partnership with two experts: John Bear Mitchell, a citizen of the Penobscot Nation and program coordinator at the University of Maine's Wabanaki Center in Orono, and Bates Associate Professor of History Joe Hall, who teaches and researches the history of the Wabanaki tribes: the Wolastoqey (or Maliseet), Mi'kmaq, Passamaquoddy, Penobscot, and Abenaki.
---
Performances of The Thanksgiving Play take place on the Gannett Theater stage through Nov. 13.
---
At first, says Mitchell, he was "a little apprehensive" about joining the Bates theater team. "But once I saw their commitment, I was completely sold. In fact, I thought, 'This has to be done. I need to work with these actors and the director. I need to help them. It was so worth it."
One of the top-10 most-produced plays in the country this year, The Thanksgiving Play delivers belly laughs, but is also intended to shock and disturb the audience.
It's about four white actors, two of whom are teachers and all of whom consider themselves liberal, woke, and forward-thinking, and how they go about rehearsing a Thanksgiving pageant that celebrates Native American Heritage Month for elementary school students.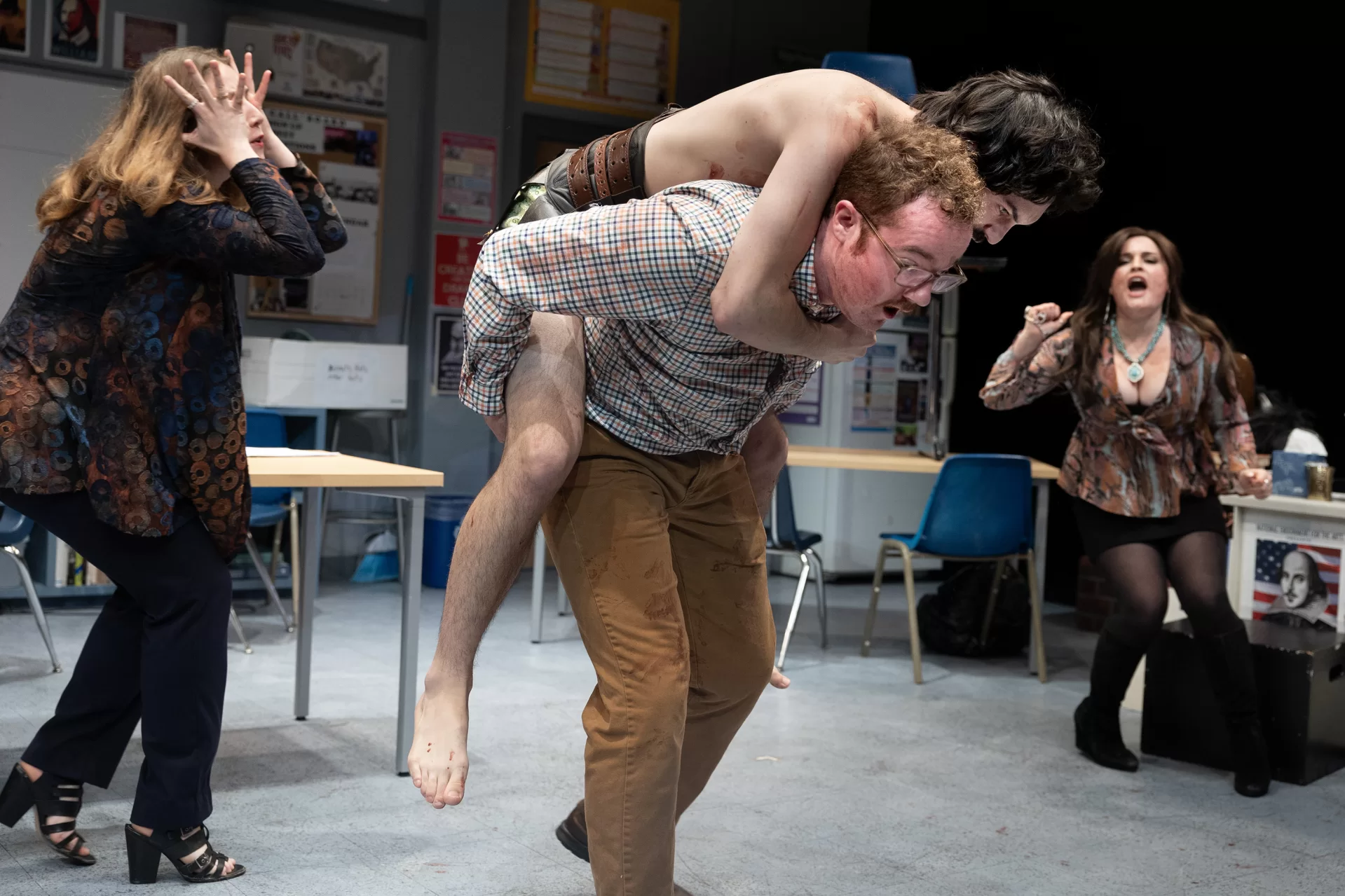 While played for laughs, their efforts are clearly small-minded and offensive. "Meant to 'lift up' the Native American point of view despite including no Native Americans," writes The New York Times in its review, the play within the play "twists the [characters] into pretzels of performative wokeness so mortifying they induce a perma-cringe."
The practice of inviting cultural consultants is part of the new approach to theater taking place across the country, Dugan explains. With The Thanksgiving Play, the goal of working with Mitchell and Hall is to avoid the pitfall of "becoming the play. I knew this was not my lived experience. I knew as part of the learning it would require a whole cultural competency to help us approach this carefully and thoughtfully. Throughout the process of working with John Bear, Joe, Wabanaki REACH, and doing research, I realized how much I don't know."
Several times this fall, Mitchell, who has been a lecturer in Native American studies at the University of Maine for 23 years, drove more than three hours roundtrip from Orono to provide insight at rehearsals, as well as encouragement to the students.
Joined by Hall, who also served as the play's dramaturge, Mitchell fielded questions from students in real time and responded to emails from students who wanted to dig deeper into FastHorse's message.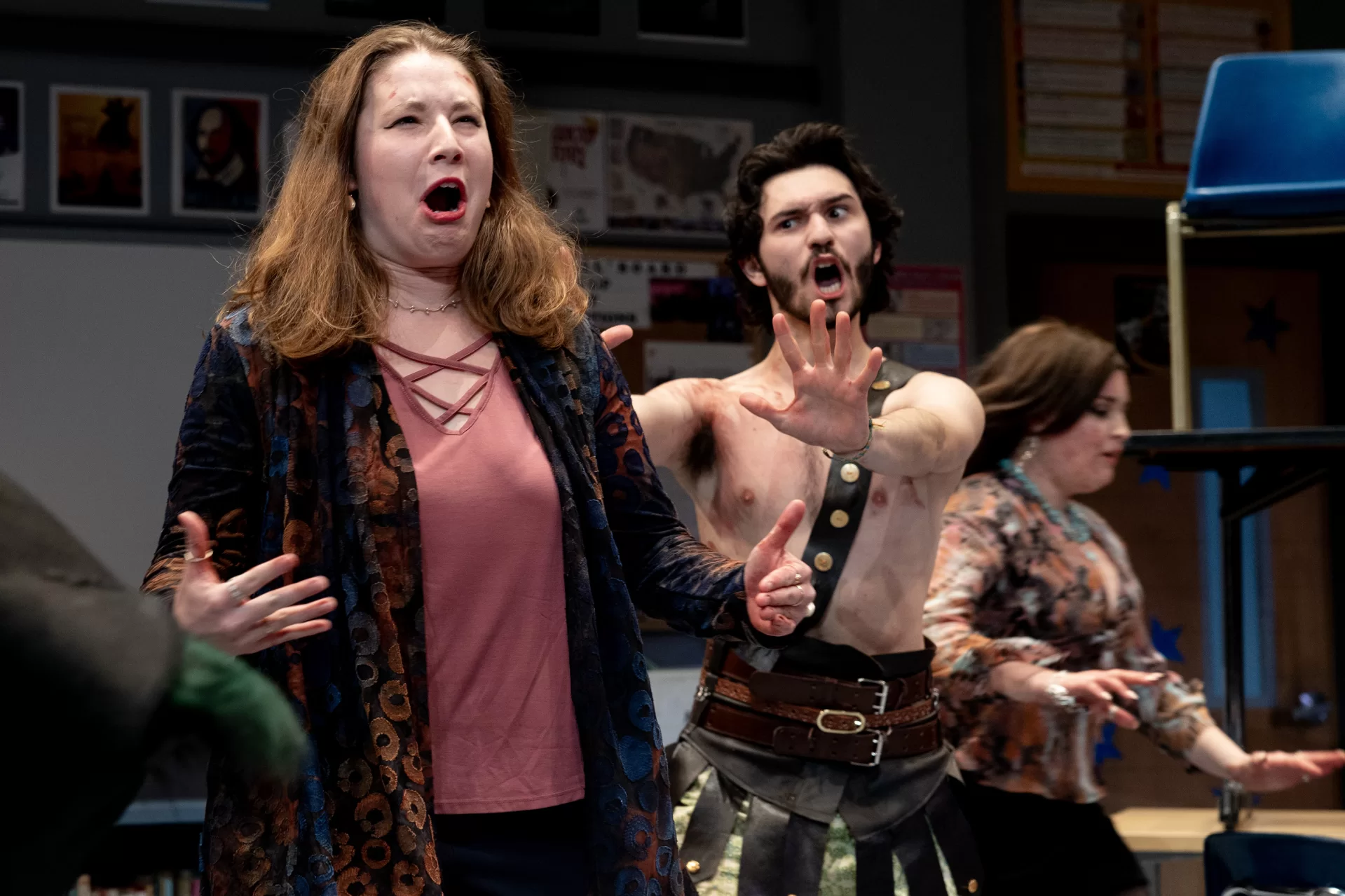 Throughout, Mitchell took time to reassure students that it was OK to follow FastHorse's stage directions, regardless how disturbing they may be. He told them not to worry about how offensive their lines or actions on stage were, because that was the whole point, since the shocking stories that FastHorse weaves throughout her play are based on true events.
"I don't think my job or even the actors or Tim's is to make the audience feel comfortable about true history," Mitchell says. "I don't teach history or consult on history to make people feel comfortable about true history."
To help the cast and production team get a basic understanding of Native culture, Dugan also scheduled a six-hour, two-day workshop with Wabanaki REACH, a Maine-based non-profit that teaches Wabanaki history and culture to promote restorative justice and restorative practices in Maine communities.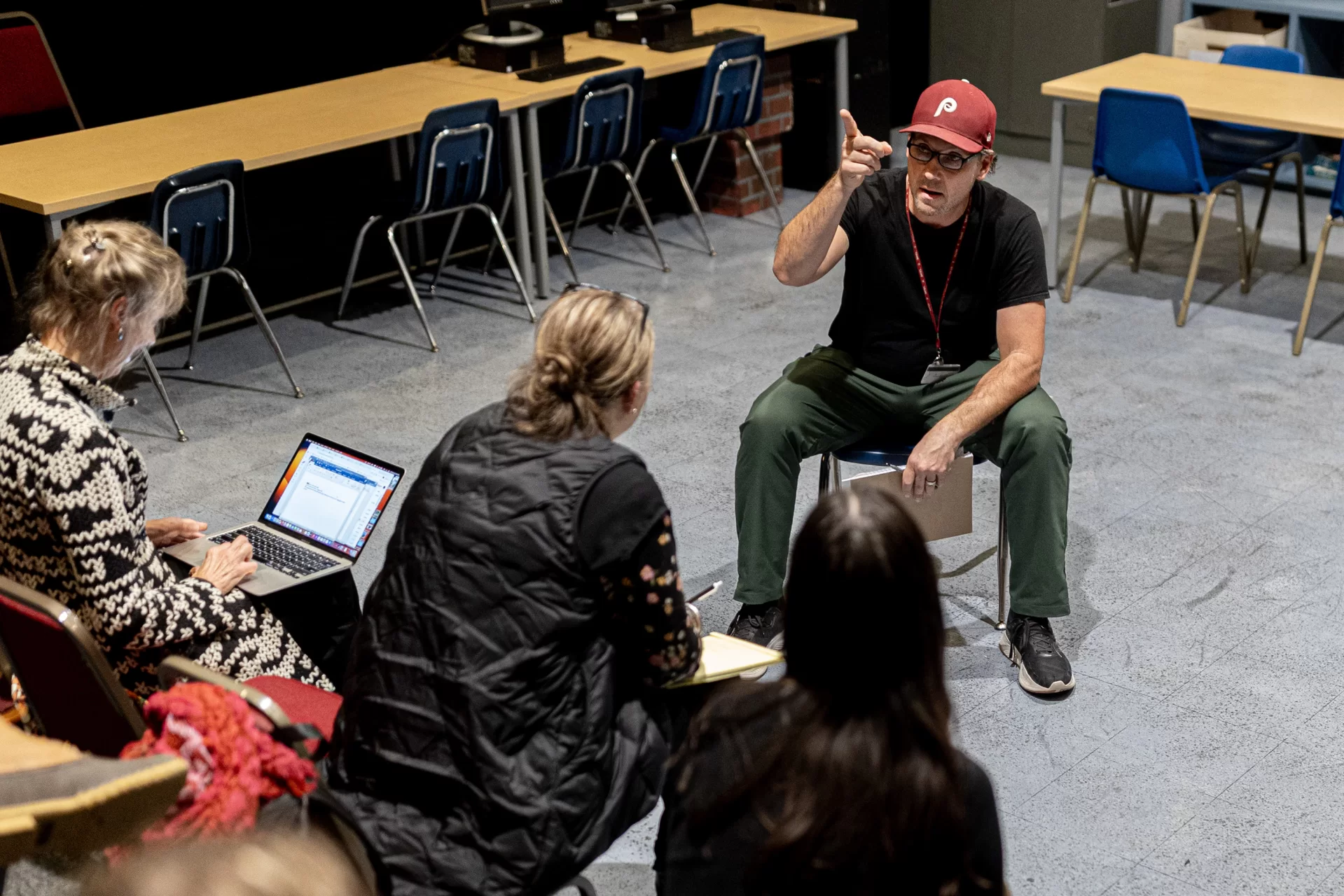 The workshops, additional readings, and spontaneous discussions that erupted during rehearsals all helped focus the cast on delivering FastHorse's message.
Because an audience who takes in The Thanksgiving Play also might need help understanding and making sense of FastHorse's intent, Dugan put together an expanded play program that explains what the audience can expect, with insights from Hall and Mitchell.
As a long-time consultant on film, television, and theater productions, Mitchell knows the effect satire can have. It can prompt an audience to reflect, examine, and consider their own morals and life views. The Thanksgiving Play, he says, helps deliver this reaction in spades.
When students expressed concern at being offensive or showcasing violence from historical events, Mitchell encouraged them to show all of that — to take it as far as they could. And they listened.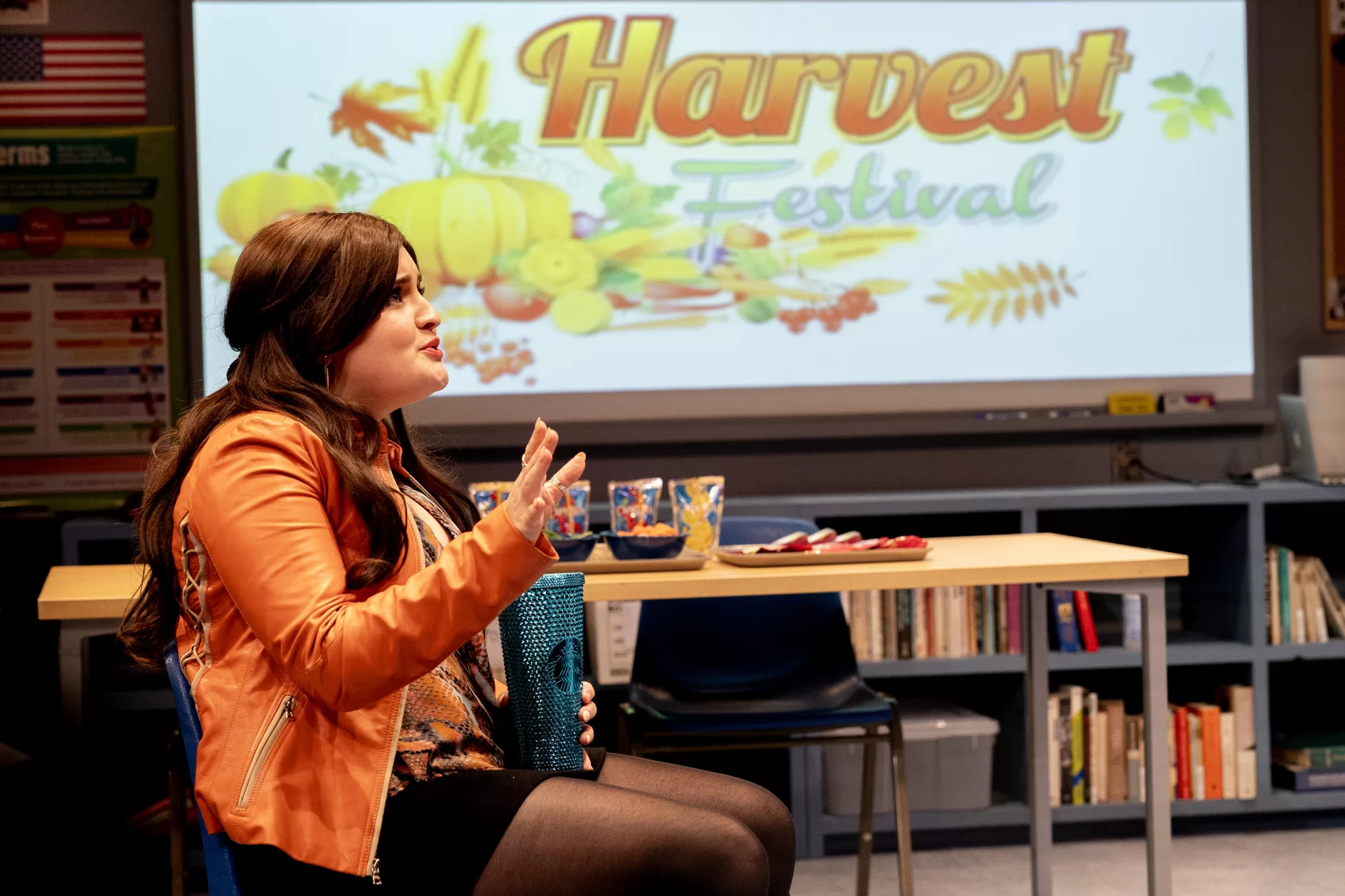 "To hear from someone who is a specialist in Native American history is great, but to hear it from someone who has experience in the (misrepresentation of Indigenous people), that was extremely valuable," says Paige Magid '24 of Washington, D.C., who's doing her senior thesis for her theater major on acting techniques in the play. "John Bear has specific experience working in theatre and film as a cultural consultant so he knows about media representation from that."
In one particular scene in the play, the amount of blood (albeit fake) that gushes onto the stage is grotesque, even haunting. When the play was shown on Broadway, some in the audience walked out during this violent scene. Students asked Mitchell if they should scale it back.
"I told them, 'Do you want to temper history? This country was not built on love and peace. It was one of the largest mass extinctions in history and that's well documented. It should be a shock. If it's not a shock, then you censored history," he says.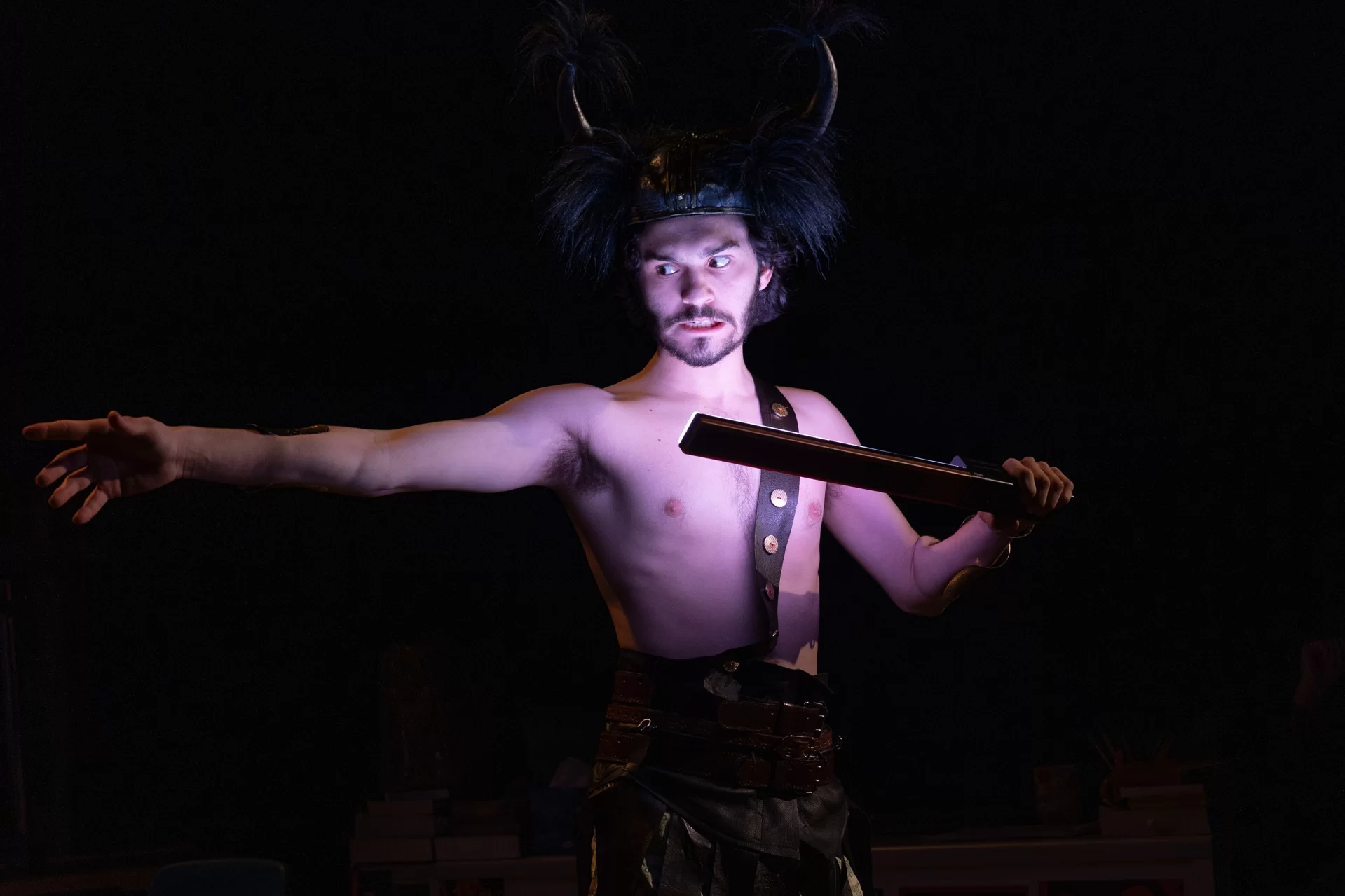 David Walker '24 of Canton, Mass., who plays one of the four white characters, spent more time preparing for this production than on past plays at Bates. The reward? Now he's looking forward to seeing the effect the play has on those who attend.
"The way FastHorse describes it, there is a comedy within the satire, so for every bit of sugar, there is medicine to go with it. If people are thinking about this play when they leave the theater, then I think we've done our job," says Walker, a double major in theater and economics who plays the role of Caden, an elementary school history teacher.
Magid plays the role of Logan, a high school drama teacher trying to hold onto her job, while Adam Joseph Matos '26 of Springfield, N.J., is cast as Jaxton, a mostly out-of-work actor. Ruby Marden '27 of Sidney, Maine, plays the role of Alicia, a bold, frank Los Angeles actor.
While it is very hard to deliver lines that are so offensive, says Magid, it's in service to staying true to FastHorse's mission, which she says is delivered in every single line in the play.
"A lot of people who come to see it will see themselves in it, especially in the Bates community, which is predominately white and liberal. A lot of people want to be woke and do good work without any evidence of being helpful," says Magid. "I want people to see the offensive thing happening and recognize what's wrong and modify their own behavior."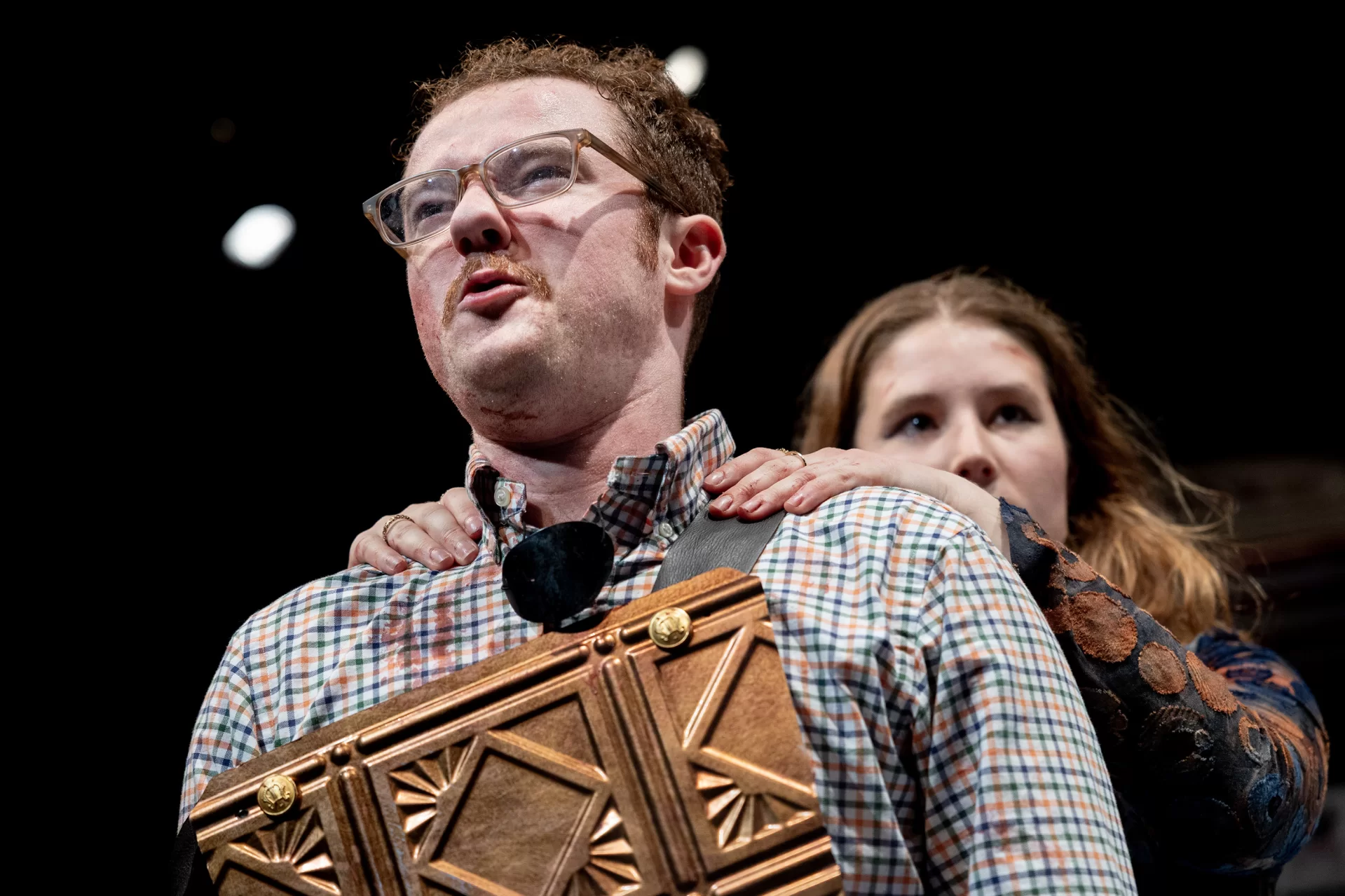 Hall says whether the audience walks away with a clear understanding of FastHorse's messages about the misrepresentation of Indigenous culture in the U.S. is hard to predict. But it's also hard to miss that Bates is part of an education system that FastHorse's play is mocking.
"I think Bates producing this play is great, not because everyone will walk out of the play with a perfect understanding of contemporary Native issues. I hope non-Native people get some sense of the powerful stereotypes that silence so many Native voices," says Hall. "I also think this play is an exciting opportunity for Bates to think about how it wants to be a place where Native people have a voice, and also provide an education about Native people that is responsible to those voices."