This summer at Bates, one filled with moments and meaning, has whizzed by, and we suddenly realize that students return to campus in less than a fortnight.
As a new chapter unfolds, we take a mid-August pause for a look at Bates summer days in the rearview mirror. Please enjoy some scenes from the last seven weeks as we begin anew, with hopes and dreams intact.
The Sweet Life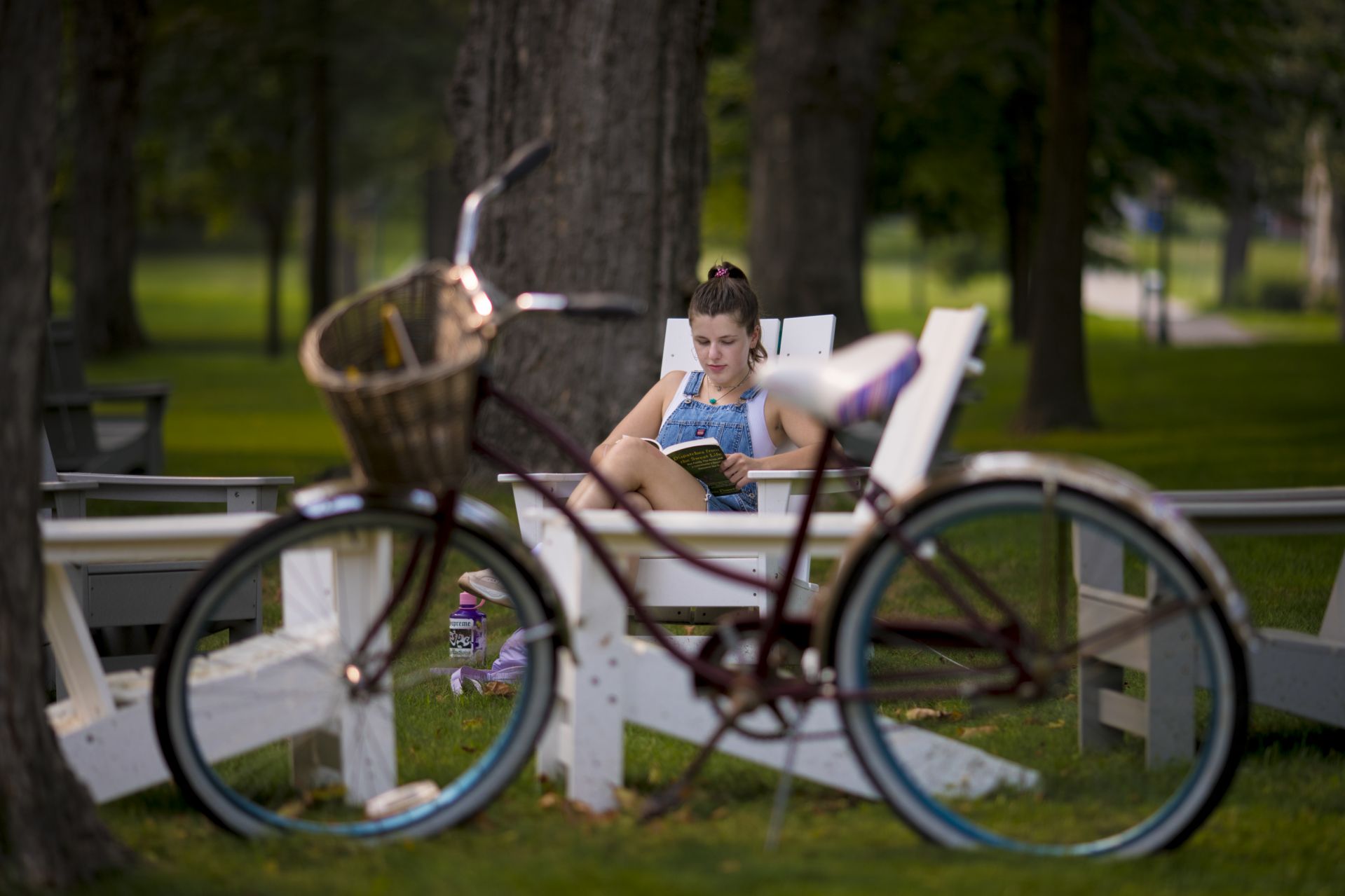 "It's a book about slowing down and enjoying the sweet life with family and friends," says Abbey Ende '23, seated on the Historic Quad reading Dispatches from the Sweet Life: One Family, Five Acres, and a Community's Quest to Reinvent the World, by William Powers.
A psychology major from Asheville, N.C., Ende will use her Spanish skills as a community health worker with the Maine Mobile Health Program, an outreach service for migrant farmworkers in Maine, during the summer and fall harvest season.
---
Bronzed Beauty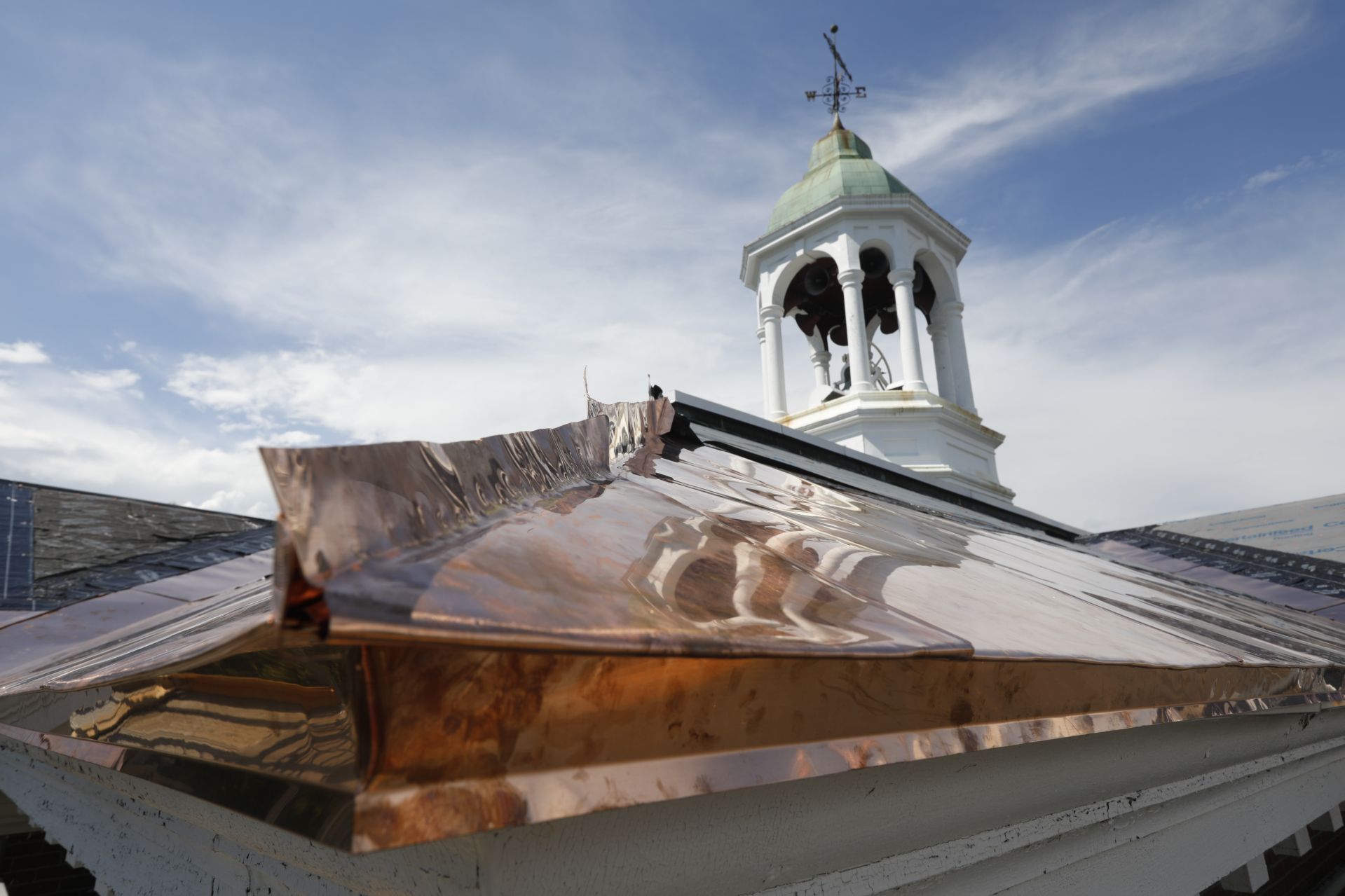 Summer facility projects have included replacing Hathorn Hall's 100-year-old slate roof, which includes adding a new weather barrier and copper flashing.
---
Birdwatchers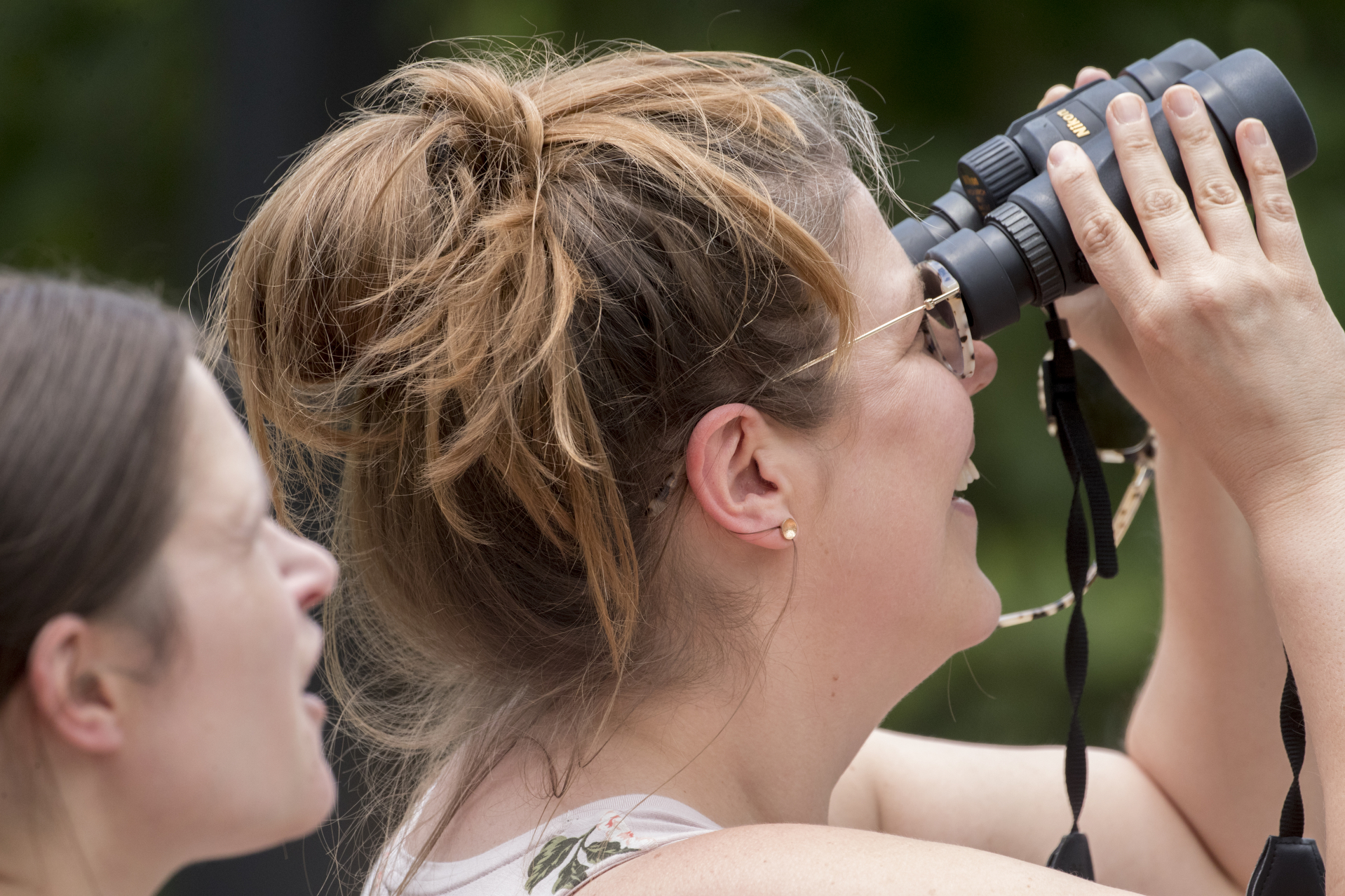 Christine Murray (left) and Caitlin Lampman take a closer look at the nest of a merlin, a small species of falcon, in a pine tree between the Muskie Archives and Chase Hall. Folks agree that the nest has five babies ready to fledge.
Murray is Ladd Library's social science librarian, and Lampman is outreach archivist with Muskie Archives and Special Collections Library.
---
Moving Ahead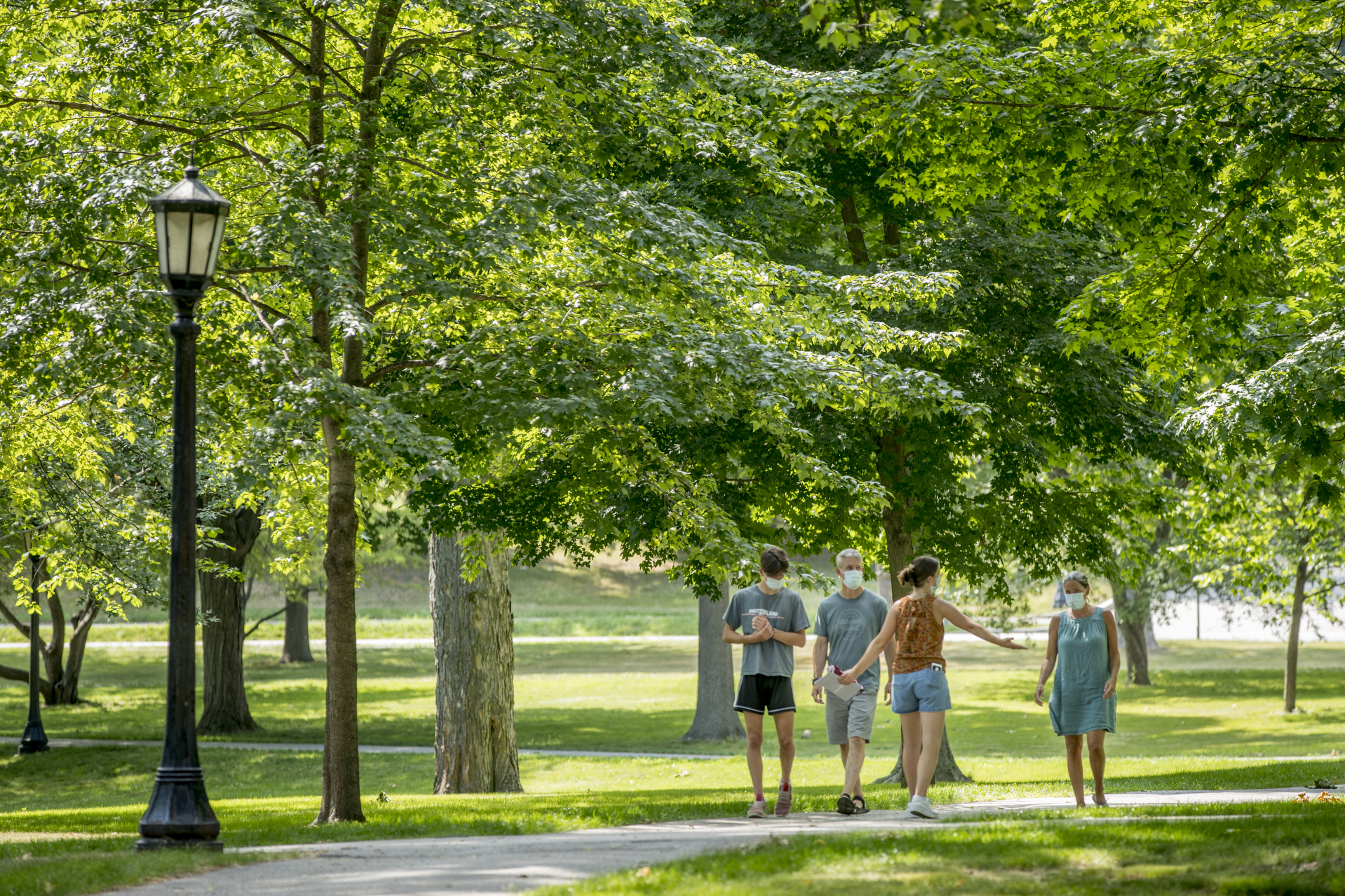 Admission tour guide Ava Petrin '24 of nearby Leeds, Maine, keeps things moving ahead while walking backward, sharing what she loves about Bates with prospective students and families from around the world.
---
Velvet Elvis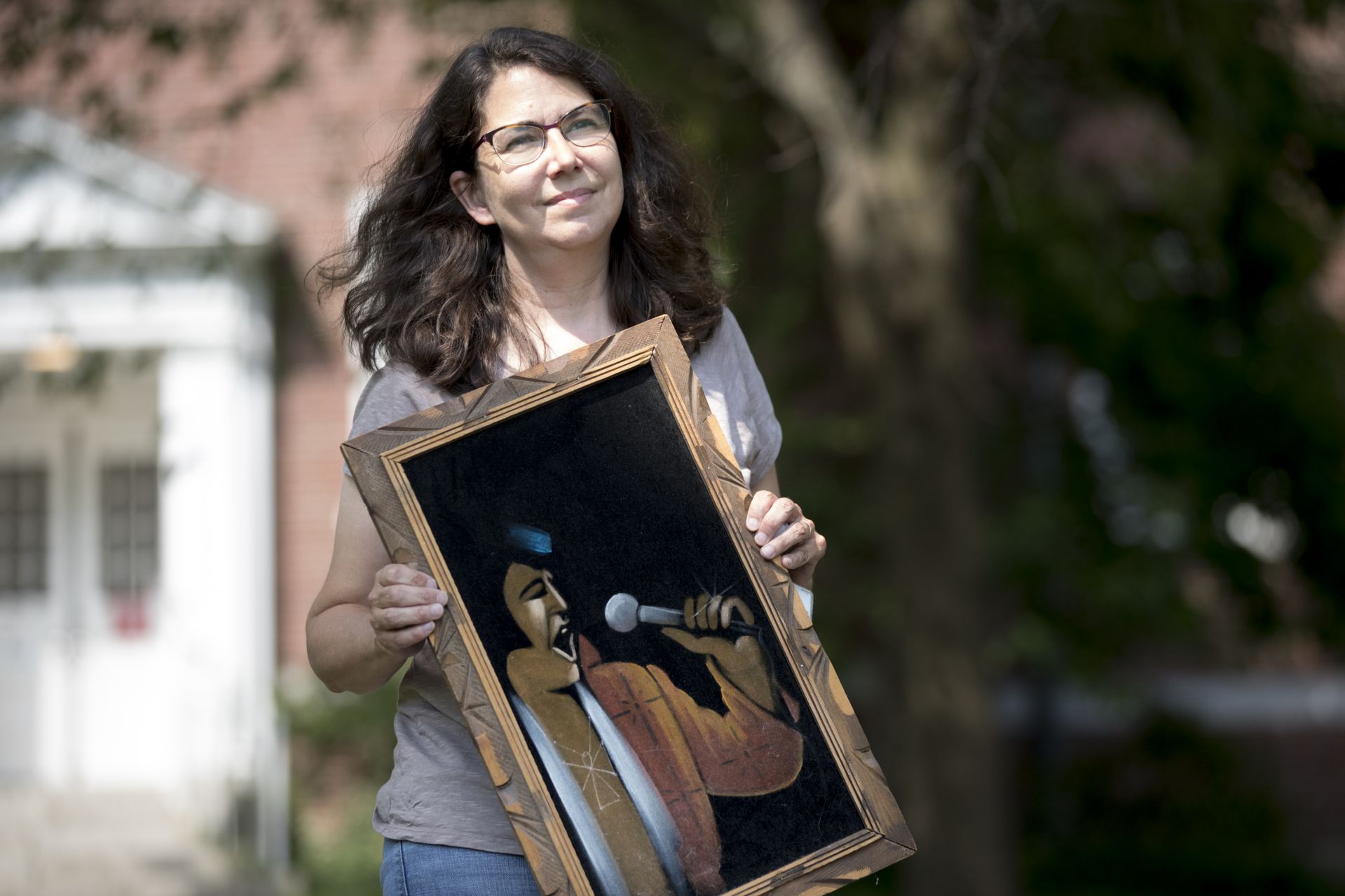 Elvis has left the building…and is heading to another. For years, this Velvet Elvis has been something of a mascot of Professor of Chemistry and Biochemistry Paula Schlax's lab in Dana Chemistry Hall. In July, Schlax marched VE across campus to her new lab in Bonney Science Center, a state-of-the-art environment that, like Dana, will reflect the people and personalities of those who teach, learn, and research there.
---
Pride Inspired Barbeque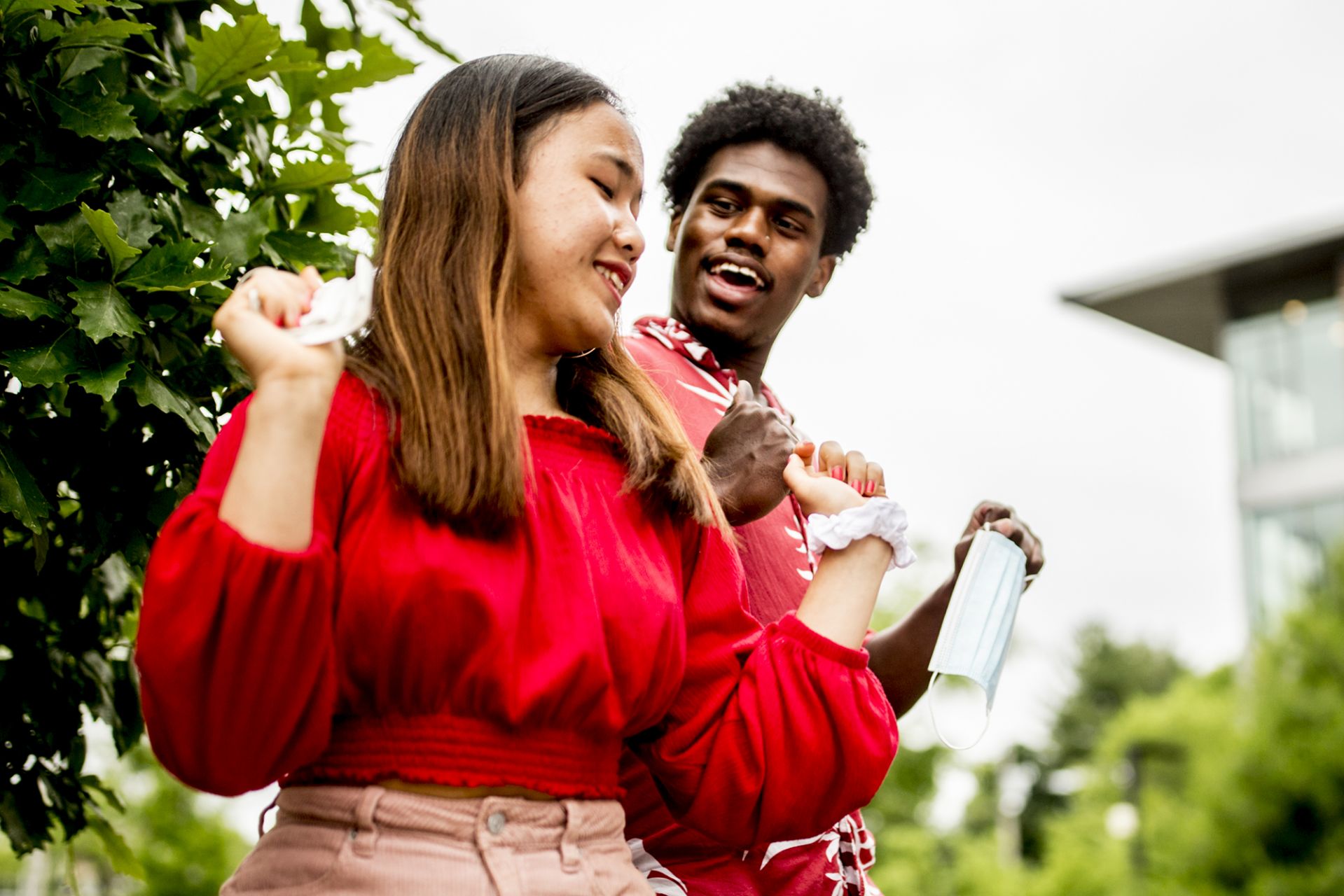 Kyle Larry '21 enjoys a TGIF moment with Fai Saejeam '24 of Chiang, Thailand, during a barbeque that Larry hosted celebrating LGBTQ+ Pride in June. Larry was a post-baccalaureate fellow for residence life and Bates Health Services over the summer, and "one of my jobs involves creating welcoming and proud spaces for summer residents," Larry says.
---
Street Art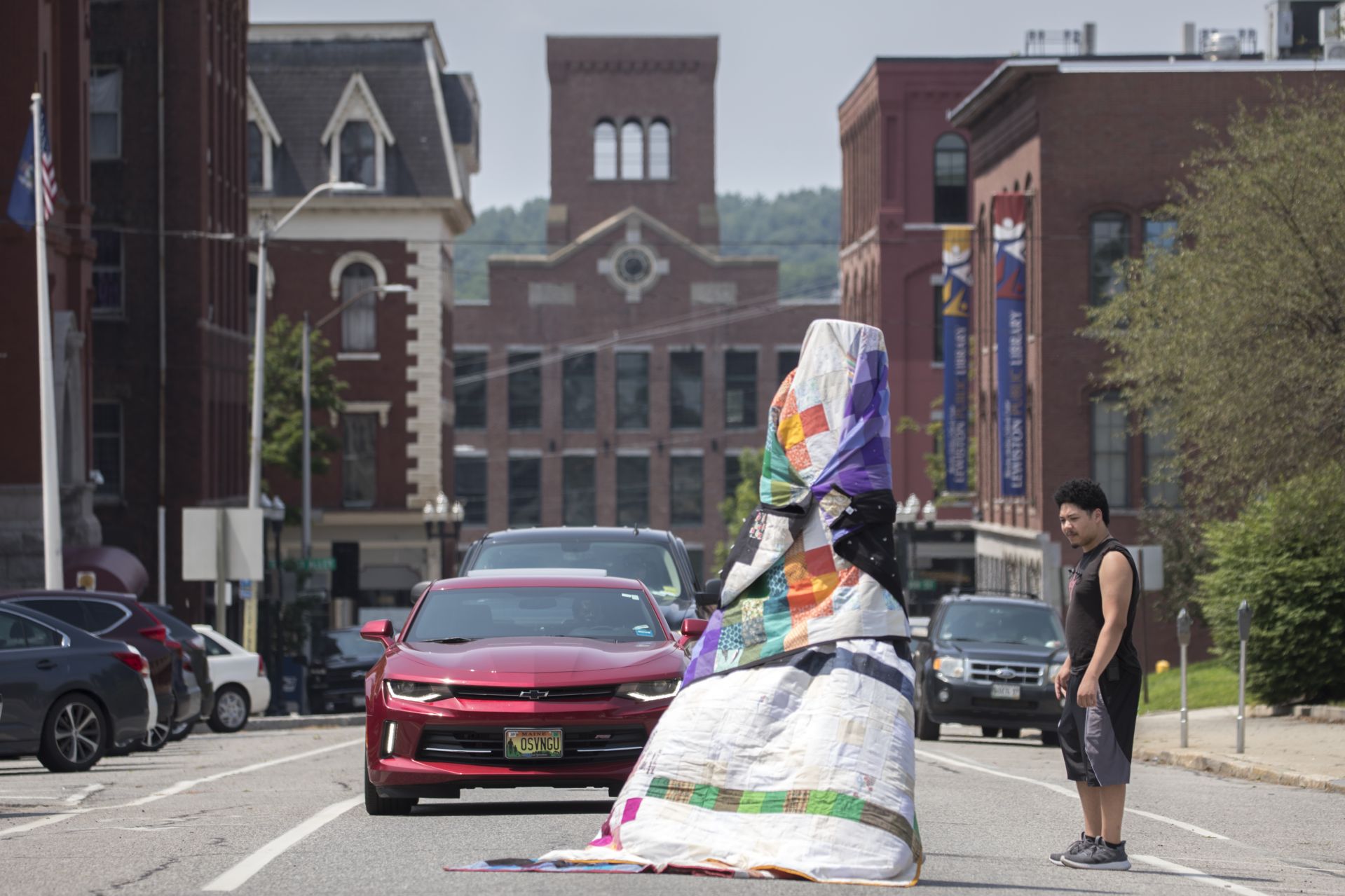 Jamari Amrham '22 of Fontana, Calif., a Purposeful Work intern with the Bates Dance Festival, escorts a dancer swathed in quilts through traffic on Pine Street in Lewiston in July. The scene unfolded during a tech rehearsal for Processions Toward, Being Future Being, a site-specific work in development by choreographer Emily Johnson and her company, Catalyst, that evokes themes of Indigenous power and place.
---
In Rain or Shine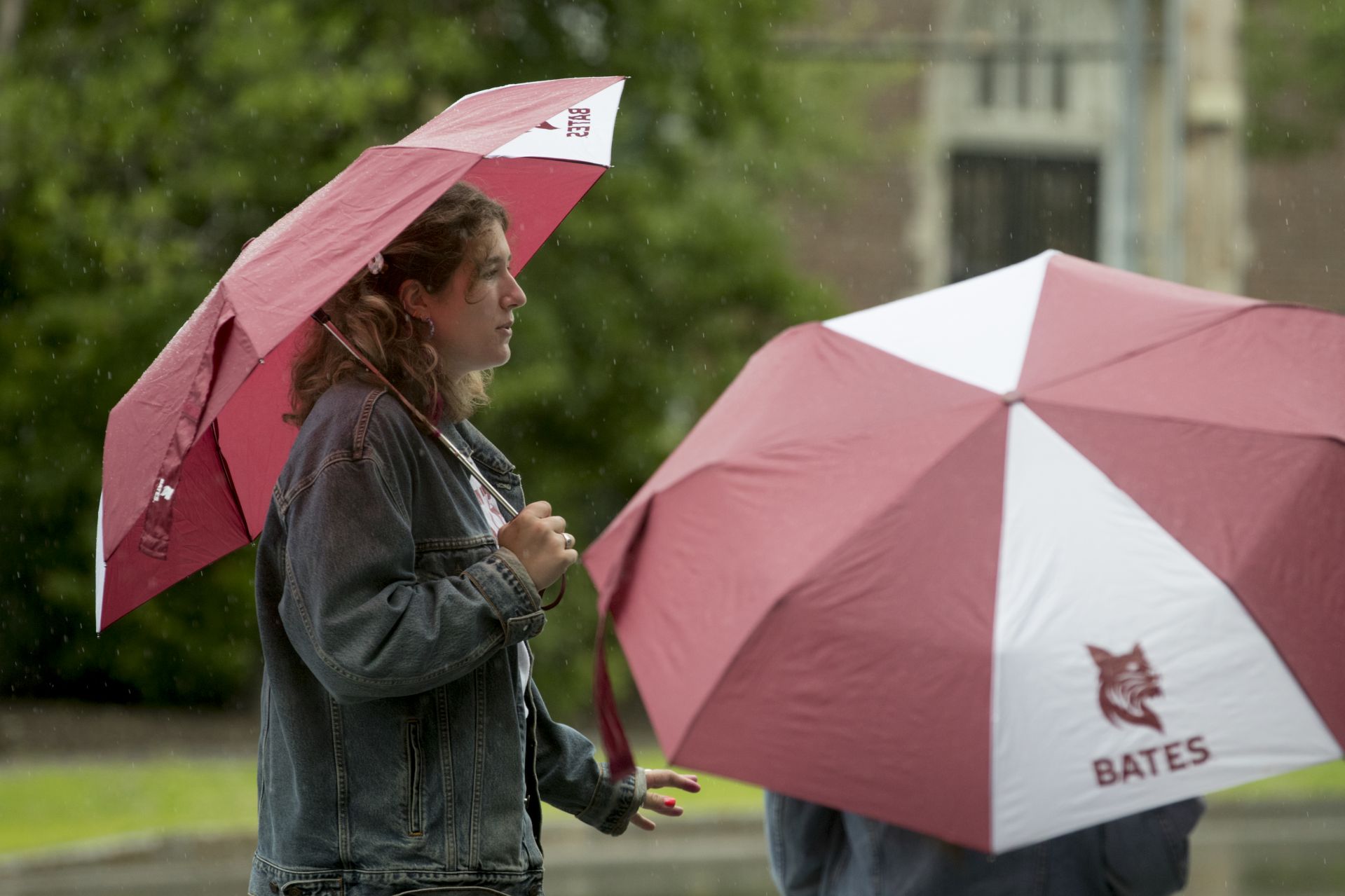 Admission intern Margaret Horvat '23, a rhetoric, film, and screen studies major from Philadelphia, leads a rainy-day campus tour in front of the new Bonney Science Center on Campus Avenue.
---
What We Saw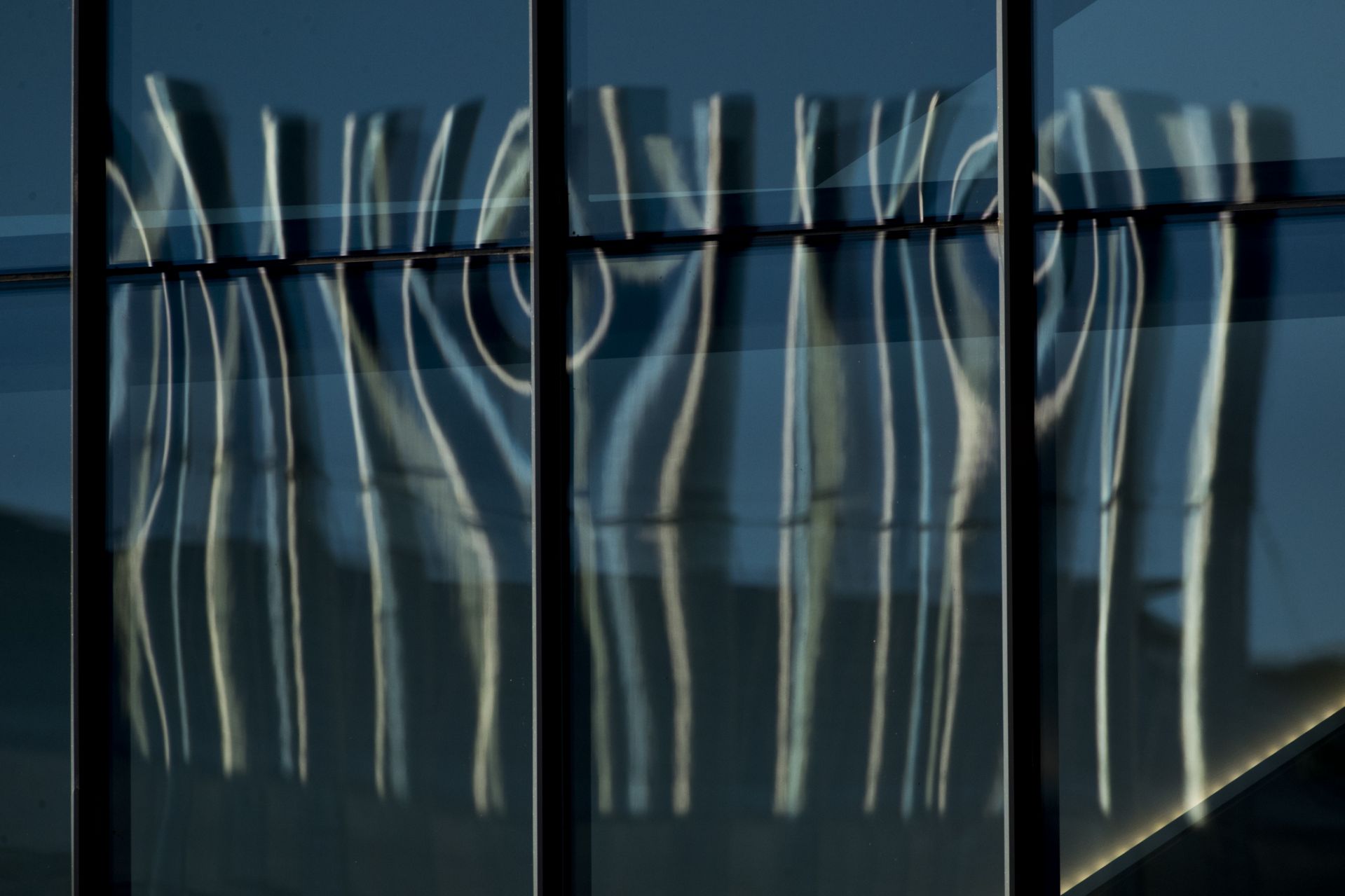 A reflection of the exhaust stacks on the roof of Carnegie Science appears as a reflection on the Campus Avenue–facing windows of the new Bonney Science Center.
---
Flowers, Pollen…and Ticks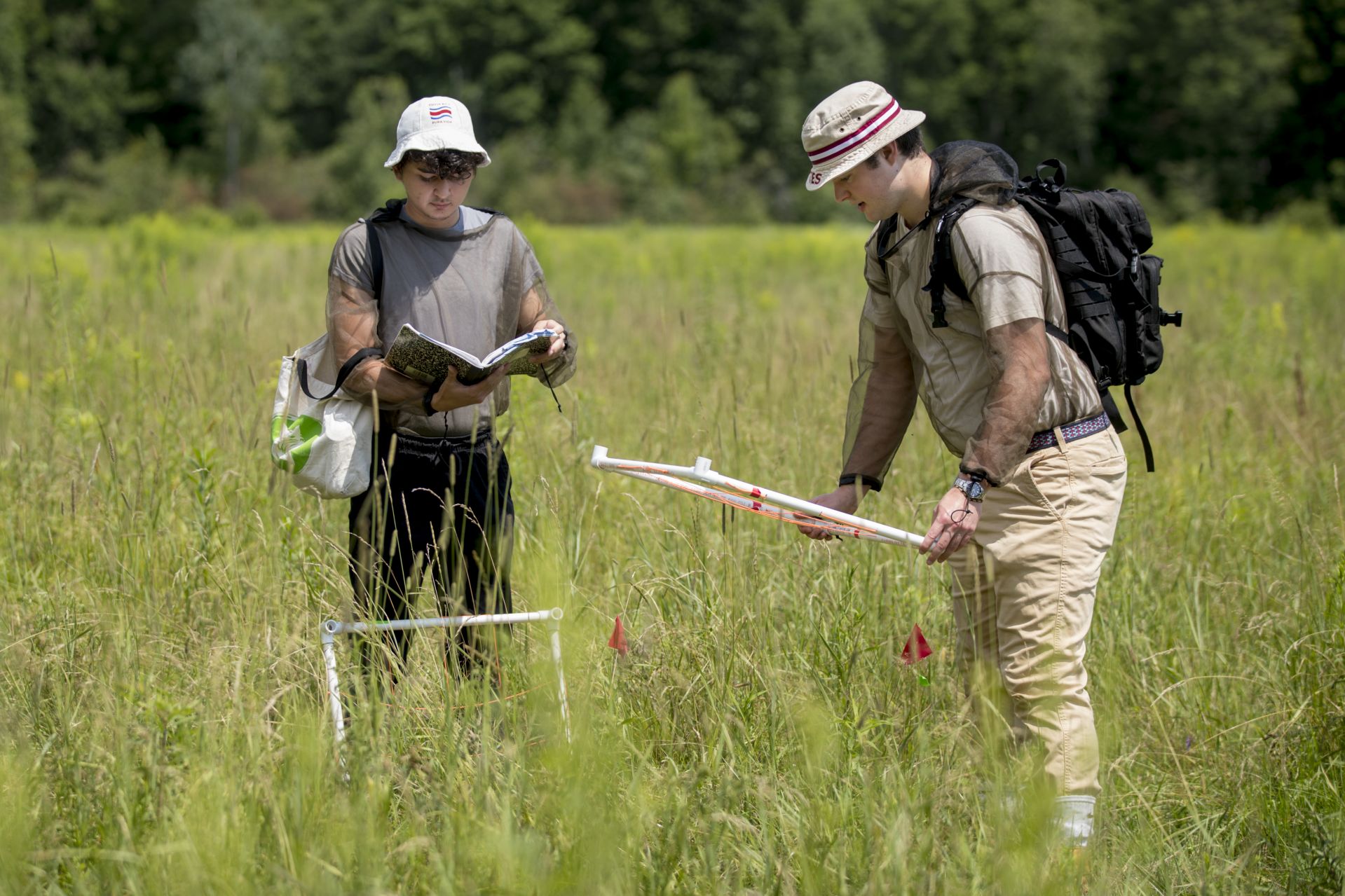 Protected from ticks and other insects with mesh shirts and insect repellent, student researchers Henry Hardy '22 of Gloucester, Mass., and Sebastián León Fallas '24 of Pérez Zeledón, Costa Rica, spent the summer analyzing pollen and nectar environments in a meadow at Thorncrag Nature Sanctuary near campus. The pair worked in the lab of Assistant Professor of Biology Carla Essenberg, who studies plant-pollinator interactions.
---
'Pyramid of Strains'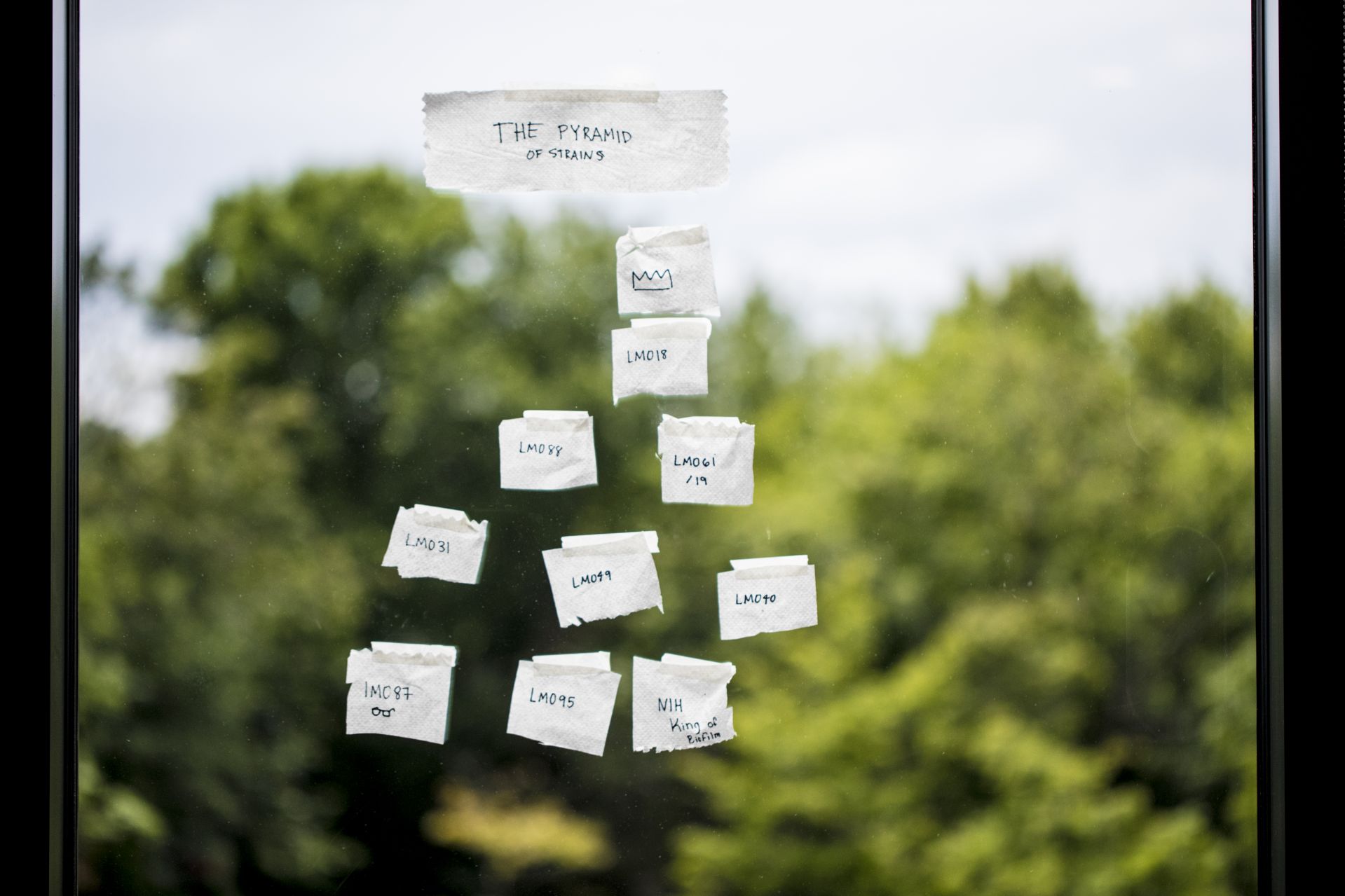 The nine paper-towel stickies taped to a lab window in Bonney Science Center each have the name of a different strain of bacteria tested by students in the lab of Assistant Professor of Chemistry and Biochemistry Colleen O'Loughlin.
Each strain responded to each experiment in a reproducibly different way. And after each experiment, O'Loughlin's students rearranged the pyramid to reflect the strain "that got to wear the crown that day," she says. "It ended up being a beautiful visualization."
---
A Passion for Percussion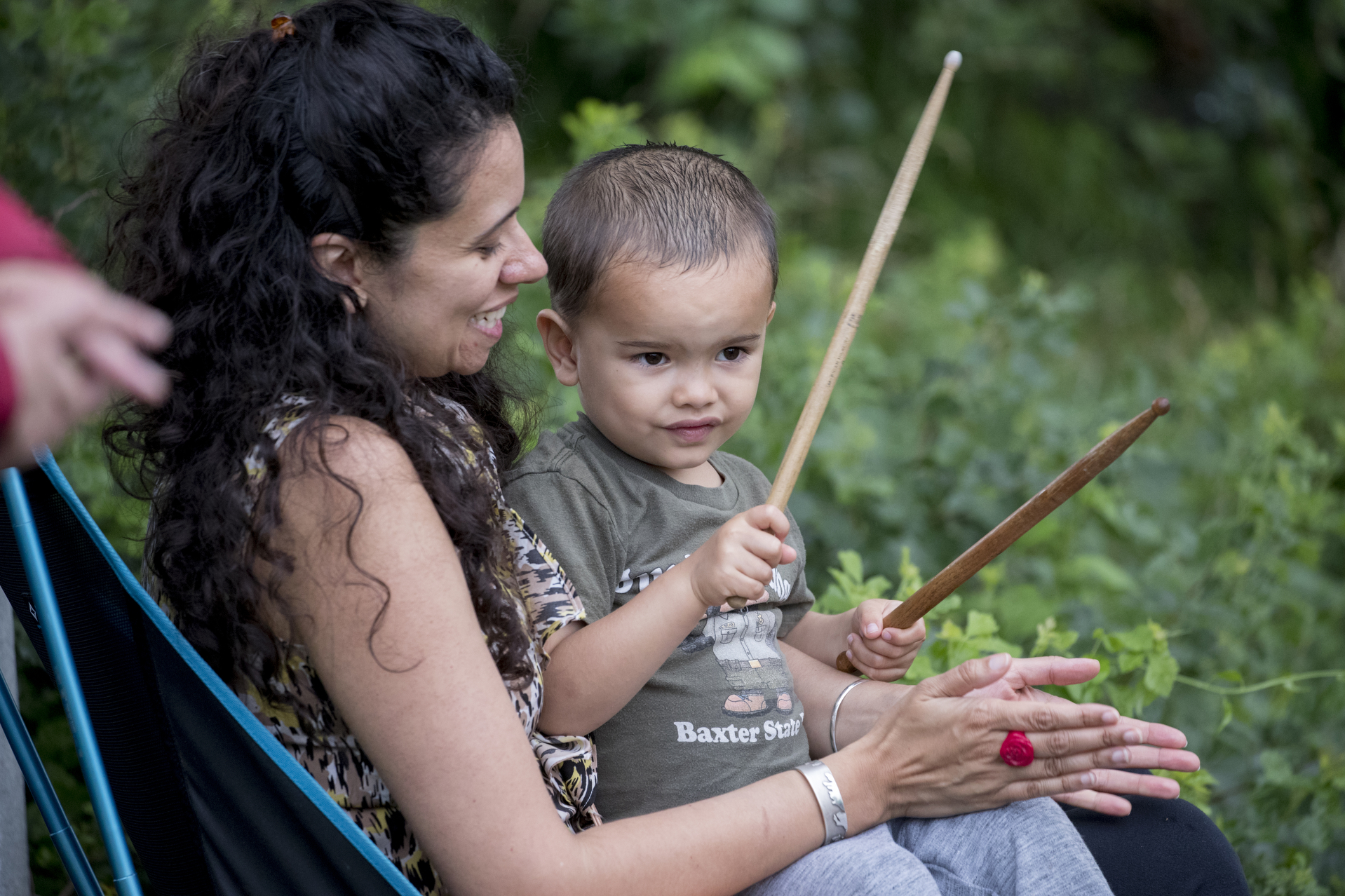 Nicola Chin and son Rajan, age 4, keep the beat with hands and sticks during the annual Bates Dance Festival music concert at Lewiston's Simard Payne Park Amphitheater. Rajan's father is Timothy Chin '07.
---
Shaker Village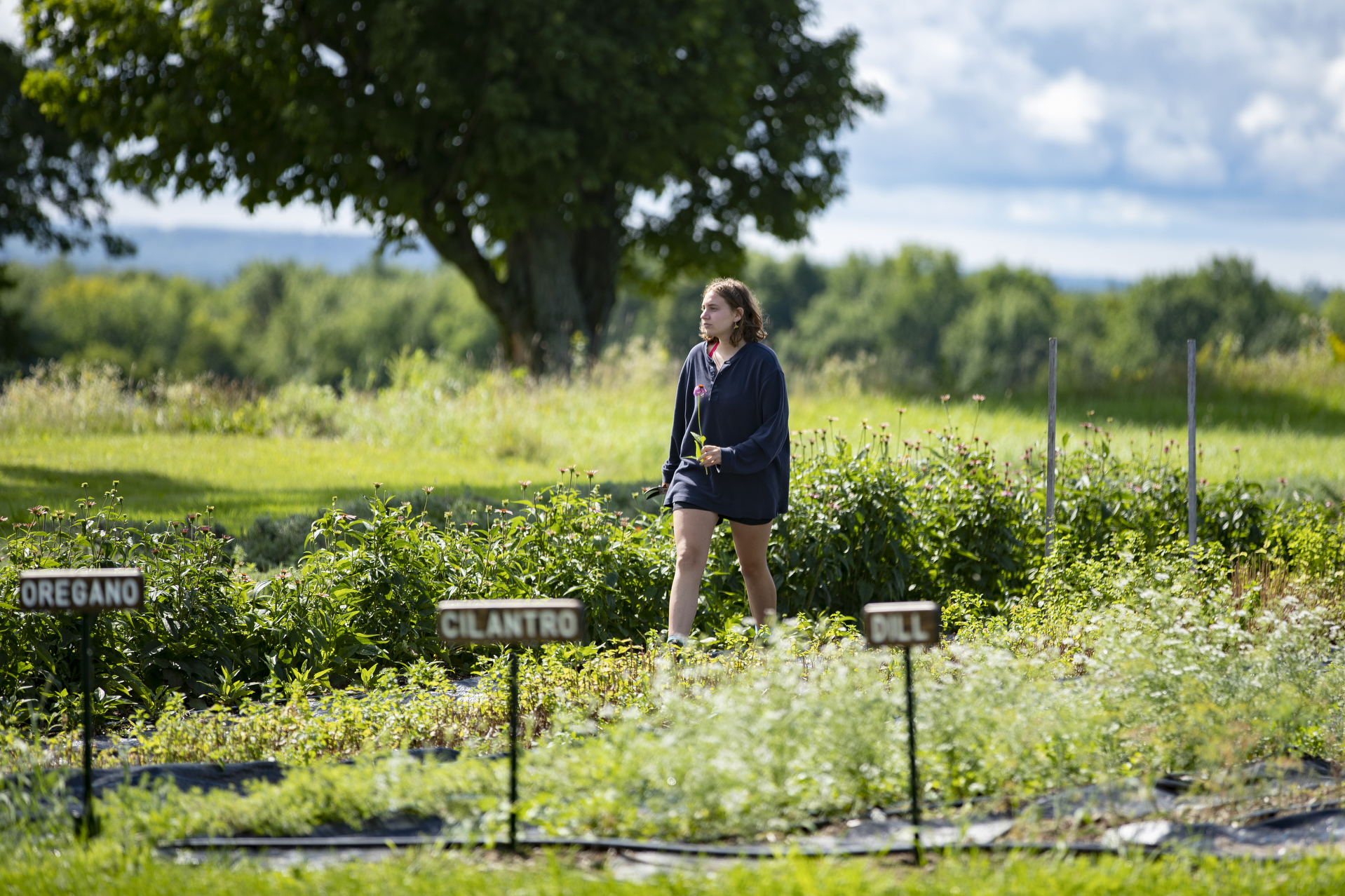 Psychology major Sophie Nahriny '22 of Chestnut Hill, Mass., walks with a coneflower she picked in an herb garden at the Sabbathday Lake Shaker Village in New Gloucester, Maine, where she had a Purposeful Work internship. The village was established by Shaker missionaries in 1782 and declared a National Historic Landmark in 1974.
---
Better in Bonney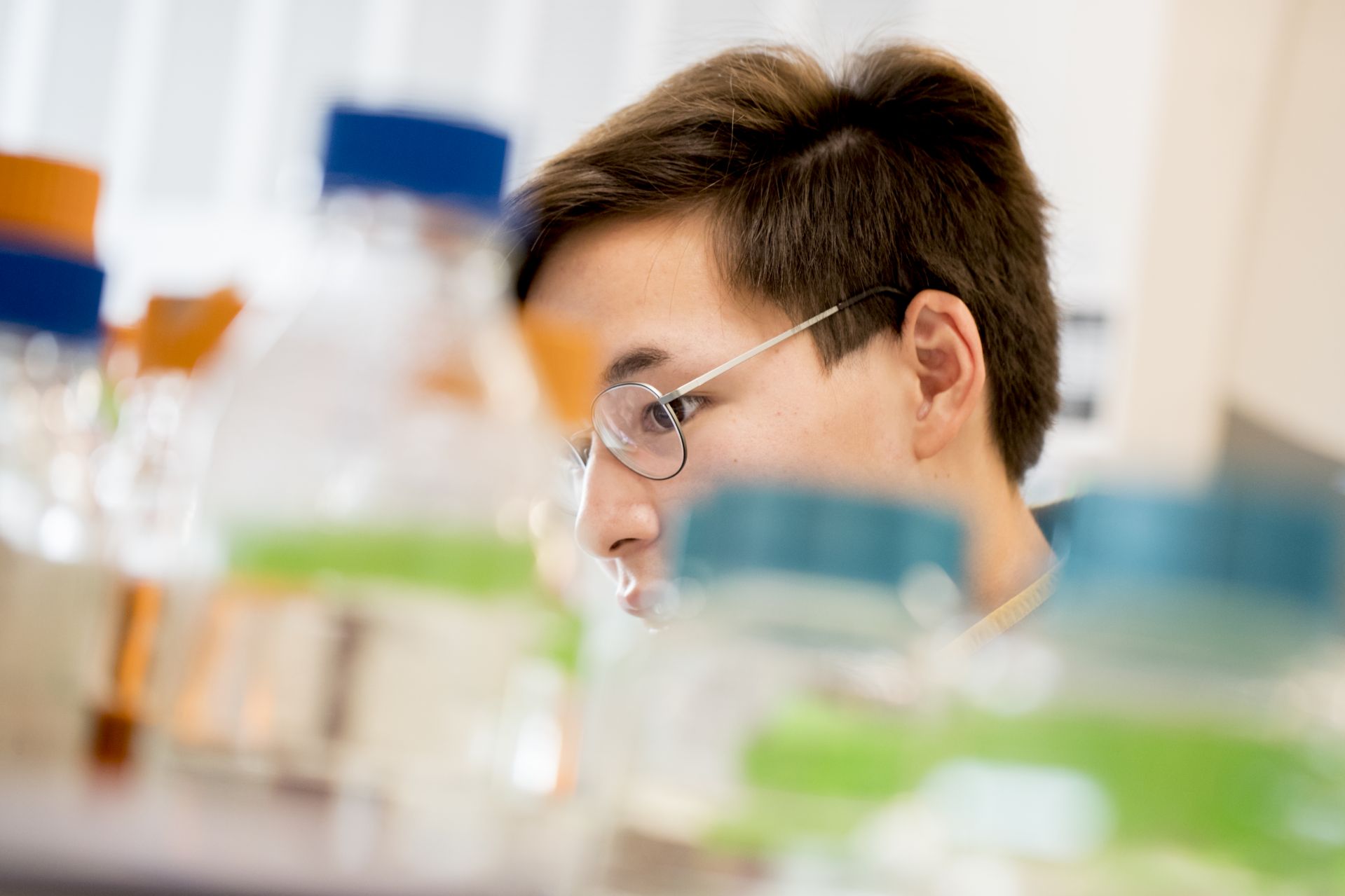 Surrounded by a sea of scientific glassware, Nick Gajarski '24 of Dublin, Ohio, prepares samples for analysis in the Bonney Science Center.
Funded by an INBRE Faculty-Student Research Grant, he worked in the lab of Assistant Professor of Chemistry and Biochemistry Colleen O'Loughlin to analyze molecules synthesized by bacteria that reside on human skin.
---
Lady Landing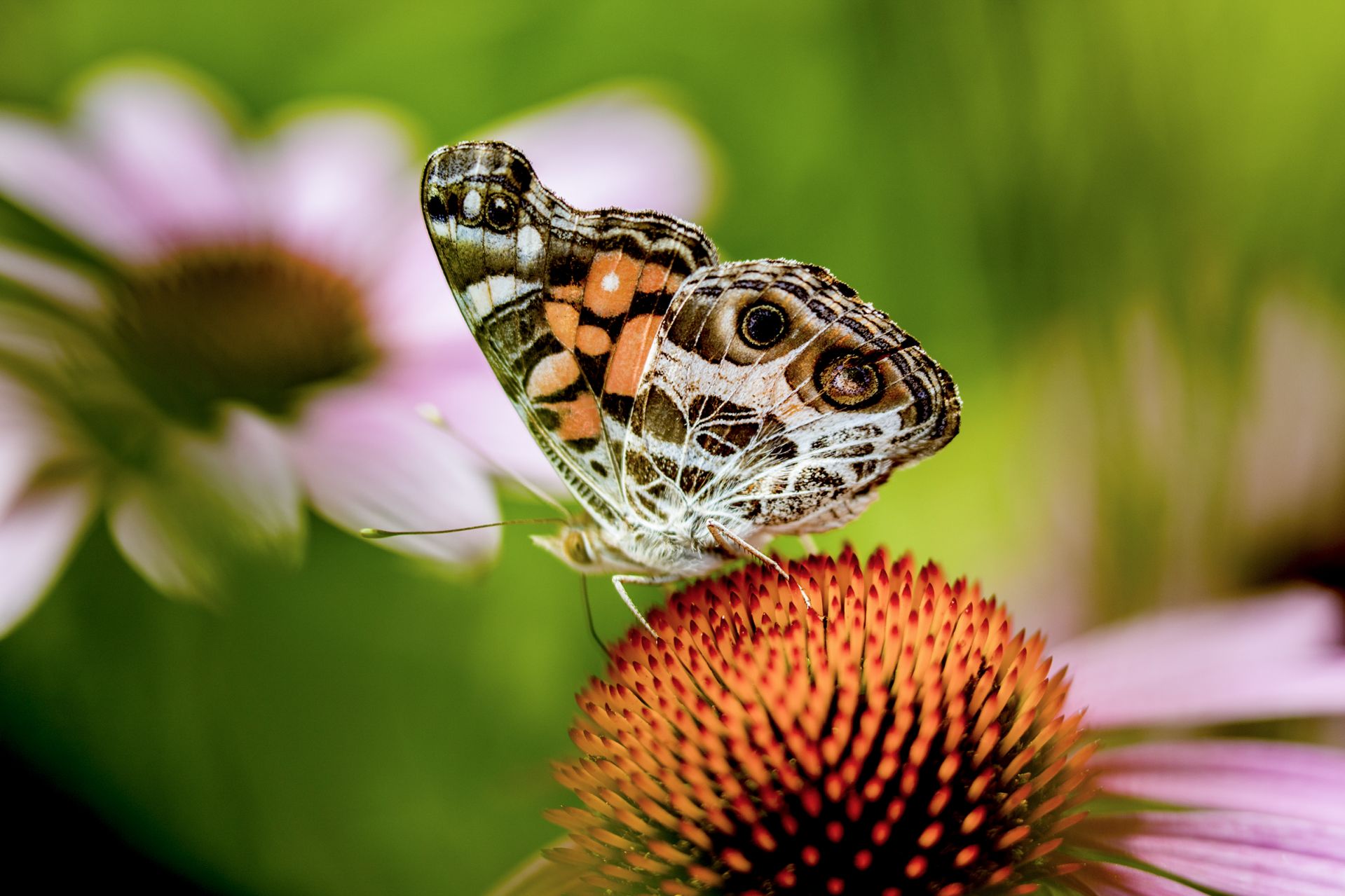 An American lady butterfly lands on a purple coneflower outside Pettengill Hall.
---
Pop Up Boot Camp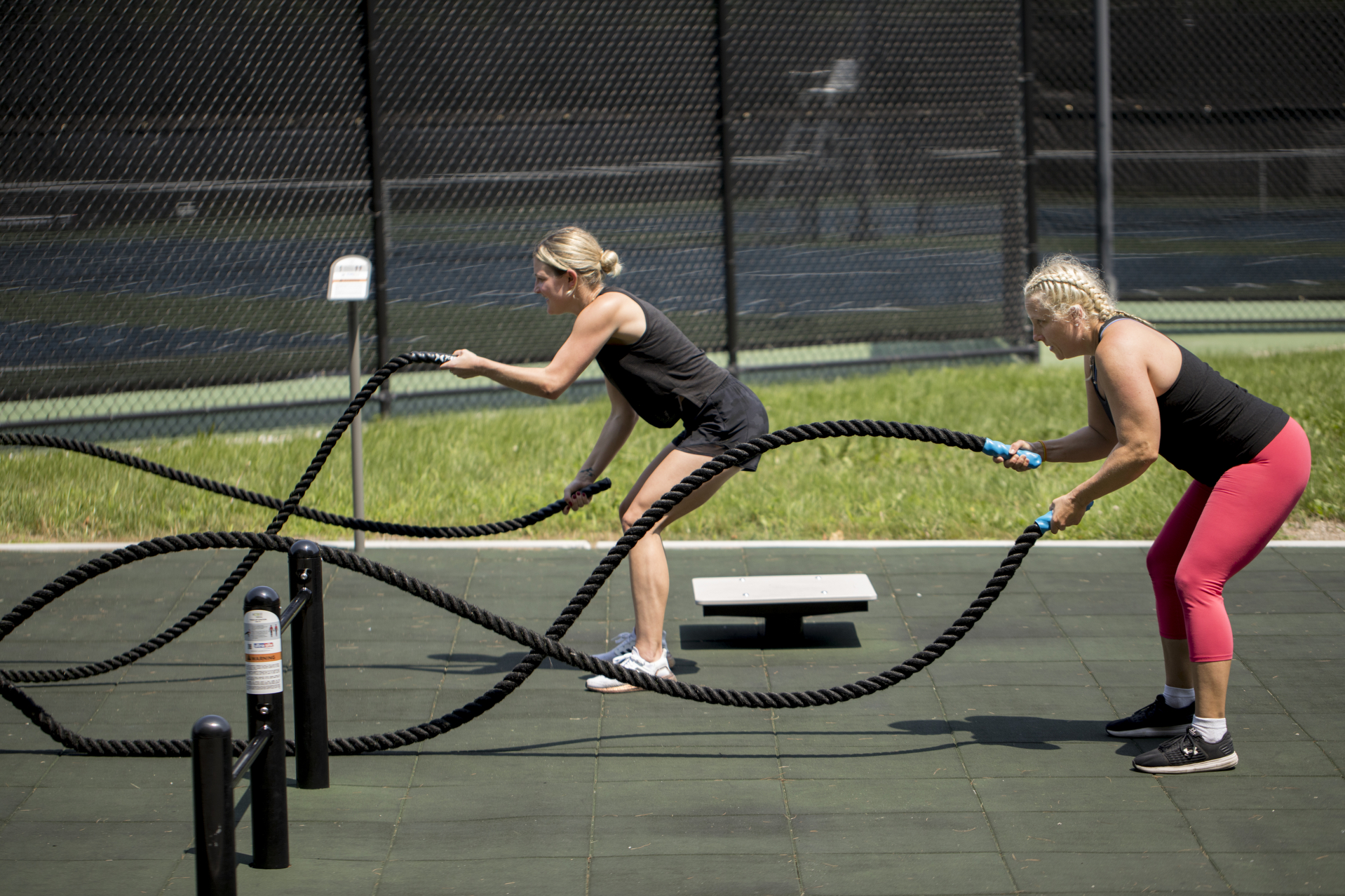 Workout buddies Vanessa Williamson '05, associate head coach of swimming and diving, and Meagan Pomeroy, assistant director of annual giving, use workout ropes at the fitness park next to Wallach Tennis Center.
---
Beer Bitterness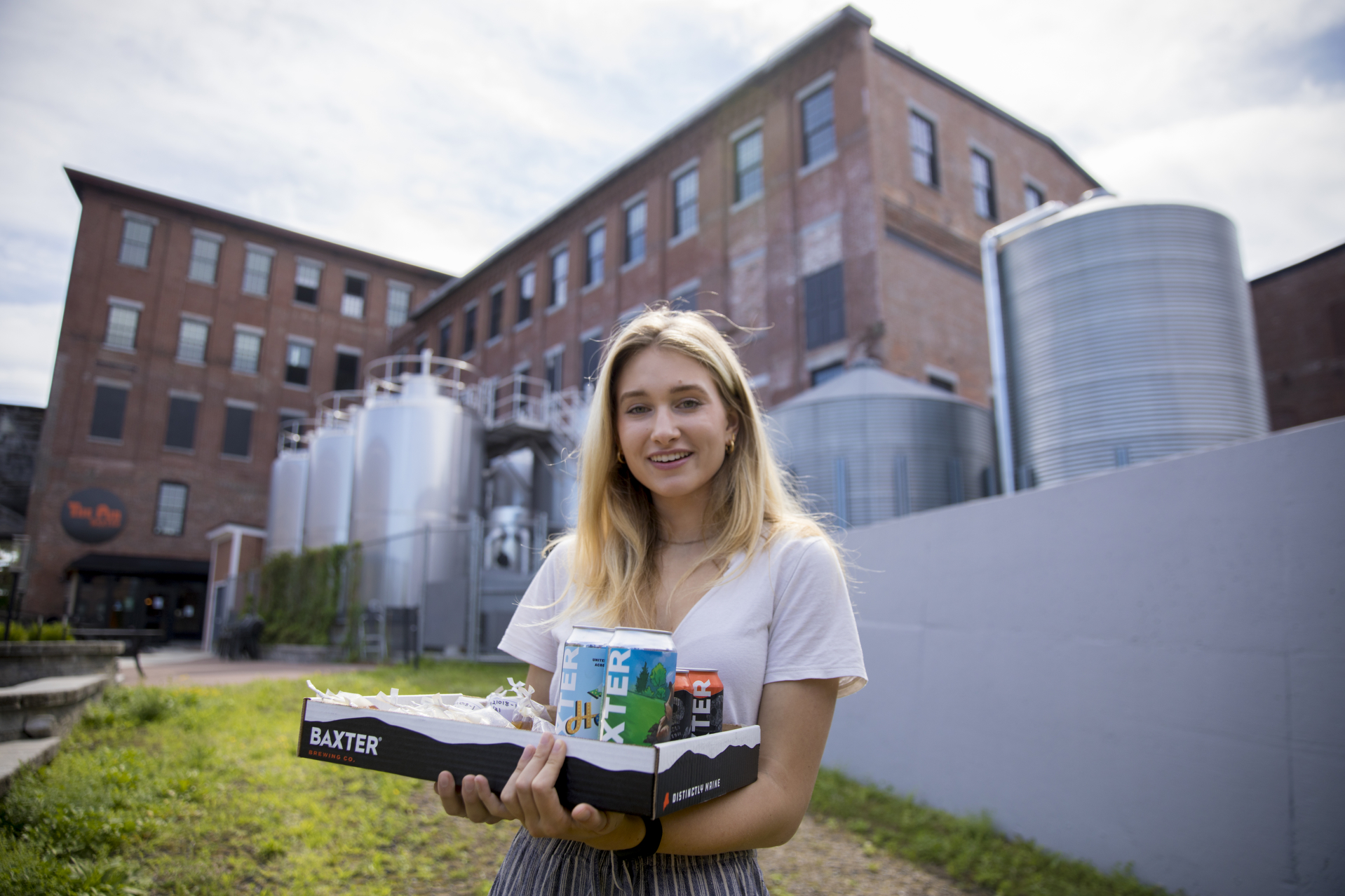 Purposeful Work intern Emily Tamkin '23, a biology major from Lafayette, Calif., poses outside Lewiston's Baxter Brewing Co. with beer samples that she analyzed in a Bates laboratory. Working with Baxter's quality director, Merritt Waldron, Tamkin used her lab skills to precisely measure the beer's bitter-tasting iso-alpha acids, which result when the beer's hops are heated.
---
Scholar-Athlete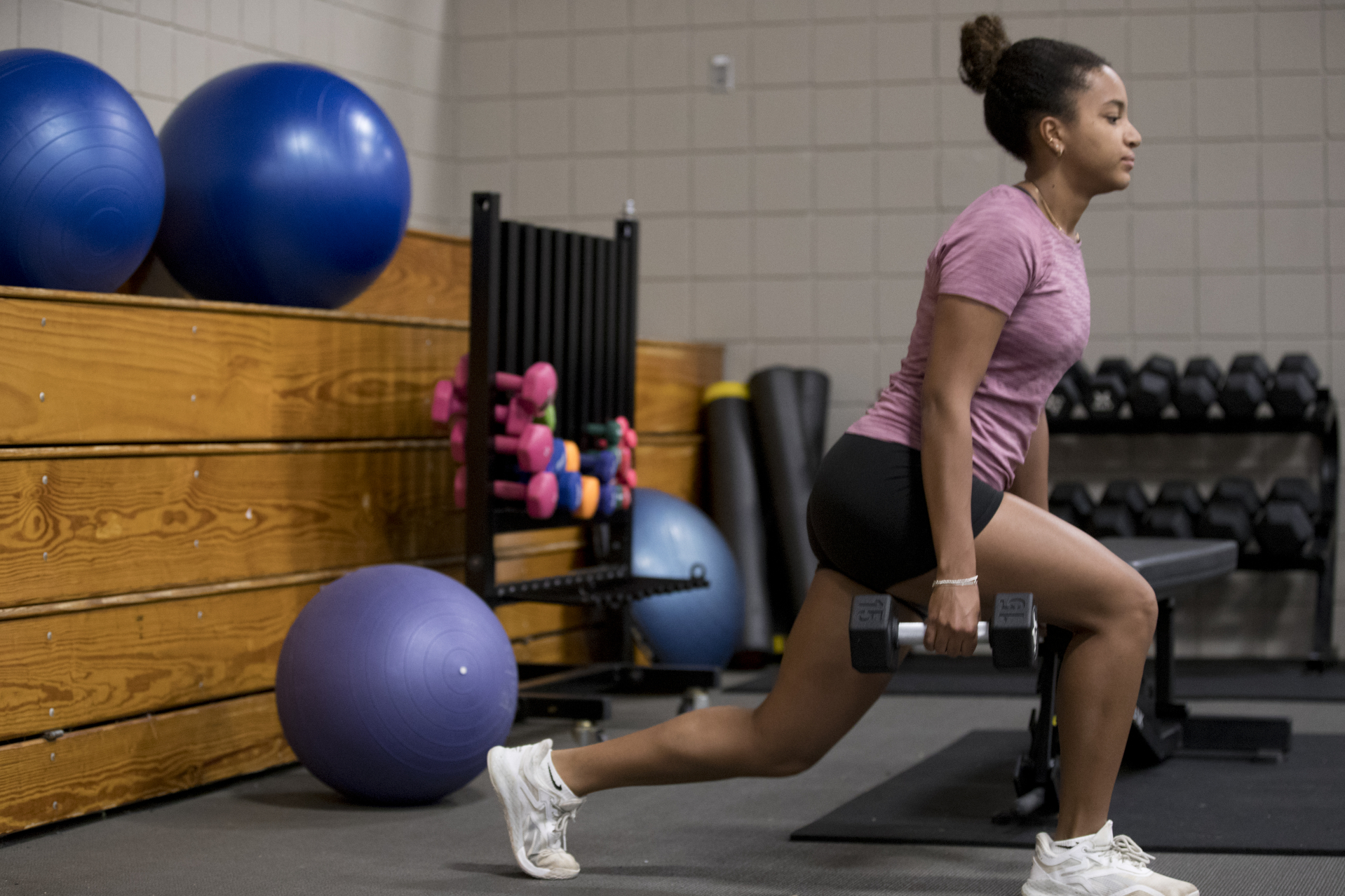 Several times a week, Joanna Atwater '23 of Short Hills, N.J., heads to Merrill Gym for a 50-minute workout to get ready for the fall tennis season.
Funded by an INBRE Faculty-Student Research Grant, Atwater worked in the lab of Assistant Professor of Chemistry and Biochemistry Colleen O'Loughlin to analyze molecules synthesized by bacteria that reside on human skin.
---
Georgia on His Mind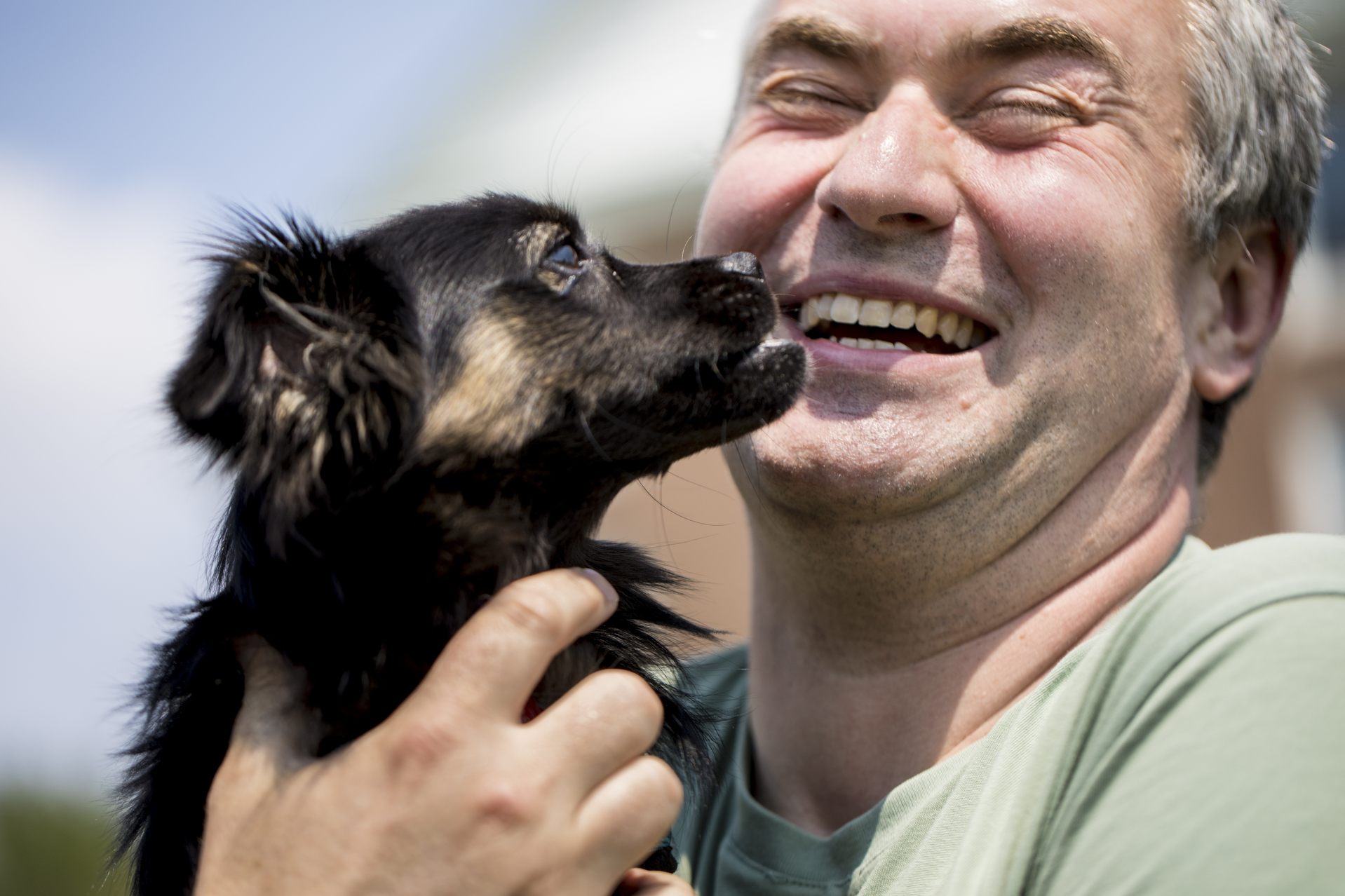 Associate Professor of German Jakub Kazecki enjoys a moment on Alumni Walk with George, an 8-month-old chihuahua-dachshund mix his family adopted from the Augusta Humane Society.
Kazecki's 8-year-old daughter named the dog for his home state of Georgia. Also, the animal's curiosity reminded her of the children's picture book hero Curious George.
---
Shaker Herbs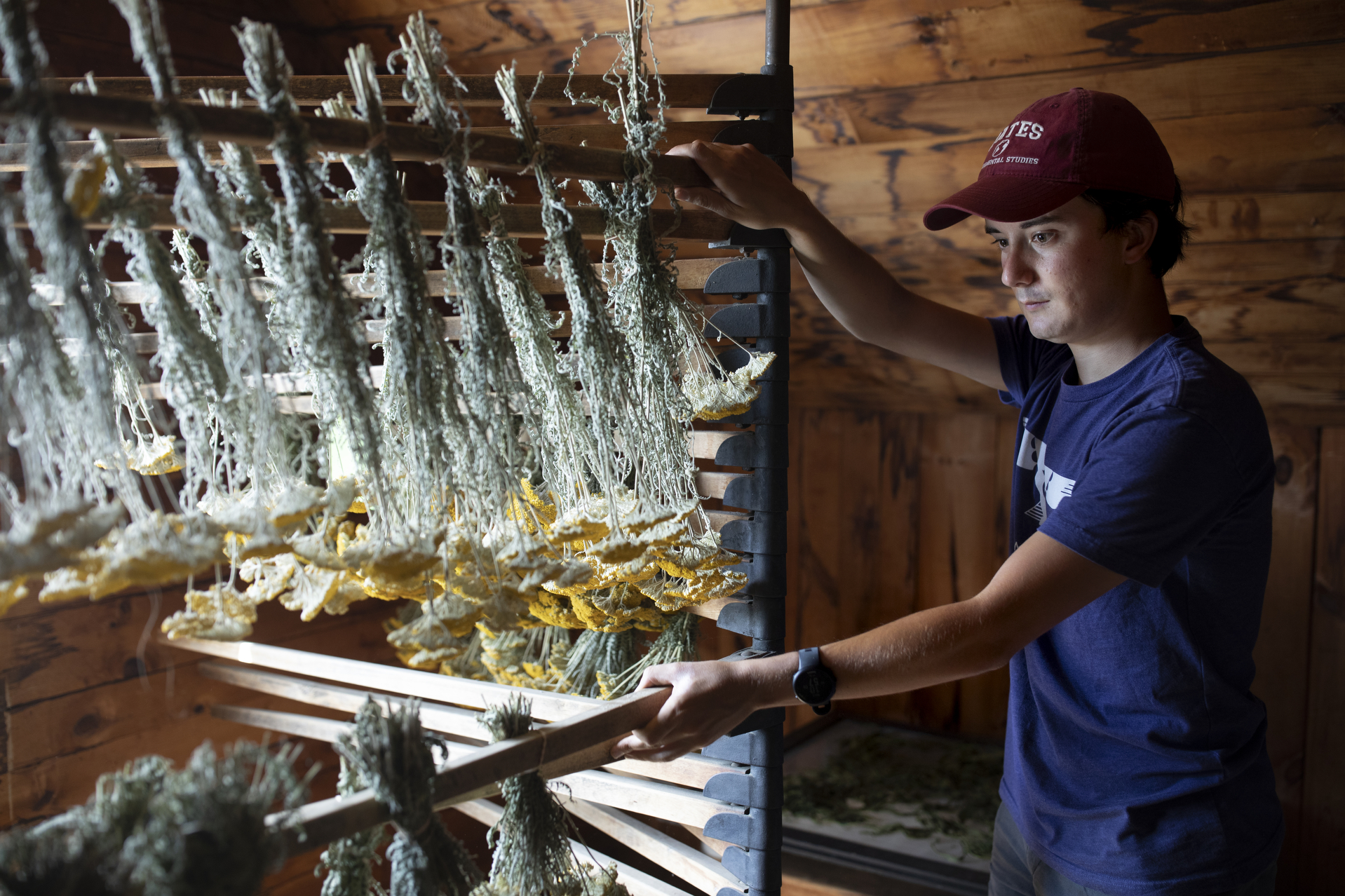 Environmental studies major Caleb Ireland '23 of Amherst, Mass., tends to harvested flowers in the herb building at the Sabbathday Lake Shaker Village in New Gloucester, Maine, where he had a Purposeful Work internship.
---
New Roots Cooperative Farmers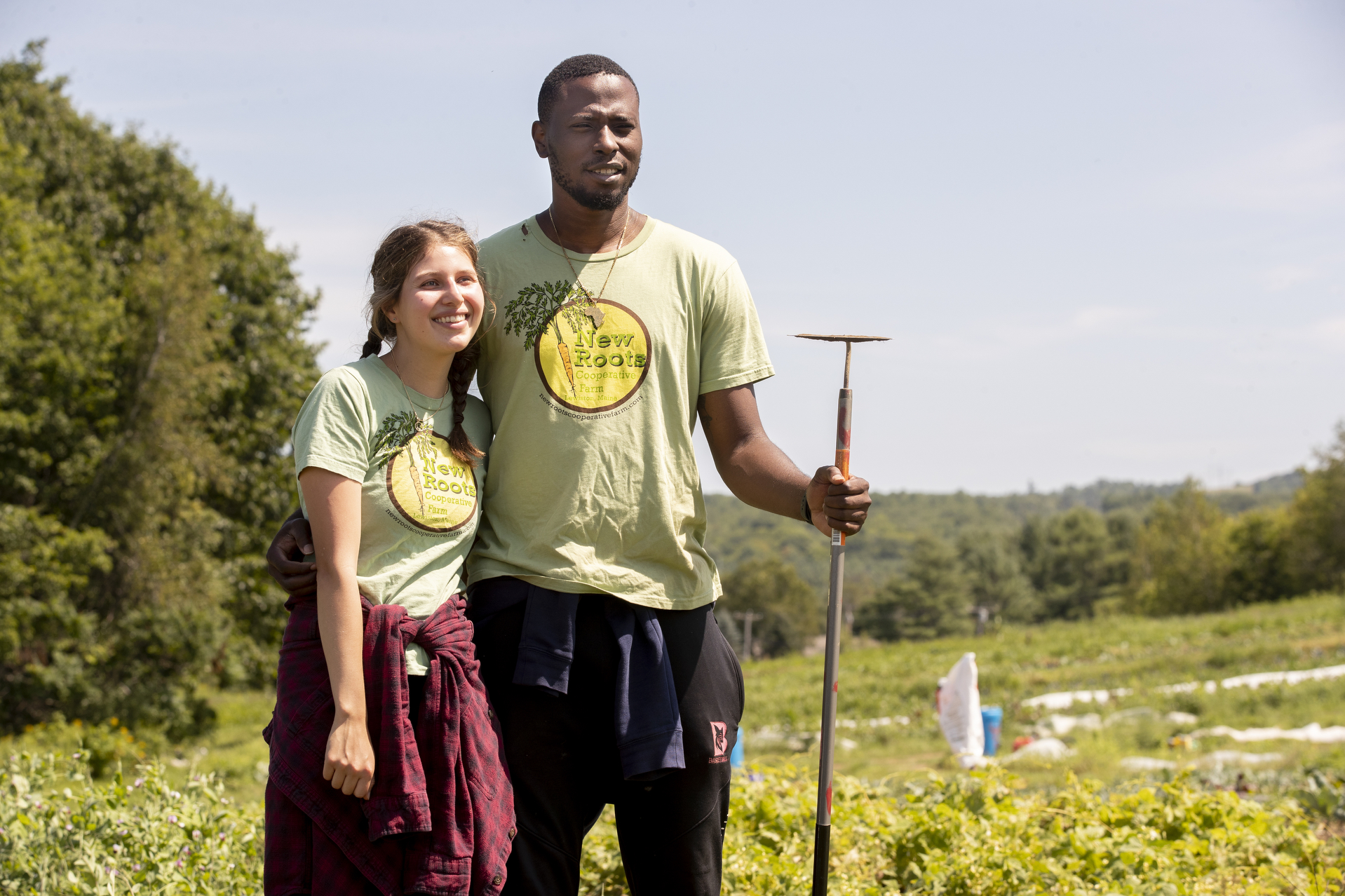 After spending the morning weeding in the fields, Kehinde "Kenny" Aruwajoye '22, a politics major from of Owo, Nigeria, and Maya Castiblanco '23, a psychology major from Irvington, N.Y., pose for a portrait. They both have Purposeful Work internships with the New Roots Cooperative Farm, a 30-acre enterprise located at 954 College St.
Since 2016, New Roots farmers have been developing and farming land in Lewiston, Maine. In 2021, they hope to purchase this land to continue developing it.
---
Pettigrew Projections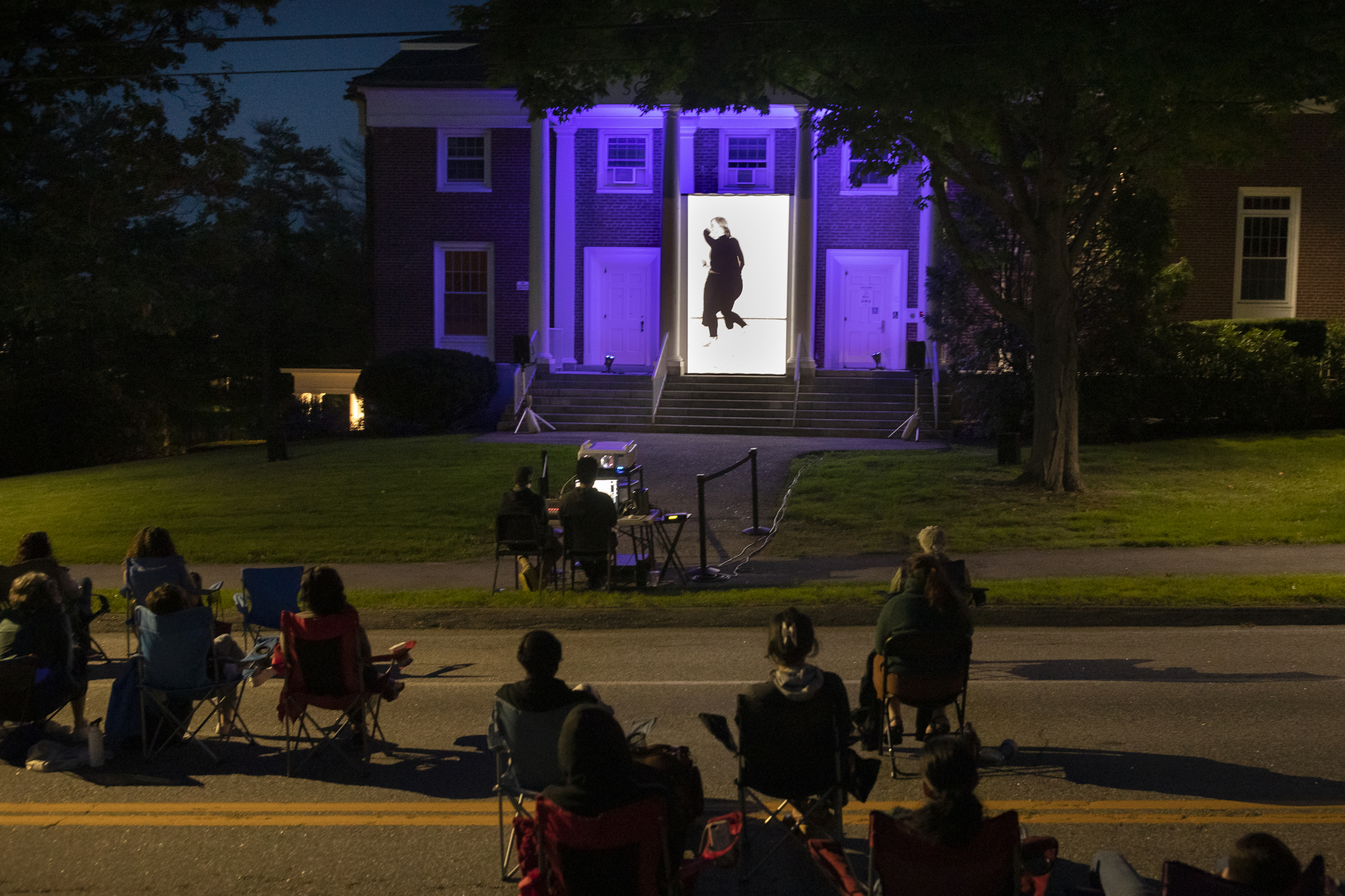 An audience seated on College Street (which was closed to vehicles) watches choreographer Janessa Clark's Communion, which was projected on a screen mounted on the porch of the Schaeffer Theatre. Clark created the screendance Communion in response to the isolation and uncertainty that artists have faced during the pandemic
---
All Together Now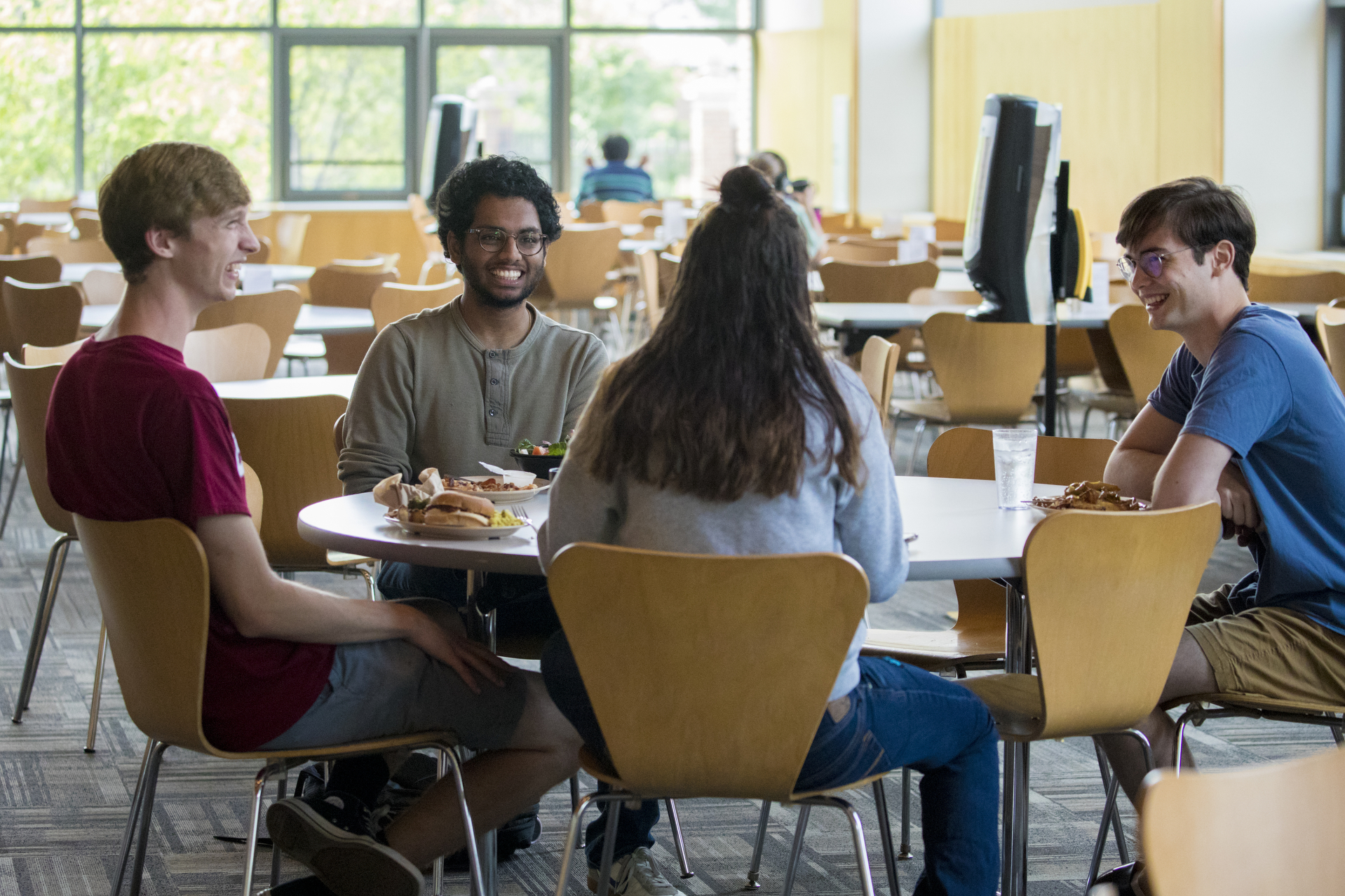 A group of Bates students working on campus for the summer gather at lunchtime for another delicious meal at Commons. "We should look for someone to eat and drink with before looking for something to eat and drink," said the Greek philosopher Epicurus.
---
Here to Help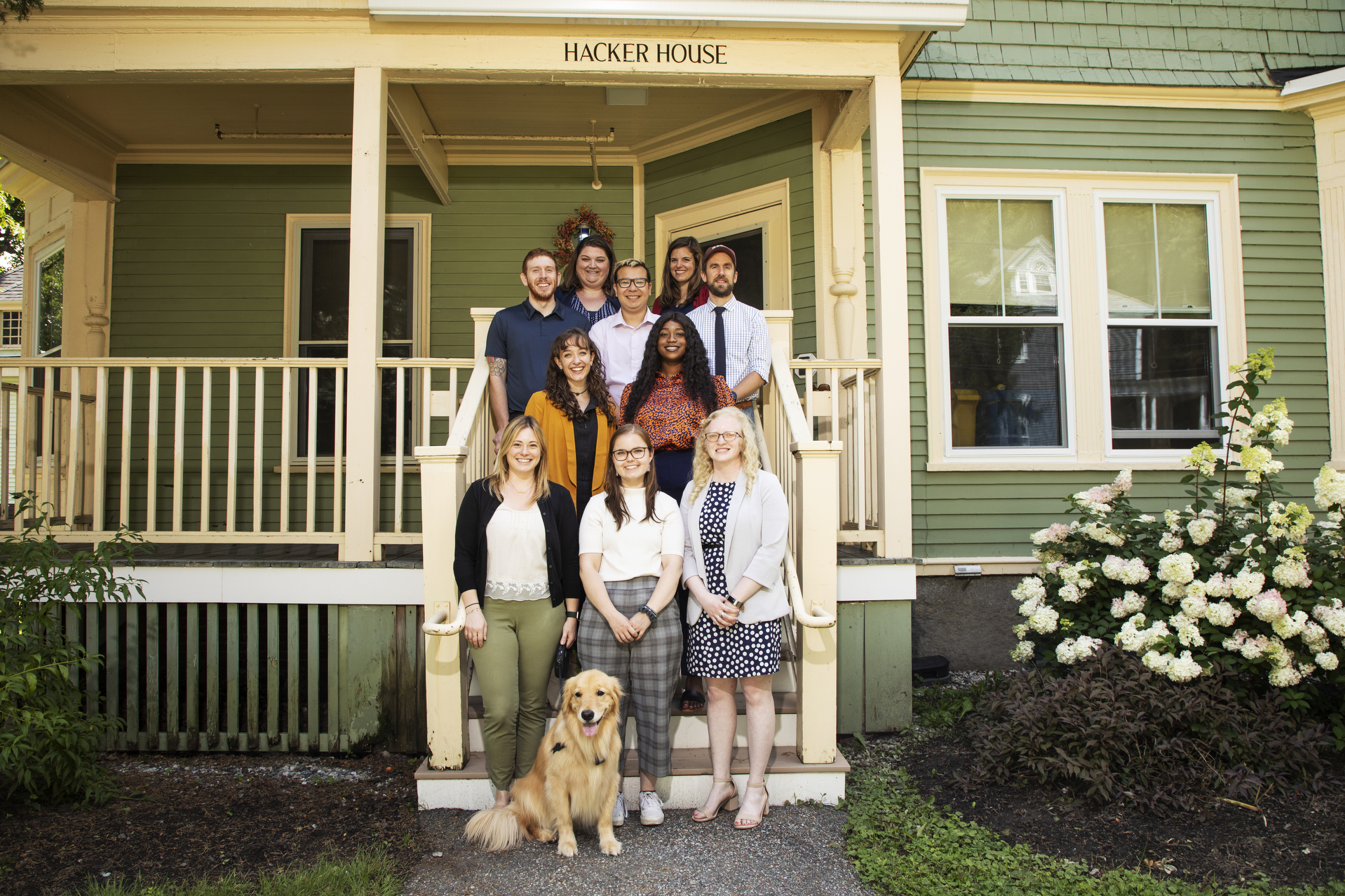 The staff of Residence Life and Health Education gather for a portrait on the steps of Hacker House on Frye Street.