In May and in August, Commencement and Convocation bookend the Bates experience.
Held in the fading warmth of a Maine summer day, Convocation marks a beginning, the newest class's "formal induction into the Bates community of scholars," said President Clayton Spencer at this year's edition on Aug. 31, the day before the start of classes for the 2021–22 year.
As bookends, they share a look: pomp and circumstance, rows of chairs in front of Coram Library, and an academic procession from Alumni Walk to the Historic Quad. Both typically come packed with good advice for the next monumental step toward building a future, first on the Lewiston campus and then beyond.
This year, Convocation included one valedictory element that might have been stolen from Commencement, the celebration of a job well done as Dean of the Faculty Malcolm Hill introduced a new group of students to the newly opened Bonney Science Center. With the dramatic brick building at stage right, Hill called it "a building that will serve all disciplines to generate innovative teaching for years to come."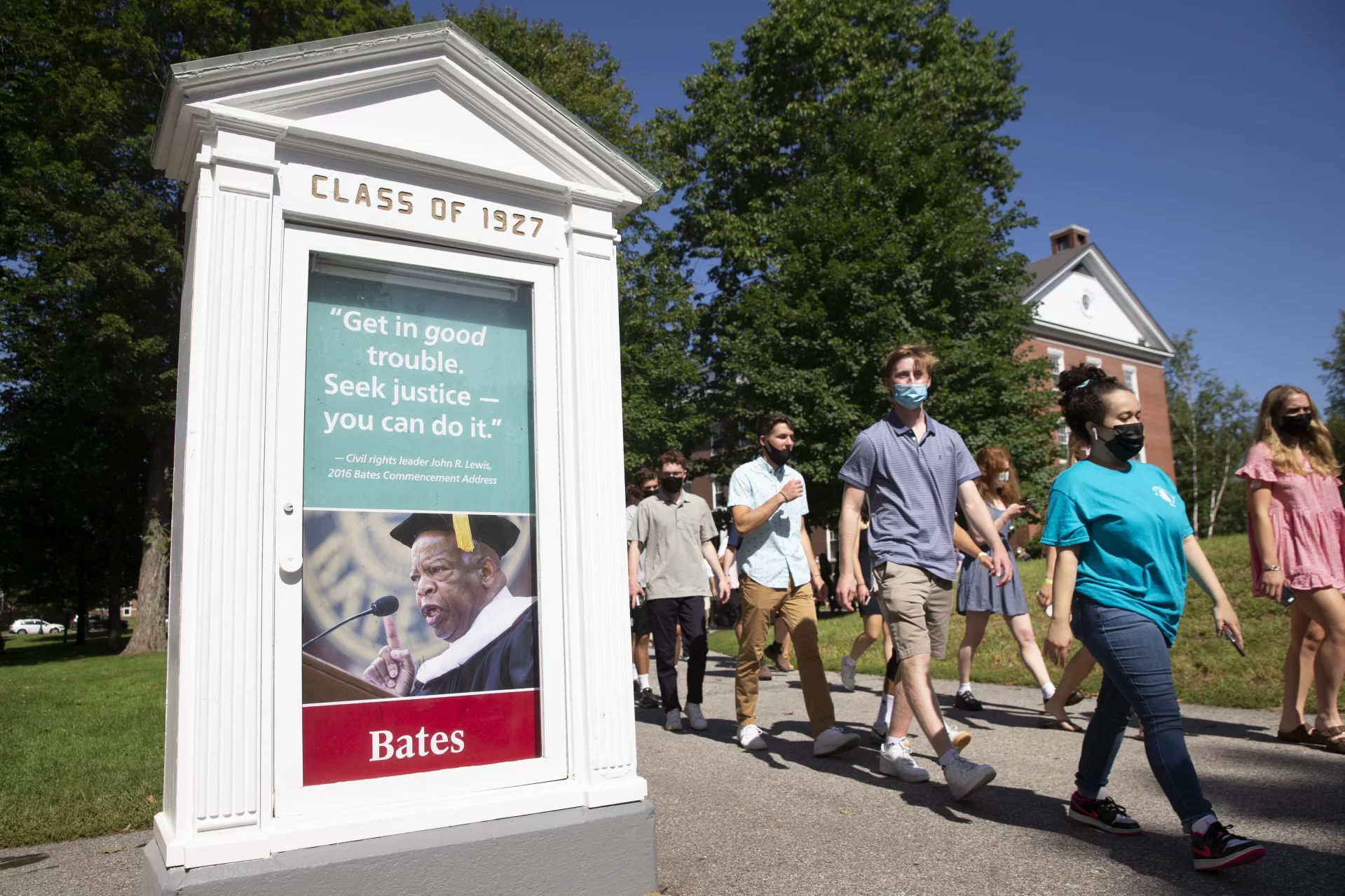 But the main focus of Convocation 2021 were tips and insights into navigating the Bates experience, offered by Spencer; Kush Sharma '23 and Marcos Pacheco Soto '24, co-presidents of Bates College Student Government; and Katharine Ott, associate professor of mathematics, who delivered the Convocation Address.
Along with advice, they received a blessing from the college's multifaith chaplain, the Rev. Brittany Longsdorf. "May you be blessed by this place," she said in her Benediction. "May you be blessed this new year, with authenticity, deep caring, wisdom and kindness, inspiration and affirmation, and the beauty of belonging."
Ott's perspective was a gift from last spring's Class of 2021, who selected her to speak to the Class of 2025 at Convocation, and she began by thanking the recent grads and saluting them for their perseverance in the face of the pandemic. Recalling their accomplishments and their "incredible resilience during such a tumultuous year fills me with hope."
The same goes for the Class of 2025, said Ott.
"You pivoted, you followed through with your plans and dreams, adjusting a lot when necessary. You made a major life decision — where to attend college — entirely over zoom and so much more. So I congratulate you and your support networks for arriving here. Your arrival and journey have been challenging. There was pain and suffering, and for some, trauma."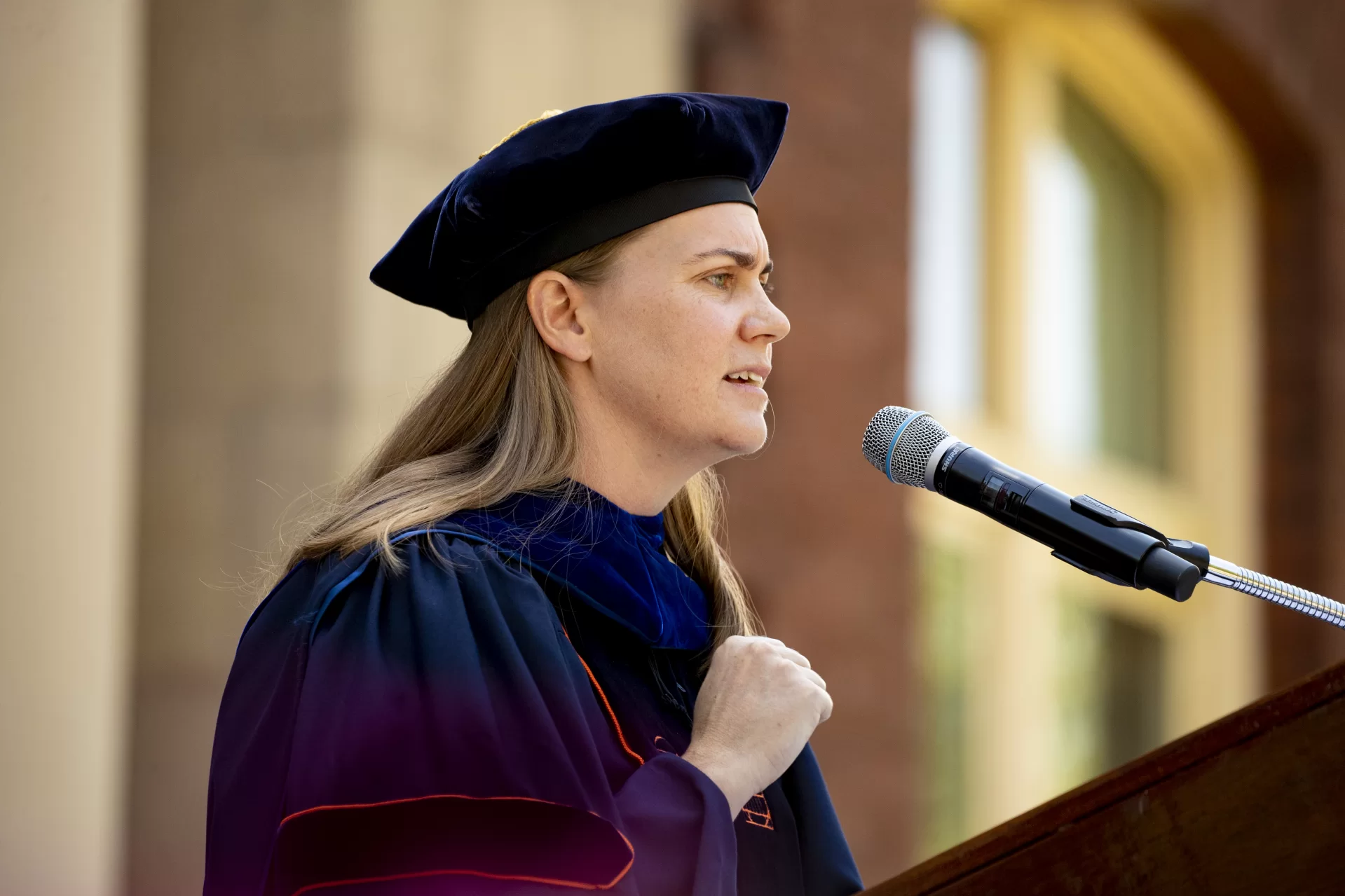 With all that has preceded the class's arrival, she said, "it's hard to think about where to begin the next chapter" — there's that book metaphor again — "after all that has happened, all that is still happening. Where do we even begin?" And that's how she titled her address, "Where Do We Even Begin."
Referencing the title, she said she made it "big and vague on purpose," precisely because she wanted to show Bates' newest students that you begin to answer a big question by tackling smaller ones first.
"Like the mathematician that I am, I will try to offer something useful on just one small part of the big question: Where do we begin…in our college classrooms?" Ott urged her audience of students to remember they are "building more than a transcript. They'll be creating their own narrative, a journey where they are the main character, set within a community they hold the power to build."
Her suggestions, and those from others, offer insight into classrooms, yes, but also how we live our lives.
Build judgment-free relationships where it is always OK to ask questions
Ott has a Ph.D. in mathematics and regularly publishes scholarly papers with other math Ph.D.s. "We work on theoretical mathematics, partial differential equations, and harmonic analysis, and the papers appear in international journals."
That all sounds dauntingly high level. But, she said, when she's at work with fellow scholars, the relationships are defined by humility.
"Do you know what kind of questions occur regularly?" Ott asked the audience. "Me, during a research meeting with collaborators: 'Hold up. Where did that zero come from?' My collaborator, slight frown, maybe a pause: 'We added a two up here and then subtracted two down here. So that makes zero.'"
"There is no judgement, and we move on. No one is keeping track."
Don't wait to ask questions
"It's a heck of a lot easier to start asking questions like that from the get-go, when you're in the midst of a problem, than waiting 20 minutes before asking, then you're buried under more and more lines of calculations.
"I'm not advocating that you interrupt your professors and classmates with questions unless invited to do so. I'm encouraging you to be honest and forthcoming about where you are with your understanding and meet your peers where they are with their understanding. Don't let questions or confusions get buried."
Make play out of your work
Ott's 4-year-old son just started pre-K. Each day, she asks him what he did in school. "And so far six days running, he gives the same exact answer: 'Play.'"
"Four-year-olds need play," said Ott. So do the rest of us. In math, "play" might mean tinkering with the numbers in a graph and "seeing what happens to your solution."
In a broader academic context, "play" means "changing your perspective, looking at a problem from a different viewpoint, creating a new scenario, putting things in a different order."
So it's highly likely, said Ott, that math students will hear phrases from their professors, like "play with the numbers in this example," or "play with the graph and see what happens to your solution."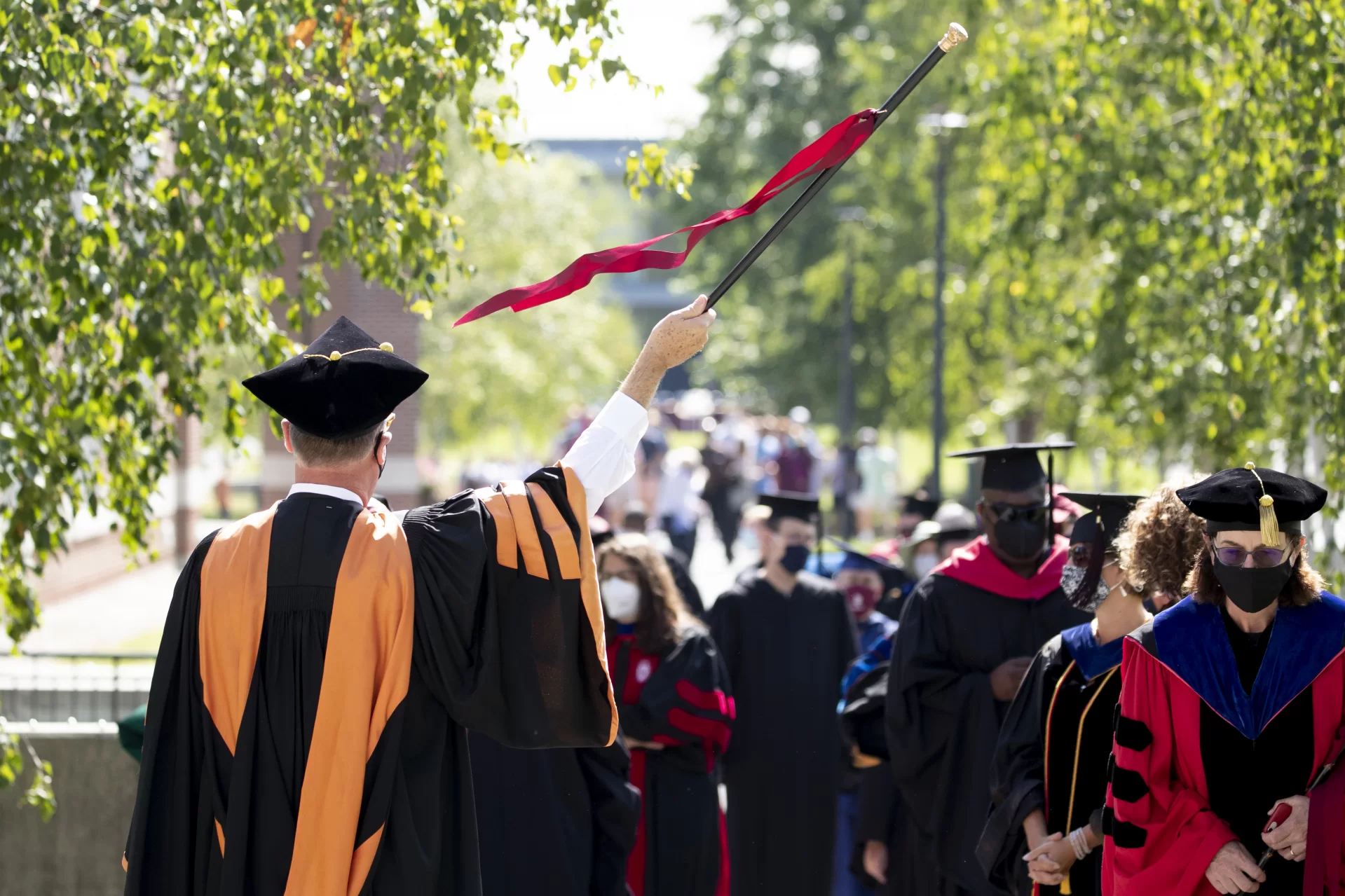 Mainers, and perhaps folks in other states, have a phrase for this kind of play, "dubbing around," where you're working around the house and trying a new way to solve a problem, like stopping that gopher that gets into the garden.
That kind of play "is meant to be low stakes. Play allows us to explore and learn separate from the validation of a grade or a checkbox," Ott said. "Between pre-K and college — and most definitely in the last year — I think many of us lost this connection between play and learning. So let's try and rekindle it.
Talk to people about your work
Developmental psychologists tell us that we create our personal narratives, discovering who we are and where we want to go, by talking with others.
Mathematicians like Ott know that too. She encouraged Bates' new students to "talk about your work. Share what you were doing in class when you check in with your family and friends from home. Work in study groups — and yeah, talk out loud with your classmates about what you're doing. Make what you are doing in class a part of your everyday conversations with friends, teammates, roommates, coworkers, and so on.
"Inevitably these conversations will spin outward from the academics and that's not only okay, that's awesome. Talking about what we're doing in class is a great launching point to conversations that we need to be having, conversations about identity, community, society.
In the next four years, you aren't just building a transcript: You will be building a story, a journey narrative that has you as the main character."
In seeking truth, seek what's true about you
In her welcome, Spencer talked about the liberal arts and truth-seeking.
At Bates, students learn how to discover what's true in the world through the "knowledge you will gain and the connections you will make across multiple kinds of problems and ways of knowing," she said.
But truth-seeking is not always outward-focused, she said. "It also means figuring out what is, and isn't true for you — who you are, what you're interested in, what you value and how you plan to move through the world.
"Only you, following your interests, thinking things through on your own terms, and discussing your theories and ideas in the classroom and in conversation, can develop an authentic and coherent view of how you want to live your life."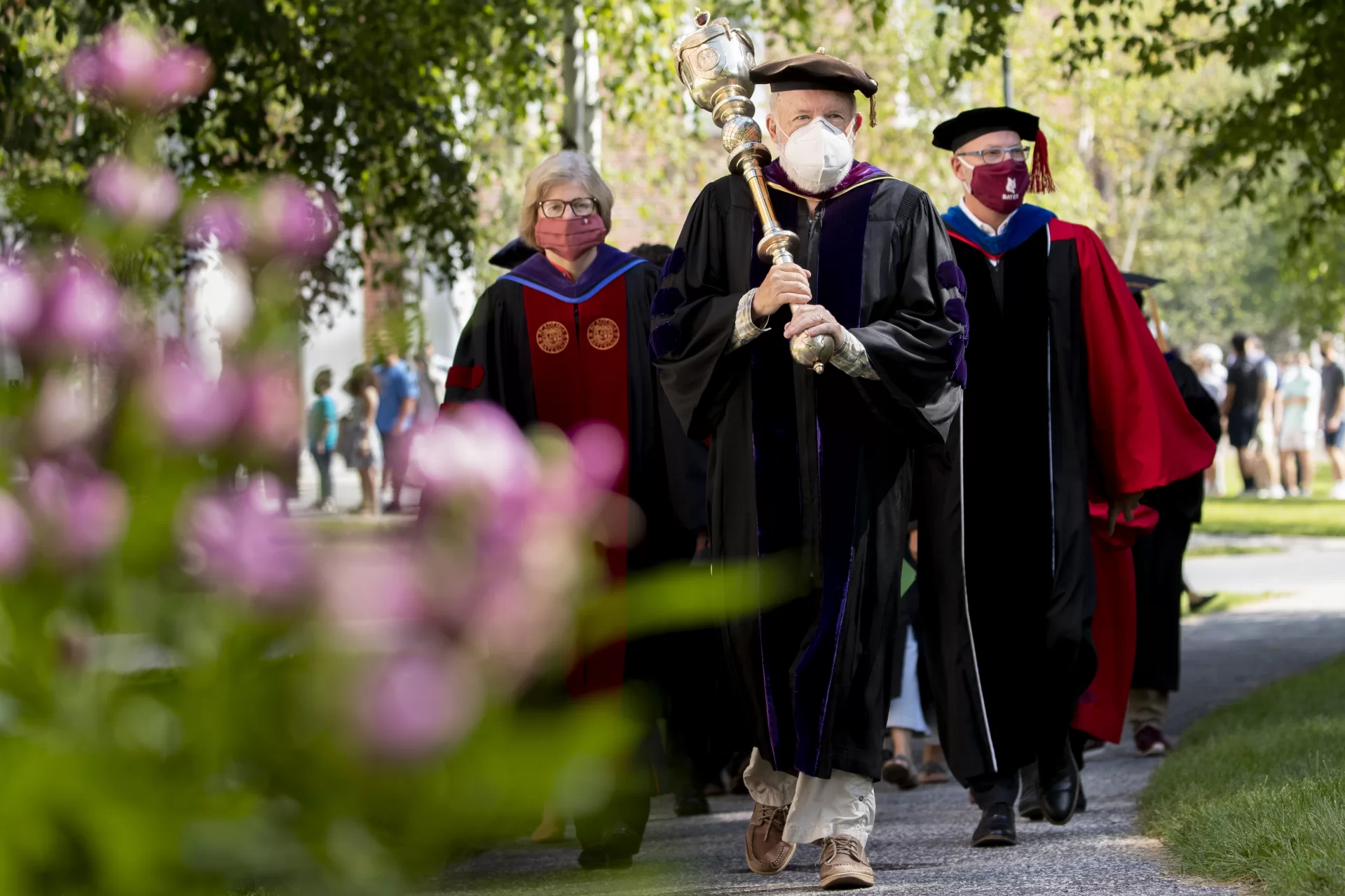 Put big questions on hold
Big questions, like "What should I do with my life?" or even "What should I major in?" can wait, said Spencer, because at this stage "they are downright paralyzing."
Keep it simple. The Chinese philosopher Lao-tzu said "A journey of a thousand miles begins with a single step." But the right question to ask yourself is not, "Is this the right step for me?" Instead, ask yourself, "Does this feel like the right next step for me?"
Don't measure your success against the lives and careers of people you admire
Impressive, compelling life stories, those of Michelle Obama, Lin-Manuel Miranda, or Dr. Fauci, "only emerge when you look backward over a life," Spencer said.
The enterprise of college, however, is about helping students "look forward, not backward." As a student, you're on the bow of a ship, looking ahead toward uncharted waters. You're not in the stern looking at the wake.
Your path forward is not clear — nor should it be. "As a famous scholar of religion and myth, Joseph Campbell, once said, 'If the path before you is clear, you're probably on someone else's.'"
Use your curiosity, thirst for connection, and courage to take risks
A student admitted to Bates has already displayed at least some of those abilities, said Spencer. Use those talents to "explore courses in fields you've never been exposed to before," said Spencer. "Sit at a table in Commons with people you don't know and introduce yourself, or try out for a play even if you've never been on a stage in your life."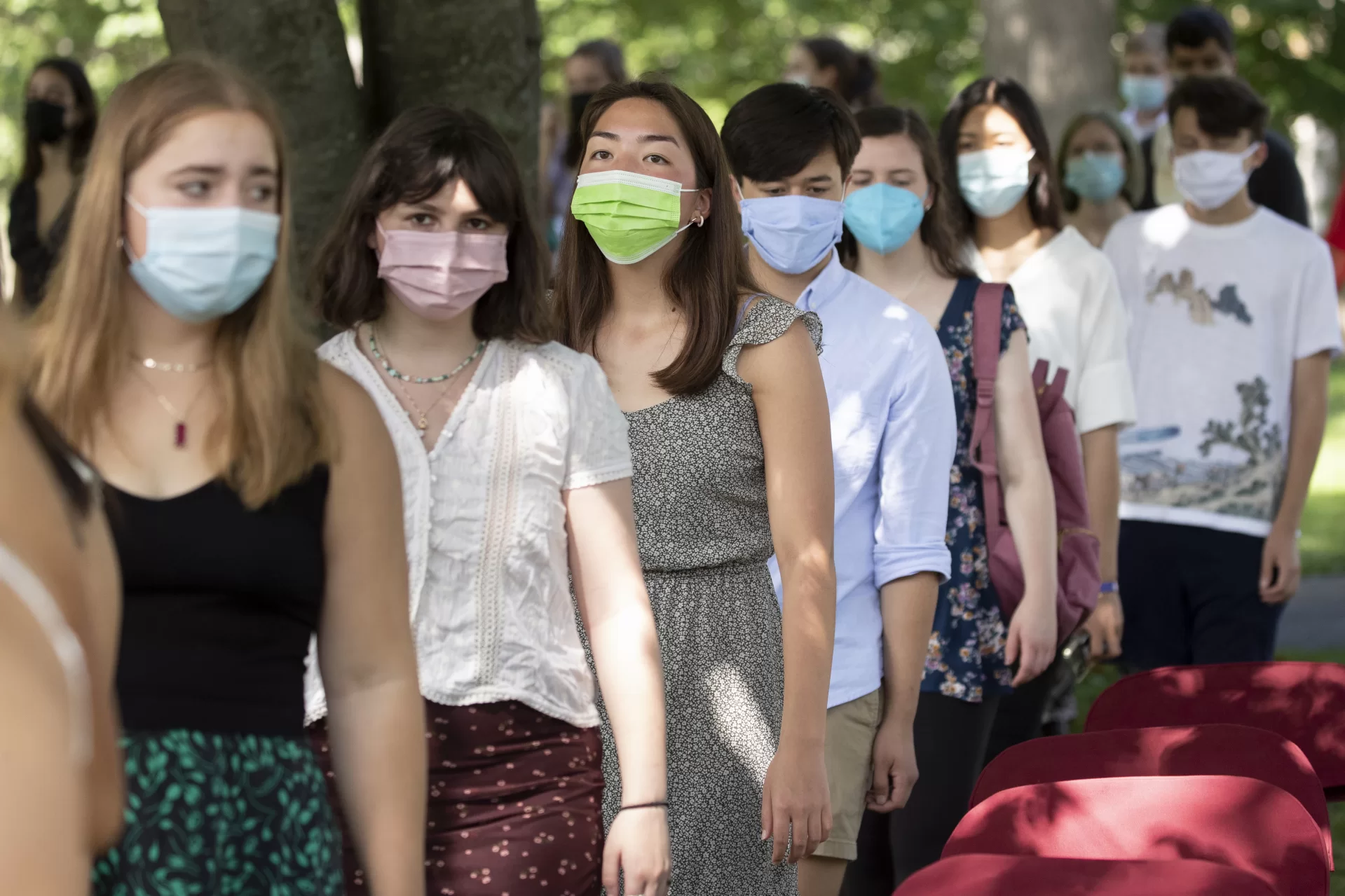 In turn, Spencer promised the students that their courage will be met with a promise from Bates, that all students will be "seen and valued" so that, in turn they feel they "belong at Bates and Bates belongs to them."
The work of "creating an educational community that is equitable and inclusive, and producing graduates who have experienced college this way, is, I believe, our best hope for making progress toward a more just society."
Disrupt your own narrative
Spencer encourages the first-year students to "try to stop holding fast to the things that got you here — the narrative that you are pre-med, or will major in history, when you haven't even taken your first college course; the identities that have defined you throughout high school; the assumption that if you don't hurry up and find a small group of like-minded peeps you are doomed to a life of social isolation."
Instead, "think of these next four years as a time to try new things, to step back and broaden the frame. As the poet Rainer Maria Rilke put it, 'The point is to…live the questions now. Perhaps you will then gradually, without noticing it, live along some distant day into the answer.'"
Create community while you search for what excites you
Sharma and Pacheco Soto, the Bates Student Government co-presidents, offered student-to-student advice.
First-years might have questions like, How do Bates students pursue what interests them individually, whether a major field or a club activity, while at the same time engaging in collective efforts to achieve social justice?
How do the 555 individuals in the Class of 2025 with 555 different ideas become a community? How does one pursue your own wishes while also navigating a sea of difference?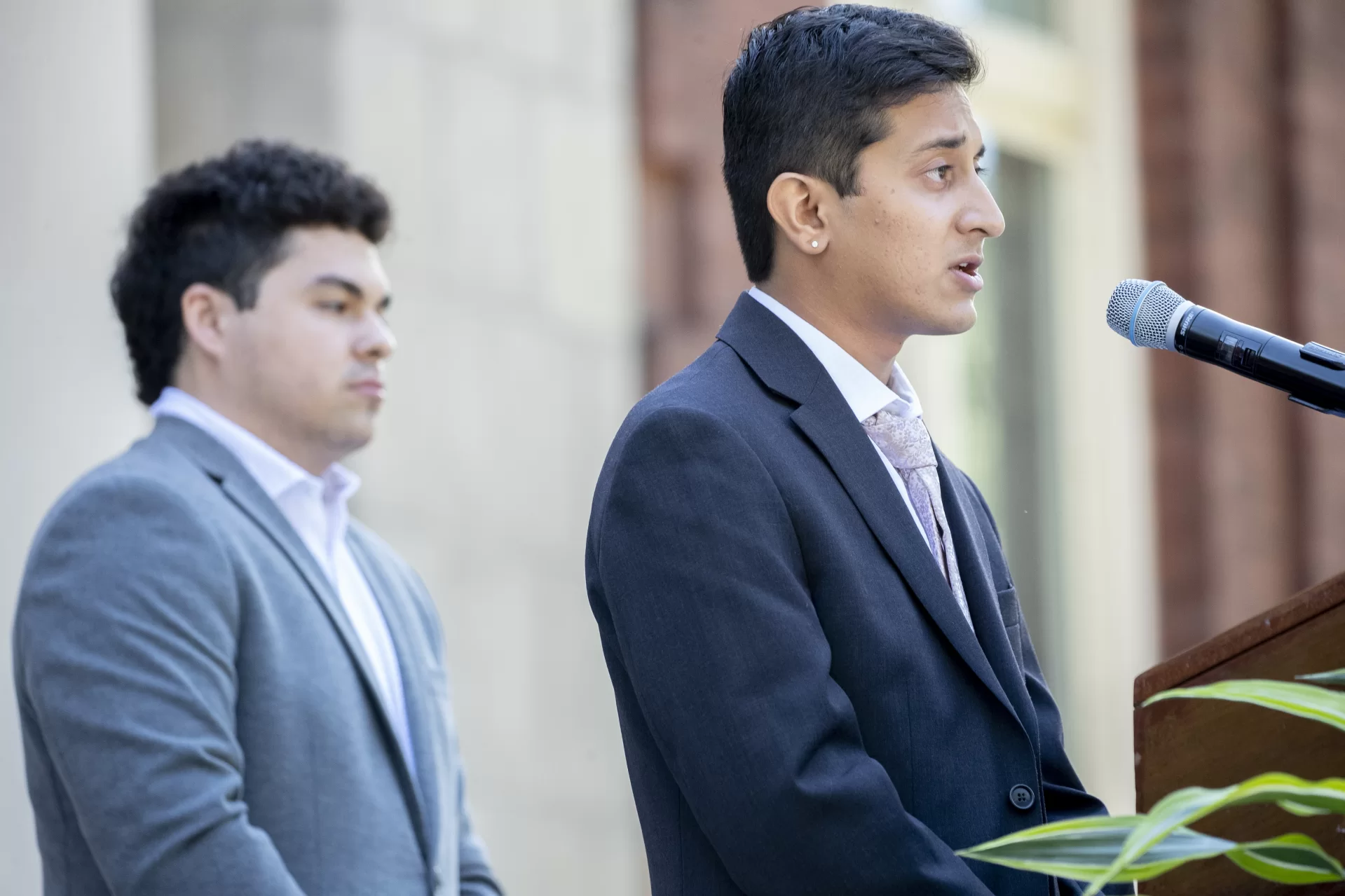 Definitely, "pursue what you are excited about — and then also think of a way we can come together and support each other in living that," said Sharma.
"Offer compassion. Be each other's voice in the work to fight for a society where every idea, thought, and individual has an equal opportunity. And as you try to find something that you're excited about, each day for the next four years at Bates, try to embrace and create a culture where collaborative excitement matters."