October means fall foliage. And more fall foliage. That's what the camera likes, anyway. But in addition, we've looked inside Bates classrooms, outside at Bobcats on the playing fields, and at all the intense organized chaos of a small liberal arts campus in Maine, where every day is more beautiful than the next. Take a look.
'After All/This'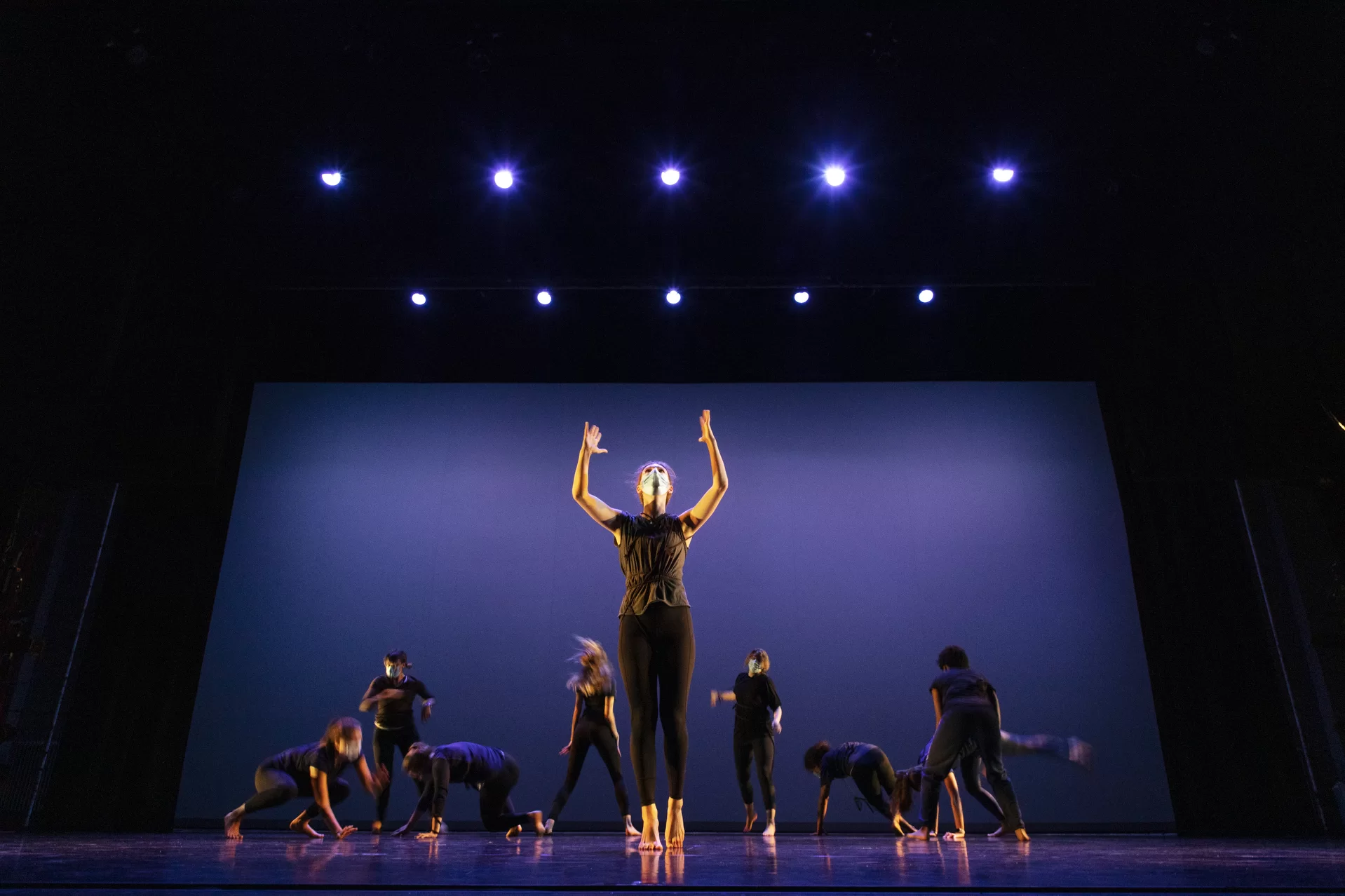 During a Schaeffer Theatre dress rehearsal, Emily Dewey '22 of Wayland, Mass., performs with other repertory dancers from Dance 253 and 270 in Assistant Professor of Dance Brian Evans' piece After All/This. The Bates Modern Dance company staged a fall concert during the Back to Bates Family Day, Oct. 2, 2021.
---
Teaching About Anti-Blackness and White Supremacy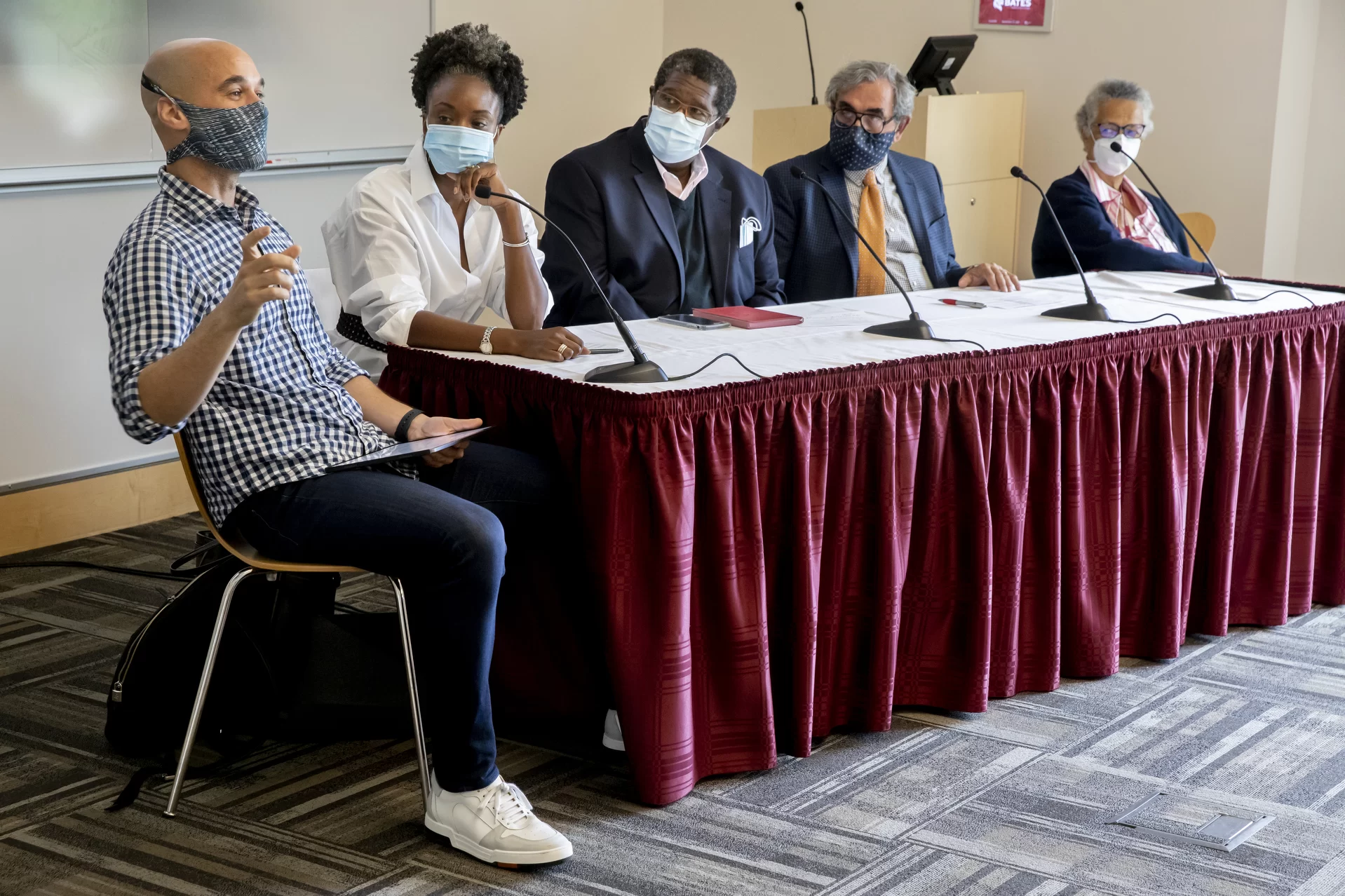 Assistant Professor of History Andrew Baker (left) captivates the audience and faculty colleagues during a lunchtime discussion, "Teaching About Anti-Blackness and White Supremacy in the Liberal Arts College."
The panel was to celebrate Charles Nero (middle), Benjamin E. Mays '20 Distinguished Professor of Rhetoric, Film, and Screen Studies, receiving the 2021 Kroepsch Teaching Award.
From left, Baker, Assistant Professor of Sociology Marcelle Medford, Nero, Professor of Hispanic Studies Baltasar Fra-Molinero, and Associate Professor of Africana Sue Houchins. Professor of English Therí Pickens, who does not appear, moderated the discussion remotely.
---
'More Than Just Three Words'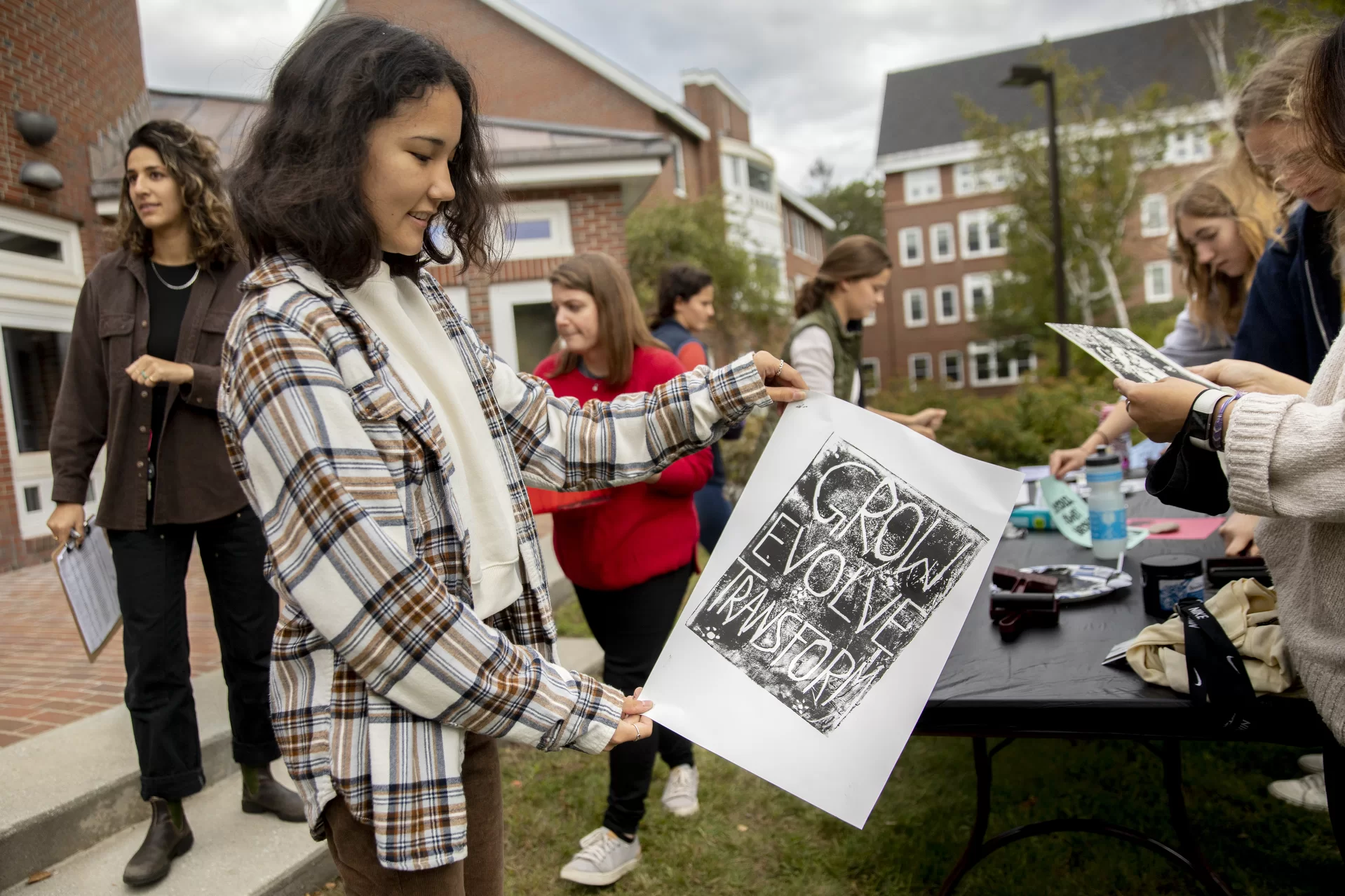 At a social justice printmaking event sponsored by the Office of the Multifaith Chaplaincy at the Benjamin Mays Center, Elena Valle '25 of Damascus, Md., displays a print with a message that's "more than just three words," she says. "To grow, evolve, and transform means to accept and embrace the path you were meant to be on in order to grow as an individual and change the world around you."
---
It Isn't Fairy Dust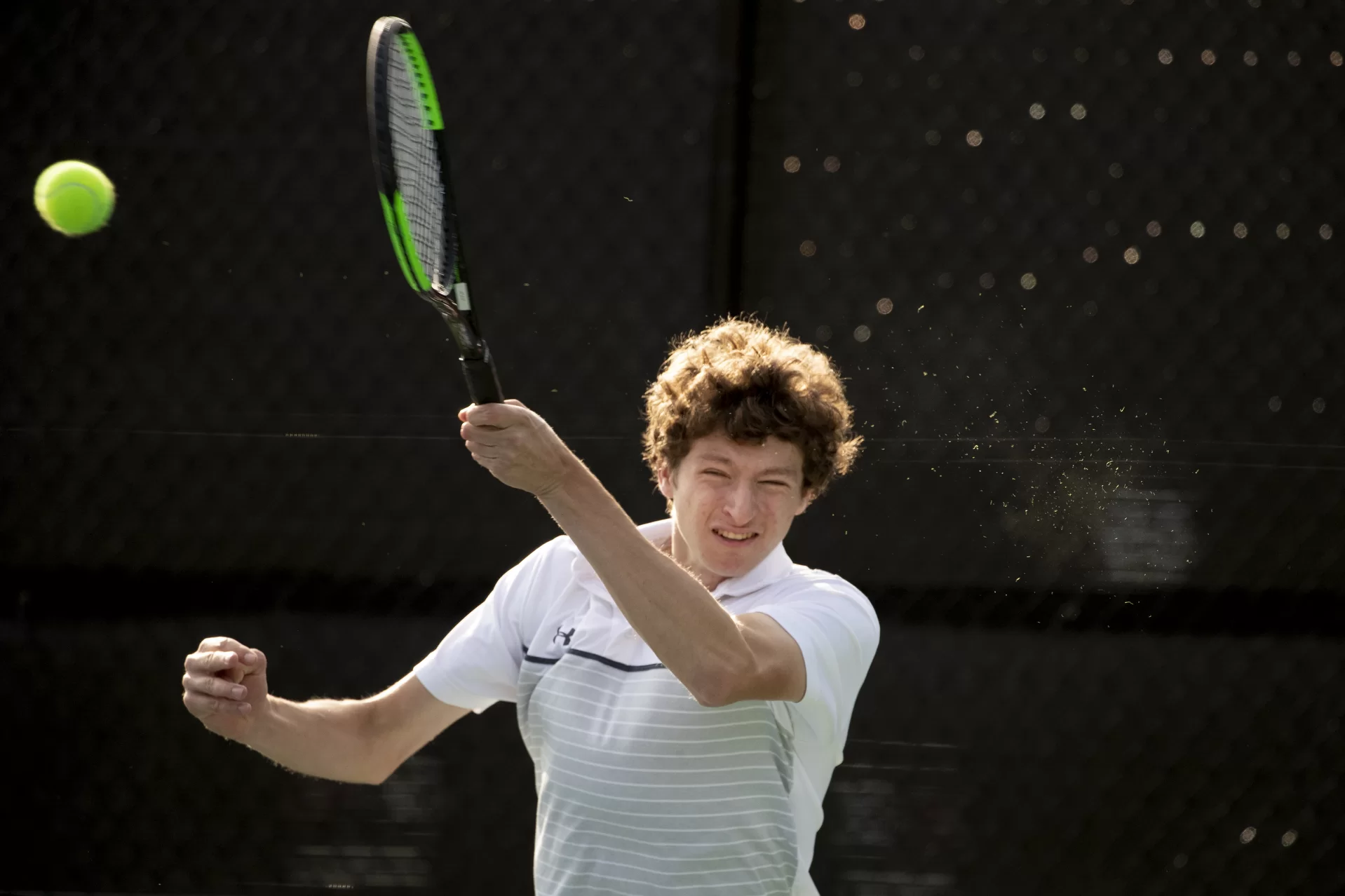 All-NESCAC men's tennis player Nick Forester '23 of Falmouth, Maine, competes in the Wallach Invitational, the annual fall tournament hosted by the Bates tennis program.
---
A Bates Mom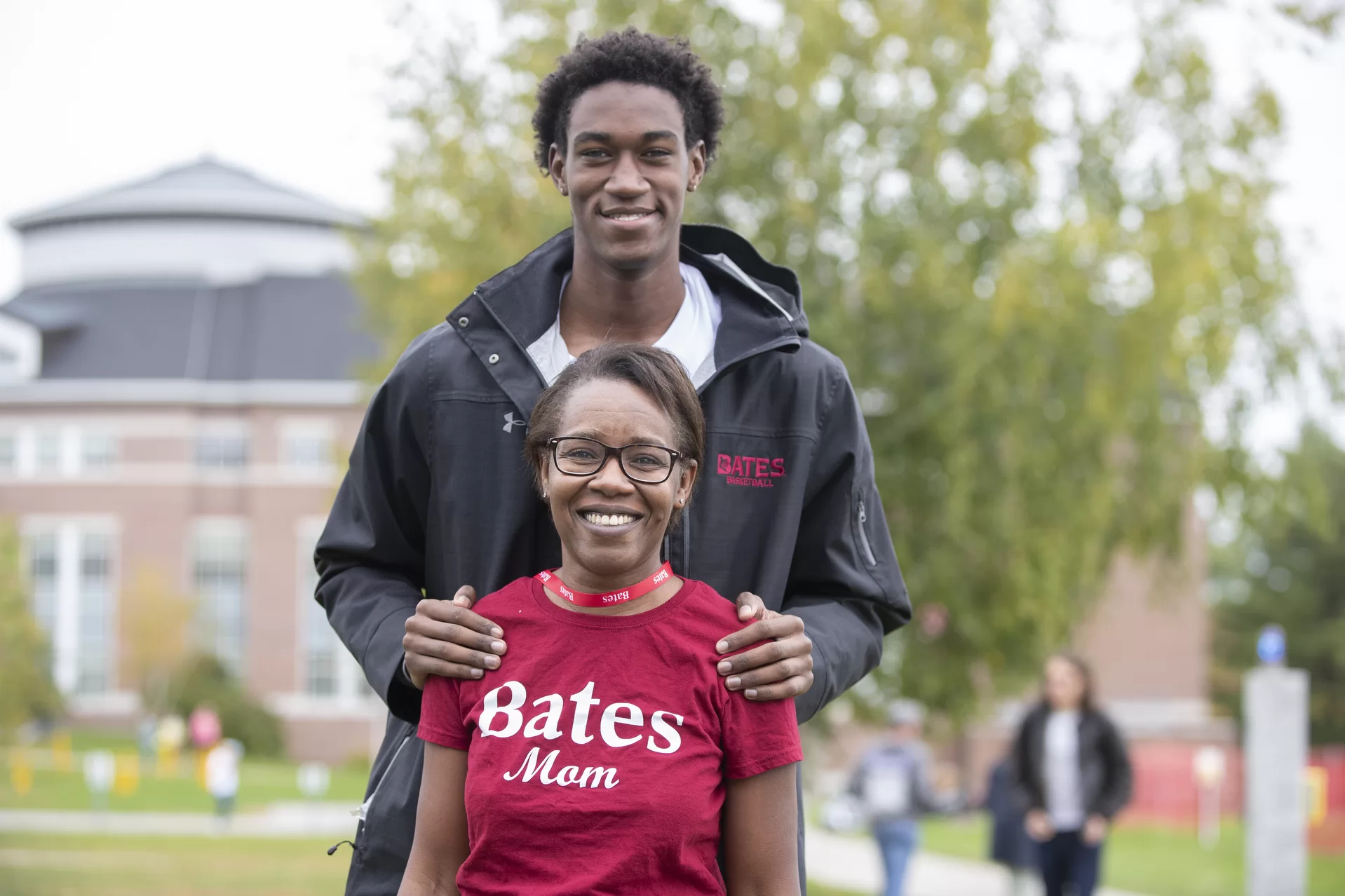 Devin Harris '24 of Bear, Del., poses for a portrait with his mother, Jeanna Howard, during Back to Bates Family Day.
---
Hand Up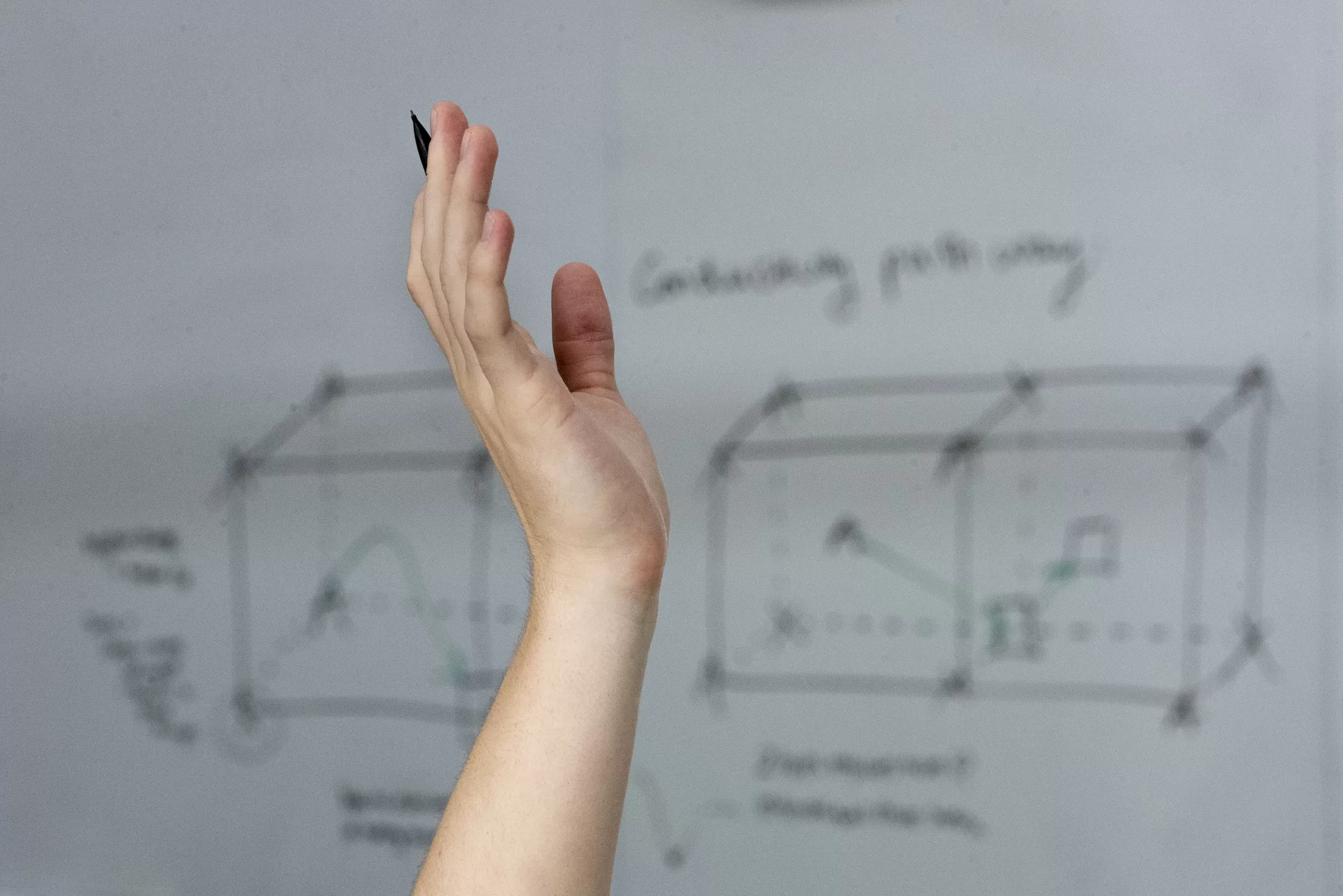 A student hand goes up in Bonney Science Center 310 during Assistant Professor of Chemistry and Biochemistry Geneva Laurita's course on advanced topics in inorganic chemistry.
---
Moon Over Dana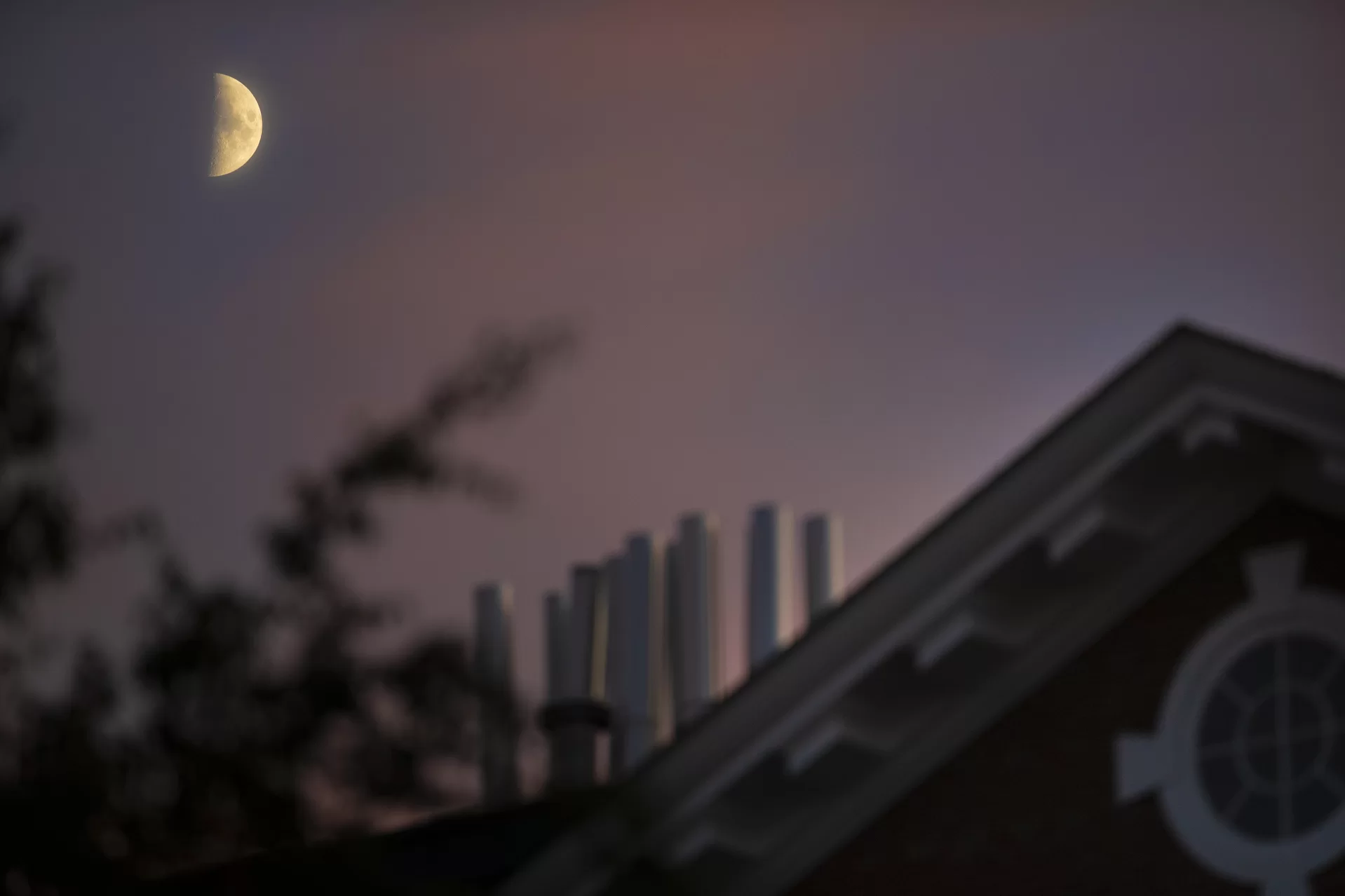 The moon hovers over Dana Chemistry Hall on the evening of Oct. 12, 2021.
---
Middle Hitter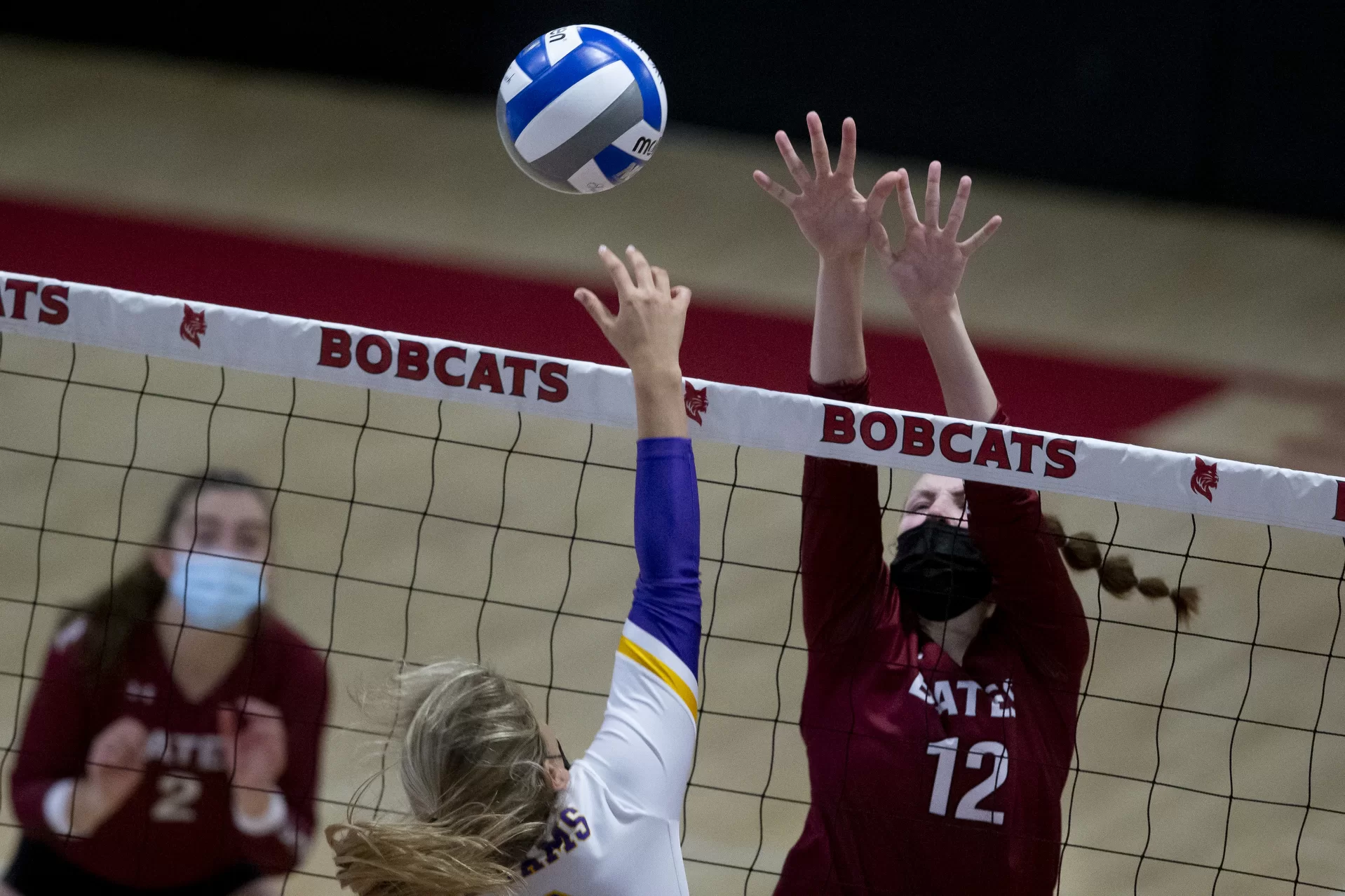 Middle hitter Alyssa Lowther '25 of Wyckoff, N.J., goes for the block during the volleyball team's match against Williams in Alumni Gym.
---
Study Hall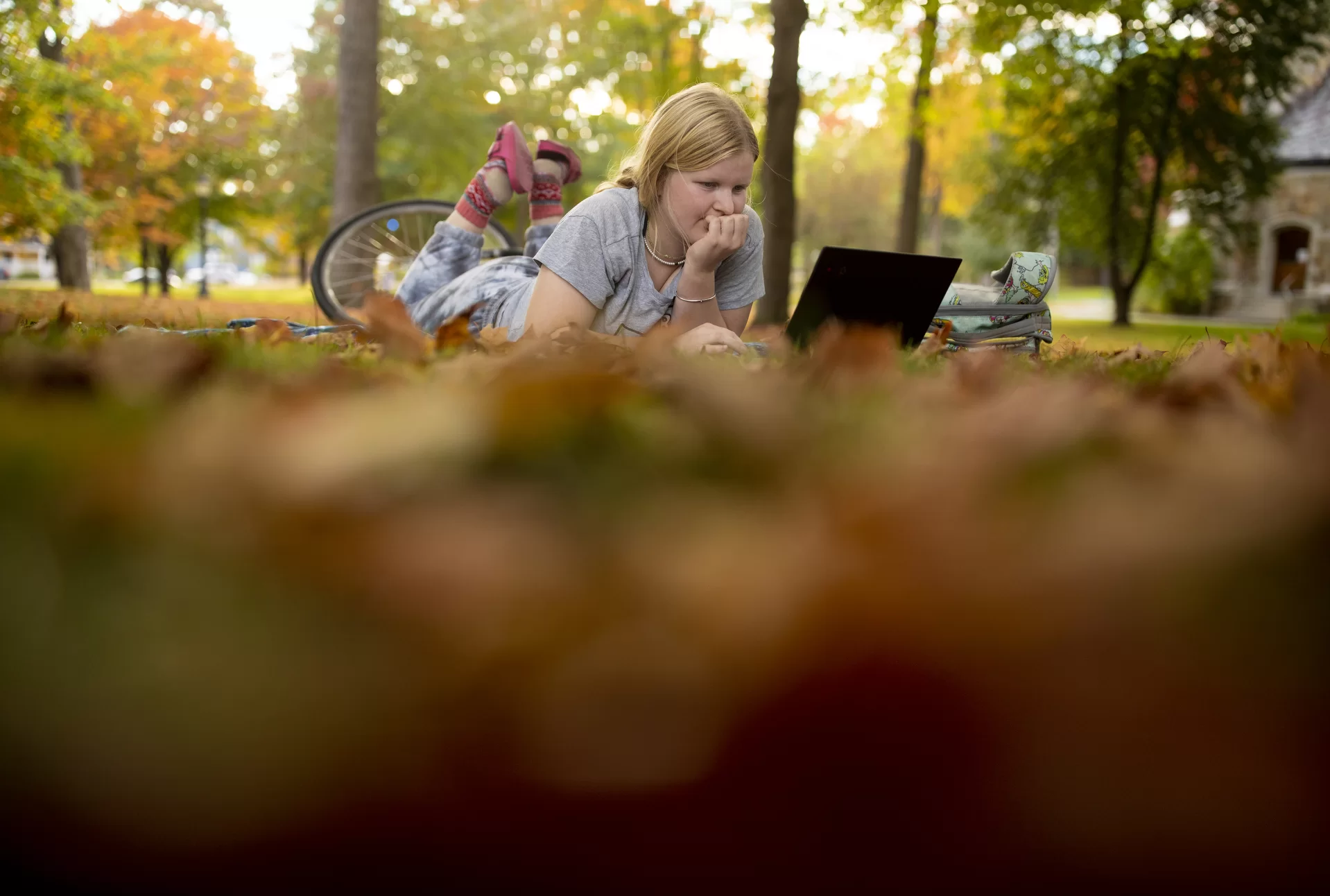 Daisy Kettle '24 of Homer, Alaska, does reading for her "Sustainable Cities" course taught by Visiting Assistant Professor of Environmental Studies Francis Eanes. "It's a little hot for me today," she says. Back home in Alaska there is already snow on the ground.
---
An Essay Begins Here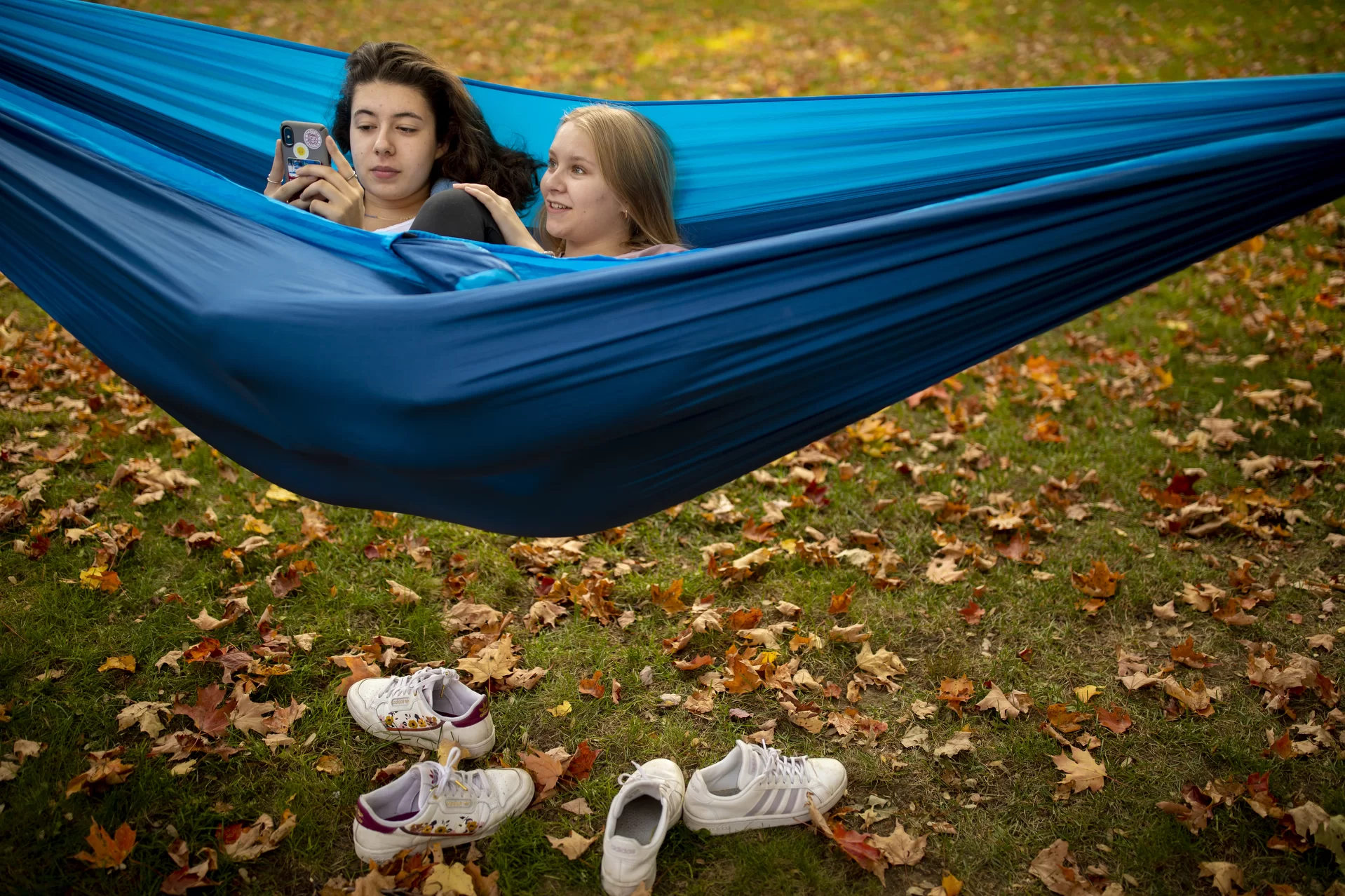 From left, Emma Sablan '25 of Norwich, Vt., shares a hammock with Katie Ney '25 of Baltimore, Md., on the Historic Quad. Sablan used her phone to write an essay for her First-Year Seminar, "Contemporary American Essay," taught by Professor of English Therí Pickens. Saban had a sudden inspiration that prompted her to begin typing on her phone. The subject: Larry Nasser and USA Gymnastics.
---
Learning to Play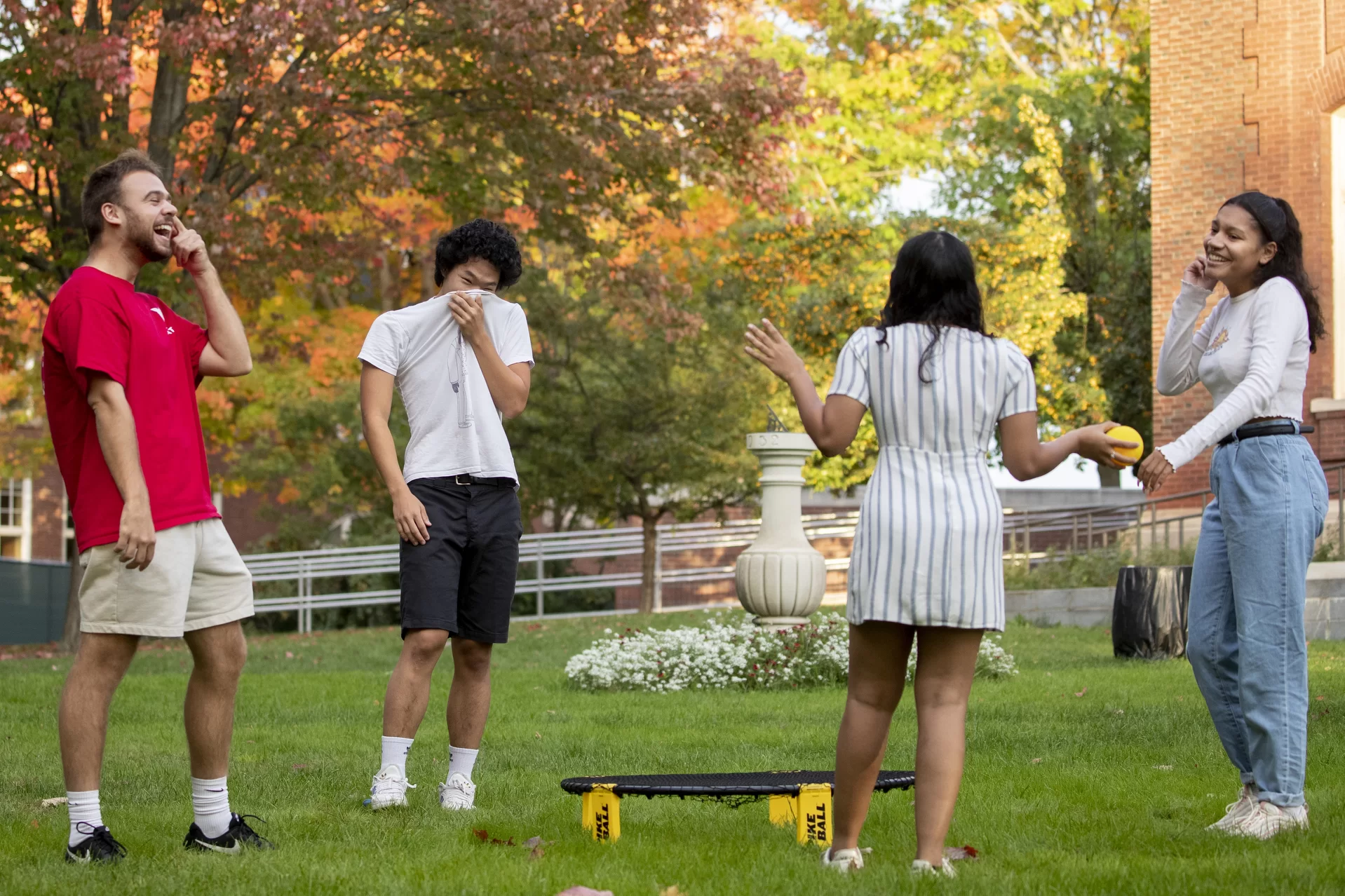 On an unusually warm October day, from left, Jeremy Bruce '22, Ben Conner '22, Sanika Shah '22, and Teresa Chico '22 try out a game of spikeball in front of Coram.
---
Friends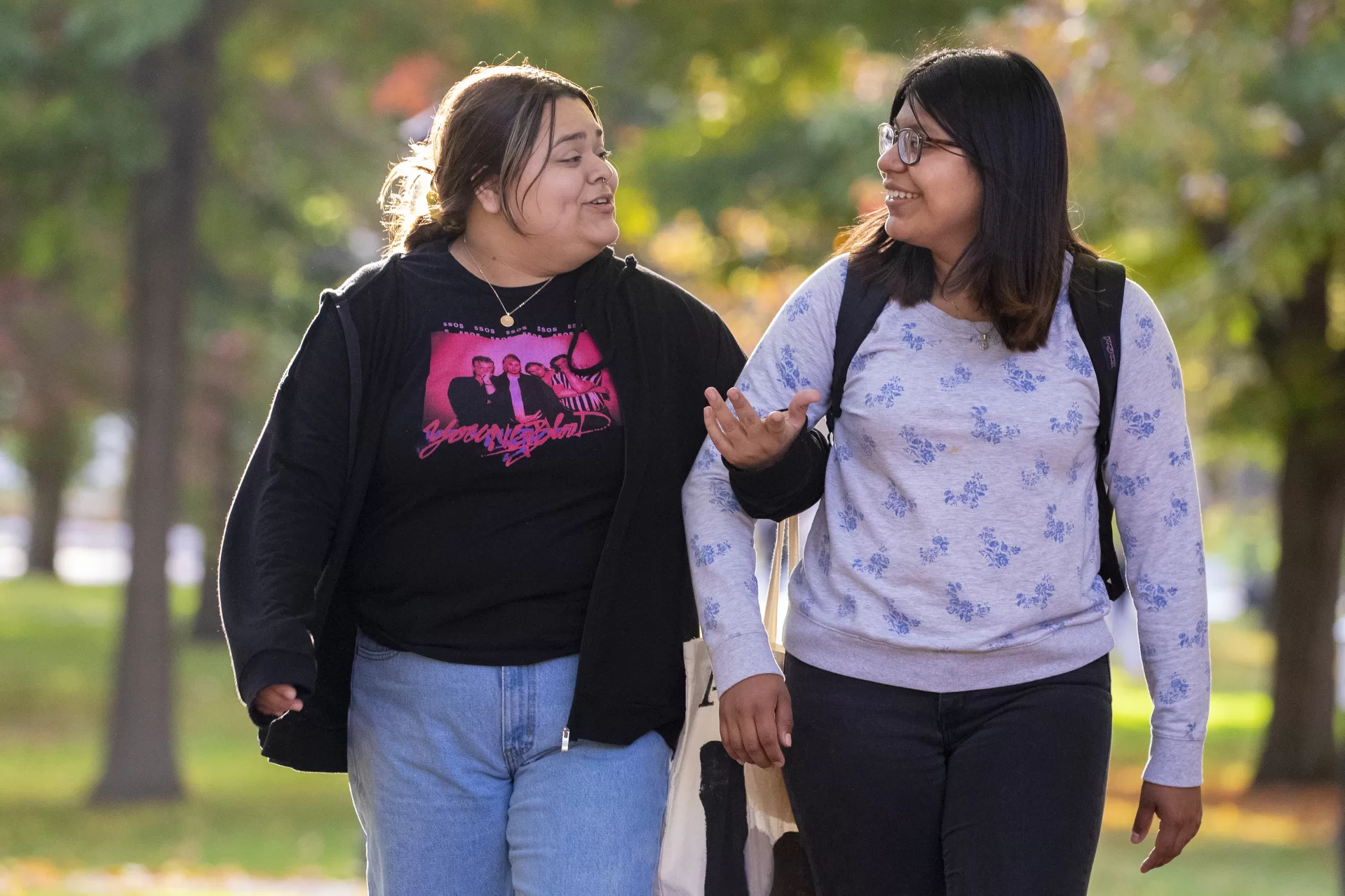 From left, Arely Licano '24 of Phoenix, Ariz., and Nayeli Cortes-Tzompantzi '24 of Camden, N.J., are on their way to dinner. They are friends who live together in Wilson House, a house whose theme for 2021–21 is intercultural diversity, where residents advocate for building a comprehensive supportive community system for international, first-generation, and the overall student community at Bates.
---
Bike Barn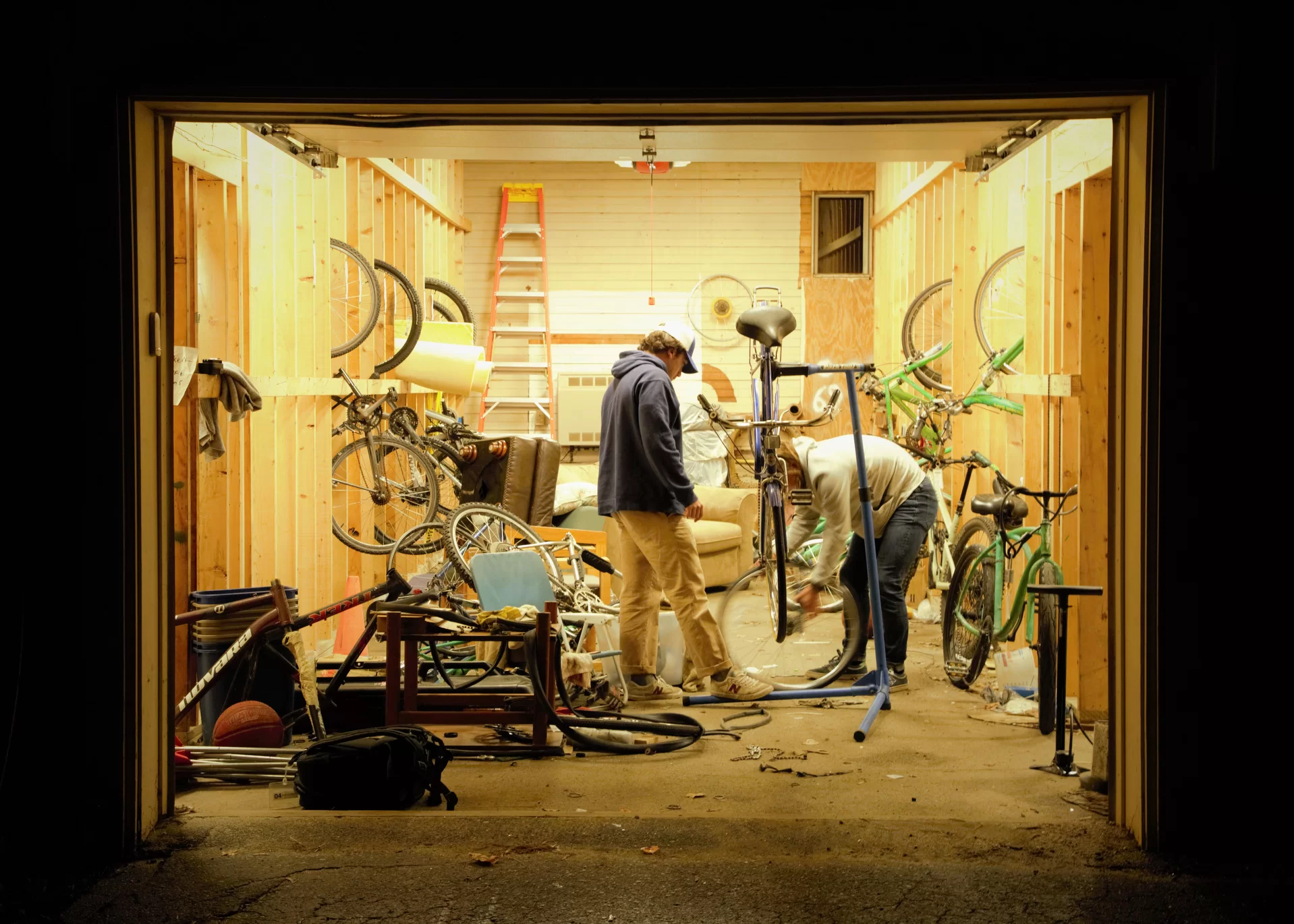 From left, EcoReps Terry Martin '23 of York, Maine, and Eli Grossman '23 of South Burlington, Vt., repair a student bike during open-bike hours at the Bike Barn at 10 Frye St. The Green Bike Program is available for maintenance or repair 6:30–7 p.m. Wednesday, Thursday, and Sunday. Students can also learn how to fix a flat tire, tighten brakes, and other basic bike-maintenance skills.
---
The Maple Leaf Walk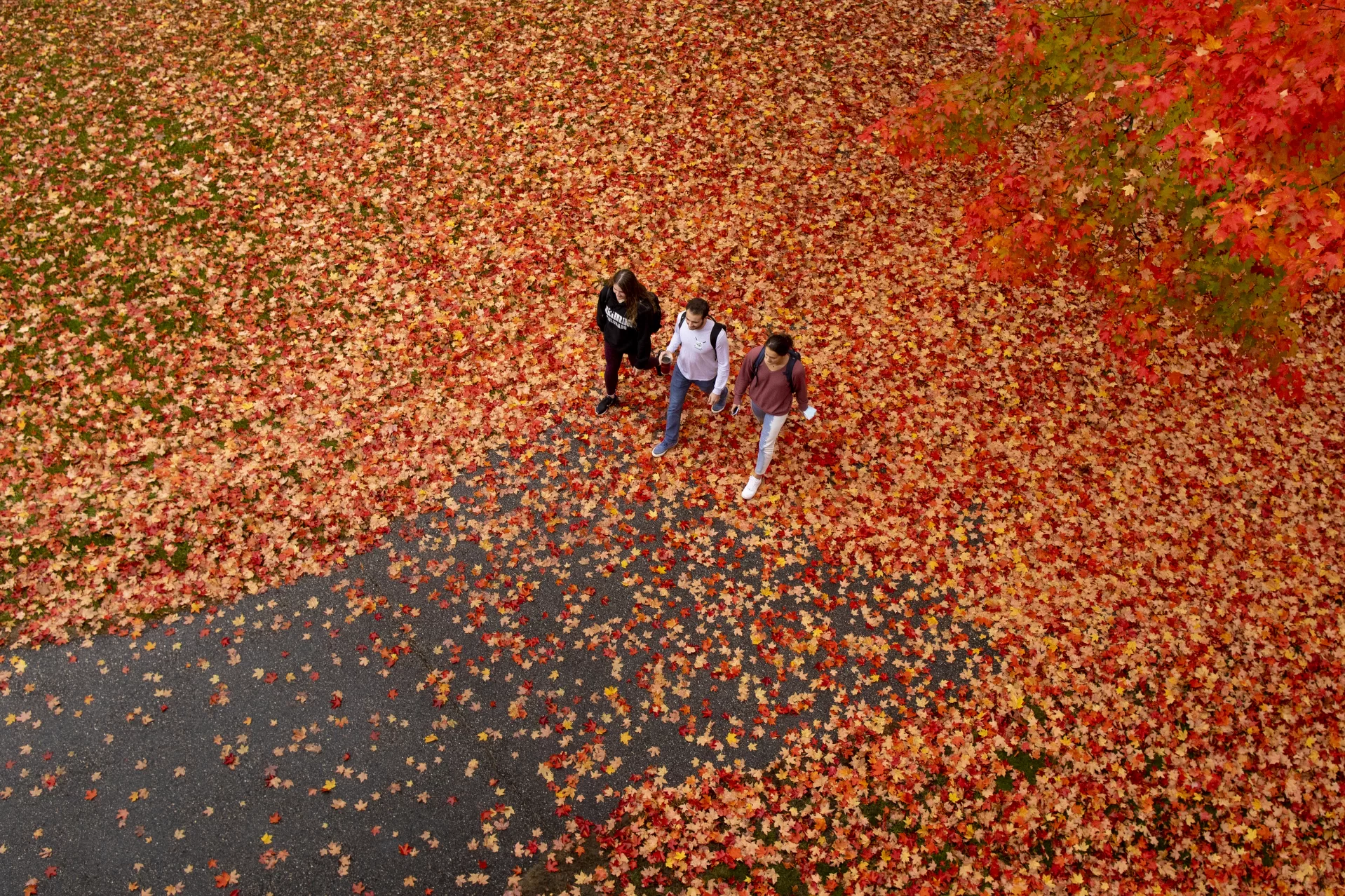 An iconic autumn scene at Bates: students walking along the path in front of Hedge Hall, maple leaves everywhere.
---
She Shines Brightly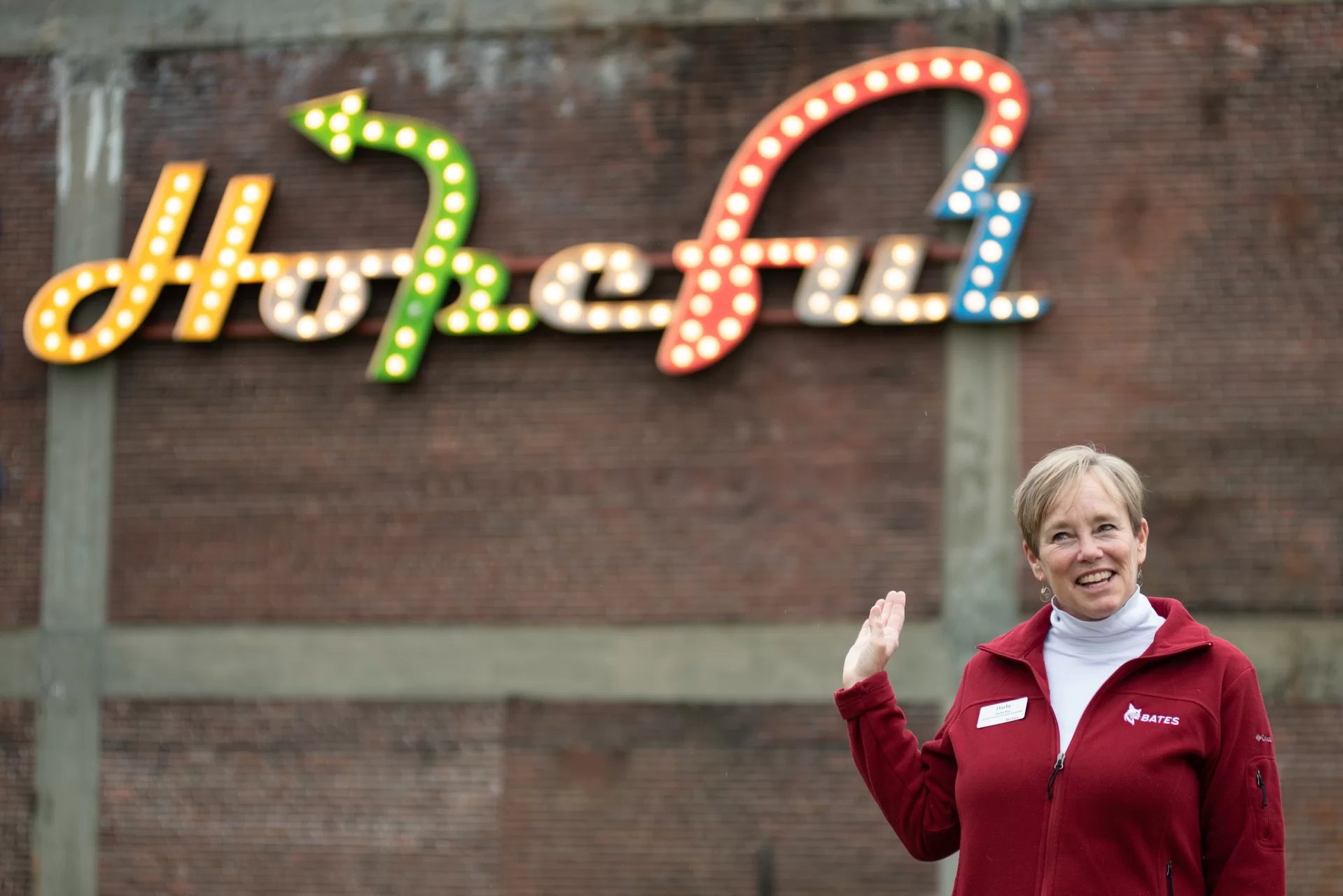 Darby Ray, director of the Harward Center for Community Partnerships, leads a walk through downtown Lewiston and Auburn. She launched the tour in front of artist Charlie Hewitt's Hopeful installation that continues to shine brightly on Maine Street in Lewiston.
---
Surrounded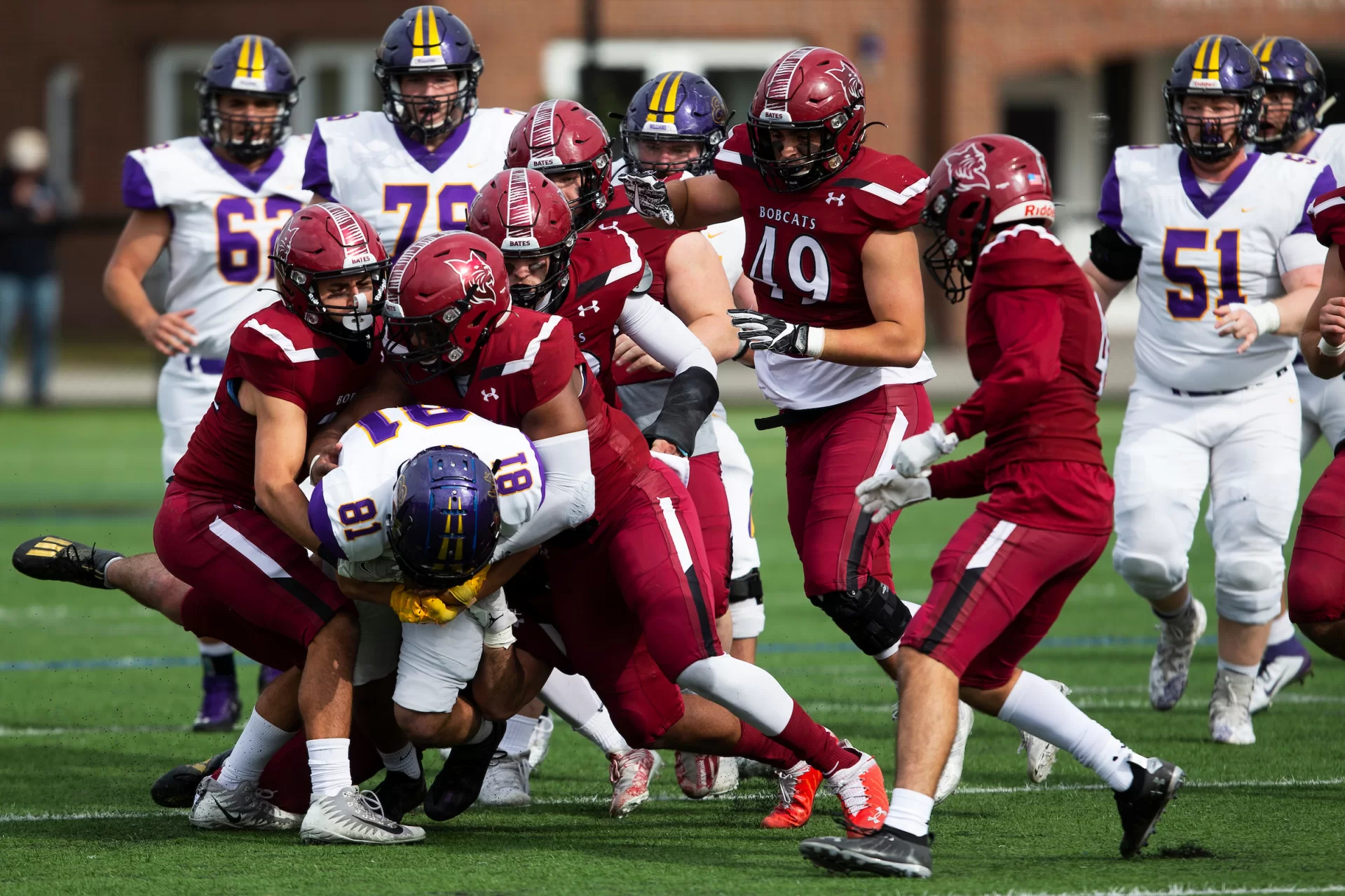 A pounce of Bobcat defenders pounce on Williams College receiver Mike Degasperis at Garcelon Field on Oct. 23, 2021.
---
Test Prep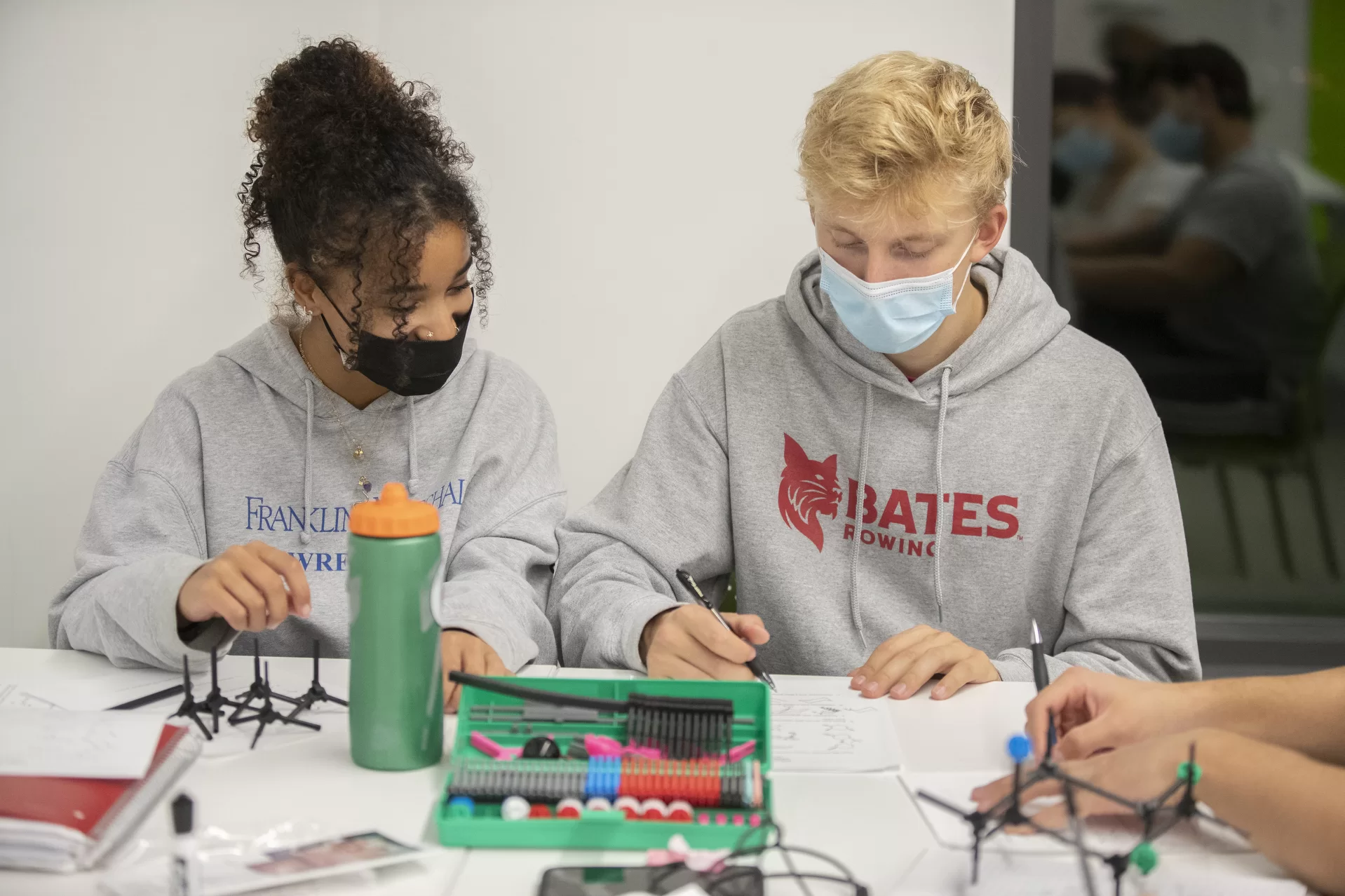 Aislinn Carty '24 of Mountville, Pa., teams up with Andrew Frey '24 of Berkeley, Calif., during a student-led evening study session in the Bonney Science Center where students prepared for an organic chemistry quiz the following day.
---
Header Here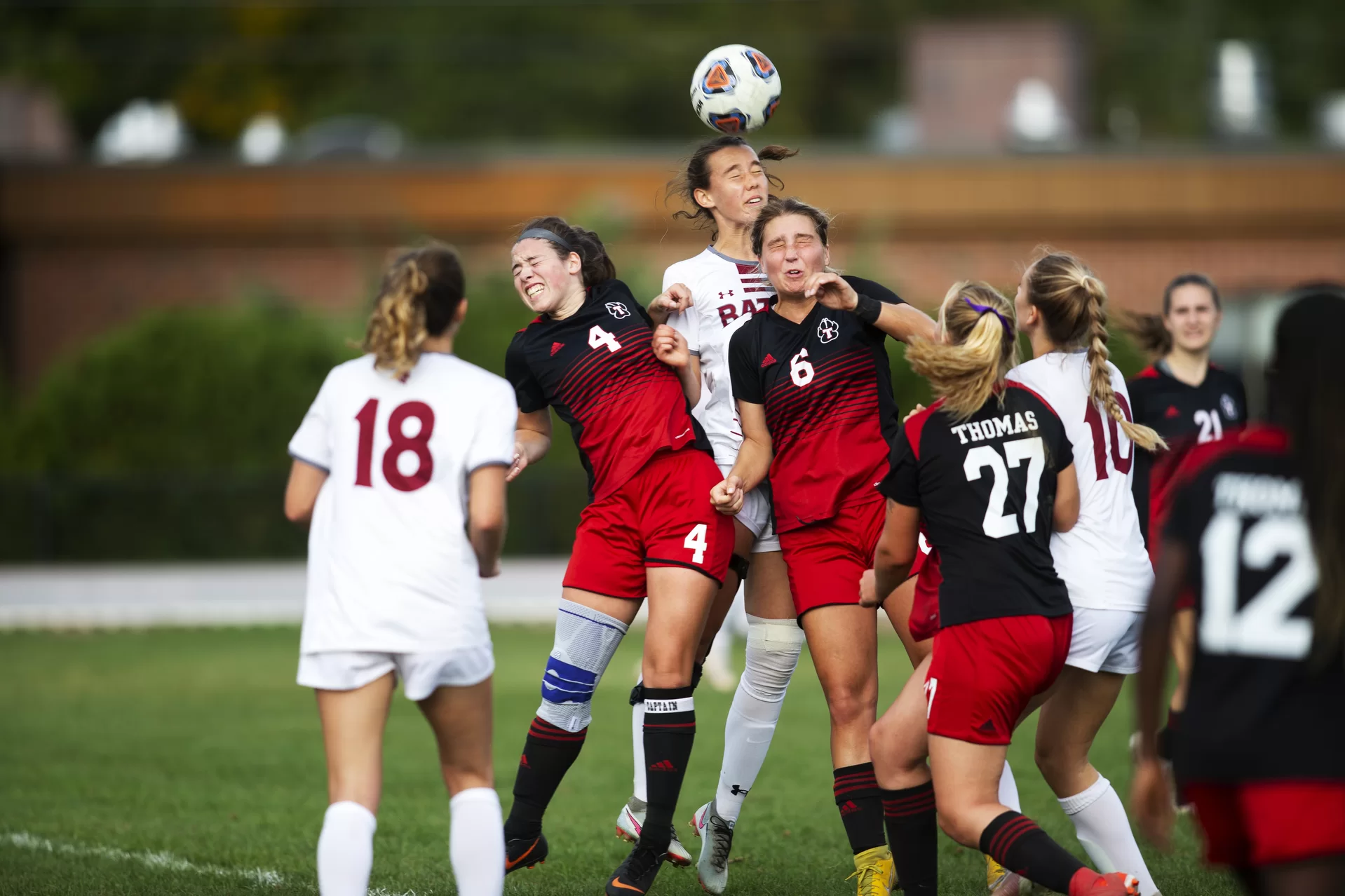 Joanna Cloutier '23 of Portland, Ore., goes for the header in the Bobcats' 5–0 women's soccer win over Thomas College on Russell Street Field.
---
A Bonney Celebration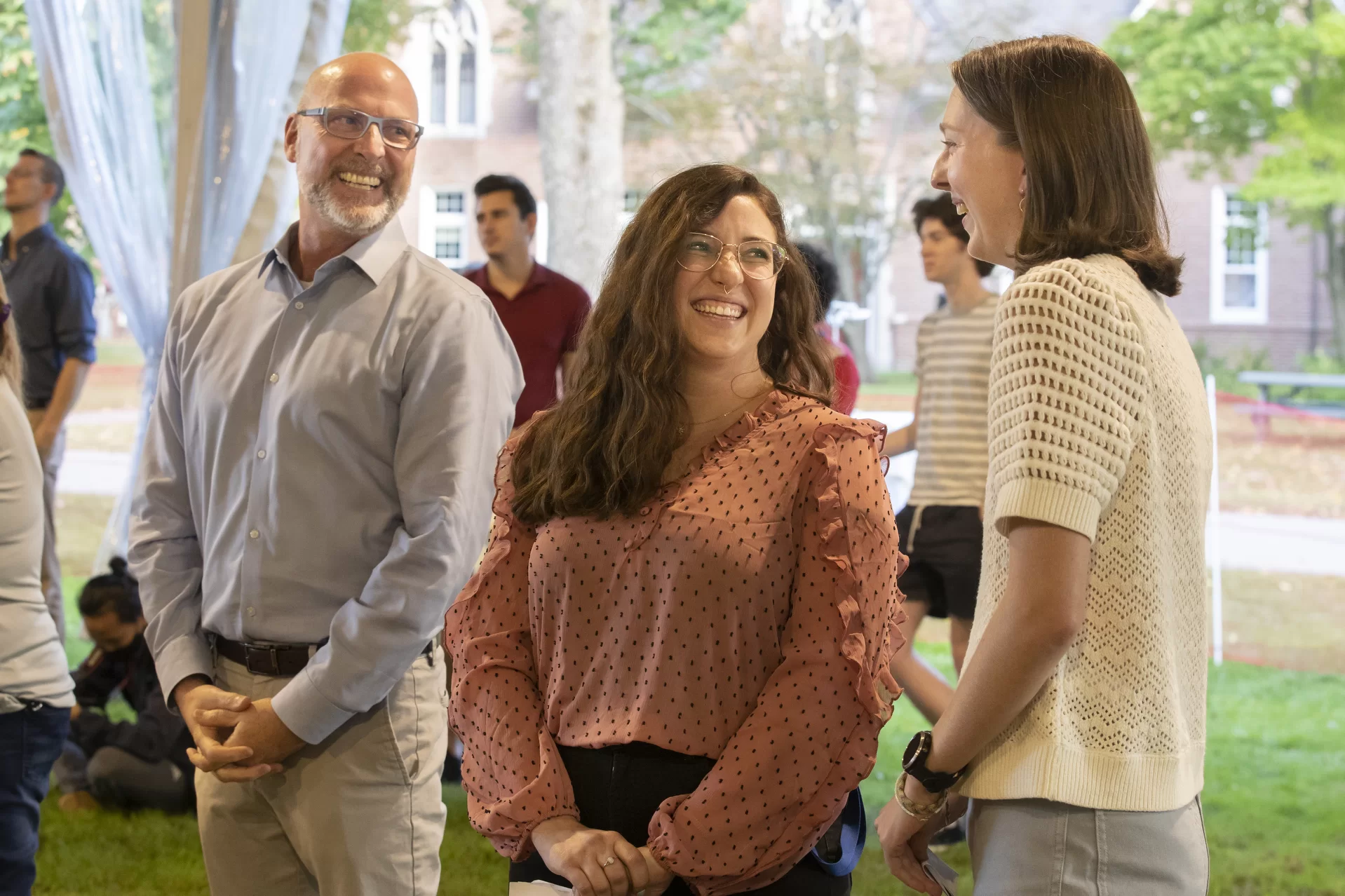 Chemistry major Loren Andrews '22 (right) of Wellesley, Mass., talks with Malcolm Hill (left), vice president for academic affairs and dean of the faculty, and her thesis adviser, Geneva Laurita, assistant professor of chemistry and biochemistry at a campus event in October celebrating the opening of Bonney Science Center.
A featured speaker at the event, Andrews said that she is "excited to see not just this year, but in the many years to come, how the Bonney Science Center facilitates research, collaboration, and exploration at Bates."
---
Good Feng Shui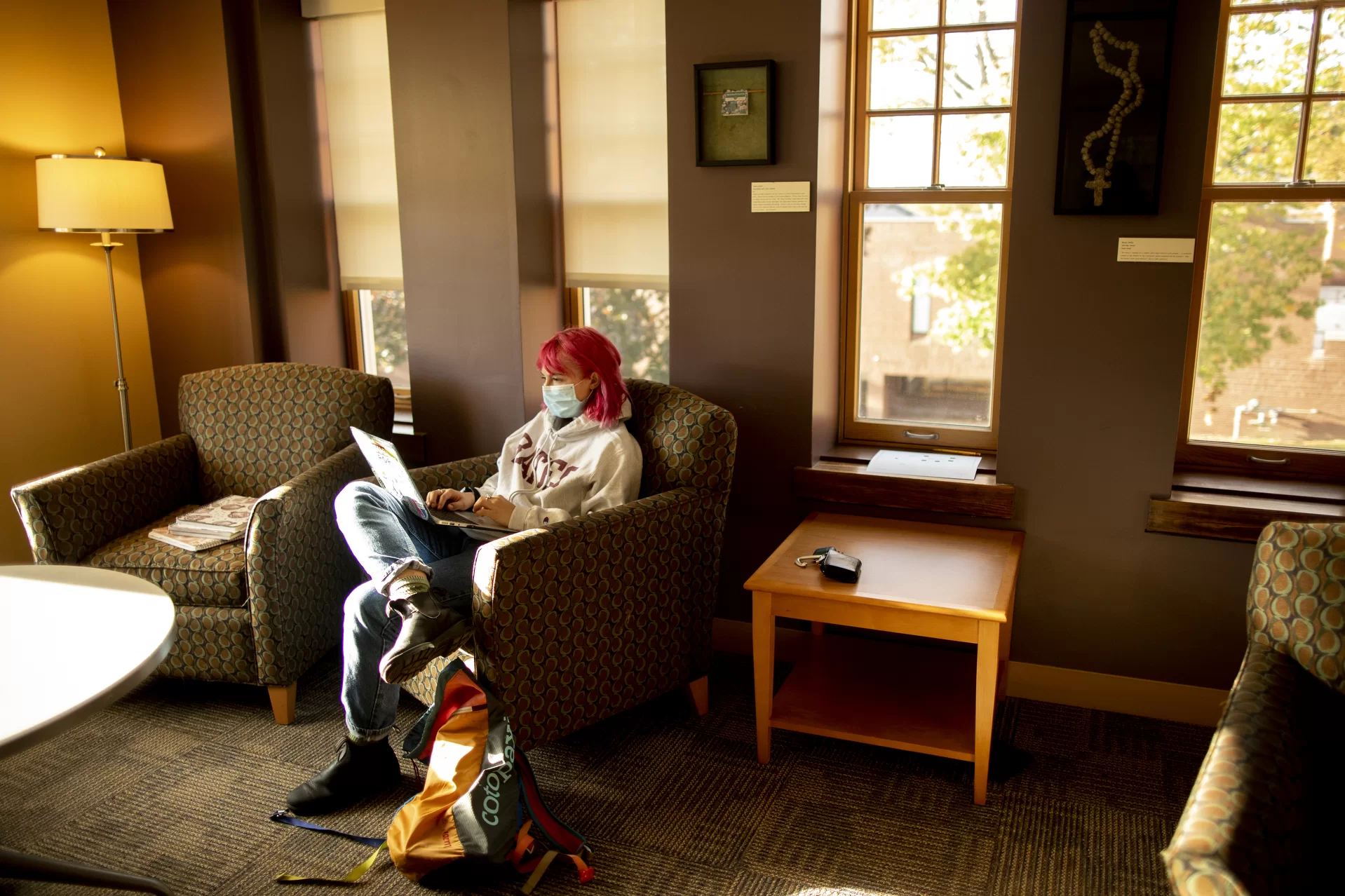 When it comes to studying, Maria McEvoy '25 of Missoula, Mont., likes the quiet of the religious studies lounge on the second floor of Hedge Hall. She also enjoys the beautiful light, home-like furnishings, and good feng shui of this peaceful campus spot.
---
Loves Laughing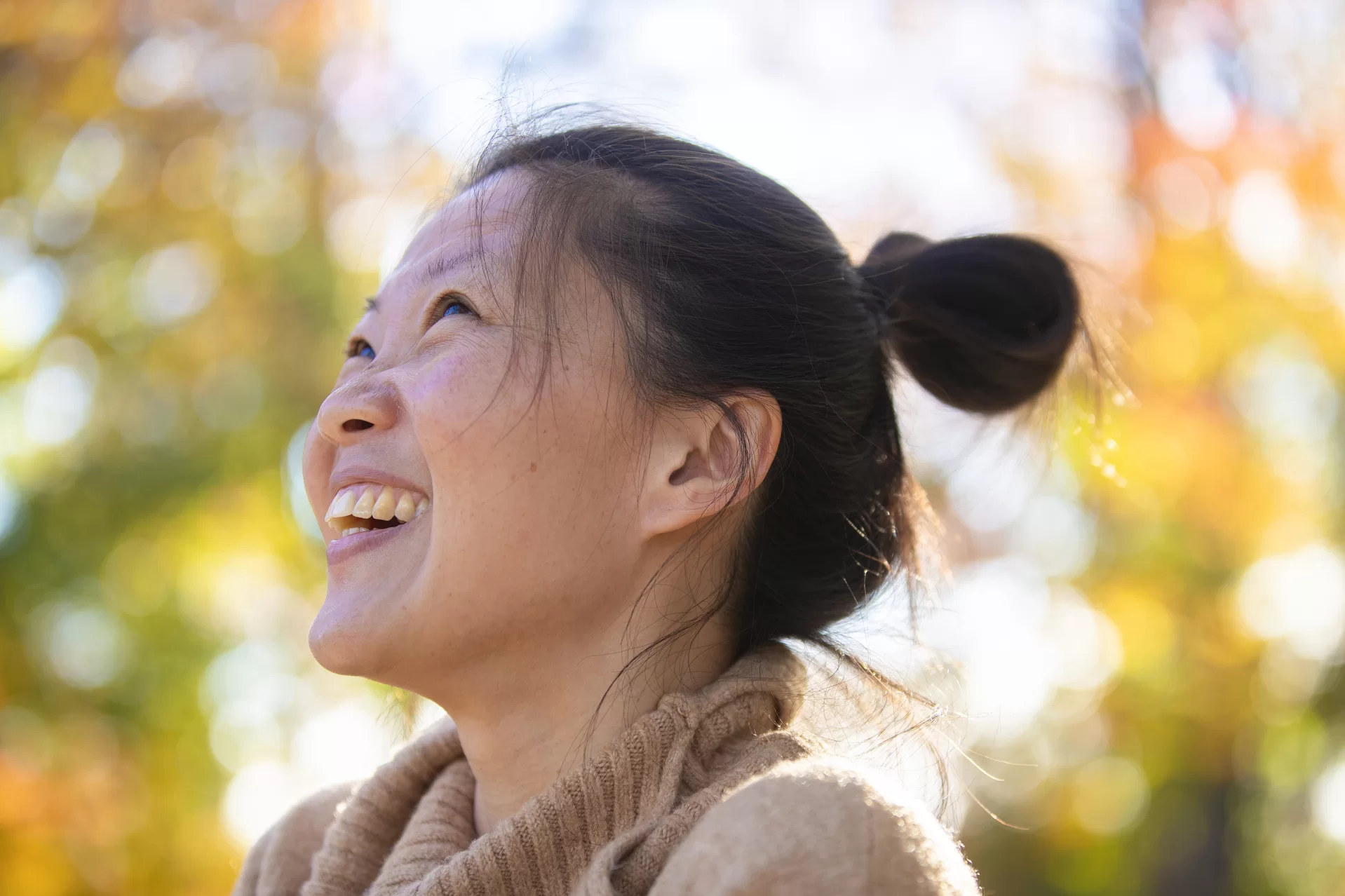 "I love laughing — it helps to put even the hardest days into perspective!" says Hoi Ning Ngai, enjoying a fall moment on the Historic Quad. She's the associate director of employer engagement and business advising at the Bates Center for Purposeful Work.
---
All Hands In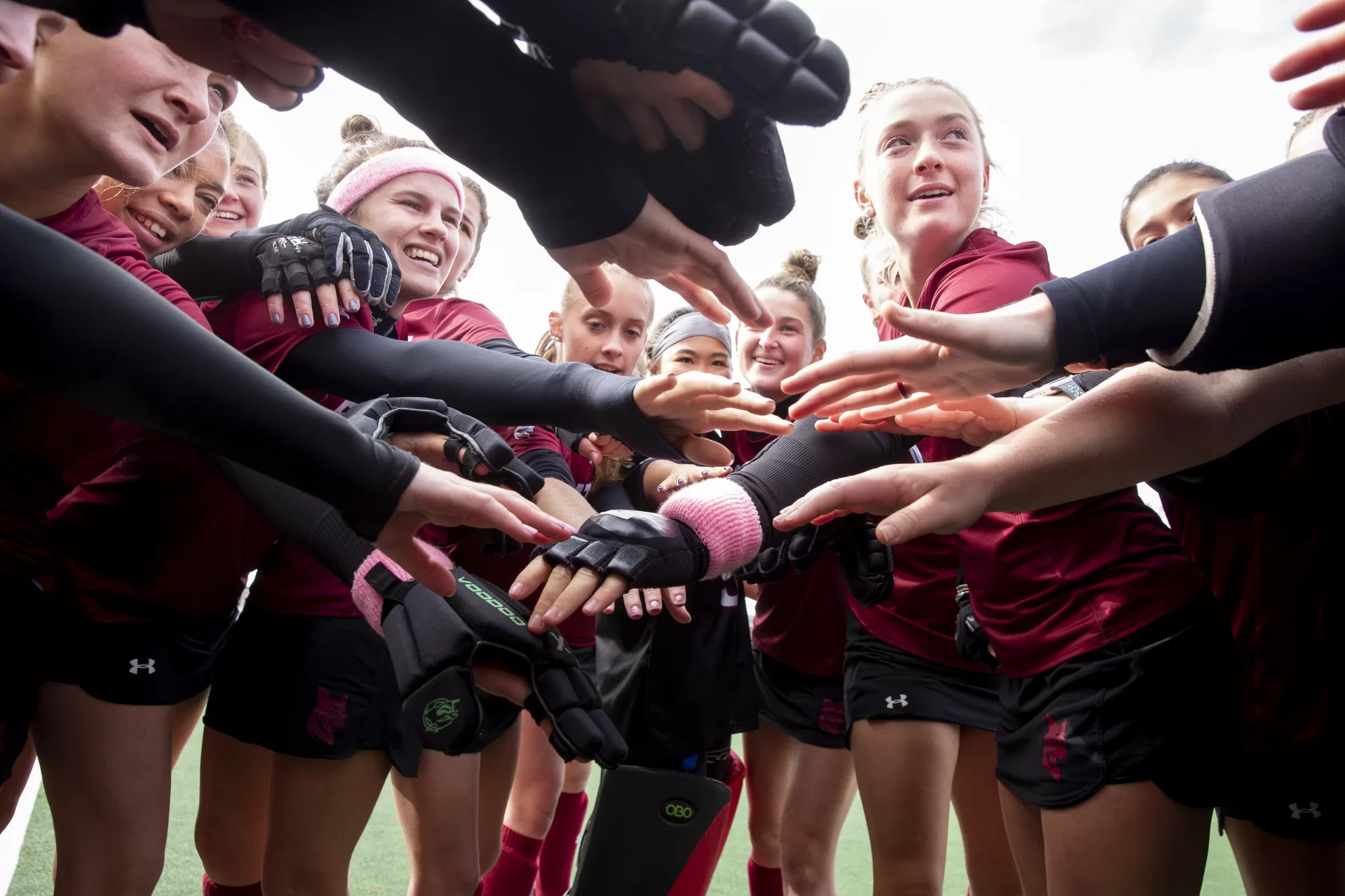 All hands in for the Bates field hockey team before its clash with Williams on Campus Avenue Field.
---
Swinging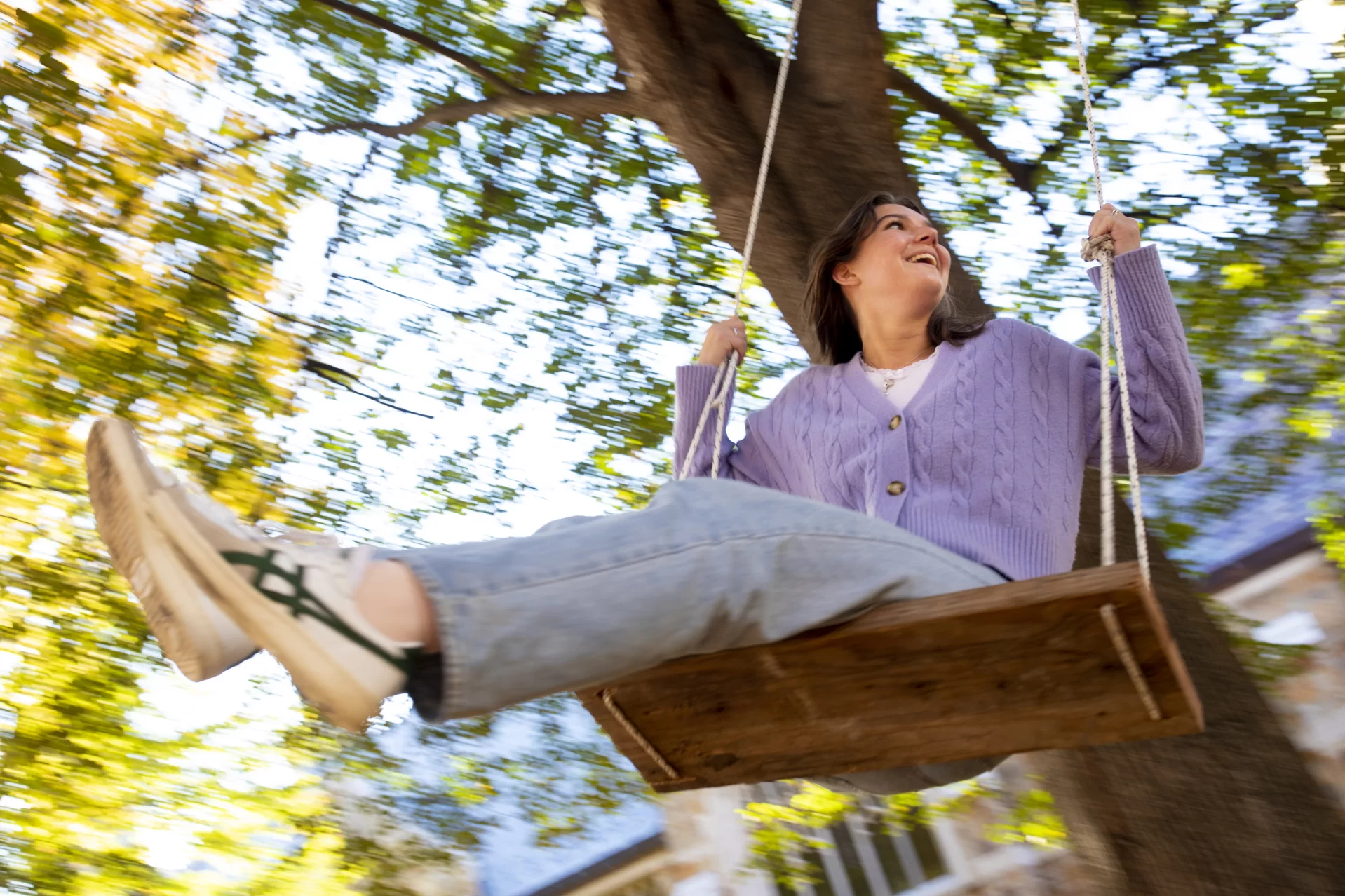 Clara Kennedy '25 of Harrison, N.J., swings for the skies on a beautiful fall day on the Historic Quad.
---
Taking Cover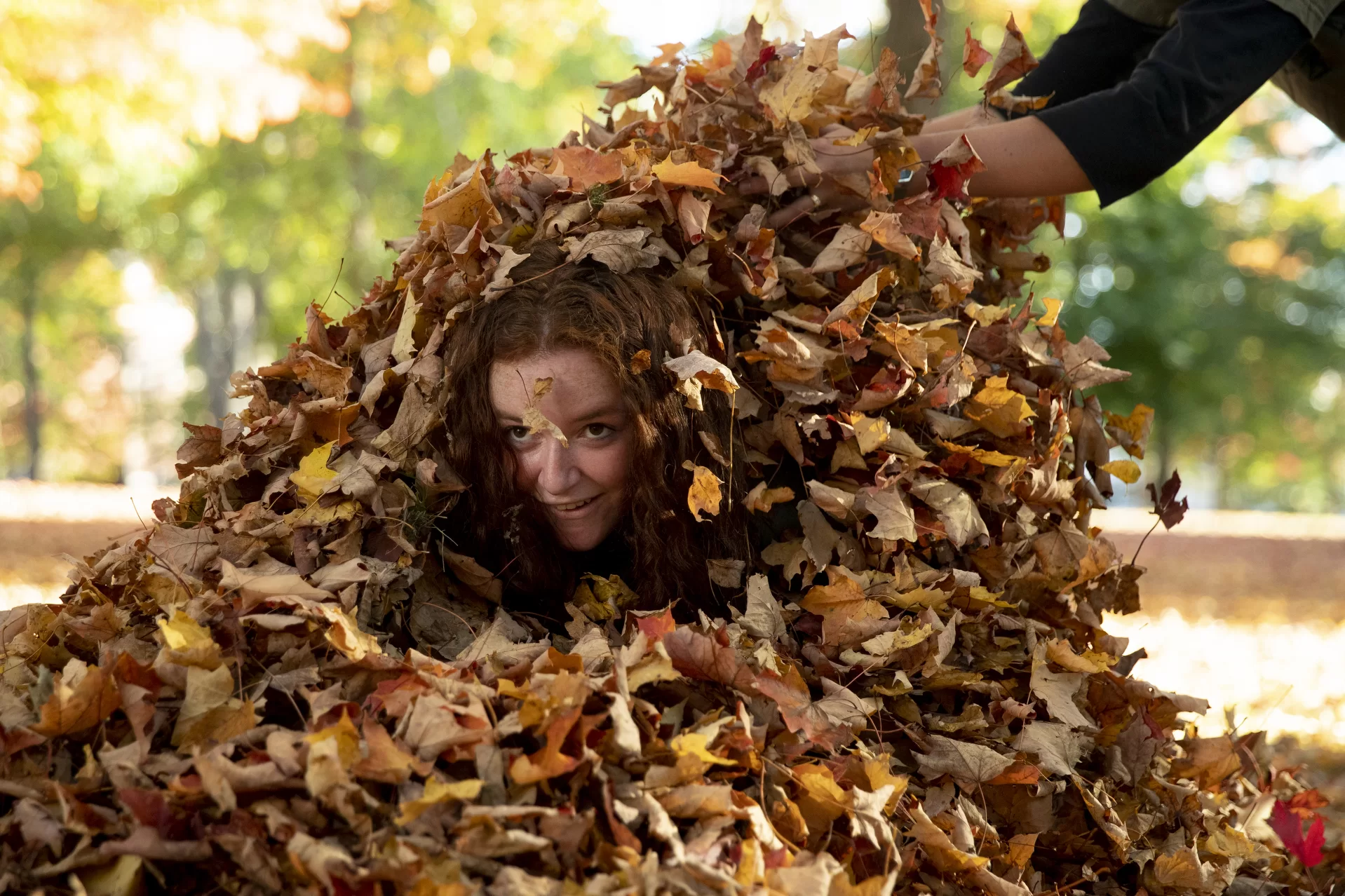 She took cover in a pile of leaves. Avery Lehman '25 of Pottstown, Pa., prepared to jump from a pile of fall foliage gathered by friends during a leafy and laughy event on the Historic Quad.
---
Taking Off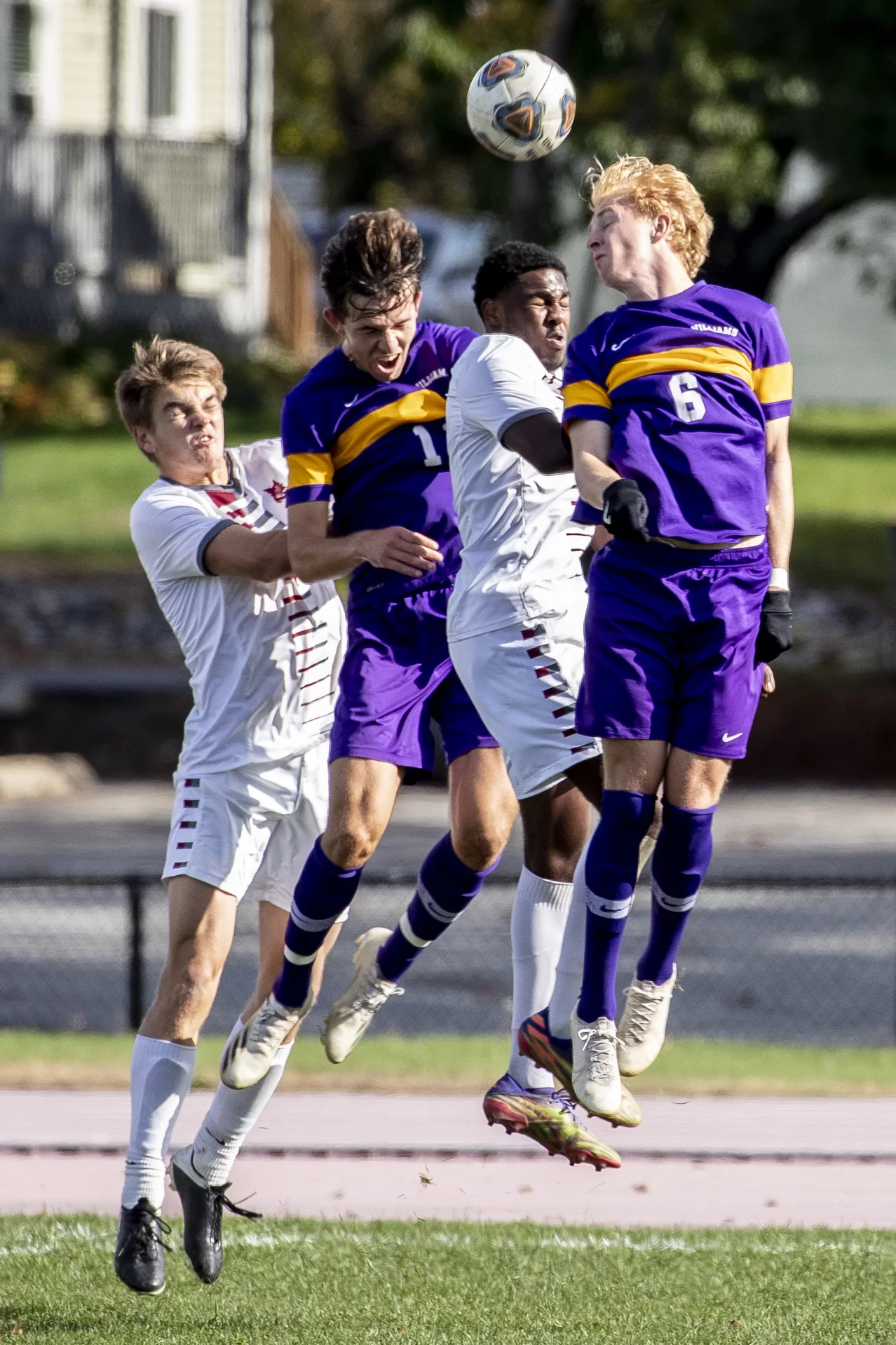 James Peter '22 (left) of York, Maine, and Amir Thomas '25 of Southampton, Bermuda, battle the purple jerseys of Williams for a header on Russell Street Field.
---
Rowers at Sunset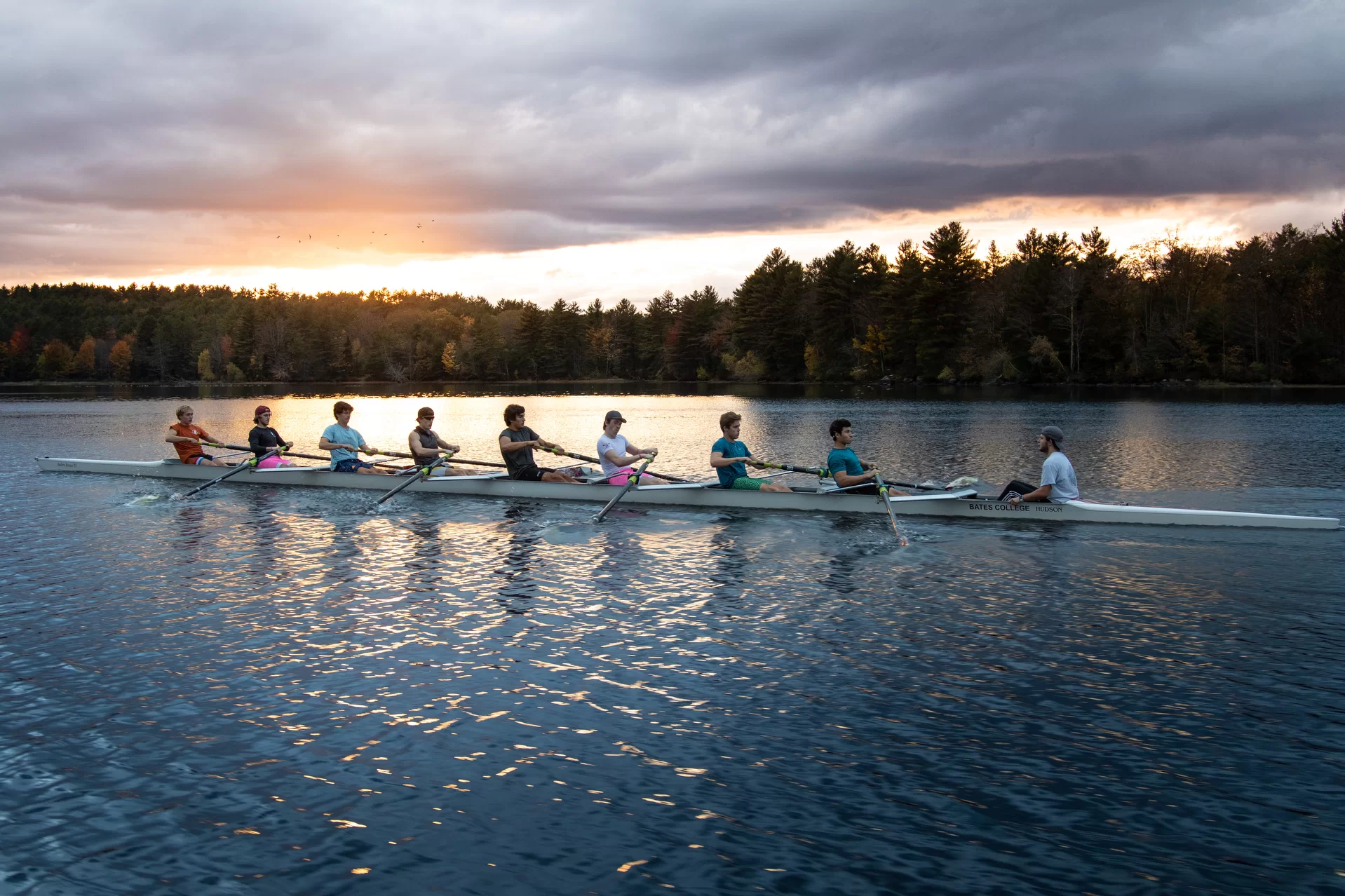 Just before the 5:48 p.m. sunset on Oct. 22, Bates men's rowers train on the Androscoggin River in preparation for the weekend's Head of the Charles Regatta.
View Comments