Here's the fourth installment of our series that profiles, in images and words, each and every resident of Bates' newest academic building, Bonney Science Center, as they begin to engage with their wondrous new home and the students they work with. This week's profiles feature:
Paul Butler, a Facility Services custodian, whose job is to see more than what most of us see.
Sonya Locke, the building's science resource manager, whose job runs hot and cold.
Michael Sommer, a visiting assistant professor of chemistry and biochemistry, who revels in the flexible teaching space of a Bonney classroom.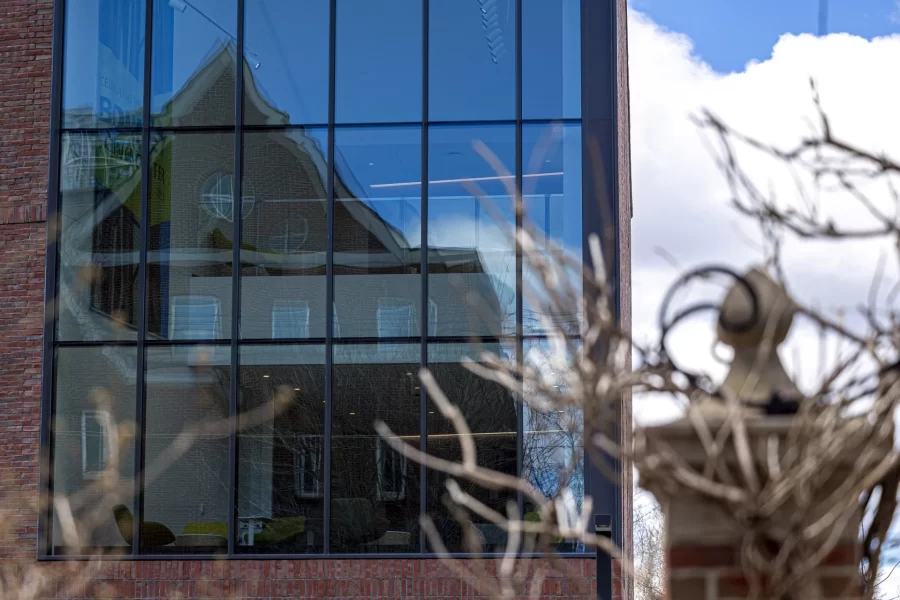 Paul Butler
Title: Custodian with Facility Services
Joined Bates: 2018
Date Photographed: Feb. 10, 2022
He says: "We tend to see things that others normally wouldn't."
The piece of cleaning equipment that Paul Butler was maneuvering around a Bonney Science Center lab on Feb. 10 is officially called the "Tomcat Sport V2.0 Premium Walk-Behind Scrubber."
In simpler terms, it's a lean, mean, cleaning machine.
Butler is one of three custodians who work in Bonney Science Center, where he and the Tomcat do regular deep cleans of the floors. Here, he's tending to the floor in a research lab.
Work is work, but truth be told, using the Tomcat is kinda rewarding, says his colleague David Hascom. "It does all the work, like a snowblower. You just walk behind it."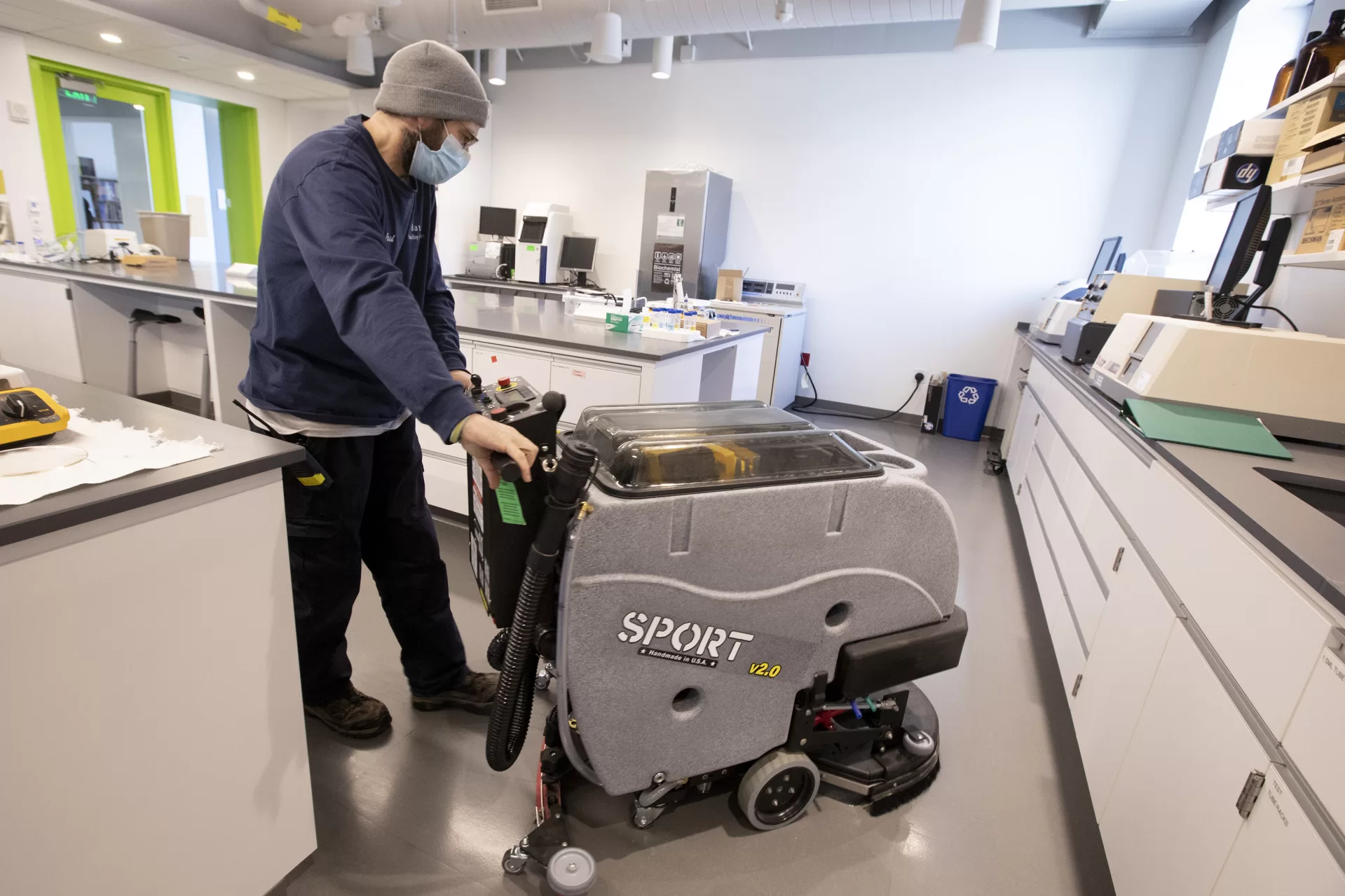 Butler says that Bates didn't skimp when it came to outfitting the custodial staff with the tools they need to keep Bonney clean — one Tomcat runs about $7,600.
"The college equipped us with really good, top of the line equipment," Butler says, which makes it easier to do what he does — "make the building shine. The students and professors as well as other staff who work here have a right to be proud of the building we all call home."
Where most people would see a floor, David and his co-workers see the tiles. Where most people see a nice shine, David and his co-workers spot the scratch or scuff. "Our workload consists of way more detailed work than most realize. So we tend to see things that others normally wouldn't."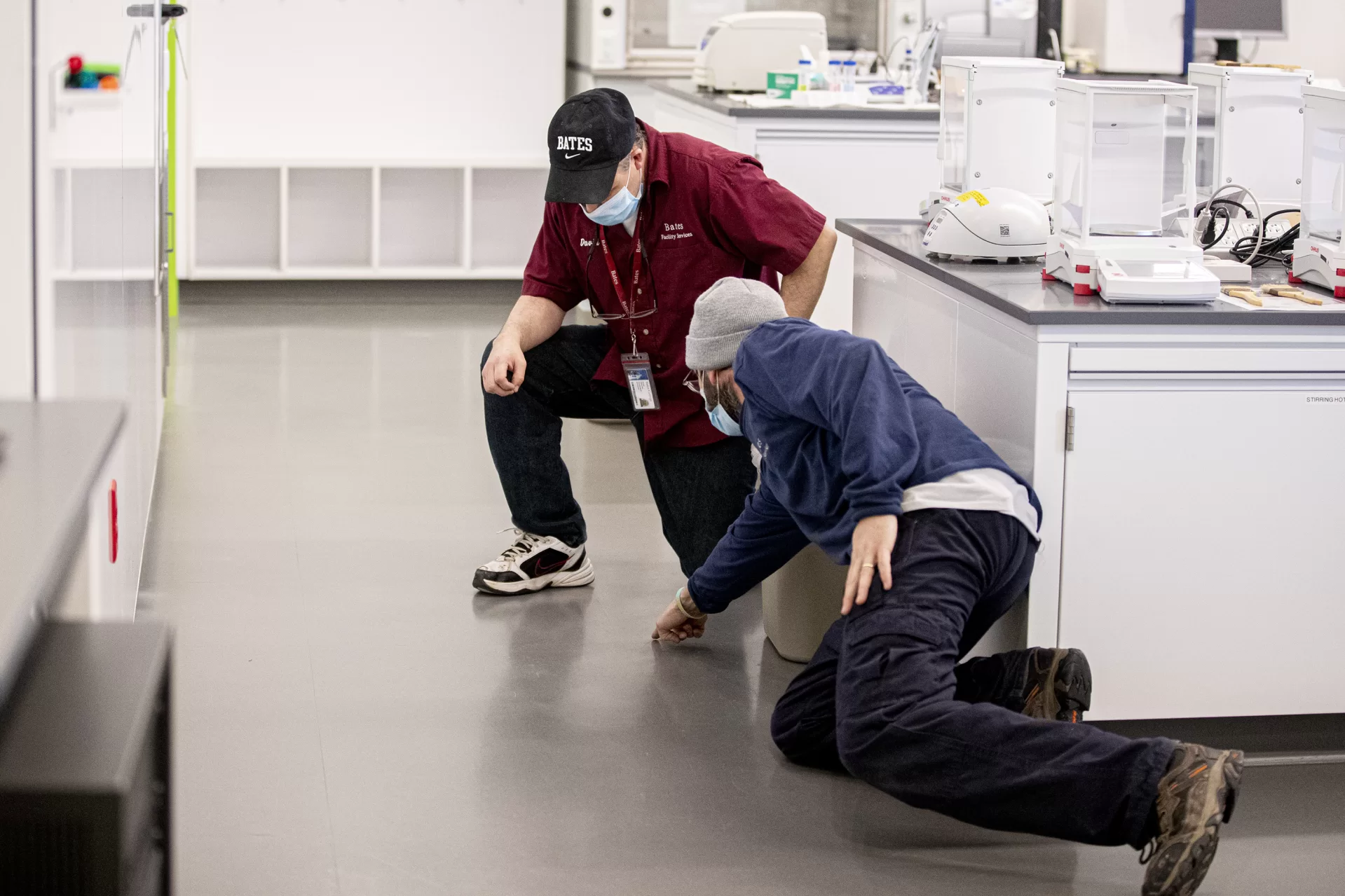 The improvement that Bonney delivers to the work of faculty and staff can be measured in time saved and tasks easier to do. "We're able to wash three to four times more supplies than compared to washing them by hand in Carnegie Science Hall," Butler says.
Literally, it's no sweat to work in a building with ample space for storage and a finely tuned HVAC system. "We were so cramped" in the old vivarium, which was the home of zebrafish on the fifth floor of Carnegie. (Zebrafish are a powerful model organism in biological research.) "It was very warm in the summer months. The fish were happy, but we were extremely warm."
---
Sonya Locke
Title: Science Resource Manager
Joined Bates: 2002
Date Photographed: Feb. 2, 2022, and Feb. 23, 2022
She says: "I think about the parallels that can be drawn to the workings of our lives.""
Sonya Locke's job as science resource manager runs hot and cold.
On the hot side of Locke's job is overseeing the sterilization of lab equipment. Most labs sterilize by "autoclaving," which means using pressurized steam. Bonney's sterilizer is in a second-floor room along with a commercial dishwasher.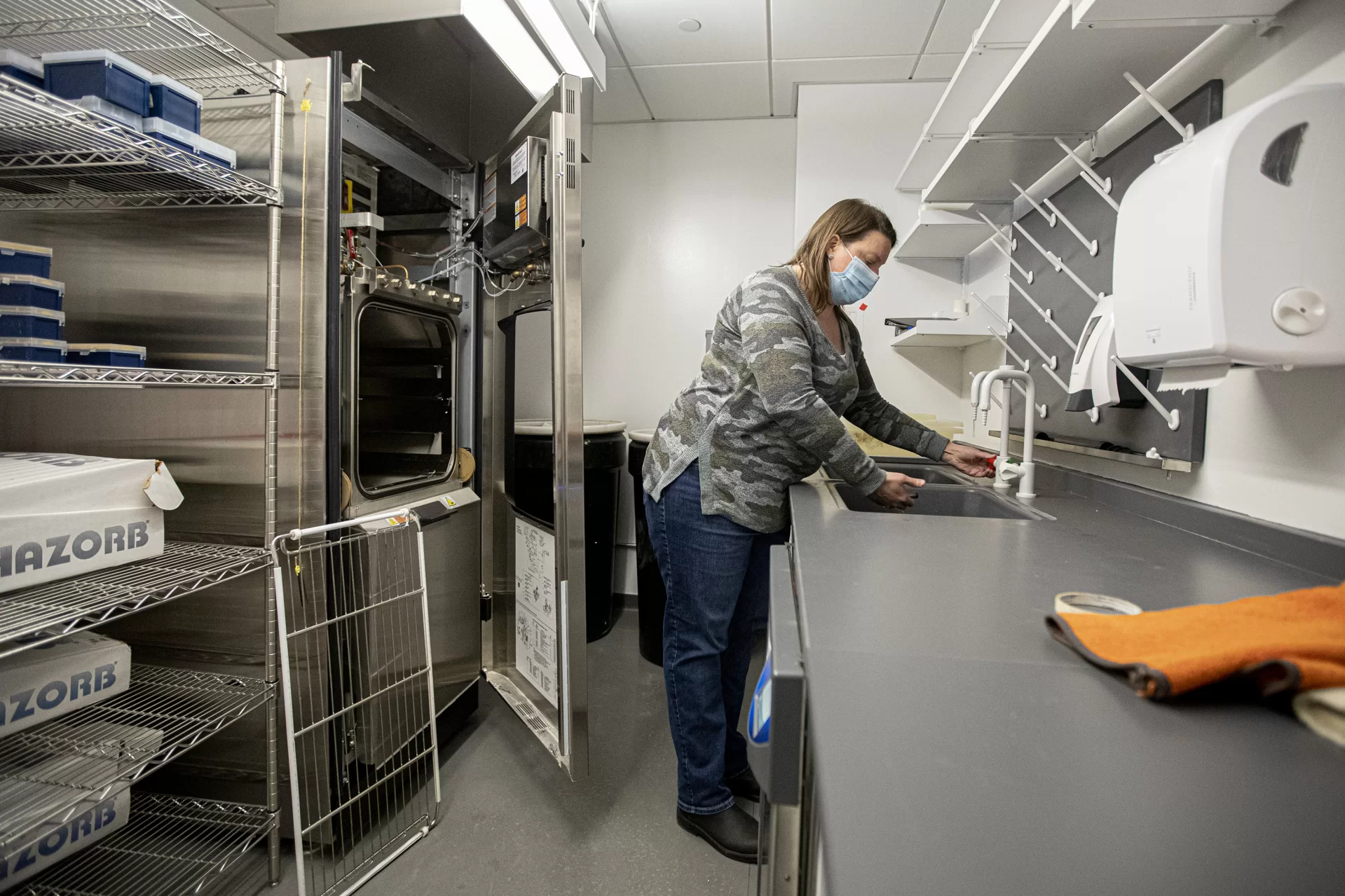 The unit is the Amsco 250LS sterilizer, specifically designed for life-science labs (you can pick one up for about the price of a new Ford F-150 truck.) It generates steam heat up to 285 degrees Fahrenheit.
One of Locke's daily duties is to clean the unit's circular drain strainer. It's small, just an inch and a half tall and just a half-inch in diameter, but vital. Like the strainers on your washing machine, if it's clogged, nothing gets cleaned. "The sterilizer would not function," Locke says.
Although her office is now in Bonney, Locke still works with colleagues in Carnegie Science Hall and spends time in those spaces. (Some biology faculty have retained offices and lab spaces in Carnegie.) Which led to the cold part of Locke's job, when she spent time at her office computer reviewing photographs of materials in the cold room, located in Carnegie, which serves the natural sciences.
Like a walk-in refrigerator, a cold room is used to store large amounts of perishable materials used in research, such as samples of lake water, and used for procedures that need to be carried out in the cold.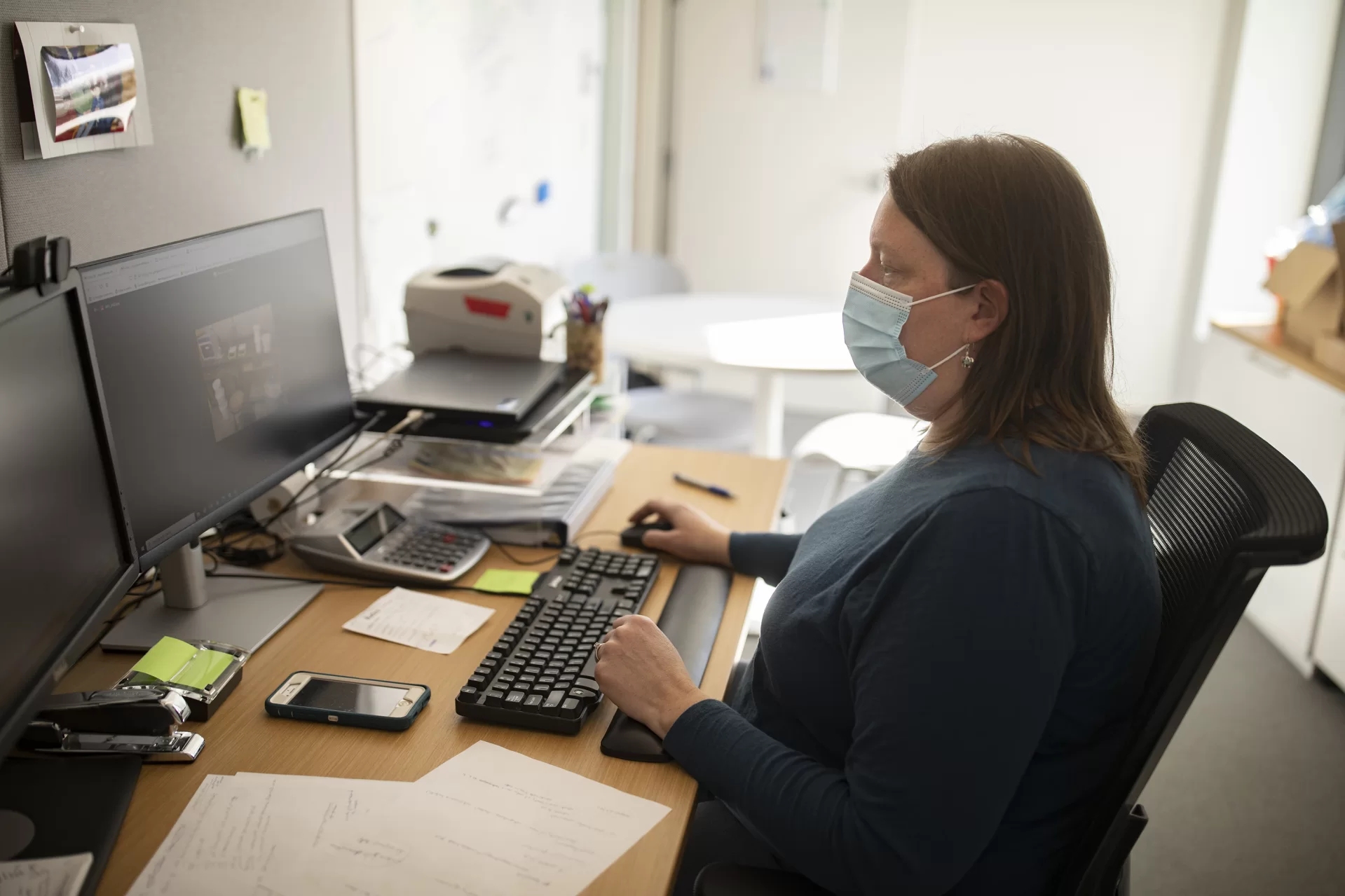 Rather than standing in a cold room examining what's there, Locke takes a smart approach, snapping photos that she examines back in the comfort of her Bonney office. Here, Locke has identified some containers with old contents that need to be disposed.
Tending to small things — like that strainer — to keep bigger things running smoothly is a metaphor, says Locke. "I think about the parallels that can be drawn from this act to the day-to-day routines and workings of our lives."
---
Michael Sommer
Title: Visiting Assistant Professor of Chemistry and Biochemistry
Joined Bates: 2019
Date Photographed: Feb. 2, 2022
He says: "A student can see what's projected no matter which way they face."
Bonney is fully equipped to support faculty and students as they collaborate to investigate and untangle scientific mysteries. And it's set up for the newbies, too.
Michael Sommer, a visiting assistant professor of chemistry and biochemistry, taught a section of Chemistry 108 over the winter. With labs and lectures, the course is as core a course can get: It looks at fundamental concepts underlying the structure and behavior of matter.
During a class session in a first-floor classroom on Feb. 2, Matthew Kijowski '25 of New York City approached his professor, laptop in hand, to ask a question. "He was asking about a particular lecture slide that was pertinent to the problems we were working on in class."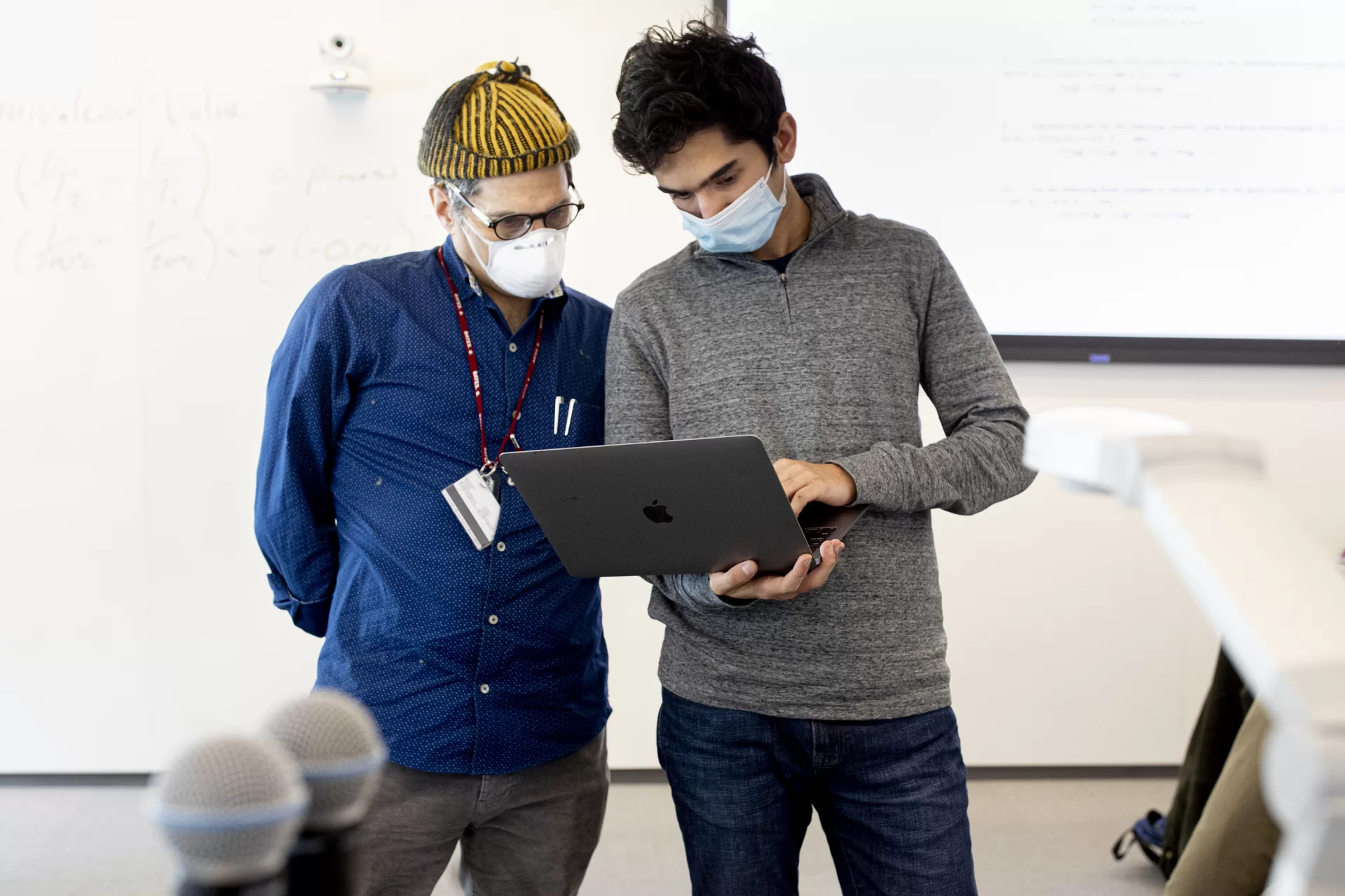 When Sommer taught Chem 108 last year, the lab and lectures were in Dana Chemistry Hall, whose teaching spaces were designed during the sage-on-a-stage era of the 1960s, when tiered seating and tiny arm desks, all facing forward, were the norm.
Indeed, the session that Sommer was leading in Bonney in February was a lecture in name only. He moved freely about, checking in with students working together at tables whose placement around the room is delightfully random. (All the tables and chairs have casters, so they're easily moved.)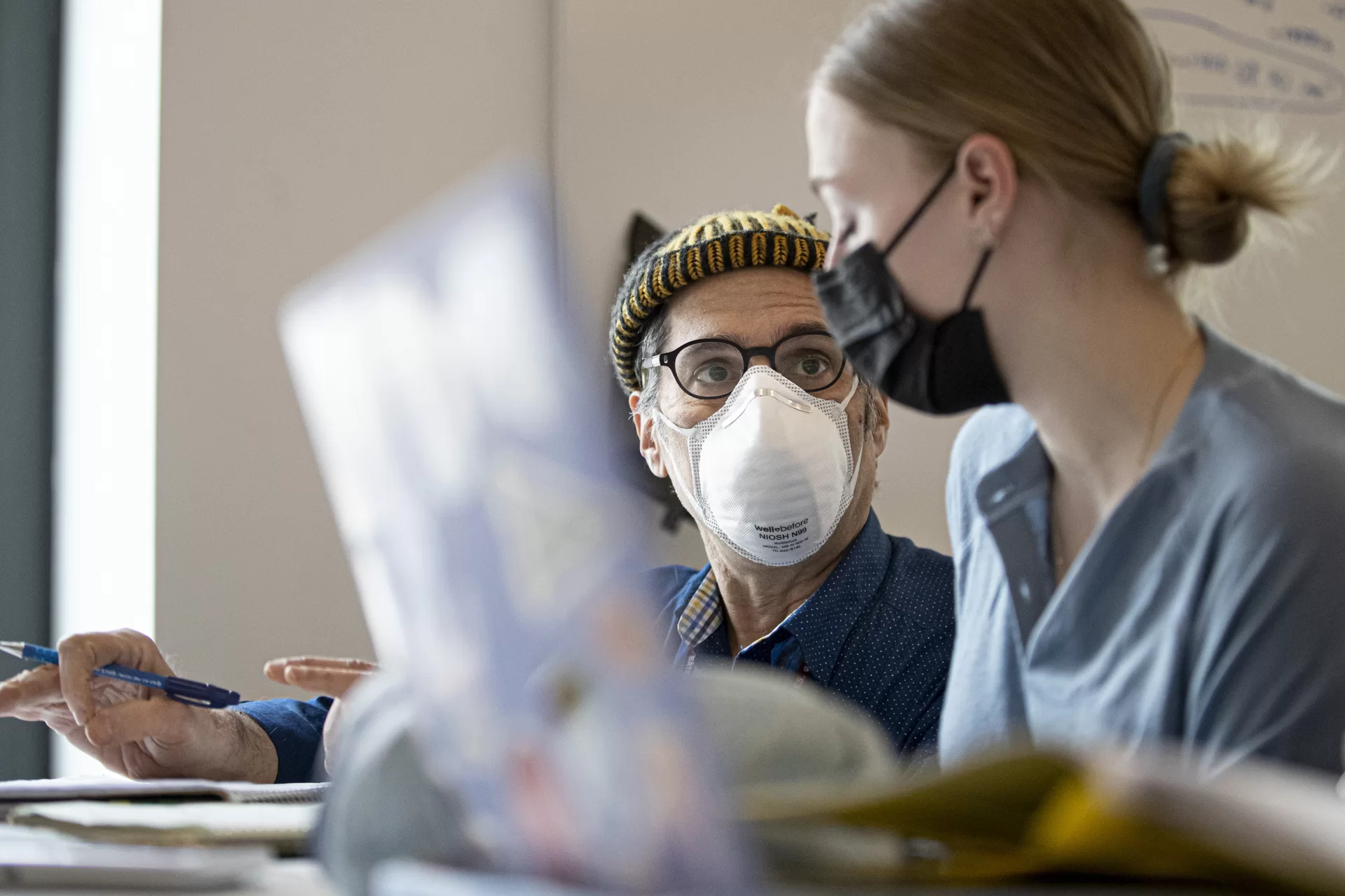 In a course about chemistry fundamentals, Sommer was teaching the fundamentals of thinking like a chemist. A few minutes before helping Kijowski, he stopped by a desk to help another first-year student, Molly Kelley of South Orange, N.J.
"I was explaining the problem-solving strategy necessary for the types of questions we were working on," he explains. "There are several steps needed to set up the solution, and I was describing the logical flow of these steps."
The open floor plan is "the best part of the room," he says. "The tables make it easier for students to work together. The expanse of table space created "plenty of room for papers, books, and laptops." In turn, that means that "more students bring their laptops to class in this room than they used to in Dana. That gives them easy access to the lecture slides I post, which is very handy when they are doing worksheets because they can refer back to the notes easily."
Classroom technology is always cool. But even better is classroom technology that gets used, like the multiple display screens. "It's nice that you can display different things on each of the six computer screens." And if Sommer puts the same visual on each screen, that's great, too. "A student can see what's projected no matter which way they face."