Here's the fifth installment of our series that profiles, in images and words, each and every resident of Bates' newest academic building, Bonney Science Center, as they begin to engage with their wondrous new home and the students they work with. This week's profiles feature:
Donna Gendron, a Facility Services custodian who enjoys being part of a clean team.
Martin Kruse, an assistant professor of biology and neuroscience who signals his approval of Bonney's classrooms and labs.
Alyson Farrington, an assistant in instruction in chemistry and biochemistry who hopes to instill a love — or at least a like — of chemistry.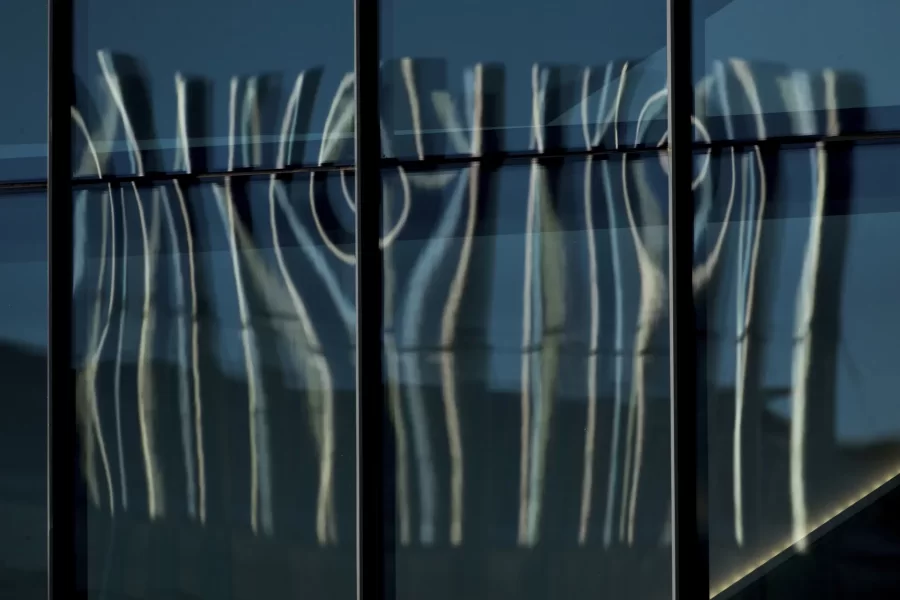 Donna Gendron
Title: Custodian with Facility Services
Joined Bates: 2013
Date Photographed: Feb. 4, 2022
She says: "If anyone needs help, all we do is text each other, and we go right down and help each other."
There's satisfaction in creating a clean space, says Donna Gendron, one of three custodians who work in Bonney Science Center. But what if you can't see what's clean?
Before moving to Bonney, Gendron worked in Dana Chemistry Hall, and by the time Dana emptied out in summer 2021, the building was well worn. "You'd clean something, and you couldn't tell you cleaned it," she says. (Dana is now undergoing a full renovation, including a complete change of purpose, from chemistry to introductory science teaching.)
"It was hard for me to keep up, to try and make it look nice, because everything was just so old. I did the best I could, plus it was just me over there. Over here, it's a bigger building, but I get help," she says, mentioning her custodial colleagues David Hanscom and Paul Butler. "As long as you keep up with it, everything stays nice."
Gendron has worked in custodial services her whole career. "I've done cleaning all my life." Past jobs have been at hotels and the bygone naval base in Brunswick. Bates suits her just fine. "I like it better, to be honest with you. Hotel work was a lot harder, making beds everyday." And sailors, she says, alluding to her work at the naval base, aren't the tidiest.
She's been working at Bates for 10 years, and she plans to work at Bates until retiring. "It goes by fast," she says.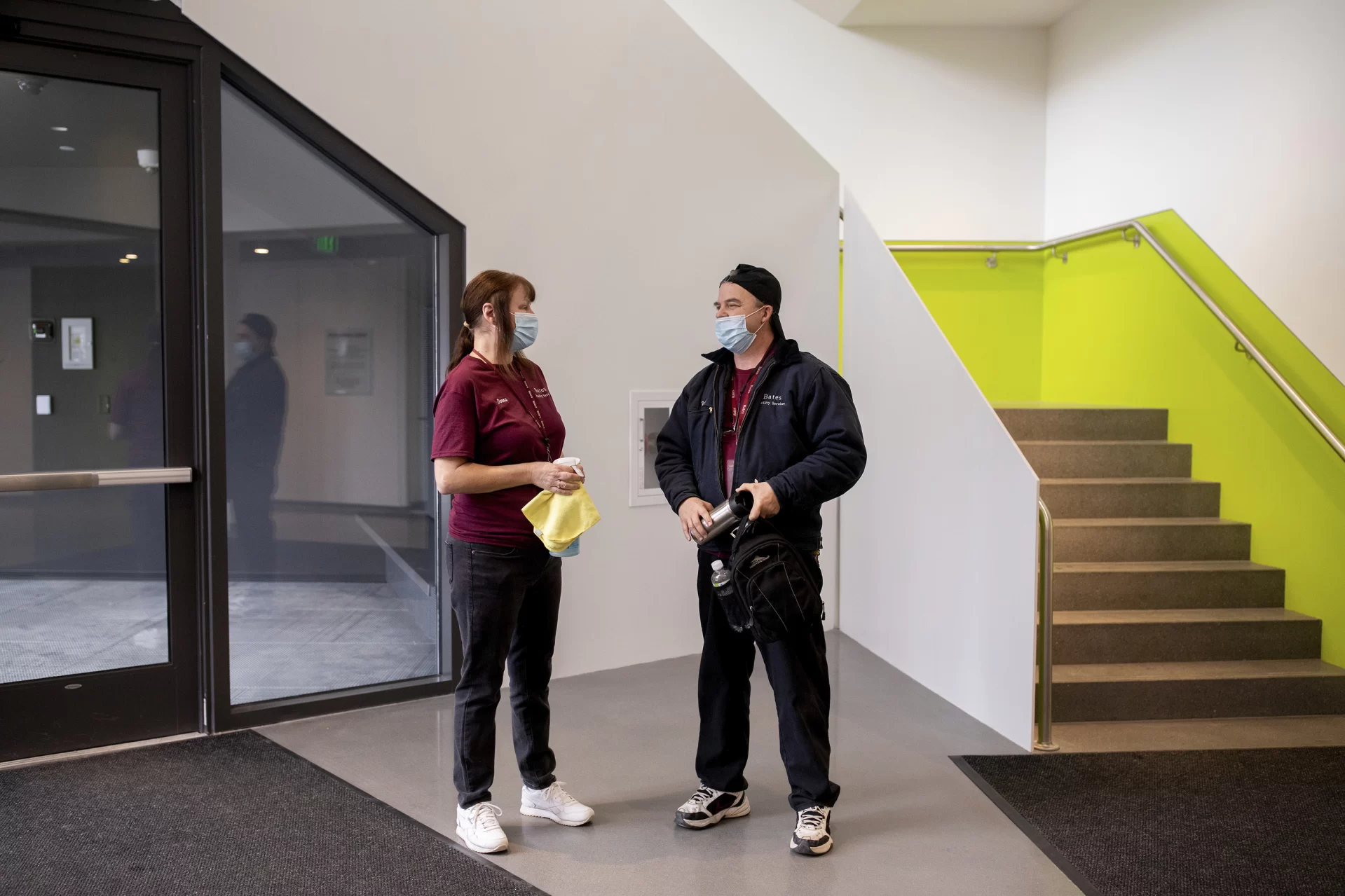 Gendron, Hanscom, and Butler team up on occasion for difficult tasks or just troubleshooting.
Hanscom, who works mostly on the first floor, brings the industrial scrubber and vacuum to the other floors to help out. "I say, 'If you wanna do it, that's fine,'" says Gendron.
"And Paul's on the third floor, and we all get along well, and we try to be team players; if anyone needs help, all we do is text each other, and we go right down and help each other."
Of the various rooms and spaces in Bonney — labs, study rooms, classrooms, hallways, and offices — "the classrooms are busy and a little more challenging to do, especially in the winter time, because there's so much sand. But it's okay; there's three of us here, so it gets done. And the building's new, which makes it easier to clean."
Unlike the bunker vibe in Dana Chemistry, Bonney's interior is bright and open with lots of glass, which can be a pain to keep clean. Some folks said to Gendron, "Oh, all that glass…." "But I like it," she says, the way it allows folks to see and feel the rattle and hum of all that teaching and research inside labs and classrooms.
Plus, Bonney's residents aren't likely to smudge the glass with noses and hands against the glass the way dogs and little kids do, she says.
The big kids in Bonney — the students — she likes quite a bit. "They're good kids — very clean over here. If we need to go into a room, and there are a couple of kids in there, they're like, 'No, no, come on in,' they don't mind."
---
Martin Kruse
Title: Assistant Professor of Biology and Neuroscience
Joined Bates: 2017
Date Photographed: Feb. 4, 2022
He says: "We're not separated any more. That means more communication and collaboration."
Among other topics, Assistant Professor of Biology and Neuroscience Martin Kruse teaches neurobiology, a field that explores how neurons transmit signals throughout our bodies, telling us to smile, jog, or pet the dog.
During a class session in February, Kruse took time to explain to his students the various factors that affect "signal propagation" in the nervous system.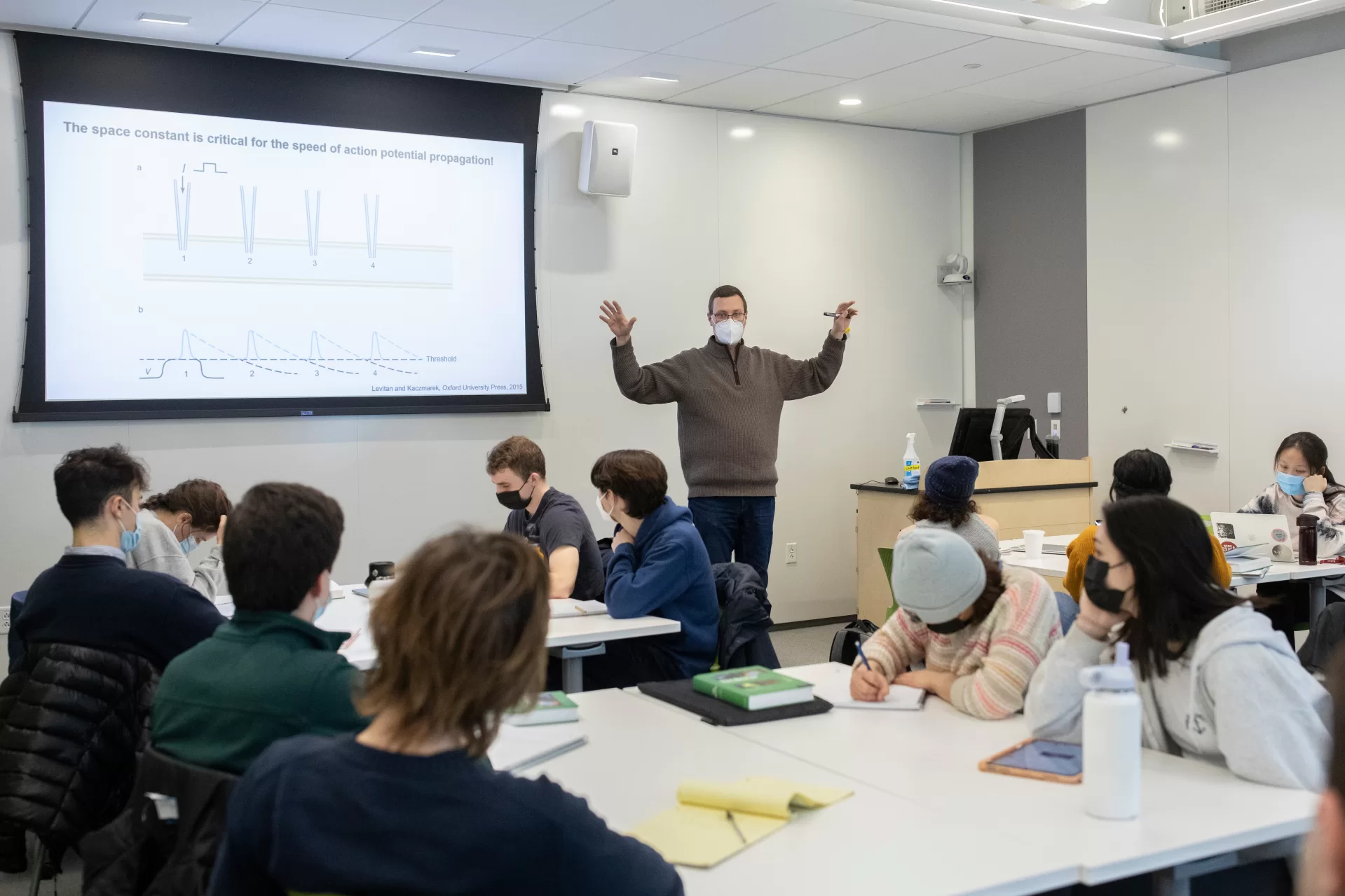 Signal propagation describes how a signal, such as a radio wave, gets to its destination. (Fun fact: In theory, an FM radio signal from the 1980s carrying a song like Wham's "Wake Me Up Before You Go-Go" has now propagated way past the constellation Ursa Major.)
In neurobiology, signal propagation "basically refers to how fast our brains operate and why," said Kruse.
Kruse appreciates how the classroom's setup — whiteboards, extensive projection equipment, and rollable chairs and tables — lets him pursue active-learning strategies, even ones as simple as taking a seat at a table.
A few minutes after explaining the factors involved in signal propagation, Kruse did just that, joining a tabletop discussion with Annie Li '24 of Oslo, Norway, Chloe Huh '23 of Highwood, Ill., and Will Brown '23 of Newton Center, Mass.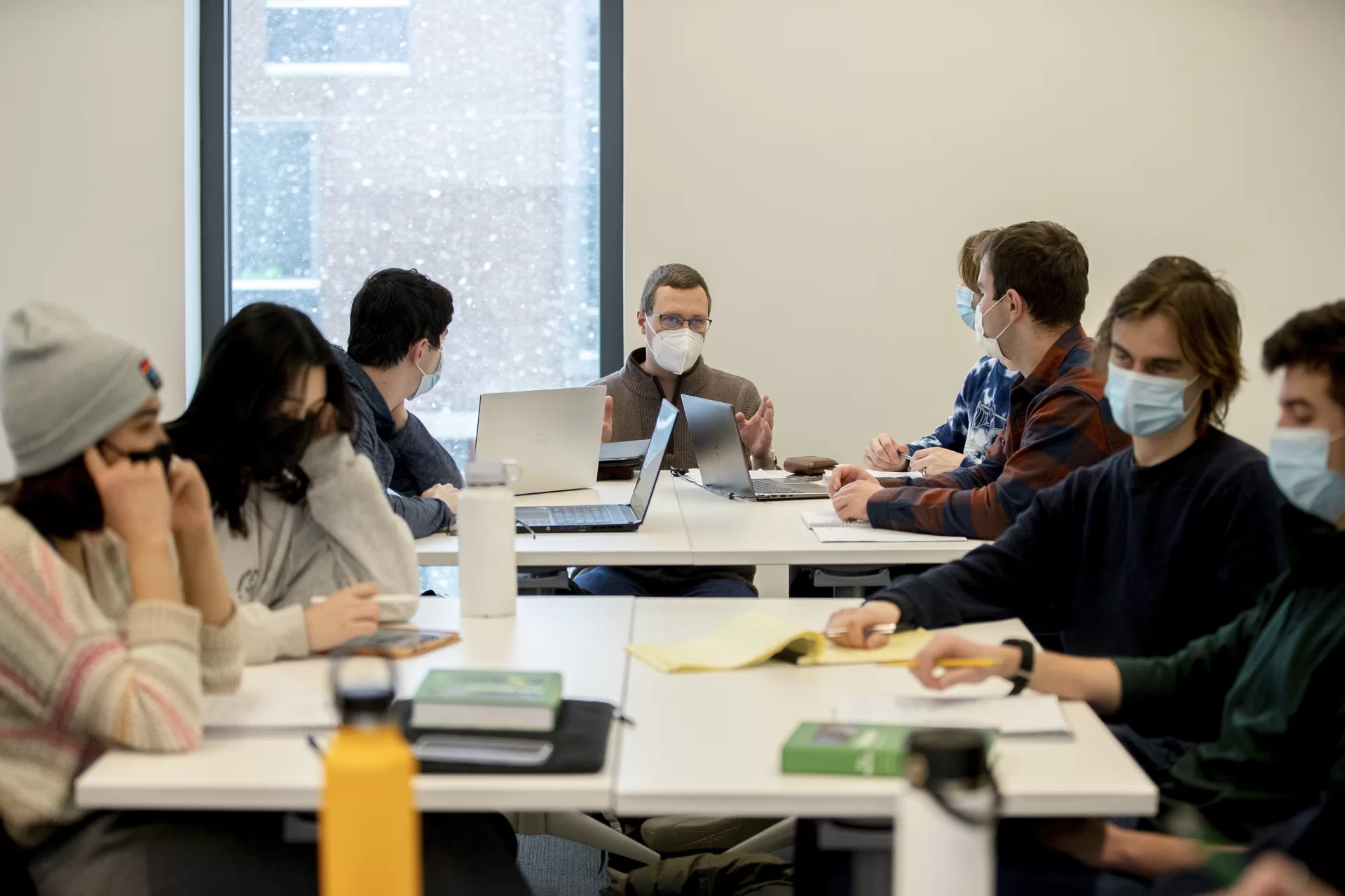 Kruse listened to their responses to this prompt: "What would be important properties of nerve cells to communicate in a fast and reliable way?"
Among other research interests, Kruse's lab in Bonney Science Center looks at how phosphoinositides regulate nerve cell activity, and in 2019 he received a grant of $270,000 to study these tiny but powerful lipids. The grant was through a network of 13 Maine educational and research institutions known as INBRE.
Imagine you're a Michelin chef, but your kitchen is suddenly spread out over two floors. Your cooking area is on one floor, and your prep station on another. Meanwhile, the service area is way down the hall. That's about how it was for many faculty who worked in Carnegie Science Hall.
In Bonney, Kruse and others have a great kitchen: lab space, a cell culture room, and electrophysiology suite close by. "We can do experiments that weren't possible in our old lab space," he said.
To keep the culinary comparison going, Bonney's layout creates better communication among all the chefs de cuisine and their chefs — that is, professors and their research students. "We're not separated any more. That means more communication and collaboration."
---
Alyson Farrington
Title: Assistant in Instruction, Chemistry and Biochemistry
Joined Bates: 2008
Date Photographed: Feb. 8, 2022
She says: "Even if they don't all become scientists, I hope they come out of chemistry actually enjoying it."
Over the winter semester, Alyson Farrington taught seven lab sections for the popular introductory course "Chemistry Reactivity," each section comprising about 20 students.
At Bates, Farrington is one of several assistants in instruction, known as AIs. Depending on the department and the need, AIs are academic linchpins, whether providing teaching assistance, technology support, or, in the natural sciences, guiding lab sessions and making sure all the lab equipment is up to snuff.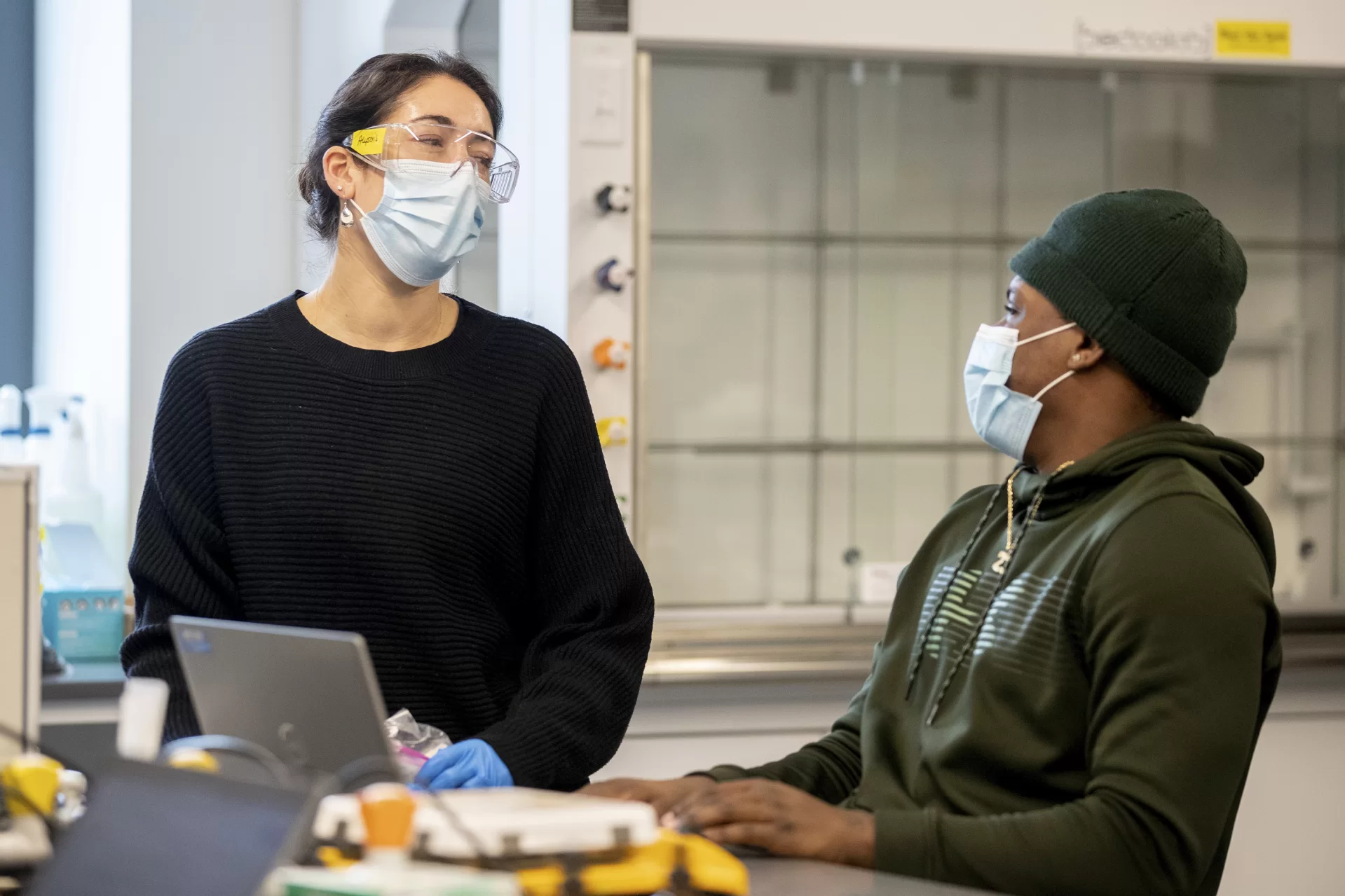 When it comes to her labs, Farrington finds that a bit of laughter creates good chemistry. She keeps the mood light. After one session, she and George Hawkins '24 of Jacksonville, Fla., found humor in, well, she doesn't quite recall — which doesn't matter, really. "George is a funny person," she says.
During the lab, she moved from group to group. She stopped by to help Buey Grossman '25 of Ketchum, Idaho, and Aldair Desiderio '24 of Trenton, N.J. They had a question. Farrington replied with a question. "I like to 'answer' a question with a question to help the students think through a problem themselves," she says.
In the intro course, Farrington works with students with an interest — and non-interest — in chemistry. She enjoys the challenge of teaching students who are "maybe a little hesitant or they're immediately like, 'Chem's not my thing, but I sort of have to take this class.'"
Of course, she hopes they all continue on in chemistry. But even if they don't all become scientists, I hope they learn something and that they come out of chemistry actually enjoying it."
When that happens? "It's my favorite thing."
Bonney also features a plethora of "peekaboo" windows and glass doors, allowing any passerby to catch a glance of the people and workings in labs, classrooms, and study rooms. For students, "it's probably pretty neat to see their peers in a lab and actually see them working," says Farrington.
In the fall, Farrington will move back to Dana Chemistry Hall, now undergoing a year-long renovation to focus on science teaching, with a goal of effectively welcoming new students to STEM fields.
Looking ahead, Farrington says the new and much-more-flexible teaching and lab spaces in Dana will allow faculty and staff to "shake up" the structure of introductory labs to include more individualized and projects-based labs. While teaching specific lab skills is critical, it's also valuable "within those parameters" to give students the opportunity "to make their own decisions, especially as they advance," she says.
The innovations that Bonney has allowed faculty and staff to usher in keeps Farrington fascinated with her work in the sciences. "It's always evolving. There's something fun and interesting and new happening all the time, whether it's guest speakers, or somebody's research is going well."
It's exhilarating, too, she says, to be surrounded by discovery, the feeling that "when you develop it, then it's happening."

View Comments