While the term "fume hood" itself doesn't quite qualify as poetic, it's nevertheless true that the recent installation of 18 such devices in Dana Hall sends uplifting messages about that building's renovation.
For one thing, along with much less-sophisticated features like bookshelves, projection screens, and coat hooks, the hoods are built-in furnishings that can be installed only when most other work in a given space is done. So their arrival signals the beginning of the end of the Dana project, whose construction commenced last July.
And because hoods are scientific tools — ventilated chemistry workstations that protect users from harmful fumes — that beginning-of-end signal is particularly fitting for the latest milestone in the makeover of Bates' science-teaching facilities.
In addition, the new hoods represent an especially Bates-ish kind of thrift, involving substantial savings in both initial and operating costs. Traditional fume hoods vent to the outdoors, so operating them entails circulating air into and out of the building, and matching its temperature to interior conditions. To be clear, this air circulation and conditioning effort is in addition to a building's normal air handling capacity. That added effort requires a lot of infrastructure to buy and maintain, and a lot of electricity to operate.
But the new Dana hoods, instead, are actually ductless. Instead of piping fumes out of the building, they use replaceable charcoal filters to scrub the fumage, so the cleaned air stays in the lab. Made in close consultation with Bates by Erlab Inc., an international firm with U.S. headquarters in Massachusetts, these GreenFumeHood 3 filters are simpler, cheaper, and better for the planet than conventional hoods. In fact, a study undertaken by BR+A Consulting Engineers (whom Bates hires for quality-control work on its building projects) indicated that with Erlab-equipped ductless hoods, the 20-year operational carbon footprint is 94 percent less than that from ducted hoods.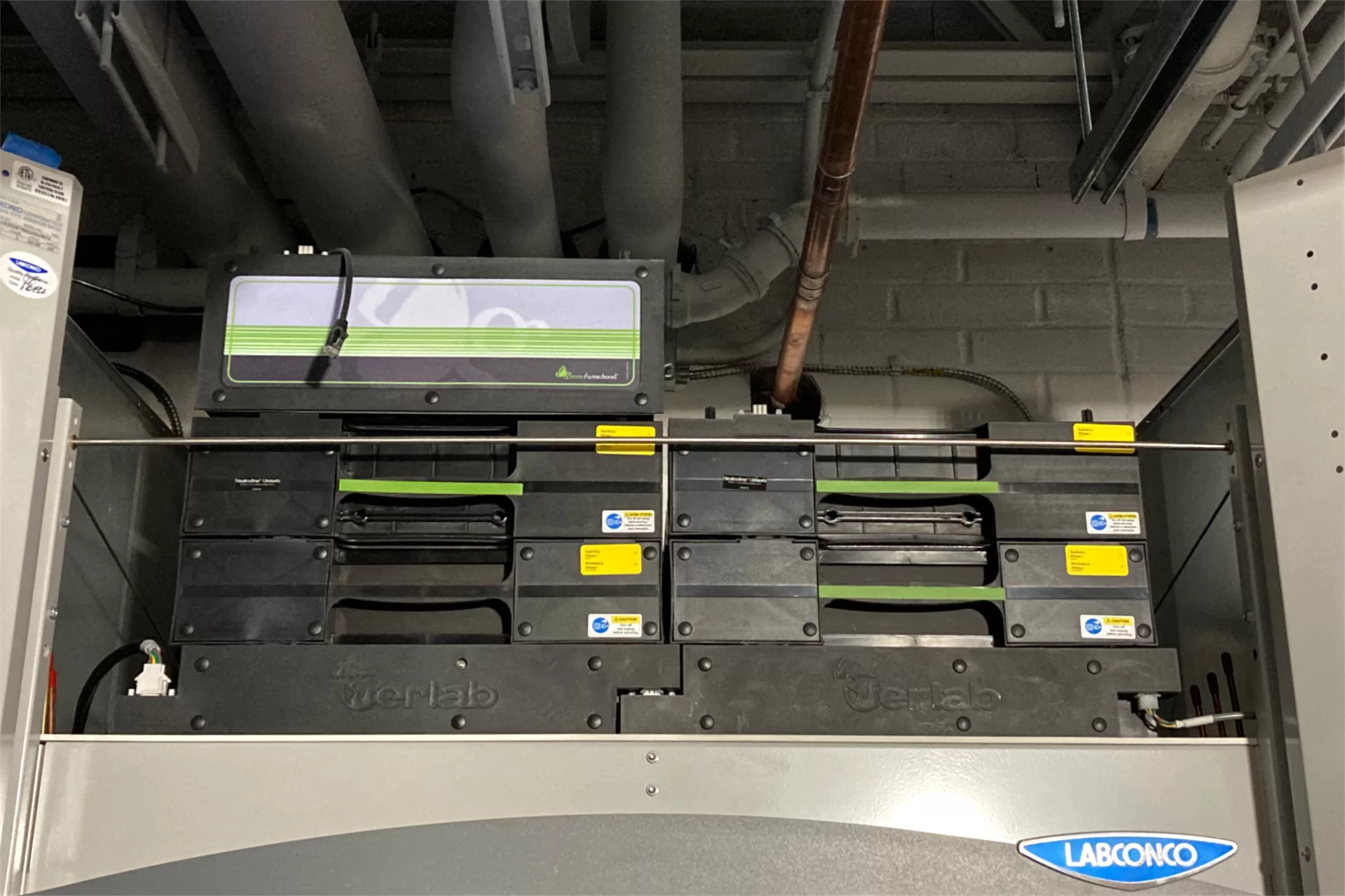 "They're going to be cool," says Bates project manager Chris Streifel, not just meaning the air temperature. (The hoods themselves are made by Labconco Corp. of Missouri.)
Still, Streifel points out that the filtered hoods are "not a universal application. They're not made for every single chemical and they're not made for every single use." The 18 hoods in Dana are installed in labs designed for introductory science instruction — in chemistry (eight in each of two labs on the first floor) and in biology (one in each of two labs on the third floor). The technology is almost new to Bates — one filtered hood was installed in Carnegie Science Hall last year.
In contrast, across campus in the new Bonney Science Center, a much wider range and intensity of chemistry and biology work takes place, so ducted fume hoods are needed. (And Dana also houses two traditional hoods used specifically for dispensing and disposing of chemicals.)
Also in HVAC world (and pardon us if that's the name of an annual convention somewhere), the building's new chiller was placed in its well, on Dana's outside wall facing Hedge Hall, right on schedule. We happened past on Monday morning, when workers were drilling many holes through Dana's walls for the water connections: Not to be confused with what people do when they watch Netflix, what the chiller chills is a water-glycol blend that helps control the air temperature inside Dana.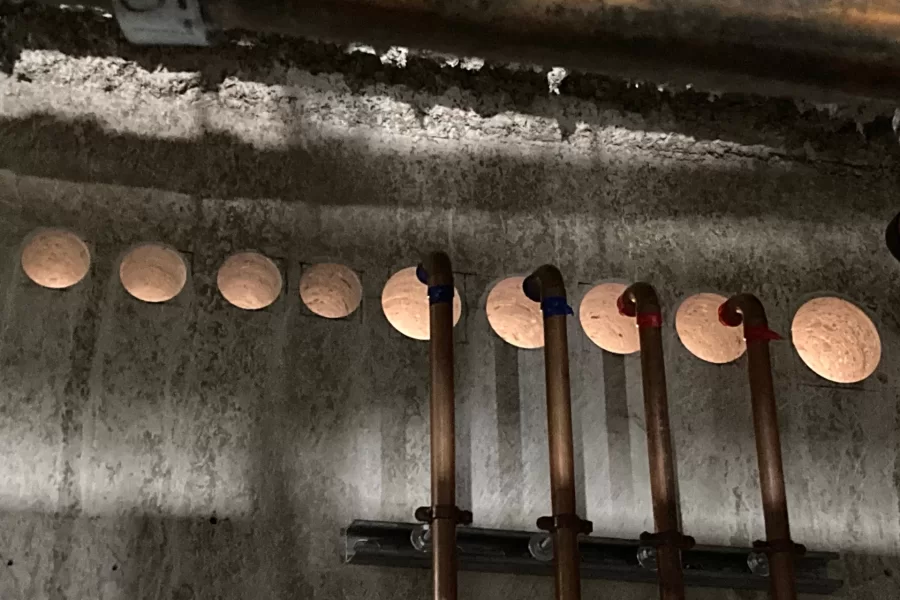 Another to-do list item soon to be checked off is the return to service of Dana's elevator. The car, controls, and most mechanical components have been replaced, leaving just the hydraulic piston and platform as original components. "From an operating standpoint and a maintenance standpoint, it's almost a new elevator," says Streifel. "It's still rather diminutive, as it always has been, but it'll have much more of a modern feel and touch."
Broadly speaking, in fact, the mechanical, electrical, and plumbing installations inside Dana are nearly at the point where the first phase of MEP quality control, aka startup, can begin. That involves all manner of equipment, but notably, Streifel reports, testing of the building's IT network will likely begin next week. "That will then enable the building management system to start talking to its equipment. And as that comes on, the latter part of May will be very busy."
As we've explained before (and will keep explaining until we've mastered it for small talk at parties), startup is not the same as commissioning, which is a more rigorous, formal, and definitive process of systems testing overseen by a hired commissioning agent.
"Startup is something that the contractor owes us, usually with the support of an equipment manufacturer," Streifel says. "But the commissioning agent will often be present for that, especially for some of the bigger pieces of equipment, just to witness it. And maybe learn something, you know, depending on what the system is. But then the commissioning actually takes place after that."
And where startup is a test of individual components within a system, commissioning looks more at system performance as a whole. "It's a slightly different perspective."
With all this talk of startup and commission, you are probably thinking, "But what of the punch-listing, Campus Construction Update?" We too were curious about the status of that very detail-oriented quality-control process —and were surprised to learn that it's already happening, albeit with a very tight focus.
"Some of the above-ceiling reviews are happening now," says Streifel, with engineers from BR+A examining MEP installations above the suspended ceiling. "That's the first place that usually gets punched out so the ceiling tiles itself can go in to finish the room." (Just being punched out would finish us.)
Meanwhile, the multivalent effort to finish rooms rolls on: painting, flooring, insulating, installing terminal utility fixtures, placing and mounting casework and lab equipment. Interestingly, one develops an eye for work that's done but doesn't look it: for instance, the well-used blue and orange protective covers hiding the brand-new flooring, or the cardboard boxes atop the new toilets reminding workers that porta-potties outside are still the places to go.
Unique to Bates: Campus Construction Update hates to admit to getting something wrong. Fortunately, we almost never do (admit it, that is). But we do concede that our interpretation of the facts may sometimes — if very, very, very rarely — go awry.
This is the case with what we've casually termed "Payette green," the distinctive chartreuse used as an accent color in the new Bonney Science Center and the Dana Hall makeover. Payette is the Boston architectural firm that designed both projects, and Campus Construction Update somehow developed (and, sorry to say, expressed) the wrong idea that the firm uses that particular green in projects for many of its clients.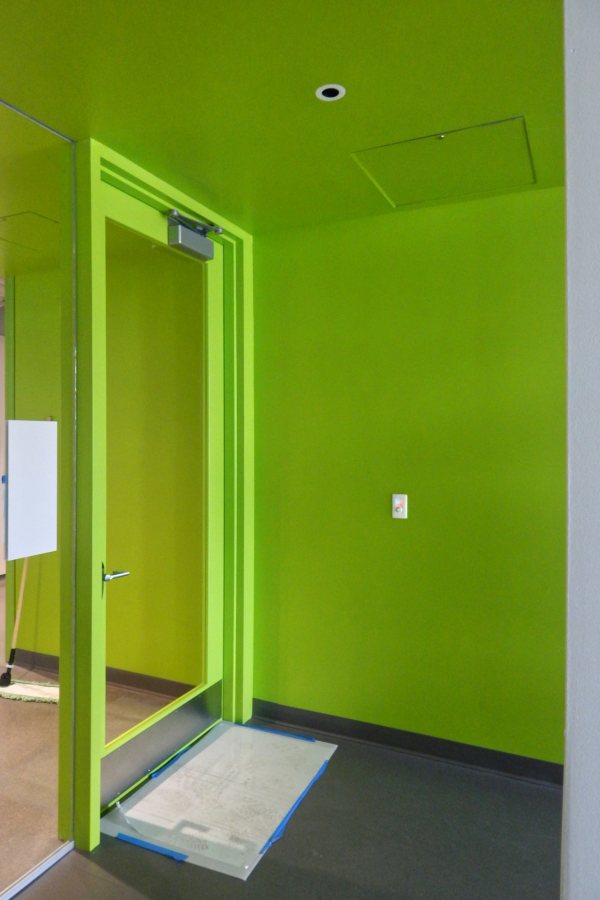 In fact, we learned this week that the color is unique to Bates and those two projects. Selected to complement Bates' own signature color, garnet, the green was inspired by the first spring buds of maple tree leaves — "a reminder of nature's vibrancy through the long autumn and winter months," according to Geoff Swift, vice president for finance and administration and treasurer.
Its placement as a chromatic accent, moreover, is meant to represent places of motion and transition, such as stairways, portals, and corridors. Most Payette projects include a bright accent color in key locations, Swift says. Just not that particular green.
Finally, the color was chosen through a collaborative process involving stakeholders in the building projects and Payette representatives. As an important participant in those proceedings pointed out, these are buildings "for young people," as Swift explains, "and the colors should exude the energy and taste of the students that occupy them."
The thrill of the Chase: With little outward sign, the yearlong reconfiguration of Chase Hall has gotten underway. Acadia Contractors of Turner, Maine, will soon bring hazmat suits, poly sheeting, and warning signs to bear on the critical process of hazardous-materials abatement in the building — notably, the removal of asbestos and lead paint.
Likely to take a couple of months, abatement will focus on the areas to be structurally rebuilt in the Chase makeover. Those include the main lobby, Chase Lounge, Purposeful Work meeting spaces on the first floor, Residence Life offices on the second floor, and spaces around the Bates Musicians Union headquarters, Office of Intercultural Education reception, and OIE prayer rooms.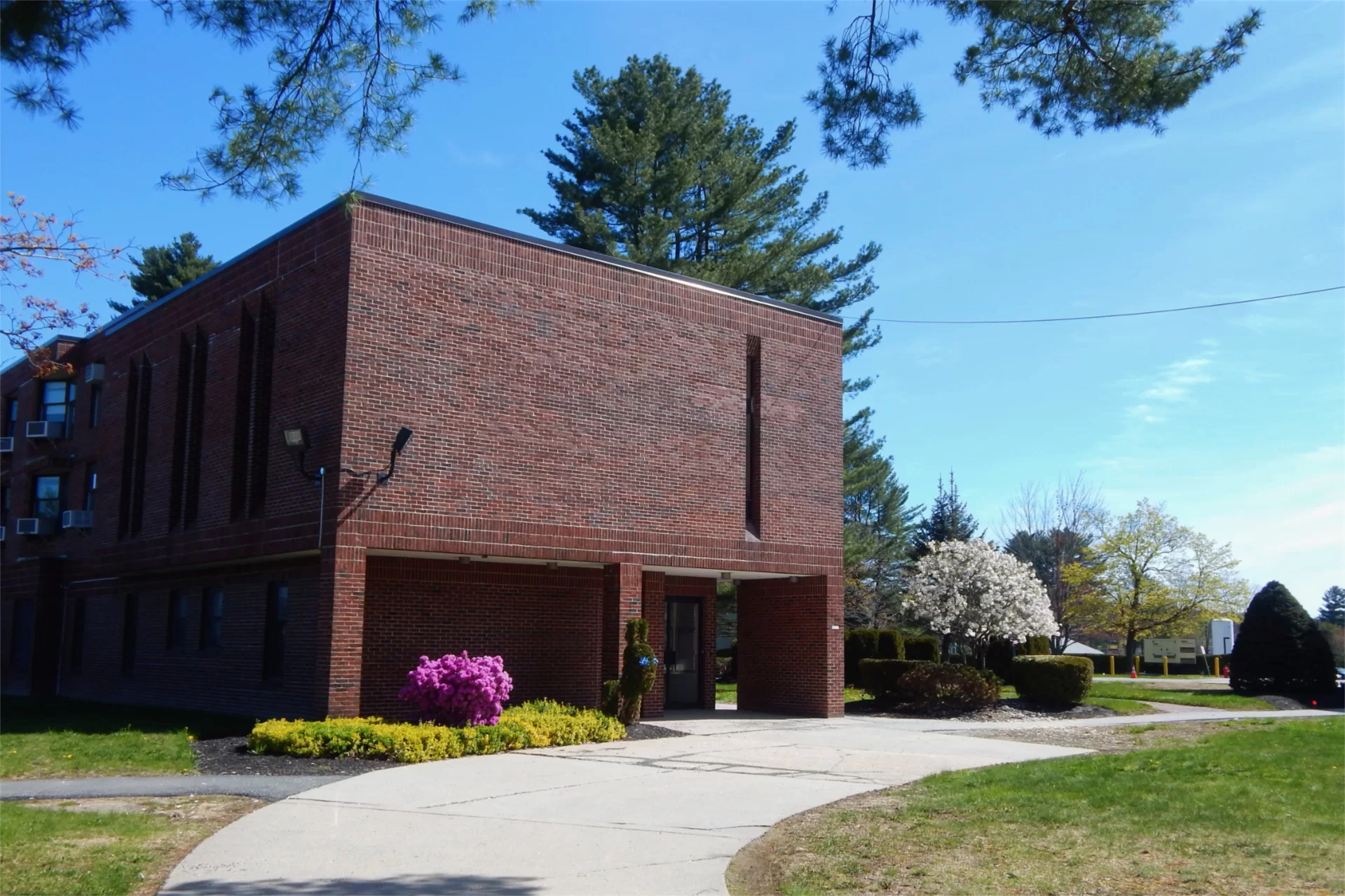 Acadia and construction management firm Consigli Construction are just setting up shop in Chase. "This week is the first time that anyone's been on site" as the project's active phase begins, says Kristi Mynhier, Bates project manager for Chase. "So this week is really just about becoming familiar with the building, getting everything set up, and making sure that we're prepared."
She explains, "The Den is still operational, and Commencement is still a couple weeks away. So from the outside, it won't look like much is happening until after Commencement." A permit for the abatement takes effect next week. By the way, some hazmat abatement was performed last summer, notably in the former site of the College Store.
As planned, student organizations and staff from different offices within the purview of Student Affairs have transferred to nearby temporary quarters — temporary as in 15 months — at 96 Campus Ave. (much closer to the Dairy Joy than their previous digs).
In all, 20 Bates staff made the move, including folks from Campus Life, Residential Life, and the OIE. The move took about a week and involved 12 truckloads of furniture, supplies, etc.
If you plan to go there, just look for the topiary critter by the front door.
Can we talk? Campus Construction Update loves to hear from you, except when you have caught us in an error. (But tell us anyway!) Please send questions, comments, and reminiscences about construction at Bates College (or reminiscences about the Dairy Joy) to dhubley@bates.edu, with "Campus Construction" or a rhyme for "fume hood" in the subject line.
View Comments