A selection of recent mentions of Bates and Bates people in the news.
Bates College Museum of Art
Ukrainian egg decorator brings ancient Easter tradition back to Bates College — Lewiston Sun Journal
After a two-year break due to COVID, Lesia Sochor, a painter and pysanka artist, returned to campus in April to teach two workshops on traditional Ukrainian pysanka.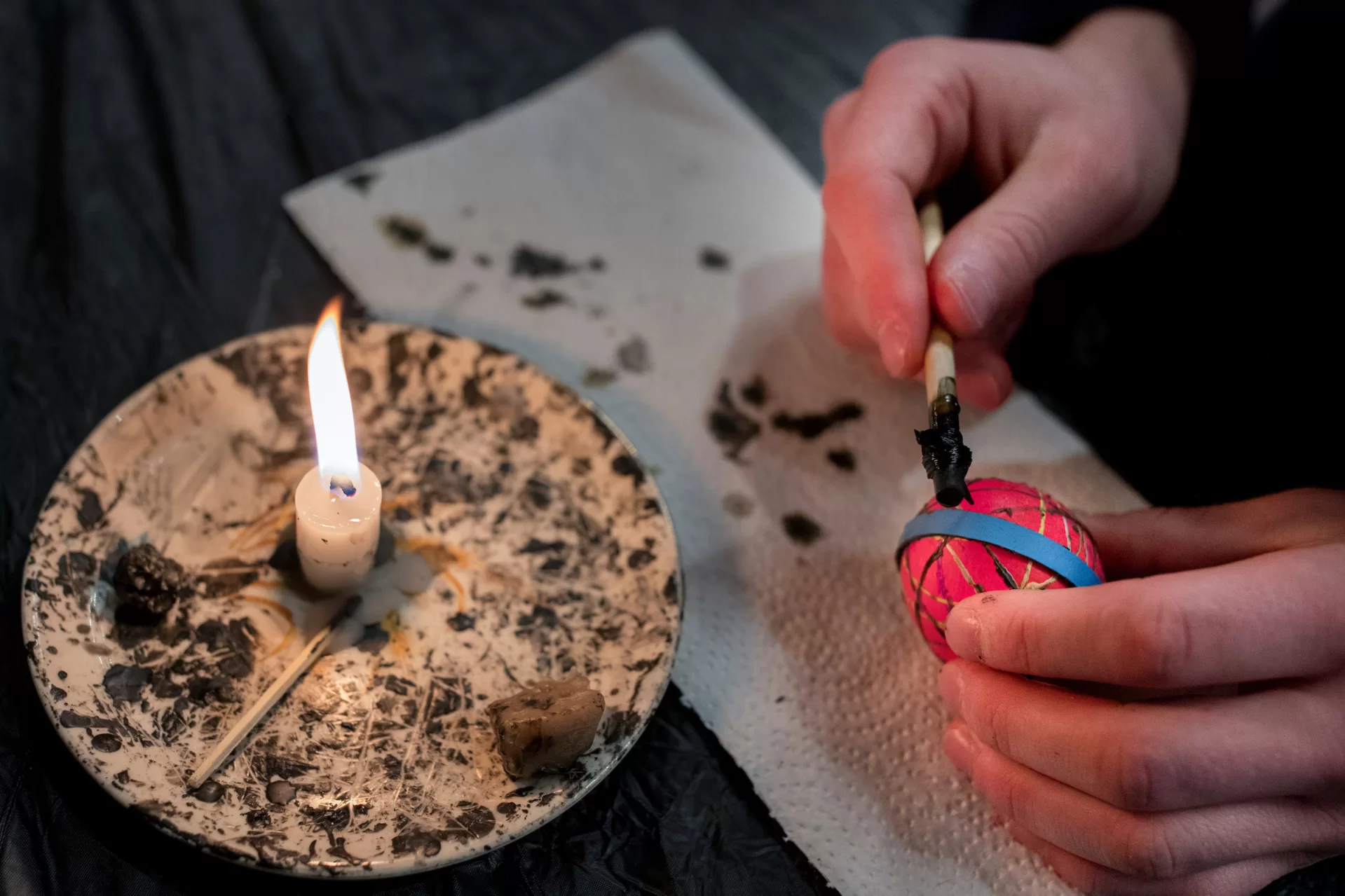 Sochor told the Lewiston Sun Journal that in Ukraine, pysanky is believed to ensure good health, protection, fertility, and abundance. "The egg itself is really magical in its symbolism. They're not just appreciated for their beauty but for their belief system and what they mean to the culture."
"I think that making eggs this year is so poignant, and I think that so many people want to do all things Ukrainian to feel like they're helping in any way they can," she said.
Kathleen Morrill '15
Looking for a well-behaved dog? Breed may not tell you much – The Washington Post
"Americans have as many stereotypes about dogs as there are distinct breeds," writes Katie Shepherd in The Washington Post. "Chihuahuas are nervous; border collies are hyperactive; golden retrievers are great with children; and, most infamous, some large breeds — like the American pit bull terrier and Rottweiler — are aggressive."
But a research paper co-authored by Kathleen Morrill '15 and published in Science suggests those stereotypes may be wrong. "Breed can be important," Morrill tells Science. "But it's not the full picture of a dog's behavior."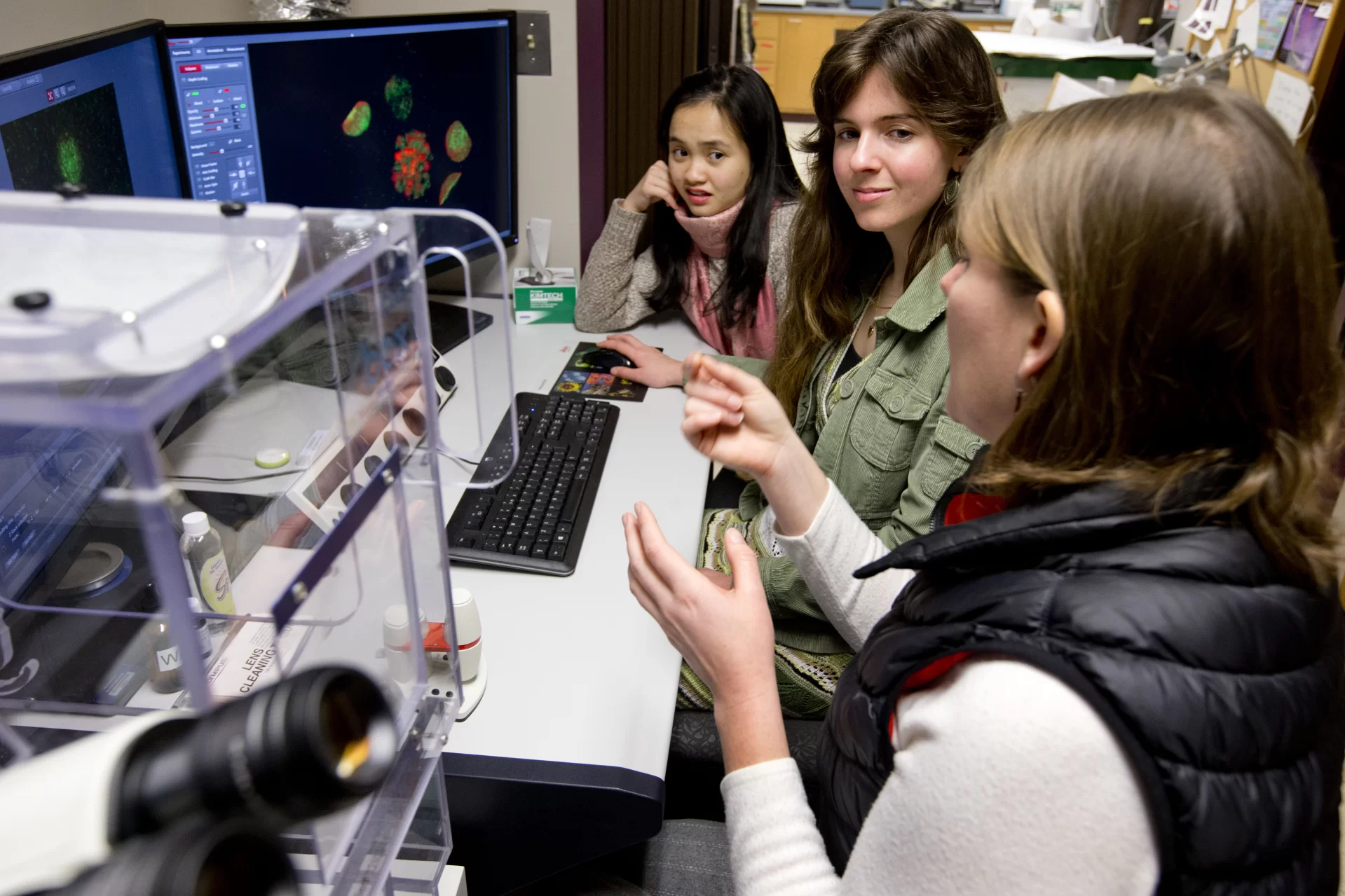 The first author of the paper, Morrill is a doctoral student in the Morningside Graduate School of Biomedical Sciences at UMass. She majored in biological chemistry at Bates, and did her thesis with Associate Professor of Biology Larissa Williams.
The study, which looked at the genes of more than 2,000 dogs paired with 200,000 survey answers from dog owners, shows, according to Science, that "almost none of the behaviors we associate with dog breeds — from lovable Labradors to pugnacious pit bulls — are hard-wired. Aside from a few ancient traits, environment seems to play a much larger role than pedigree."
Mike Boornazian '16
Portland's Mike Boornazian living out dream as an actor — CT Insider
After leaving professional basketball for his lifelong dream of acting, Mike Boornazian got his big break — depicting former NBA players Rick Barry and Chris Ford, among other characters, on the first season of HBO's docudrama, Winning Time: the Rise of the Lakers Dynasty.
"There was no speaking involved," Boornazian told CT Insider, "but it gave me a chance to get on the set, learn the ropes from some of the greats in the industry while playing basketball."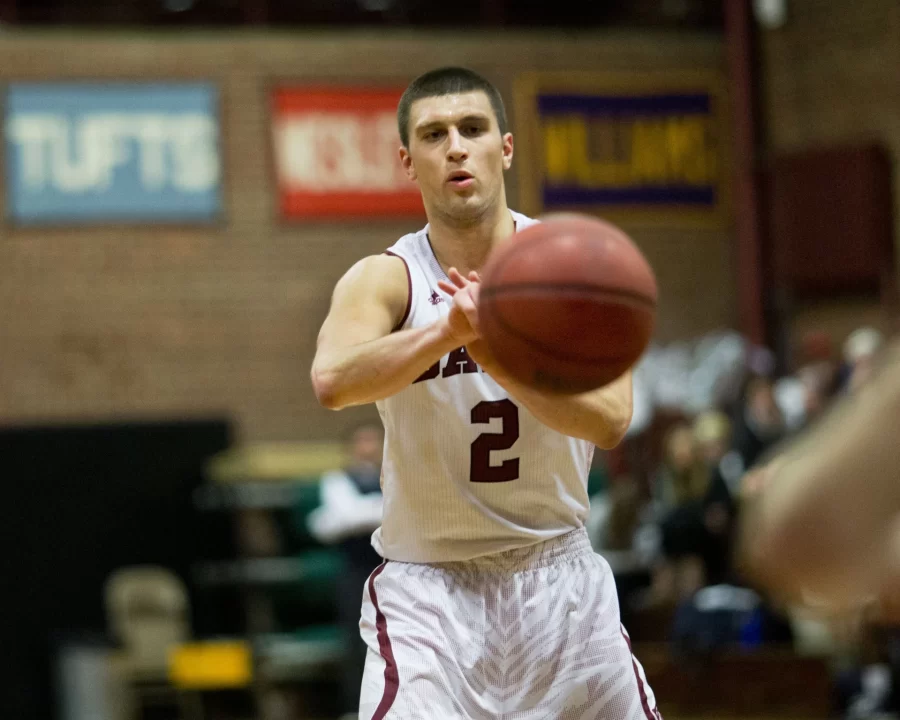 Boornazian will return for the second season of the show, which is based on the book Showtime by Jeff Pearlman.
Jamie Merisotis '86
Earning trust is at the heart of our ethics task force — The Council on Foundations
Writing about his work as newly elected chair of the ethics task force for the Council on Foundations, Jamie Merisotis '86 points to the enduring impact of Benjamin Mays, Class of 1920. Known as the "schoolmaster of movement" for teaching and inspiring a generation of civil rights leaders, Mays was president of Morehouse College and oversaw the peaceful desegregation of Atlanta public schools in the 1970s as president of the school board.
"Dr. Mays' always-ethical perspective has guided much of my work in higher education, public policy, and philanthropy," writes Merisotis, who is CEO and president of Lumina Foundation,which focuses on expanding access and success in postsecondary education.
The Council on Foundations is a nonprofit leadership association of grantmaking foundations and corporations. "We know the enduring power of ethical leadership in philanthropy. We're called upon to earn and grow the trust placed in our leadership — from all communities, our nonprofit partners, and the public."
Christopher Petrella '04
Colin Kaepernick says I Color Myself Different in his first children's book — NPR's Weekend Edition
Civil rights activist and former NFL quarterback Colin Kaepernick recently published the children's book I Color Myself Different, a collaboration between Scholastic and Kaepernick's publishing company, to which Chris Petrella '04 contributes as a writer, researcher, and strategist. Petrella has helped devise the curriculum and taught at Kaepernicks' Know Your Rights camps and, notes The New York Times, is "part of Kaepernick's inner circle."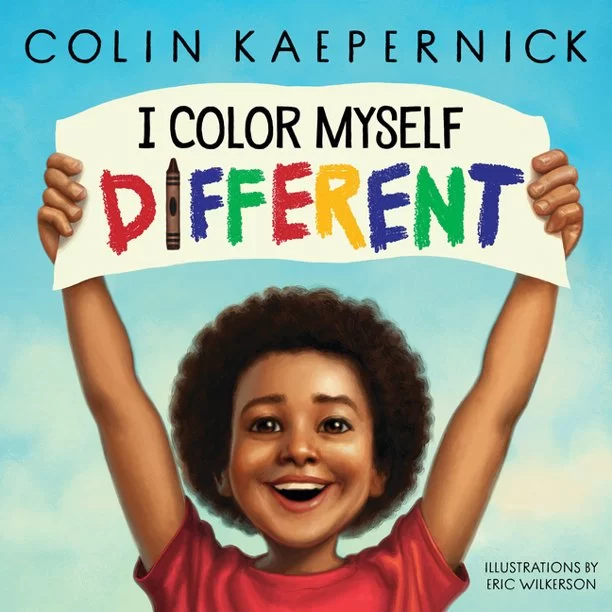 Petrella is also a Bates lecturer in religious studies who taught the course "Religion, Race, and Resistance: From Black Secularism to Black Power" during the winter semester.

Read the story: "Colin Kaepernick says 'I Color Myself Different' in his first children's book," NPR's Weekend Edition, April 2, 2022
Diverse BookFinder
The Parents Fighting For Diverse Books — Romper
Professor of Psychology Krista Aronson spoke to Romper about how the Diverse BookFinder, which she co-founded in 2017, seeks to discover and elevate books that tell "stories that depict the full expression of humanity, including that within BIPOC communities and the BIPOC experience."
Therí Pickens, English faculty
The Future of Disability Studies: Afrofuturism, literary criticism, and the intersection of blackness and disability — FEM Newsmagazine
During a webinar hosted by UCLA's disability studies program, Professor of English Therí Pickens discussed a subgenre of science fiction known as Afrofuturism.
Pickens' most recent book is 2019's Black Madness: Mad Blackness. A Black disabled woman, Pickens says the book attempts to "disrupt the idea that Blackness and madness are somehow equal." The book was influenced by Afrofuturism, which, Pickens says, "allows for us to privilege Black folks at the center — a practice that is rare unless they are the center of controversy."
Michael Graham '94
Sabbathday Shakers seek to grow with new project and new plans — Lewiston Sun Journal
A $4.3 million restoration project at the last remaining Shaker Village, located in New Gloucester, intends to create a "gleaming educational center intended to provide year-round services to visitors in a building with a working herb production facility," writes Steve Collins.
The project has secured a $750,000 grant from the National Endowment for the Humanities.
Michael Graham '94, who is director of the Shaker museum, library, and herb business, will oversee the project. He tells Collins that the project seeks to bring the Shaker Village "back to its roots" by focusing on cultural preservation, social enterprise and experiential programming.
Carolyn Ryan '86
New York Times names Marc Lacey and Carolyn Ryan as managing editors — The New York Times
Carolyn Ryan '86 has been named a managing editor for The New York Times, the paper announced in April.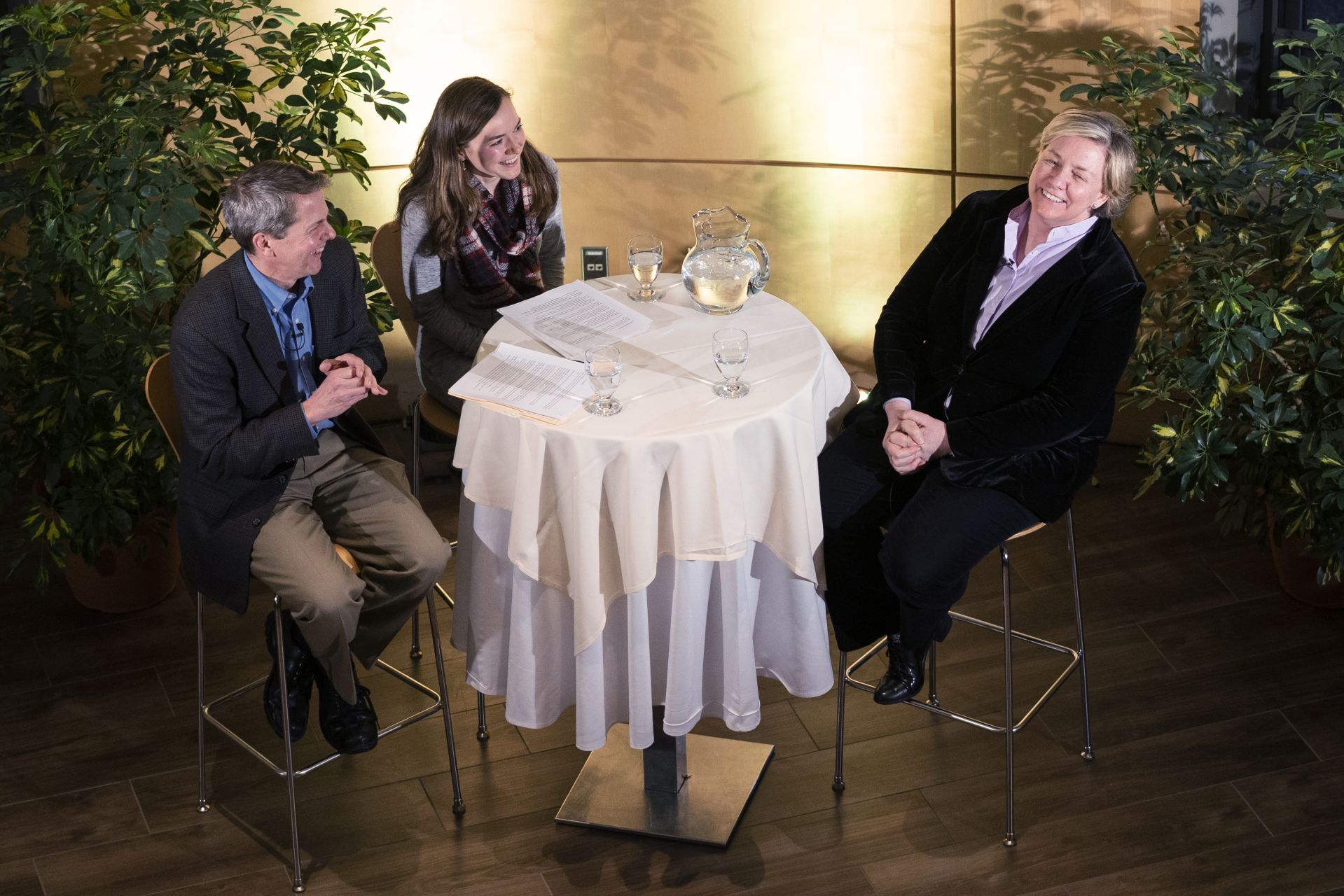 The announced noted that Ryan, most recently a deputy managing editor, has "led recruiting for The Times, overseeing the hiring of more than 400 journalists, and she helped lead its diversity, equity and inclusion efforts. Before that, she was the paper's political editor, Washington bureau chief and metropolitan editor." The paper noted that "Ms. Ryan will be the first openly gay journalist to serve as managing editor of The Times."
Rick Thompson '81
Ex-Microsoft VP finds new purpose as long-haul shuttle driver for Ukrainians — The Seattle Times
The Seattle Times documented efforts by Rick Thomson '81, a retired Microsoft vice president, as he left his houseboat in Seattle for a rented van in Berlin, to help transport refugees fleeing Ukraine.
Thompson told The Seattle Times that he "didn't spend a whole lot of time thinking about it. It's the first time in my life that there are really clear good guys and really clear bad guys."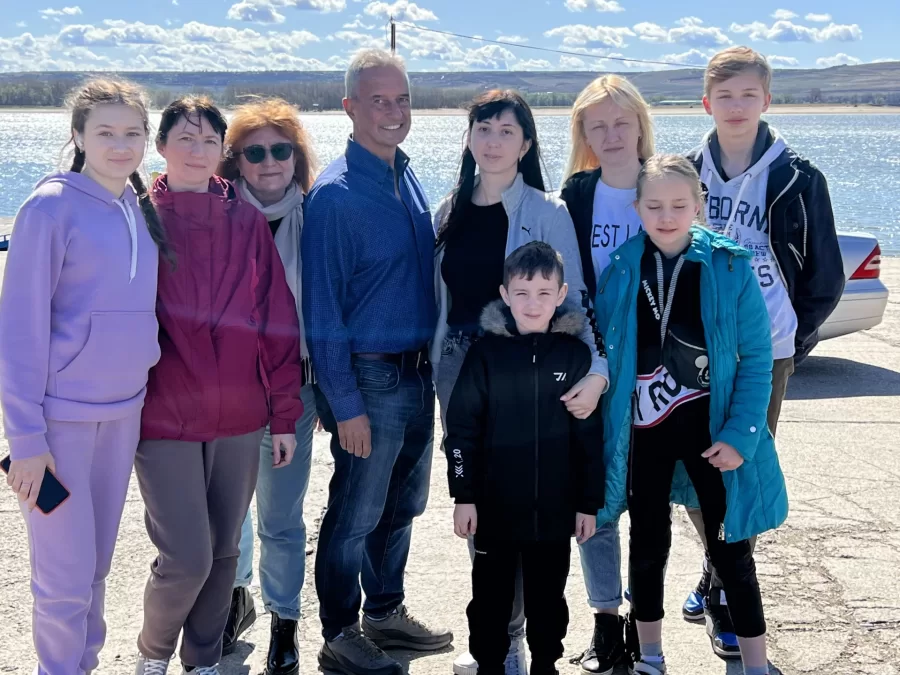 With the financial help of a GoFundMe that ended up raising over $85,000, Thompson shuttled individuals and families from the Ukraine–Poland border to safer locations across Europe, sometimes up to 1,000 miles away.
Mohdis Baker '14
Women's Ultimate team Portland Rising opens its home schedule Saturday — the Portland Press Herald
As general manager for Portland Rising, Maine entry in the women's Premier Ultimate League, Mohdis Baker '14 tells the Portland Press Herald that "it's fun to be backstage," instead of on the field as a player.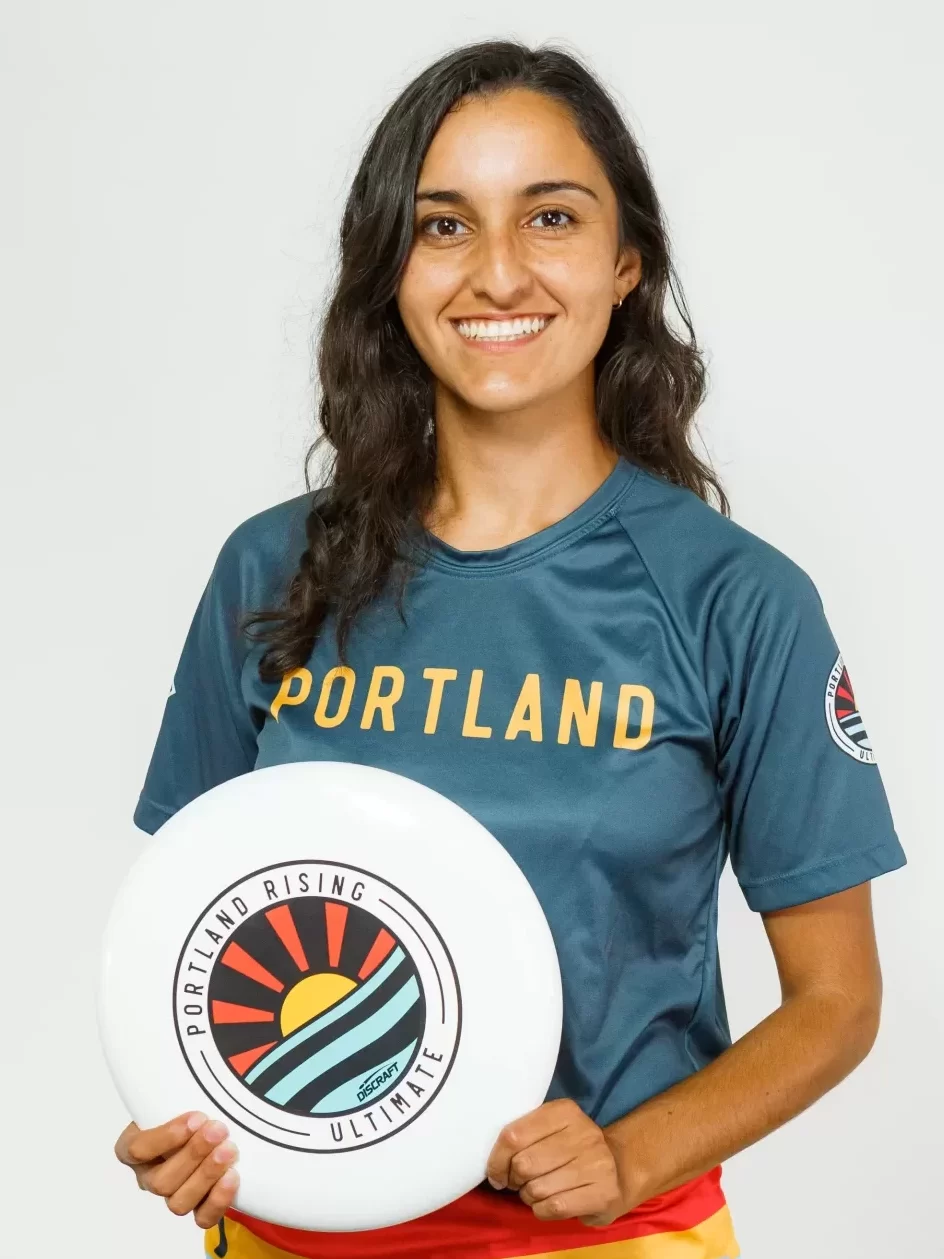 Among Portland Rising's players is former Cold Front standout Josie Gillett '19, who was named the Division III Player of the Year in 2019.
At Bates, Baker played and coached ultimate team, Cold Front, and was a biological chemistry major. "I get to see a different side of the team I didn't see previously," Baker said.
Eric Peters '87
Characters of the County: Eric Peters' life on the water — The Lincoln County News
Long involved in aquaculture along the Damariscotta River in midcoast Maine, Eric Peters '87 is now harbormaster for the town of Newcastle.
"Not that I wanted more work, but I figured it would be an easy fit," Peters tells Evan Houk of The Lincoln County News.
A harbormaster is just that, someone who ensures that things runs smoothly in a harbor and that everyone, from tourists to oyster farmers, are following rules and regulations.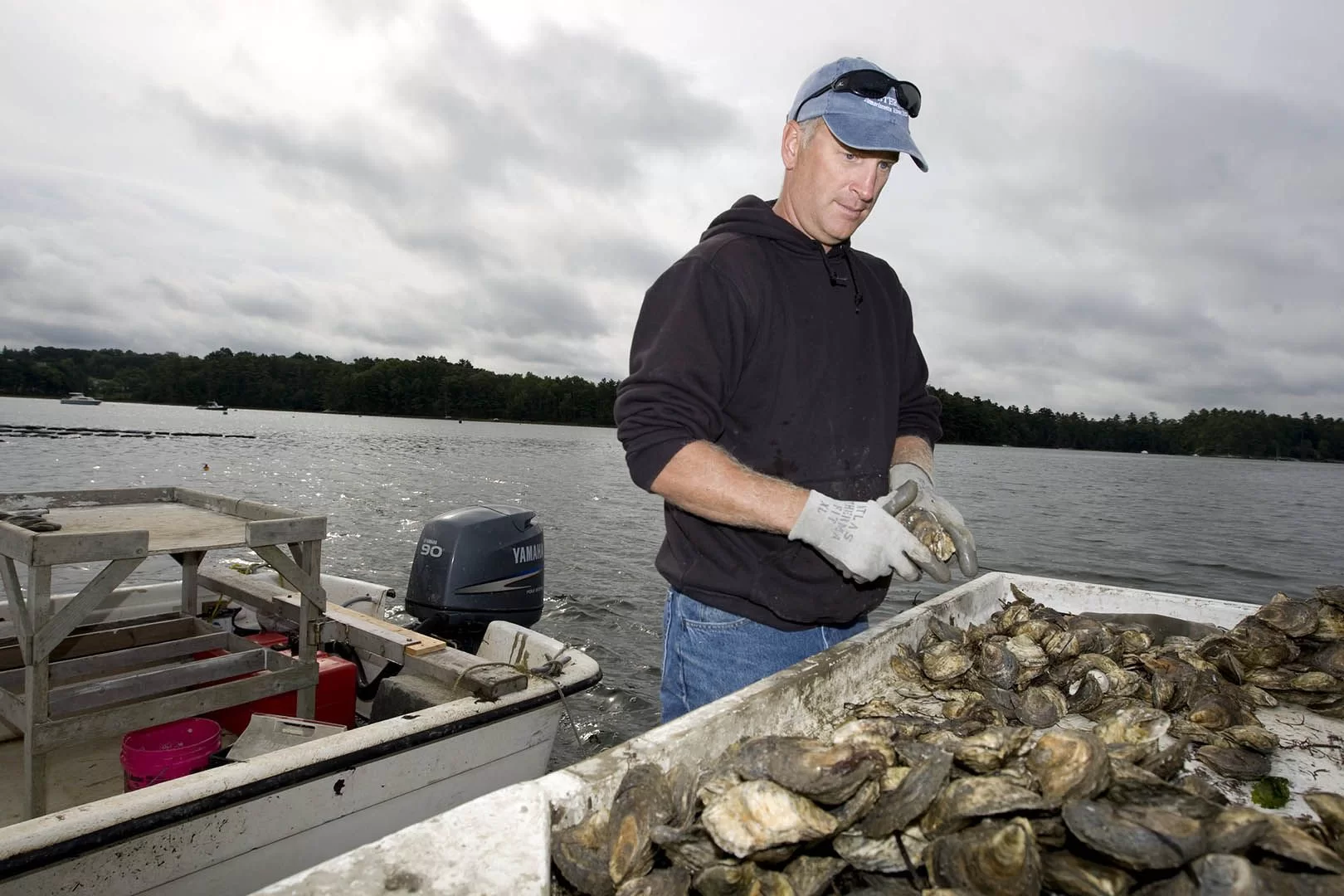 Owner of Norumbega Oyster Co. with his wife, Kellie, Peters has served on the town's harbor ordinance committee since it was started in 2006 due to the increase in aquaculture farms and recreational boaters on the Damariscotta River. "The river's gotten crowded since I first got on the river in 1999."
In his oyster work, Peters tells about "the development of cage culture" — oysters are grown on the surface of the water in cages with plastic floats, rather than on the river bottom, where they were harvested by diving or by being dragged to the surface.
"There's a lot of work involved in it," Peters said of the cage culture. "There's pros and cons to both, and we're doing both here."
Josh Caldwell '19
Exploring Maine's beaches in the offseason — Maine Adventures with Josh
In the latest installment of his blog series for the National Resources Council of Maine, Maine Adventures with Josh, Josh Caldwell '19 highlights the attraction of Maine's coastal areas in early April, during the "beach offseason," when visitors are less likely to crowd the parking lots.
"A chilly day makes for an open beach," he writes, reflecting on a trip to Seawall Beach at the Bates-Morse Mountain Conservation Area, "with the frosty nip of winter still in the air."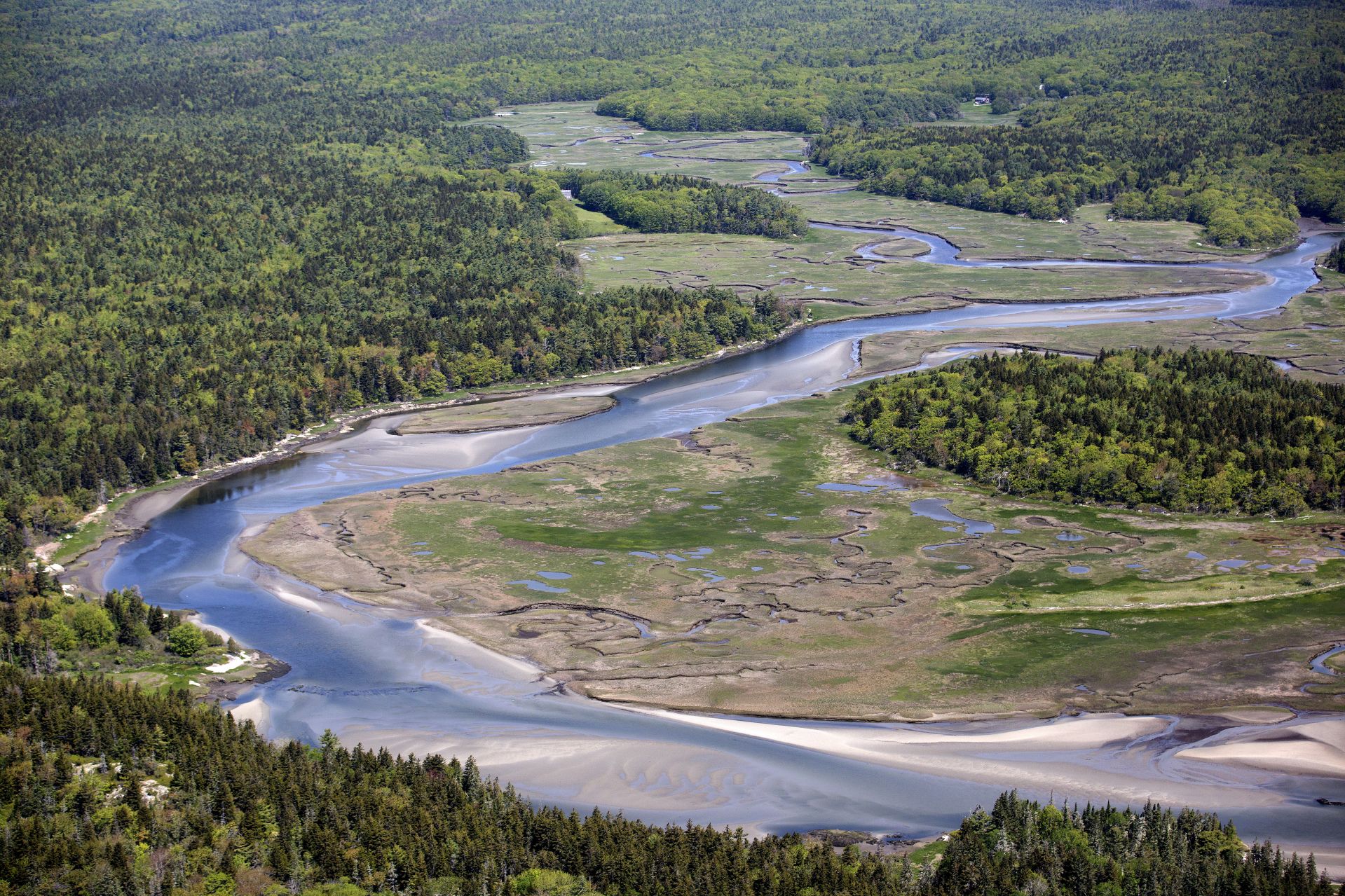 Vital for research and conservation efforts, the BMMCA seeks to preserve critical Maine habitats and support the study of important coastal ecosystems.
One such effort is in the conservation of the endangered piping plover, whose nests are often found in sandy dunes — a popular spot for beachgoers.
"Visiting these places reminds me of the immense responsibility we have to change course and protect the living systems around us that enable our existence," says Caldwell.
View Comments