With the arrival of May, and then June, the campus burst into life, with new blossoms, a conclusion of the academic year, and multiple celebrations.
There was Commencement for the Class of 2022, a graduation ceremony for the Class of 2020 (at long last!), and two Reunions (to make up for lost weekends of 2020 and 2021), giving alumni the chance to connect with each other and Bates in person. We hope you can feel a bit of our excitement in the latest installment of This Month at Bates.
Magnolia Perch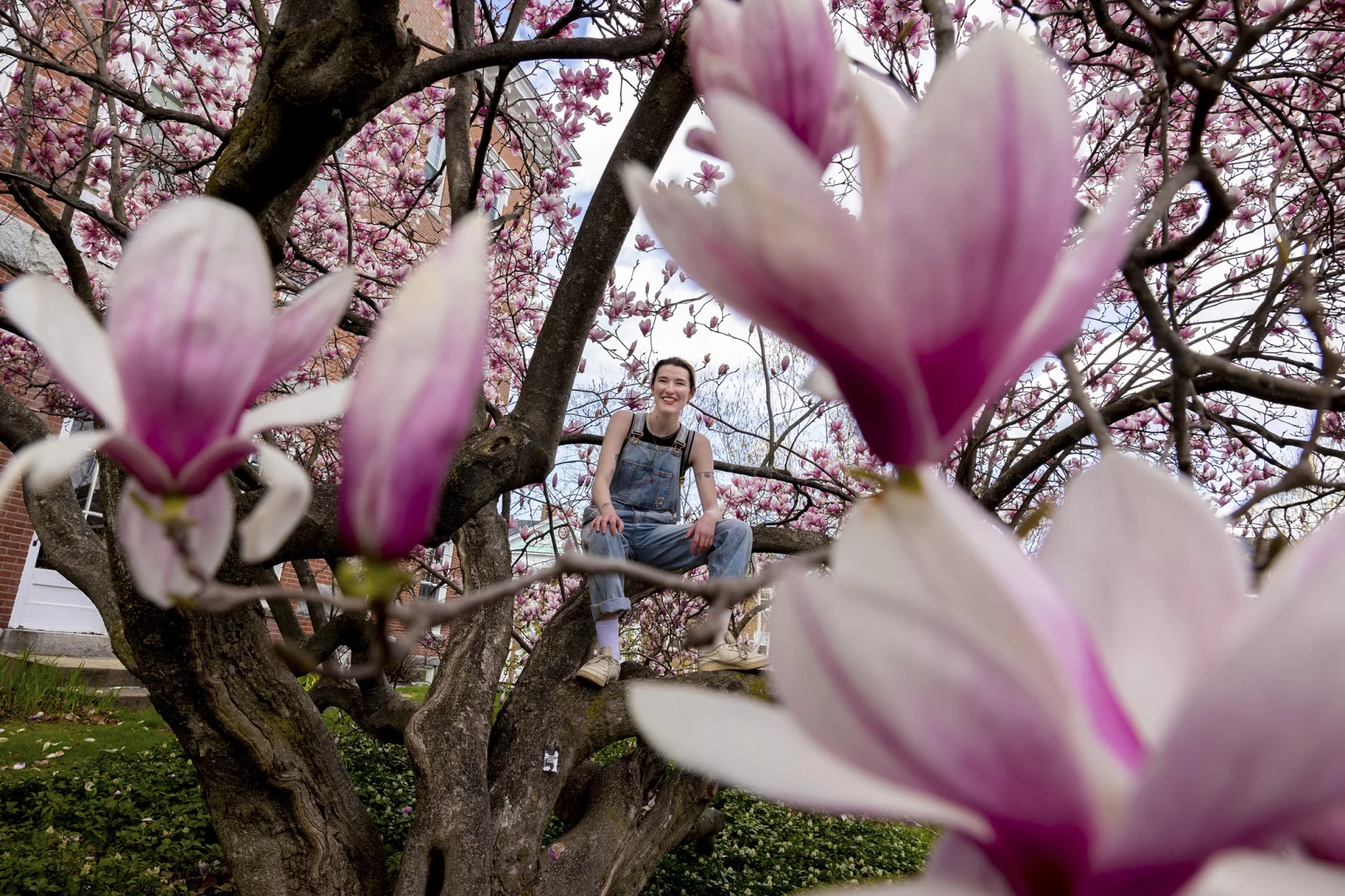 "I've been up here for days waiting for you to pass by," says Eliza Brower '23, a politics major from Seattle, who enjoyed her view from the blooming magnolia tree outside of Hathorn Hall in early May.
---
Thesis Embrace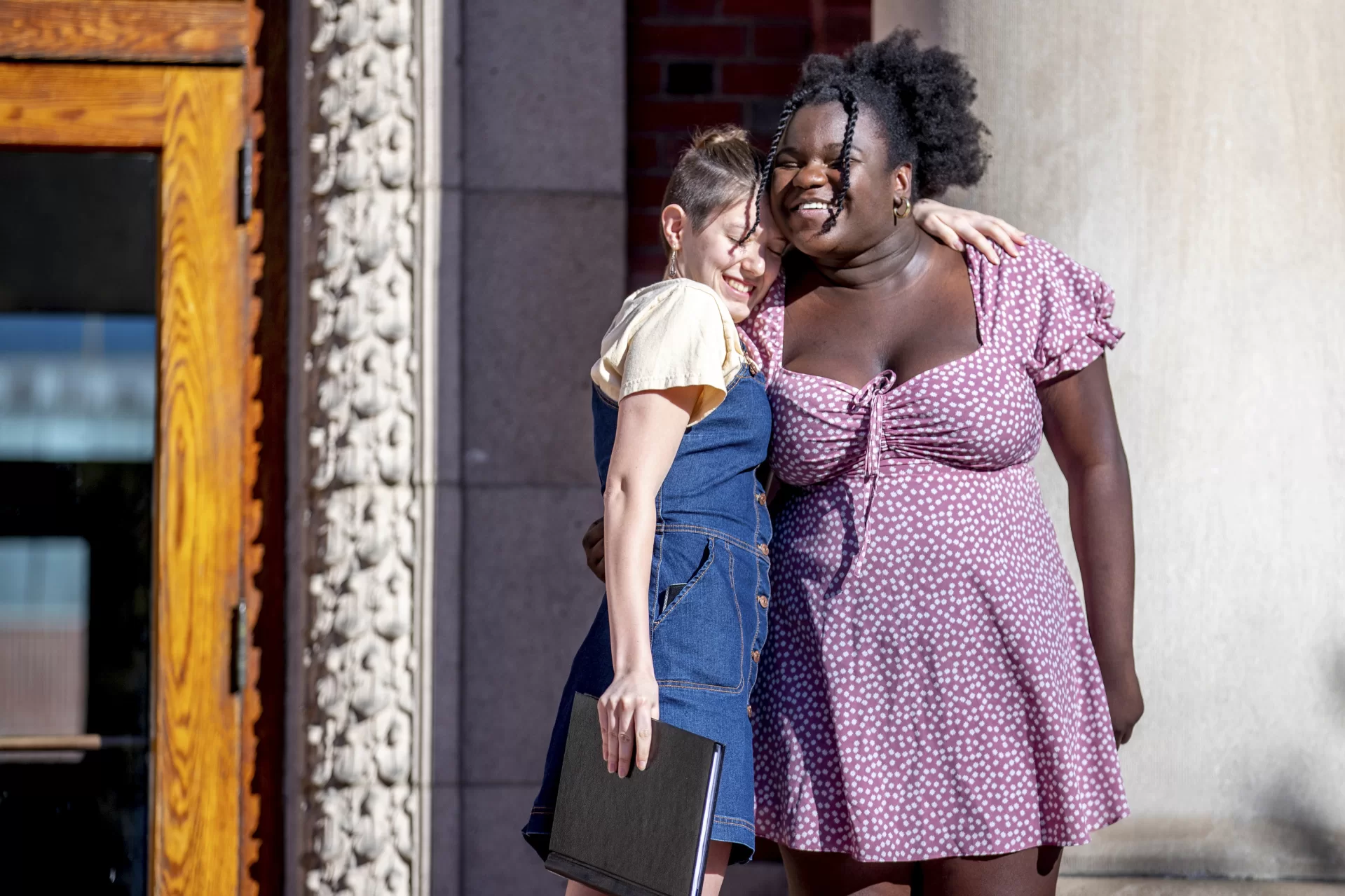 After participating in the Bates ritual of binding the senior thesis, classmates Maya Benziger '22, a triple major in music, history, and politics from Aurora, Ill., and geology major Chenemi Maji '22 of Ikoyi, Lagos, Nigeria, embrace on the steps of Coram Library.
Benziger's thesis was titled "Lost and Found: A composition and arrangement portfolio," advised by Associate Professor of Music Hiroya Miura. Maji's thesis, "Nitrogen isotopes in Zostera marina: tracking anthropogenic nitrogen in Casco Bay, Maine," was advised by Professor of Earth and Climate Sciences Beverly Johnson.
---
'Unique and Transcendent'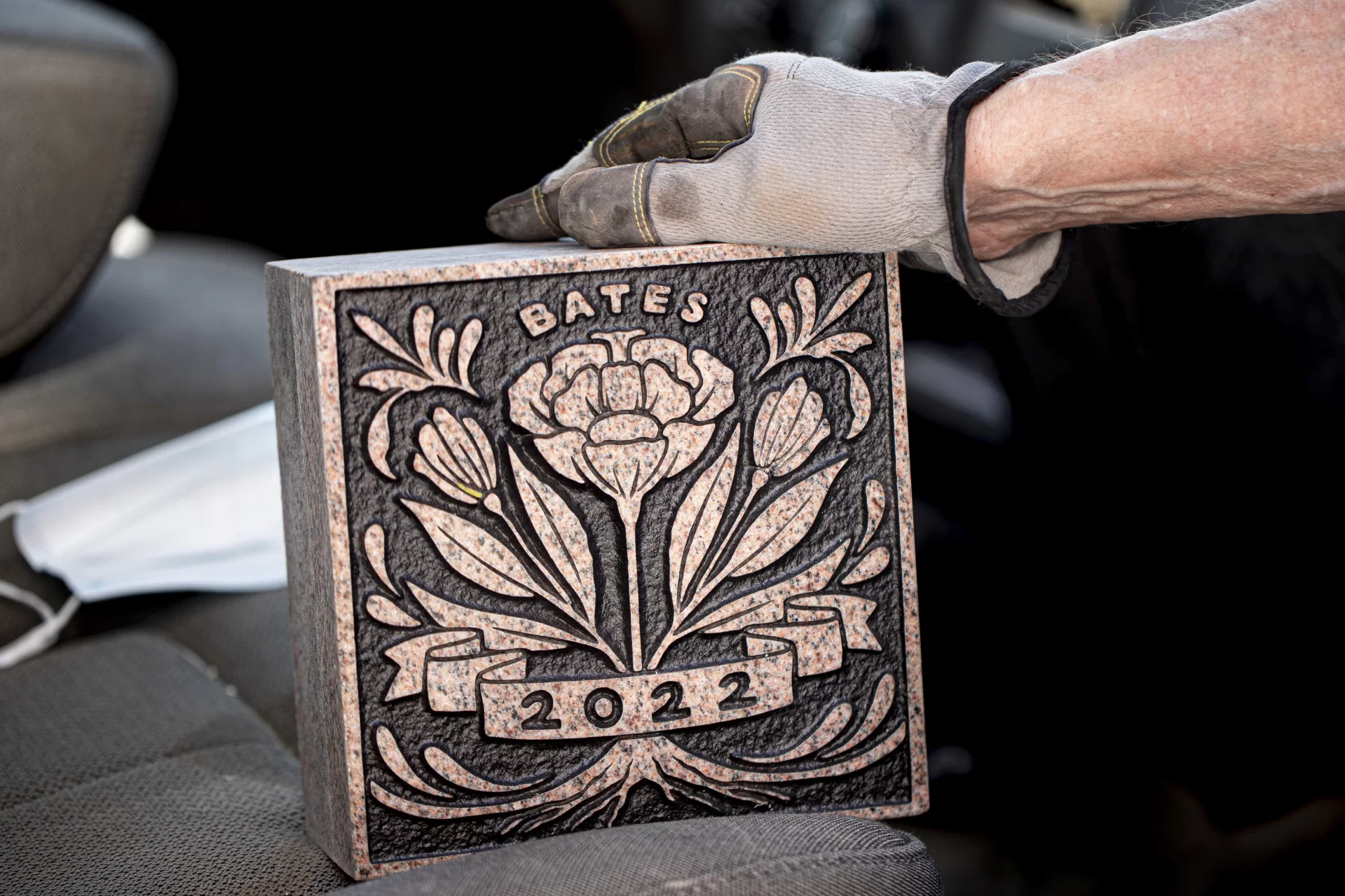 Bates mason Ron Tardif readies the Class of 2022 ivy stone, designed by Kaitlyn Boehm '22, a studio art major from Denver, for installation on the side of Pettengill Hall. Each year, seniors are invited to submit a proposal, and the senior class votes to choose one.
Boehm wanted her design to perform double duty, representing something unique, the experience of the Class of 2022, and also transcendent, the 156th time Bates has graduated a senior class. The flower in the design could be a tulip, or something else. Or neither, says Boehm, who prefers that viewers think of it however they want.
---
Sun Worshippers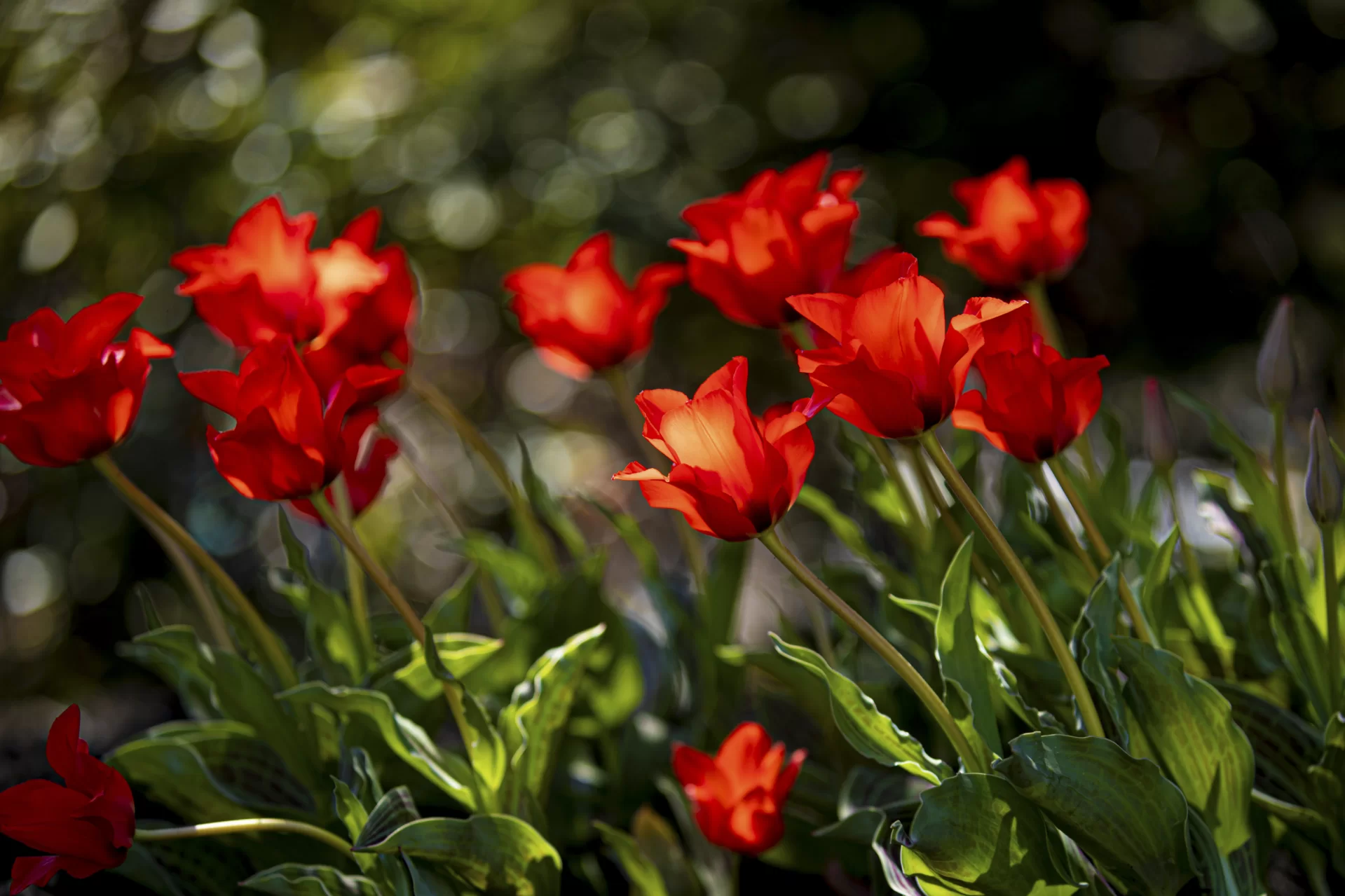 Tulips planted outside of Carnegie Science catch the midday May sunlight.
---
Fond Farewells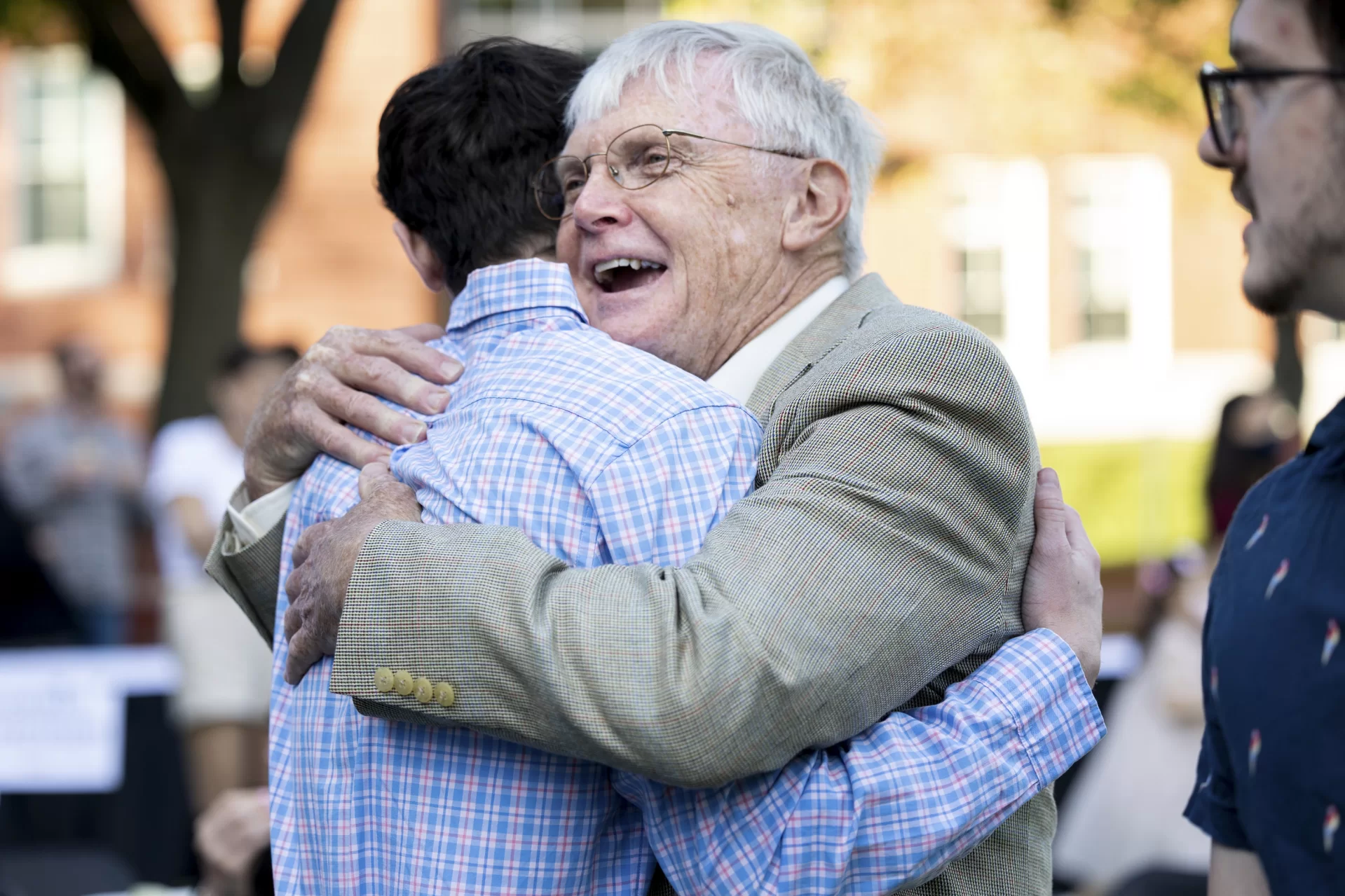 Scott Balcomb, a visiting instructor in mathematics, embraces one of his students during the Annual Farewell Senior-Faculty Dinner held on the Library Quadrangle, where seniors and professors celebrated with food, music, and drink during Senior Week.
---
Plant Play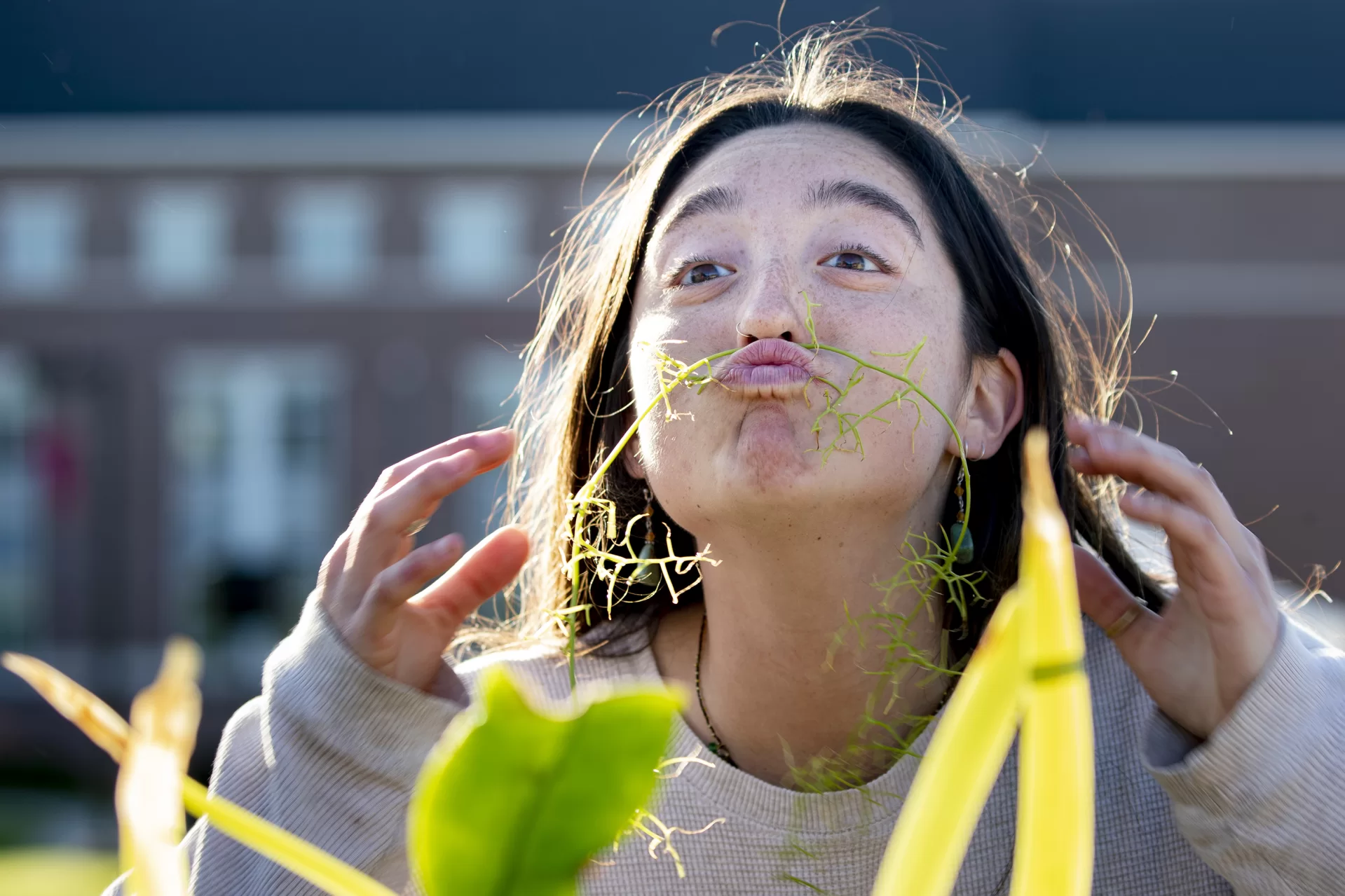 Sophie Stein '23, an environmental studies major from Beacon, N.Y., improvises with plants during the college's Earth Day celebration on Alumni Walk.
---
Blue Wrap Designers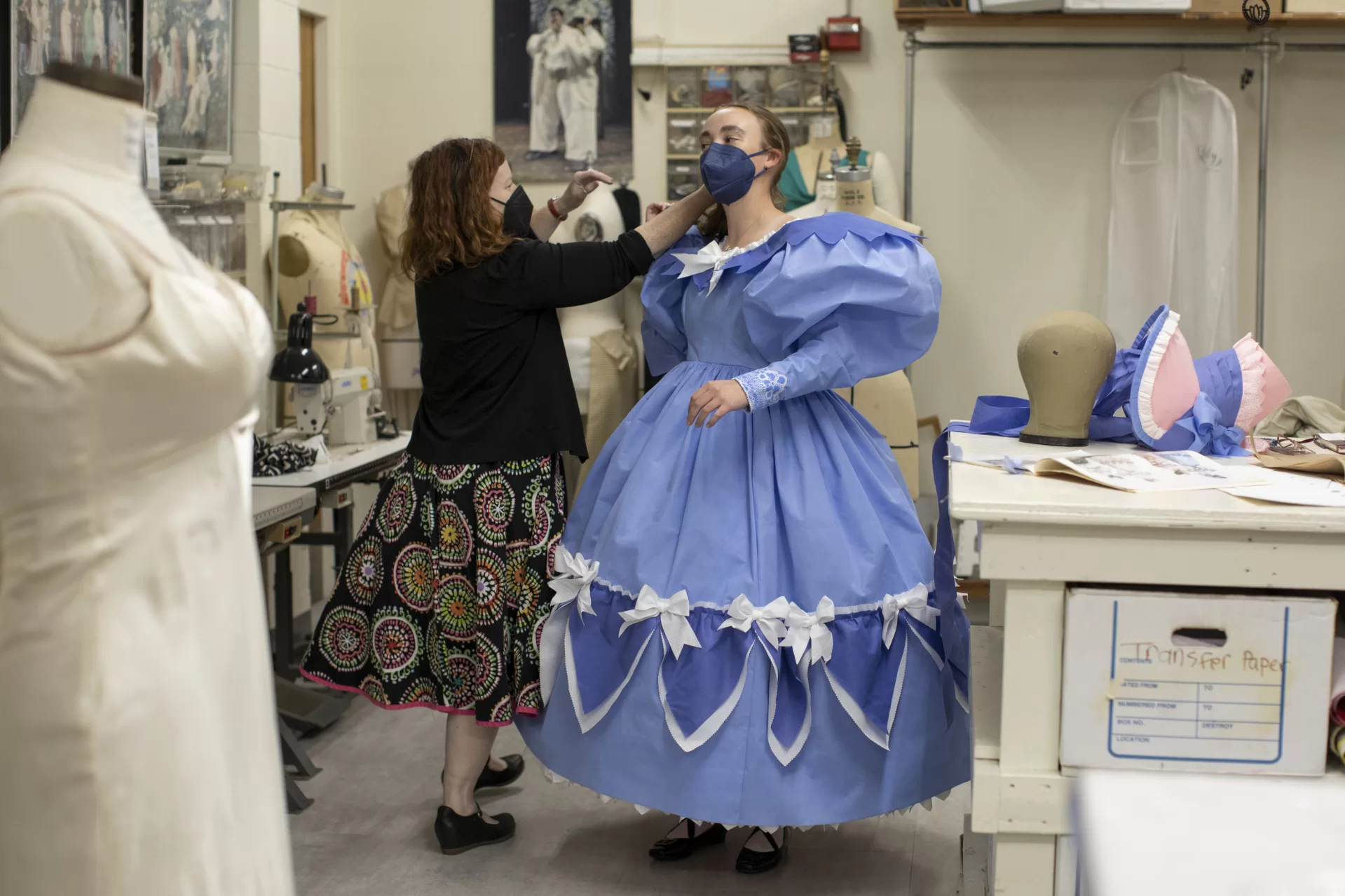 Associate Professor of Theater Chris McDowell makes last-minute adjustments on a dress worn and co-designed by Grace Acton '24 of Harvard, Mass., for a charity event, "The Blue Wrap Runway," held by the Portland-based Partners for World Health.
The garment is a direct offshoot of coursework Acton did during the winter semester, recreating an original 1830s gown using unconventional material: fabric used to make hospital gowns. The fashion fundraiser is "a sort of trashion show" that raises money for this medical charity, "and we are very excited to participate," McDowell said.
---
Gathered in the Greenhouse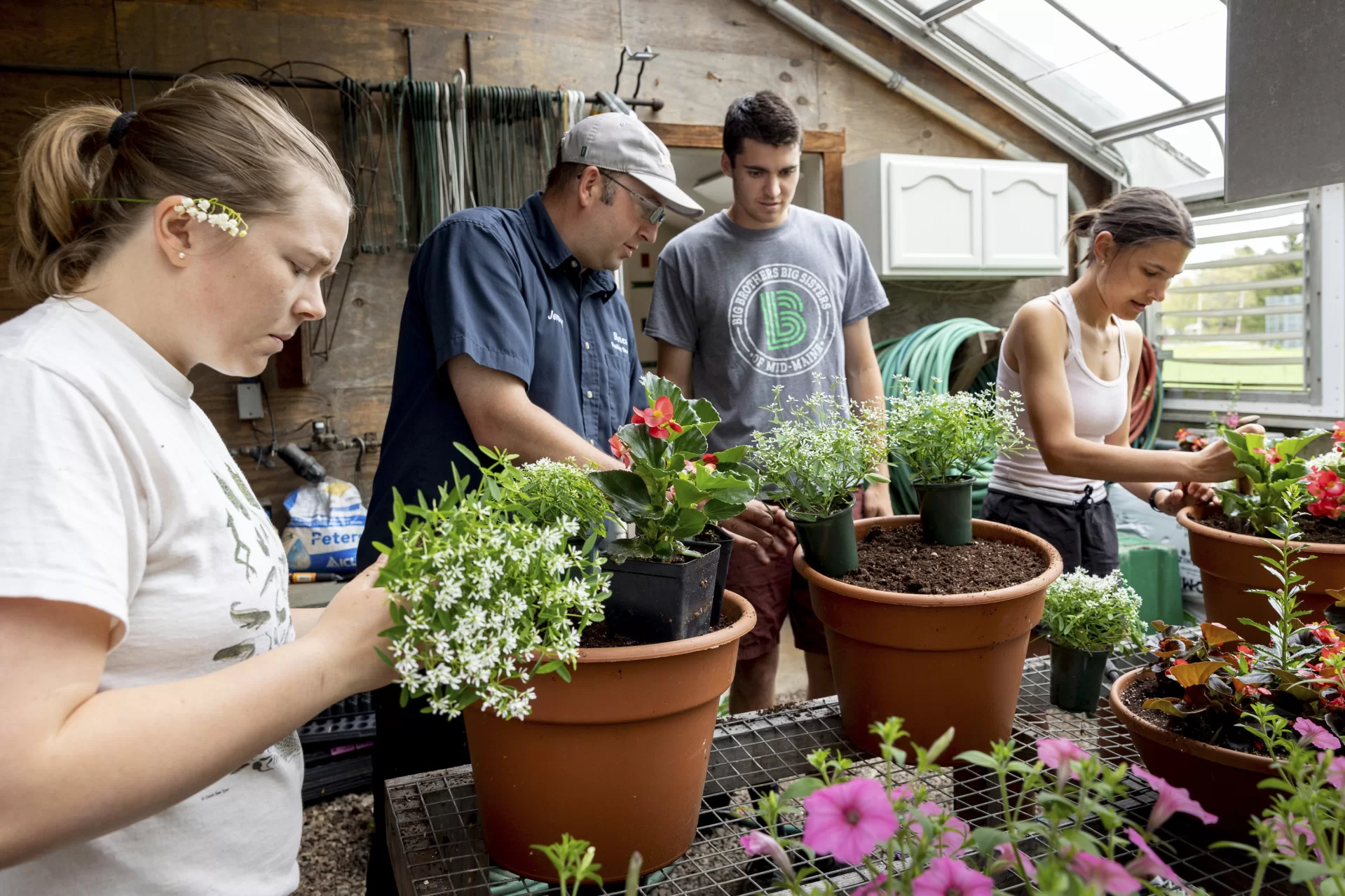 Preparing annuals in the college greenhouse for distribution and planting around campus are, from left, Charlotte Collins '22 of Woolwich, Maine; Jeremy Lavertu, grounds and maintenance lead for Facility Services; Clay Hundertmark '22 of Portsmouth, N.H.; and Taylor Alexander '22 of Bethesda, Md.
---
Self-Care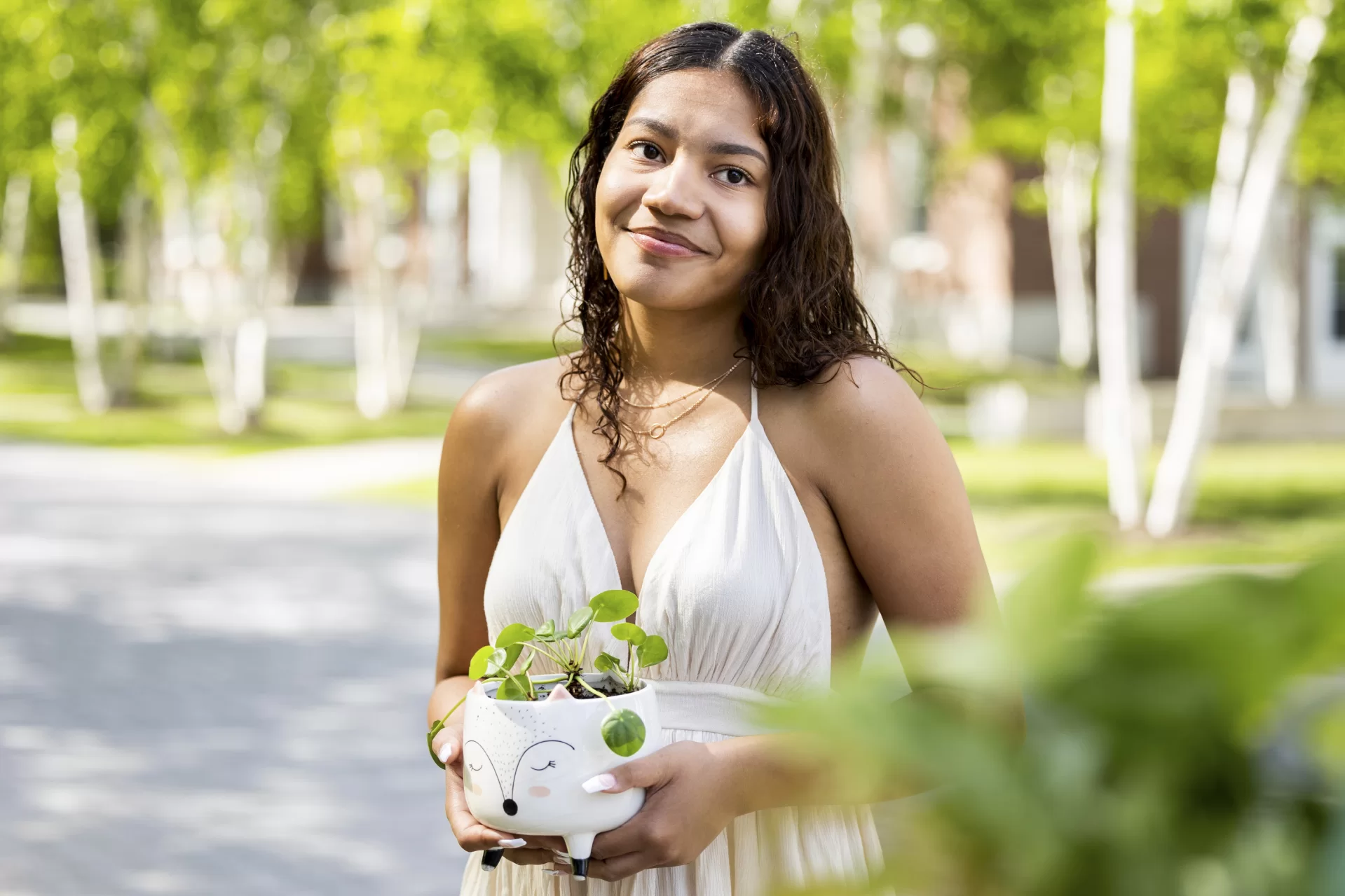 Teresa Chico '22 of New City, N.Y., a double major in rhetoric, film, and screen studies and in Africana, delivered the Senior Address at the 2022 Commencement, in which she described her Chinese money plant as a symbol of the ways she has grown and learned to take care of herself during her time at Bates.
---
Senior Portrait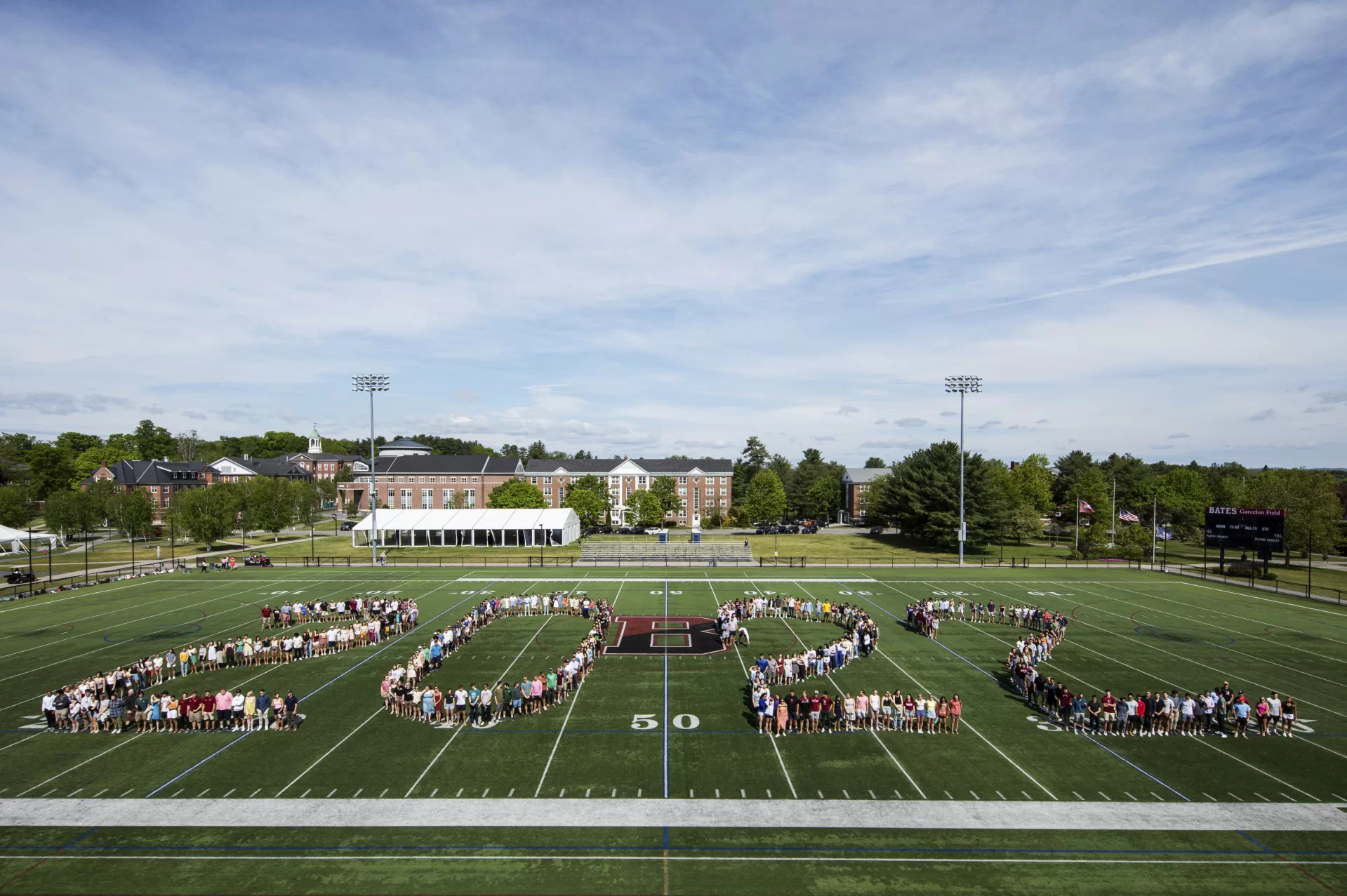 Two days before Commencement, the Class of 2022 poses for its senior class portrait on Garcelon Field before heading over to the Historic Quad for a graduation rehearsal.
---
A Celebratory Moment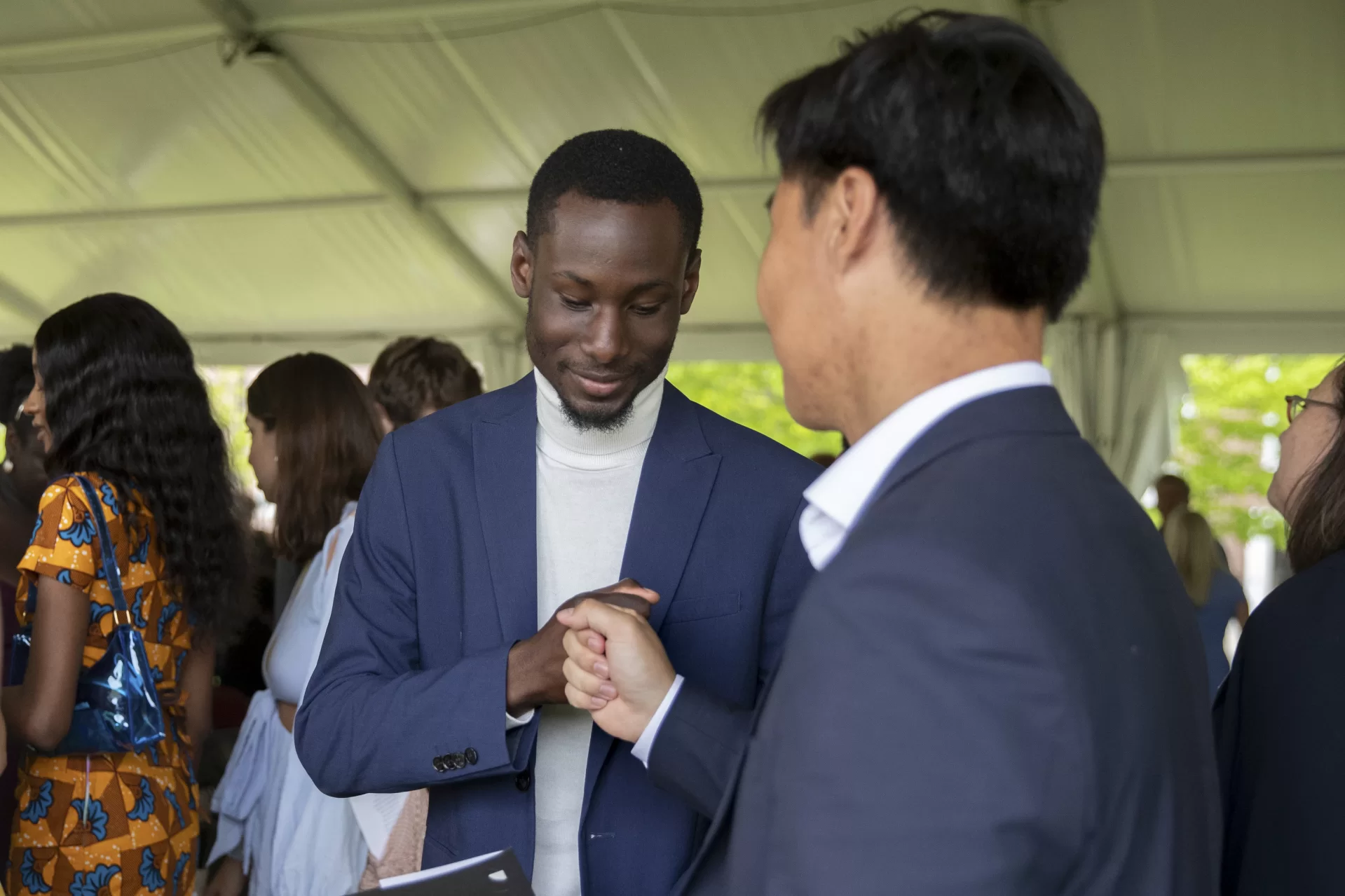 Losseni Barry '22 of New York City congratulates a friend as they are inducted into the College Key during Commencement Weekend. The College Key recognizes outstanding Bates juniors and seniors with strong academic and extracurricular achievement for their leadership.
---
First Time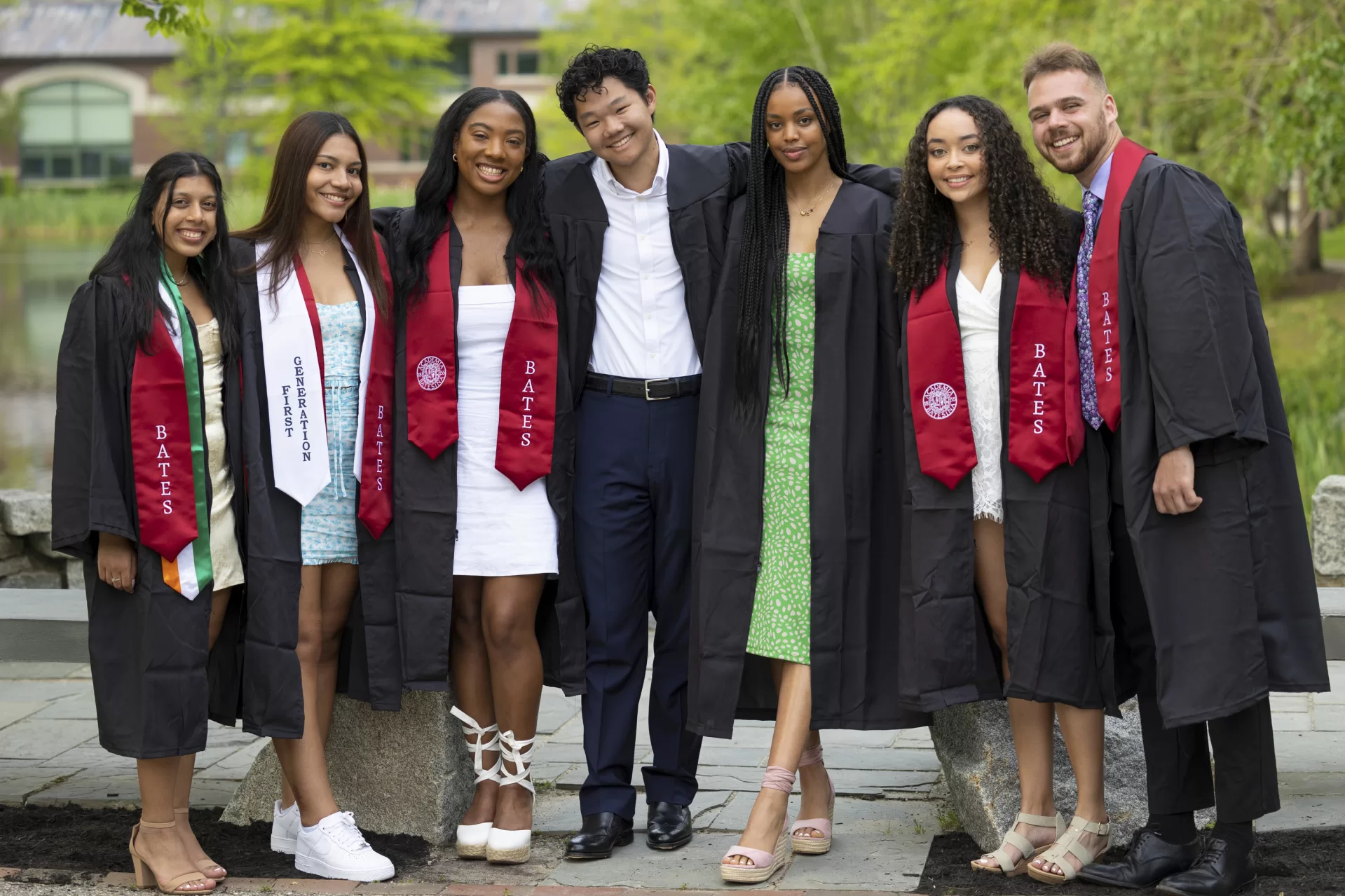 A group of beautiful friends gathers at the Puddle for their first Commencement portrait a couple days before graduation. Several photographers recorded the moment.
---
A Successful Season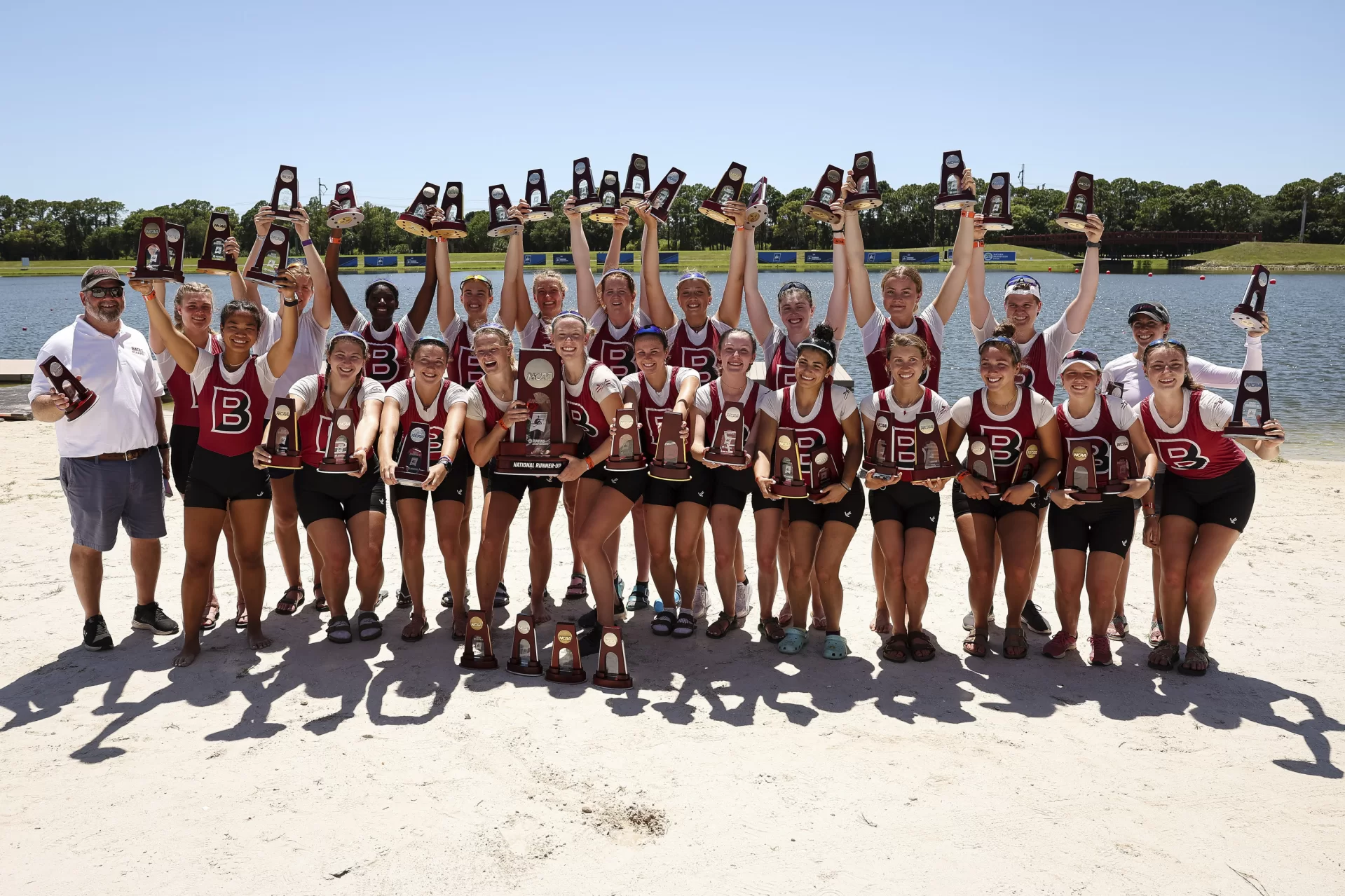 ---
The Bates women's rowing team poses on the beach at Nathan Benderson Park after finishing second in the country at the 2022 NCAA Championships on May 28 in Sarasota, Fla. The Bobcats have finished either first or second in the country in 12 of the past 13 seasons.
---
Personally Significant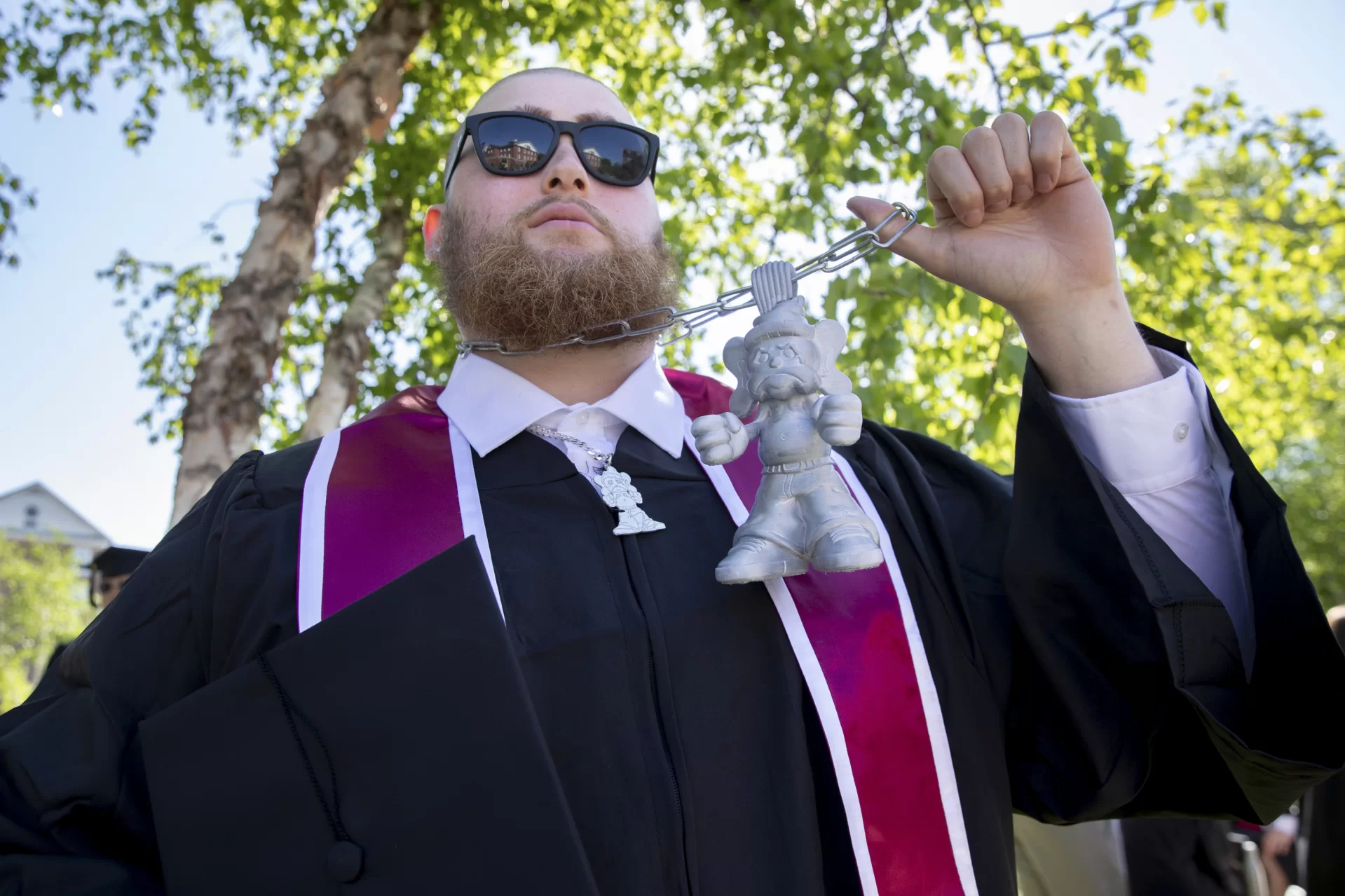 Many students wear something personally significant at Commencement. Like a tie, or earrings, Or both. Alex Gailey '22, an English major from Berkeley, Calif., wore "HEEM-MAN," a character he created and, he hopes, to one day turn into toys or sculptures. Gailey modeled a 3D design of HEEM-MAN from his drawings, then used a 3D printer in the Coram Library Visualization Lab to create the final figure.
---
'But First, Let Me Take a Selfie'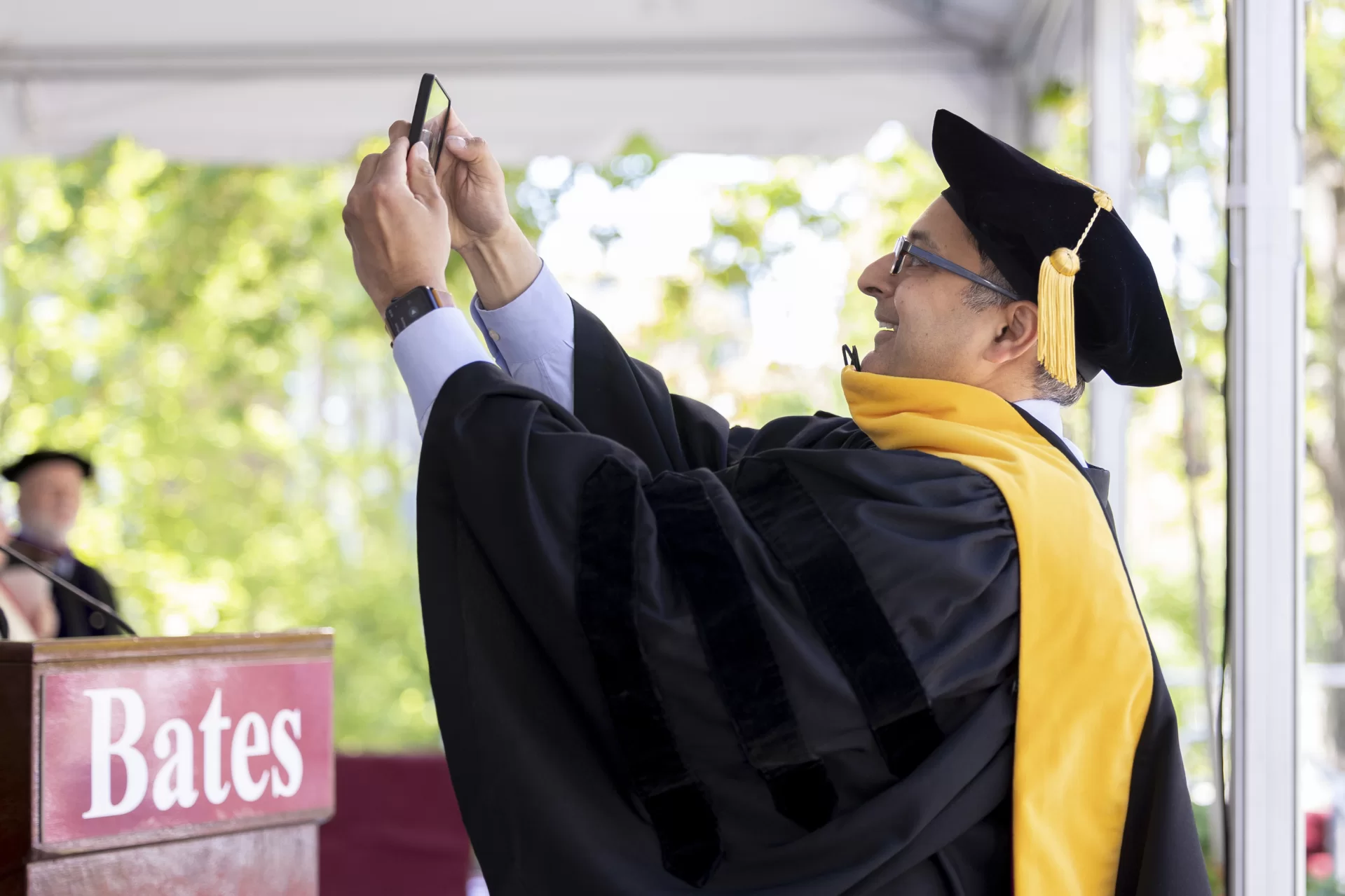 Dr. Nirav Shah, a luminary of Maine's public-health response to the pandemic as director of the Maine Center for Disease Control, takes a selfie of himself at the start of his address as the keynote Commencement speaker for the Class of 2022.
---
I Did It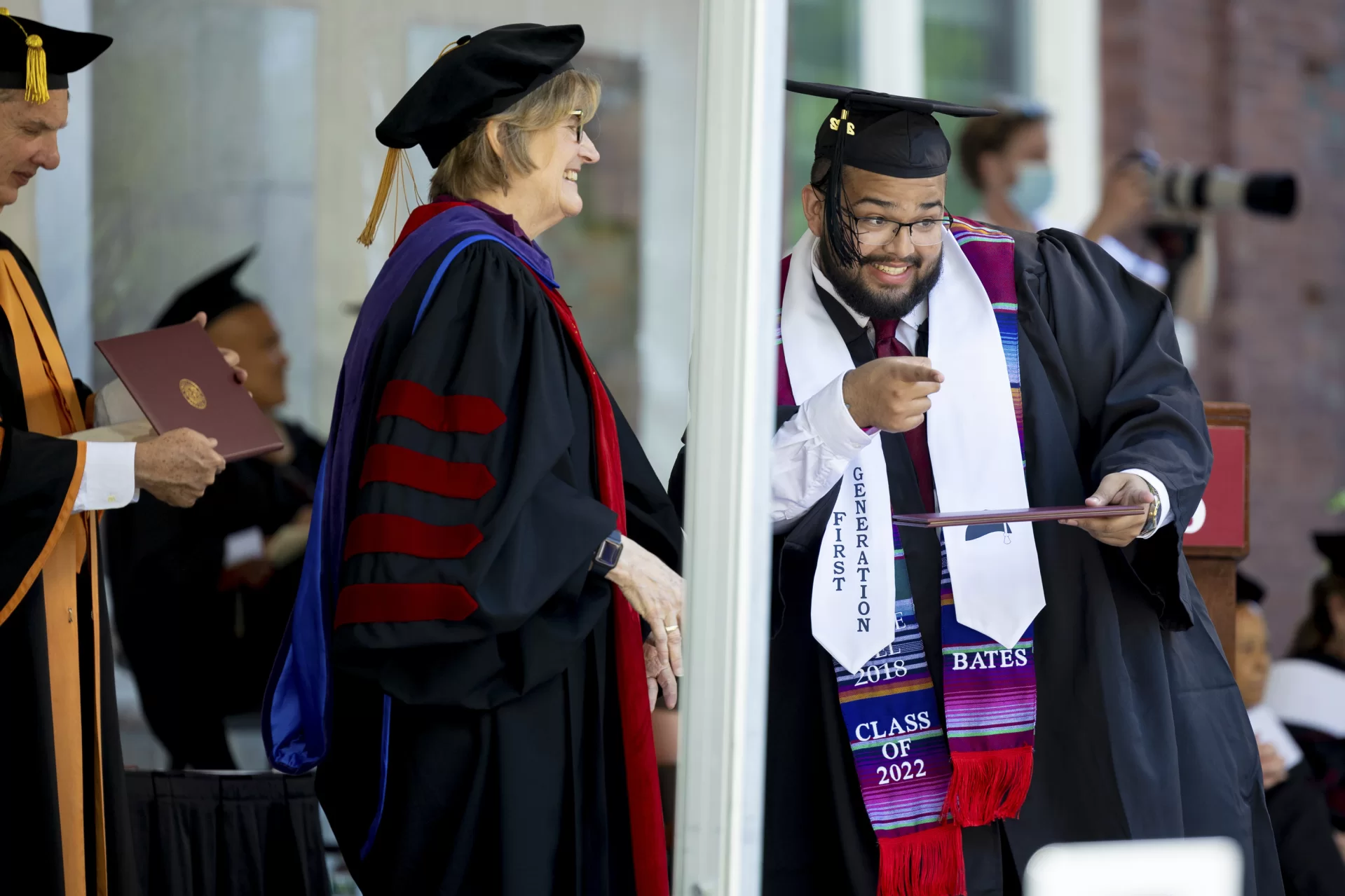 Jose De Anda '22 of Pomona, Calif., celebrates after receiving his diploma from President Clayton Spencer on the stage of Coram Library.
---
Hat Toss
Sukanya Shukla '20 and her classmates toss their mortarboards to the sky as the long-postponed graduation celebration for members of the Class of 2020 conclude on the Historic Quad.
---
Linking Two Cities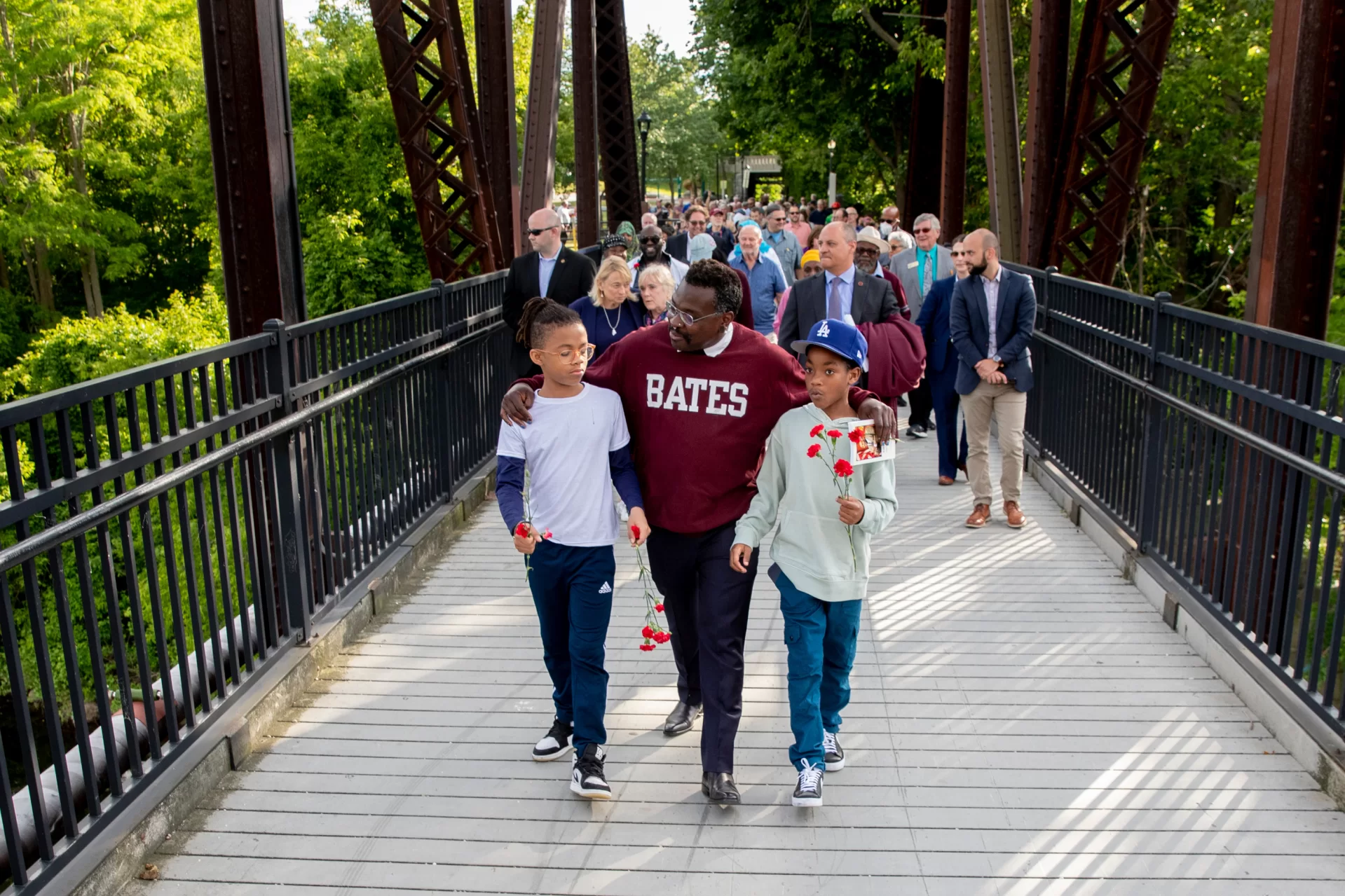 Members of the family of John Jenkins '74, followed by Maine Governor Janet Mills, Auburn Mayor Jason Levesque, and Lewiston Mayor Carl Sheline, cross the footbridge that was dedicated in his memory on the afternoon of Friday, June 10. Jenkins was the former mayor of both cities, and the bridge, linking the two cities, was renamed the John T. Jenkins Memorial Bridge.
---
Boom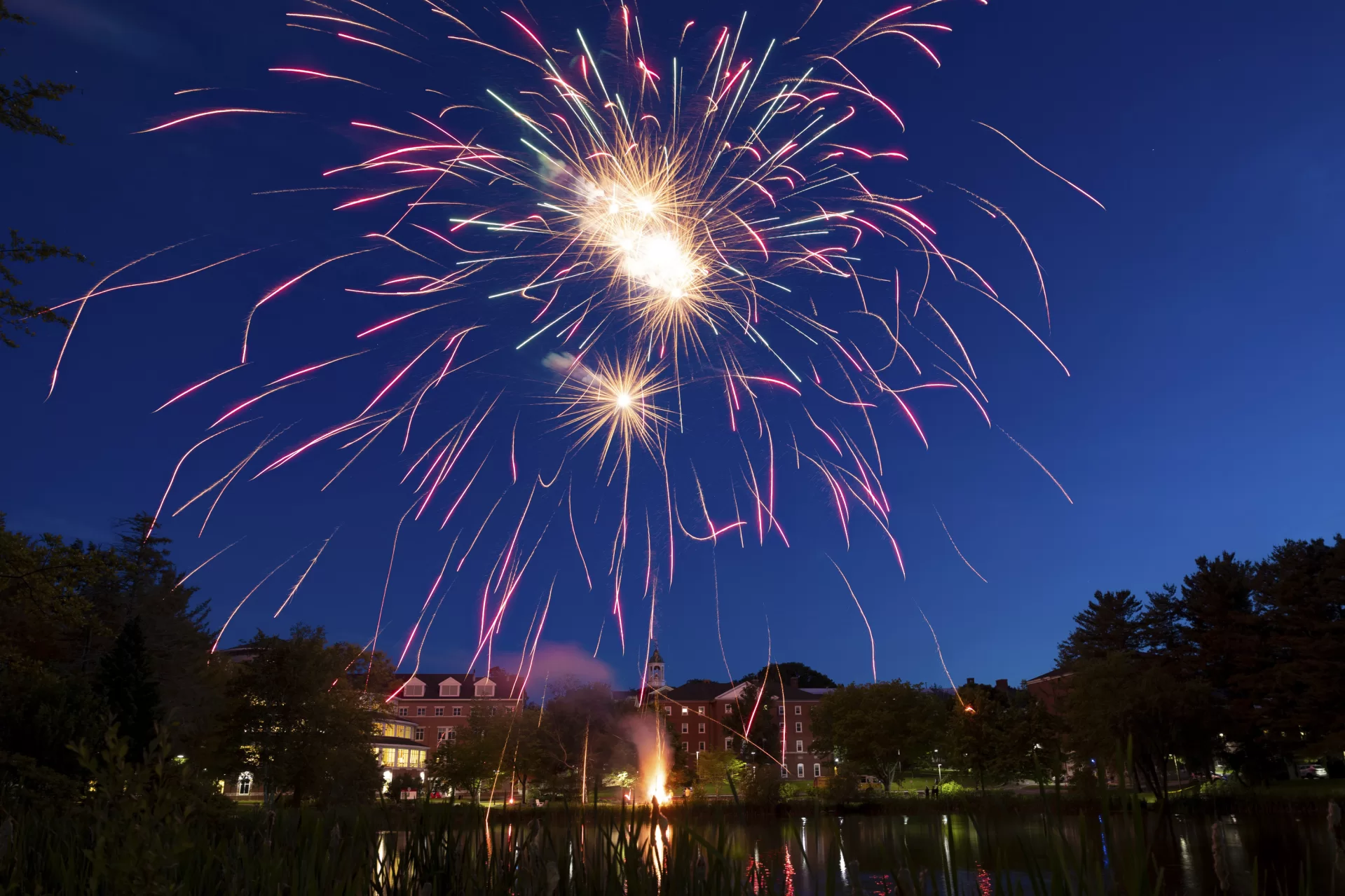 Reunion 2022 fireworks explode over Lake Andrews on Friday, June 10.
---
Reunion Lift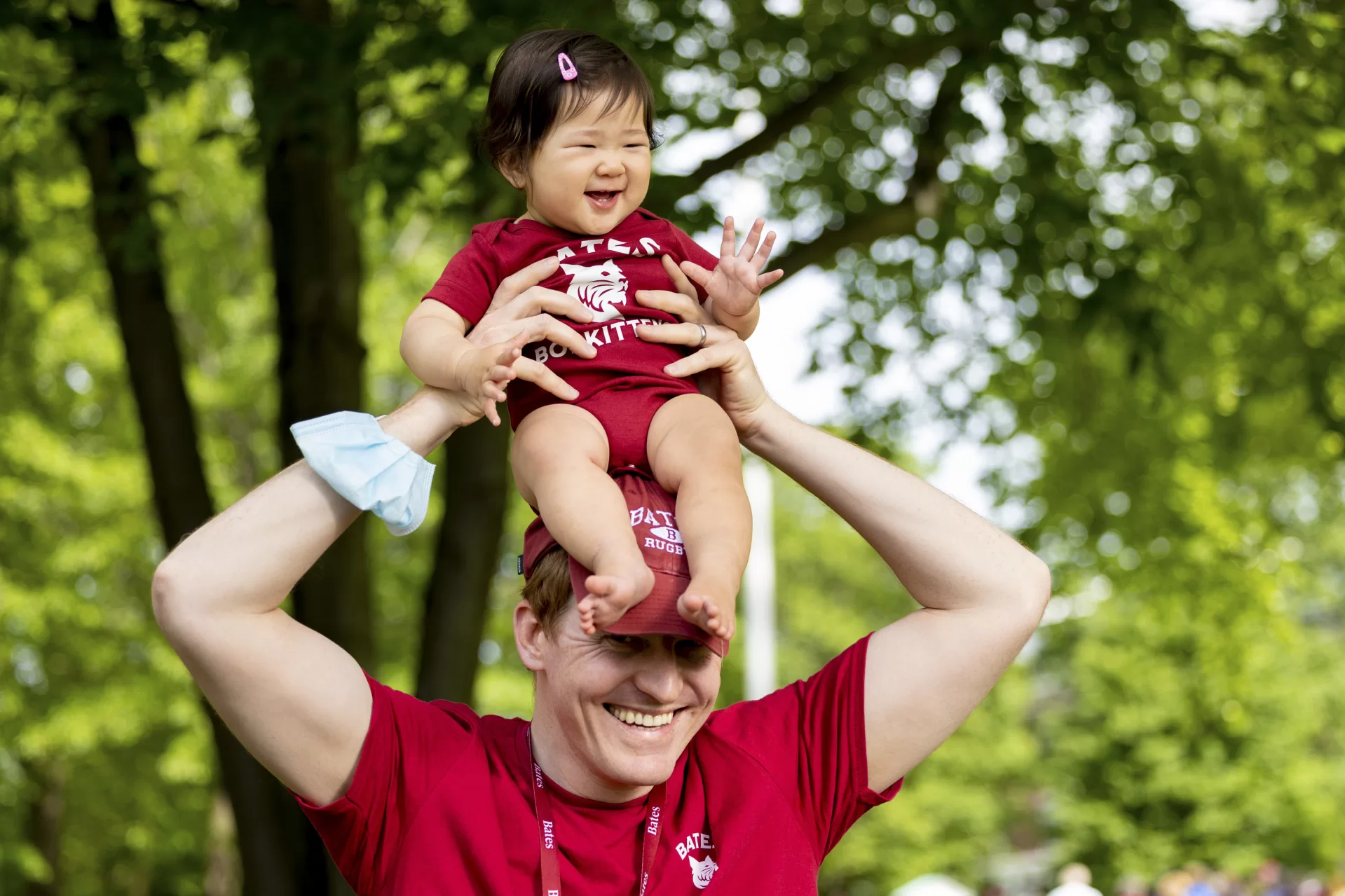 Chris Thiele '07 hoists 11-month old Claire Oo, daughter of Zaw Oo '07 and Marybeth Tong '06, on the Historic Quad as families and classmates gathered before the Alumni Parade at Reunion.
---
Here We Are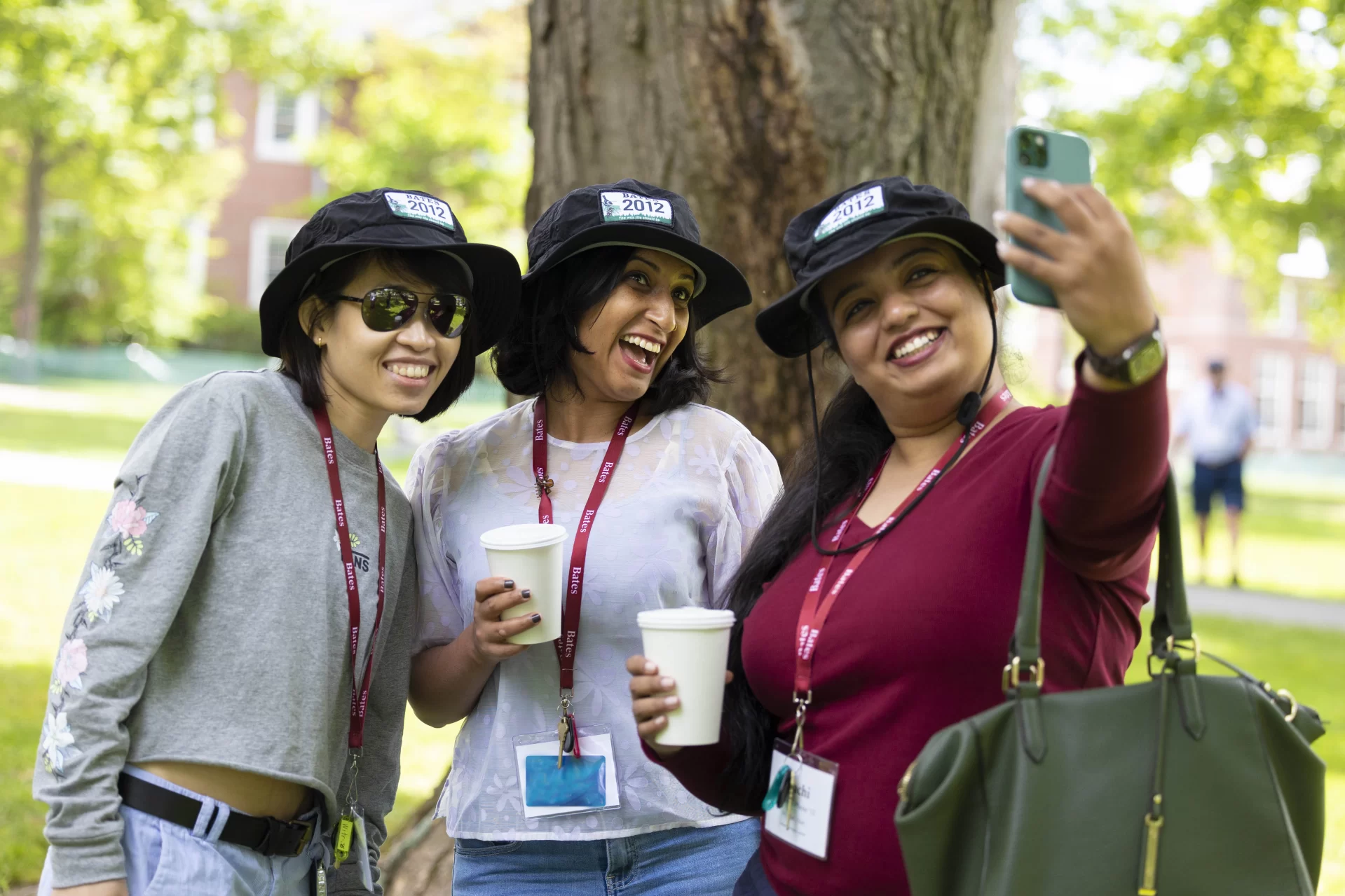 Friends from the Class of 2012 enjoy a selfie on the Historic Quad before the start of the Alumni Parade at Reunion.
---
The 50th Reunion Class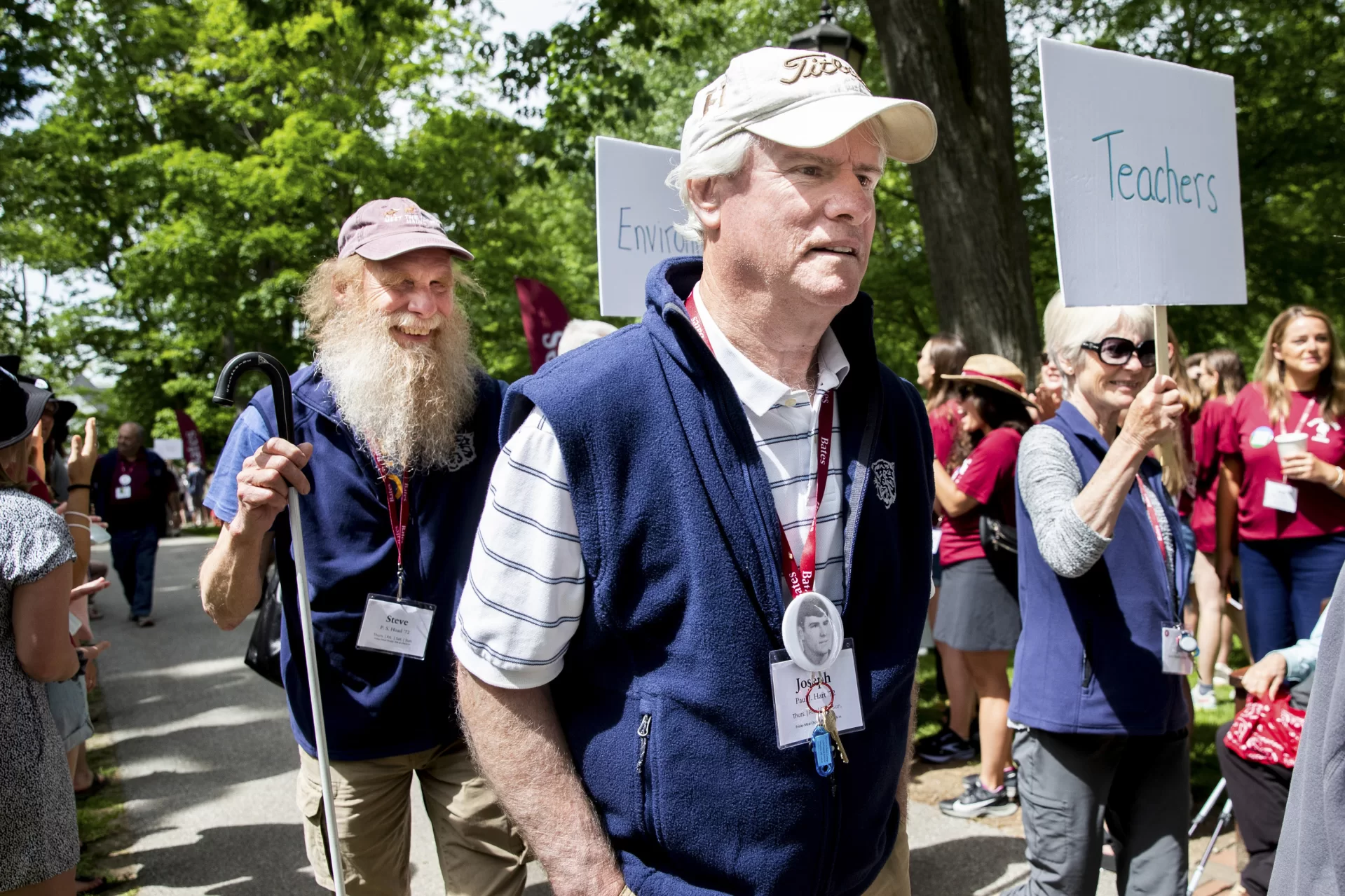 As the Alumni Parade gets underway, members of the Class of 1972, including Joseph Hart and Steve Hoad, stride up the walkway toward Hathorn Hall as fellow alumni cheer them on.
---
Keeping It Lively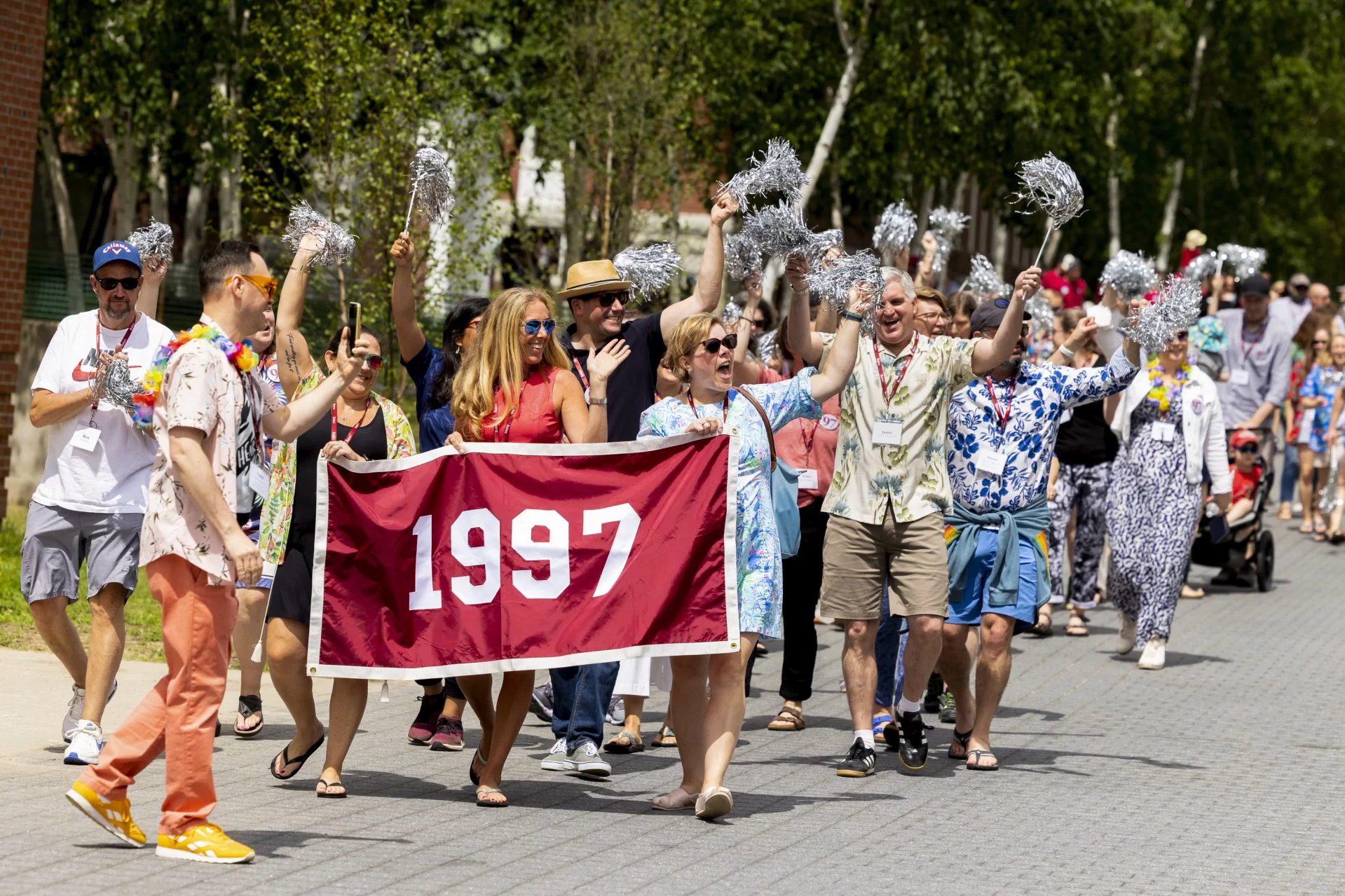 Members of the Class of 1997, playing to the judges stand, sweep down Alumni Walk for the lively Alumni Parade.
---
Puppy Love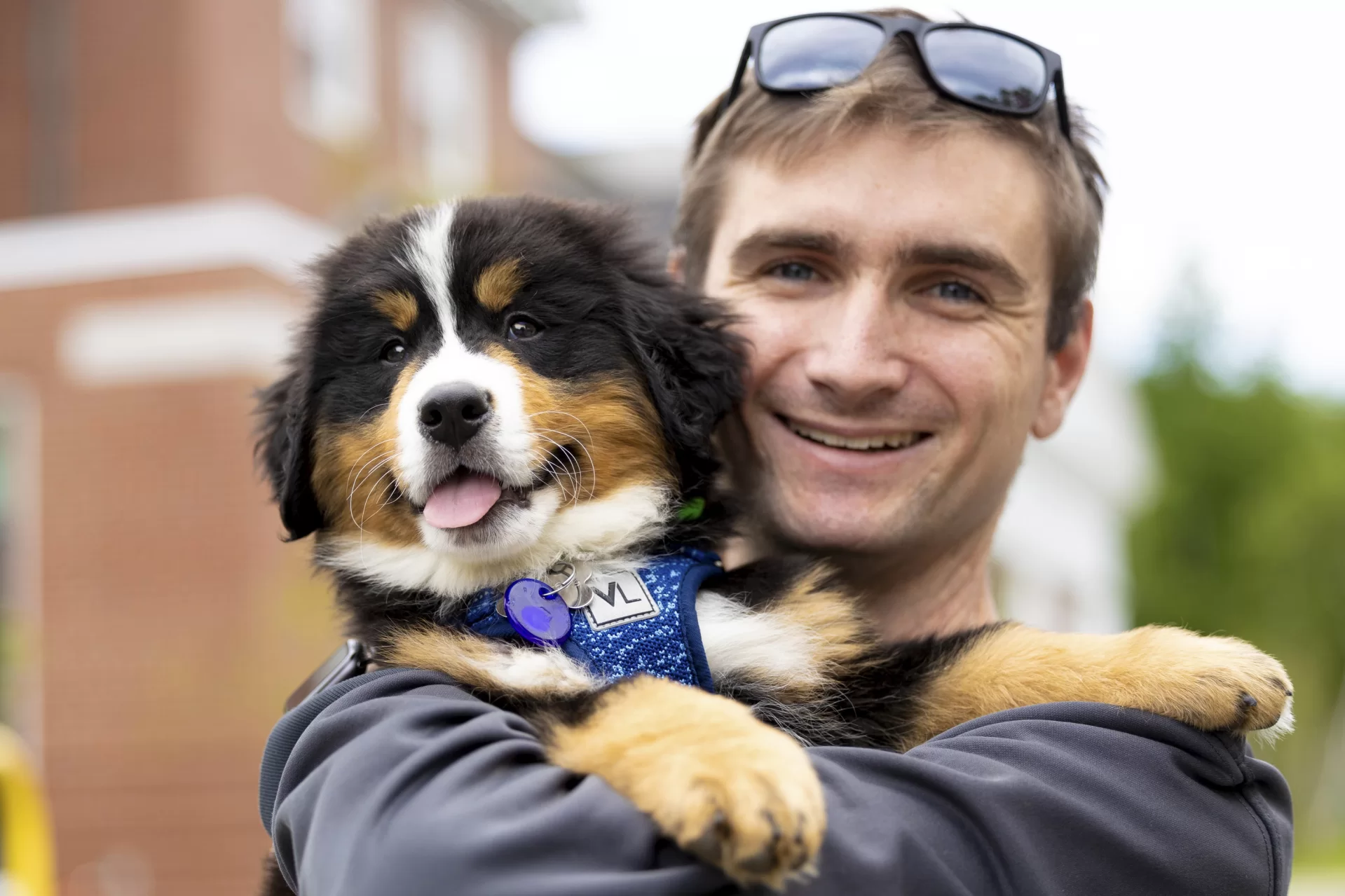 Christopher Van Hare '16 watches the Alumni Parade on Alumni Walk with his 10-week-old Bernese Mountain puppy, Azhdar.
---
Rest and Relaxation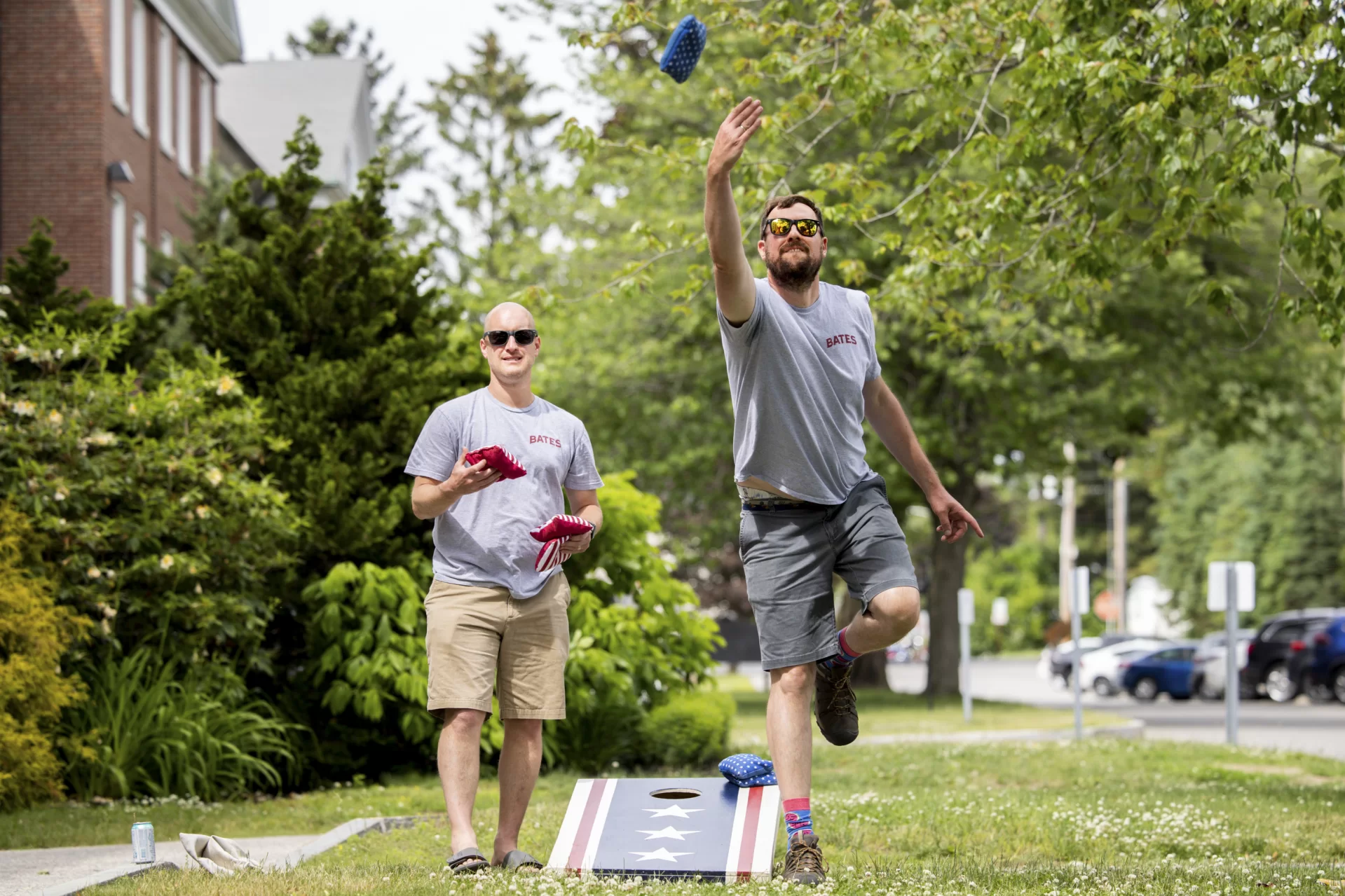 Friends from the Class of 2002 play cornhole in front of George Carroll Smith Hall during a relaxed Reunion 2022 afternoon.
---
Clean Sweep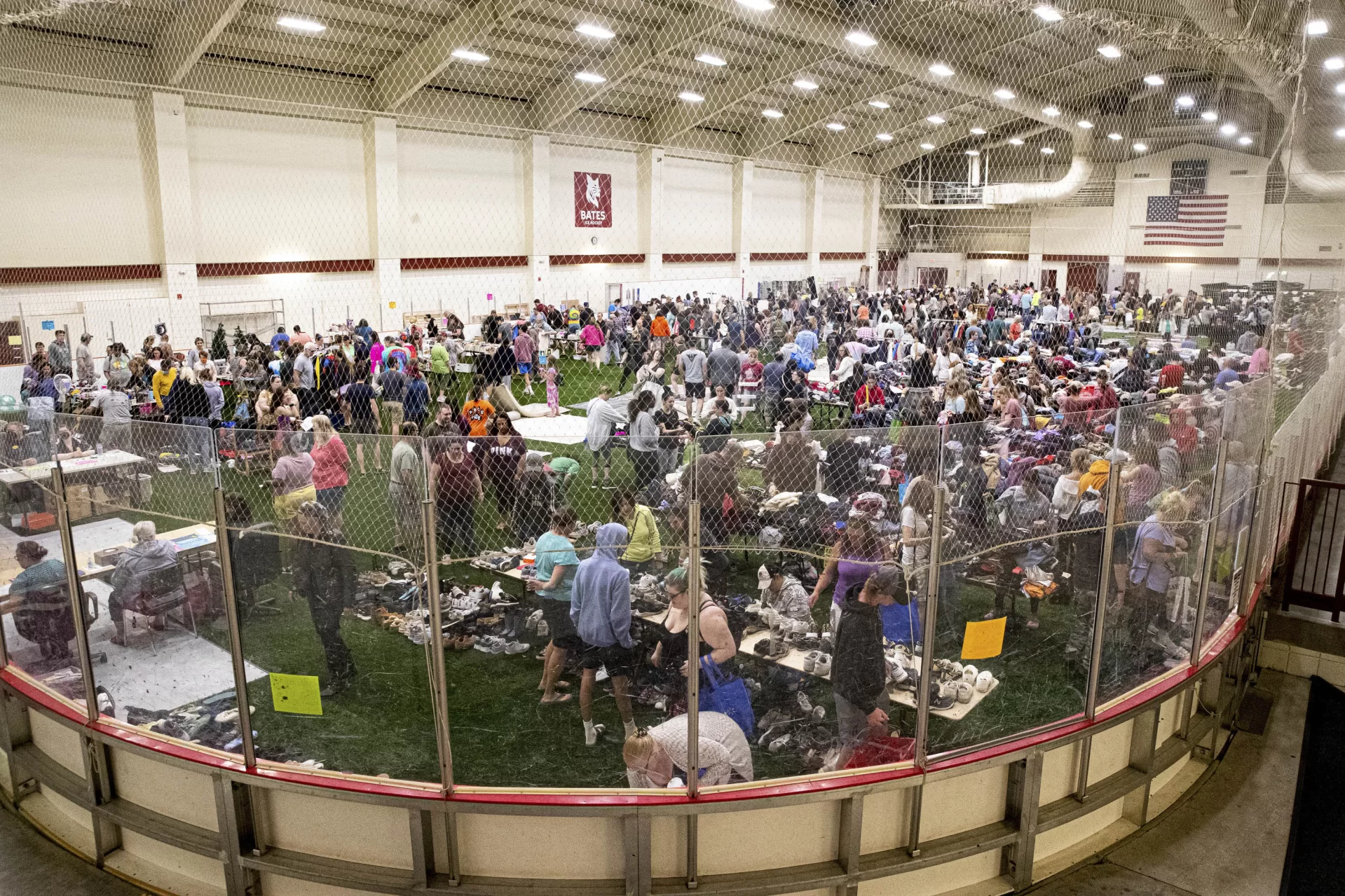 They lined up from Underhill to Commons before entering the building for Bates' immensely popular Clean Sweep. The giant yard sale was back for the first time in two years, as individuals arrived as early as 4 a.m. on June 12 for the items left behind by students and donated by faculty and staff. All of the earnings, typically more than $40,000, go to local nonprofit agencies.
---
Ultimate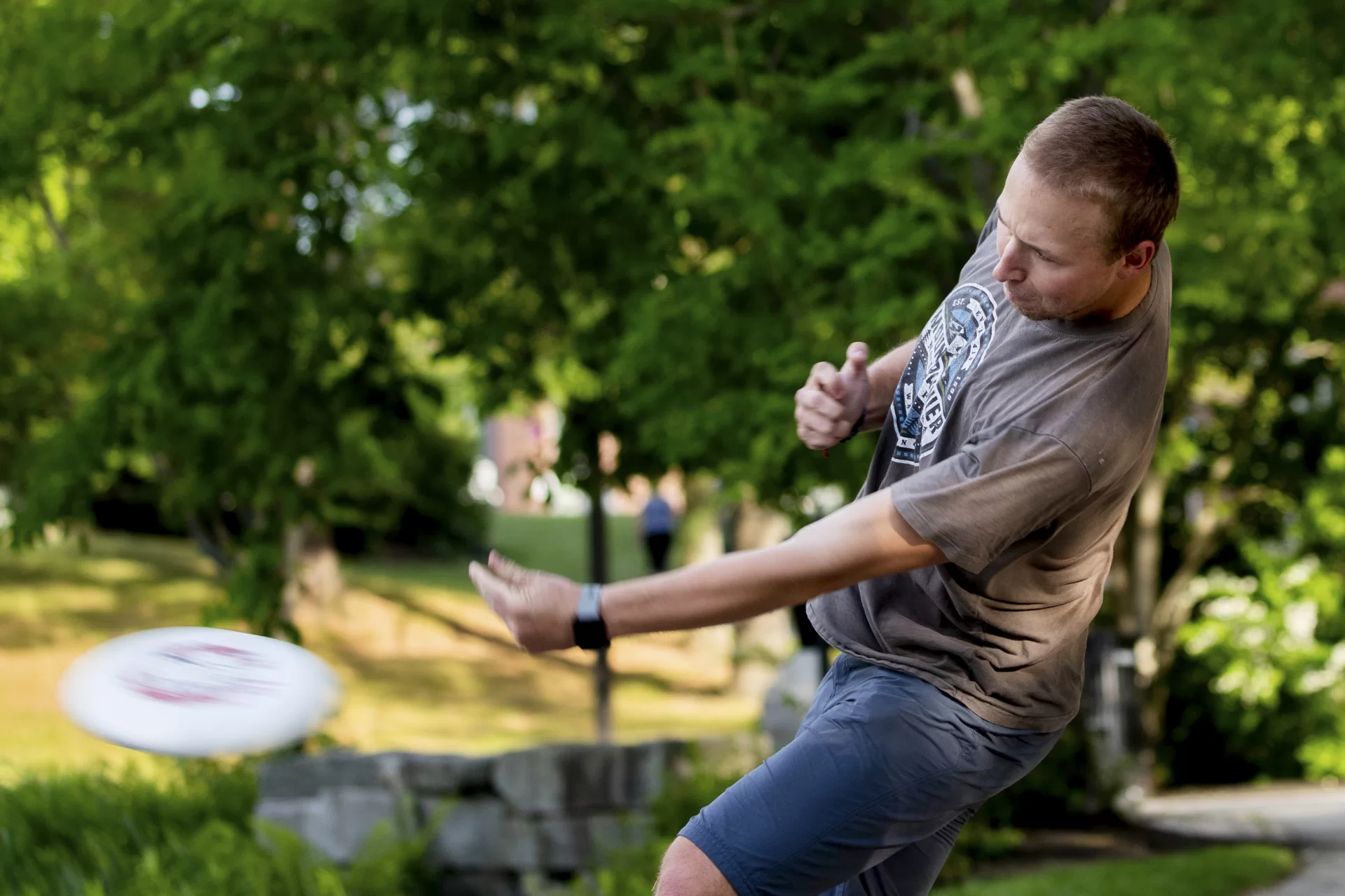 Ben Fasciano '23 of Lincoln, Mass., plays disc golf on Lake Andrews. He's living and working in Lewiston this summer.
---
For Health and Wellness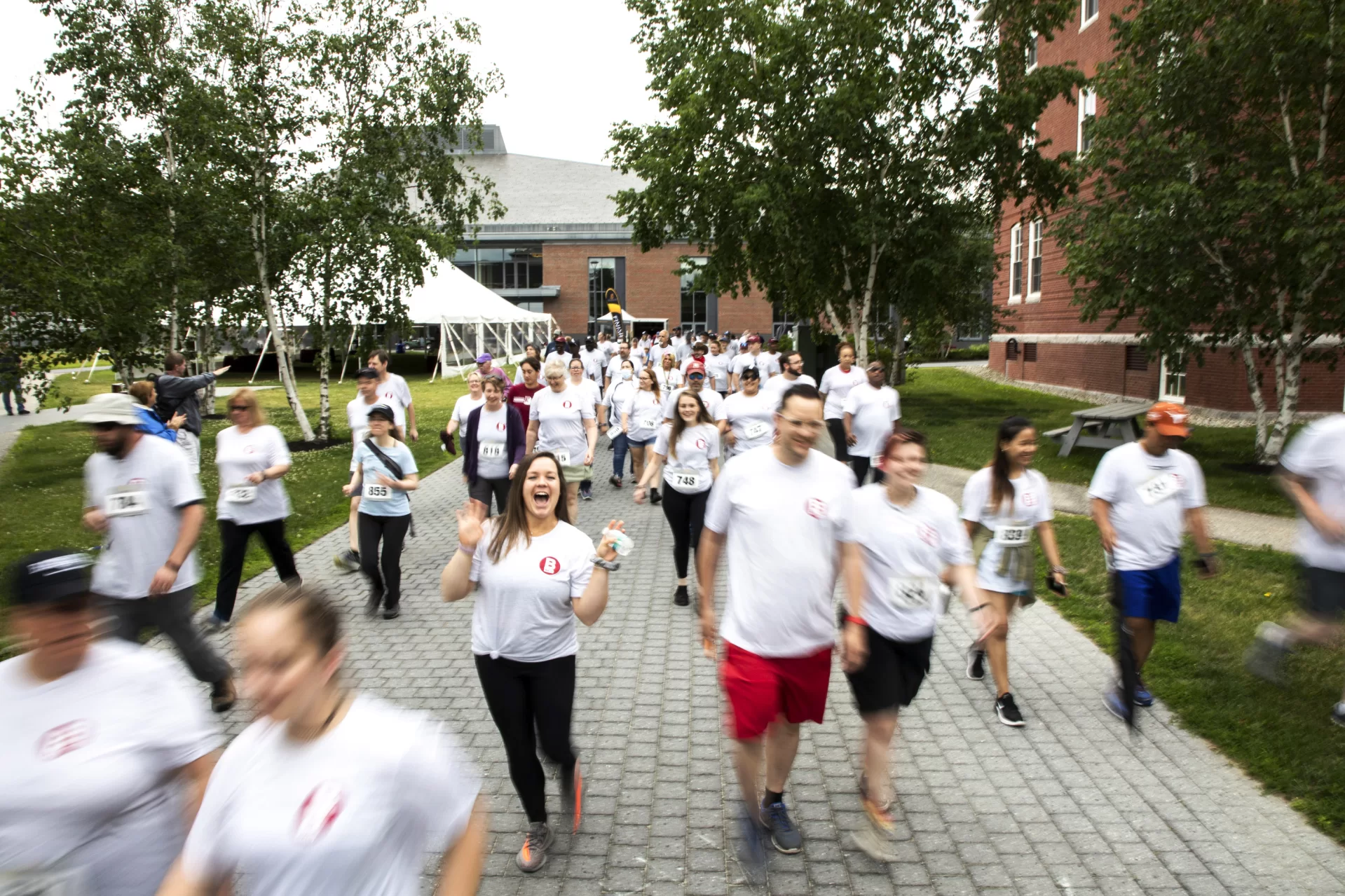 Bates faculty and staff take off on the annual Bates BWell 5K Run/Walk. Some 125 participants completed the course, some running and walking swiftly, others taking their time, all in pursuit of wellness and community on a lovely June morning. John-Antonio "Nio" Fatone finished first with a time of 20:03.
---
Summer Solstice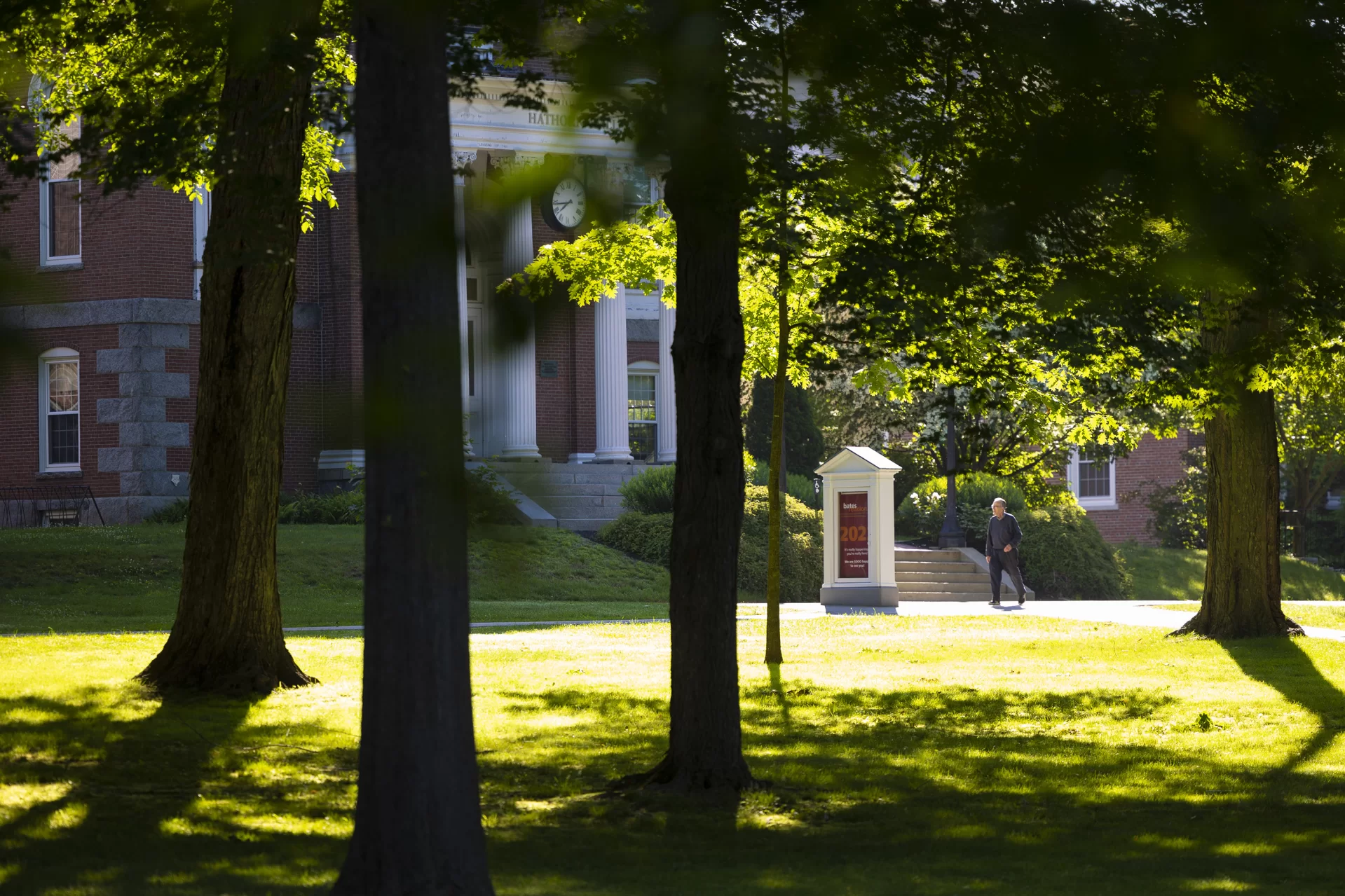 Sunlight falls in front of Hathorn Hall on the morning of June 21, the summer solstice, when the sun is at its highest point over the Tropic of Cancer and we were able to enjoy the most daylight — 16 hours — of any day in the year.