A frank discussion among five Bates alumnae who've made significant contributions to women in sports illuminated how their experiences on courses, courts, and playing fields — including the hurdles they encountered — continue to influence and inspire them today.
The many current Bates student athletes who attended the recent Zoom session also got plenty of reminders that they should savor what they're experiencing now.
"My favorite memories of Bates are walking across the Quad to get to Alumni Gym and knowing that your only job for the next two hours is to focus on getting better and being a great teammate," said Katie Burke '03, who was captain of the volleyball team and now is the chief people officer at HubSpot.
"For the rest of your life, you never get two hours back in a day where your only job is to be a great teammate."

Featuring alums from the 1970s to recent times, the discussion — held against the backdrop of the 50th anniversary of Title IX's passage in 1972 — was part history lesson and part feminist pep talk, with lots of practical lessons along the way. "You don't get what you deserve; you get what you ask for and you get what you fight for and you get what you work for," said Carolyn Campbell-McGovern '83.
Sponsored by Bates Athletics and moderated by Amanda Kaufman '22 of Somers, Conn., a track and field captain and double major in psychology and gender and sexuality studies, the event celebrated National Girls and Women in Sports Day on Feb 2.
Nancy Ingersoll Fiddler '78: Push back, practice and persist
Nancy Ingersoll Fiddler '78 was a Nordic skiing pioneer at Bates. The college's first female All-American, she later won 14 U.S. skiing titles and competed in two Winter Olympics.
But all that experience and her excellence wasn't enough when she retired from competitive skiing and began coaching. At ski meets, she saw gender roles playing out in familiar ways.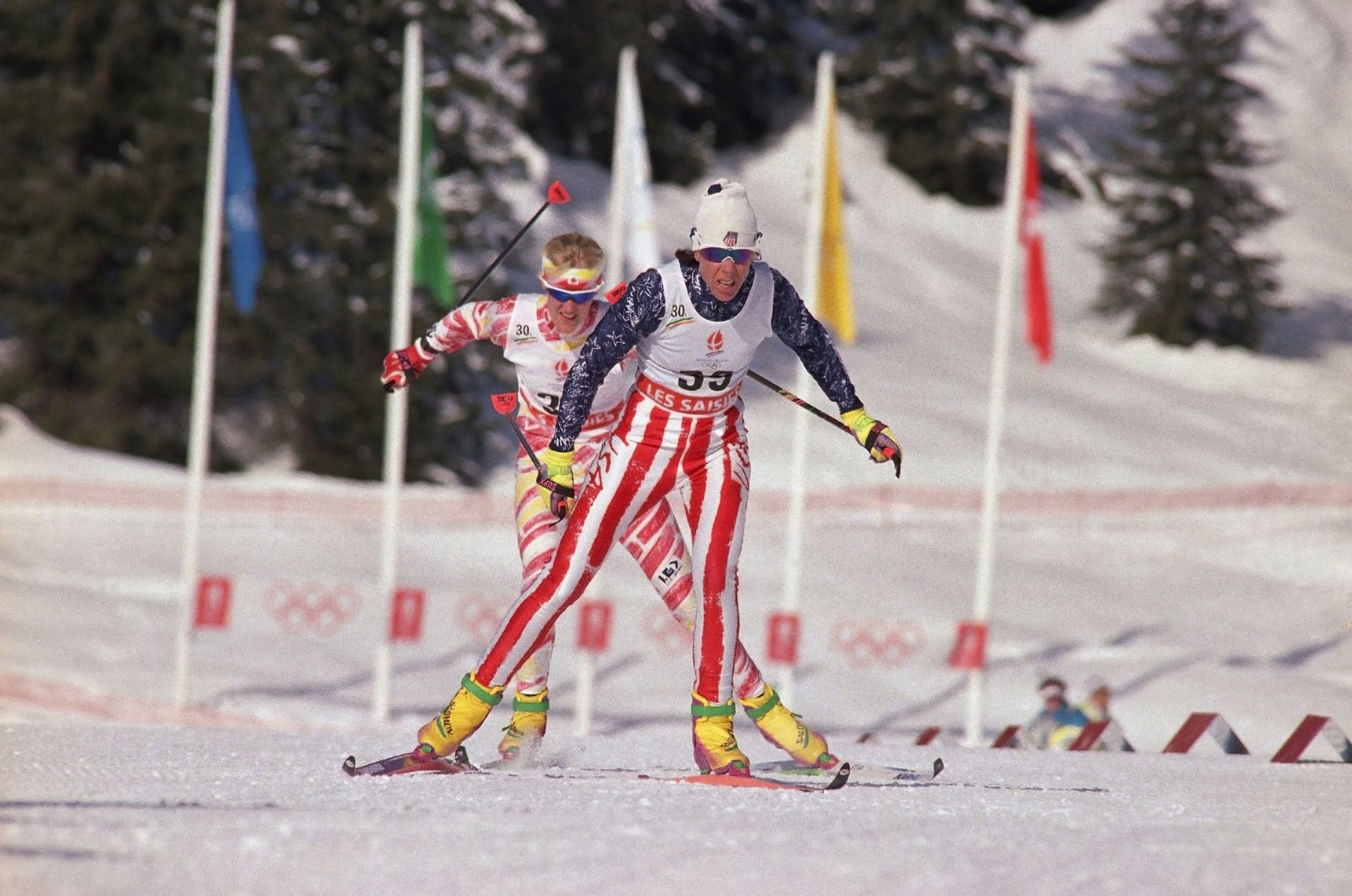 "I thought I was a leader but then I would go into these venues with male coaches and be designated to do things a woman coach might do like, stay back at the lodgings with the athletes while the men went and tested wax and did important things at the venue that I was actually very good at too."
Fiddler says that she "had to fight my way in. I had to practice my get up and go." But like other women who've raised their voice, Ingersoll found that she was dismissed "as being shrill."
Nevertheless, she persisted. "I pushed through that. Maybe I lost some male friends along the way, but that's the way it goes."
Last year, Fiddler put her Bates English major to use as a contributor to Trail to Gold: The Journey of 53 Women Skiers. It tells the story of the rise of women's skiing on the international stage through first-person accounts by 53 female U.S. Olympic Nordic skiers who competed between 1972 and 2018.
As she surveys the Nordic landscape these days, Fiddler feels some measure of satisfaction. "There are so many women Nordic coaches in the NESCAC and Ivy circuit," including Bates head coach, Becky Flynn Woods '89.
"And I'm just so happy to see that — it's great. I feel that those people are being heard just as much."
Carolyn Campbell-McGovern '83: Pay it forward
At Bates, Campbell-McGovern captained field hockey and lacrosse, becoming the college's first All-American in women's lacrosse. Now deputy executive director of the Ivy League athletics office, she looked back at the gender disparity in the hiring of coaches directly following Title IX.
When new women's teams started looking for coaches, their newly increased budgets for coaching salaries were attractive to not only female coaches but also male coaches — who had, through past privilege, more coaching experience.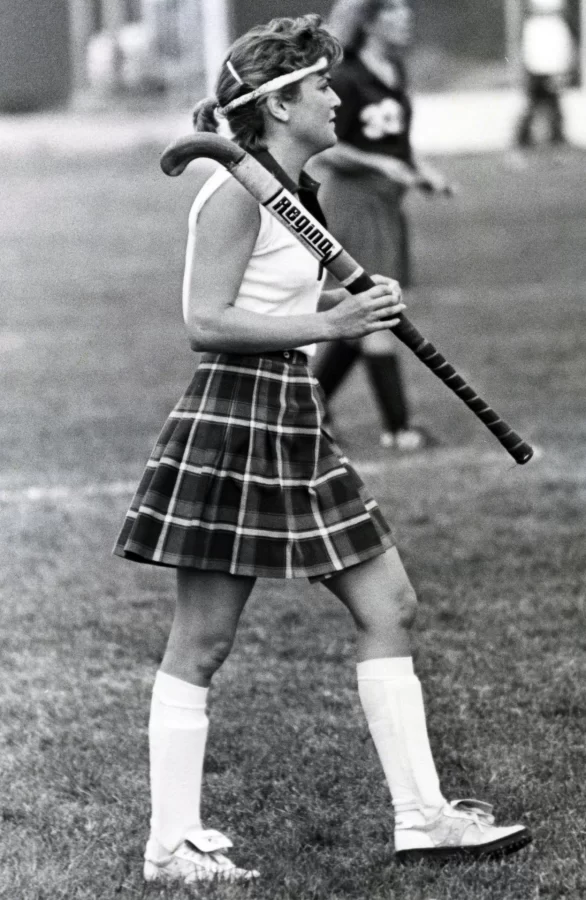 The prevailing wisdom was, said Campbell-McGovern, that "we have to give it to the person who has more experience, and that was almost always a man. It can be a self-perpetuating thing."
In a different way, it's still playing out today, she says, where more and more coaches at the secondary-school level are men who became involved in coaching as interested parents, a phenomenon noted by The Atlantic in 2017.
"A lot of female students come to college now and don't have experience with women coaches, so they might express a preference for men as coaches. That can make it complicated from a hiring standpoint."
Campbell-McGovern encouraged athletes to learn about and honor the strides towards equality in sports. "Continue to fight, and continue to make sure that you pay it forward, so the next generation has it even better than you do."
Katie Burke '03: Your sports life may already be influencing your career
As chief people officer at HubSpot, regularly named one of the best places to work in the country, Katie Burke '03 knows a thing or two about recruiting talented new employees. During her sophomore year at Bates she got her first lesson in recruiting.
Burke was a defensive specialist in volleyball for Bates when a coach asked her to host a talented high school athlete who was visiting Bates for an overnight stay.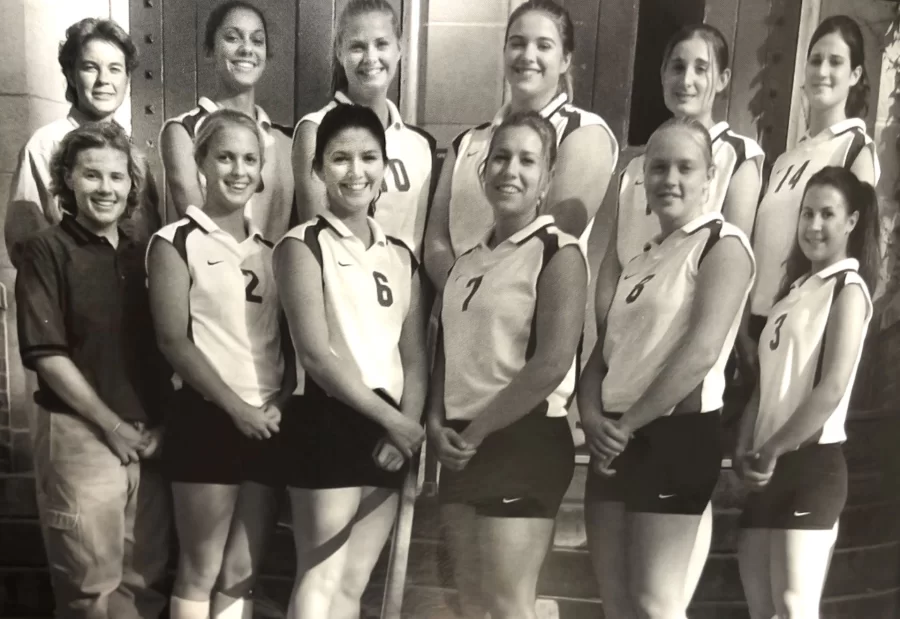 The student was being heavily recruited by other NESCAC colleges. "They rolled out the red carpet with a bunch of fancy stuff and tried to really wine and dine her," recalled Burke, noting that others' efforts emphasized facilities and other amenities.
"What we did was show her what Bates really is. We were authentic, we were fun, we were quirky," said Burke. "We took her to a Deansmen concert. And we went to a costume theme party." And so on. By the next morning, that student had made a decision. "She declared that she was going to Bates."
The student? None other than Liz Wanless, Bates Class of 2004, who went on to become a two-time NCAA champion in the shot put and who is now Dr. Wanless, an assistant professor at Ohio University College of Business who specializes in advanced analytics within sports organizations.
"What that taught me was if you can recruit people who are better than you are — and Liz, by the way, was light years better than I was at anything — your team gets so much infinitely better. The ability to recruit people is so important. It's a huge, critical part of my leadership."
Vantiel Elizabeth Duncan '10: Connectivity is key, even with your competitors
Vantiel Elizabeth Duncan '10 says she decided to come to Bates because, unlike other schools, she was encouraged to pursue all her interests: music, academics, and athletics. As she applied to other colleges, she felt she had to pick one. "But at Bates, I didn't."
So she sang in the college choir, majored in politics, and became a three-time NESCAC champion in the shot put and six-time All-American. In 2010 she was also a finalist for the NCAA Woman of the Year.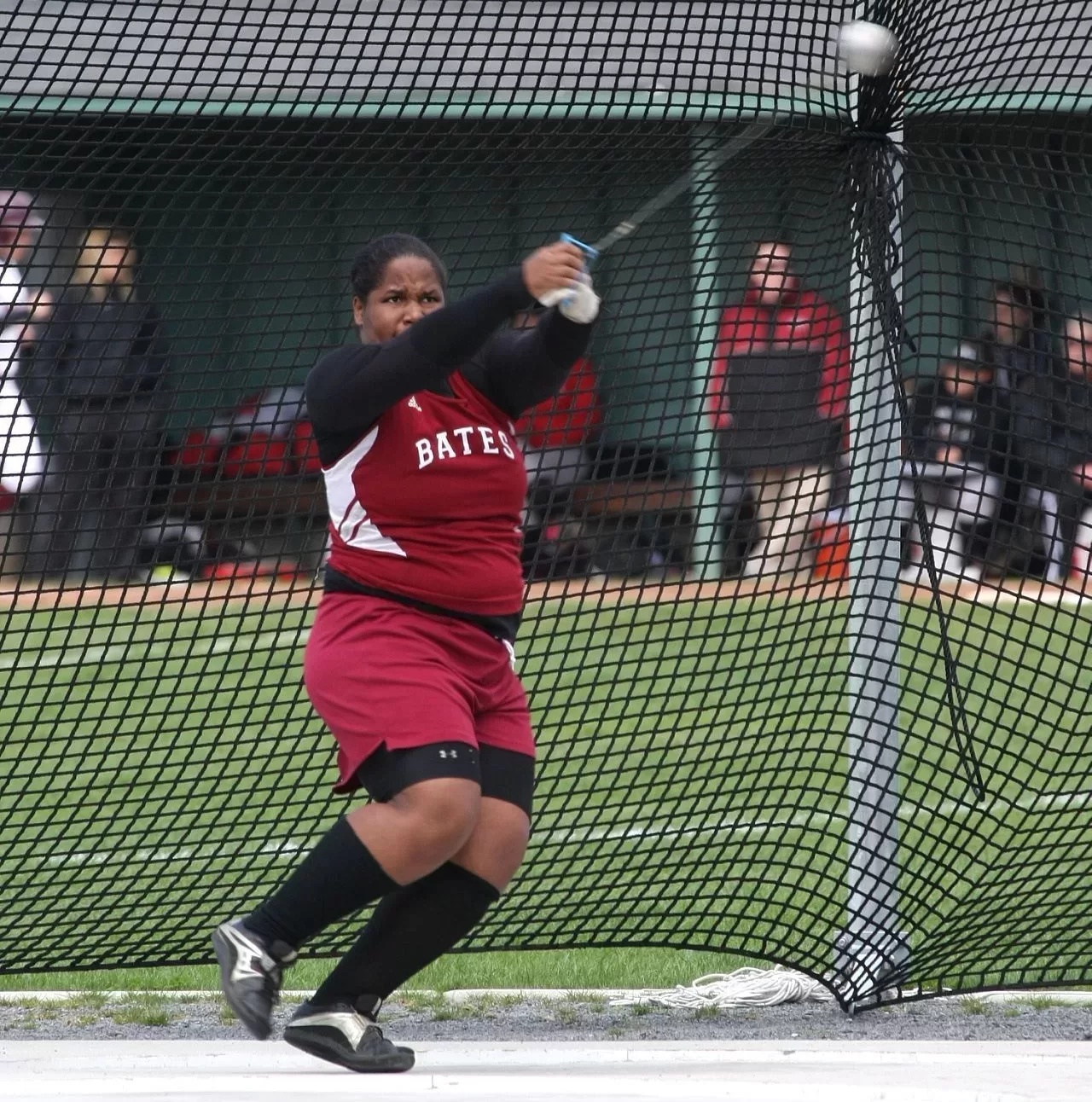 In her sport, Duncan faced the presumption of masculinity in throwing events. Most of the time, when people think about women in track and field, Duncan said, "they really truly think of more of the track than the field. And when we think of specifically field events, I think we don't really think about the events that I participated in."
"It's hard hearing that as a woman, and I just wanted to do my sport and not be thought of as an evil, mean principal."
Duncan is now a community broadband program manager with VETRO FiberMap, which helps to track and map complex physical and virtual networks, which is key to meeting the growing demand for broadband. There might be a correlation between the connections she helps establish now and the ones she created on the field, and not just with her Bates teammates.
Track and field meets are unusual for how much down time an athlete will have between or before their events. And at a track meet, the throwing circle might be a good distance from the rest of the meet.
For shot putters like Duncan, that created opportunities for valuable and helpful inter-school friendships. "Often my biggest cheerleaders were the people that I was competing against," she said.
The takeaway: community is "who and what you define. The people who compete against you every day, every meet and make you better. And those are some of your biggest champions in the end."
Amelia Wilhelm '18: Stand up for yourself — and each other
The most recent graduate on the panel, Amelia Wilhelm '18, became a national champion rower at Bates (and a finalist for the NCAA Woman of the Year in 2018) because she and her teammates were in unison in and out of the boats. They supported one another, and did the work together.
At the University of Washington, she's in an M.D–Ph.D. program, a medical scientist training program that will put her en route to a "career as a physician scientist, where I'll have a research group, ideally, as well as a clinical practice."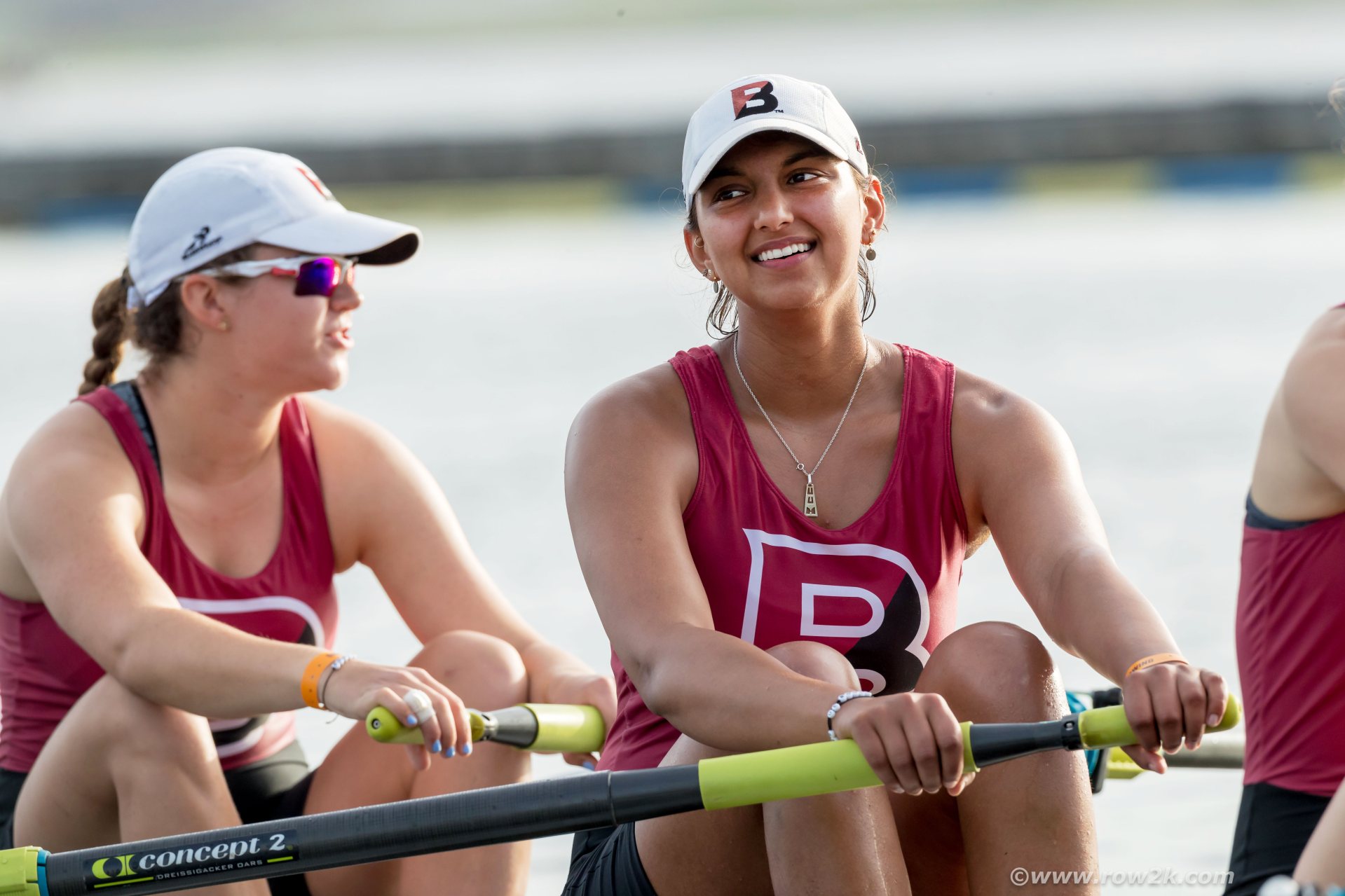 Along the way, Wilhelm has been supported by mentors who have helped prepare her for her next steps, whether from Bates, where she was mentored by Paula Schlax, the Stella James Professor of Chemistry and Biochemistry, or at Washington, where she says she "owes everything to the mentors that I have met and found along my way."
But as a woman beginning a career in science, Wilhelm has her eyes wide open, knowing that work is often distributed unequally according to gender.
Women have often been expected to "take on nurturing roles, or are socialized to and assumed to take on nurturing roles both in their career and at home.
It even plays out in simple ways, like who cleans up a lab. "It's assumed that someone else will take care of things, and usually that's assumed of a woman, and that's a huge issue."
"I think there's also a double standard, where women are criticized for "standing up for themselves and having the confidence to say what they believe" when the same behavior is lauded in men.
But her plan is to take on the gendered expectations placed on women in the sciences. And vanquish them. "I'm interested in doing away with them."