Beginnings and endings. We've enjoyed our inaugural snow moment, one that quickly evaporated as we turned our attention elsewhere. Daily schedules include every kind of activity imaginable, from the high holidays of the Harvest Meal and Trashion show, to explorations at the white board, across a faculty desk, or gathered onto the floor and stands of Alumni Gym.
We're students, faculty, and staff, making every day different from the last. Which month at Bates? This Month at Bates.
A-Maze-ing Mathematics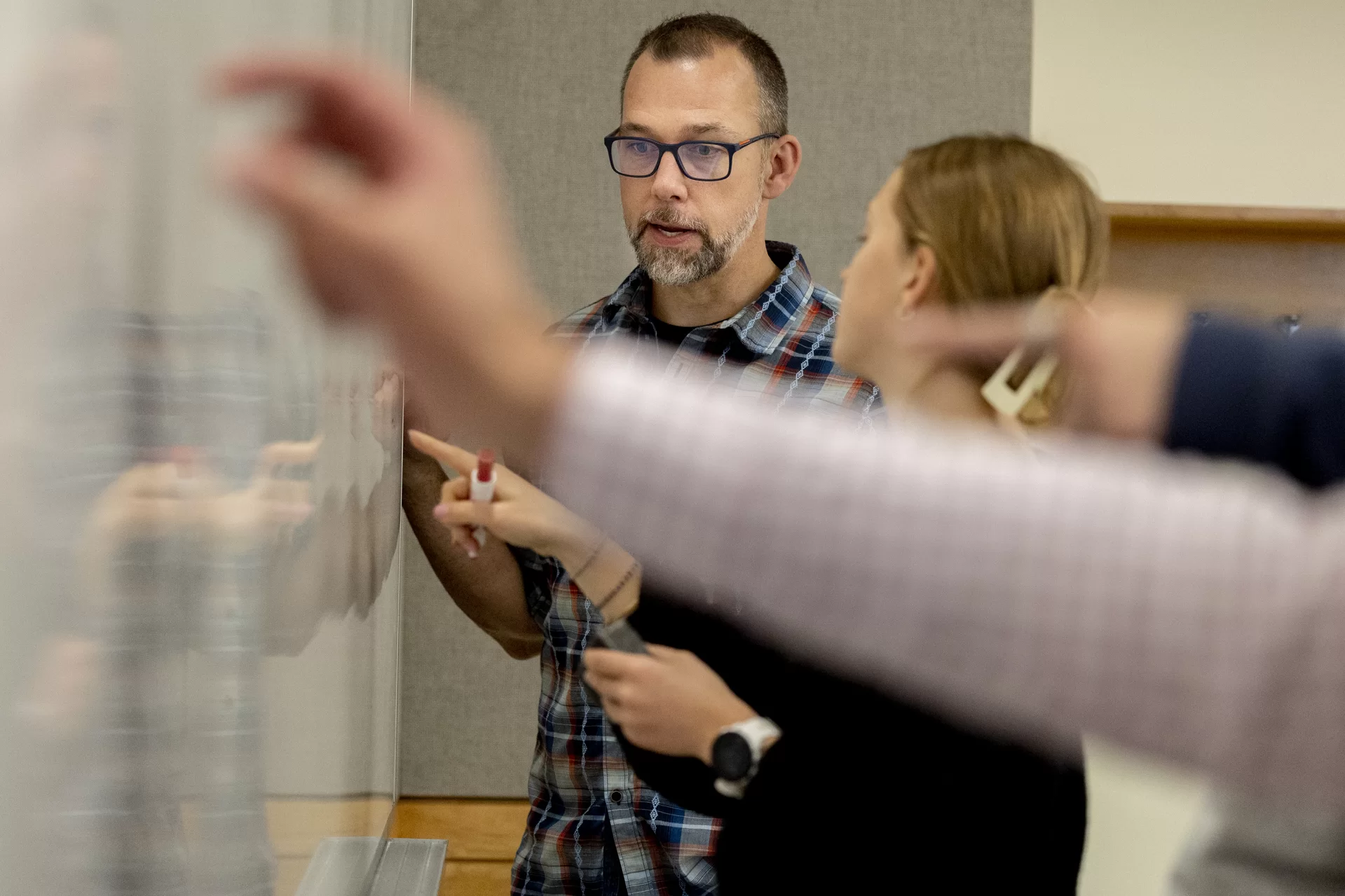 Barry Lawson, the Colony Family Professor of Digital and Computational Studies, helps Rebecca Anderson '24 of Boone, N.C., navigate through the process of using different algorithms to solve mazes with obstacles — a practice frequently used in AI and robotics for path finding.
---
Let's Play a Game!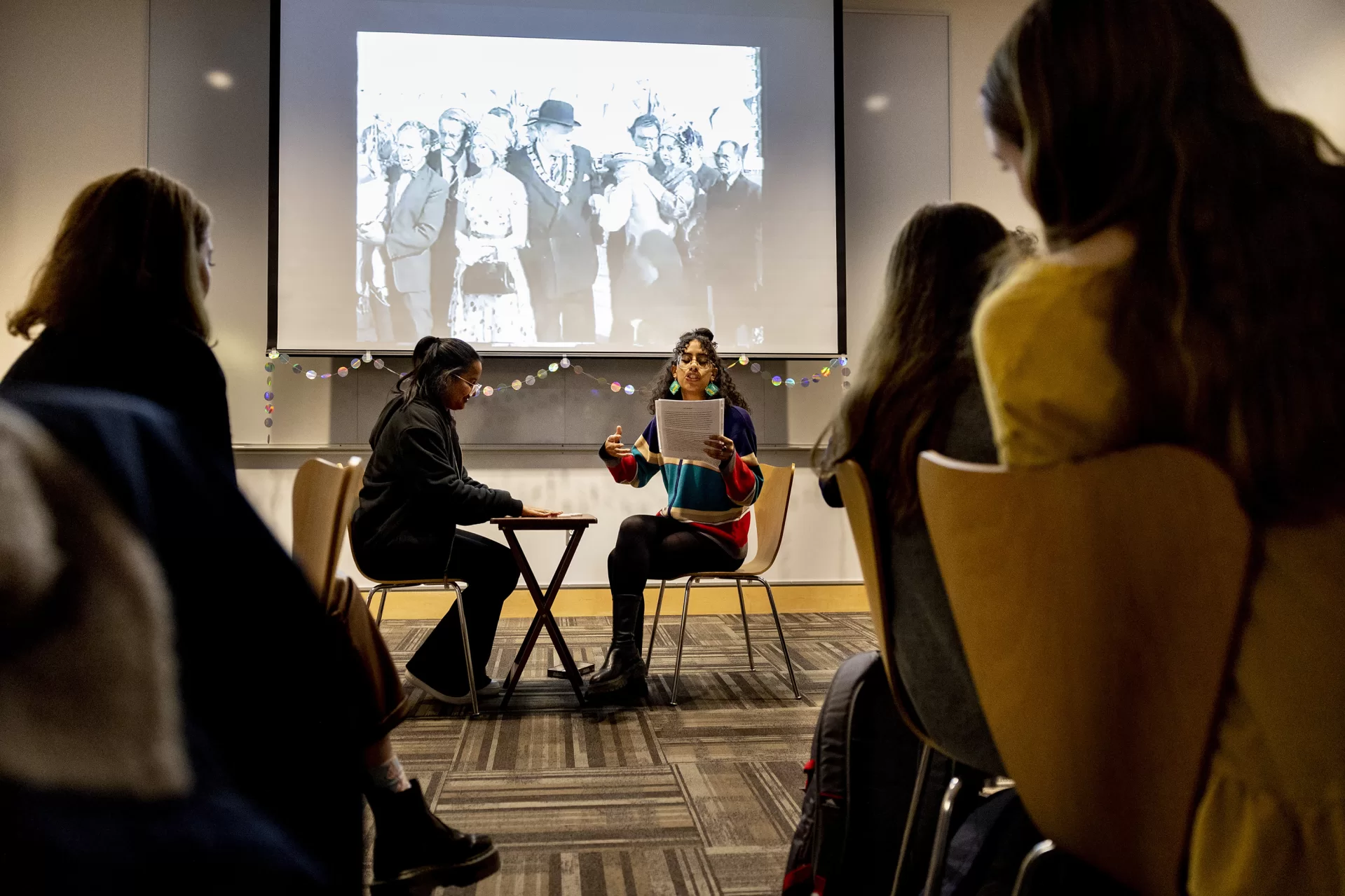 At this year's Multifaith Banquet, held in Commons, Yuleibi De Los Santos '26 (left) of the Bronx, N.Y., demonstrates how to play a game of dominoes, while Emily Diaz '23 of Corona, N.Y., performs a monologue featuring a story about Diaz's family playing the game, which is popular in Dominican culture. 
---
With Honors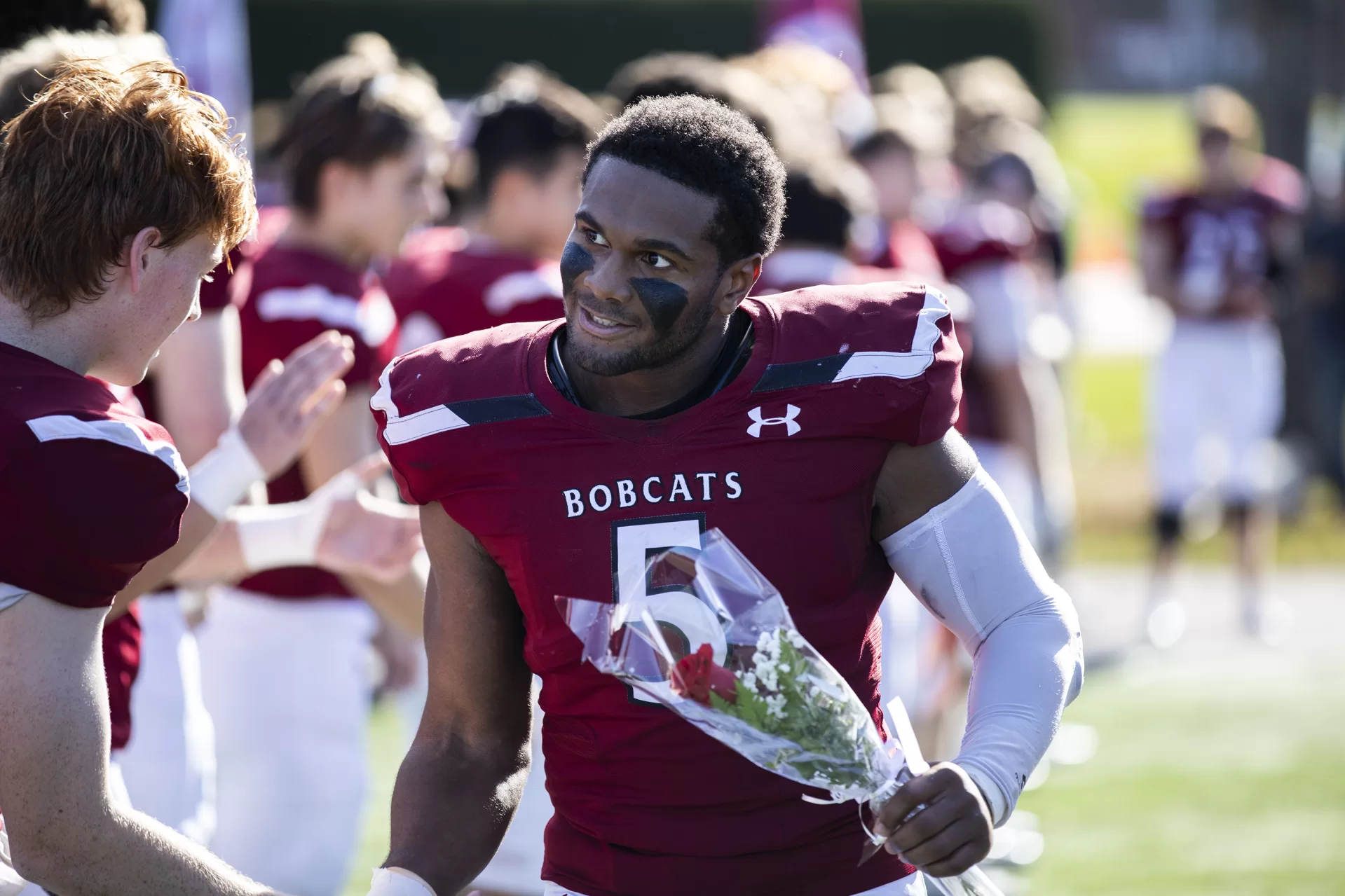 Linebacker and team captain Tony Hooks '23 of New Rochelle N.Y., was one of 20 seniors honored by the Bates football program prior to the Bobcats playing Trinity College at Garcelon Field in the final home game of the season.
---
It's a Wyeth World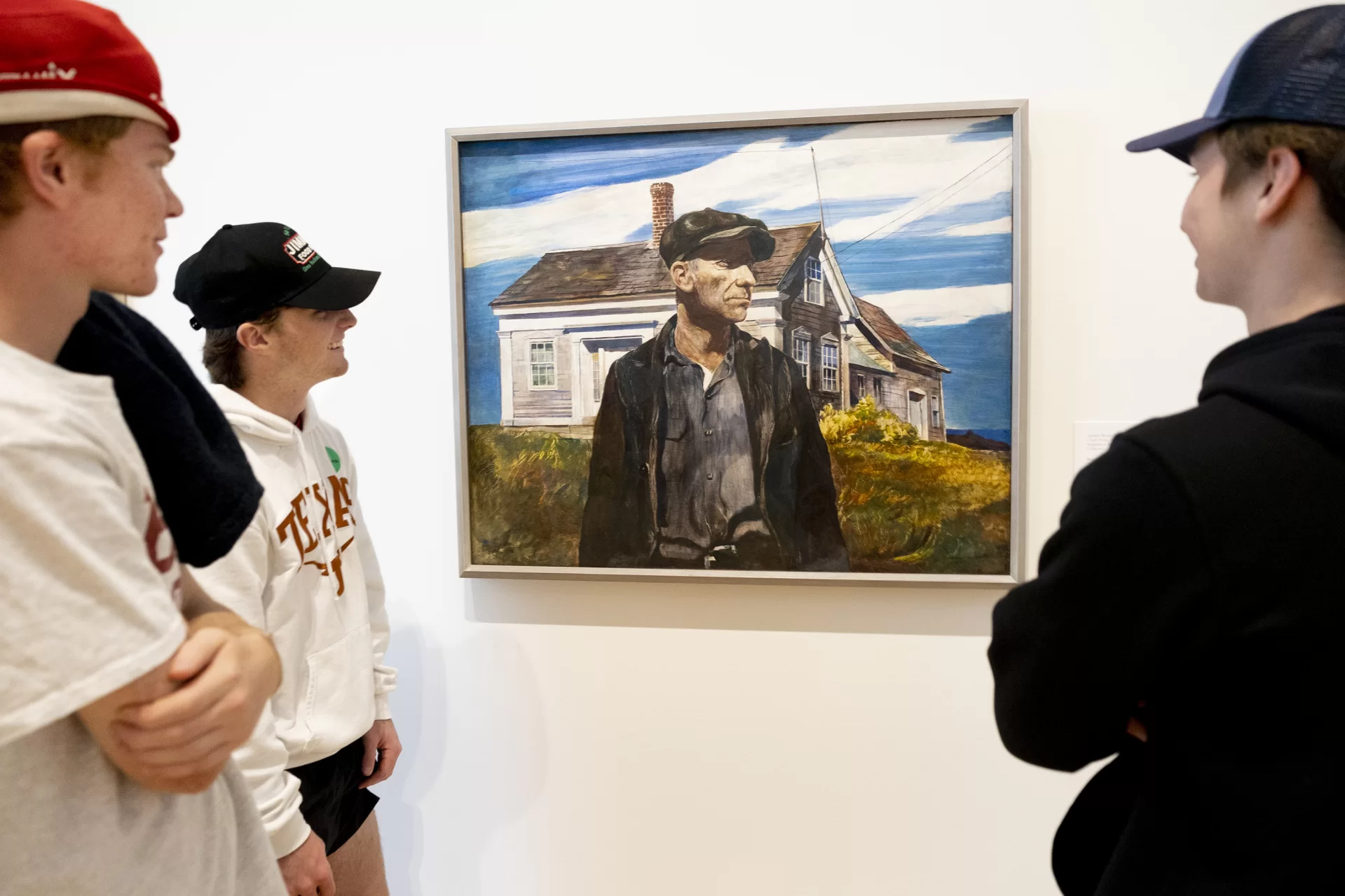 From left, Josh Smith '26 of Farmington, Maine, Joe Yoxall '26 of Dallas, and Liam Shlager of Ross, Calif., visited the Wyeth Center at the Farnsworth Museum of Art in Rockland, as part of their First-Year Seminar, "Inventing New England: The World of the Wyeth Family." The center features artworks from all three generations of painters, including this 1937 piece by Andrew Wyeth, Charlie Ervine.
---
Midterm Mindset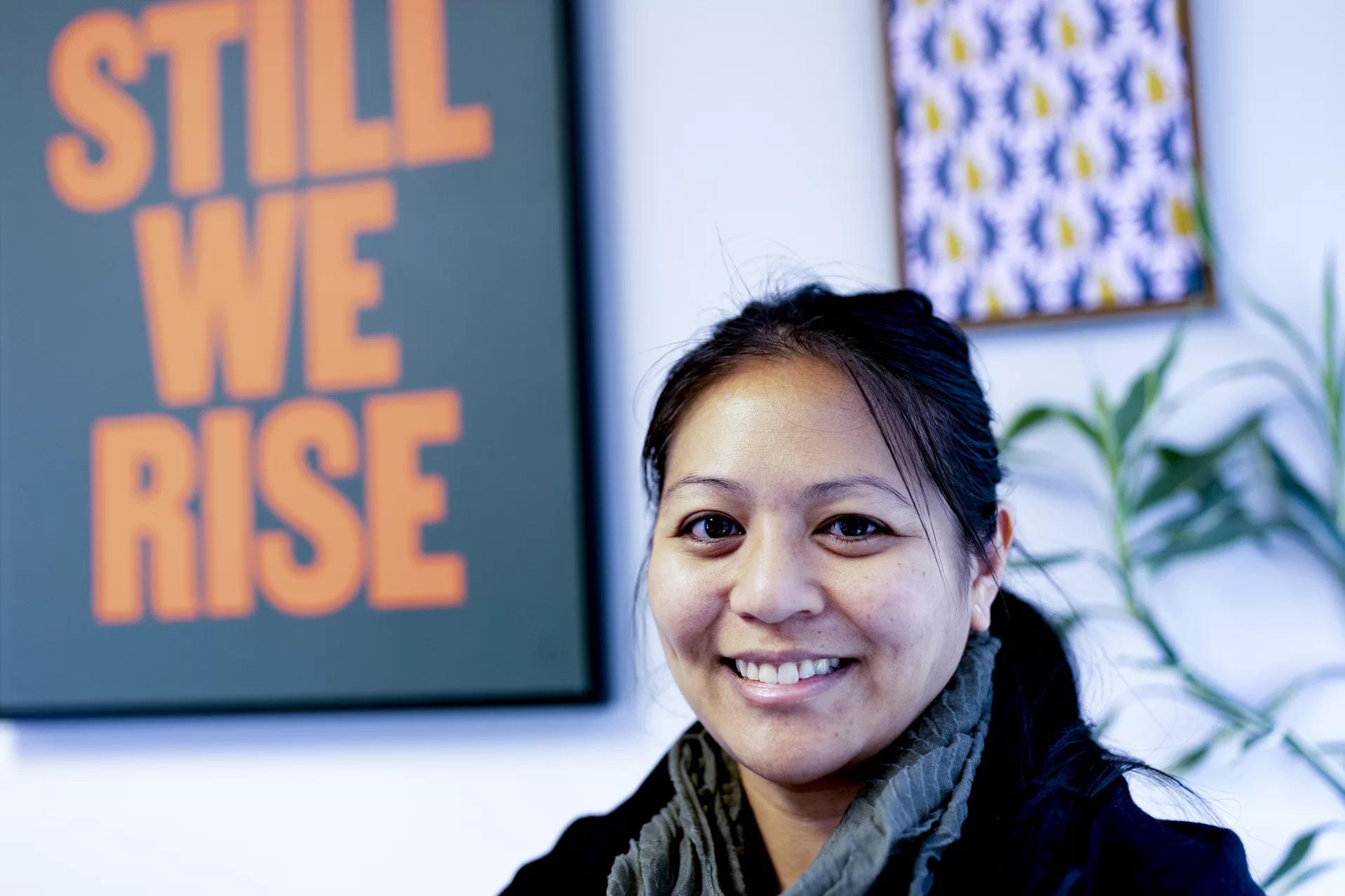 Jenna Dela Cruz Vendil '06 is associate director of democratic engagement and student activism at the Harward Center for Community Partnerships. During the runup to the mid-term election, she was a busy figure on campus helping educate students elections and voting.
"Students don't need to be told that politics impacts their lives. They feel it, and they live it," she said.
---
Cause for Celebration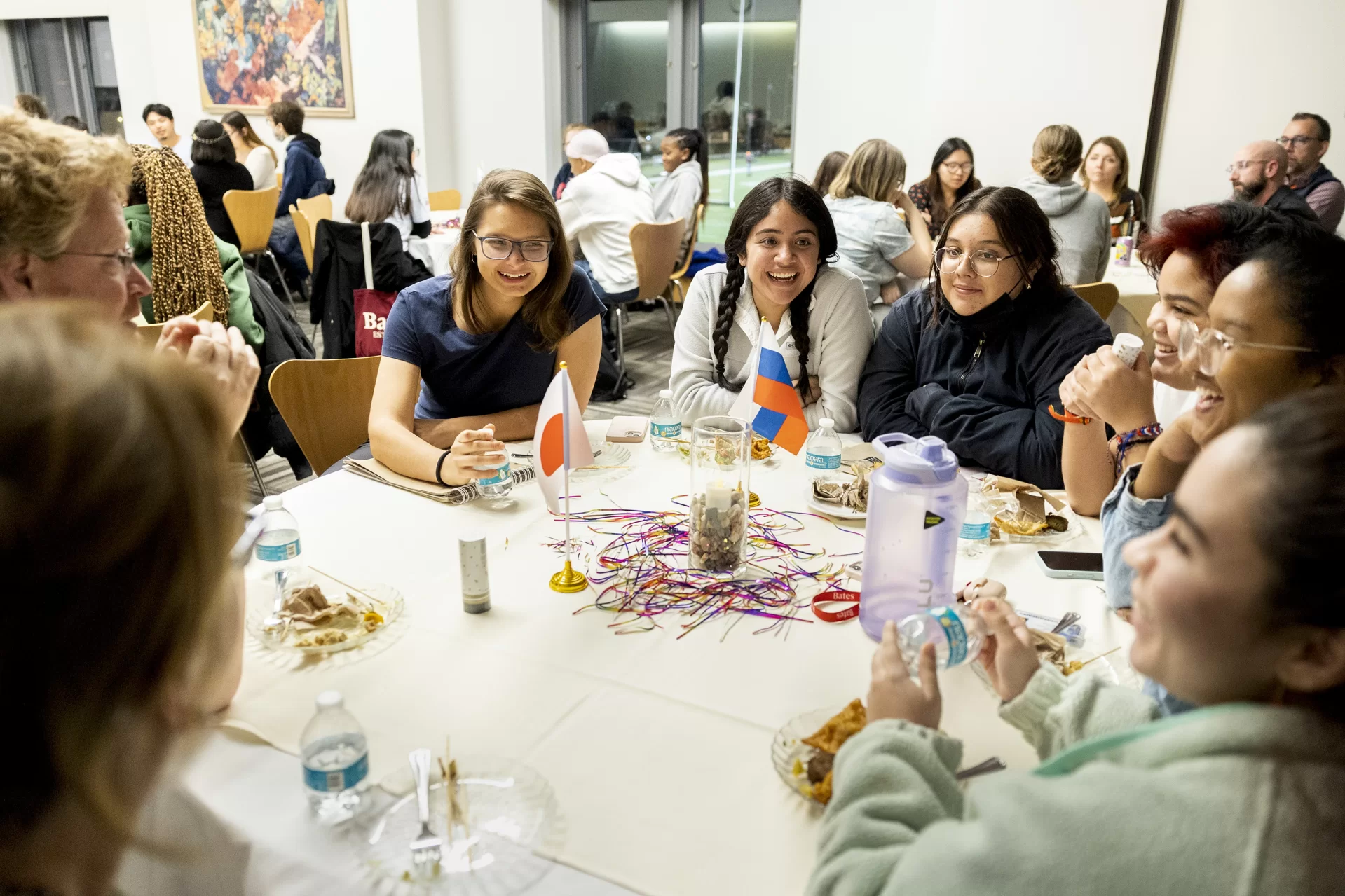 Laughter is shared around the table in Commons as students, staff, and faculty gather for the First-Generation Celebration Dinner, held in early November to coincide with national First-Generation Celebration Day.
---
Fan Fervor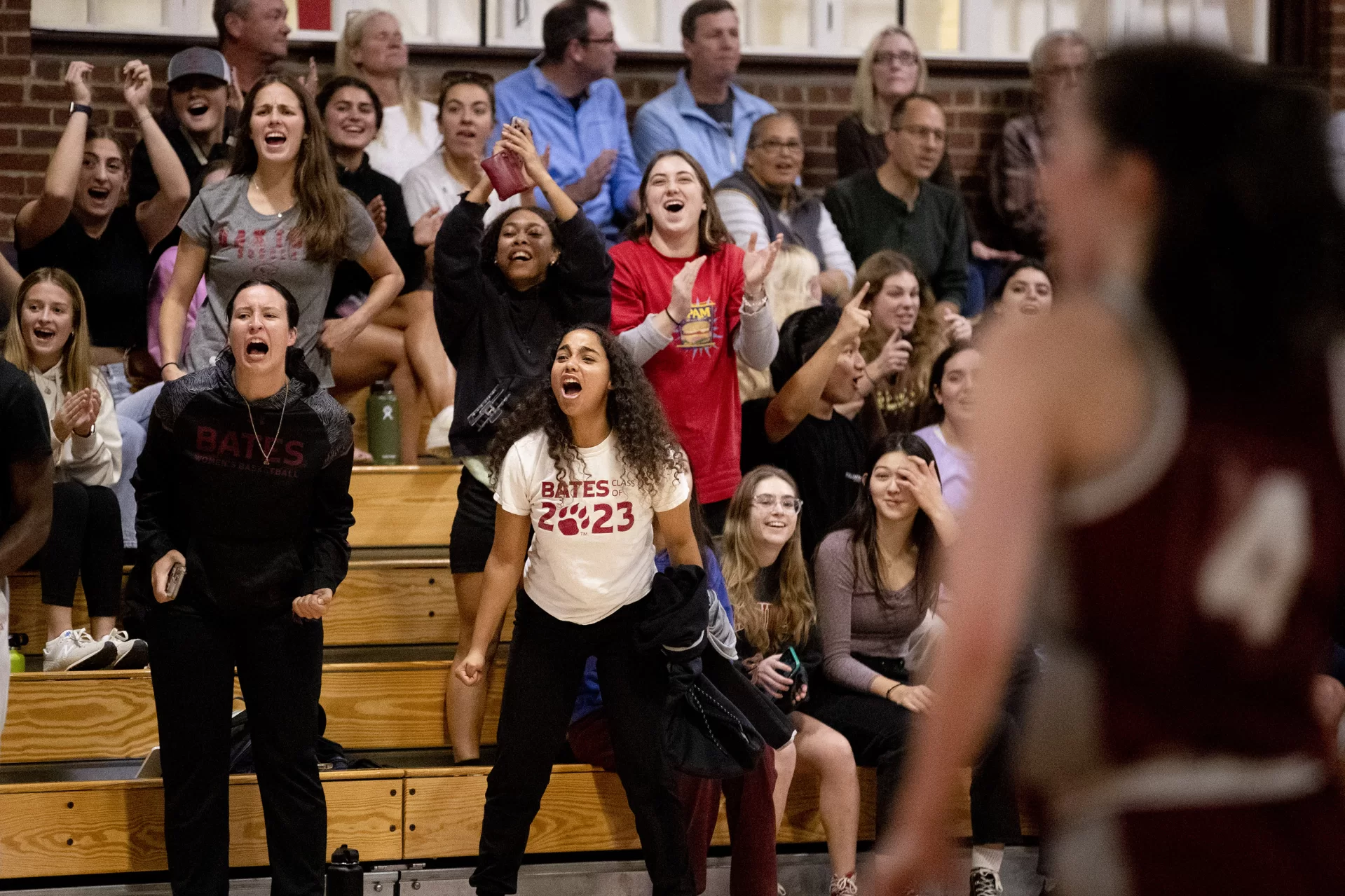 Bates fans cheer on the women's basketball team during the season opener for the defending NESCAC champions against Tufts University at Alumni Gym.
---
Taps in Tribute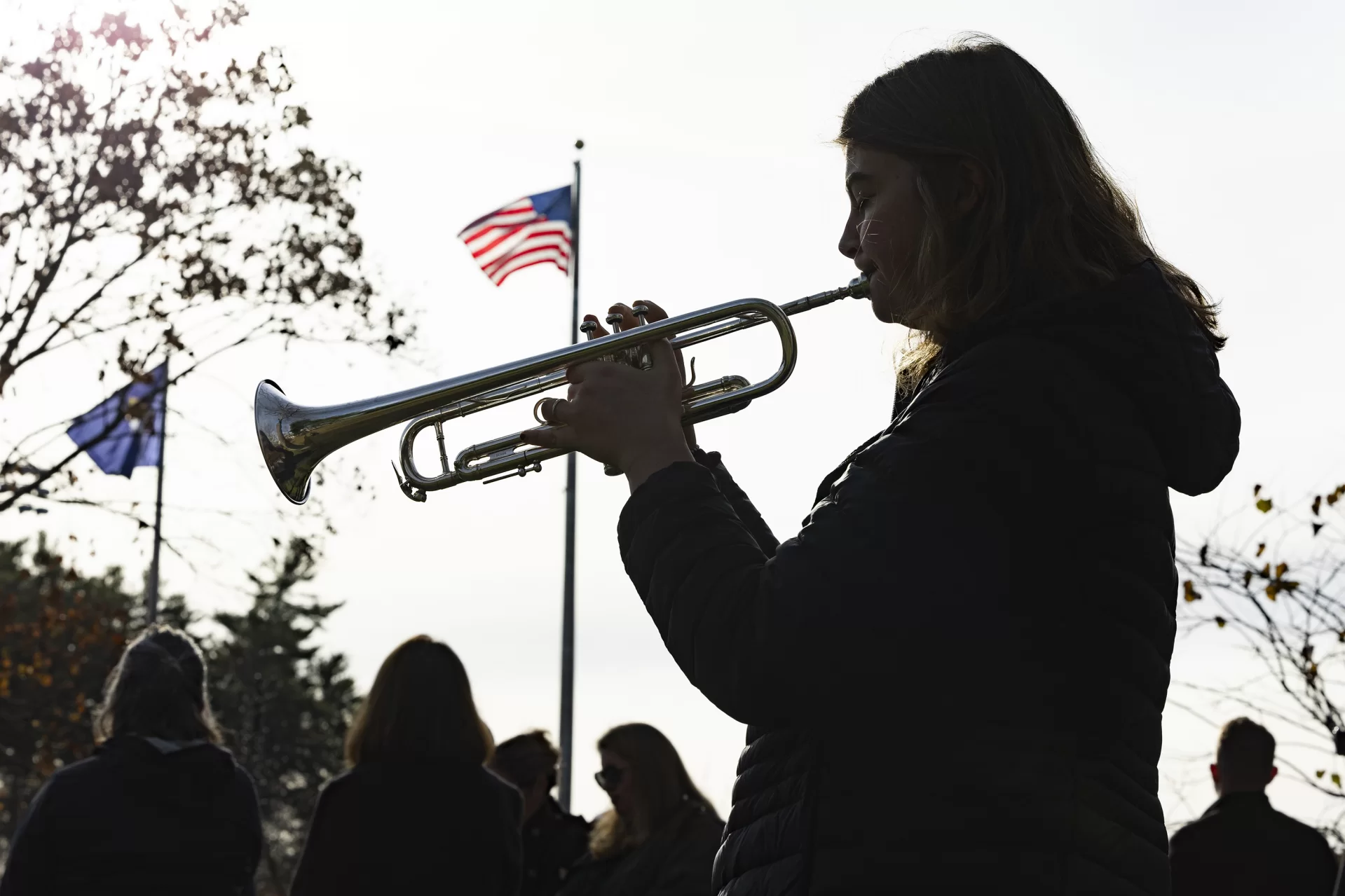 Sophia Cattalani '25 , a sociology major from Skaneateles, N.Y., plays taps during a morning Veterans Day service led by the Multifaith Chaplaincy and held at Veterans Plaza. Playing brought back memories for Cattalani of playing taps during Memorial Day parades in her town. "It's really a really beautiful thing."
---
Laying It On the Line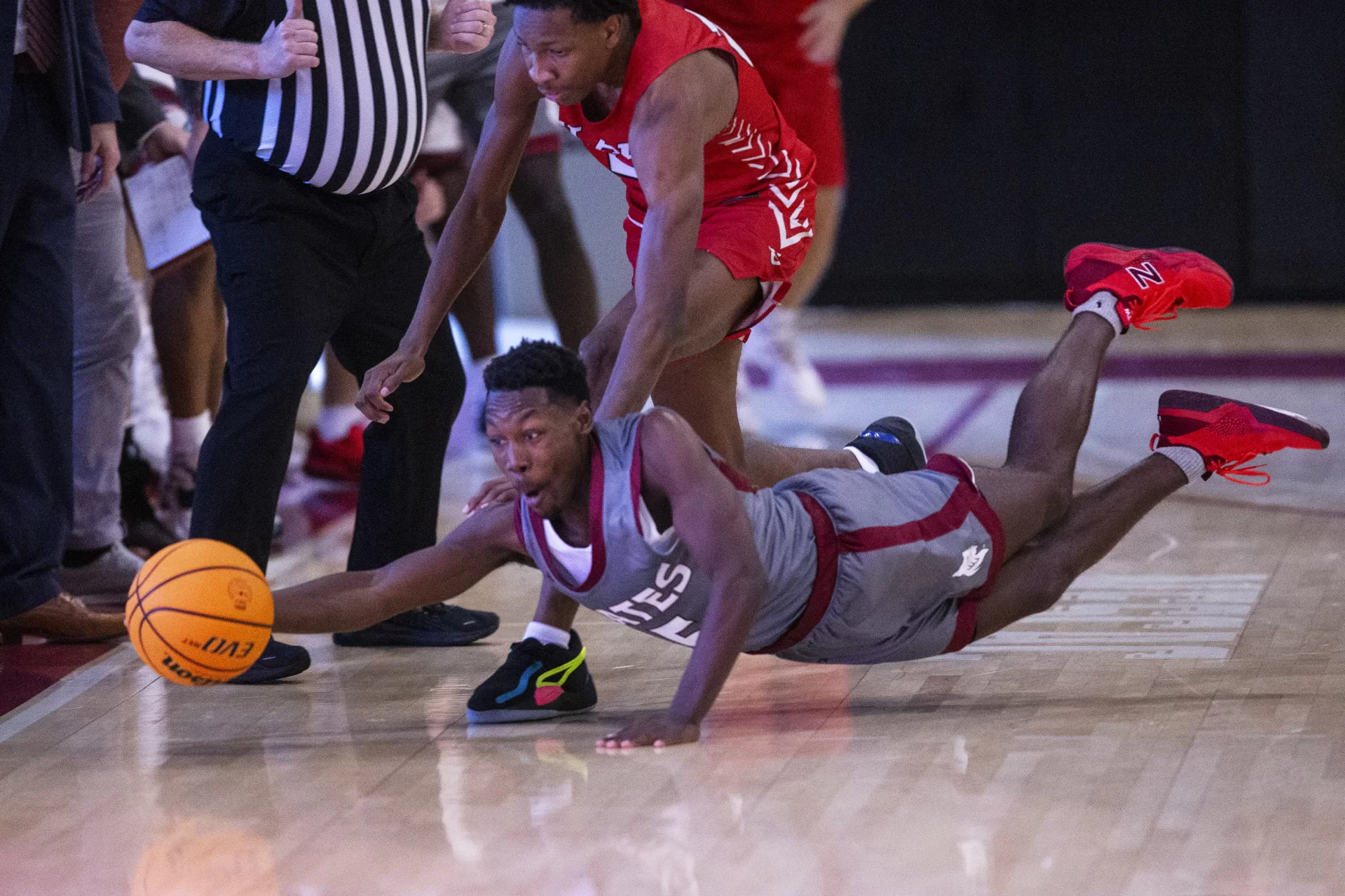 Simon McCormick '24, of Whitefield, Maine, dives for a loose ball in the Bates men's basketball team's season opener against Clark University at Alumni Gym.
---
'Voting Is Sexy'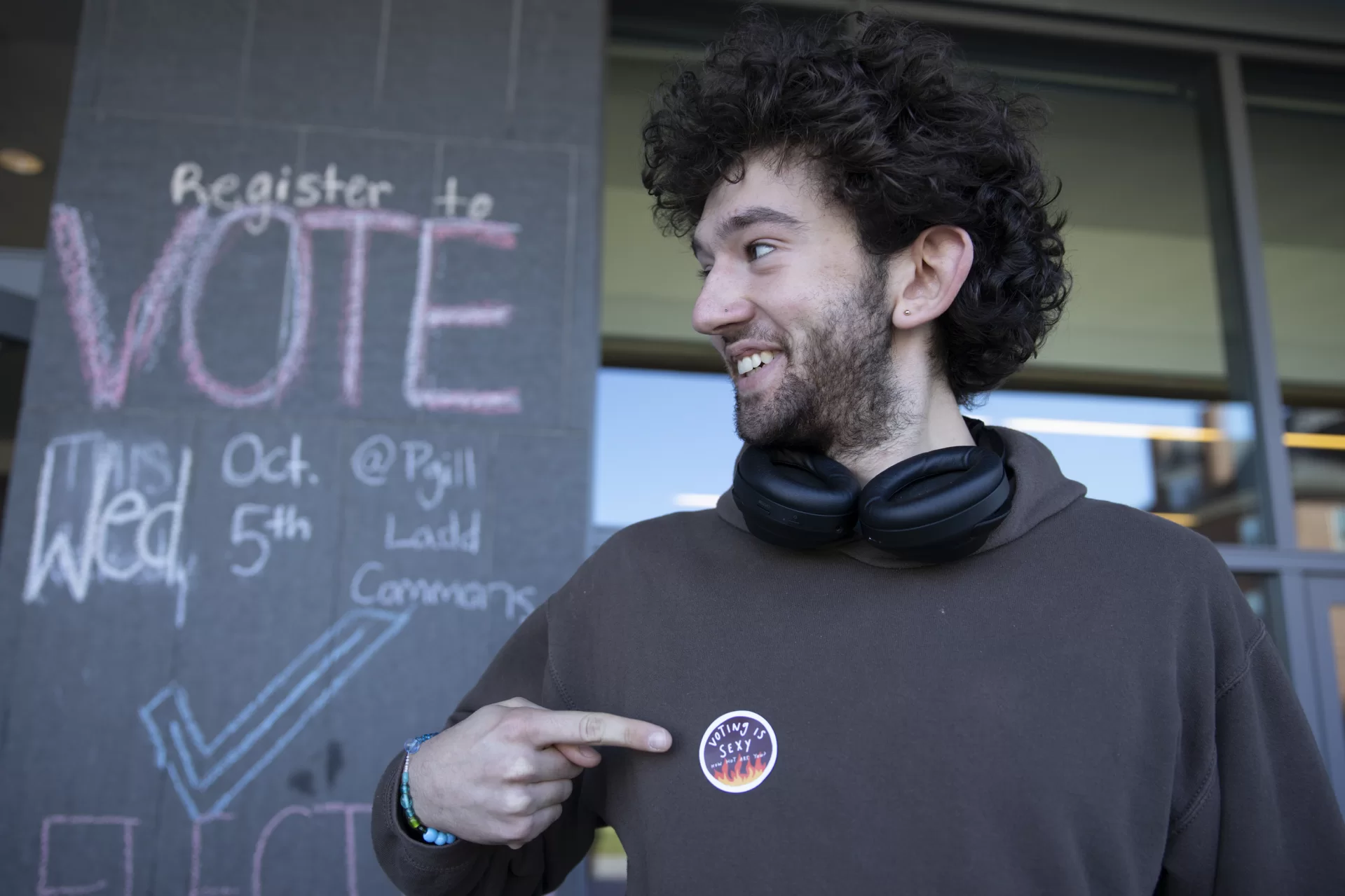 In front of Commons, Ben Cohen '23 of Wellfleet, Mass., points to his "Voting Is Sexy" sticker. The sticker was one of two student-designed stickers created for the college's "I voted" contest. Cohen woke up at 6 a.m. to be among the first to vote on election day in this year's mid-term election.
---
Thesis Thinking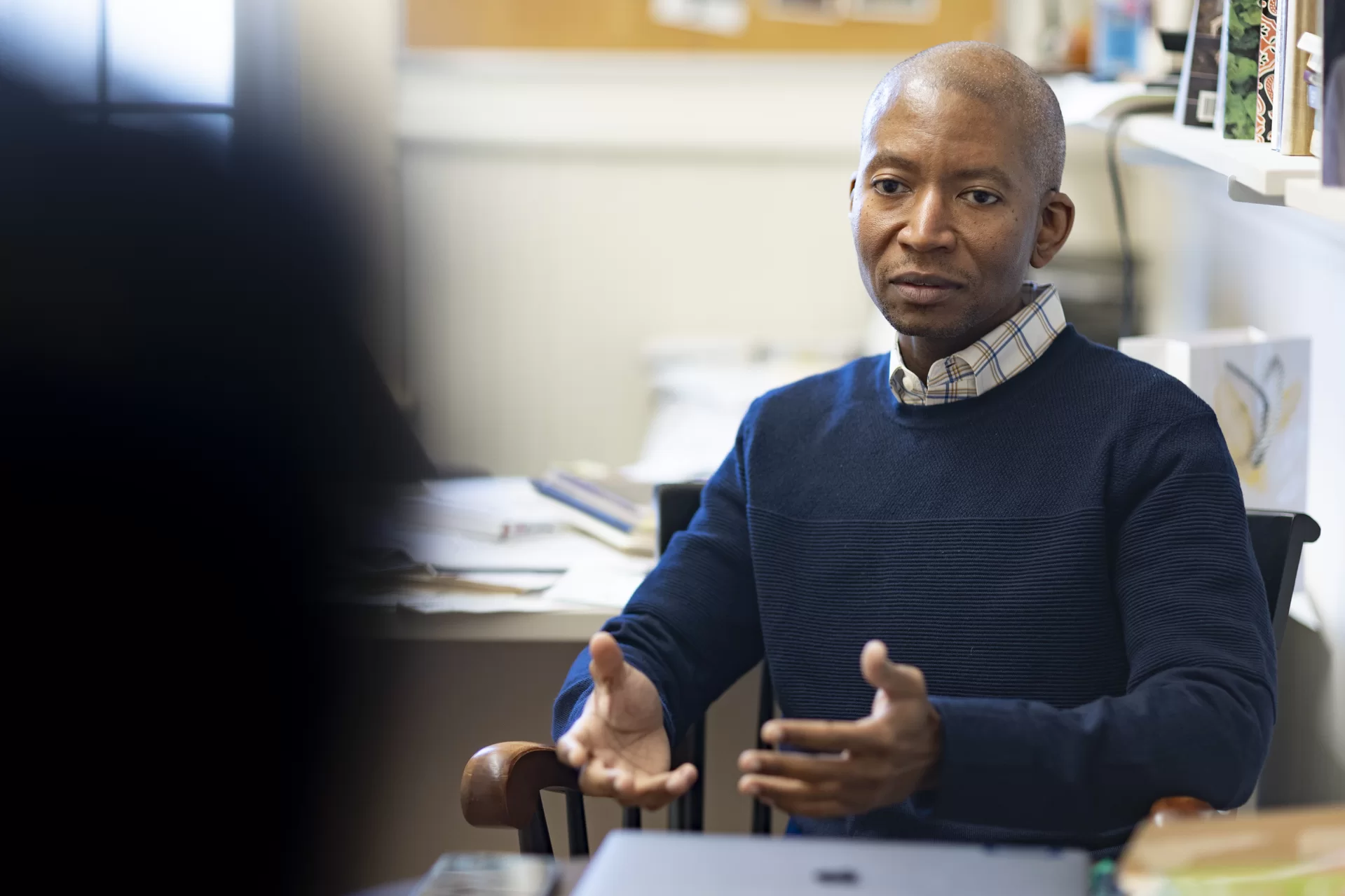 Assistant Professor of English Myronn Hardy meets with a thesis student, Alexander Tan '23 of Hong Kong, to discuss Tan's thesis, a collection of poetry that centers around the question of belonging and departing.
---
Lights and Laughter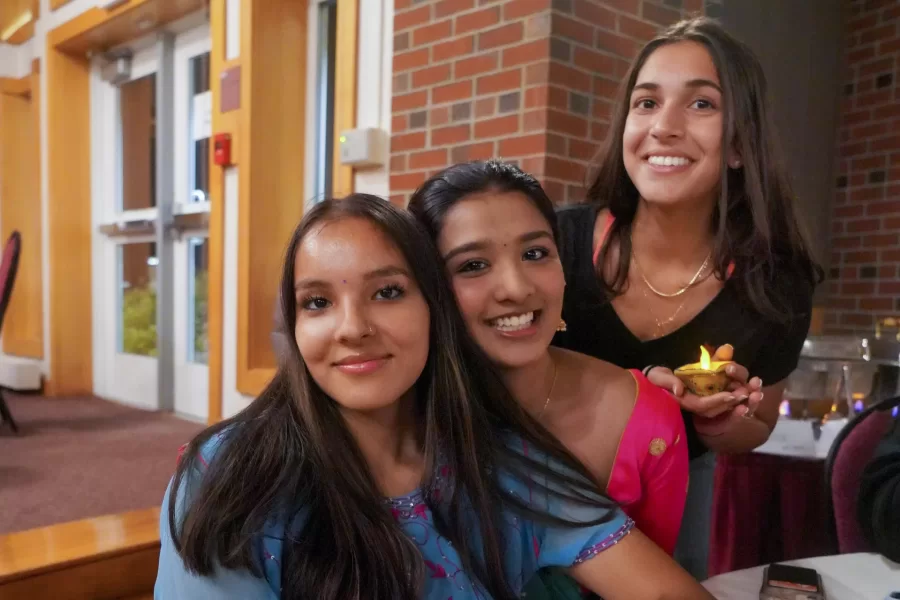 From left, Ganga Corsaro '26 of St. Paul, Minn., Sivani Arvapalli '26 of South Windsor, Conn., and Ariya Tayal '26 of Pittsburgh pose for a photograph as they gather with others to celebrate Diwali, the Hindu festival of lights, in the Benjamin Mays Center.
---
'Tickets, Please!'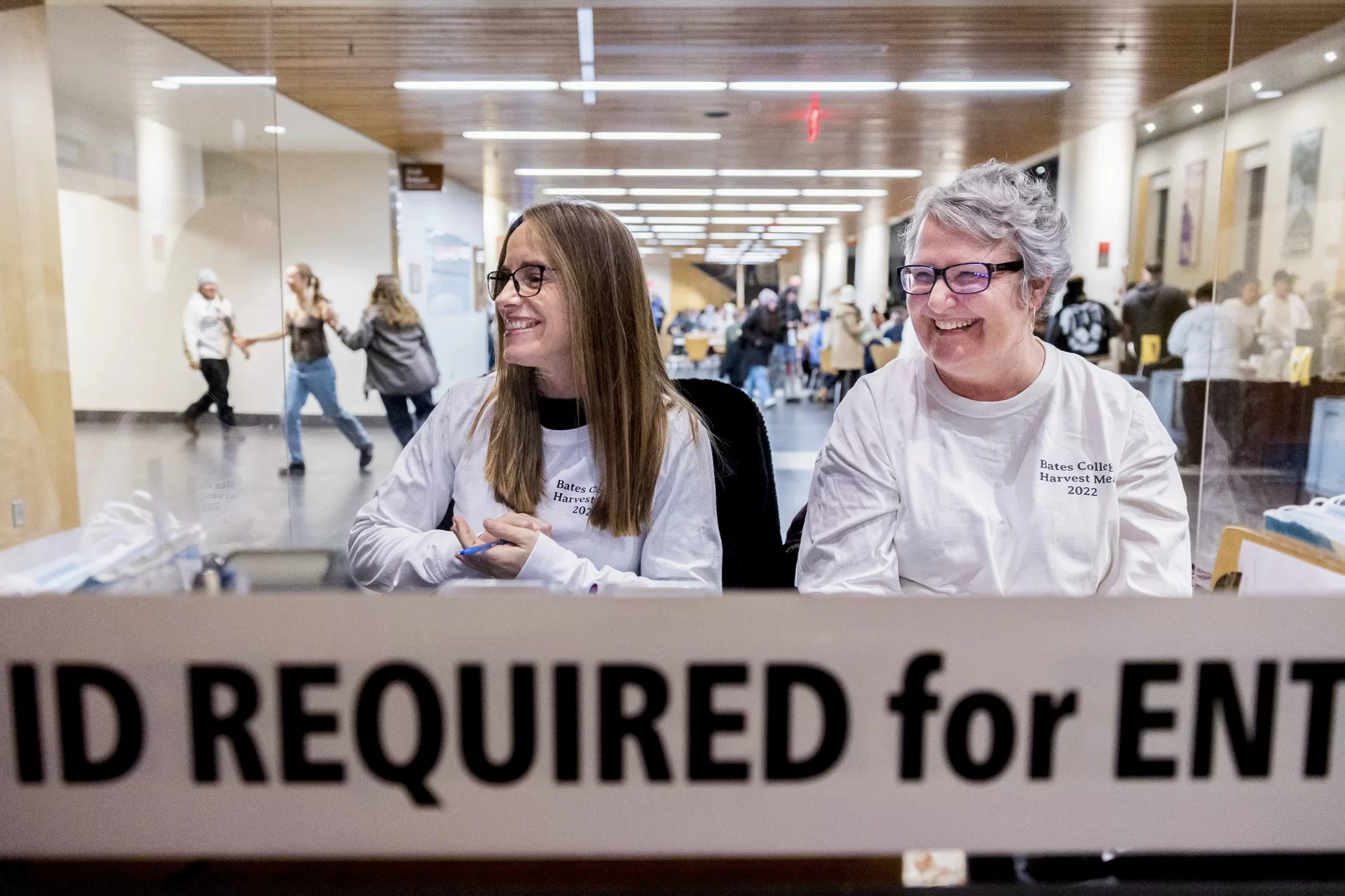 Greeting guests at the annual Harvest Meal in Commons are ID checkers Associate Professor of Economics Sandra Goff (left) and Melani McGuire, director of HRIS and project management for Human Resources.
Dance Party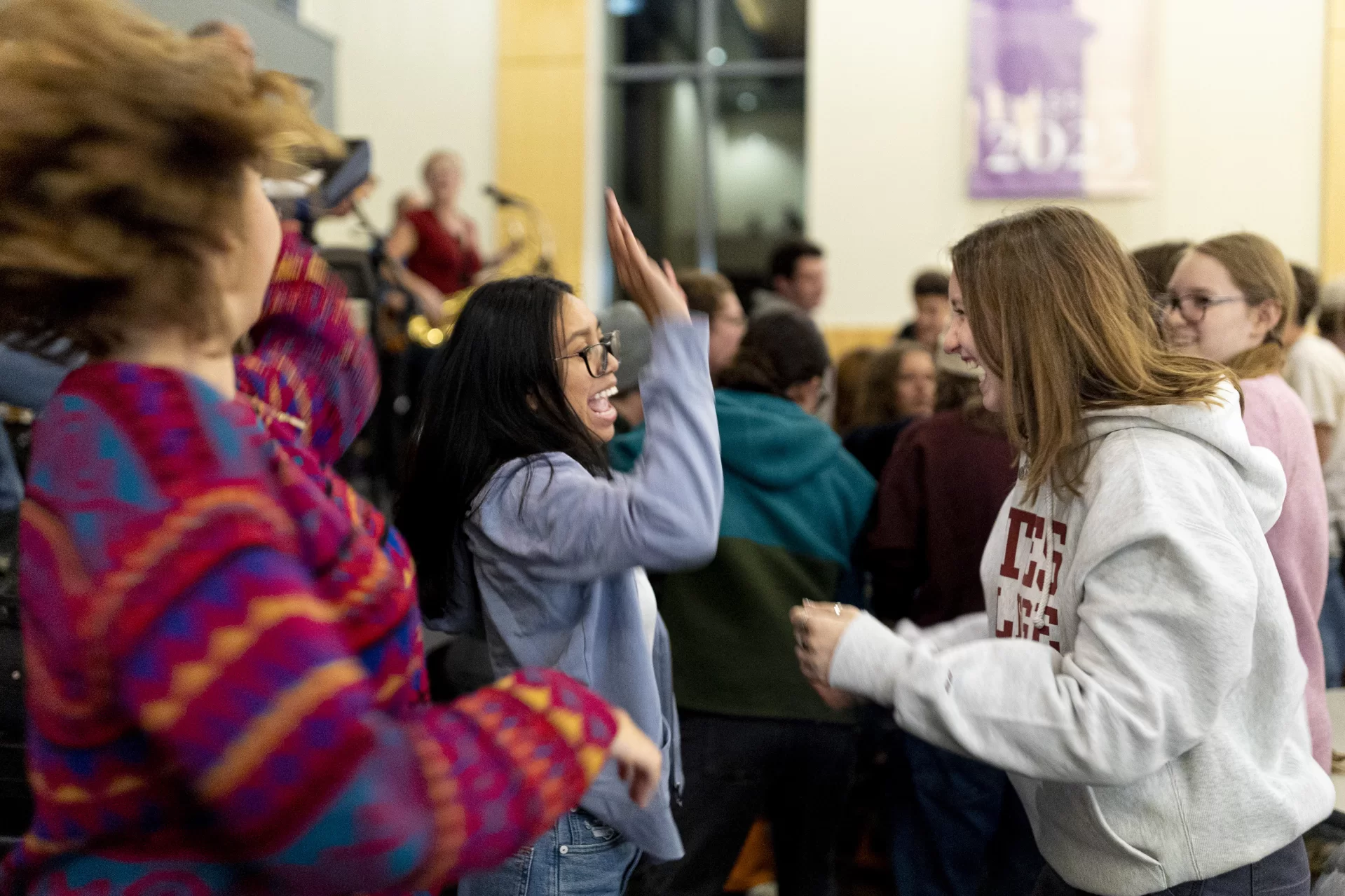 Marin Ackermann '26 (left) of Mount Kisco, N.Y., and Maia Seigerman '26 of Larchmont, N.Y., dance to the live music at Harvest Meal in Commons.
---
A Look for the Books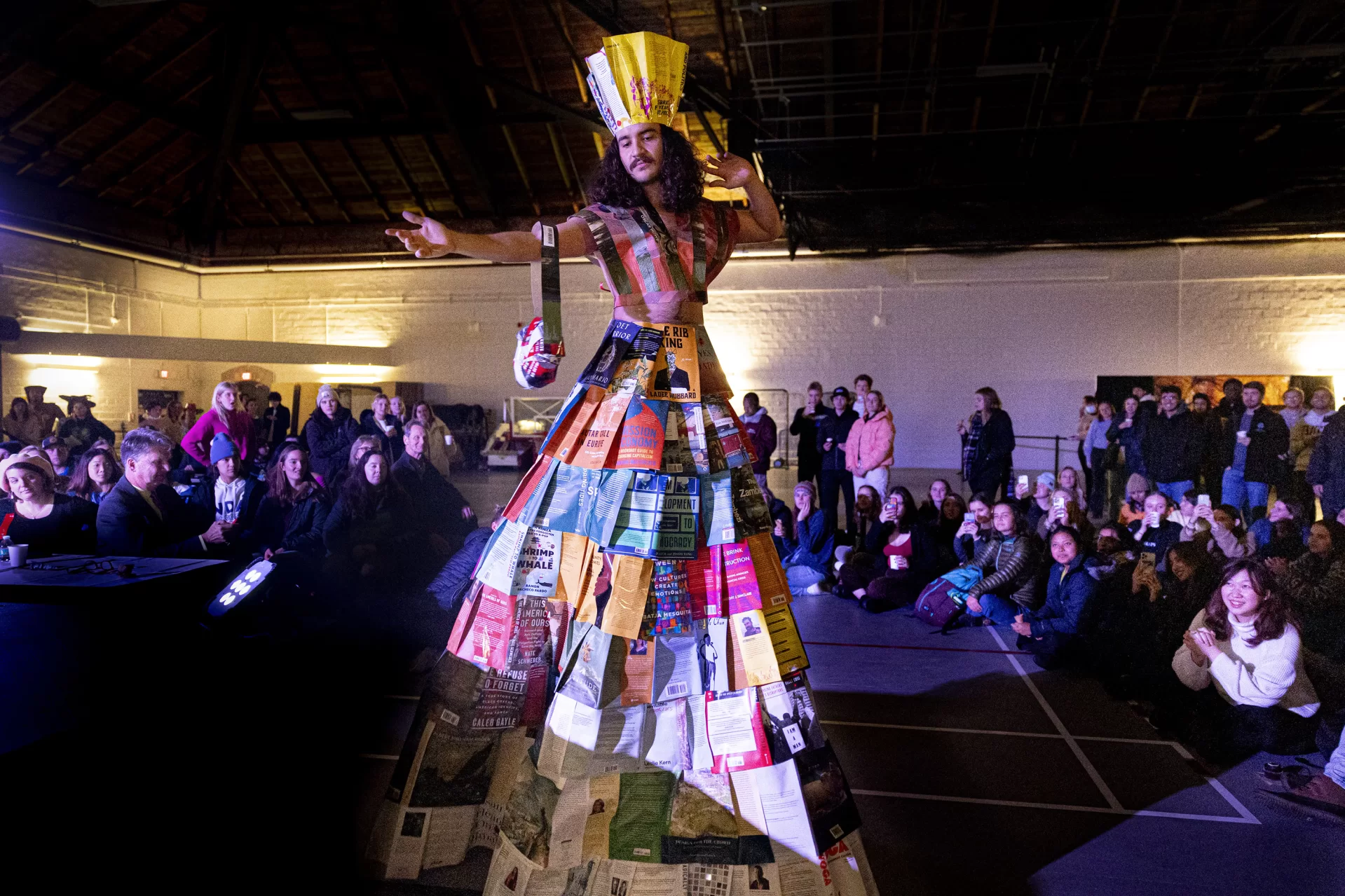 The reviews are in: This look will fly off the shelves — literally! Miguel Pacheco '24 of San José, Costa Rica, models the first-place winning outfit, designed by Sloan Phillips '25 of Evergreen, Colo., at Bates' 16th annual Trashion Show, held in the Gray Athletic Building.
---
S'No Place Like Maine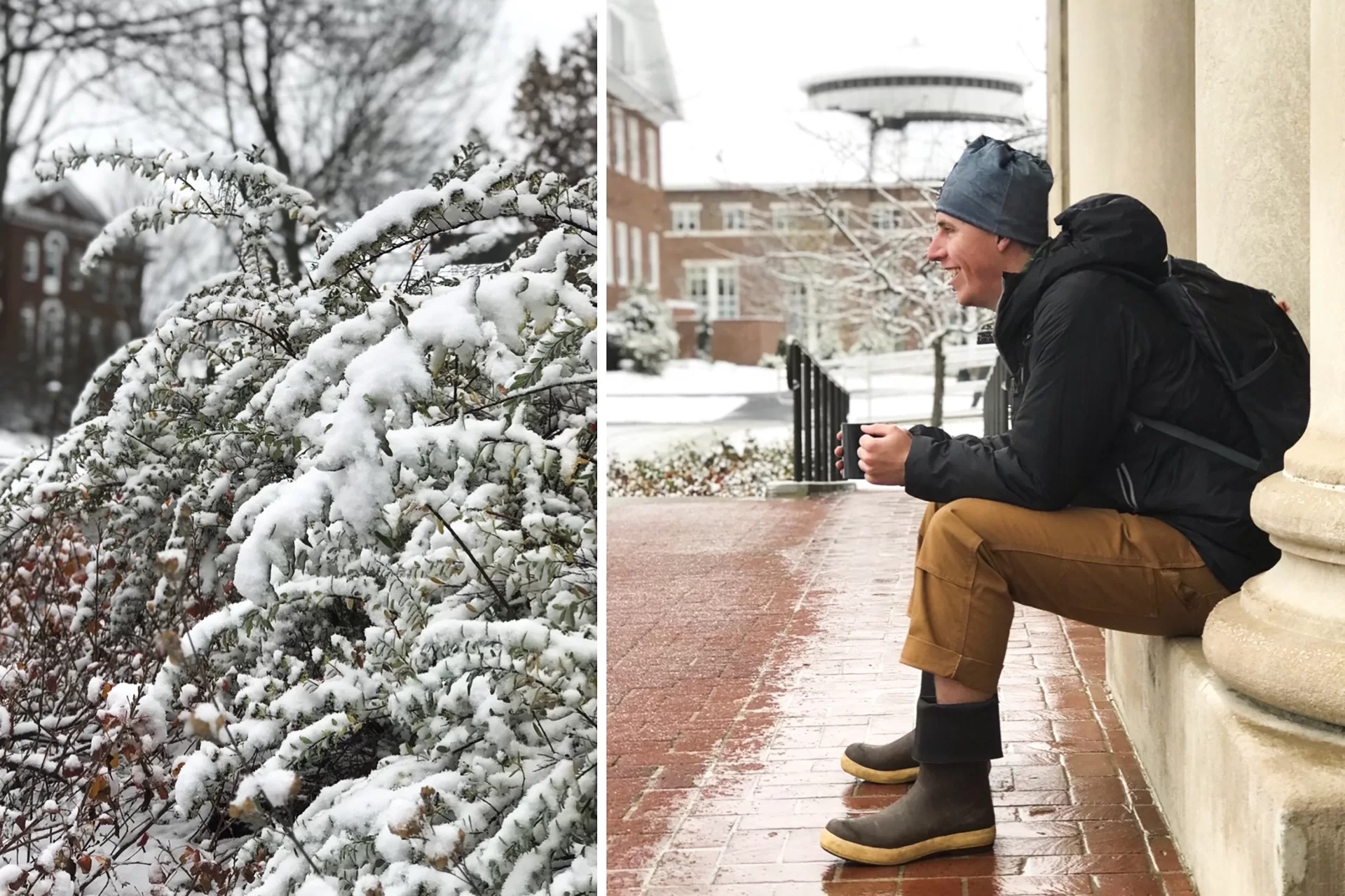 Ethan Baker '24, an environmental studies major from Jackson, N.H., sits on the steps of Coram Library to watch the season's first snowfall — greatly anticipated, since the snow is Maine's main draw for him.
"I wait all semester for this."
---
Power Play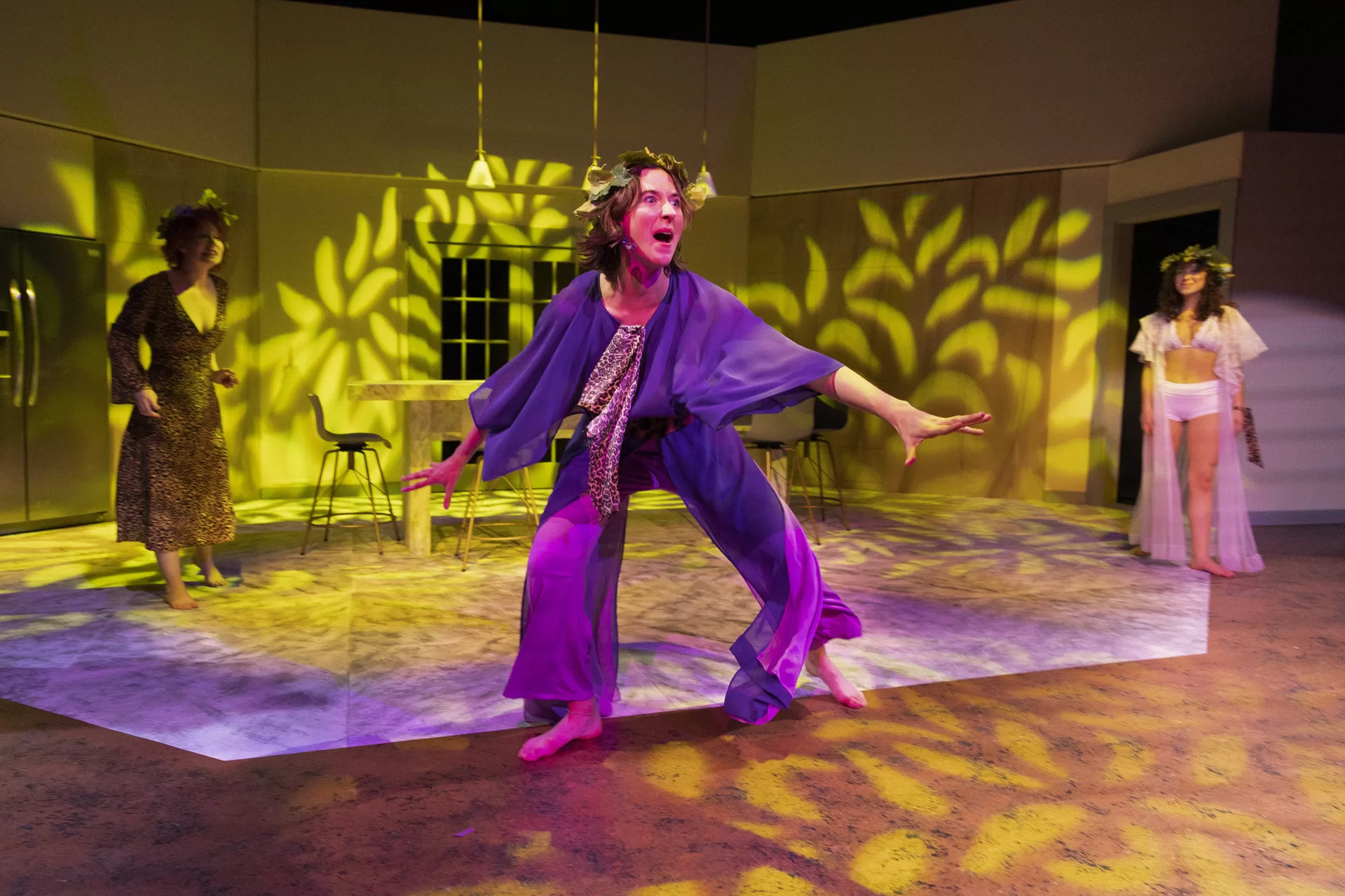 Alexa Bowerfind '24 of Portland, Ore., commands the Gannett Theater stage as the deity Diane, a modern-day Dionysus, in Hurricane Diane, directed by Kush Sharma '23 of Delhi, India.
---
Cooks in the Kitchen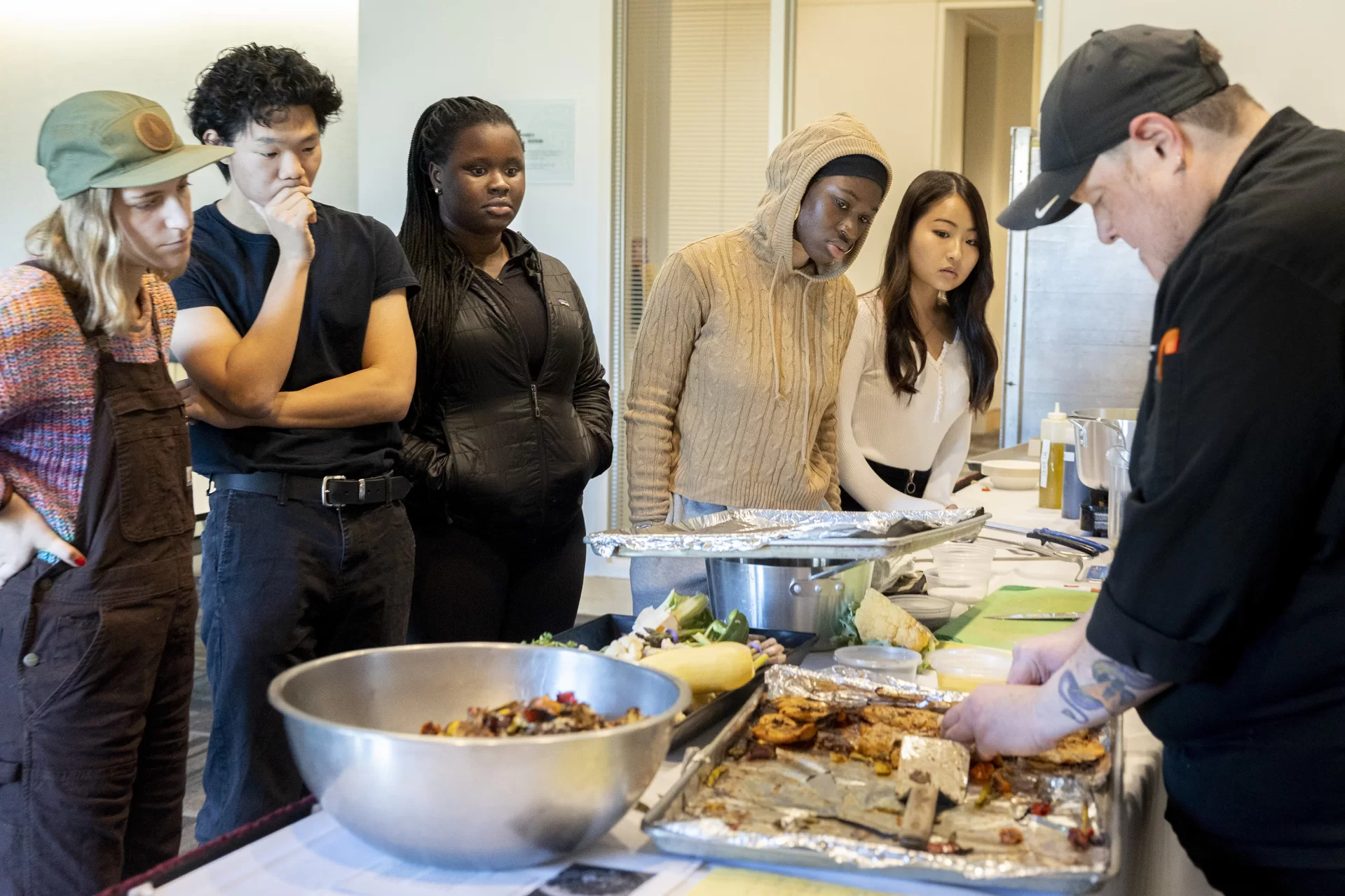 Students watch intently as Dining Services Executive Chef Owen Keene prepares roasted chicken and vegetables for a pasta salad. The cooking demonstration sponsored as part of the "Life After Bates" series from the Center for Purposeful Work and the Office for Intercultural Education.
From left, Gabrielle Brewer '23, Benjamin Conner '22, Jessica Kissi '23, Sokona Mangane '23, and Ayano Nakamura '23.
---
Happy Little Rainbows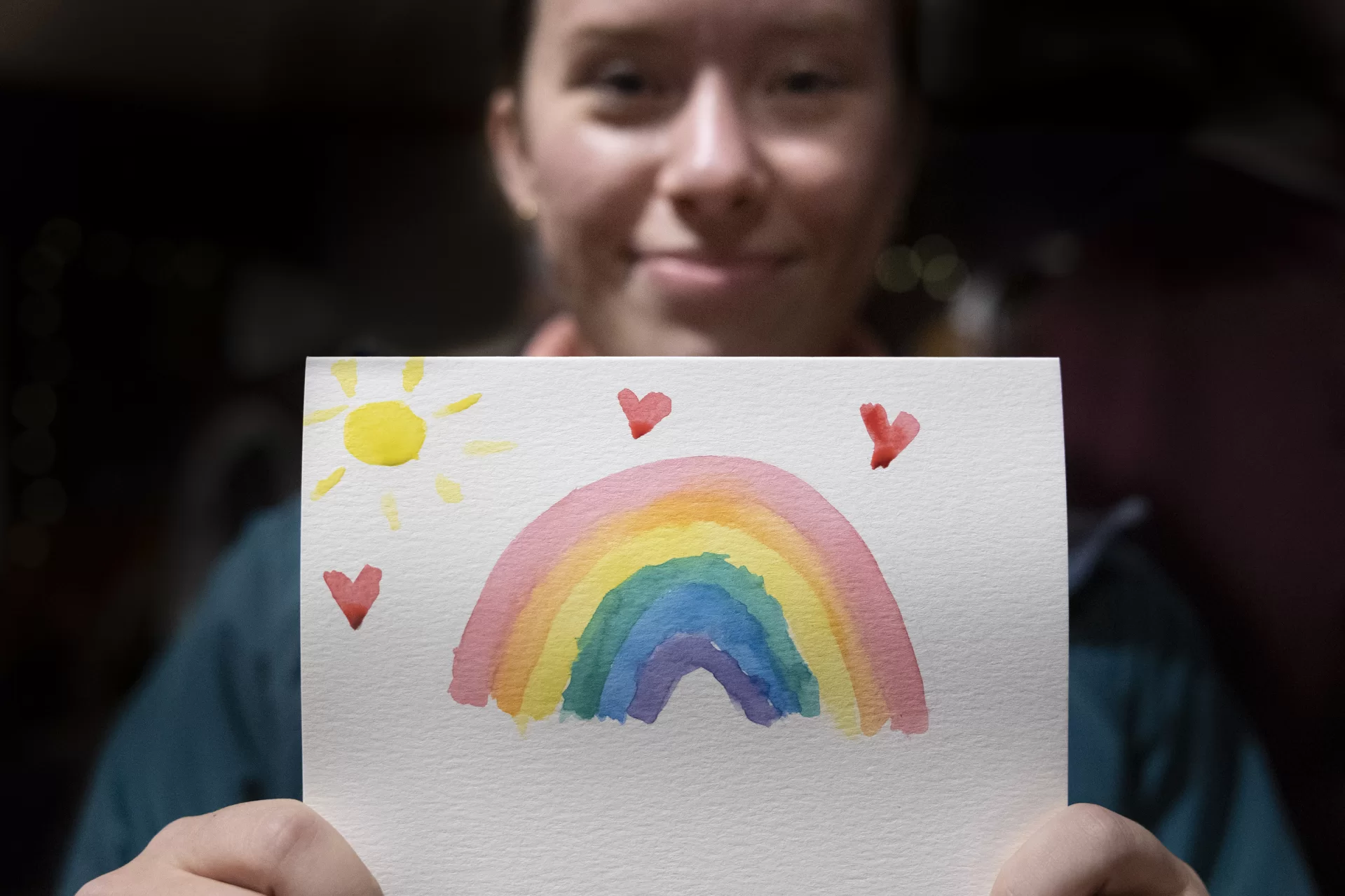 Mikayla Burse '26 of Rumford, Maine, shows her rainbow watercolor, created at the Ronj during an event, sponsored by the Multifaith Chaplaincy, inviting students to paint postcards to mail to loved ones.
---
Post-Holiday Hug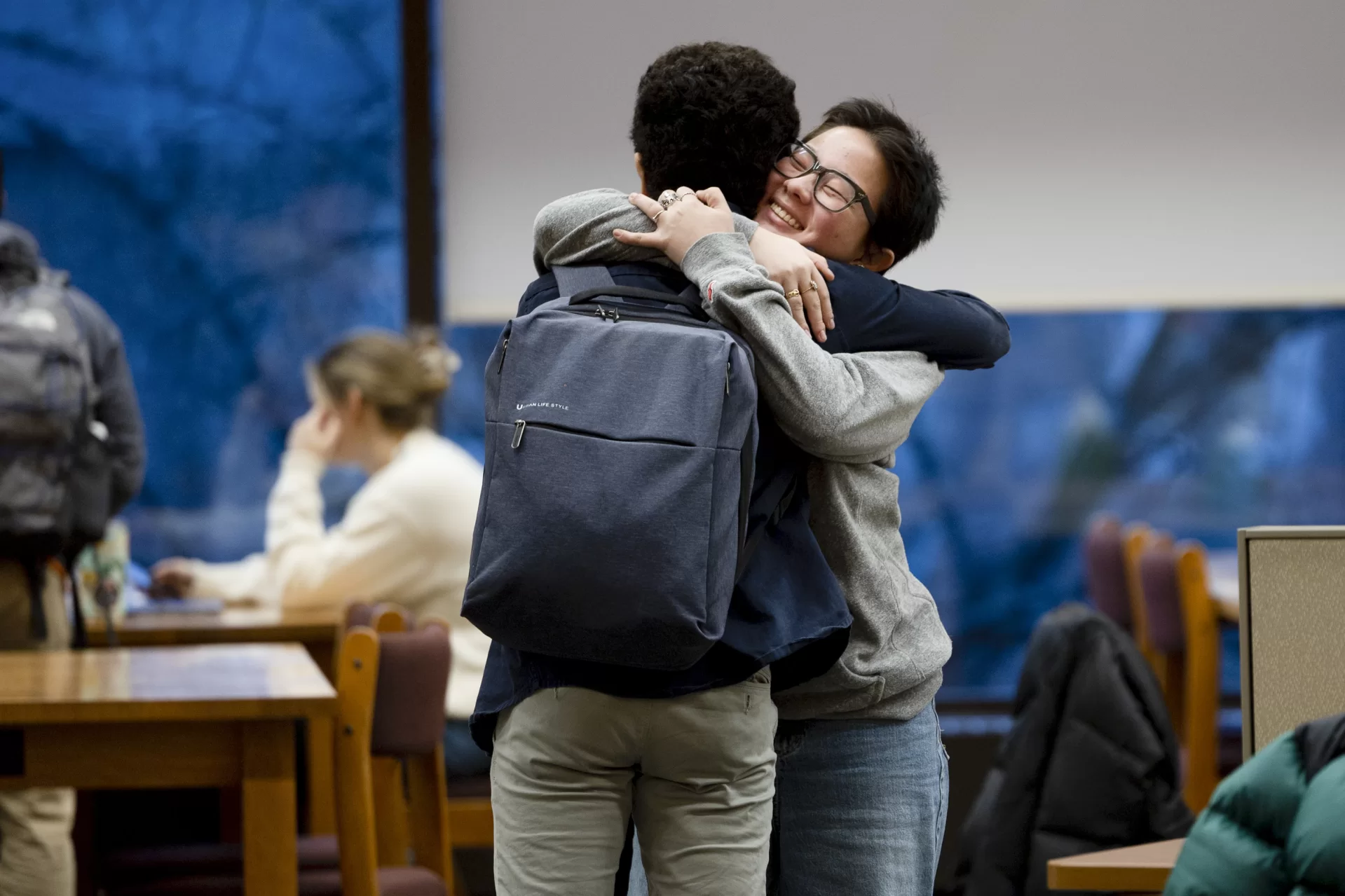 Sophie Hafter '25 (right) of Brooklyn,N.Y., greets Abdul Rafay '25 of Lahore, Pakistan, with a hug in Ladd Library on the Monday after Thanksgiving break.
---
Ice, Ice, Baby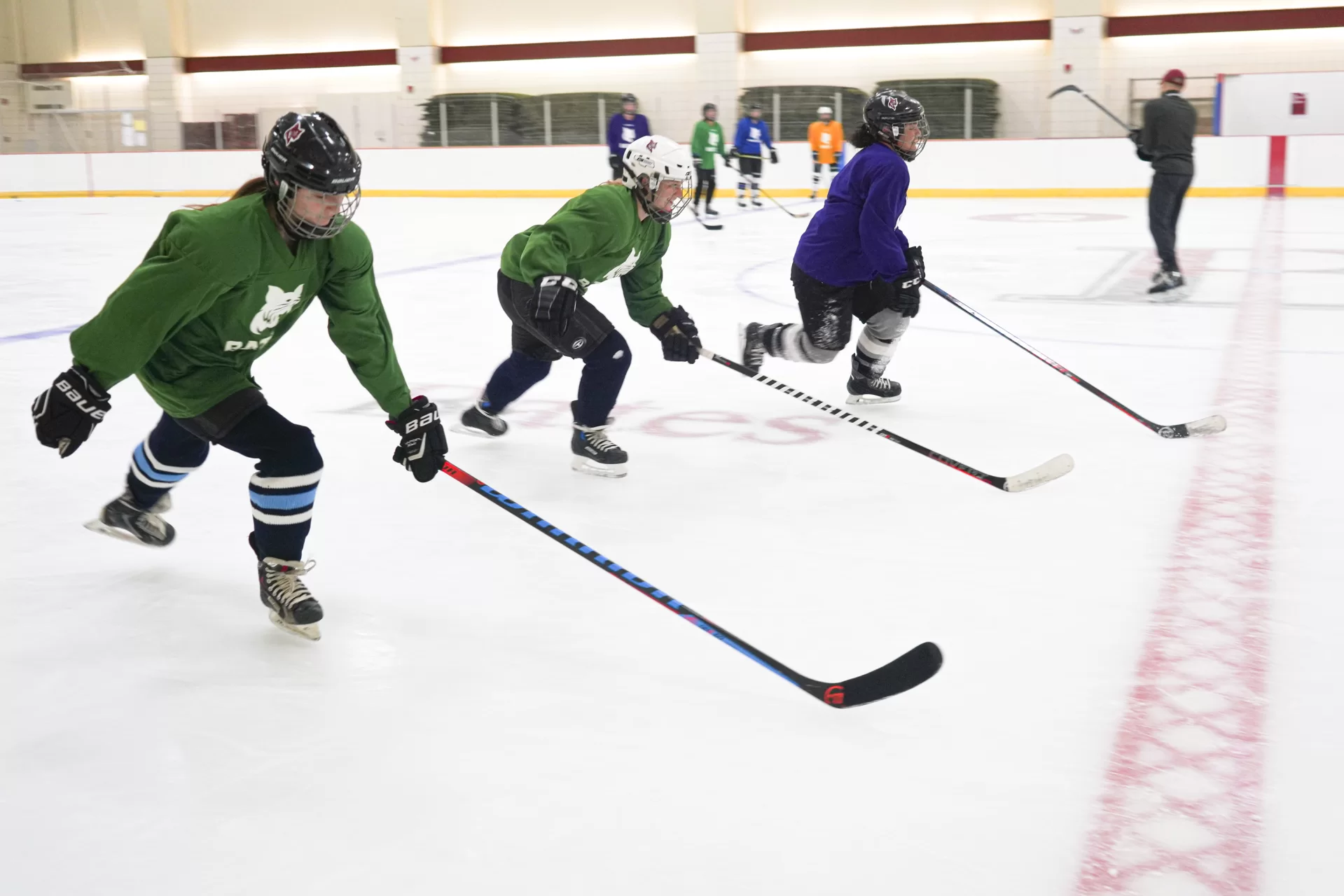 Players on the women's ice hockey club team go through their paces at Underhill Arena. The rink has been used for COVID-19 testing for most of the last two winters. "It's great to have so many new people on the team this year and to be back in Underhill," says captain Maggie Bayly '23 of Cambridge, Mass.
---
New Growth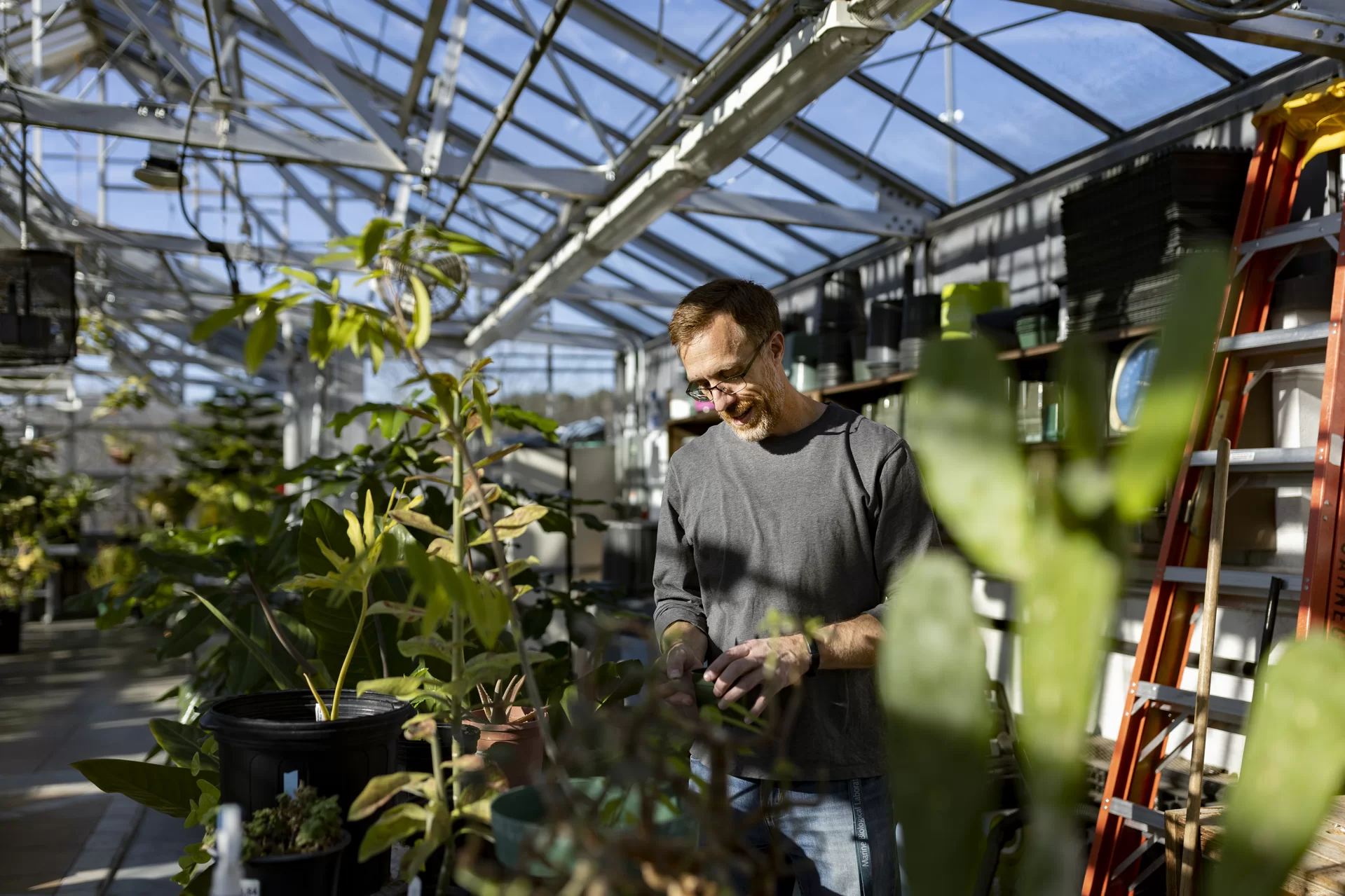 In the greenhouse atop Carnegie Science Hall, Mark Lessard, a science resource technician, prepares to plant seeds that he gathered from a hibiscus plant.
---
Back on the Grind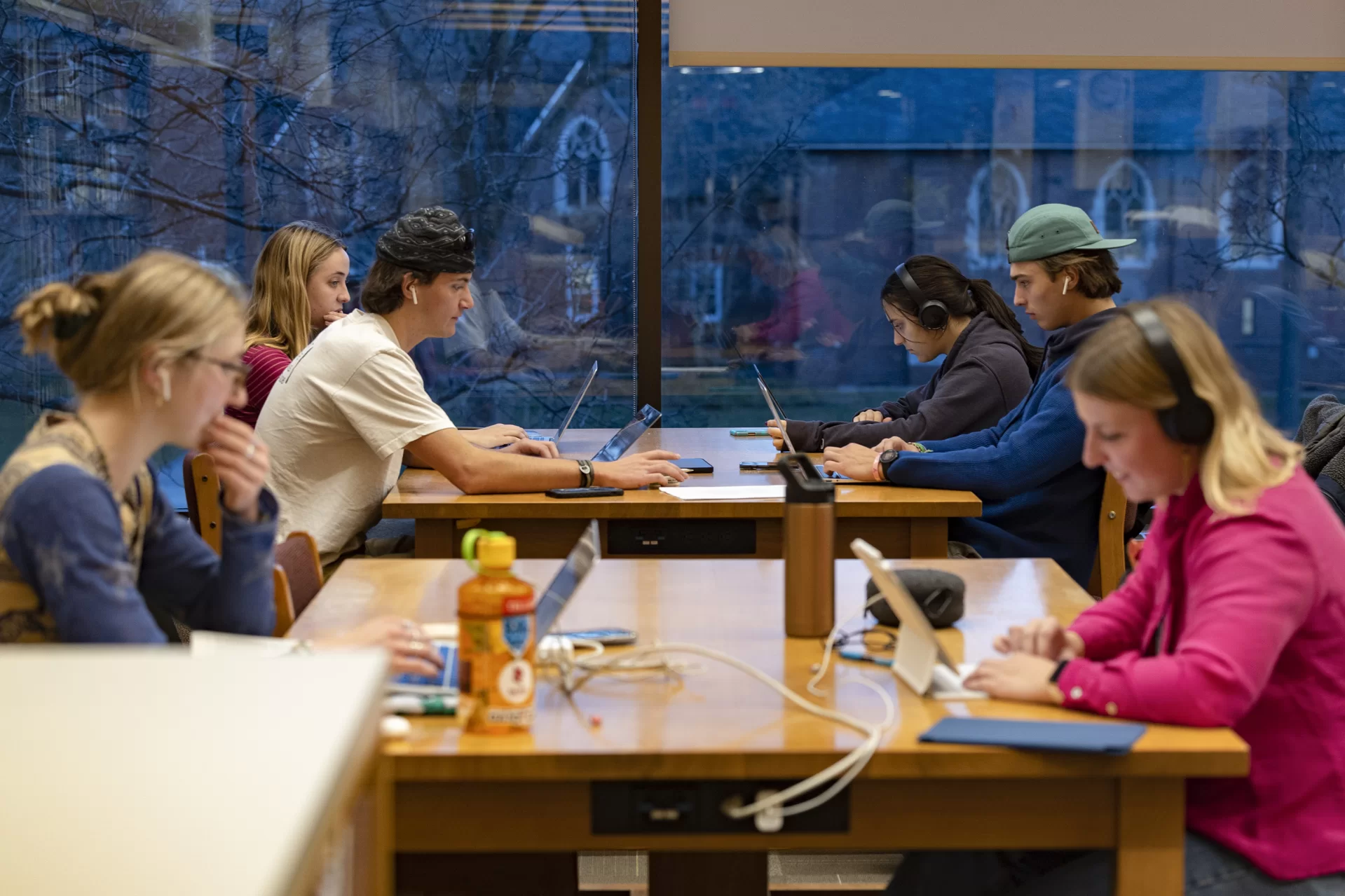 Students hit the books again on the first Monday back on campus after the Thanksgiving break.
---
Last Lights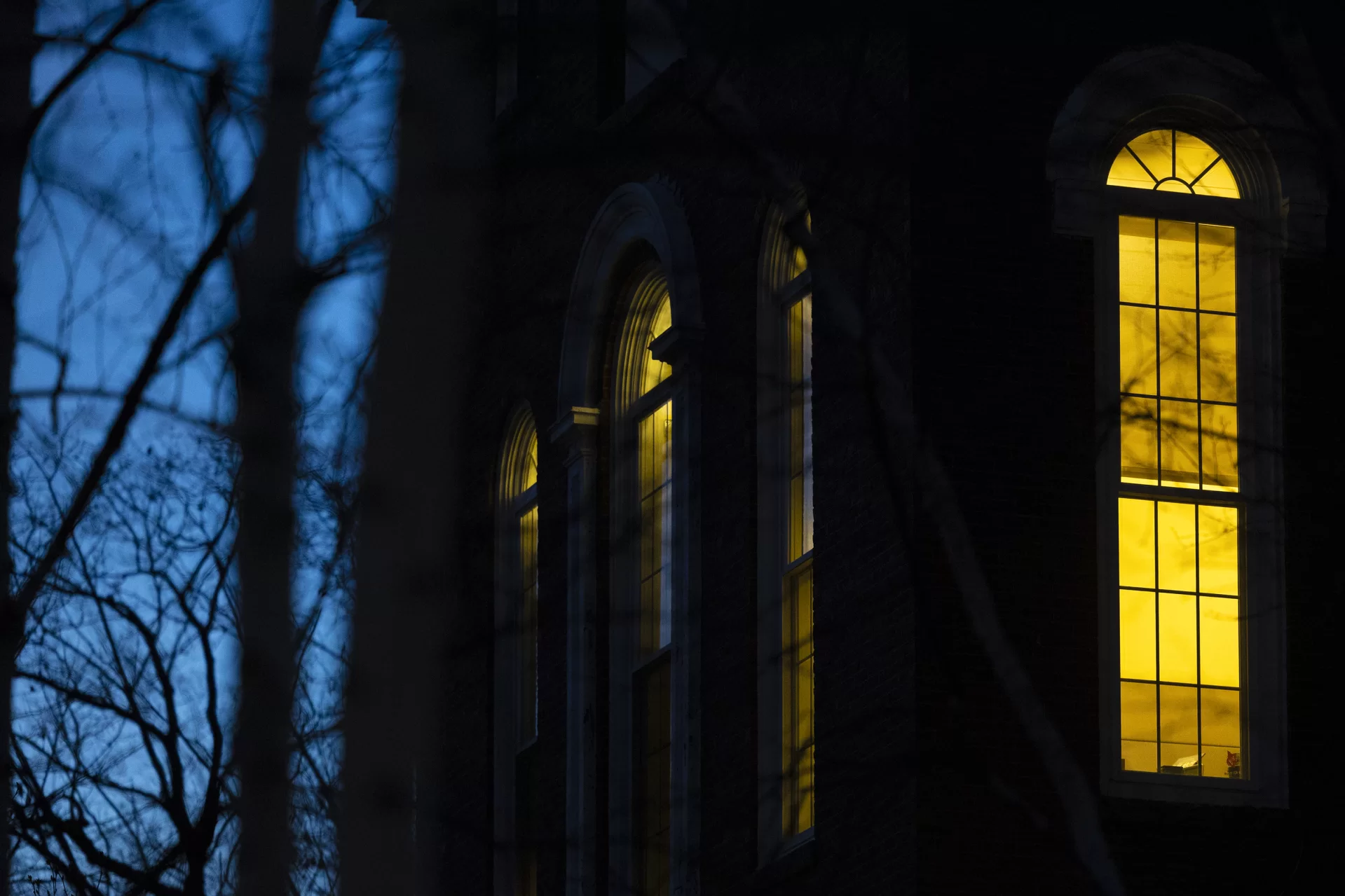 The windows of Hathorn Hall offer a nocturnal glow against the dark blue of a winter dusk
---
Blocked at the Buzzer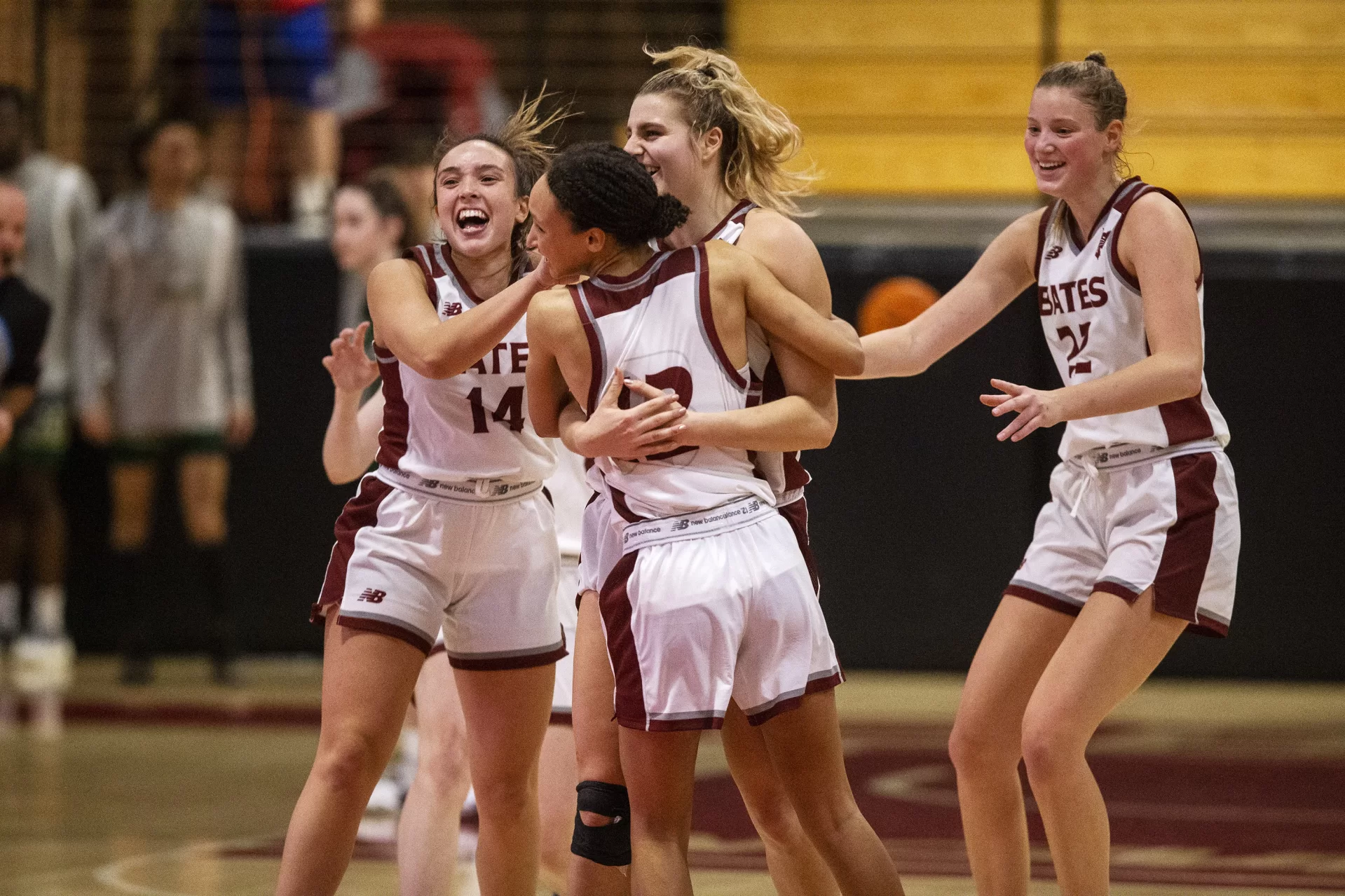 Teammates celebrate with Jenna Berens '23 of Durham, Conn., after she blocked a shot to clinch a thrilling 64–61 win for the Bates women's basketball team over Husson University at Alumni Gym.
View Comments