It's a mid-November night at the Ronj, the student-run cafe in Ross House on Frye Street, and in one part of the homey space, students are draped across couches and splayed out in chairs, sipping tea, munching on snacks, while they study, relax, and just hang out.
In another part of the house, in a performance space known as the Thunderdome, the furniture has been shoved to the perimeter, creating an open area for an evening of visual art.
At the ready are watercolor paint kits, cups of water, and lots of paint brushes, and the students, around 20 of them, quickly get going. Over here, a student paints a tree in late autumn. Over there, another creates a fantasy garden, and another makes a rainbow, all conjured from the mind's eye or pulled from a smartphone.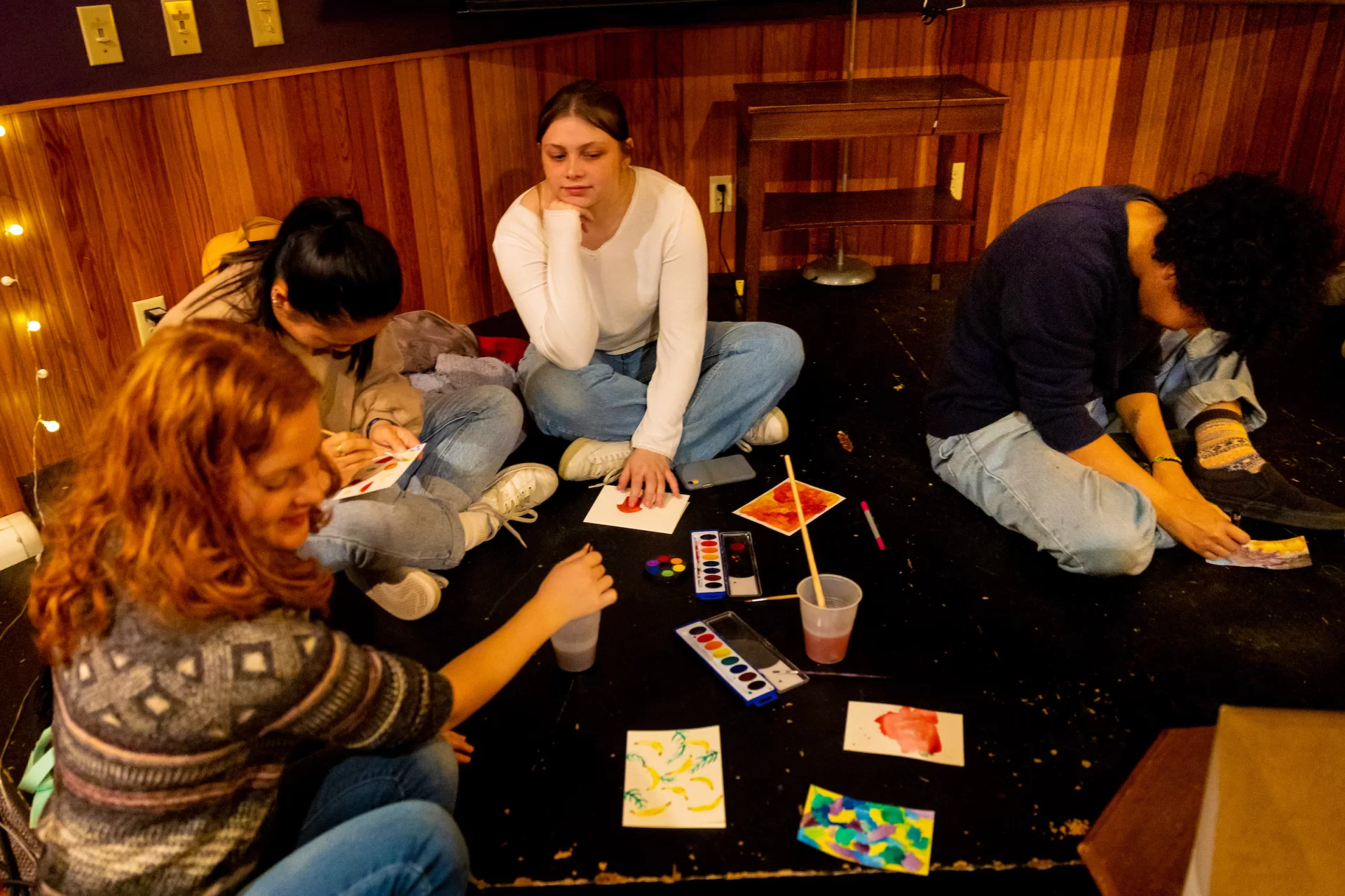 There's no instruction and no still-life subject to sketch, just one goal: Create a piece of art for someone you care about. The students are making watercolor postcards, which, when finished, will be mailed to a loved one along with hand-written words of gratitude from the sender.
The idea for the event came from Phoebe Stern '24, a religious studies major from Nashville, Tenn. As the student arts and spirituality coordinator for the Multifaith Chaplaincy, she wanted to create a time and a space before Thanksgiving for students to "take a deep breath and ask, 'Who are the people in my life who have really impacted me? And who made a change? How can I give back to them?'"
In this case, giving back means giving a bit of one's self, "something tangible," Stern says, "whatever art you're feeling, and that can be just drawing a very abstract piece or like drawing some trees or mountains, but whatever you want."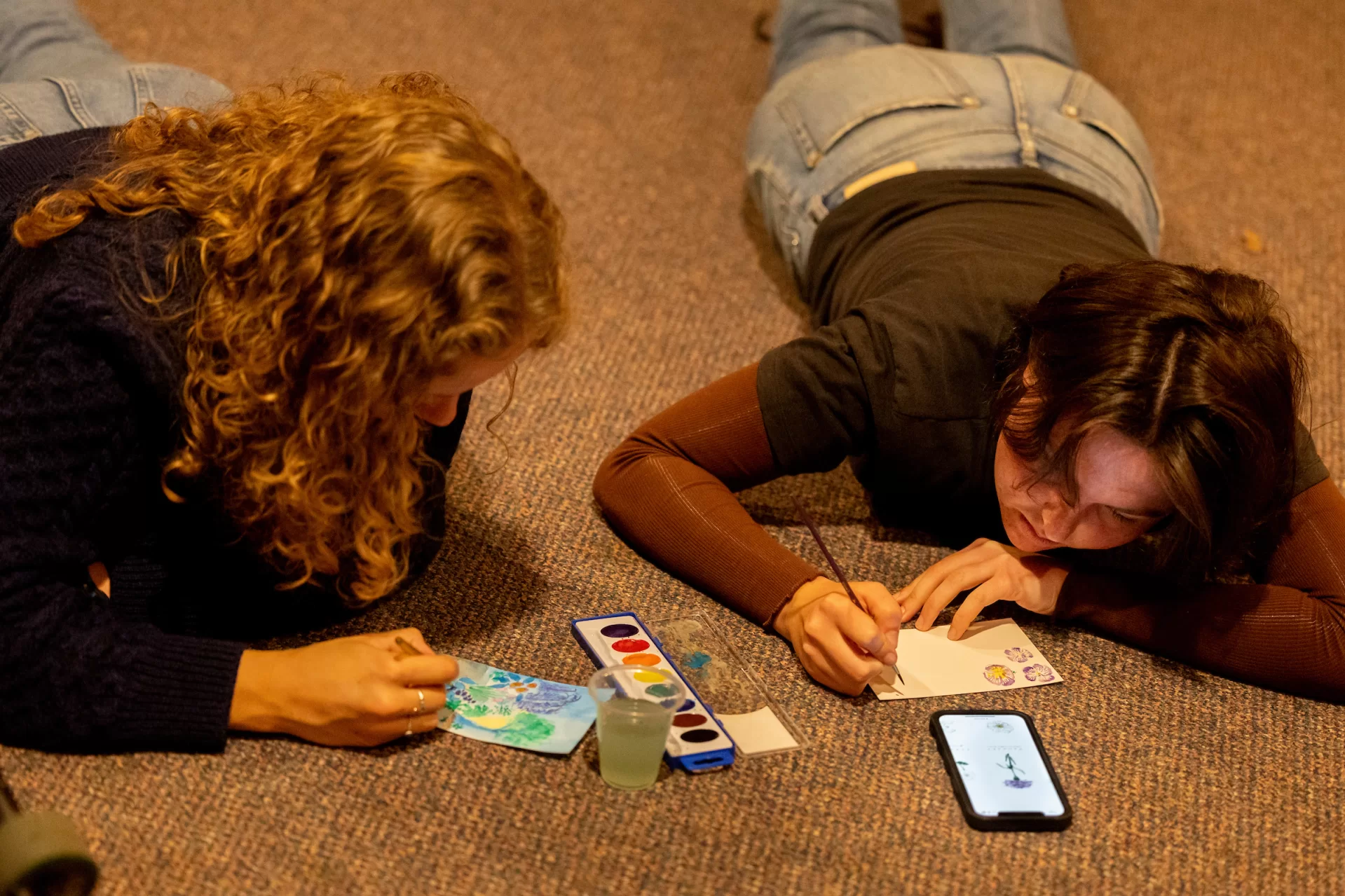 First-year students Audrey Esteves '26 of Cranford, N.J., and Riley Baker '26 of Northfield, Ill., are creating postcards to send to friends from high school as a little "hello" before they reunite during the holiday break. Before long, the two will head across the street to WRBC, the Bates student radio studio, where Baker co-hosts a music-and-chat show, Gin and Toxic.
Maddy Ewell '24, a neuroscience major from Ridgewood, N.J., is using the time to stretch one creative muscle and give another a break. For her English class, "Early Modern Sex and Sexuality," taught by Assistant Professor of English Katie Adkison, she's composing a musical score as her final paper.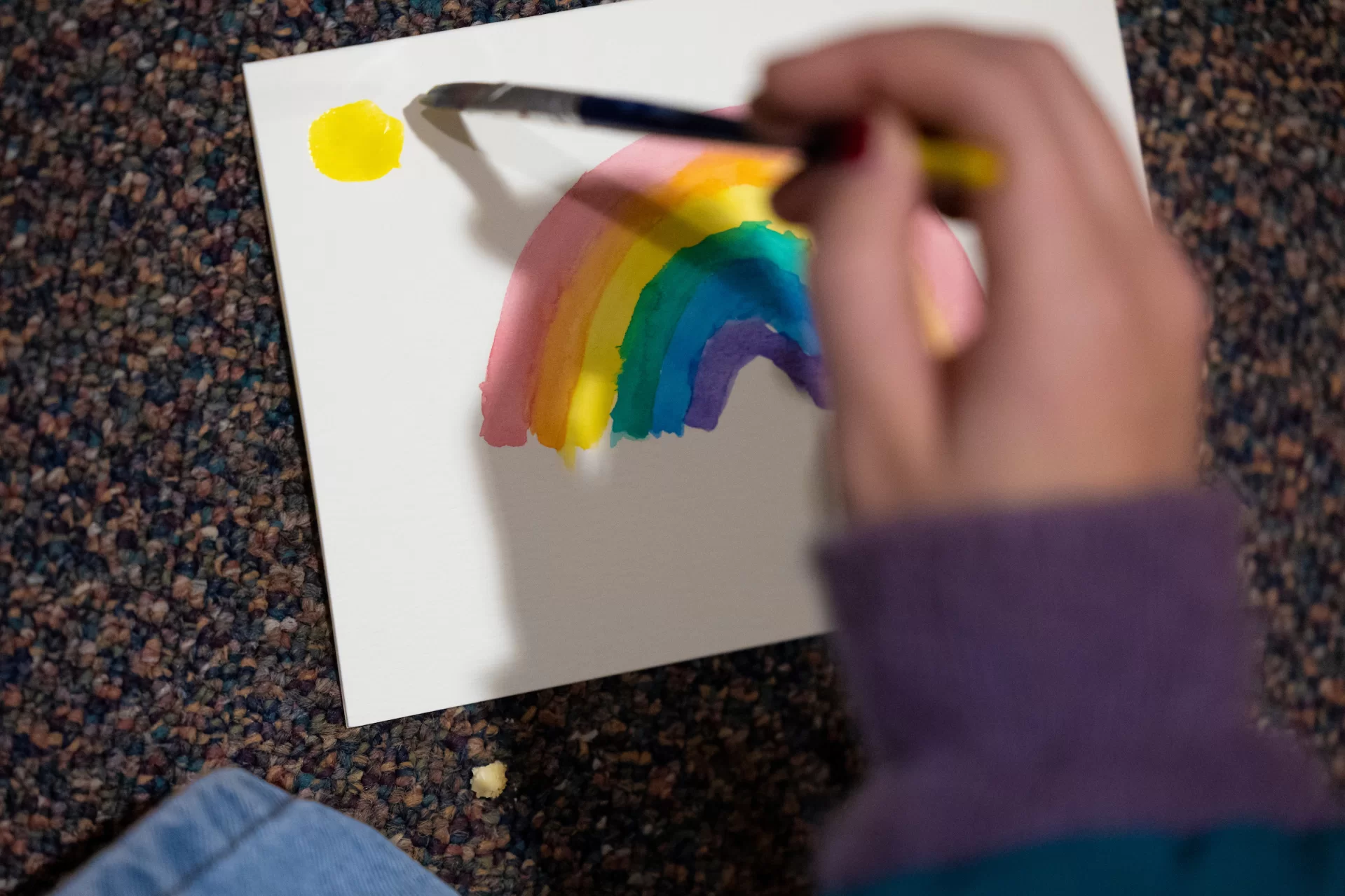 The class has read Shakespeares's As You Like It, whose opening scene, in the forest of Arden, presents a "mystical land of make believe, a fantastical environment." For the final assignment, Ewell challenged herself to express the scene through classical music — a genre she hasn't composed for before, though she loves composing and playing jazz.
And she has the chops for it. An accomplished violinist, Ewell is the founder and president of the student Small Ensembles Club. Creating the score has been "difficult but fun," she says. "I'm exploring what I can do with music." (Last spring, she and fellow club member Riley Gramley '25 performed classical music for the canine residents of the local animal shelter.)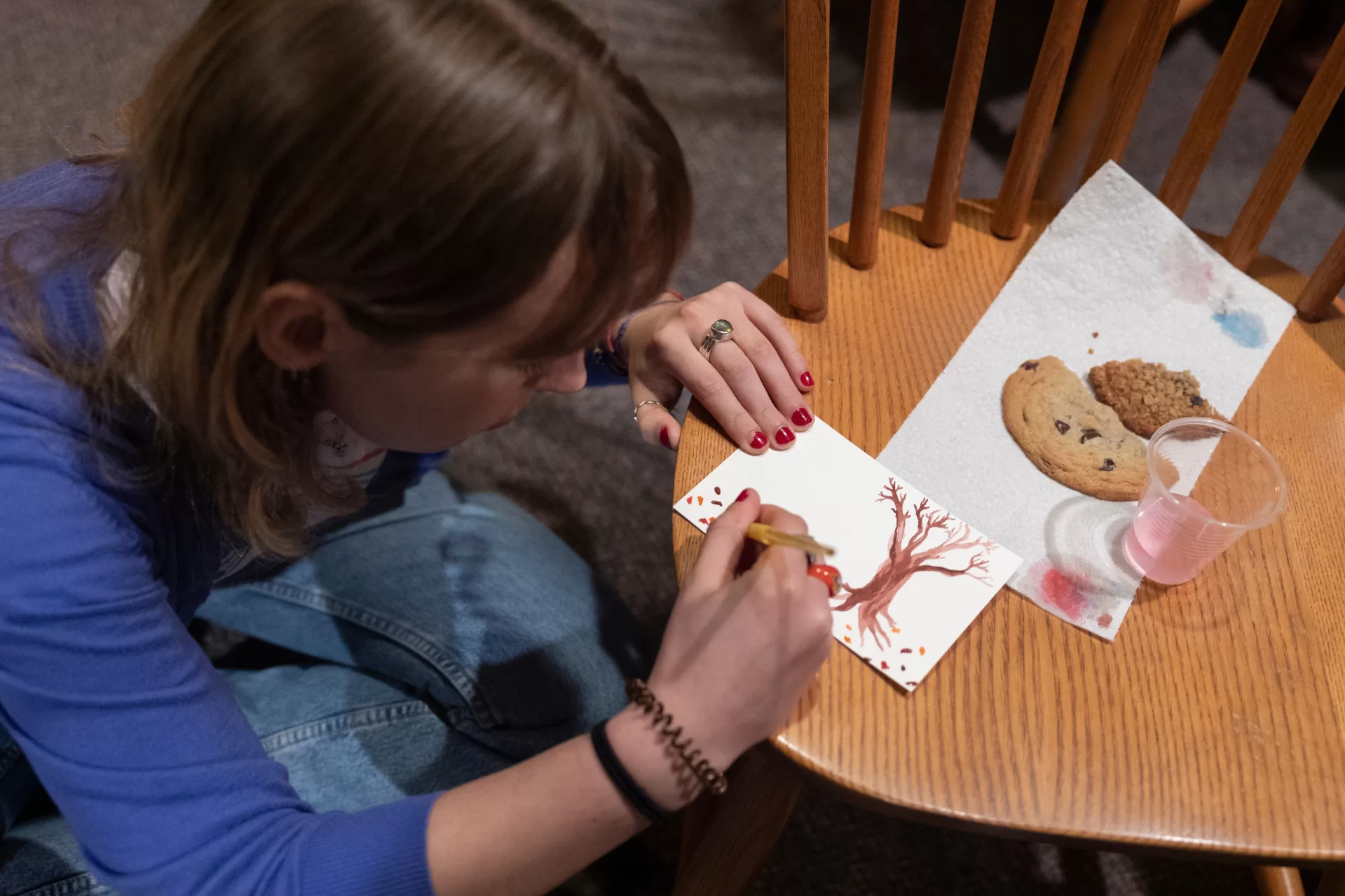 For Stern, the event organizer, experiencing the Ronj for the first time fit perfectly with the vibe she hoped to create, a getaway from "the stresses of the rest of campus, like we're just coming together and making some art, eating some cookies, drinking some chai and talking and laughing.
"That's what the space is."