"This magic moment, so different and so new," sang Ben E. King and the Drifters in 1960.
A selection of magic Bates moments of 2022 comprise this end-of-the-year photography list — a tradition now in its ninth year — which shares some of our photographers' favorite images, both stills and video, of the year.
Some of these images represent a fraction of a moment. The shutter on Phyllis Graber Jensen's Canon EOS-1D X Mark II clicked open for just 1/8000th of a second to freeze the moment of sports ecstasy for field hockey player Paige Cote '24.
On the other hand, Theophil Syslo had his Canon 5D Mark IV running for 12 minutes and 28 seconds as he wound his way through the Commencement procession, capturing a historic academic moment (and a spot of spontaneous faculty applause for a colleague) on video.
Not surprising, "moment" comes from the Latin, specifically the word momentum, meaning "motion" or "a short time," according to the highly regarded Online Etymology Dictionary, which advises users that a "moment" has duration, while an "instant" does not. Whatever the shutter speed these Bates moments that photographers captured and shared in 2022 have the power to endure. As the song goes, Forever 'til the end of time. Magic.
---
Back for More
Phyllis Graber Jensen explains:
After the short walk home at the end of the day on Friday, March 18, I glanced at my phone. A student, Sanika Shah '22, had sent me a note. Apologizing for the late notice, she said that a "Holi on the Quad" celebration would begin at 4:30. Could I photograph it?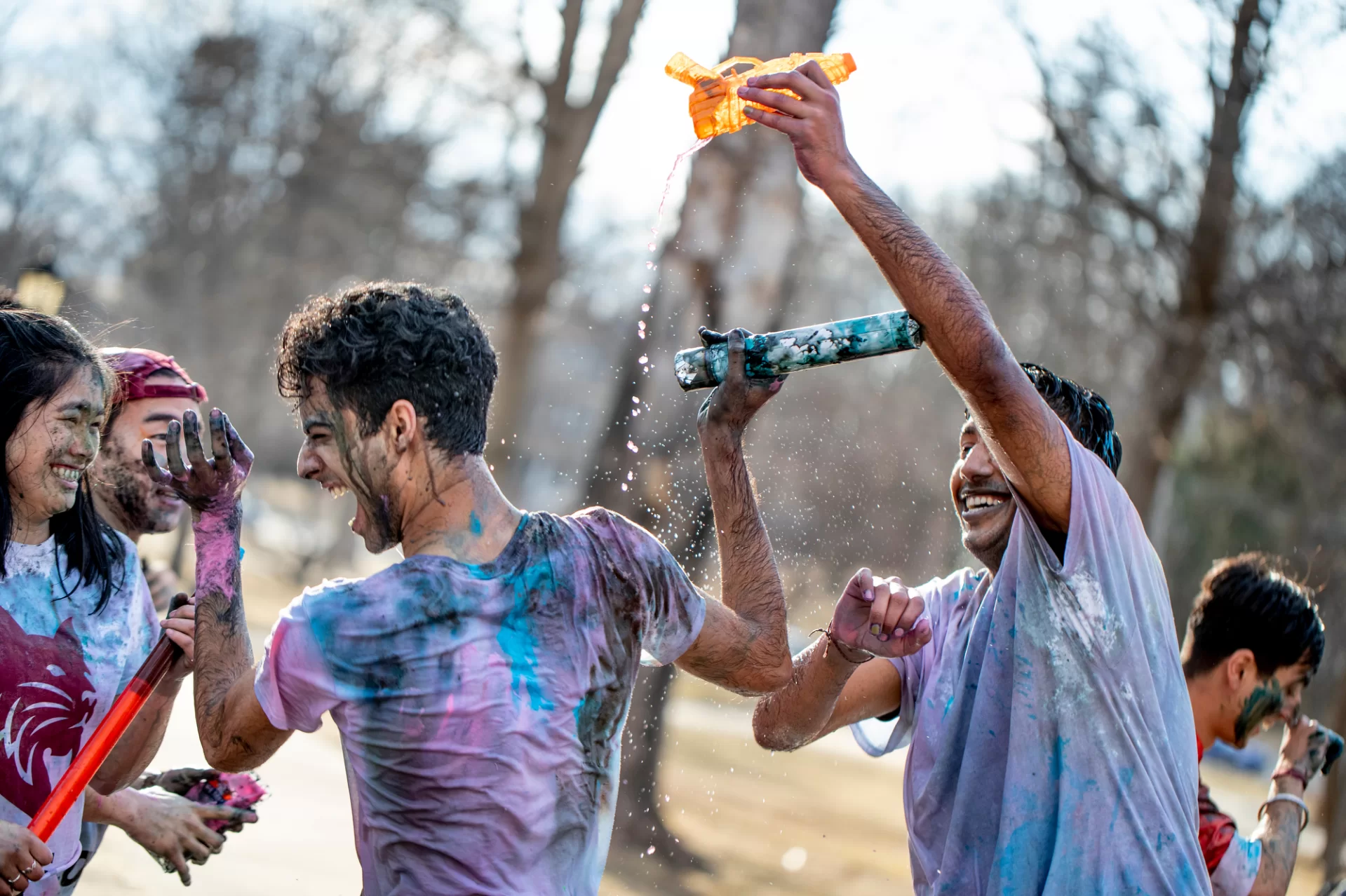 I looked at my phone: It was already 4:30. Mentally, I had just about crossed the threshold from work to weekend. But since I straddled that line and lived close to campus (an occupational hazard), I decided to go back.
I have photographed this Hindu celebration before, and it's never less than full-blown bountiful joy. Two years of COVID curtailed the usual in-person gatherings, making this one especially joyous. This picture of Miranda Eisenman '25, Phil Han '25, Krishna Kakani '25, and Hark Lally '22 is one of my favorites.
---
Mom Knows Best
Theo Syslo explains:
Put me outside capturing video of students in the field, and I'm content. Put me on the water, and I'm happy as a clam.
In fall 2021, I traveled to the coast, to the University of Maine's Darling Marine Center on the Damariscotta River, for a video profile of Essie Martin '22. This brief clip is my greeting Martin on the dock and commenting on her hat.
I first photographed Martin in 2018 during the annual Trashion Show. She has accomplished amazing things since then, including earning a highly competitive Harry S. Truman Scholarship. Throughout it all, she's been genuine, enthusiastic, and determined.
Approaching the dock that day, I saw that she was wearing a pinkish cap. "Oh no," I thought. Hats create notoriously bad shadows on the face. And, I thought, wouldn't Bates garnet look better against the greens and blues of the ocean, trees, and sky?
To my delight, the pink hat was actually a faded Bates geology cap, one of Martin's two majors (biology being the other), and it looked great on the water that morning. Shout out to Essie's mom for the great advice.
---
Flying Friends
Phyllis Graber Jensen explains:
I enjoy various elements in this photograph of Nathan Huynh '23 (left) of San Diego and Jack Cantor '23 of Chevy Chase, Md., on a longboard. There's the cacophony of October colors, the feeling of the sun's warmth, and the closeness of their friendship. I had noticed them riding together, and asked them to repeat the exercise a number of times.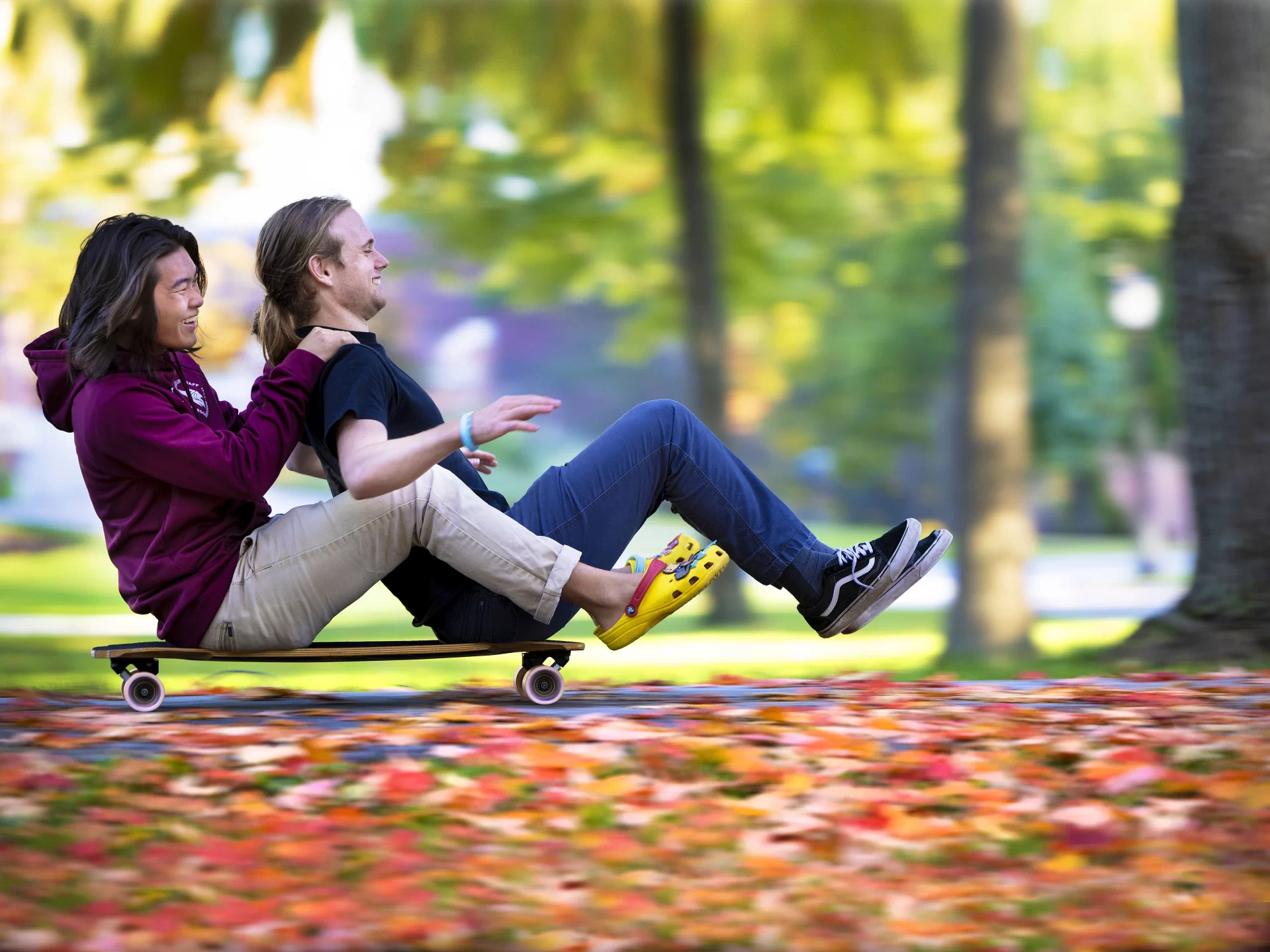 I wanted to play around with panning, a photographic technique that creates a sense of motion though a slow shutter speed, which blurs the background as the photographer follows the subject, which remains sharp. It's usually hit or miss. In this case, I can tick off all the boxes for a successful image. But in the end, the sweetest ingredient is their collaboration.
---
Michael's March
Theo Syslo explains:
Parts of this clip were used in a highlight reel for Commencement 2022. One highlight was historic: Phillips Professor of Economics Michael Murray's final Commencement leading the academic procession as the mace bearer, an honor accorded the senior member of the faculty.
In the clip, you can see how I'm moving here and there, tracking the procession, keeping my eye on the prize (and getting a few hellos from Bates colleagues). Then, around the 44-second mark, Michael's colleagues break into spontaneous applause.
It's fun to capture a historic moment like that. When I watch this clip, I think, "versatility." And see that vignetting at lower-left in the frame? That's an oops moment, a half-attached lens hood. I err; therefore, I am human.
---
Web Design
Phyllis Graber Jensen explains:
After parking my car behind Lane Hall one September morning, I noticed a spider web on foliage along Lake Andrews. The rapidly fading morning fog had enveloped the web, backlit by the rising sun. Nice. But how, I asked myself, to illustrate it most graphically?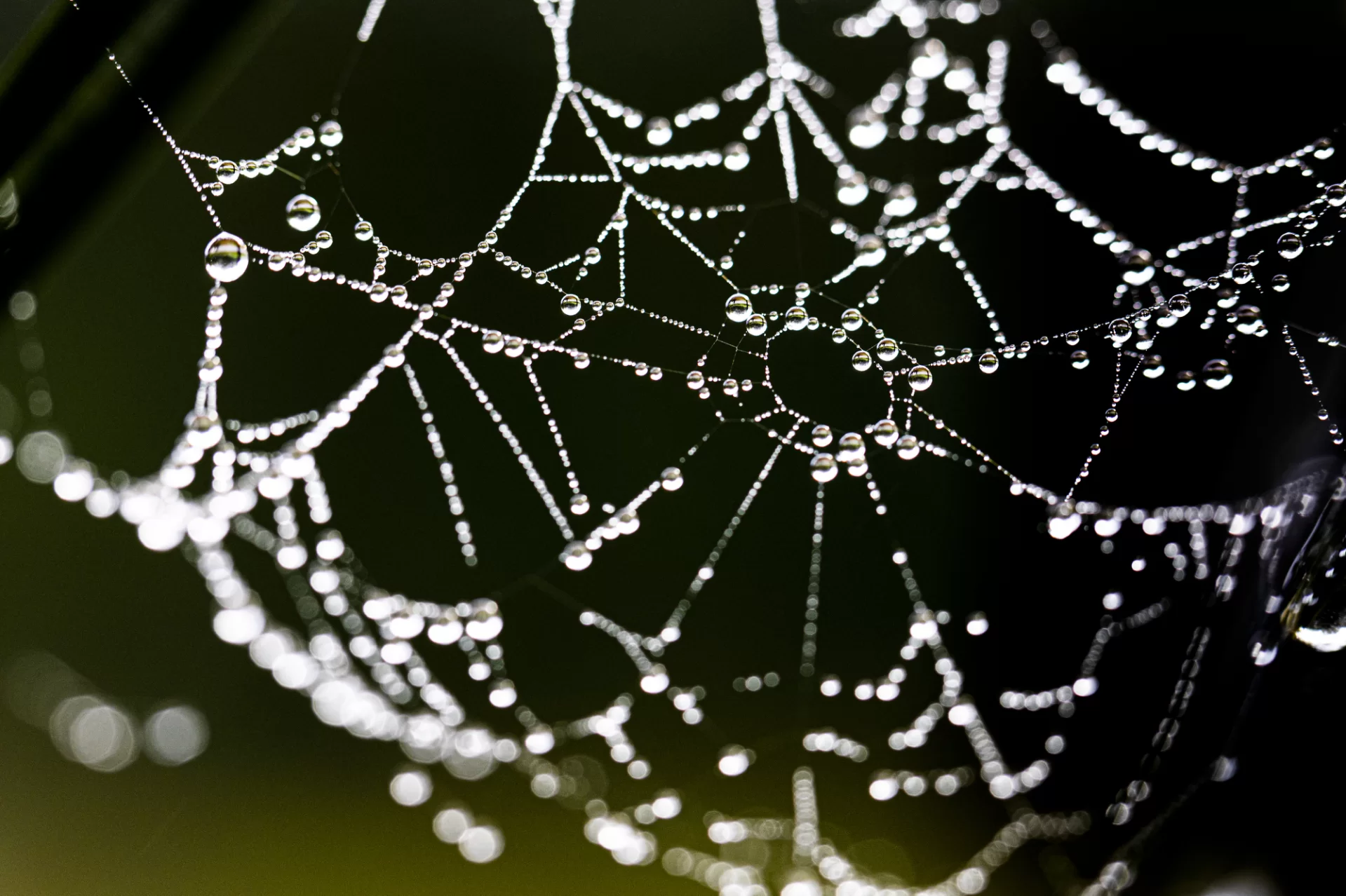 We have a macro lens and extension tubes on our office equipment shelf, so now was the time to put them to work.
I headed into Lane, grabbed the gear, and returned to the scene, where I leaned in and out to obtain the focus I needed to land this picture. Posting the image on Instagram, I included a quote attributed to Turkish playwright Mehmet Murat ildan. "Sometimes when you lose your way in the fog, you end up in a beautiful place! Don't be afraid of getting lost."
---
Up and Away
Theo Syslo explains:
This unedited clip is from a video telling about the student "takeover" of nearby Lost Valley ski area to kick off Winter Carnival last February.
It was a blast — I was running up and down the slopes capturing video. Being able to watch happy Bates students is a blessing, especially after the COVID curtain got raised a bit more last year, allowing large, in-person events to return.
In the clip, I am rack focusing from the skis in the foreground to students in the background in the chairlift — you can see them moving happily to the music that filled the night air. I worked this scene for a couple minutes (couldn't stay still too long for fear of turning into a popsicle). It worked and made me happy. And after a great shoot, you get to go back and have a great edit!
---
Not Forgotten
Phyllis Graber Jensen explains:
We all have our rituals. And if one of yours is to stop by a cemetery to visit the grave of a loved one, you might identify, as I did, with Victoria Wyeth '01, seen kissing the tombstone of grandparents Andrew and Betsy Wyeth, in Cushing, Maine, this October. She also left those two pumpkins, in the spirit of the Wyeth family's love of Halloween.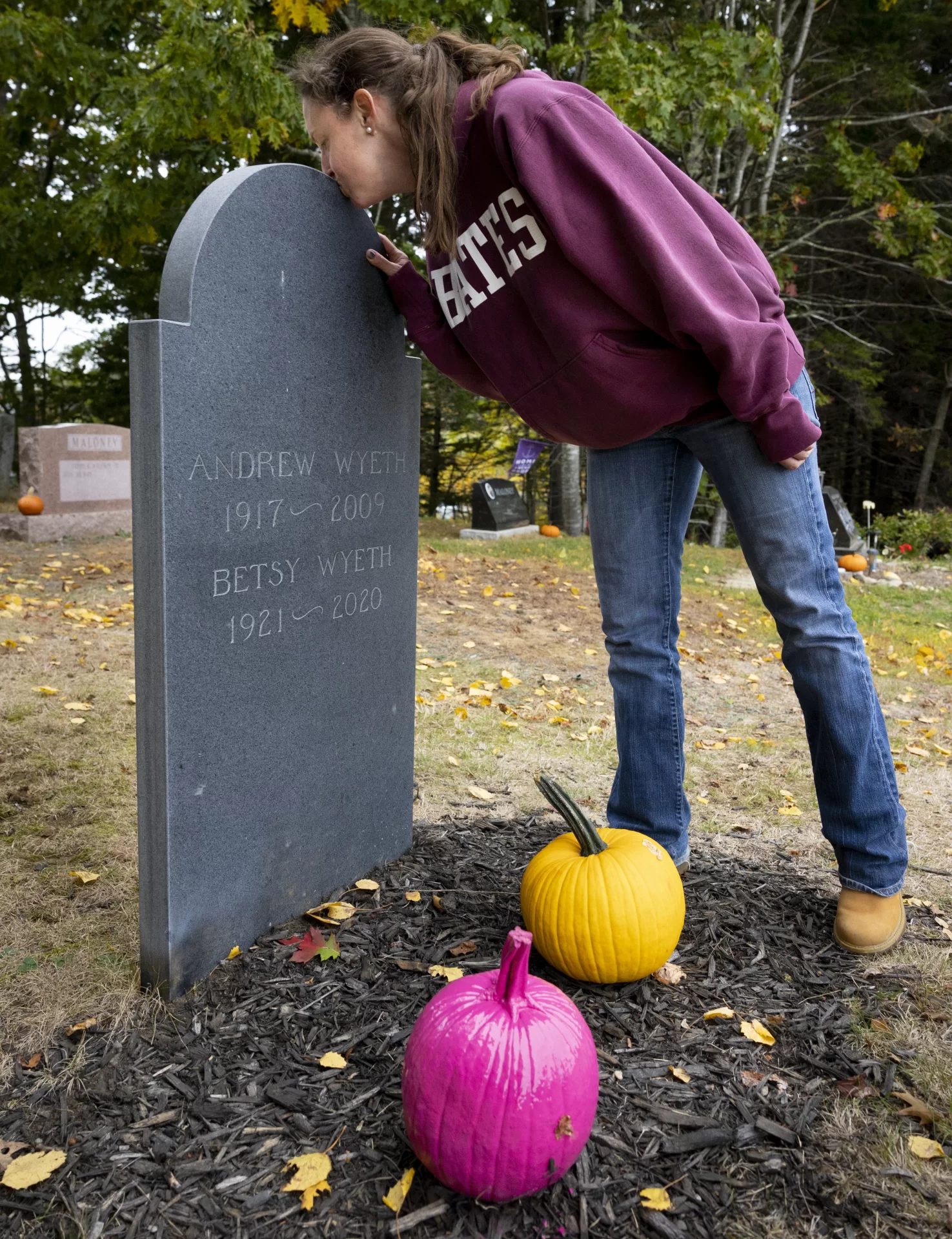 On this day, Wyeth was leading a field trip to the coast for the First-Year Seminar, "Inventing New England: The World of the Wyeth Family," which she co-taught with Professor Emerita of History Margaret Creighton.
I remember how, after my mother died, one of her childhood friends said that the best way to keep her memory alive was to tell her stories. And that is what Victoria does, telling stories around the world about the artists in her family. You don't have to see her kissing their stone to realize how much she loves them.
---
'Peace Begins With Us'
Phyllis Graber Jensen explains:
It's no exaggeration to say that I photograph these two individuals all the time. The multitalented Miguel Angel Pacheco '24 of Caracas, Venezuela, is a ubiquitous campus presence, one day feeding the scrum during a Bates rugby match, the next parading around Gray Athletic Building on stilts modeling an outfit for the Trashion Show.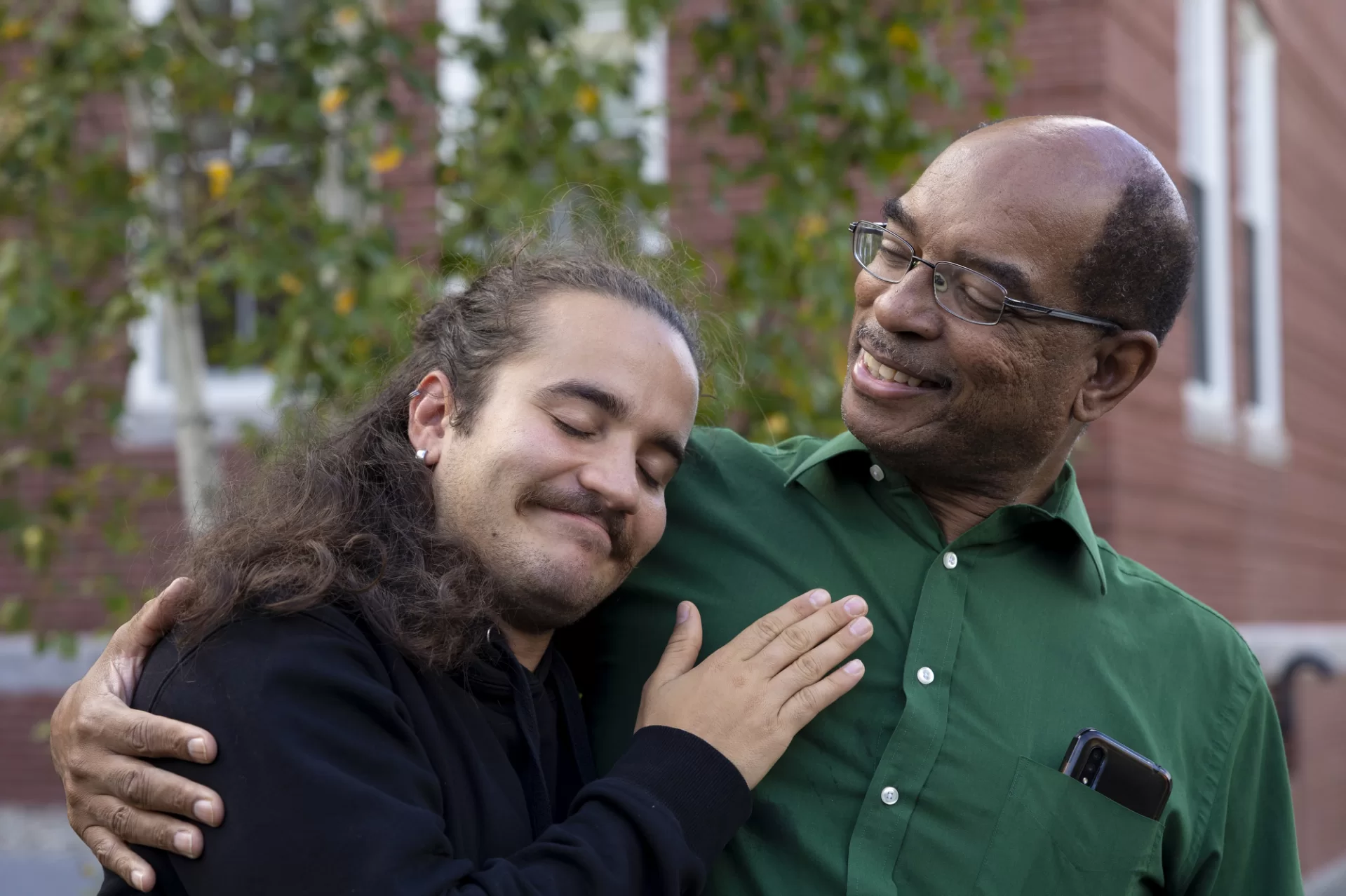 And James Reese, associate dean for international student programs and a beloved mentor and guide for decades, is everywhere and anywhere.
But it's rare to find them in the same frame, which is what happened here on Sept. 21, 2022, when a group of Davis United World Scholars at Bates celebrated United World College Day in front of Roger Williams Hall. This spontaneous moment with Pacheco and Reese speaks vividly to the day's theme: "Peace Begins With Us."
---
Direct About It
Theo Syslo explains:
This unedited clip shows Noah Pott '22, director of 35mm: A Musical Exhibition, and his cast in the dressing room of Schaeffer Theatre before the play's premiere.
When telling a visual story, what folks seek should align with what they hear. In my interview with Pott, he spoke so warmly about the people he works with, and I think that is driven home with this scene of this dressing room pep talk.
In the final produced piece, you don't hear Noah's words in the group huddle, but visually you know he's endeared himself to the team, and he is thankful to them. I think reflective pieces of content like this are a great opportunity to revisit something from another view to appreciate it even more.
---
As I Lay Me Down
Phyllis Graber Jensen explains:
Sometimes you can do my job even lying down. On yet another beautiful October afternoon, I headed to the Androscoggin River in Greene to photograph Bates rowers.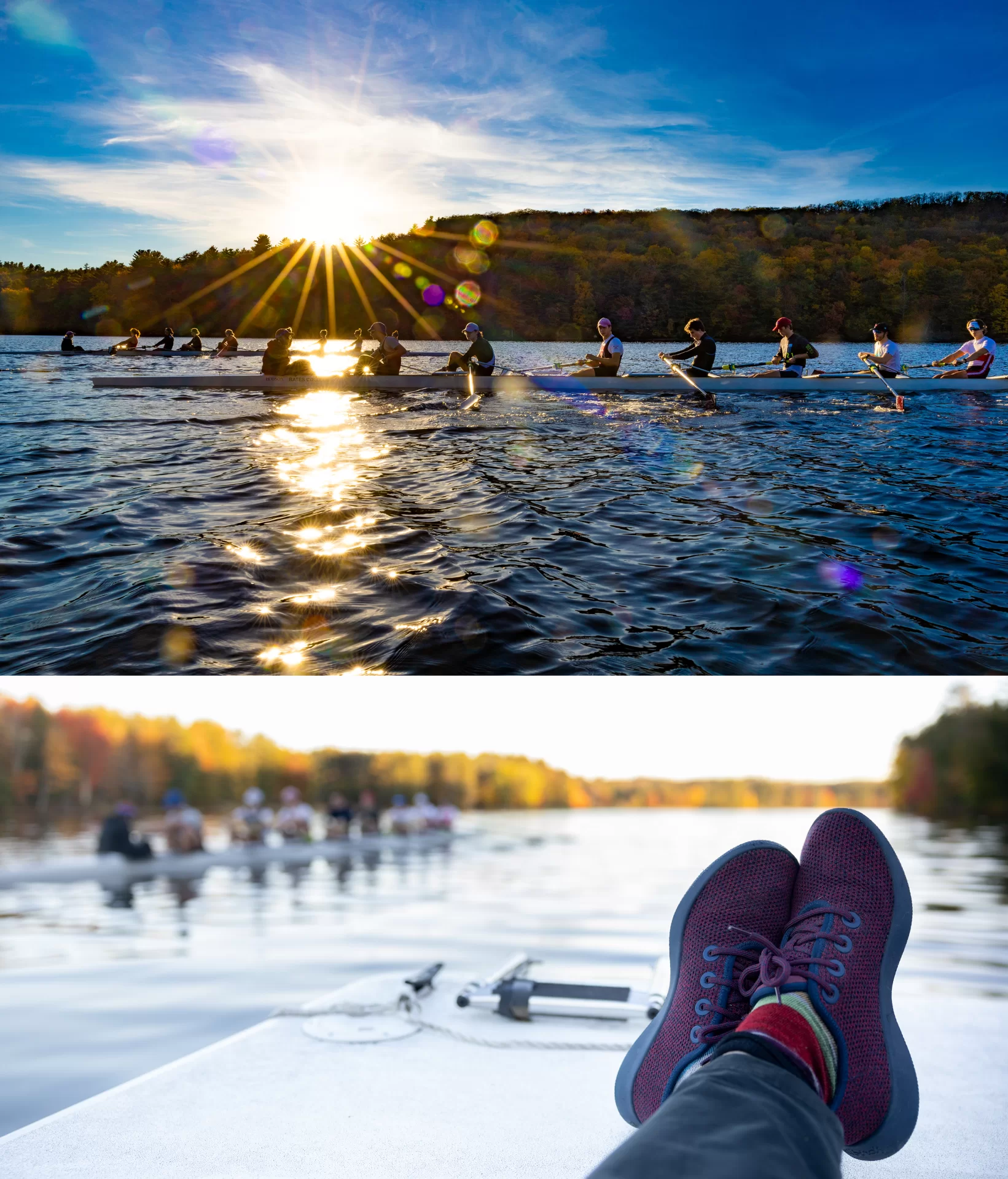 As he always does, head coach Peter Steenstra welcomed me to hop onto his chase boat, where I assumed a new position: stretched out on and propped up by the boat. As Peter chased the rowers up and down the length of the river, I photographed reclining the entire time. The water, the rowers, the setting sun: All were perfect, as if I was on the Androscoggin riviera.
---
Laughs in the Library
Theo Syslo explains:
This clip still makes me laugh. I was walking by Ladd Library on one of the first few days of the academic year, working on a video of highlights of the opening of the Bates year, when I saw an academic moment unfolding through the windows: students reading/studying. Very studious, indeed.
When they saw me, I asked through hand signals — thumbs up or thumbs down — if they were cool with my capturing video. Immediately following their thumbs up, this all happened. I used a bit of this clip in a video capturing the high energy, and hilarity, that the opening of the college year always brings.
---
Act and React
Phyllis Graber Jensen explains:
Two words can bias (and diminish the energy of) almost any college photographer: "panel discussion." I had already enjoyed photographing various events surrounding the 2022 Bates Film Festival, and it was now the final day, a Sunday. My last assignment was covering back-to-back discussions featuring actor and filmmaker John Turturro and the actor, film producer, and stage director John Shea '70. And they didn't disappoint.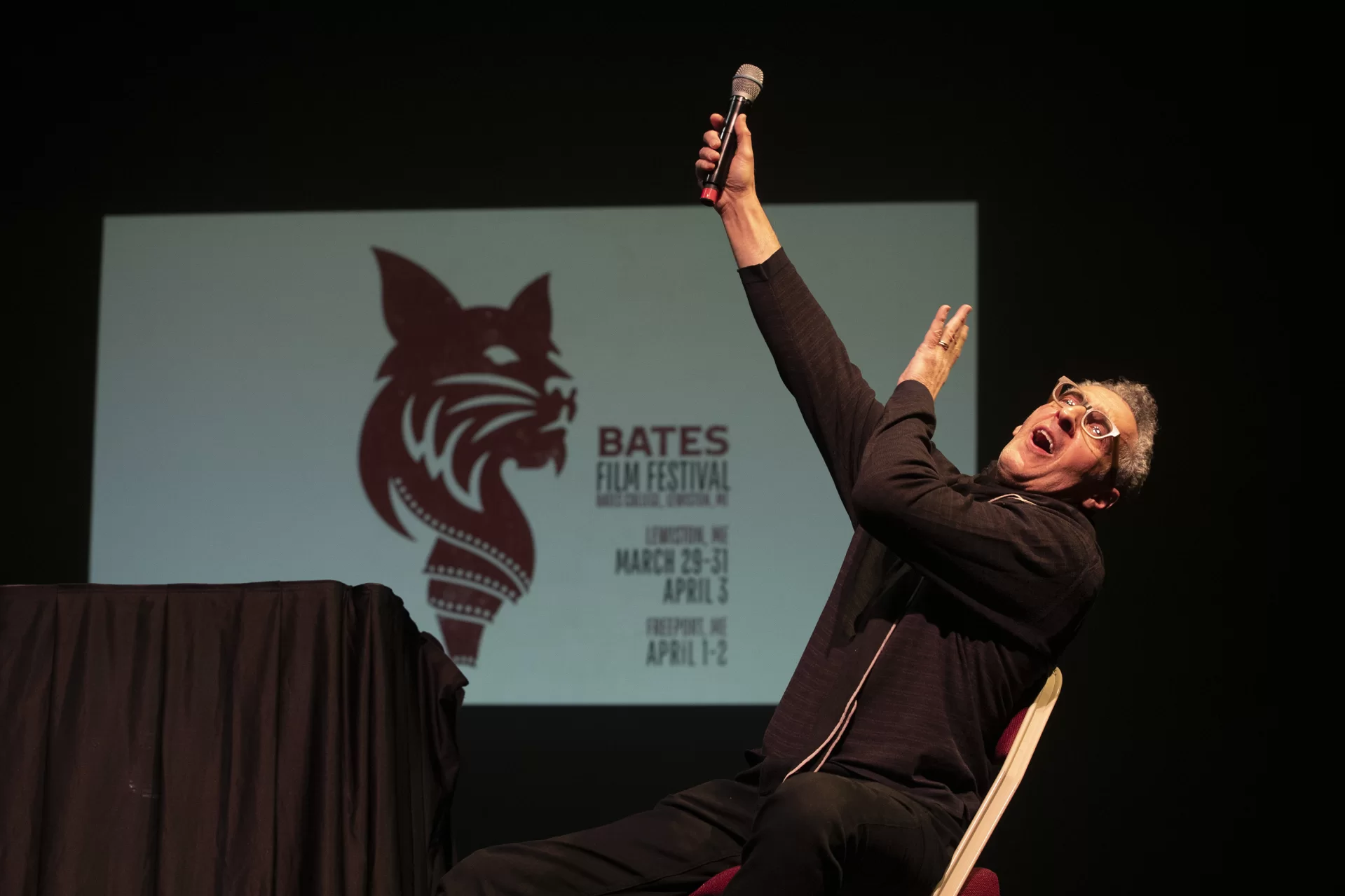 I could have as easily chosen to share the photograph of Shea kneeling to kiss the Schaeffer boards, done to show his appreciation for where he got his acting start. But instead I went with this one, in which Turturro pretends to be acting in a big-budget actioner, reacting to the unseen monster or monsters that would be added to the film later, thanks to the wonders of CGI.
He described that type of acting as a "sketch" compared to more intensive and creative work that, like a painter, allows him to create fuller works of art. His electric gesture and expression made my day.
---
Post Goal
Phyllis Graber Jensen explains:
When it comes to photographing field hockey, I operate on instinct. That's a nice way of saying I am not always sure what's happening.
So at first, I wasn't entirely sure who had scored the goal that Paige Cote '24 of Auburn, Maine, is jumping for joy about. But I do understand jubilation, a favorite word of newspaper photographers in my day, when I see it. So I followed Cote with my long lens, capturing frame after frame, determined to figure it out afterward.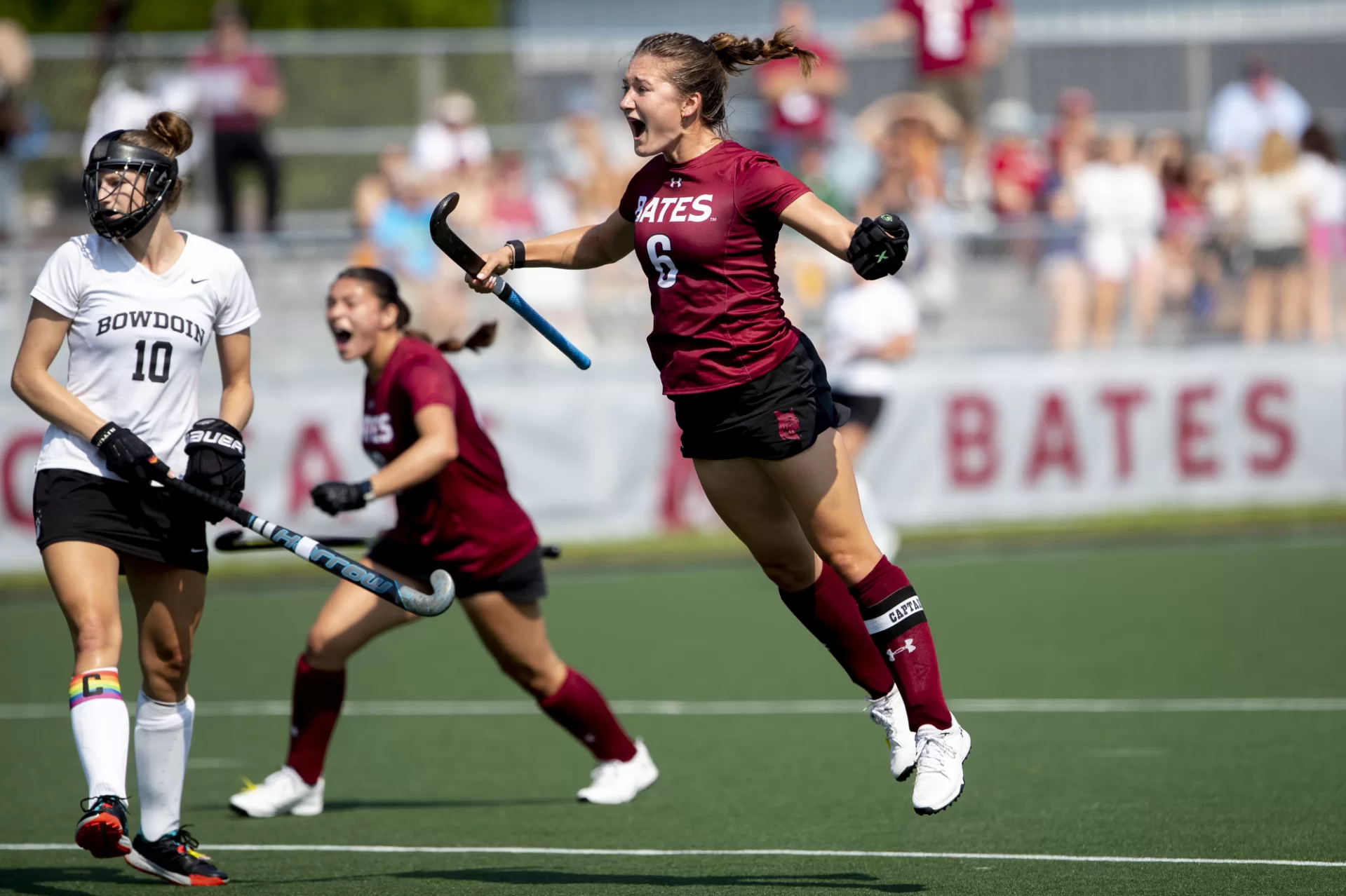 Behind Cote, the new signage festooning the Campus Avenue Field adds visual oomph to the storytelling of the moment. (And, as I learned later, Cote was reacting to her shot getting tipped into the net by a teammate — her sister, Anna Cote '25!)
---
Sweet Detail
Theo Syslo explains:
As part of festivities celebrating the Lunar New Year last February, the Asian Students Association hosted a game night. One game had students using chopsticks to pick up and drop as many candy Skittles as they could into a take-out box before time runs out. For some reason, it reminded me of the children's game Hungry Hungry Hippos.
I like the photo because it's two-dimensional. Graphic, harmonious, yet chaotic. A photographer works all the angles, and in this case I would call this image a detail photo. I think it's a sweet detail.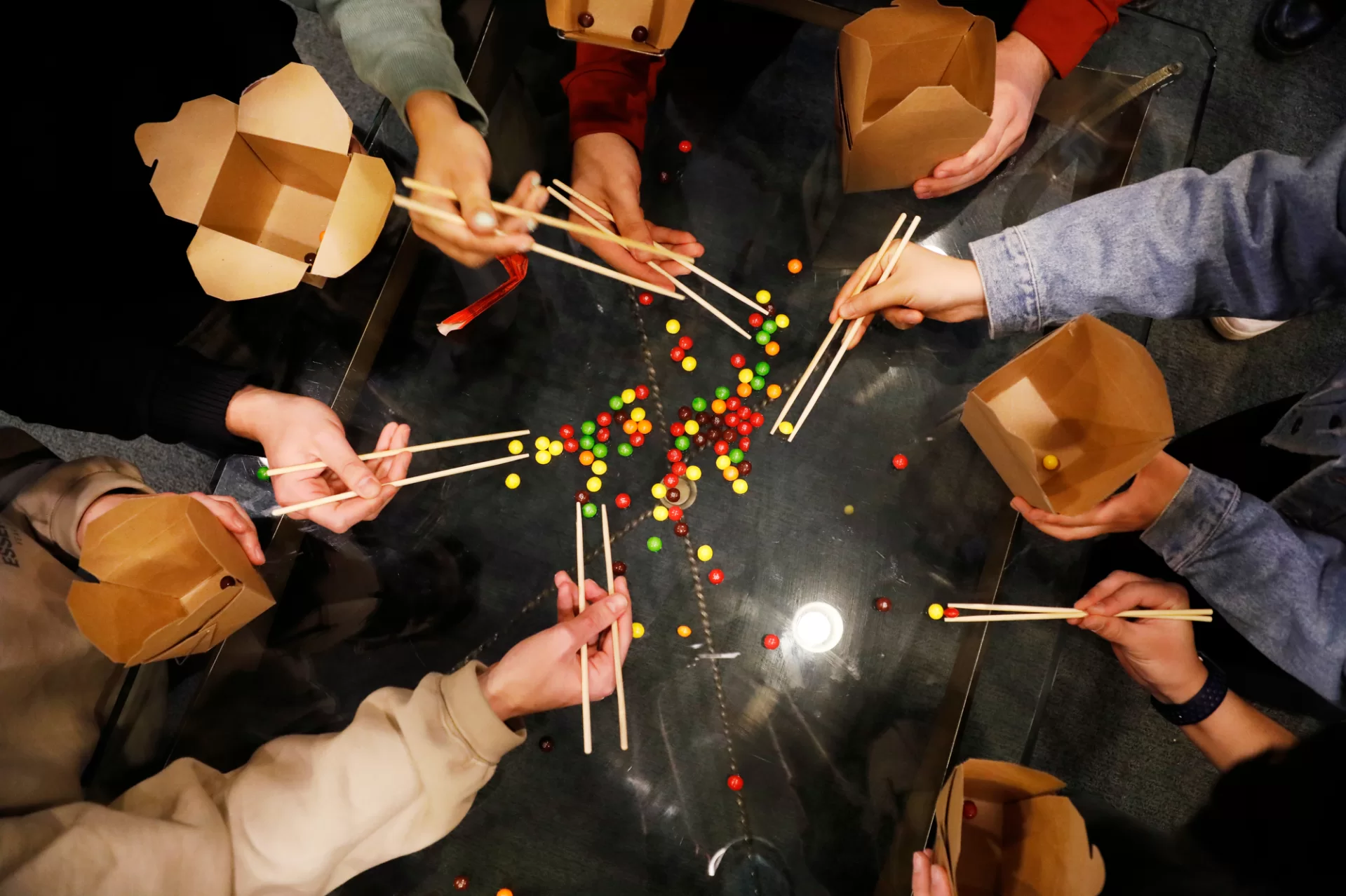 ---
Red and Blue State
Phyllis Graber Jensen explains:
My annual ritual of photographing the sugar maple outside Hedge Hall typically involves heading to the building's third floor and leaning out of a window. This October, I didn't exactly abandon that path, but discovered an alternative.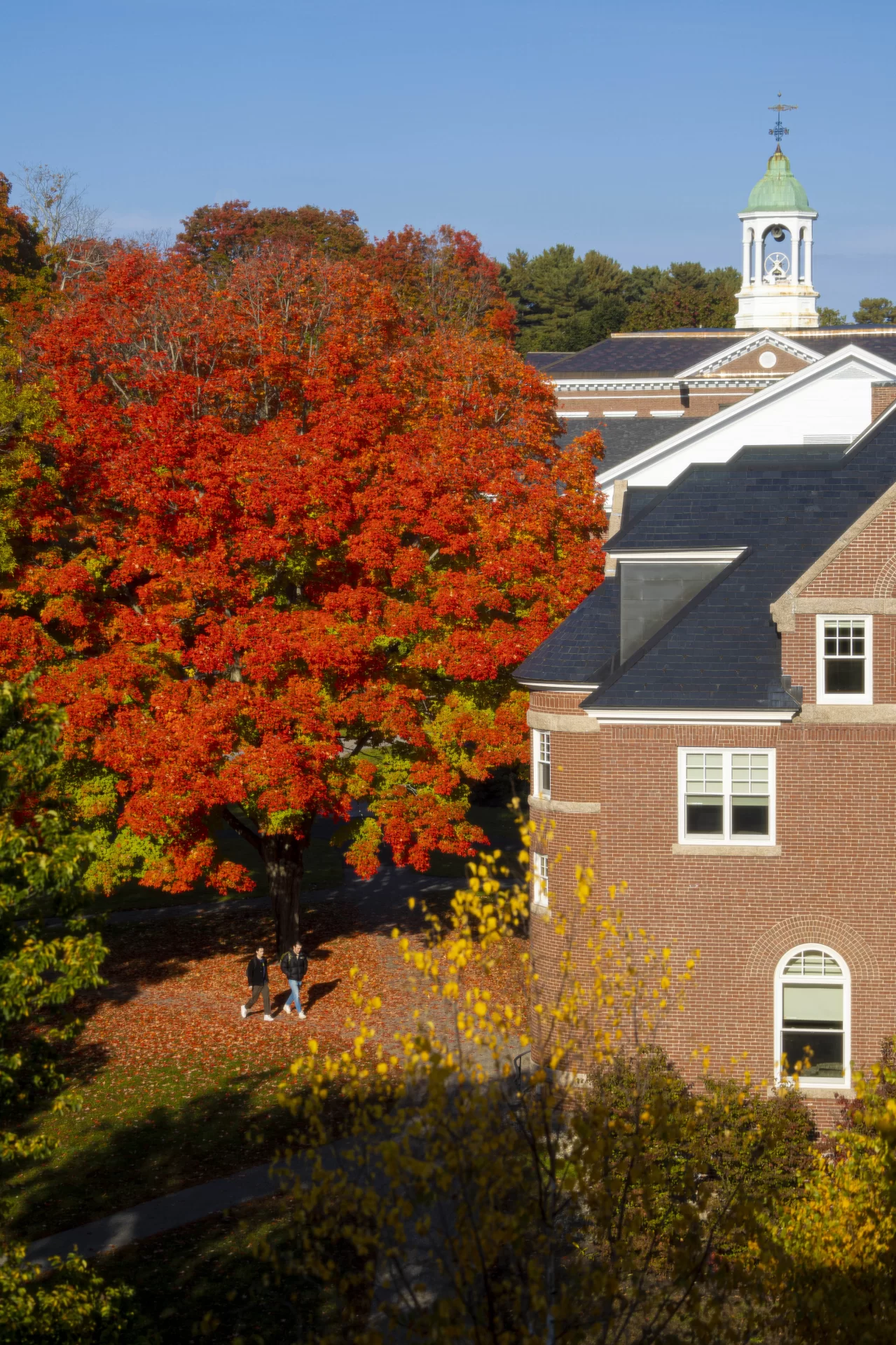 I had noticed a striking Instagram post of the tree by Professor of French and Francophone Studies Kirk Read, whose office on the third floor of Roger Williams Hall overlooks this scene. Hmm. I stopped by Read's office, and he invited me to photograph through his window — and return if I wanted another crack at it. The next morning, the light was divine, so back I went. The strolling students filled the bill for composition and companionship. It takes a village. Thanks to all.
---
Upon Reflection
Phyllis Graber Jensen explains:
At the beginning and end of every work day, I enter and exit Lane Hall from the parking lot side of the building. That means I see this vista, across Lake Andrews to Olin Arts Center, several hundred times a year. Honestly, it's not always an interesting scene.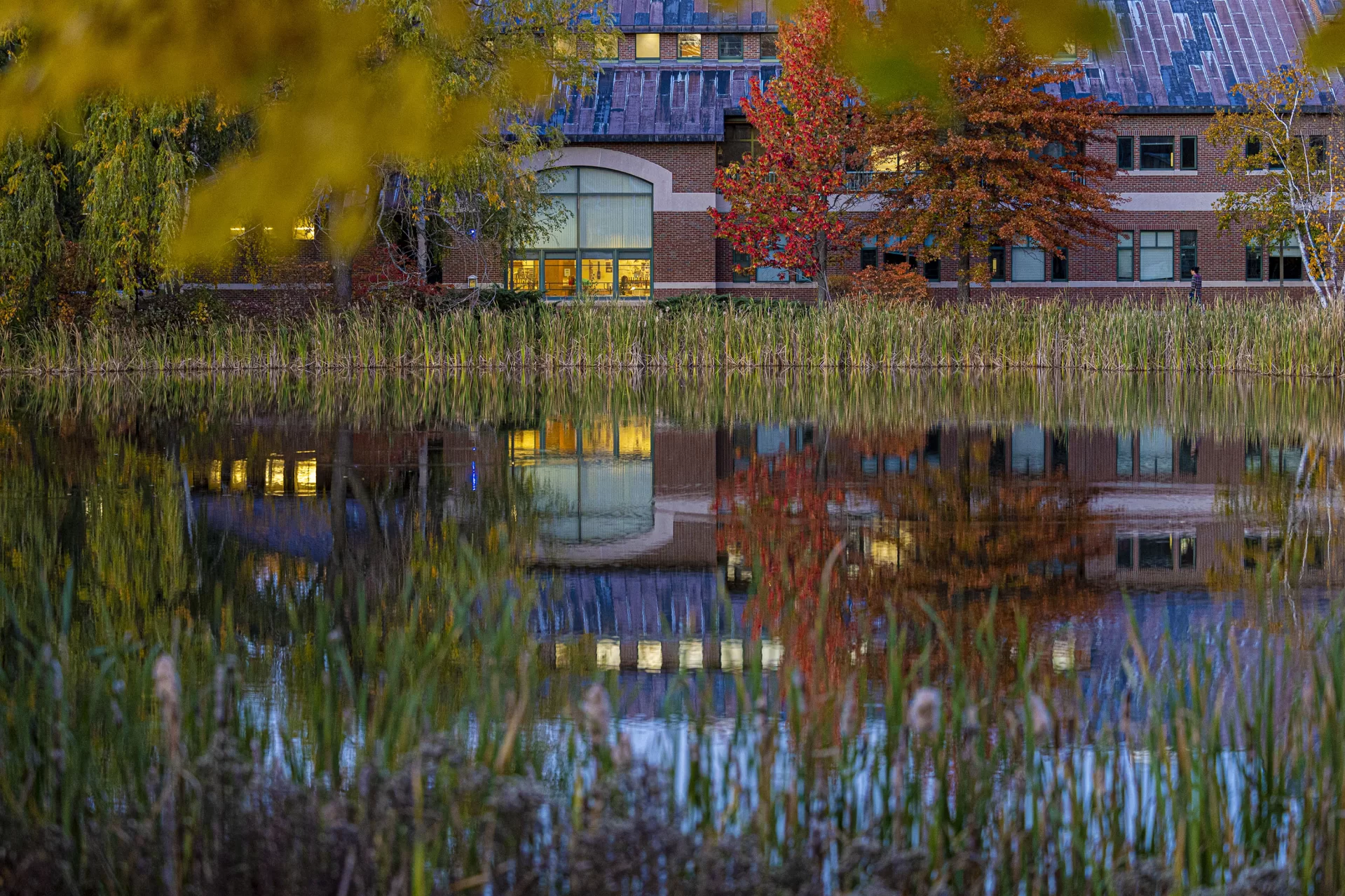 But quantity does offer opportunity for quality, and this dusk was clearly worthy. Interior lights burning through the window and a solitary walker dwarfed by Olin's brickwork — all of it reflected in the water, all punctuated by fall colors — creates a memorable view, and photograph.
Rising in the Poles
Theo Syslo explains:
This photograph of pole vaulter Liam Evans '22, taken during the Maine State Classic on April 23 using a 300mm lens, really struck a chord. In the bend in the pole captured in a precise moment, I see chaos and order working harmoniously together to accomplish a single goal.
It's pretty cool what we can do with cameras, not just today but even yesterday. I get excited to think about where we can go tomorrow.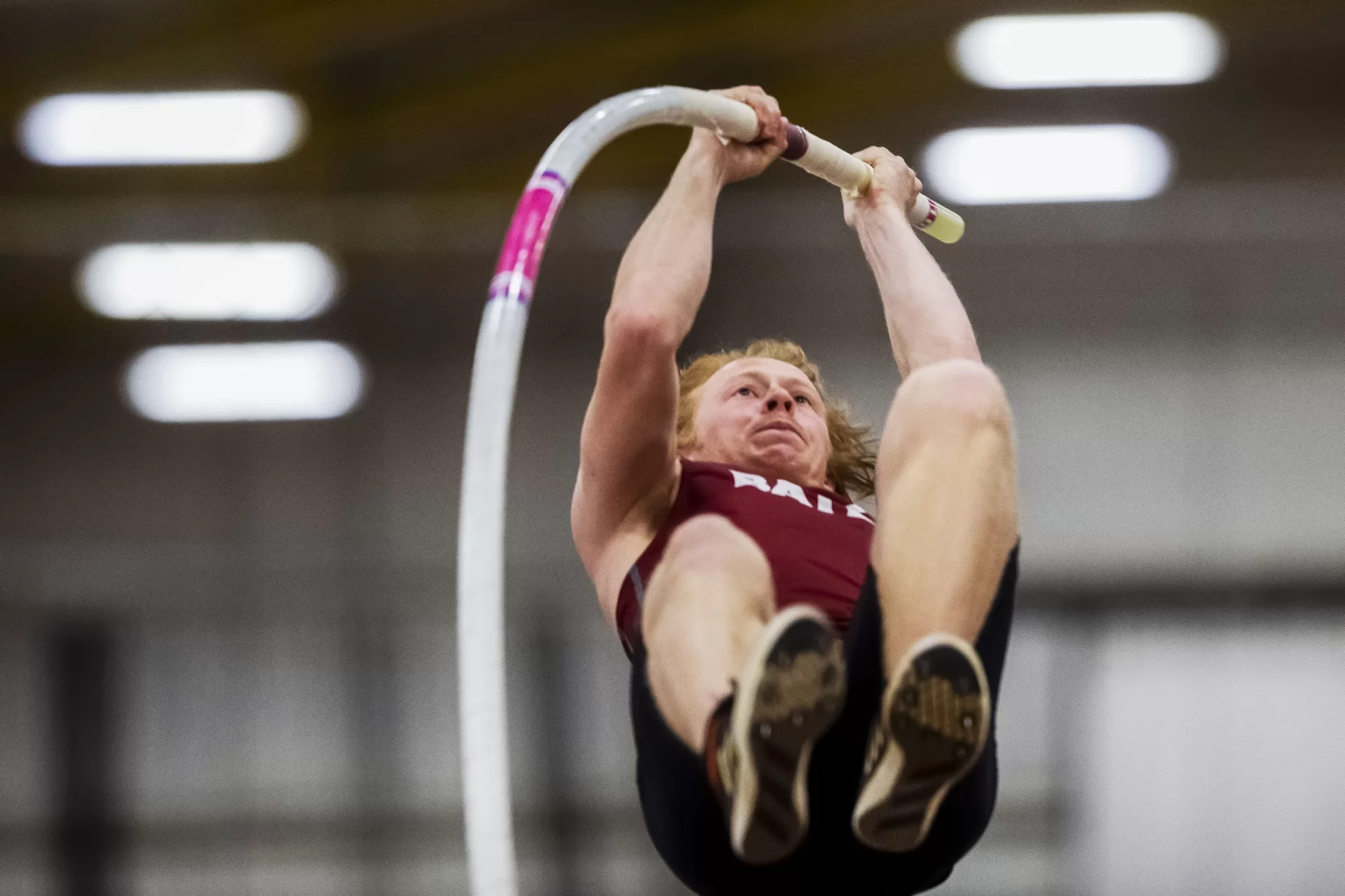 ---
Waiting on a Photographer
Phyllis Graber Jensen explains:
"What are you doing in the tree?" I asked Eliza Brower '23, a politics major from Seattle, Wash. She was sitting in the blooming magnolia tree next to Hathorn Hall. Without missing a beat, she replied, "I've been up here for days waiting for you to pass by."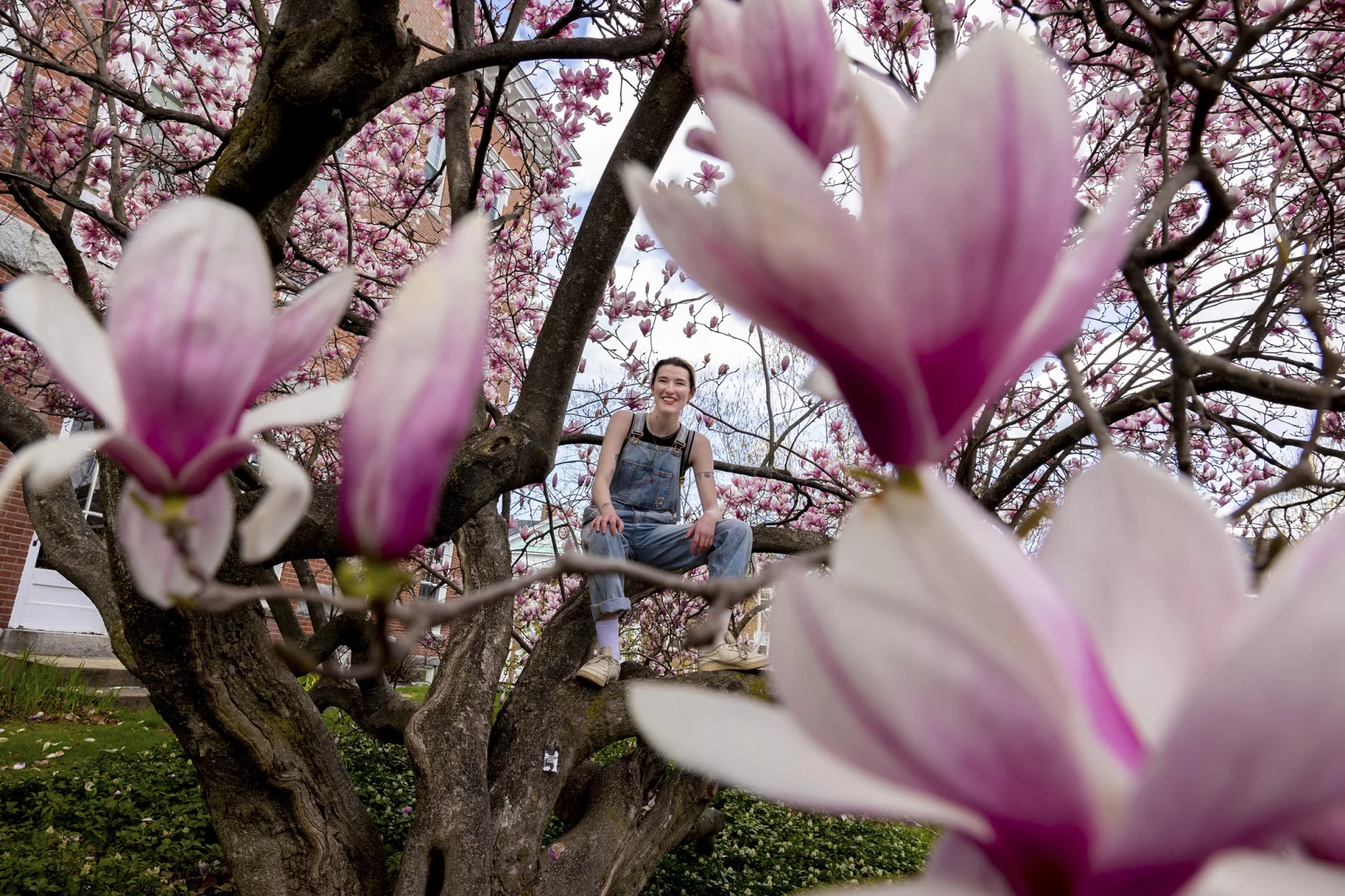 Needless to say, her response appealed to my vanity and sounded entirely reasonable. This tree, like its neighbor, the Hathorn Hall maple, pays yearly dividends, and inflation is never an issue. It's always gratifying for me to discover a new situation or way of seeing. That's what happened here.
---
Go Ahead and Jump
Phyllis Graber Jensen explains:
Around noontime on Commencement Day, I breathe a sigh of relief. The tension that I experienced in the morning, the feeling of being responsible for capturing moments that do justice to the day, begins to disintegrate. The ceremony is over. The academic recessional, which departs Coram Library as a tight parade, spreads out near Hathorn Hall, like a river spreading into a bay, as students search for families.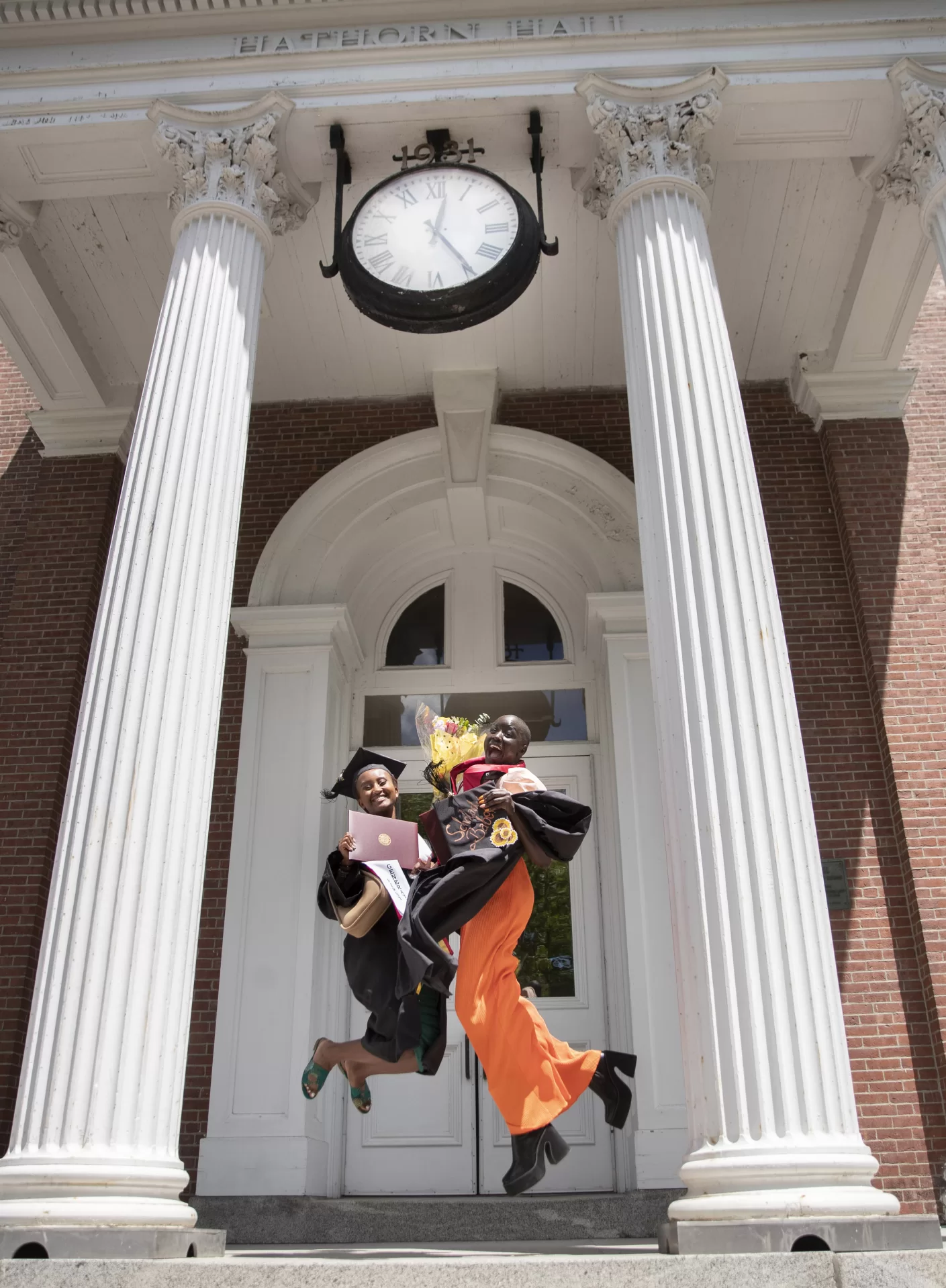 Soon I'll head to my Lane Hall office to begin editing, but until then I remain vigilant. Sure enough, there, on the Hathorn steps, were seniors Amina Mohamed (left), a double major in neuroscience and history, and Sandia Taban, a politics major, jumping for joy for another photographer. All I had to do was position myself, point, and shoot.