Professor Emeritus of English Lewis Afton Turlish, praised as a consummate teacher who was "gracious, generous, witty" in the classroom, died Jan. 4, 2023, at age 80. Below is President Clayton Spencer's statement to the Bates community.
---
Dear Members of the Bates Community,
I write with the sad news that Professor Emeritus of English Lewis Afton Turlish died Jan. 4, 2023, at age 80.
A 1964 graduate of Geneva College, Lew earned a Ph.D. in English literature from the University of Michigan and was appointed to the Bates faculty as an instructor in English in 1969. He was promoted to assistant professor in 1970, associate professor with tenure in 1977, and full professor in 1984. He served as department chair in the mid-1990s and retired in 2008.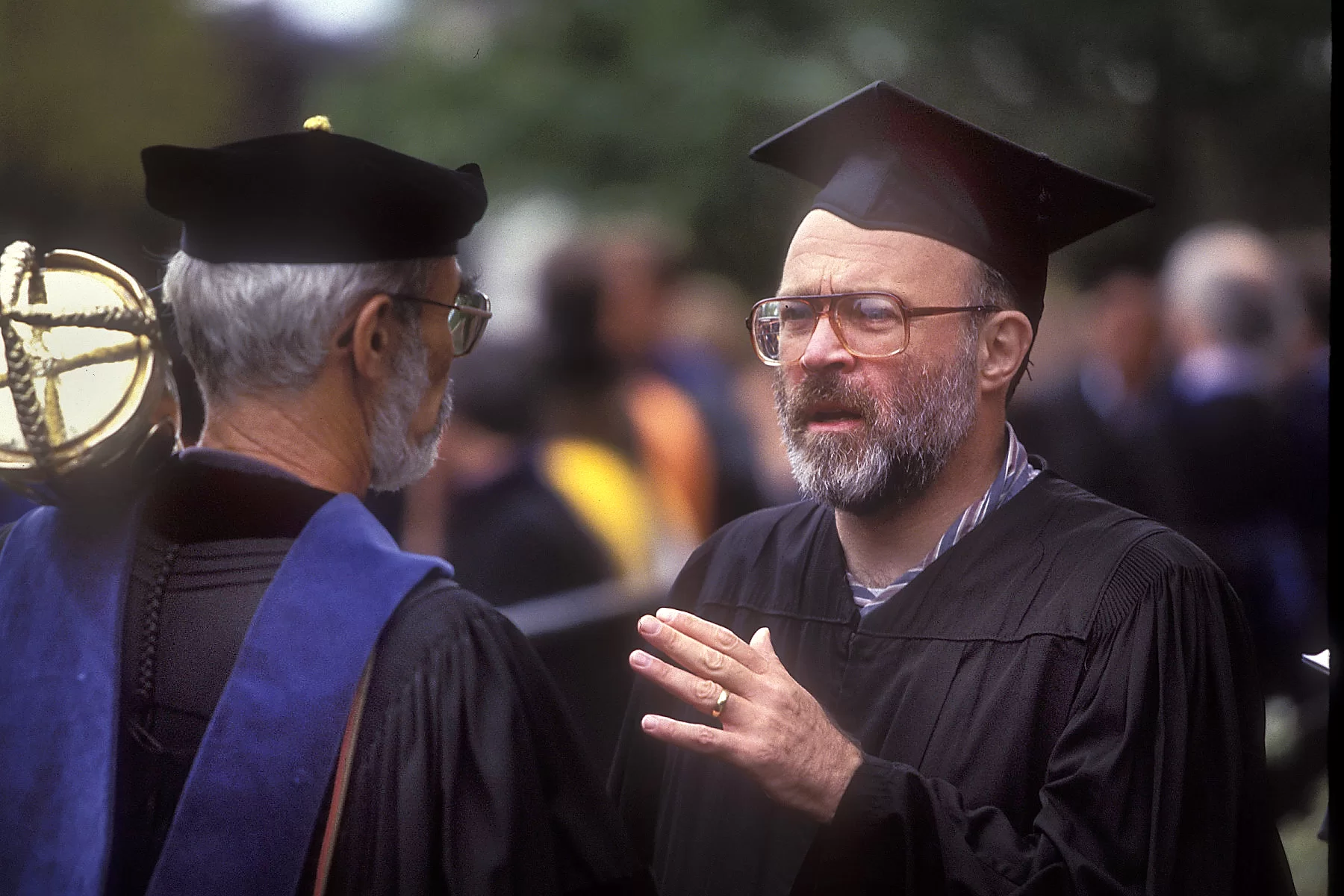 Born and raised in South Philadelphia, Lew was the grandson of an immigrant coal miner and son of a baker for Acme Supermarkets. His family obituary describes his childhood as a "mixture of hours spent reading in the Free Library of Philadelphia and time making mild mischief in streets he would later recognize in the seminal film Rocky. This combination of pursuing curiosity about wide-ranging topics and taking a somewhat irreverent approach to life comprised the essence of his character."
A consummate teacher of English literature who specialized in 19th-century American literature and modernist literature written between World War I and World War II, Lew taught more than 20 different Bates courses, from "Joyce's Ulysses," "The Waste Land and After," and "Major American Writers to 1900" to "Beatniks and Mandarins: A Literary and Cultural History of the American '50s."
His late faculty colleague Werner Deiman once described Lew as "one of the liveliest and most gifted teacher-scholars on this campus," whose "enthusiastic and devoted" students "pay him the appropriate compliment by responding to his inspiration with intellectual fervor, energy, and challenge." One of Lew's students wrote that he "breathes life into each piece of literature he presents and instills in every student a hunger for knowledge that I know I will never lose."
He earned a summer research award from the National Endowment for the Humanities in 1972 and a Andrew Mellon Fellowship in 1976–77. Writing in American Literature in 1971, he was the first scholar to suggest that Tom Buchanan's dialogue about civilization "going to pieces" in The Great Gatsby is a reference to Theodore Lothrop Stoddard's The Rising Tide of Color, published in 1920. Lew was an early advocate for the possibilities of the college's Short Term. In the 1980s, he directed the college's summer Elderhostel program, noting that the older students who came to Bates brought "a certain sense of wonder to their quest for knowledge."
In Lew's classroom, "one always was reminded of a speculative question or a story that would make an evening or morning memorable."
A jazz lover, he regaled fellow enthusiasts during a lunchtime gathering in 2007, shortly before his retirement, described by Bates Magazine as "scenes from a life, with a soundtrack by Mingus and Bird…. Philadelphia of the 1950s, the Beat writers, and the golden days of jazz."
Writing Lew's retirement citation in 2008, Associate Professor of English Sanford Freedman described his colleague's teaching as "gracious, generous, witty." In Lew's classroom, Sanford said, "one always was reminded of a speculative question or a story that would make an evening or morning memorable." As a faculty colleague, Lew was "a diligent and efficient chair, a fine listener (a skill honed no doubt by his years as secretary in faculty meetings!), unflappably steady and good-humored, and an excellent teacher."
Sanford added, "Many on the faculty and staff have remarked how Lew went out of his way, sometimes in small almost imperceptible ways, to make people feel valued and welcomed as a colleague or a friend. We will always be grateful to this man who kept before us Henry James or Walt Whitman or Robert Frost or Elizabeth Bishop, or compared (in exhaustive detail) our outlooks on the Red Sox's prospects for the coming summer, which in those days were always hopeful but iffy."
He is survived by his wife, Molly; daughters Cora and Hannah; two grandsons; a sister, Susan; several nieces and nephews; and their families.
• To read the complete obituary for Lewis Turlish, please visit: https://bit.ly/lewis-turlish
• To read Sanford Freedman's retirement citation for Lewis Turlish, please visit: https://bit.ly/turlish-citation
View Comments