As September sped by, we still felt the presence of summer, its warmth staying around a few more weeks, charming us as we all head deeper into a new school year.
Athletic competitions returned in full force, as did the chance to spend time alone and together — and to review the old, explore the new, and to listen and to learn. These moments present the Bates campus in transition from summer to fall.
'His Enduring Legacy'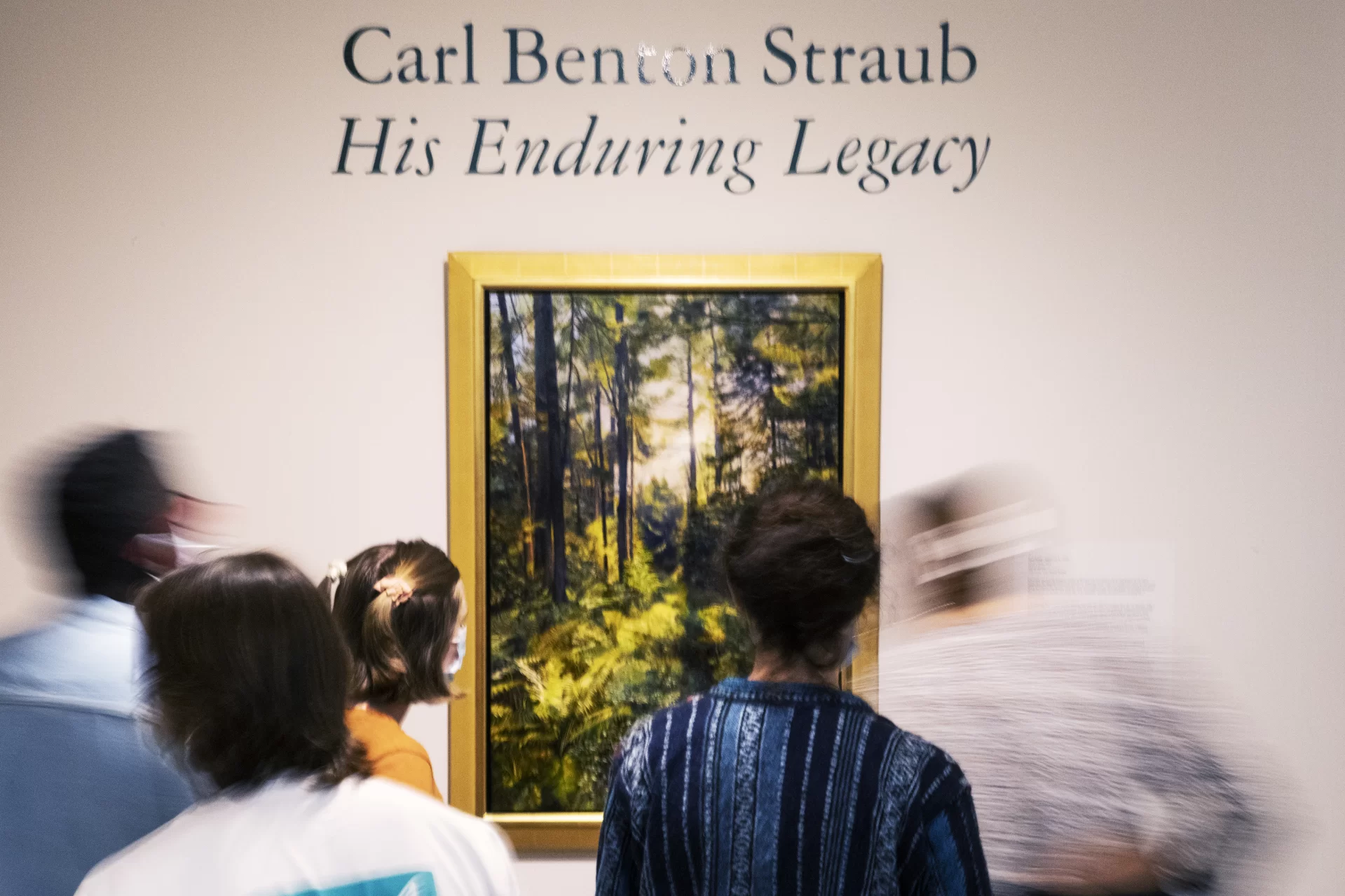 Students in a senior thesis class taught by Penny Jones, a lecturer in art and visual culture, visit the Bates College Museum of Art to view the exhibition Carl Benton Straub: His Enduring Legacy.
Carl Straub, who died in 2019, was a revered and influential Bates scholar, teacher, and academic leader. The exhibition features works from his personal collection as well as works acquired with funds from the Olivia and Ellwood Straub Endowment, which he created in 1991.
According to the exhibition materials, Straub's artwork "challenges viewers to look critically at our environment and landscape," while "illuminating the intention of the collector, providing the opportunity for greater appreciation of Carl Straub's discerning vision and generous spirit."
---
Two Handed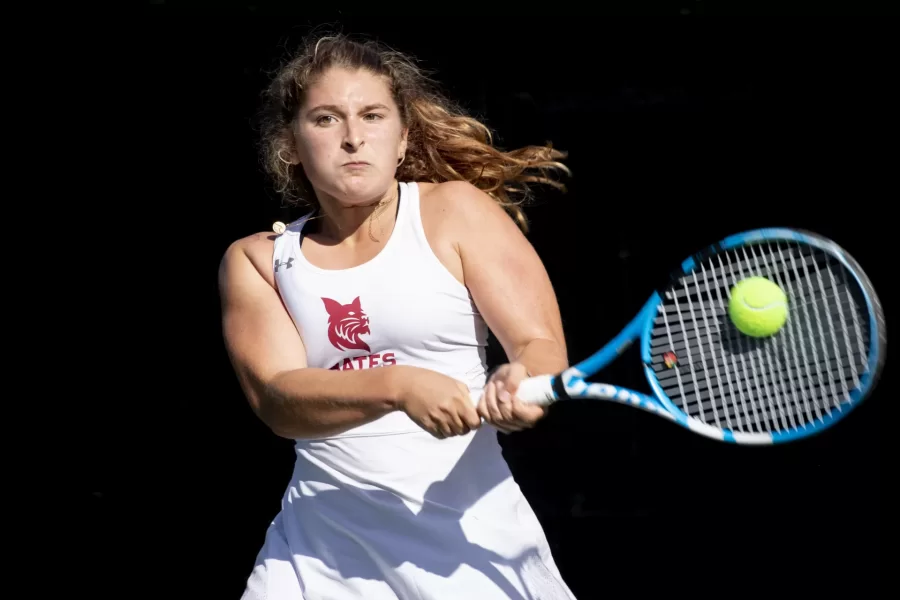 Ally Friedman '24 of East Hampton, N.Y., powers a backhand as she and the Bates women's tennis team compete in the Wallach Women's Invitational on Sept. 11, 2021.
---
What They Said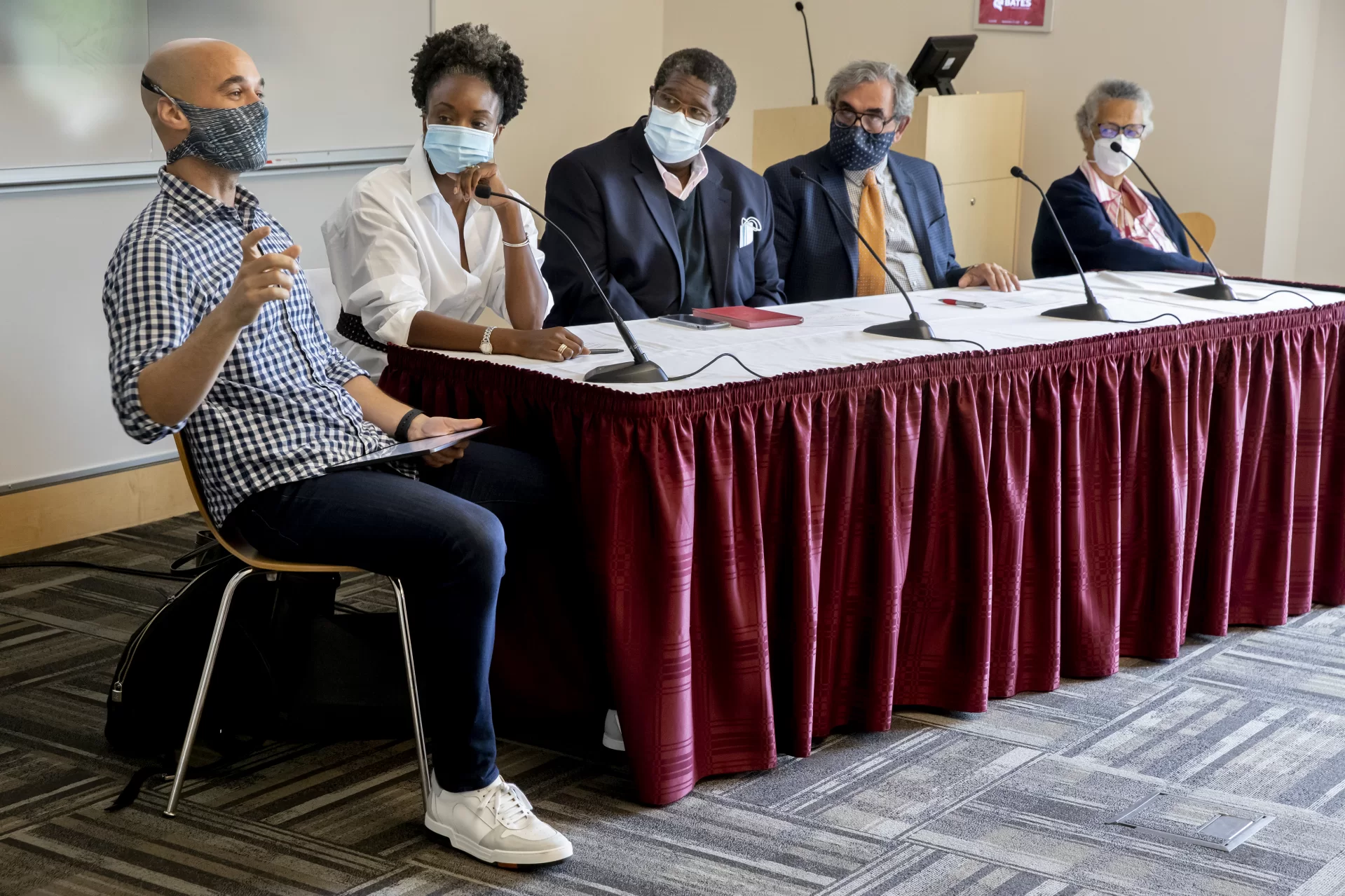 On Sept. 27, a faculty panel explained how they guide their students through texts and other academic material that is overtly anti-black and white supremacist.
The panel gathered to recognize Charles Nero, Benjamin E. Mays '20 Professor of Rhetoric, Film, and Screen Studies, who is the 2021 recipient of the Kroepsch Award for Excellence in Teaching.
From left, Assistant Professor of History Andrew Baker, Assistant Professor of Sociology Marcelle Medford, Nero, Professor of Hispanic Studies Baltasar Fra-Molinero, and Professor of Africana Sue Houchins. Professor of English Therí Pickens moderated and joined the panel via Zoom.
Later that day, Nero delivered the annual Kroepsch Lecture, a dazzling dive into Spike Lee's BlacKkKlansman and its "takedown of American cinema's interracial friendship fantasies."
---
Those Socks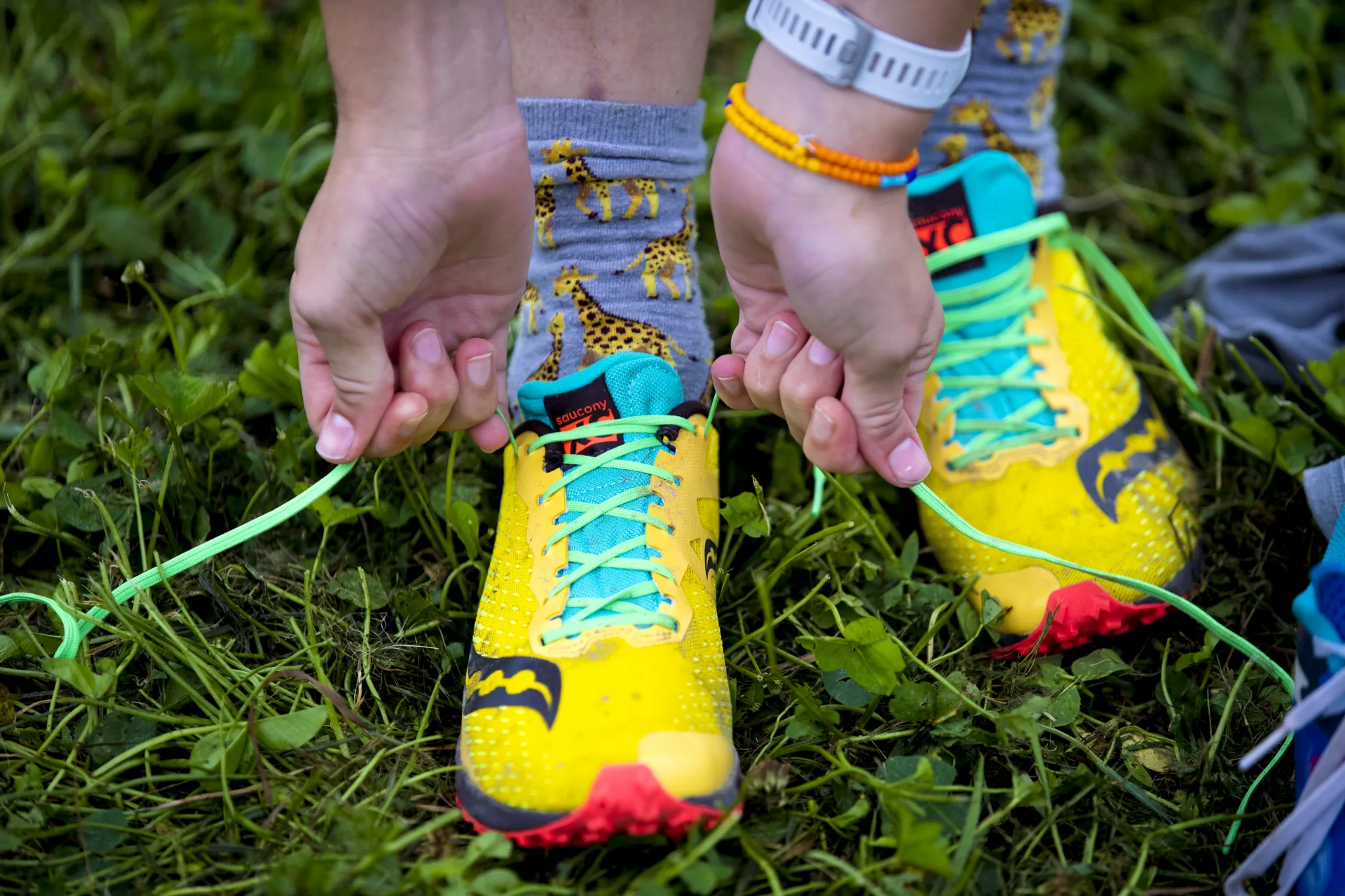 Jordan Wilson '23 of Medford, Mass., ties her shoes before helping the Bates women's cross country team outrace Tufts and Connecticut College at the Bates Super XC Shootout at Pineland Farms on Sept. 18, 2021. The victory propelled the women into the top 10 in the national rankings.
---
'Ode to Joy'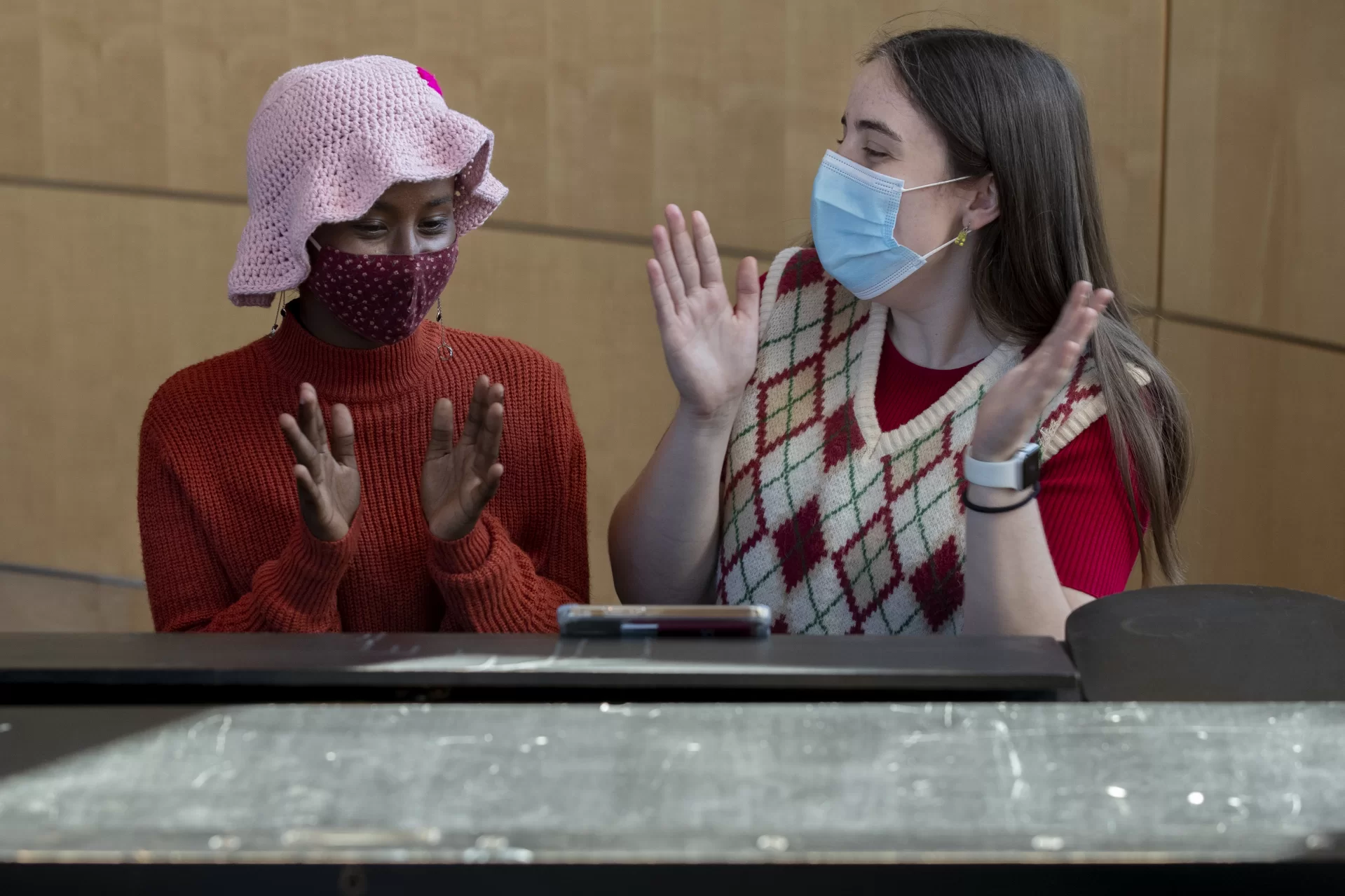 In a display of teamwork, Nimco Jama '25 (left) of Hargiesa, Somalia, and Xanthe Miller '25 of Short Hills, N.J., celebrate after successfully playing Beethoven's "Ode to Joy," from his Ninth Symphony, on the piano in the Fireplace Lounge at Commons.
They are each taking applied music lessons in the Olin Arts Center: Jama in piano, where her assignment was to learn the piece, and Miller, in voice. Miller knew the piece and was offering Jama encouragement.
---
Alumni Walk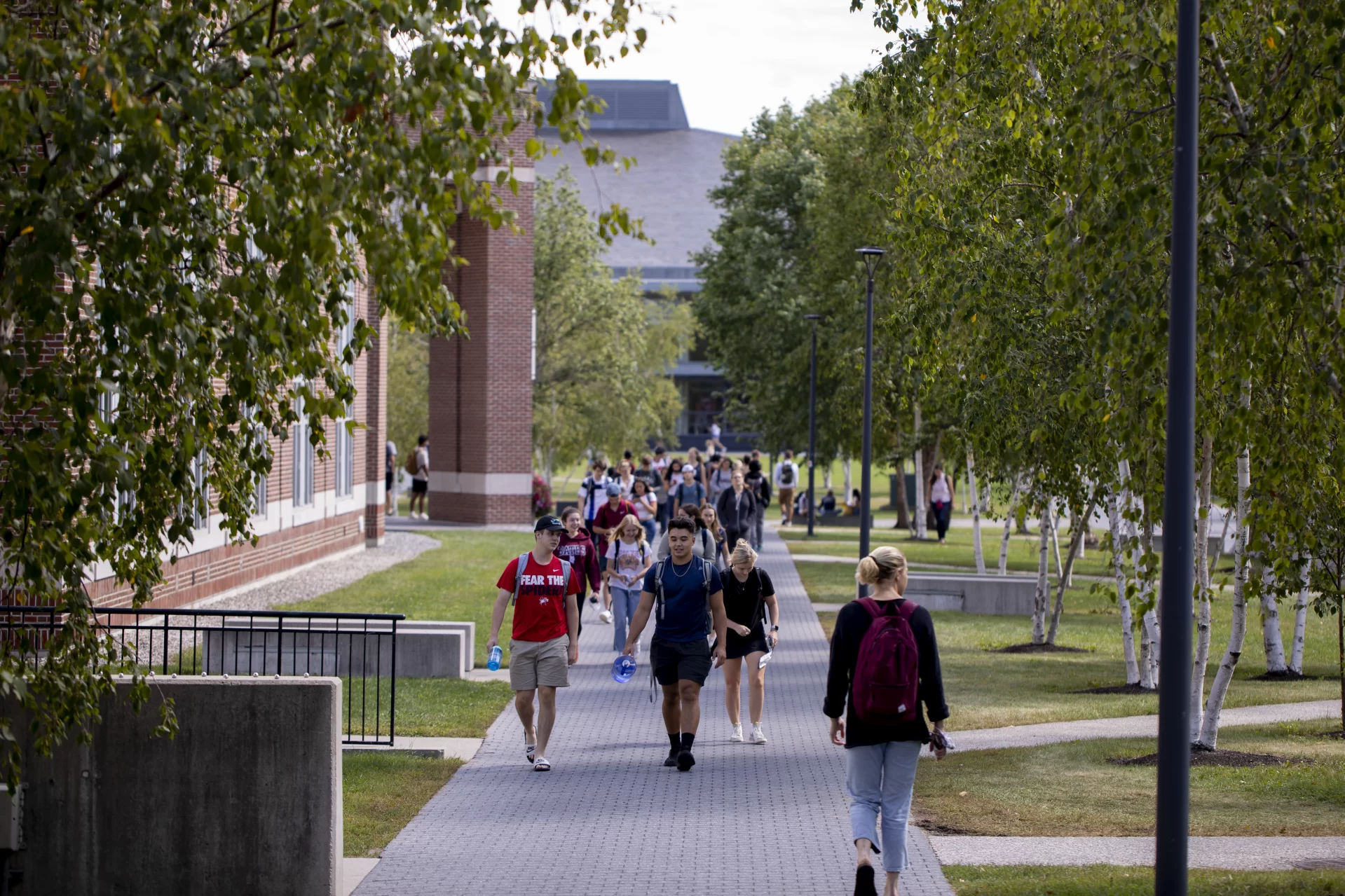 As classes break midday, students fill Alumni Walk.
---
The Diverse Bookfinder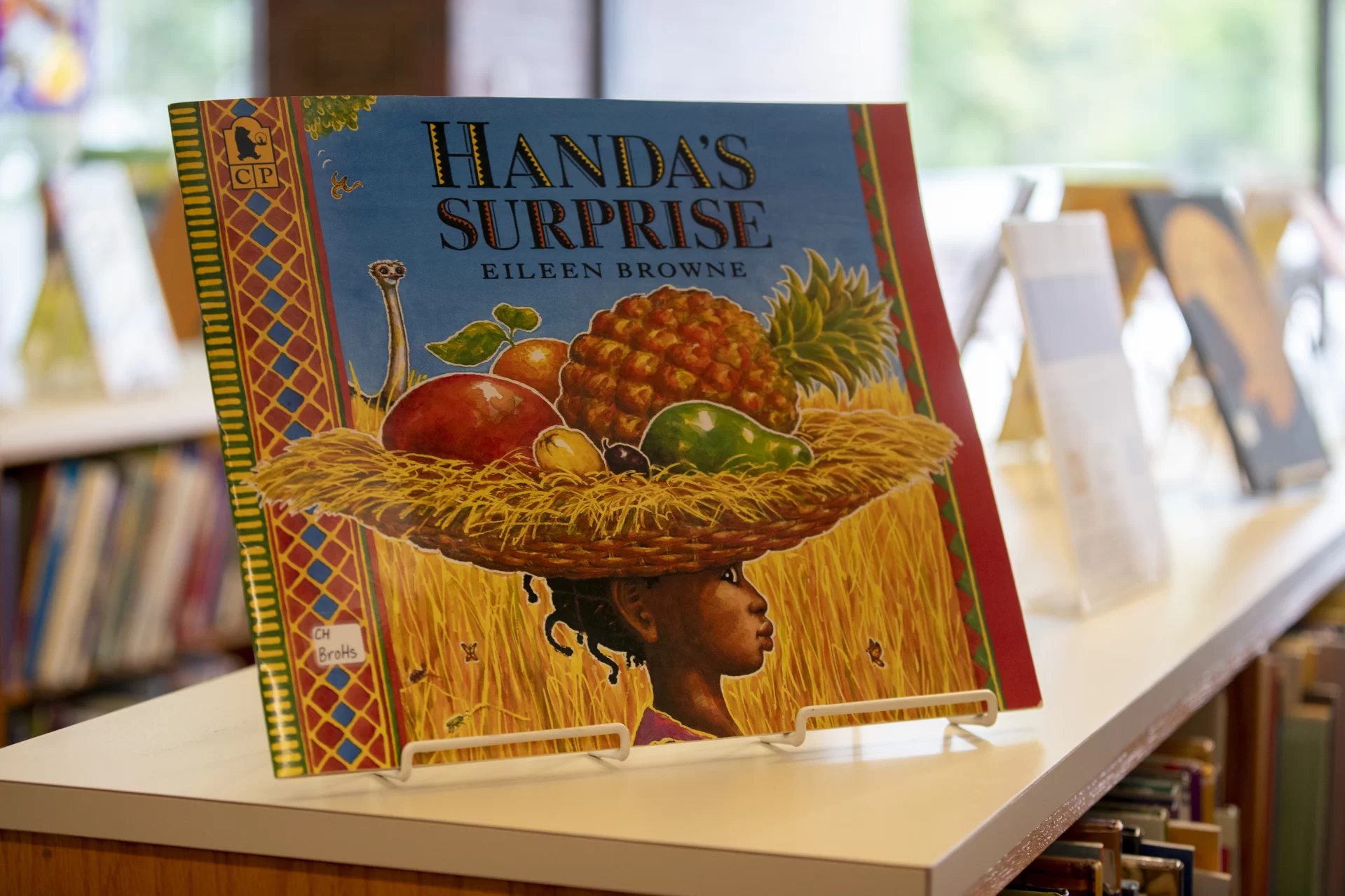 Handa's Surprise, by Eileen Browne, is one of thousands of titles in the children's picture-book collection at Ladd Library, a key component of the Bates-based Diverse BookFinder, which features more than 4,100 titles overall.
Picture books "provide a perfect platform for beginning to have essential conversations about race and culture with children," says Professor of Psychology Krista Aronson, the BookFinder's founder and director.
Reflecting its growing importance to educators and librarians around the country, the Diverse BookFinder will play a major role in a new summer institute hosted by Bates in 2022 and funded by a $175,000 grant from the National Endowment for the Humanities.
---
No Work Zone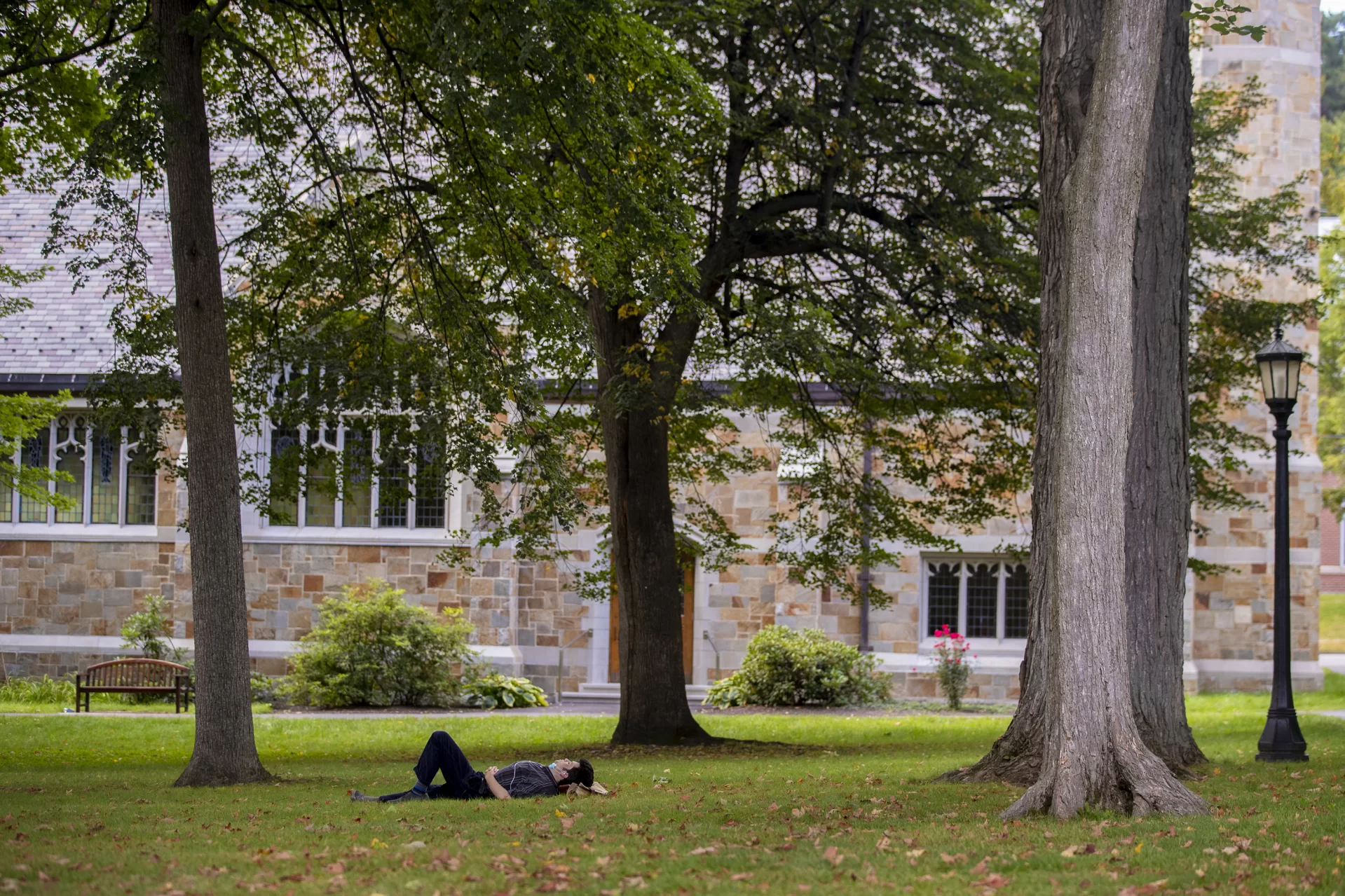 The last day of summer saw Aidan Richman '24 of Portland, Maine, relaxing on the Historic Quad near the Peter J. Gomes Chapel. He was listening to "Afternoon Raga Bhimpalasi," performed by Pandit Nikhil Banerjee.
Richman doesn't like to work outside, he says. The outdoors is for enjoying music. "I like to keep it a work-free zone."
---
Fancy Footwork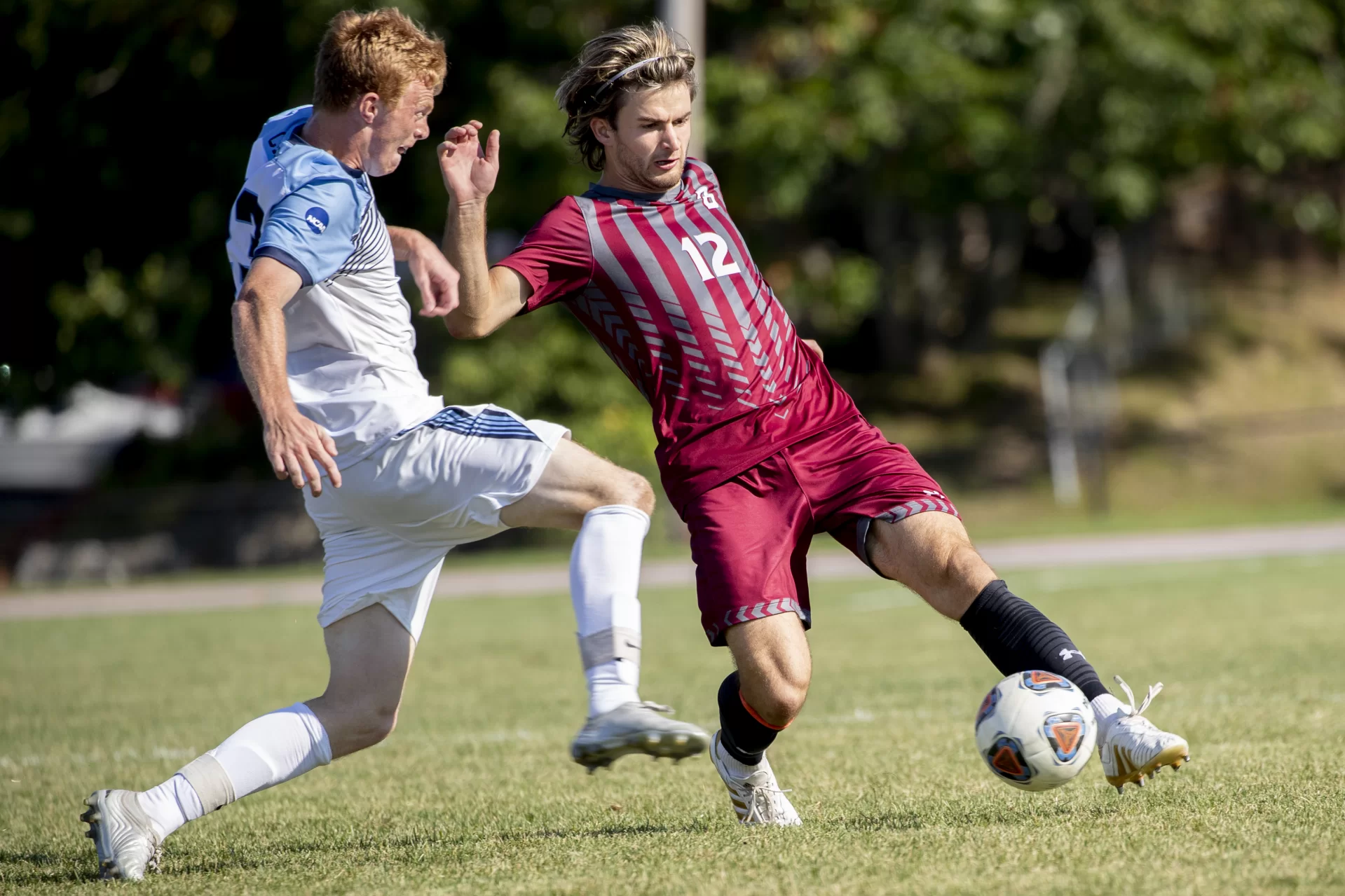 Simon Clarke '25 of Redwood City, Calif., makes a play for the ball against Connecticut College in NESCAC action at Russell Street Field on Sept. 18, 2021.
---
Reviewing the Basics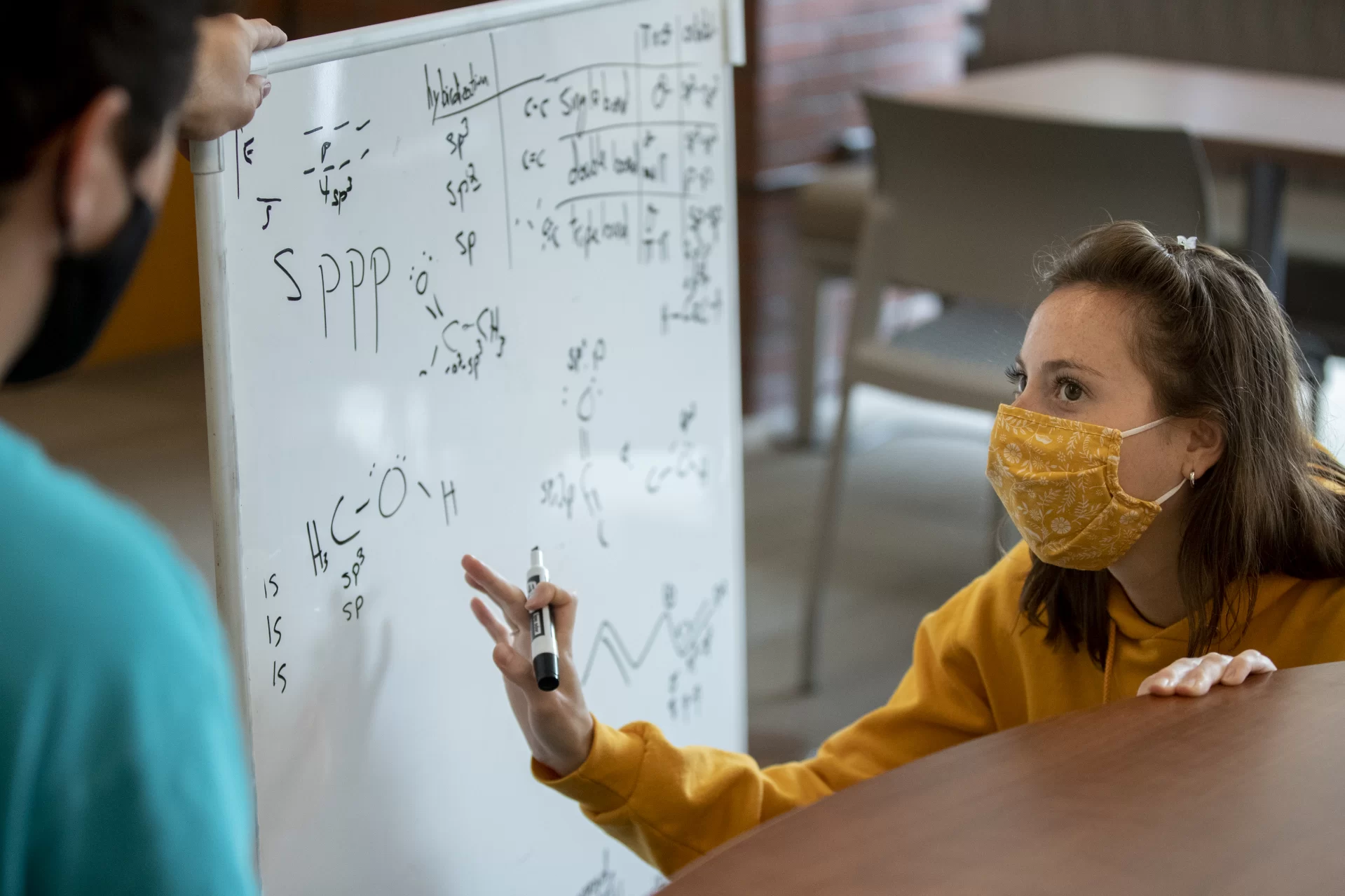 In the Academic Resource Commons, Peter Riley '22 (left) of La Crosse, Wis., a chemistry tutor, works with Lauren Farrell '24 of Middletown, Conn. They're reviewing basic concepts of hybridization and valence bond theory for Farrell's upcoming test.
---
Interdisciplinary Reading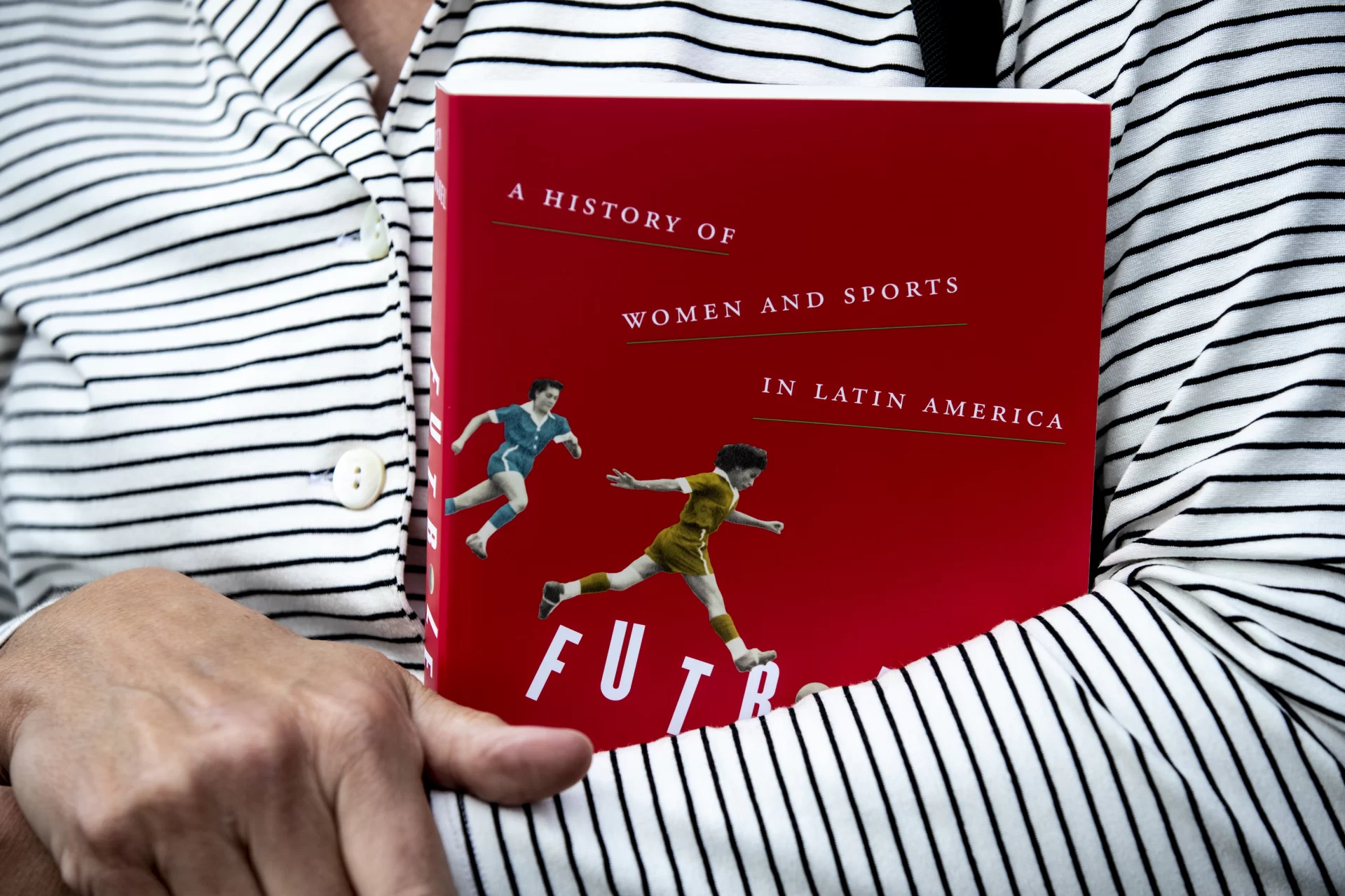 Visiting Assistant Professor of Psychology Su Langdon holds a book she received from her colleague Professor of History Karen Melvin. Langdon is using the book in her First-Year Seminar, "The Sporting Life," which explores, from a variety of disciplinary perspectives, the importance of sports in many people's lives.
The book is Futbolera: A History of Women and Sports in Latin America, by Brenda Elsey and Joshua Nadel.
.
---
Gift for a Grandson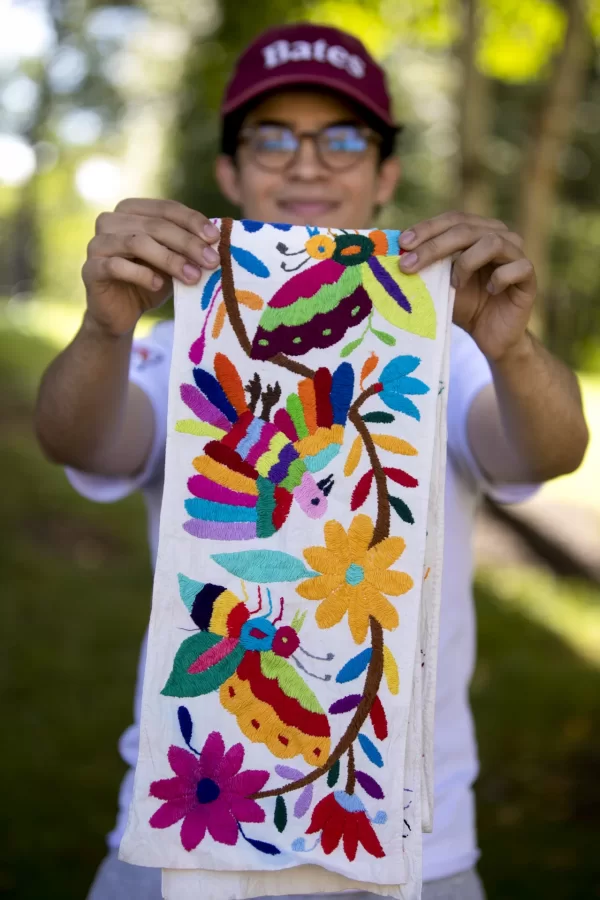 Manuel Machorro Gomez Pezuela '24 of Mexico City holds an embroidered runner that his grandmother purchased in a hometown market. She wanted him to have it as a reminder of home for his Bates room at 280 College Street.
---
Going, Going, Gone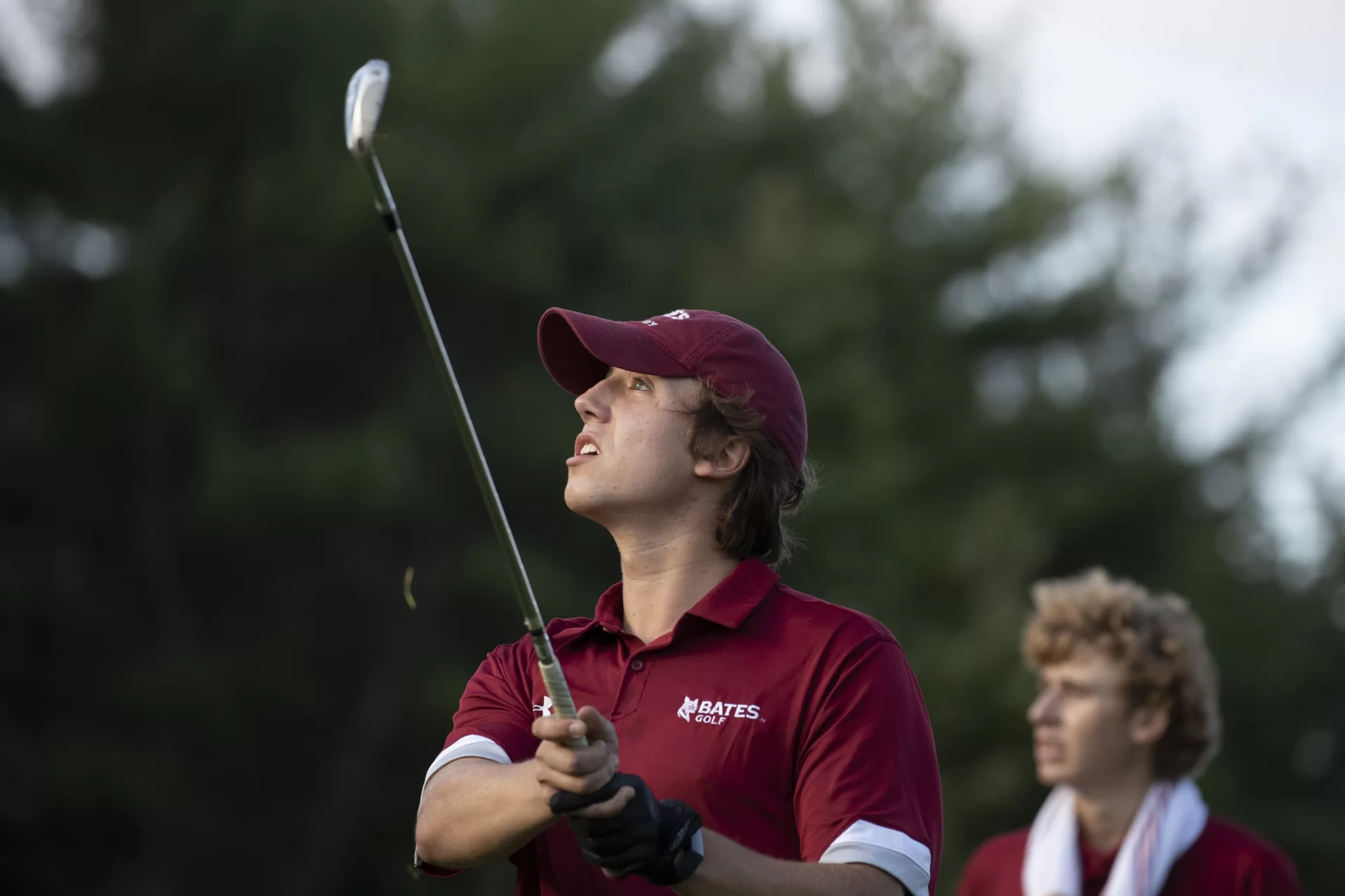 Men's golf captain Jack Howard '22 of Pelham, N.Y., eyes his shot during a practice at Martindale Country Club.
---
Refreshing Paws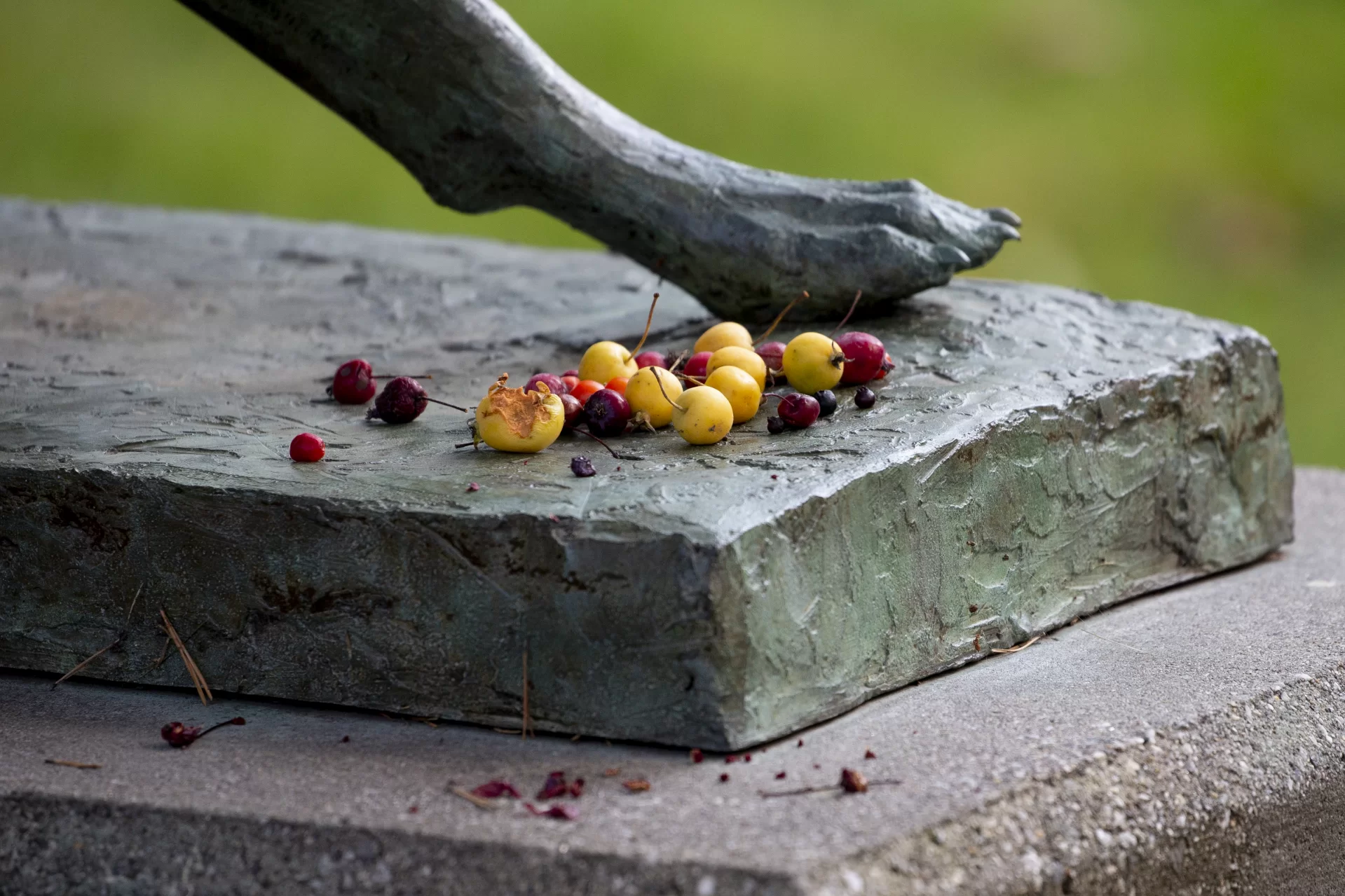 Fall berries — perhaps a squirrel's snack — sit by the paw of Dan's Beagle, a sculpture by Elliot Offner that honors the life of Daniel Stephen Goldstein '92.
---
Portrait Photography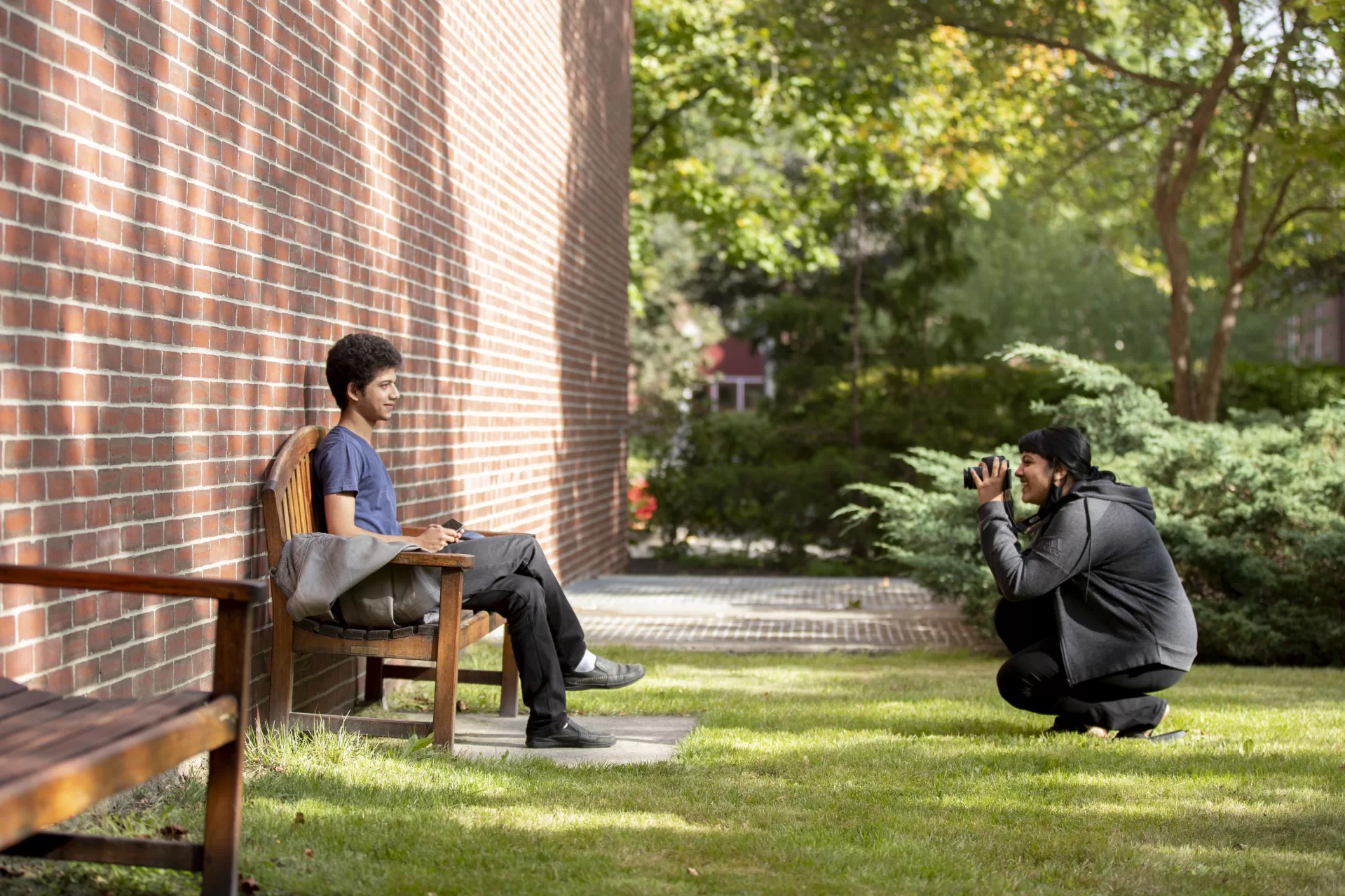 Outside Ladd Library, Khushi Choudhary '23 of Kolkata, India, photographs Rafay Rafay '25 of Lahore, Pakistan, while he studies for a digital and computational studies course.
The photograph was part of Choudhary's coursework for "Photography: The Digital Image," taught by Elke Morris, senior lecturer in art and visual culture.
Choudhary started with a simple portrait. Then she moved on to her real assignment, panning, where the photographer uses a slow shutter speed and moves the camera at the same speed as a moving subject. The result (hopefully) is a sharp subject and a smooth, blurred background.
Before she did all that, Choudhary asked Rafay if she could photograph him, because learning to be a photographer includes the ability to speak with those you'd like to photograph, as well as perfecting technical skills.
.
---
Join Us for Change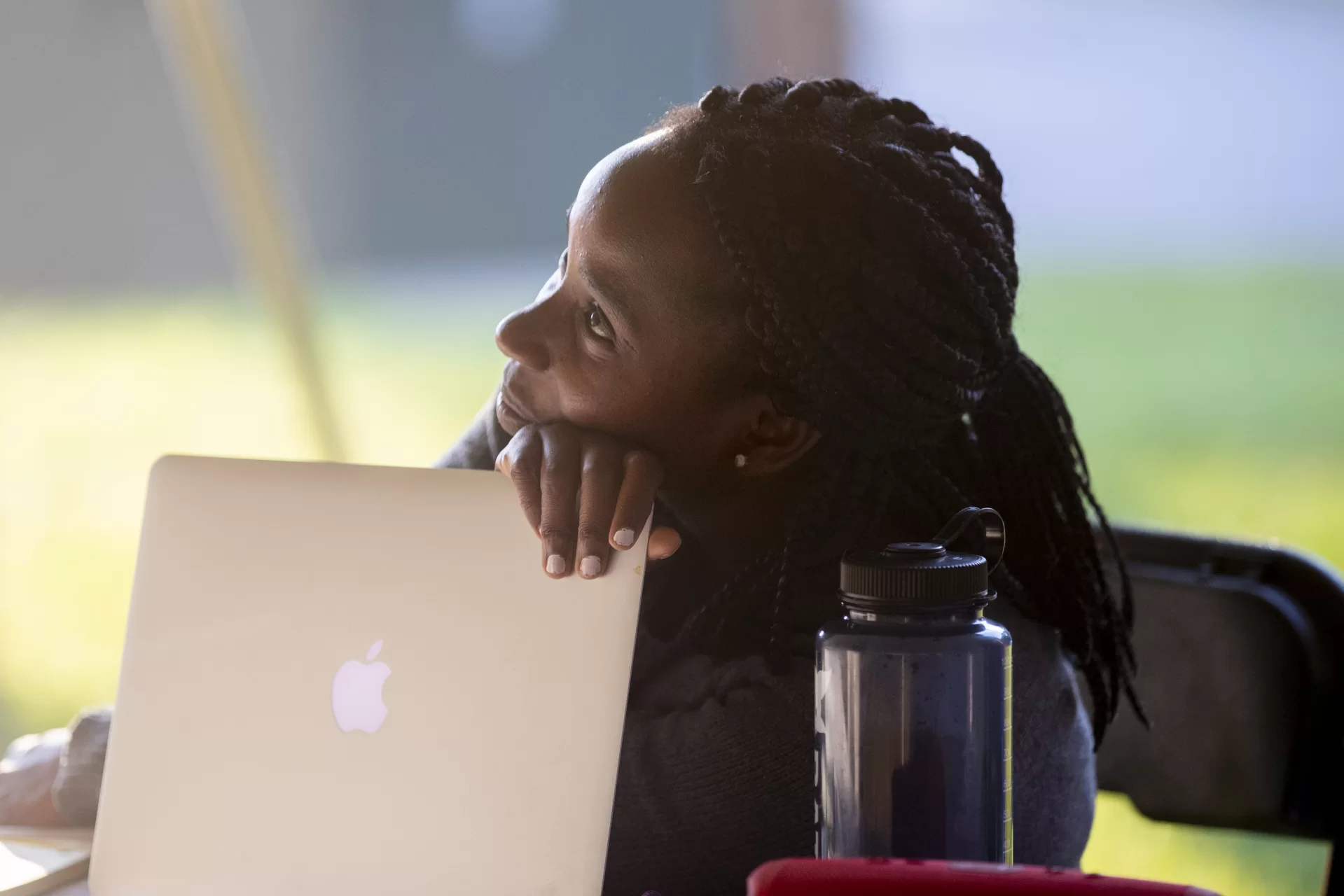 Aaliyah Moore '24, a politics and Africana major from Phoenix, talks with a fellow student during the annual Volunteer Fair. A community outreach fellow for the Harward Center for Community Partnerships, Moore coordinates volunteer opportunities for legal reform in the Lewiston-Auburn community.
The fair provides Bates students, both new and returning, the chance to learn about ways to get involved with off-campus organizations.
---
The Sylvesters Are Walkers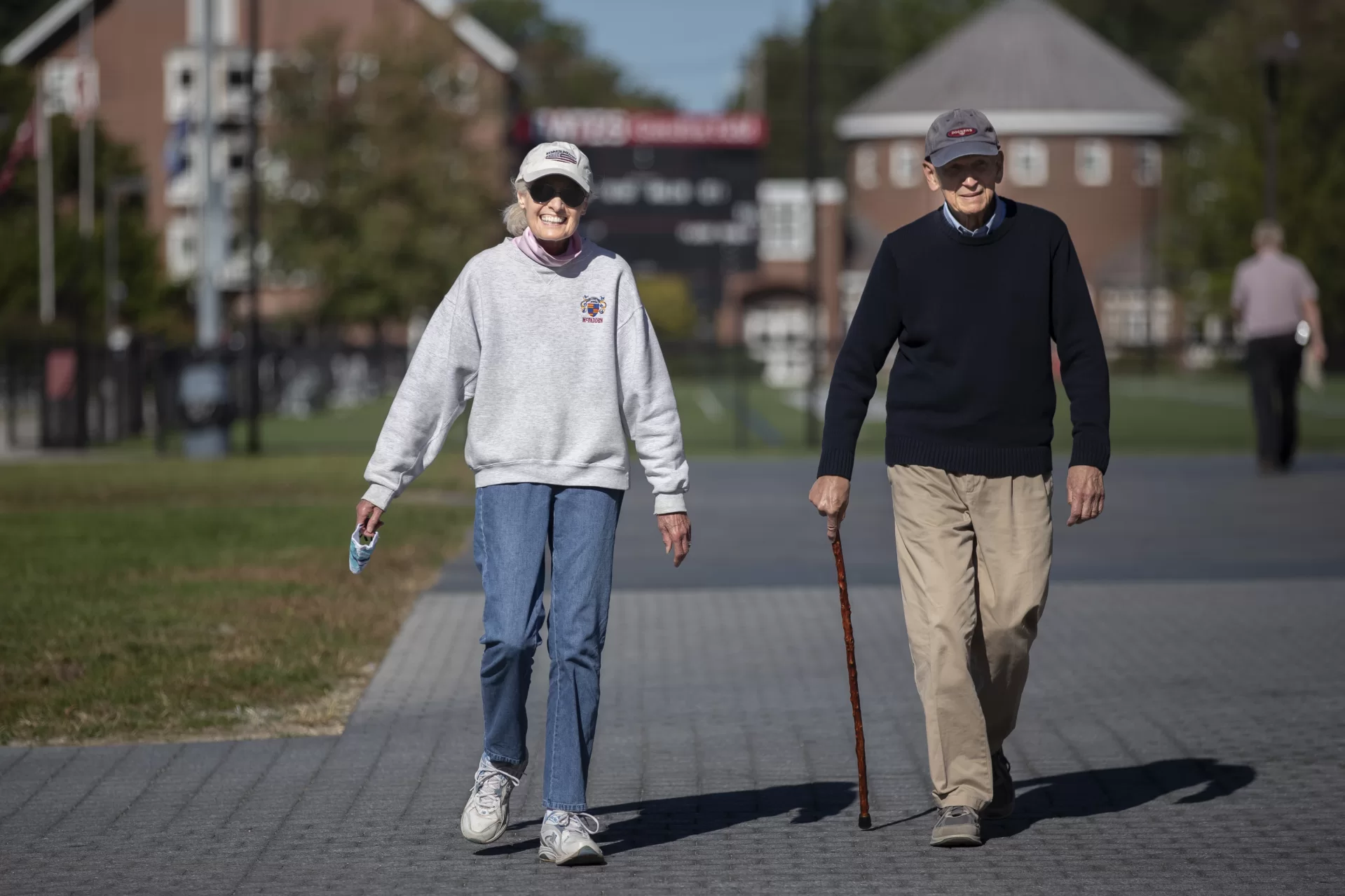 Enjoying a late summer afternoon, Sheila Sylvester and Sawyer Sylvester, professor emeritus of sociology, take the second walk of their day. They regularly walk the Bates campus.
---
Before the Storm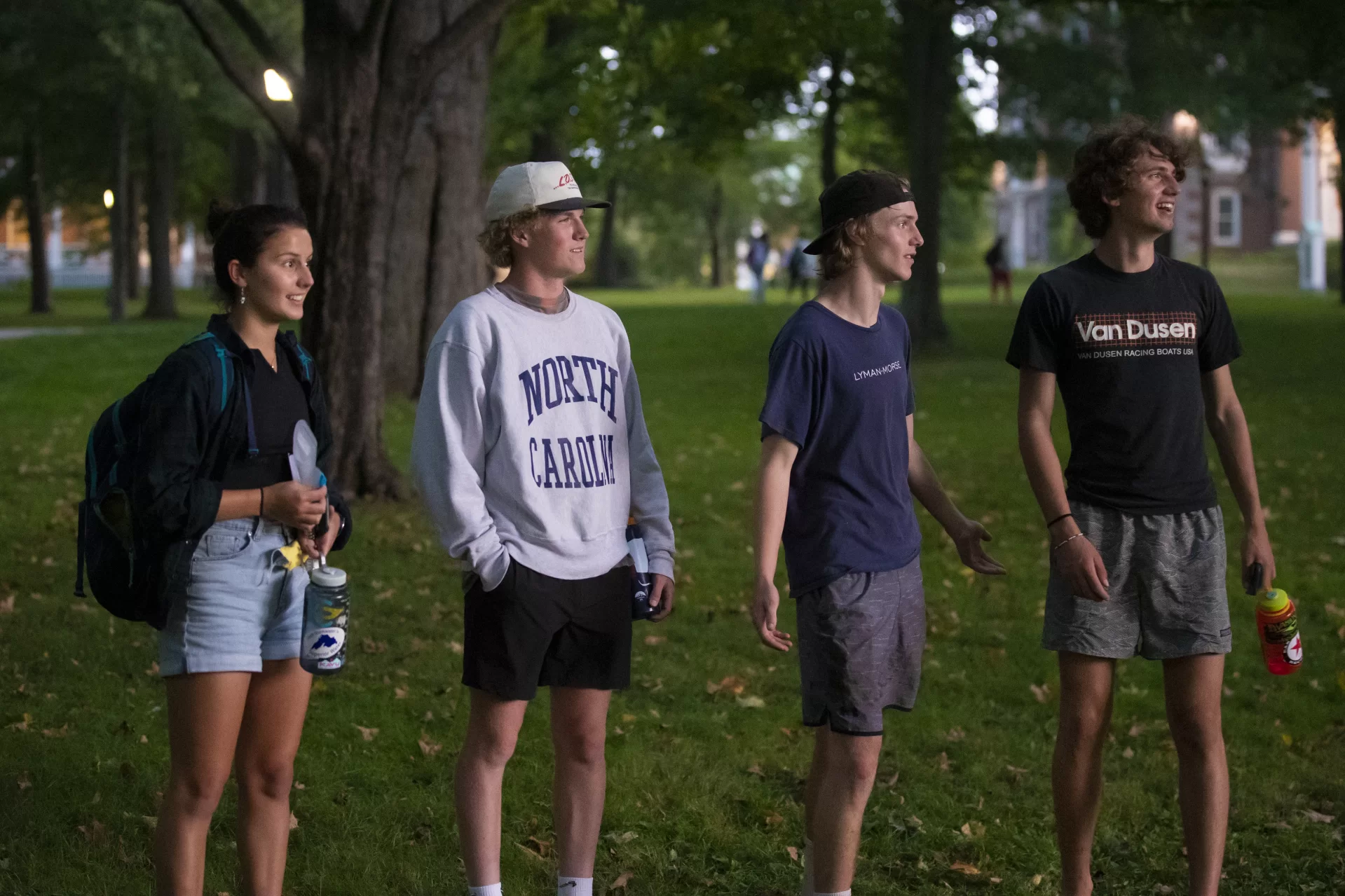 First-years Claire Barlass, Micah Sheats, Sam Hanson, and Zach Van Dusen are appropriately wide-eyed on the Historic Quad as a thunderstorm bears down on campus.
---
Eyes on the Prize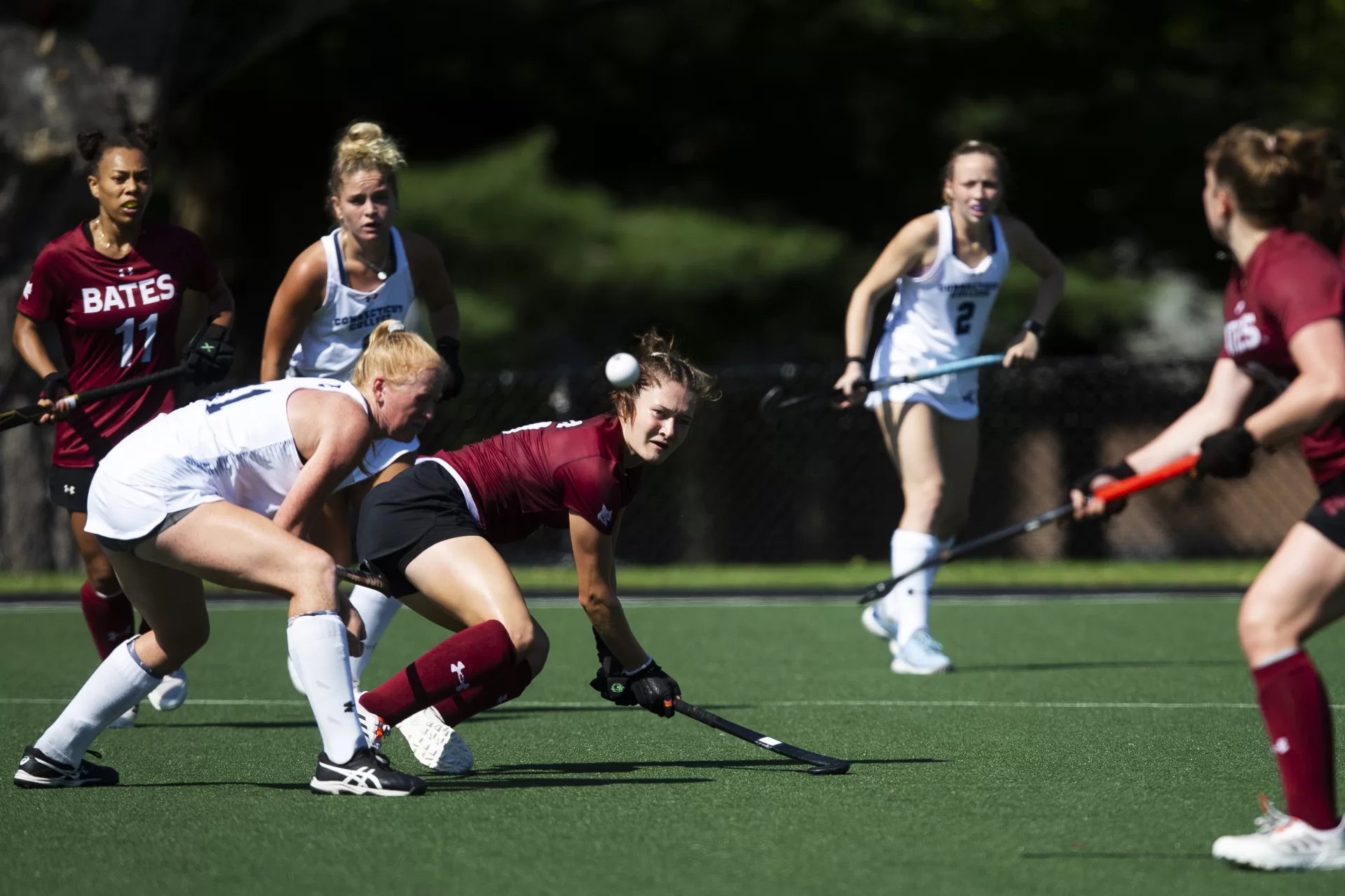 Paige Cote '23 of Auburn, Maine, scores one of Bates' five goals during the field hockey team's shutout victory over Connecticut College, 5-0, the team's biggest margin of victory in NESCAC action since 2002.
---
Starstruck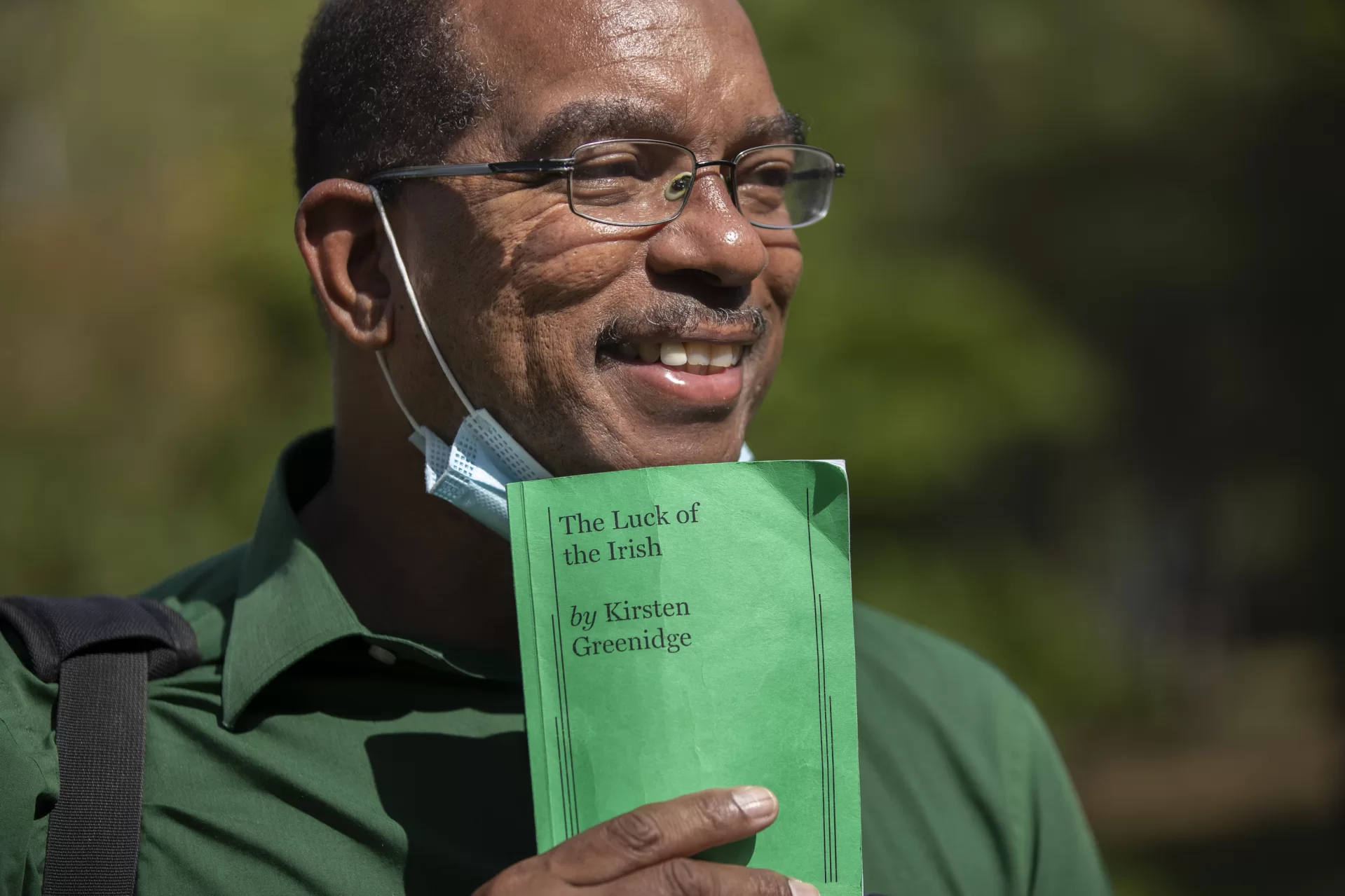 After a rehearsal, Associate Dean for International Student Programs James Reese holds the script for playwright Kirsten Greenidge's The Luck of the Irish, a production directed by Assistant Professor of Theater Cliff Odle set to hit the Gannett Theater stage in late October.
Reese plays the patriarch of an African American family who discovers they may be cheated out of the home they've owned for several generations. "Race, class, and real estate make for a predictably combustible combination," wrote The New York Times.
---
Besties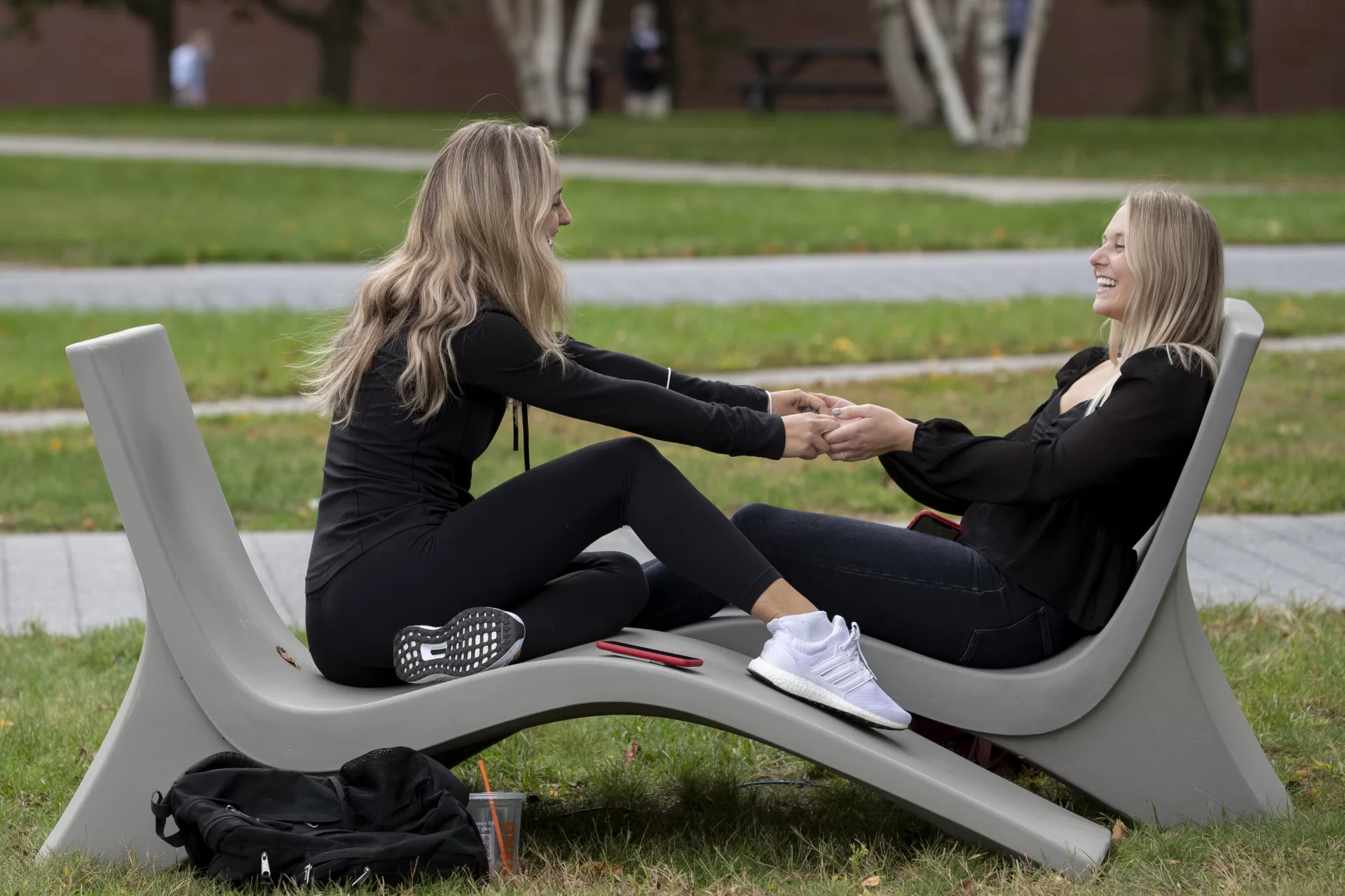 During a recent break between lunch and class, seniors Anna Rozin (left) of Toronto and Dana Swartz of North Andover, Mass., arranged their chairs "to be in the perfect position to talk," said Rozin.
And they have some catching up to do. Both were off campus last semester: Rozin, a double major in psychology and French and francophone studies, studied in Montpelier, France; Swartz, a sociology major, studied remotely.
---
A Course of Collision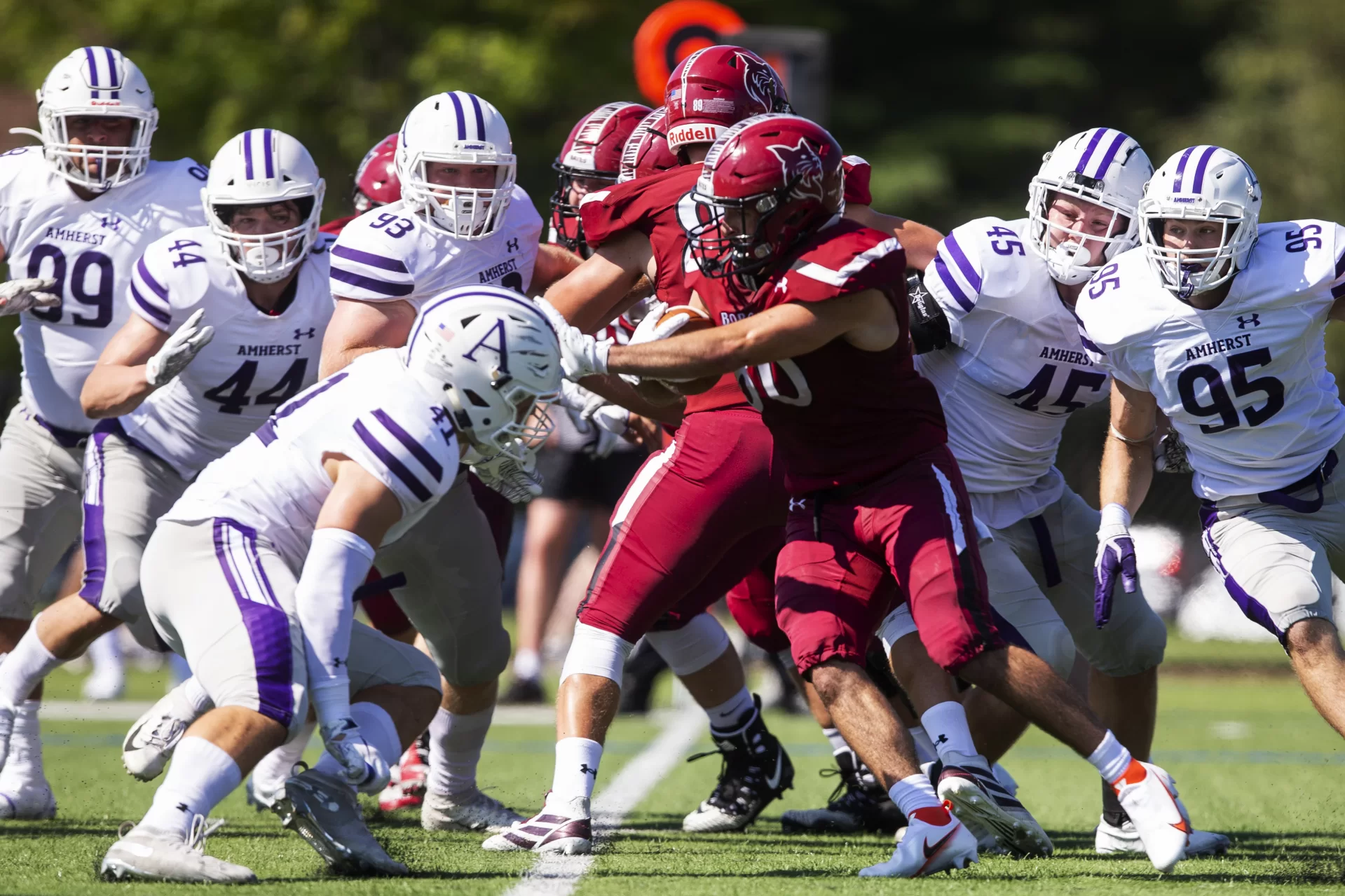 Chris Capo '22 of West Newbury, Mass., runs the football against Amherst in the football team's home opener in September.
---
A Favorite Place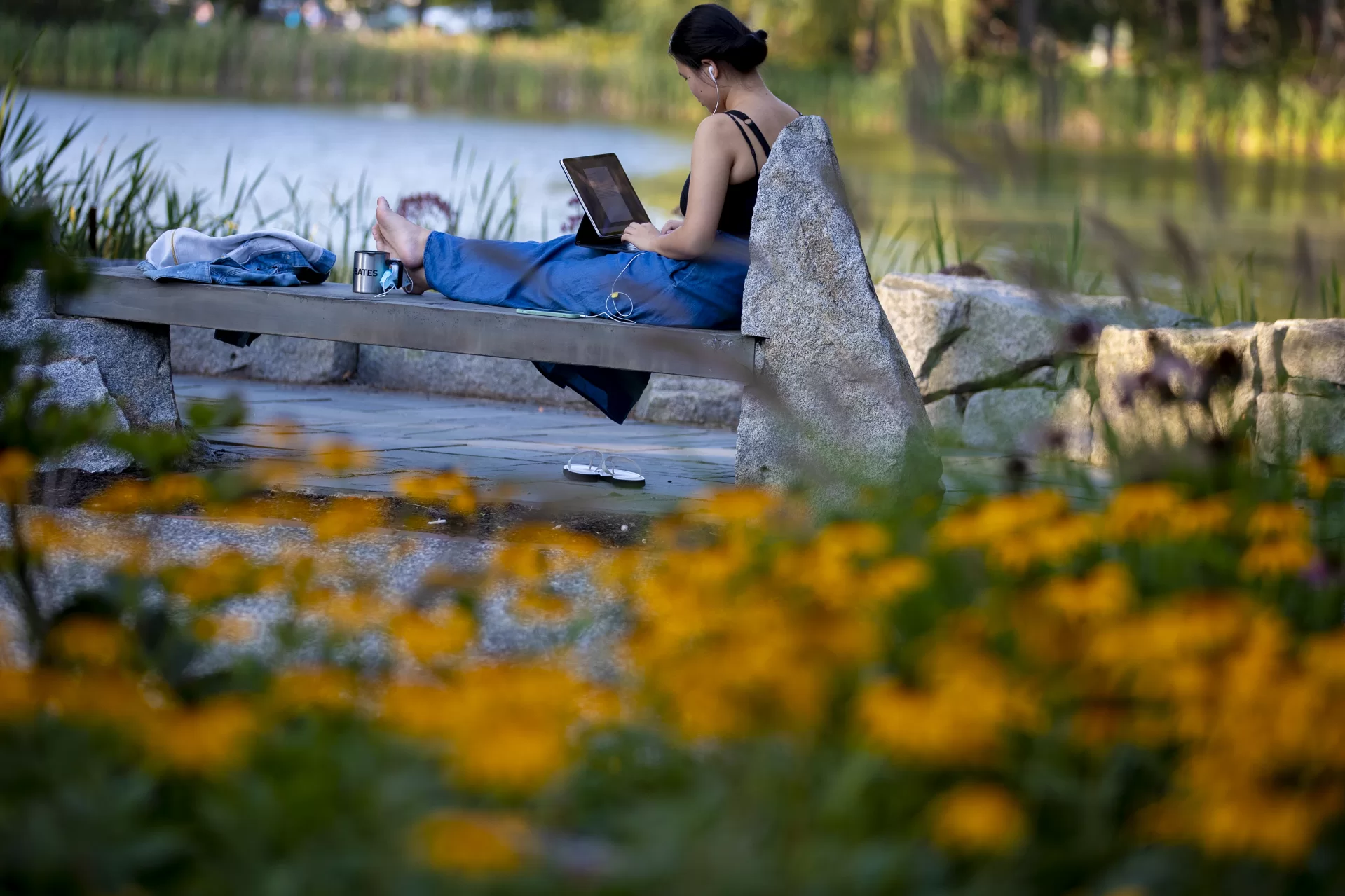 This bench on the Pettengill side of Lake Andrews is a popular spot for Bates folks to eat, study, observe, and converse.
---
Teamwork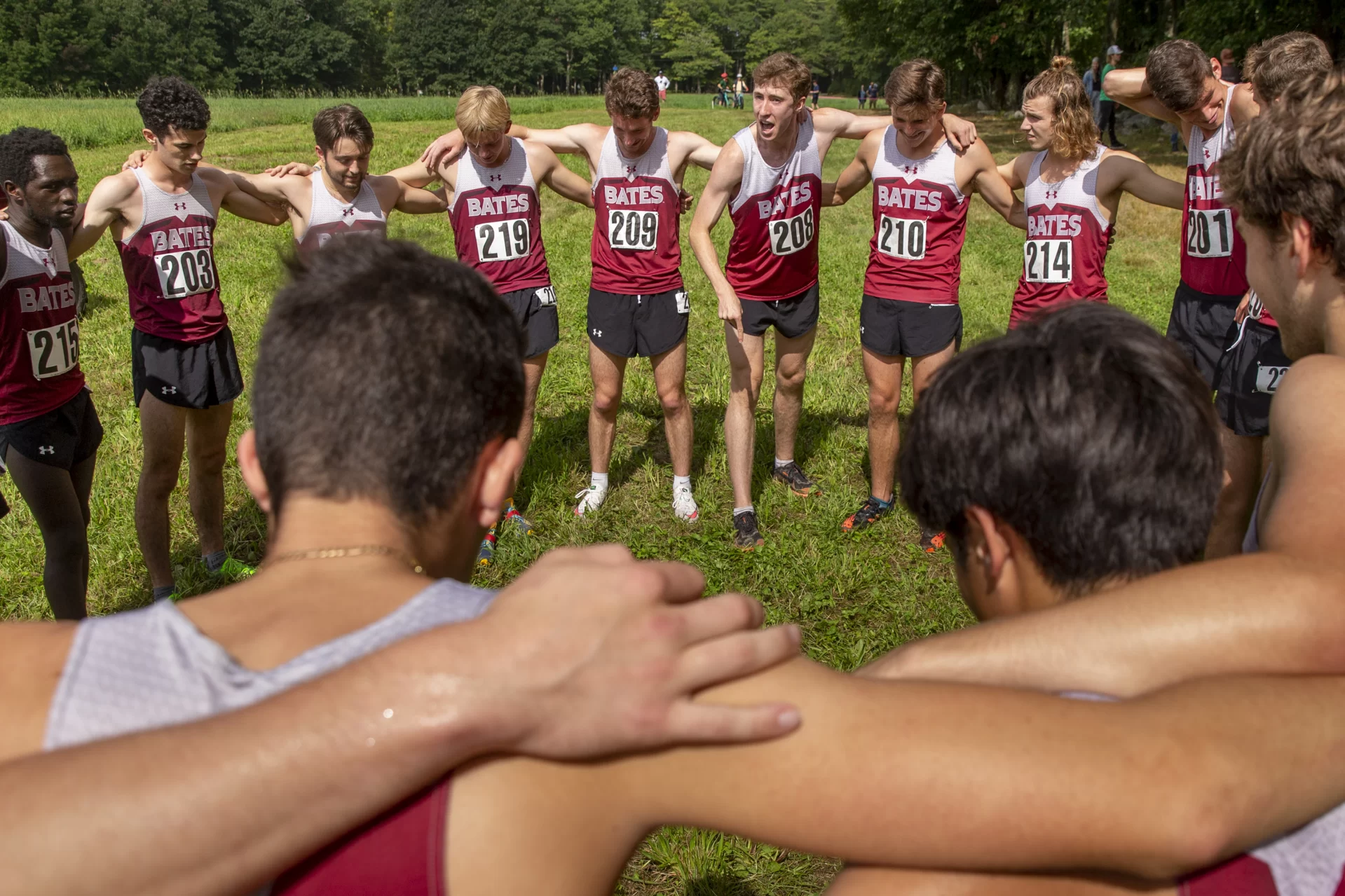 The nationally ranked Bates men's cross country team huddles up before defeating Tufts and Connecticut College to take first place at the Bates Super XC Shootout at Pineland Farms in September.
View Comments