What began with warmth and optimism in early October ended with a tragedy in our home city of Lewiston. Together we've responded with strength and hope.
We're sharing images from start to finish, though we know this is only the beginning of a hard, historic time that we will get through together. See some of these moments here in the latest installment of This Month at Bates.
In-Class Collaboration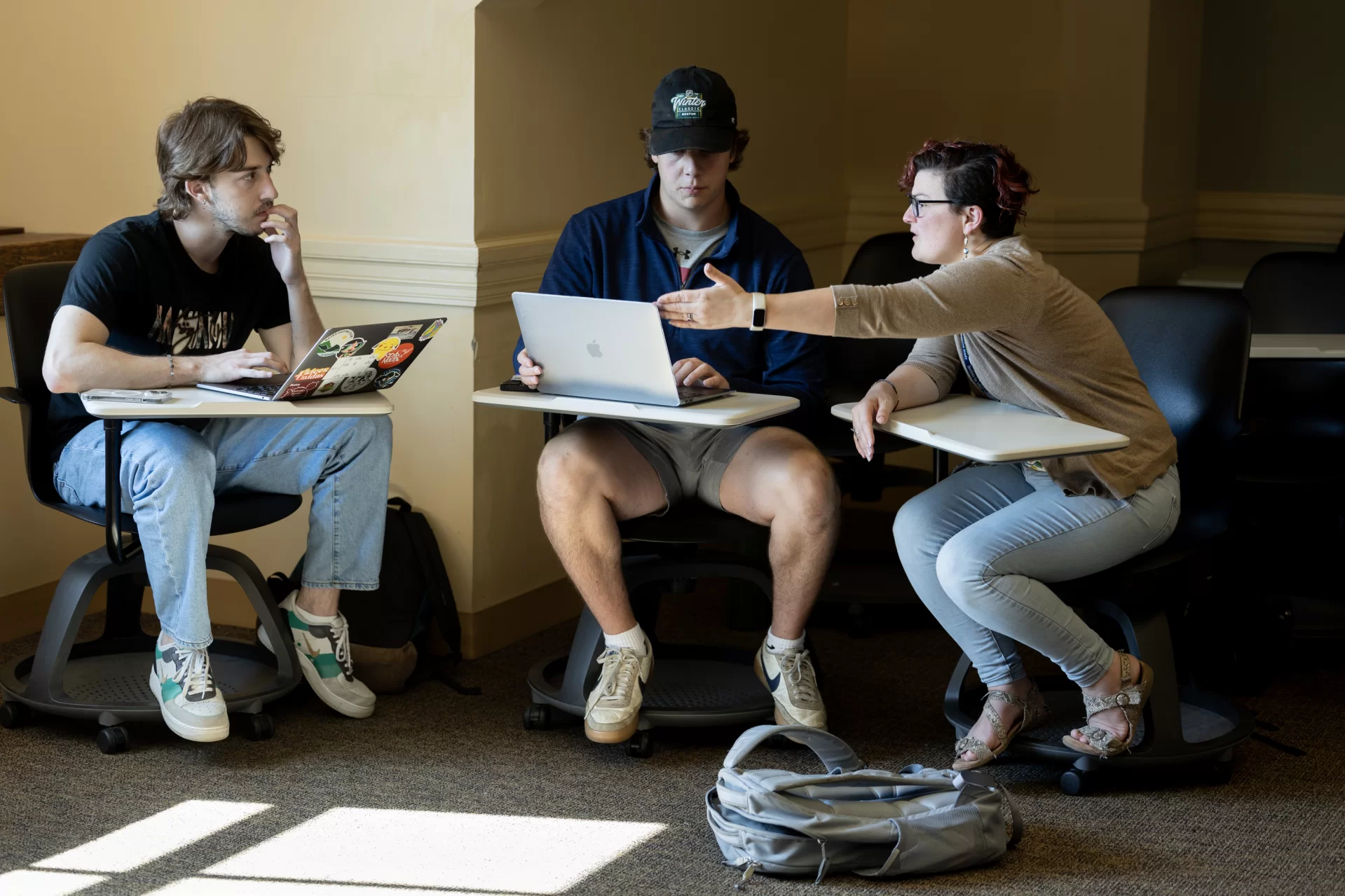 Associate Professor of Digital and Computational Studies Carrie Diaz Eaton (right) teaches the math course "PIC Math: Community Engaged Data Science" on Oct. 4, 2023, in Roger Williams with students Christian Cabello '25 of La Canada Flintridge, Calif., (left) and Christopher McGrail '24 of Dedham, Mass.
---
A View from Above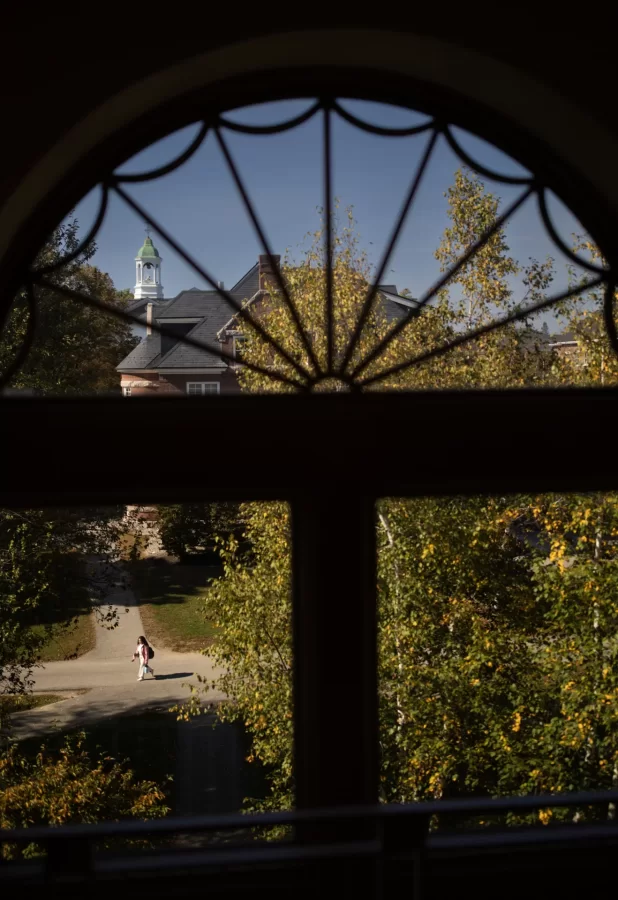 A view from a decorative "fanned" window in Roger Williams, looking toward Hedge and Hathorn halls, features some of this fall's muted colors.
---
Talent and Teamwork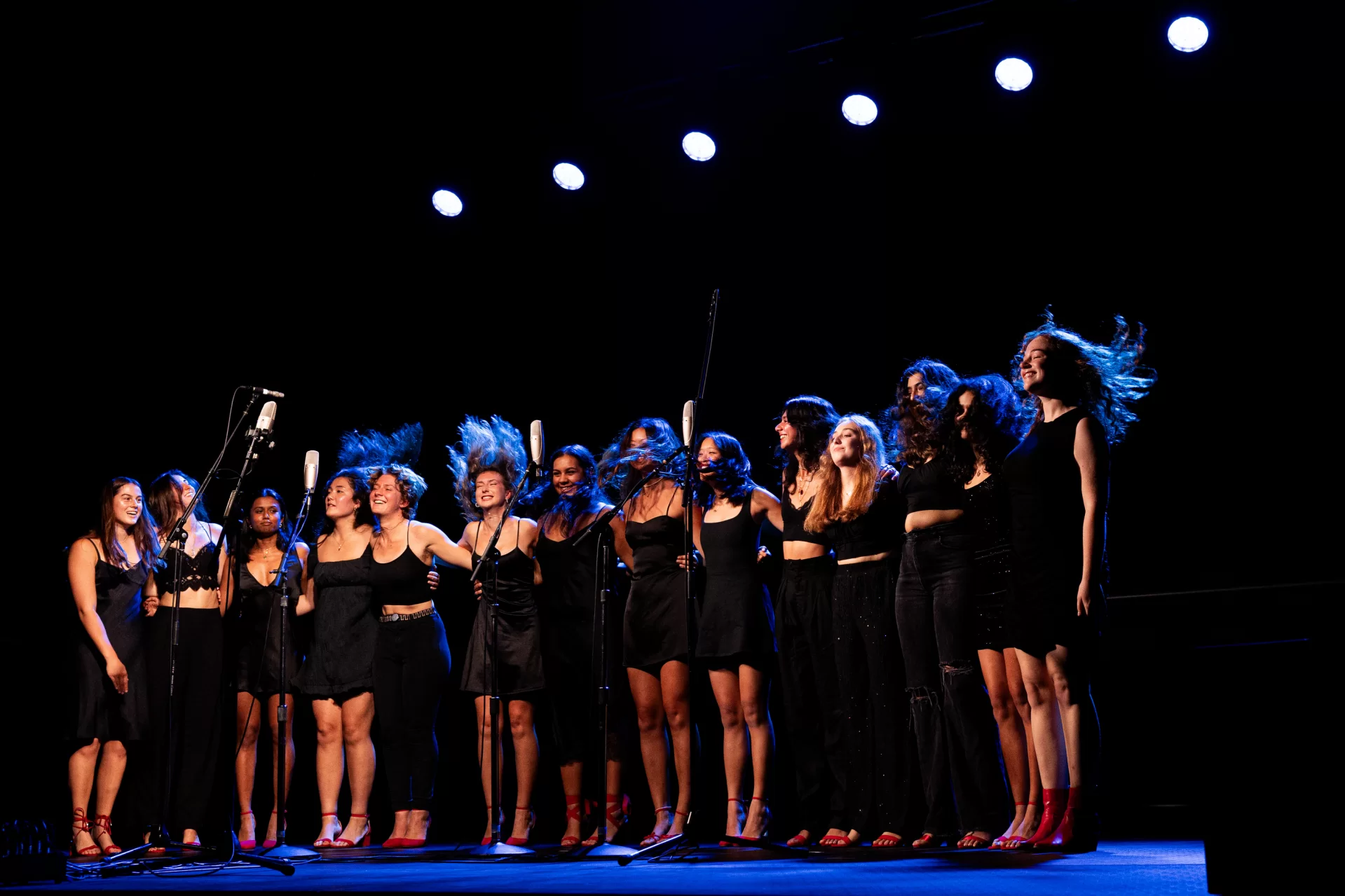 The college's a cappella groups take center stage in the Clifton Daggett Gray Athletic Building during Back to Bates, creating a soundscape of talent, joy, and camaraderie. The annual concert gives the group a chance to showcase their newest members in front of a large audience.
---
Sharing Session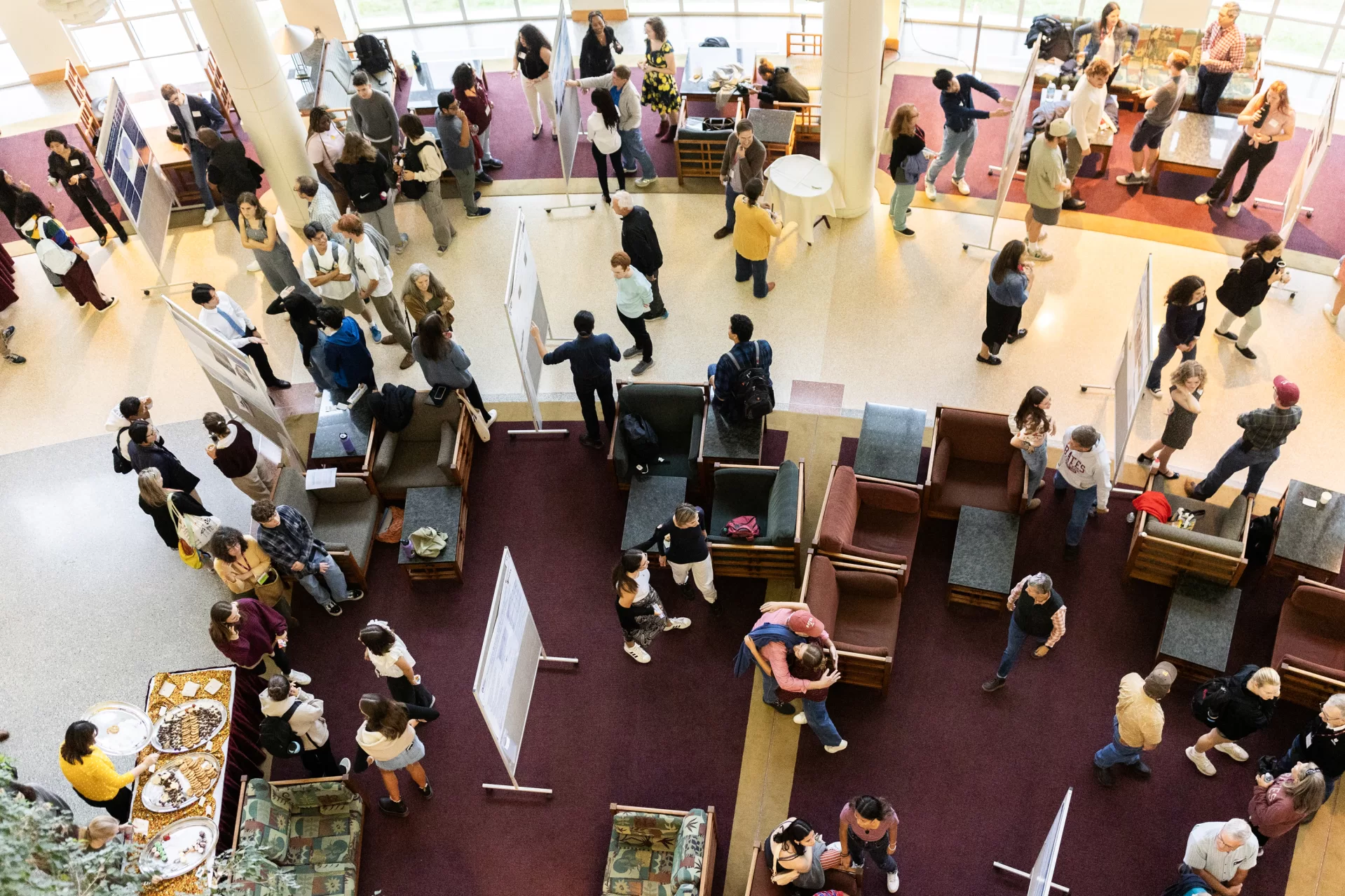 A lively scene fills Perry Atrium during Back to Bates as alumni, family members, and President Garry W. Jenkins explore and engage with students' academic achievements made manifest on research posters that display their summer work, which often was conducted with Bates faculty members.
---
Music Magic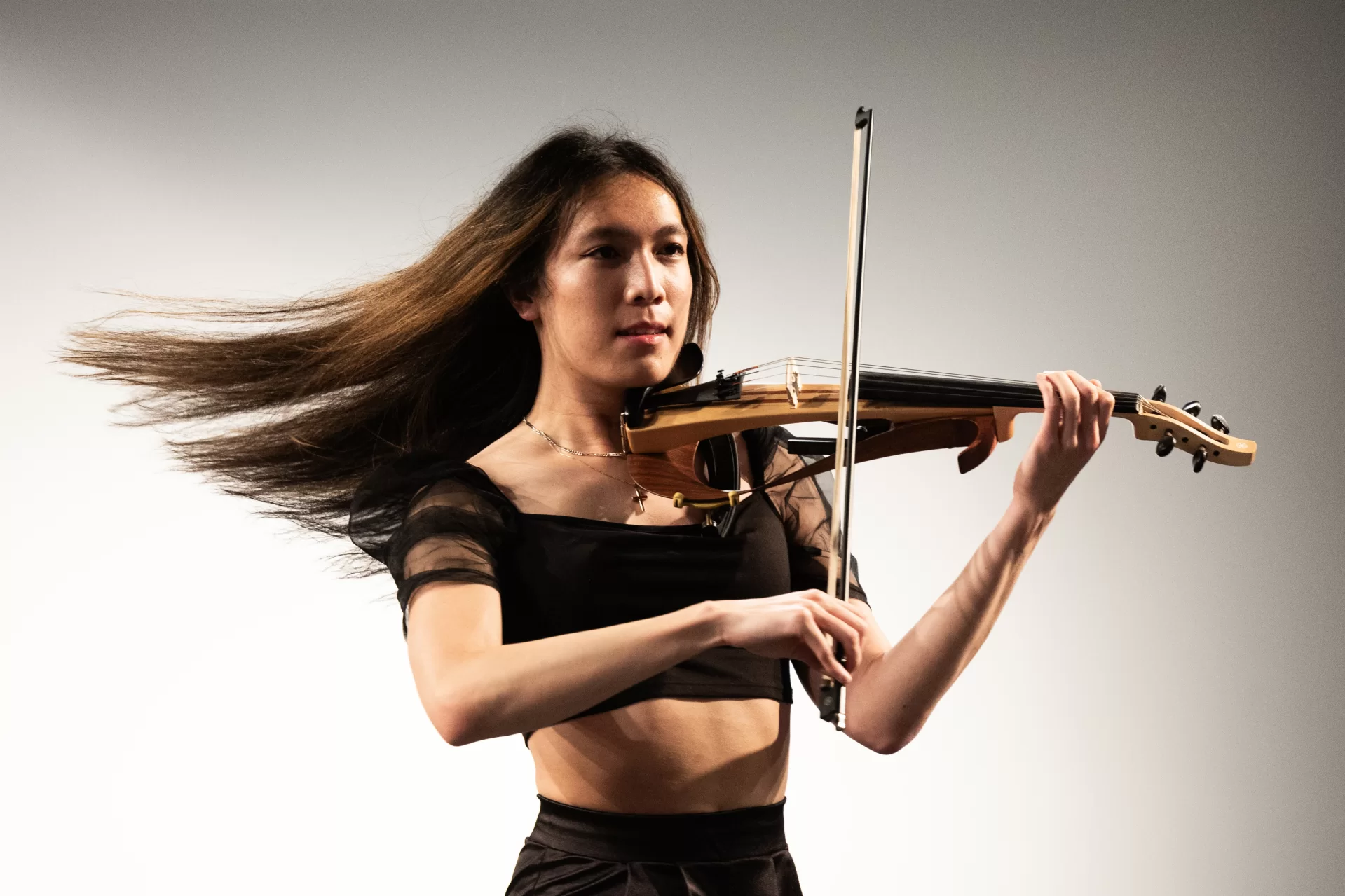 Mavy Ho '26 of Gorham, Maine, performs on the electric violin during the student showcase held in Merrill's Marcy Plavin Dance Studio during Back to Bates.
---
Sweet Score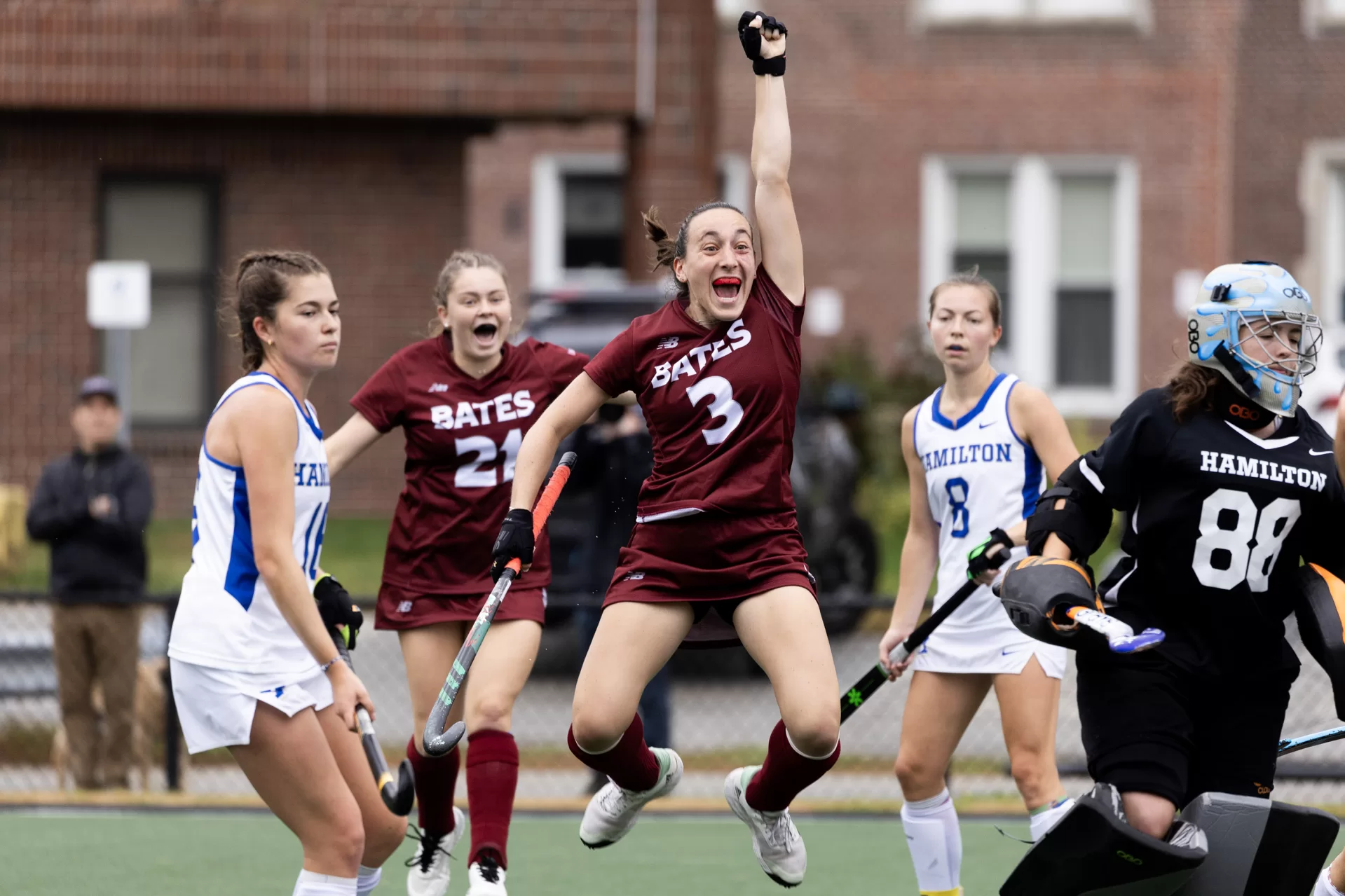 Ella Blum '24 of South Salem, N.Y., celebrates after scoring a goal in Bates field hockey team's 5-0 win over Hamilton on Oct. 7, 2023, at Garcelon Field.
---
Portrait at the Puddle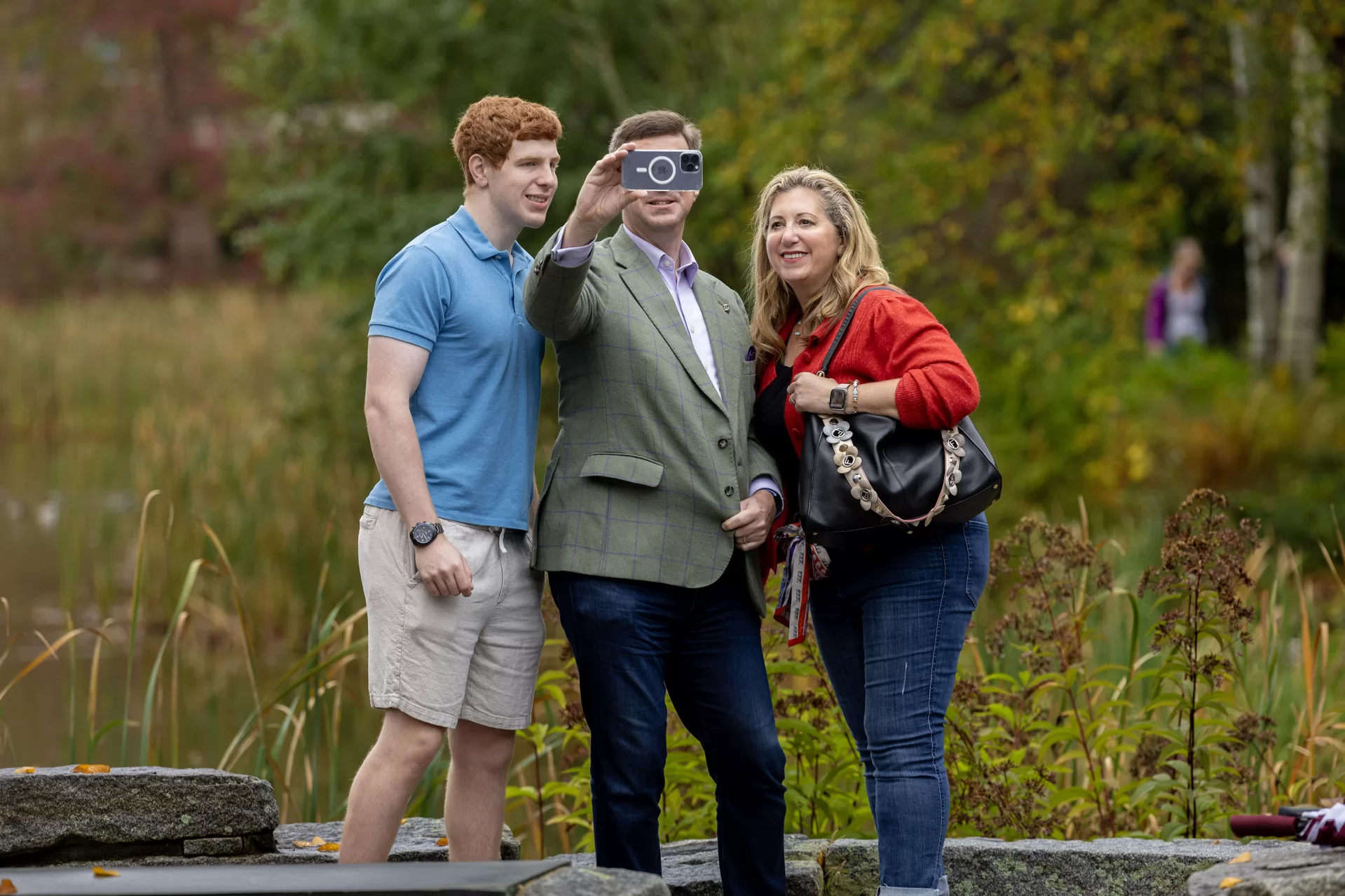 Matthew Peeler '26 of New York City (left) poses at the Puddle for a family portrait with his parents, Scott Peeler and Diana Florence.
---
Football Fanatics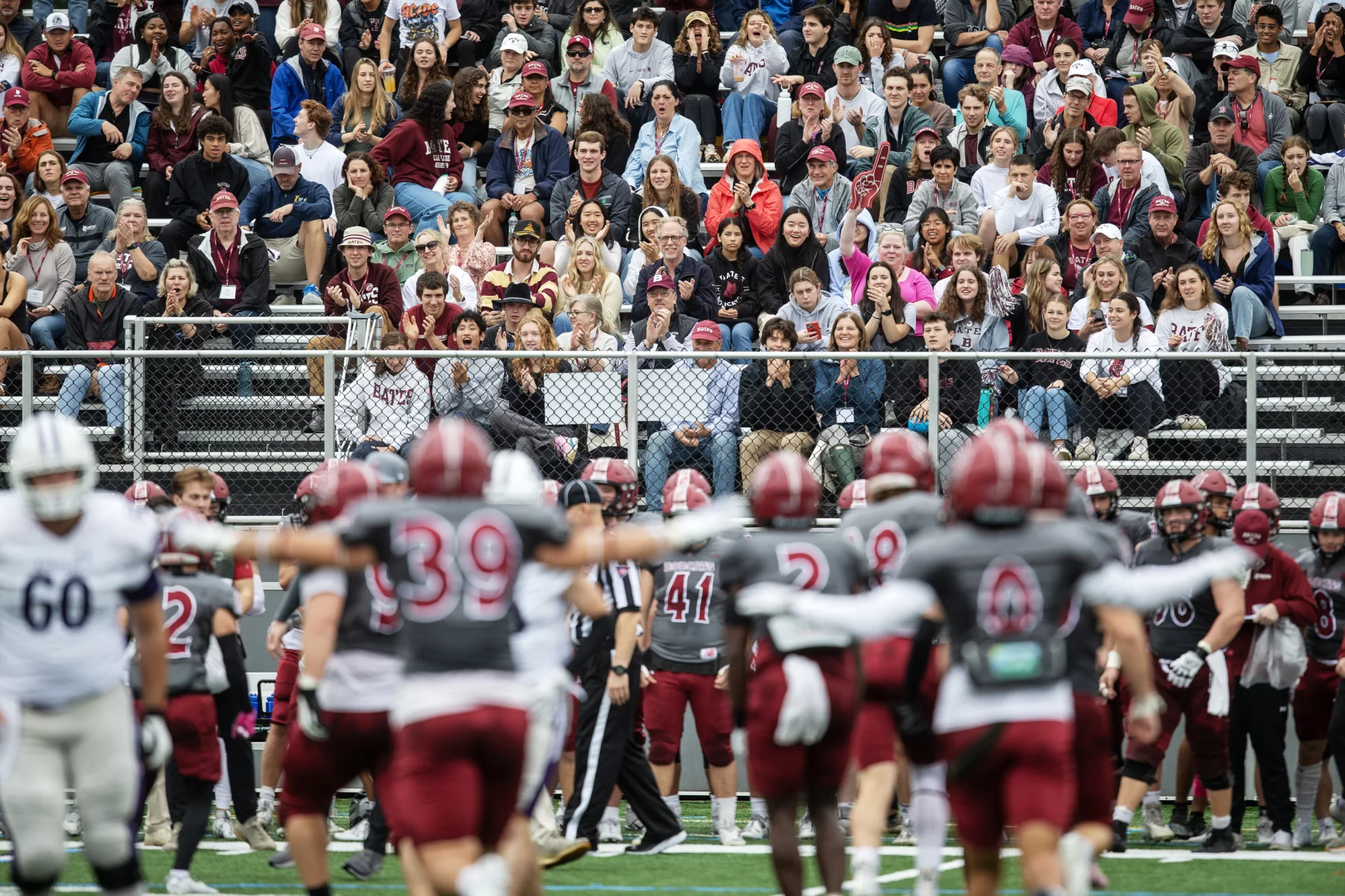 A large crowd cheers for the Bates football team during their game against Amherst College on Oct. 7, 2023, at Garcelon Field during Back to Bates.
---
Breathe Deep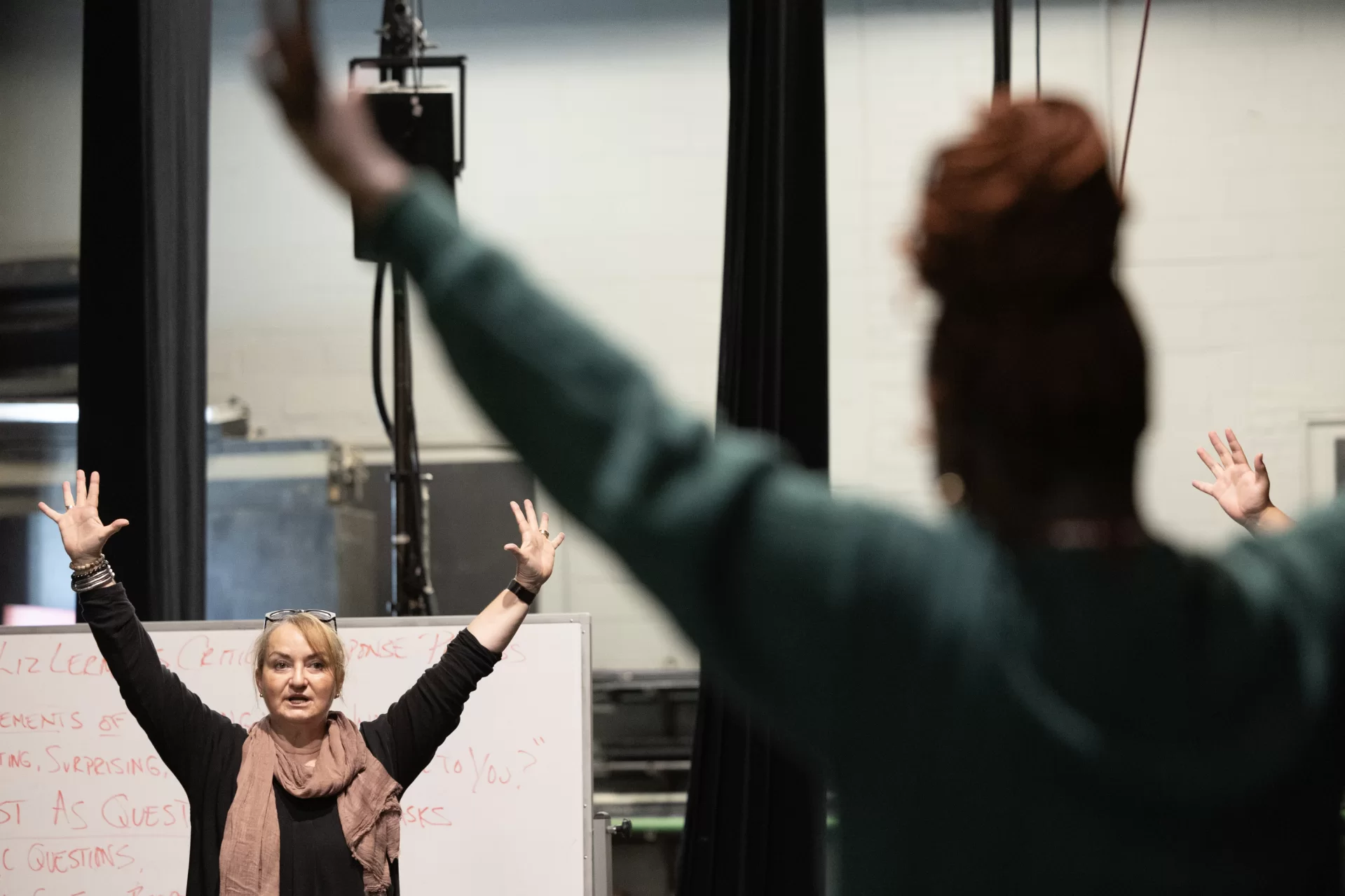 Prospective students conduct an exercise with Katalin Vecsey, the chair of the Department of Theater and Dance and an expert in voice, at Schaffer Theatre.
The gathering was part of the annual Fall Open House, when Bates Admission welcomed 200 prospective students and their families to campus for a day that included lunch in Commons, a campus tour, and meeting with faculty and staff, including President Garry W. Jenkins.
---
Community in Commons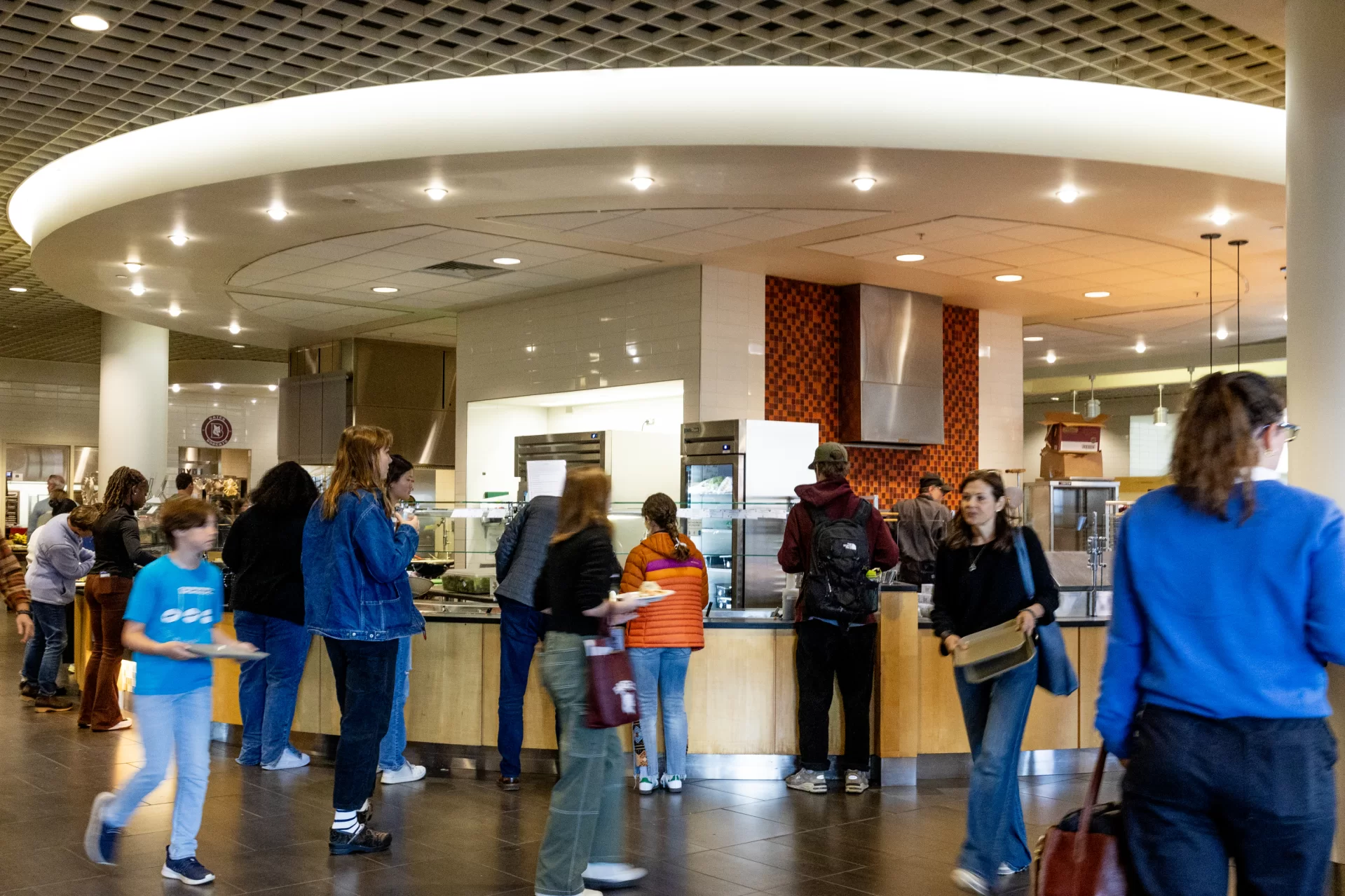 Families and students visiting for the annual Fall Open House gather for a meal in Commons.
---
A Rush of Spirit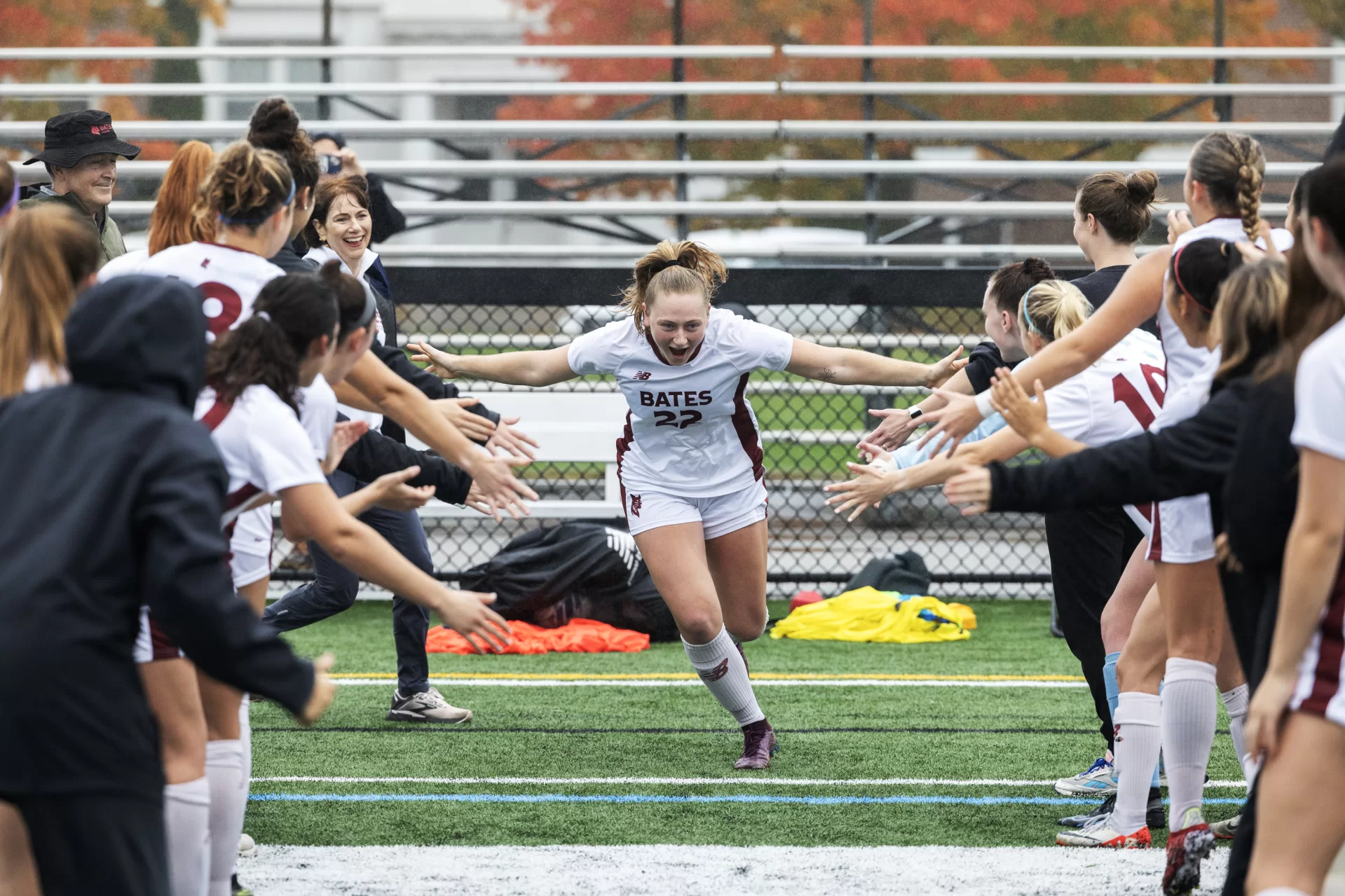 Women's soccer captain Charlotte Jones '24 of San Juan Capistrano, Calif., takes the field on Senior Day in the Bobcats' game against Connecticut College at Garcelon Field.
---
Autumn Colors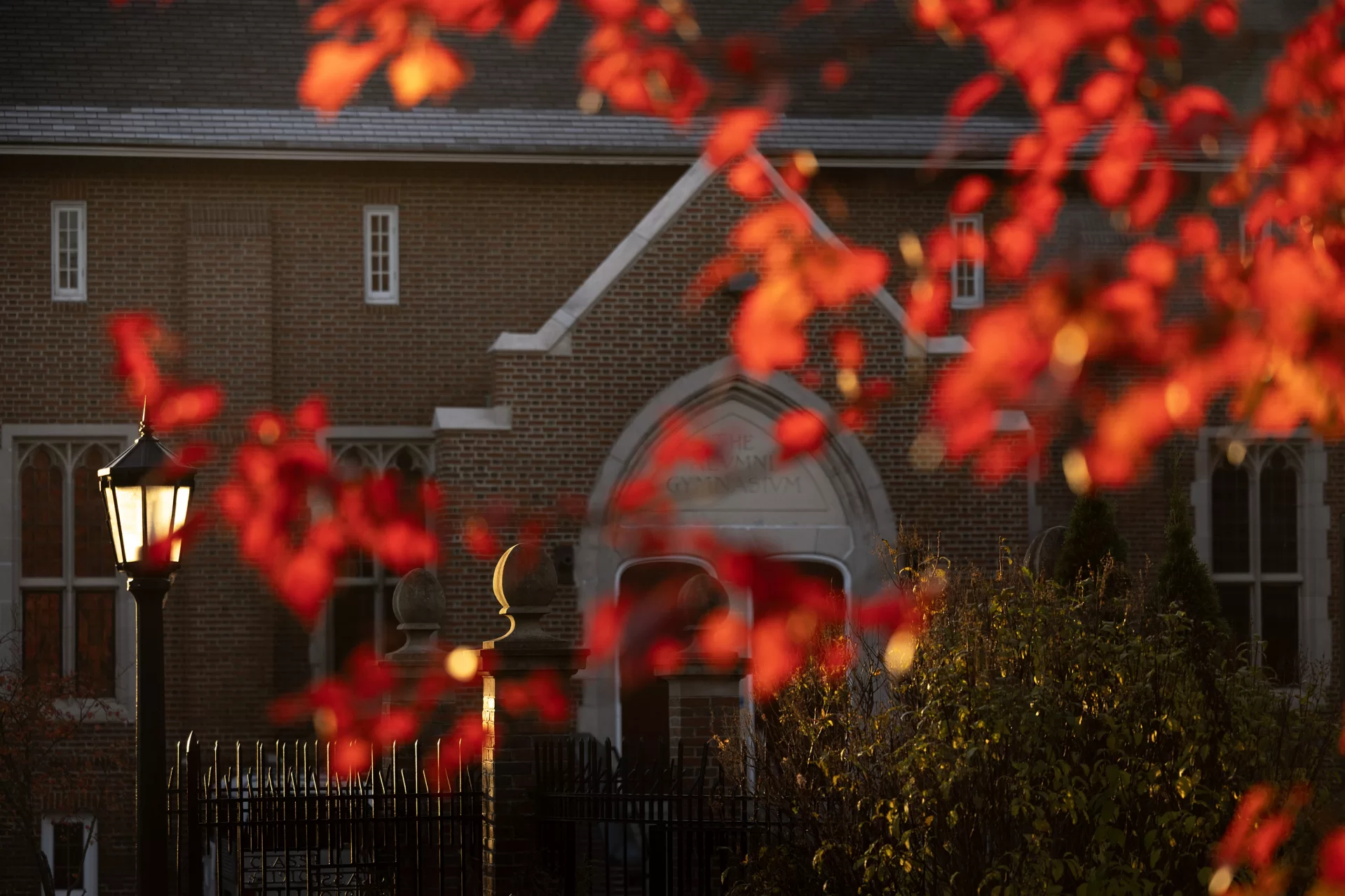 The early morning sun backlights fall foliage and lamps at Alumni Gym on a warm fall day.
---
Serving Up Success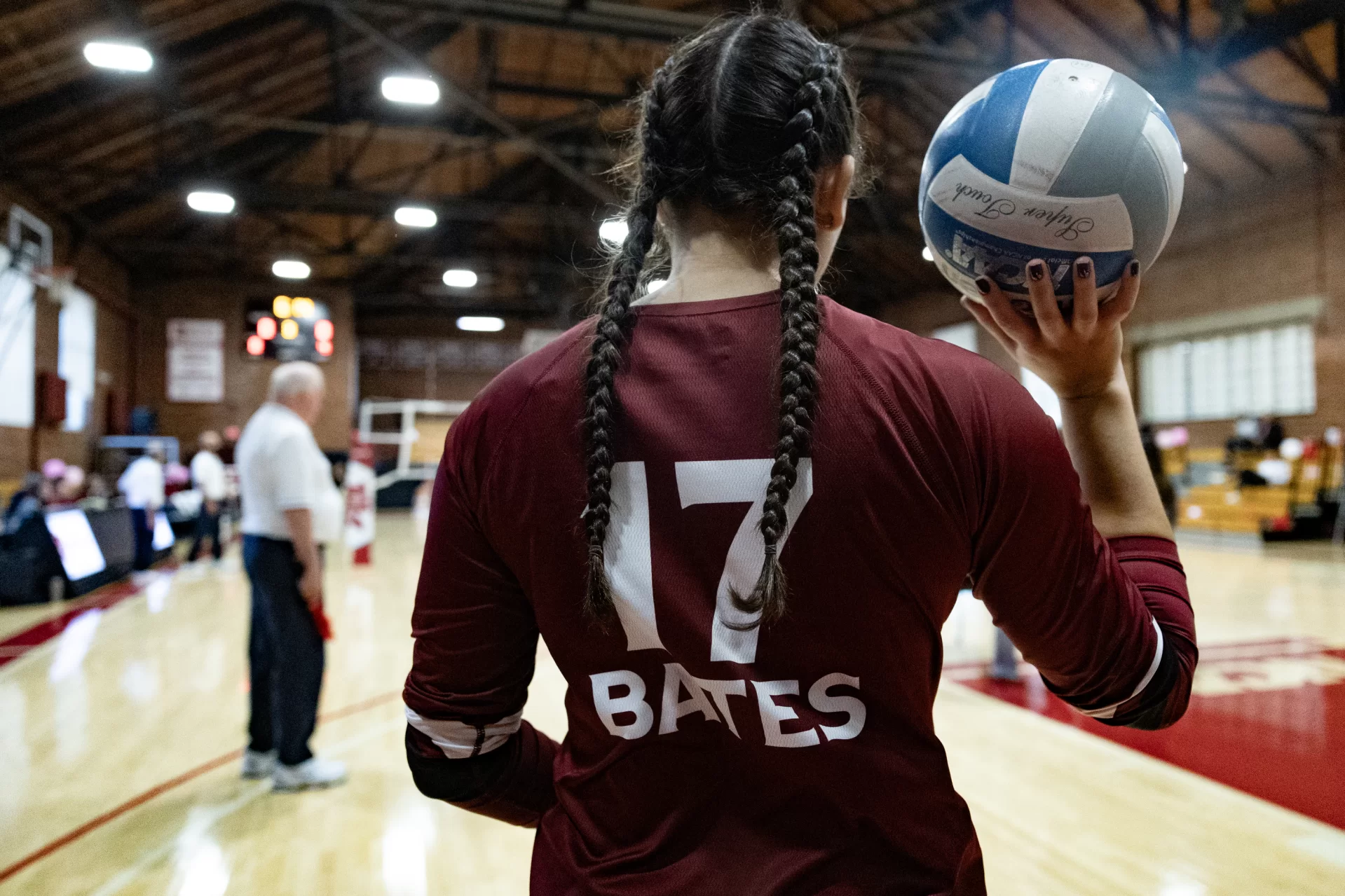 Alma Mackic '24 of Lake Forest, Ill., was honored as the volleyball team's lone senior before their match against Middlebury on Senior Day on Oct. 14, 2023, in Alumni Gym.
---
Literary Celebrations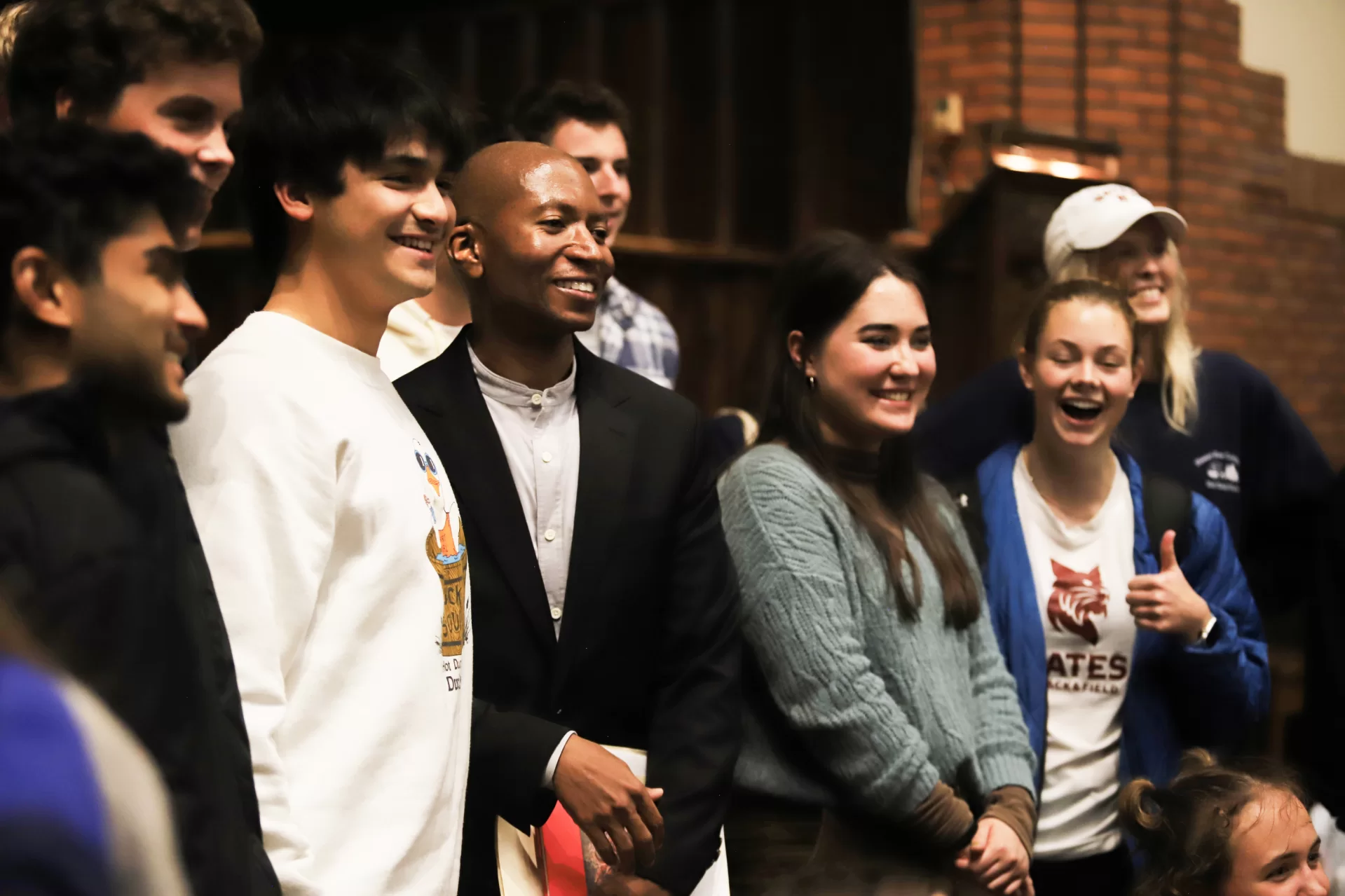 Assistant Professor of English Myronn Hardy (above center) speaks about his new book of poetry, Aurora Americana, after reading excerpts from it in Gomes Chapel.
---
Reflections of Fall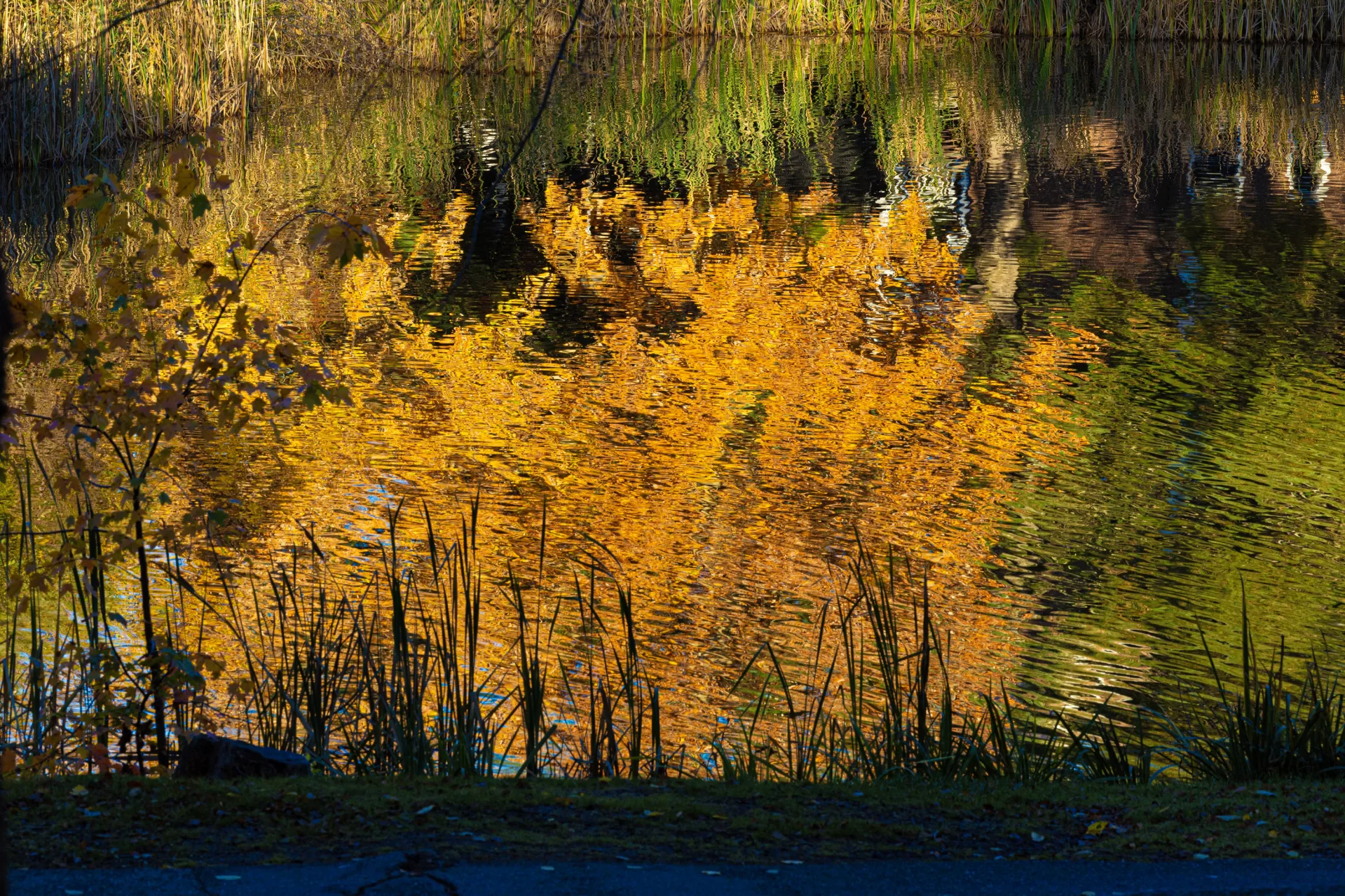 The surface of Lake Andrews reflects fall foliage on a late October morning.
---
Bobcat Biker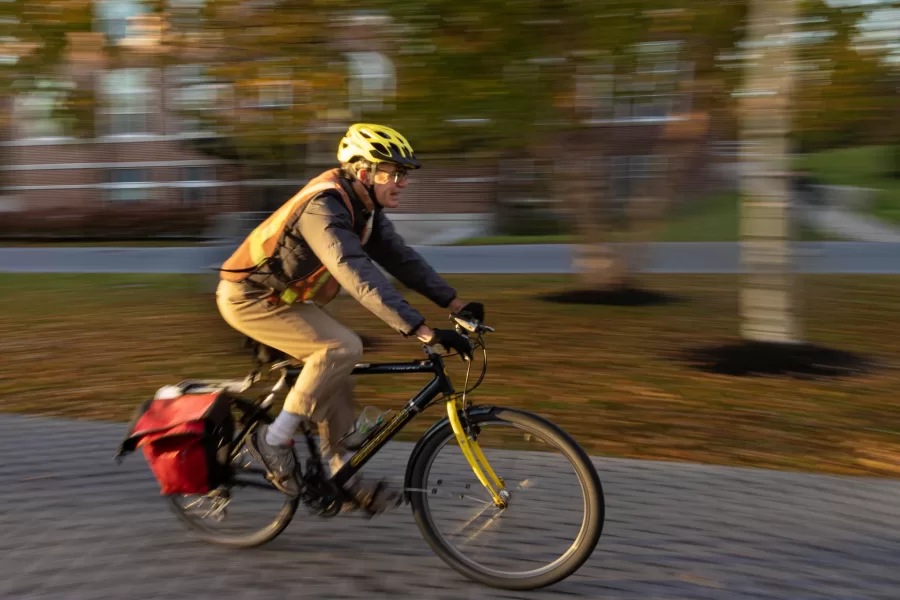 Associate Professor of History Joe Hall, well known for his bike commute from his home in Auburn, cruises down Alumni Walk.
---
Enriching Exercise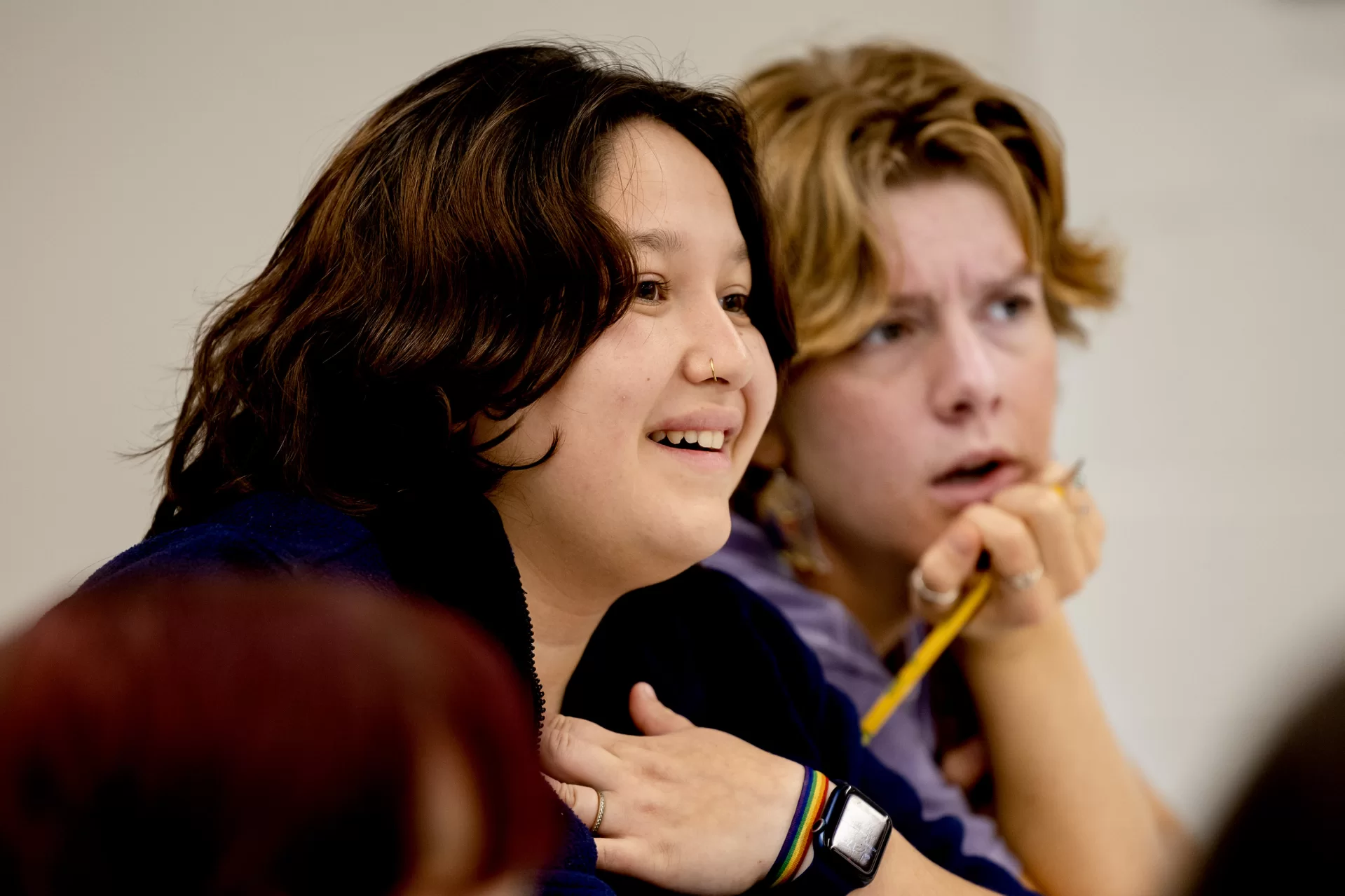 Aleisha Martinez Sandoval '26 of of Edinburg, Texas, (left) and Caroline Cassell '24 of Woodstock, Vt., listen in rapt attention to Otis speaker Nancy Campbell in a Dana Hall classroom as Campbell explains a writing exercise.
---
Practicing with the President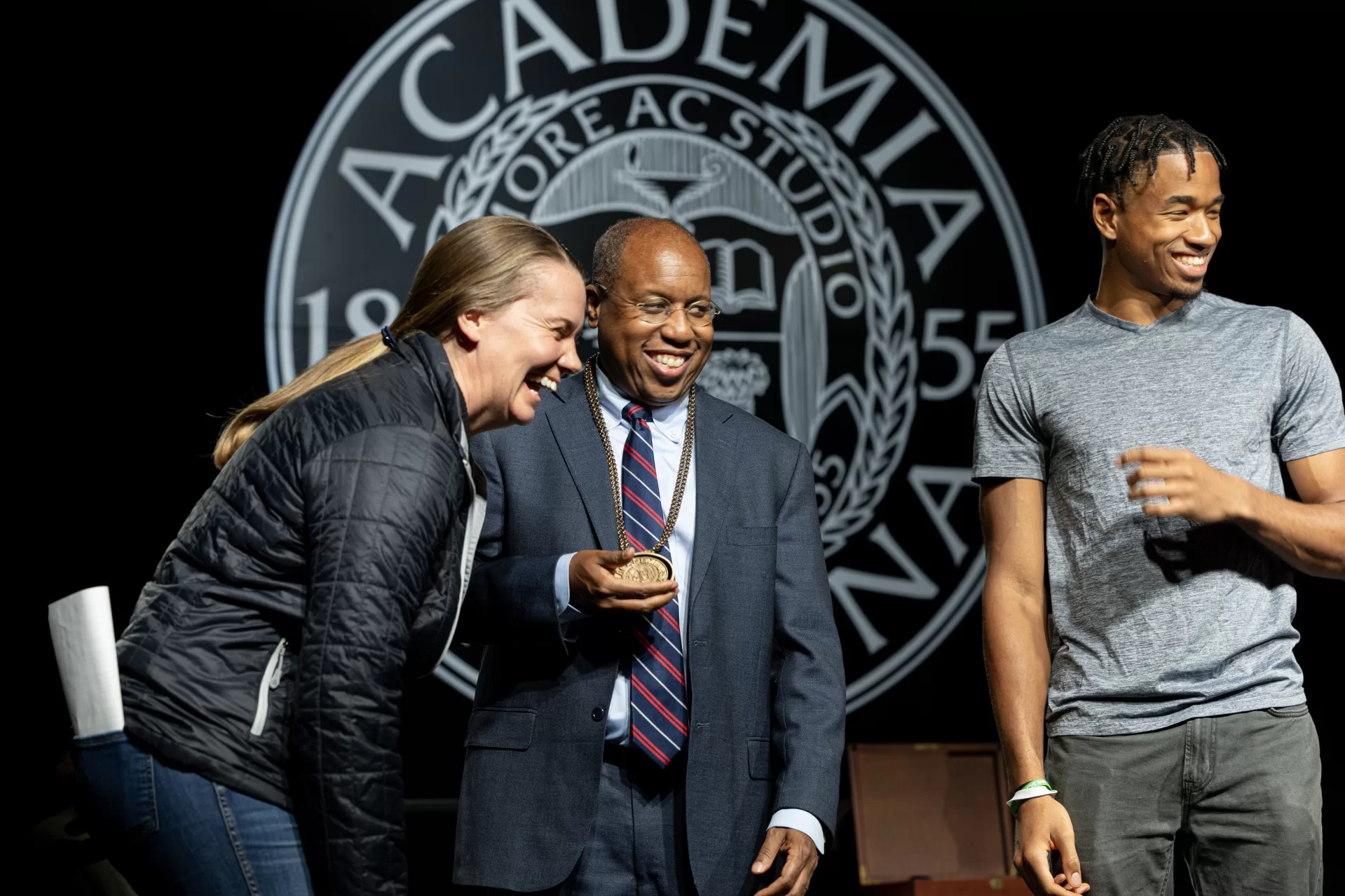 During a dress rehearsal for President Jenkin's inauguration on the afternoon of Oct. 25, Jenkins (center) is flanked by inauguration participants Professor of Mathematics Katy Ott (left) and Aydan Gedeon-Hope '25 of Norton, Mass., in Merrill Gymnasium. The inauguration has been postponed to a future date.
---
'Peace and Comfort'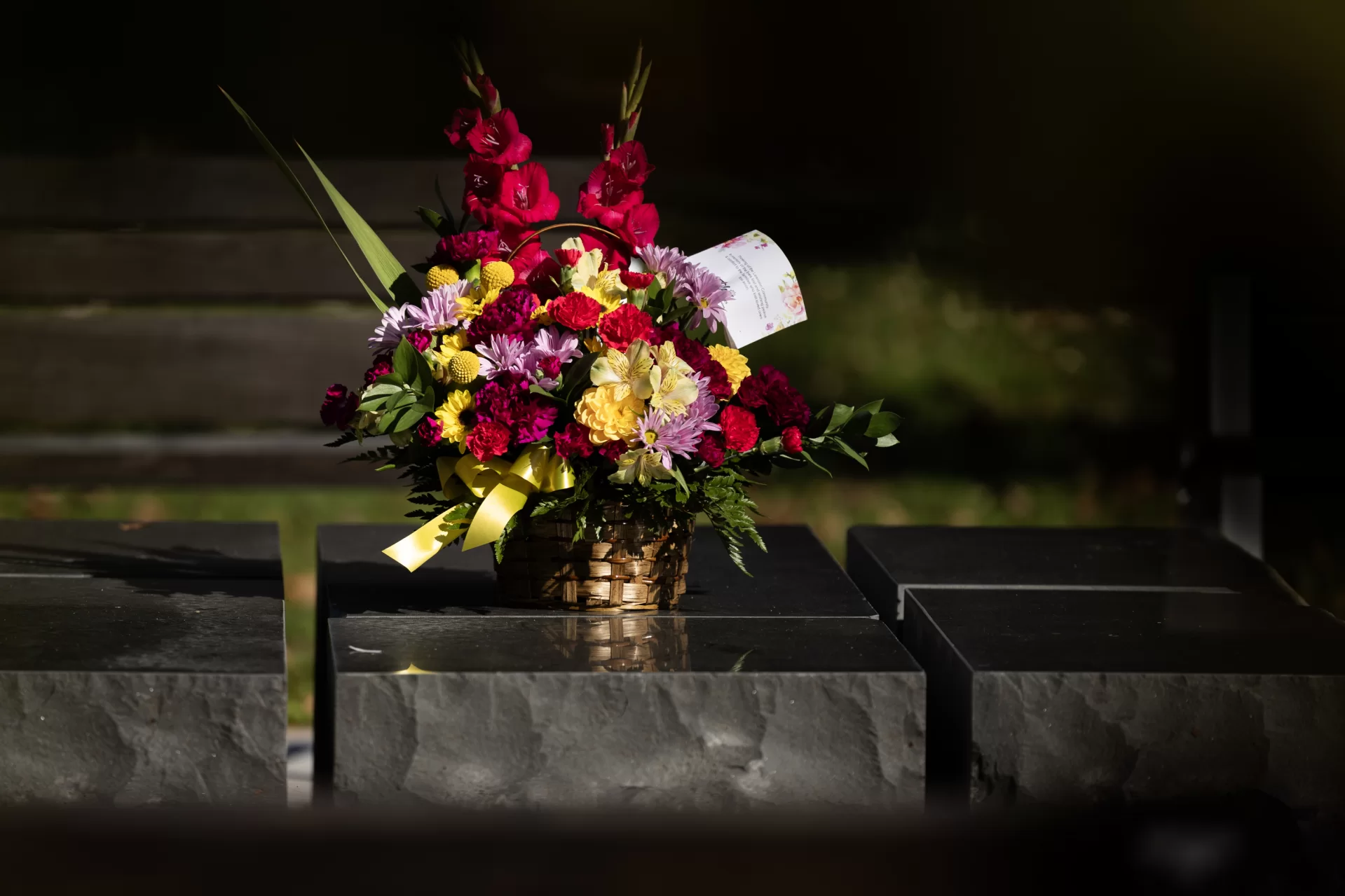 Flowers adorn the college's Veterans Plaza, a gift from a Bates alumnus who asked a local florist to deliver them to the college in memory of the lives lost in the Lewiston shooting on Oct. 25, 2023.
The note accompanying the flower arrangement read: "Thinking of the Lewiston community. In memory of the lives lost and wishing peace and comfort to families who lost loved ones too soon."
---
Gathering Together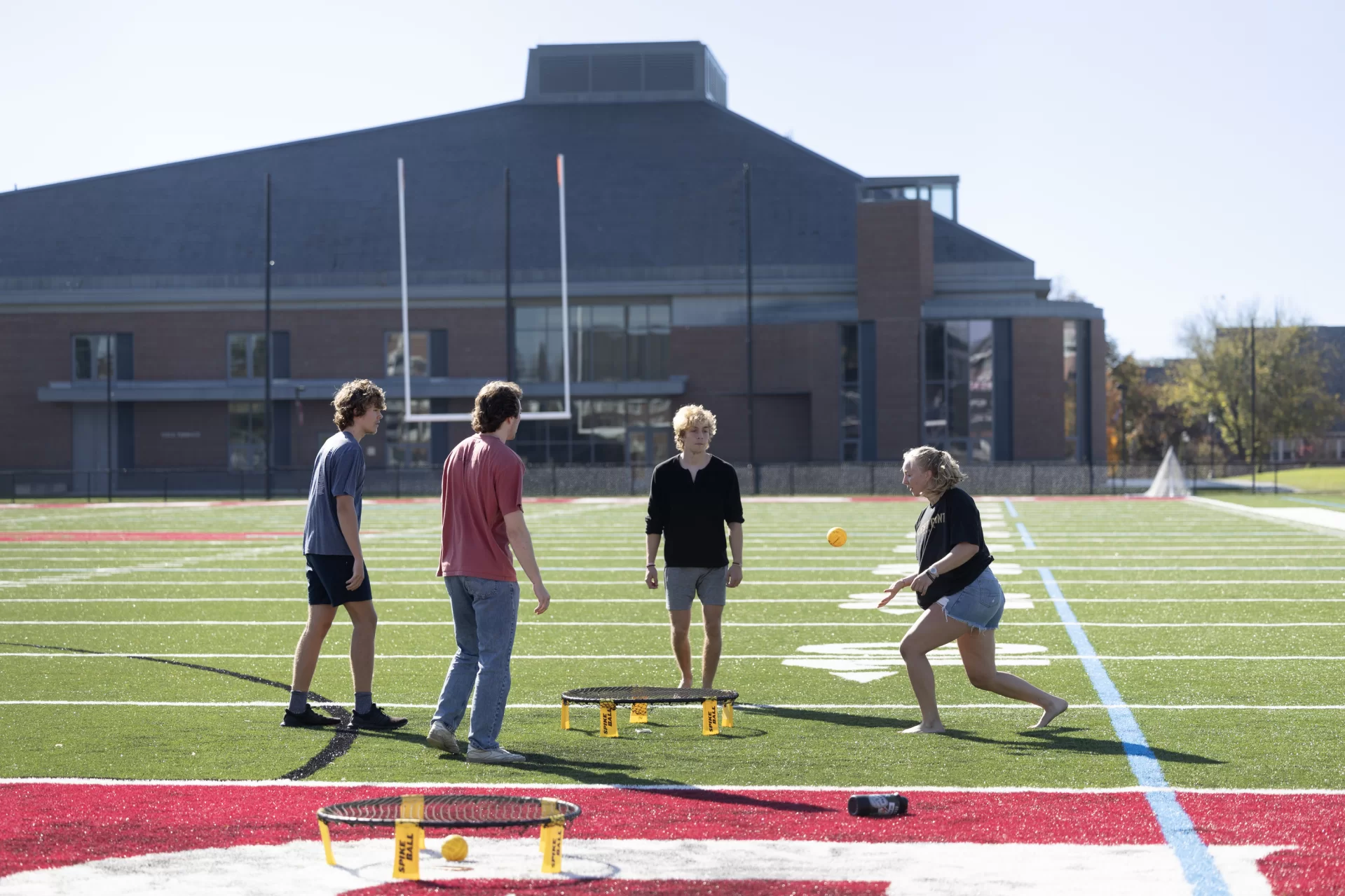 Bates varsity rowers reconnect with one another on Garcelon Field a day after the shelter-in-place order resulting from the Lewiston shootings is lifted.
---
Light in the Darkness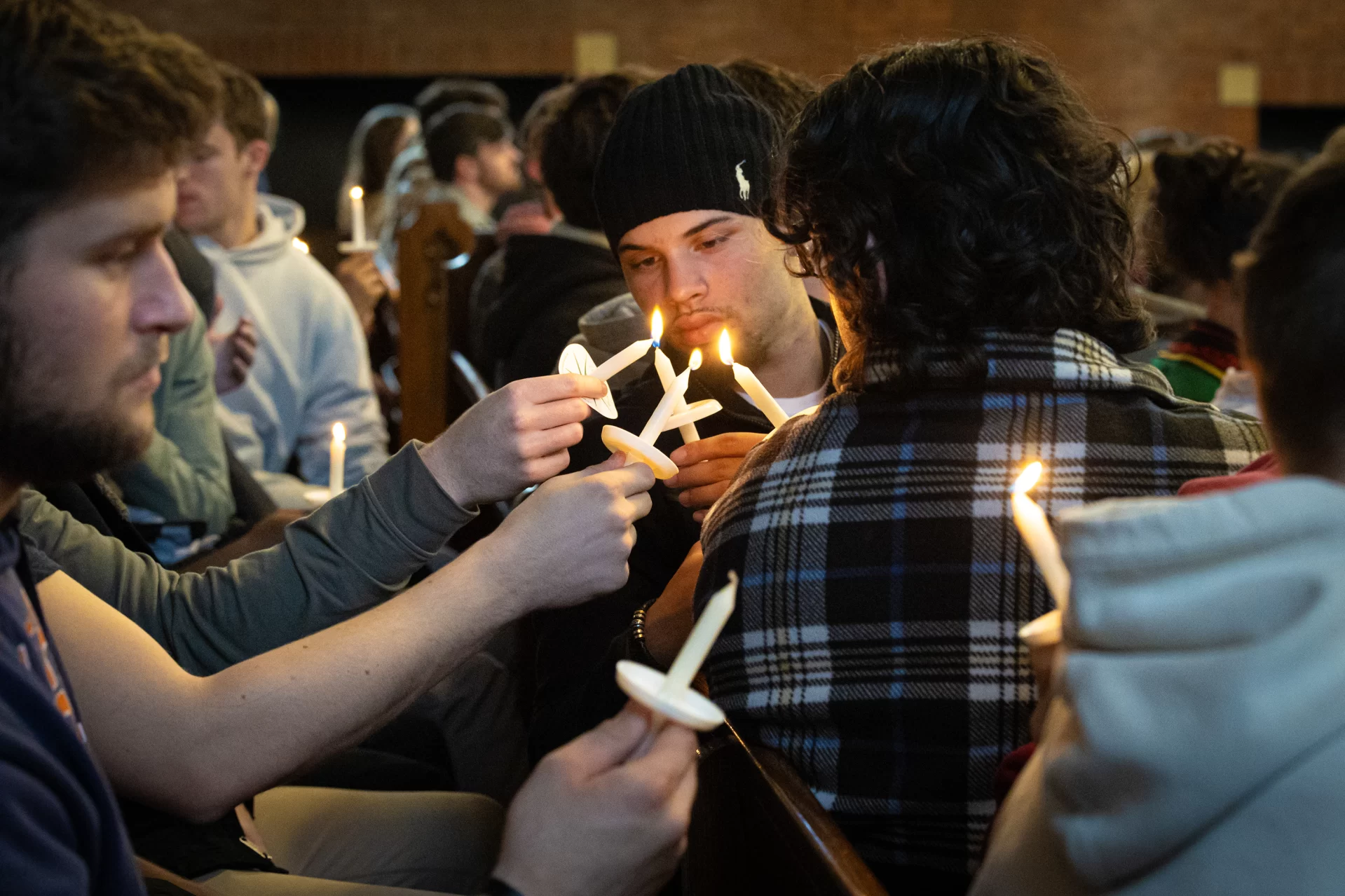 The Vigil for Grief and Remembrance held at Golmes Chapel brings together the Bates community on Nov. 1, the one-week anniversary of the Lewiston shootings.
---
Remembering Those Lost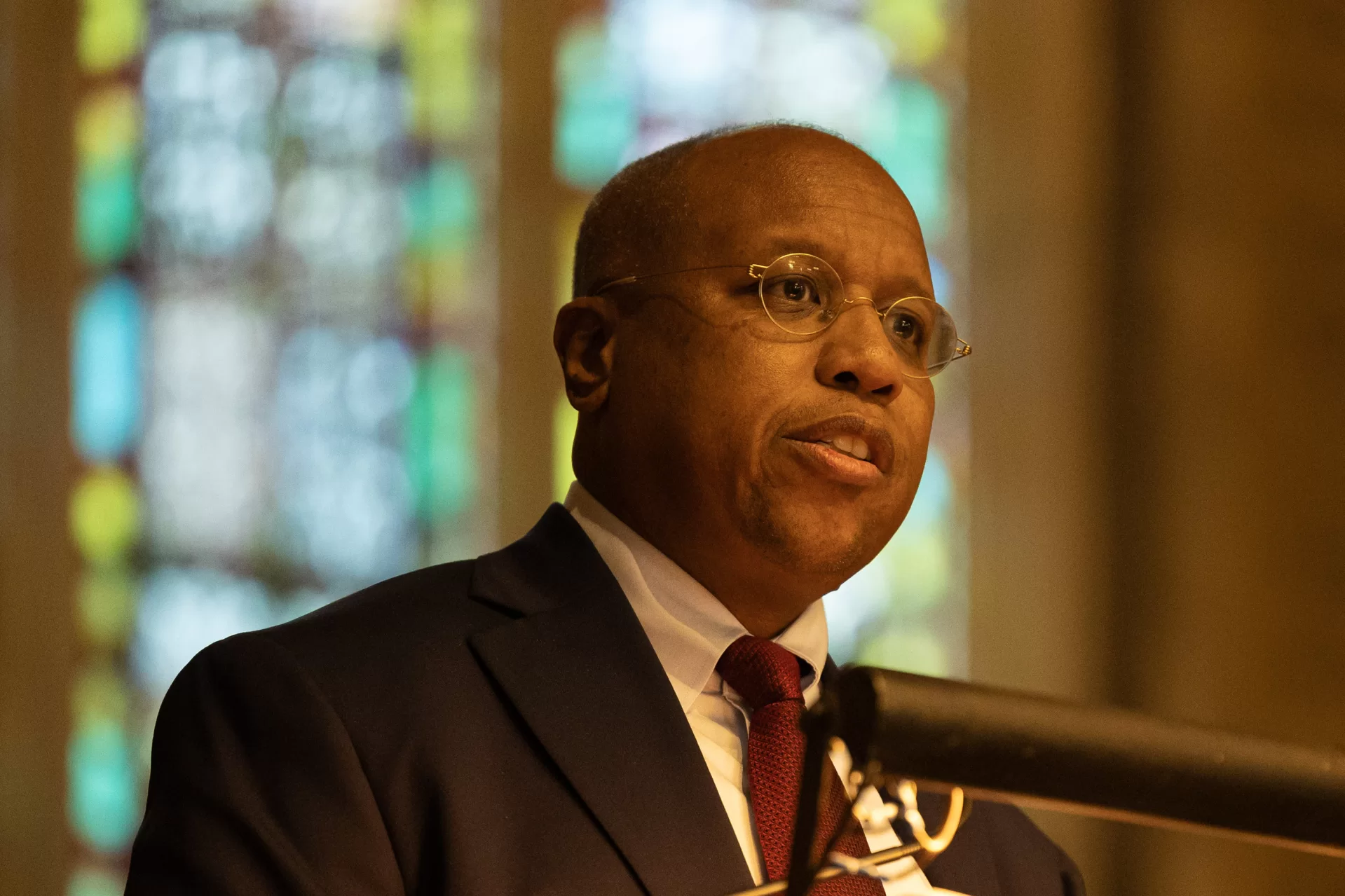 President Garry W. Jenkins speaks to those gathered in Gomes Chapel during the Vigil for Grief and Remembrance on the one-week anniversary of the Lewiston shootings.
"Generosity and care and eagerness to help, to support, to embrace have emanated from every corner of this city and this college community like a beacon of light, filling our hearts and mending our souls," Jenkins told those gathered. "They remind us of human goodness. They remind us to hold onto hope."
---
Comforting Canines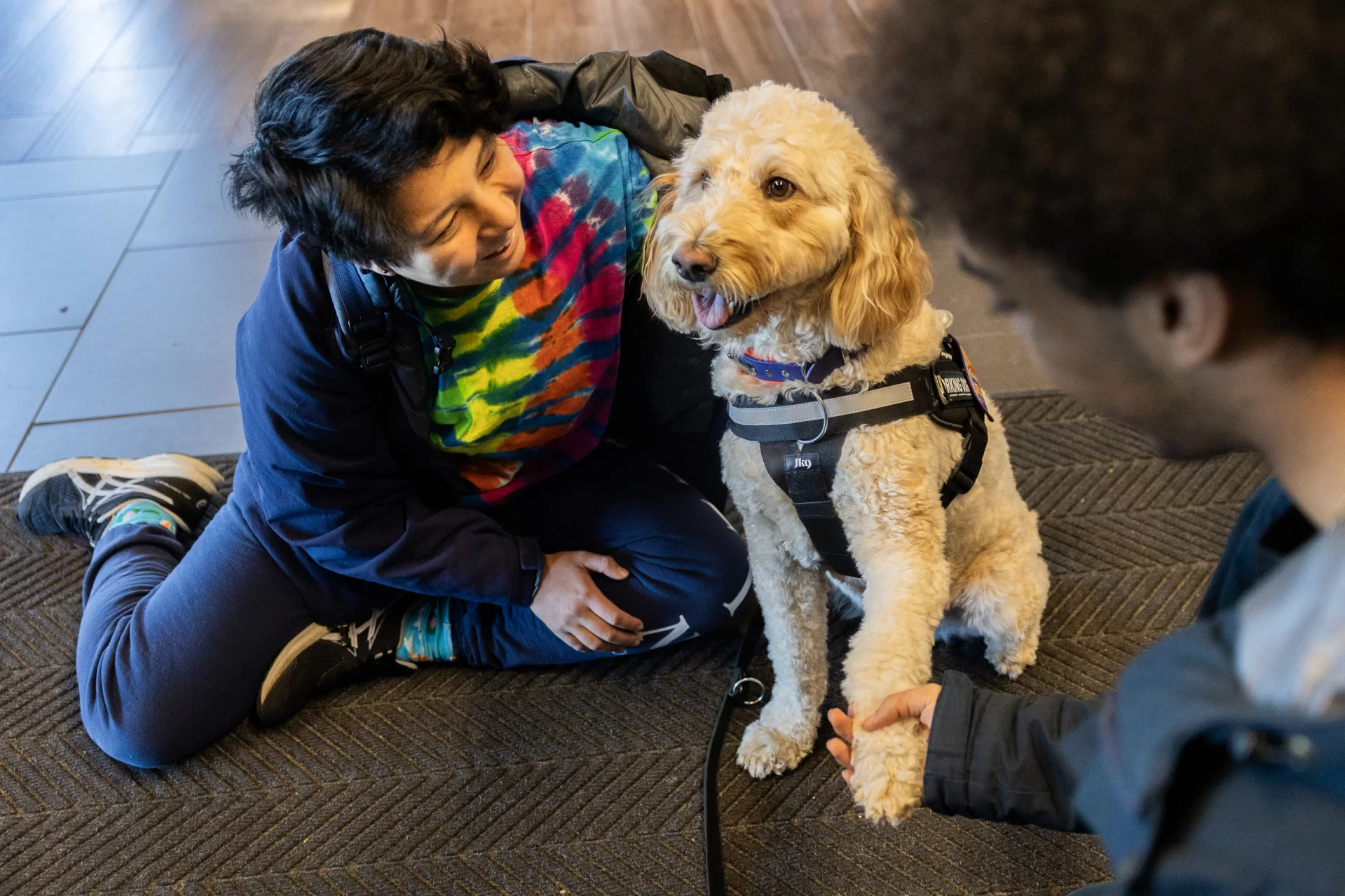 Lucks Emerson '27 of Hong Kong loves on Serene, a 6-year-old golden doodle from Illinois, saying the pup "made my day" when they met on Oct. 31, 2023. Three dogs visited Bates campus during a Maine visit arranged by L.L.Bean as part of the National Crisis Response Canine Team.
---
Costumes And Caring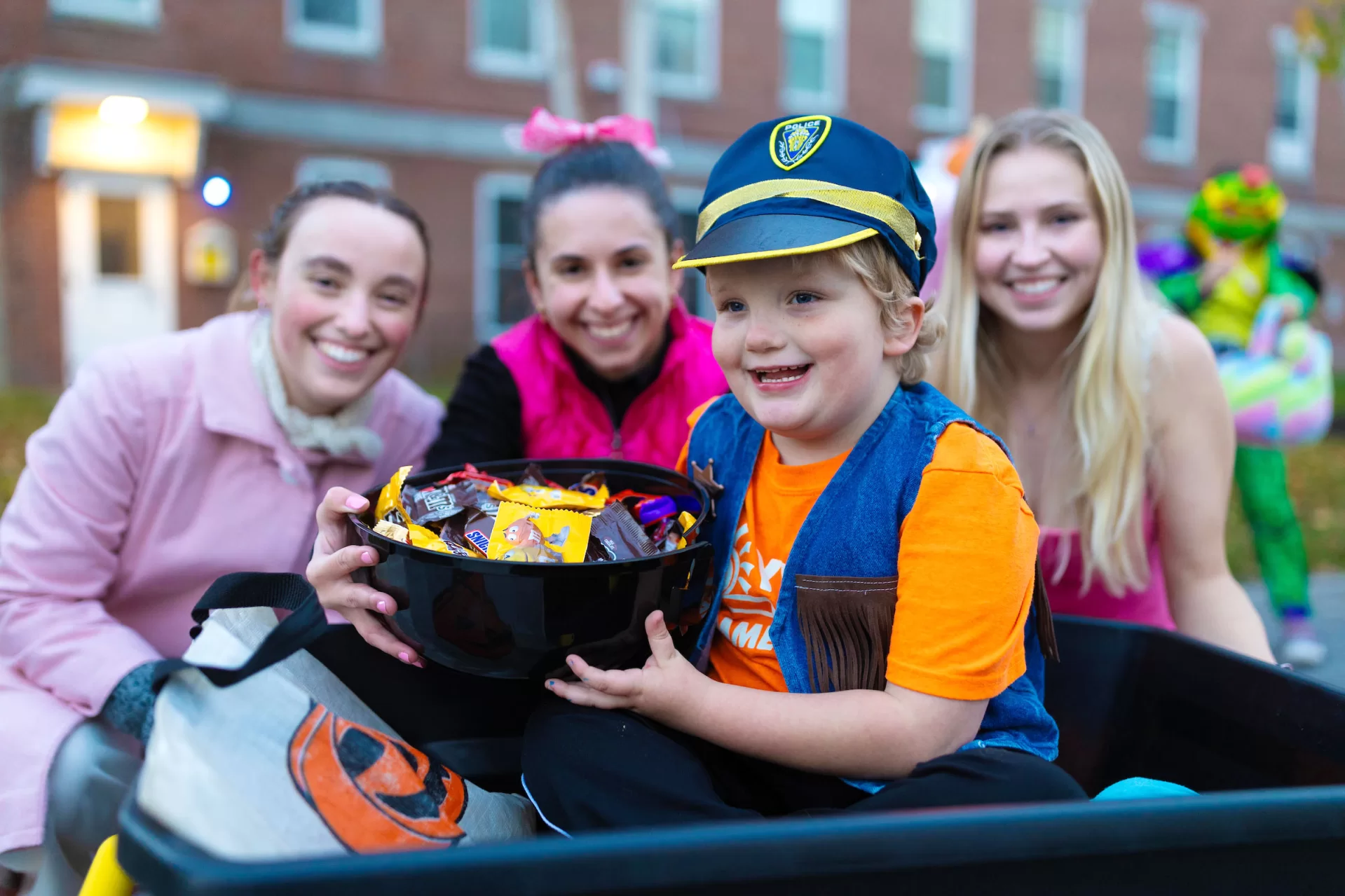 A child holds the evening's bounty as Bates students lean in with support — and with smiles all around — on Oct. 31, 2023, on Alumni Walk. All along the Walk, Bates students gathered with their sports teams, clubs, and organizations at Halloween treat stations to welcome the local trick-or-treaters a week after the Lewiston shootings .
---
Reconnecting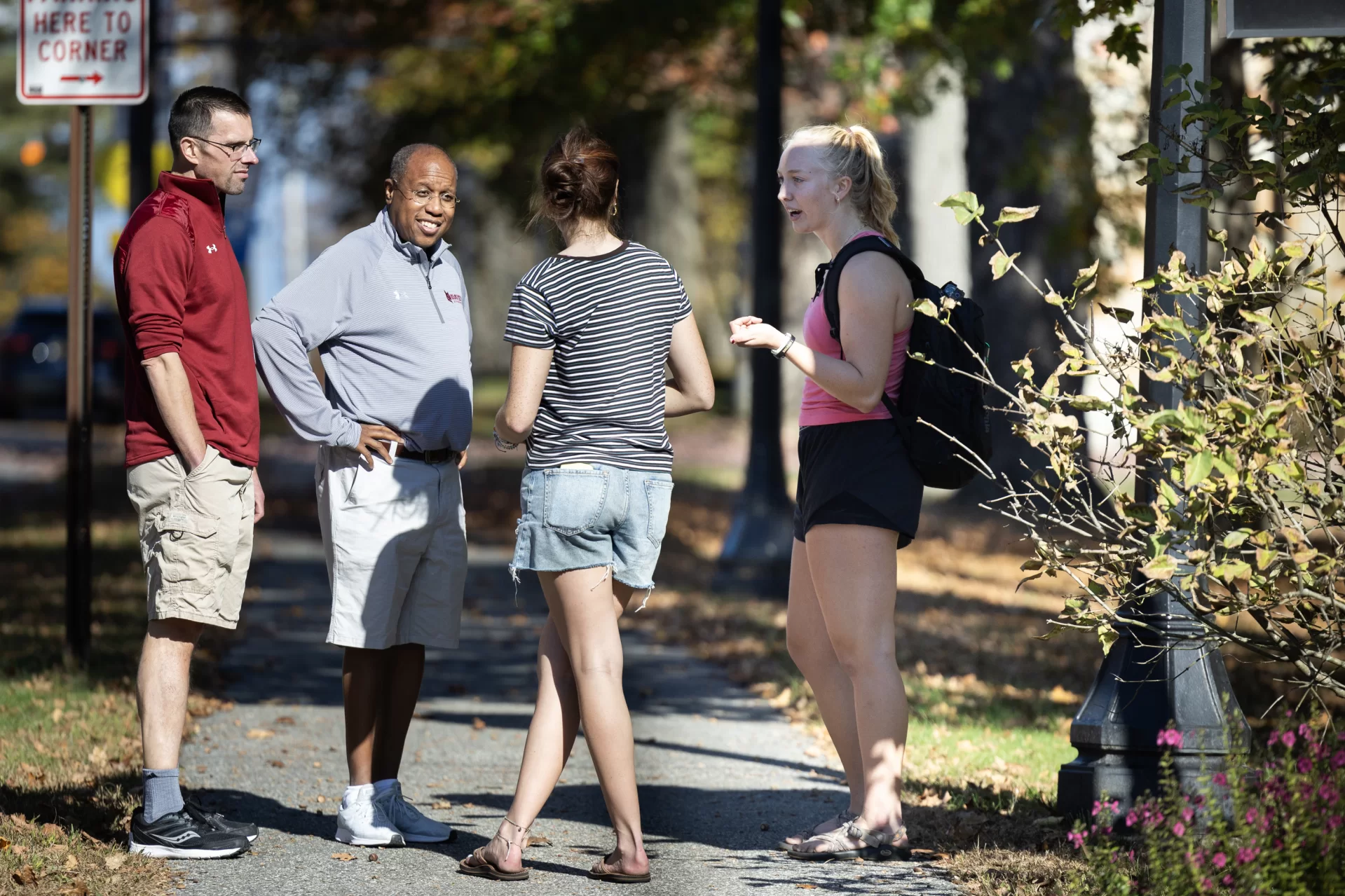 President Jenkins and his husband, Jon Lee, greet students as they walk home along College Street on Oct. 28, the day after the shelter in place was lifted following the Lewiston shootings.
---
Lewiston Strong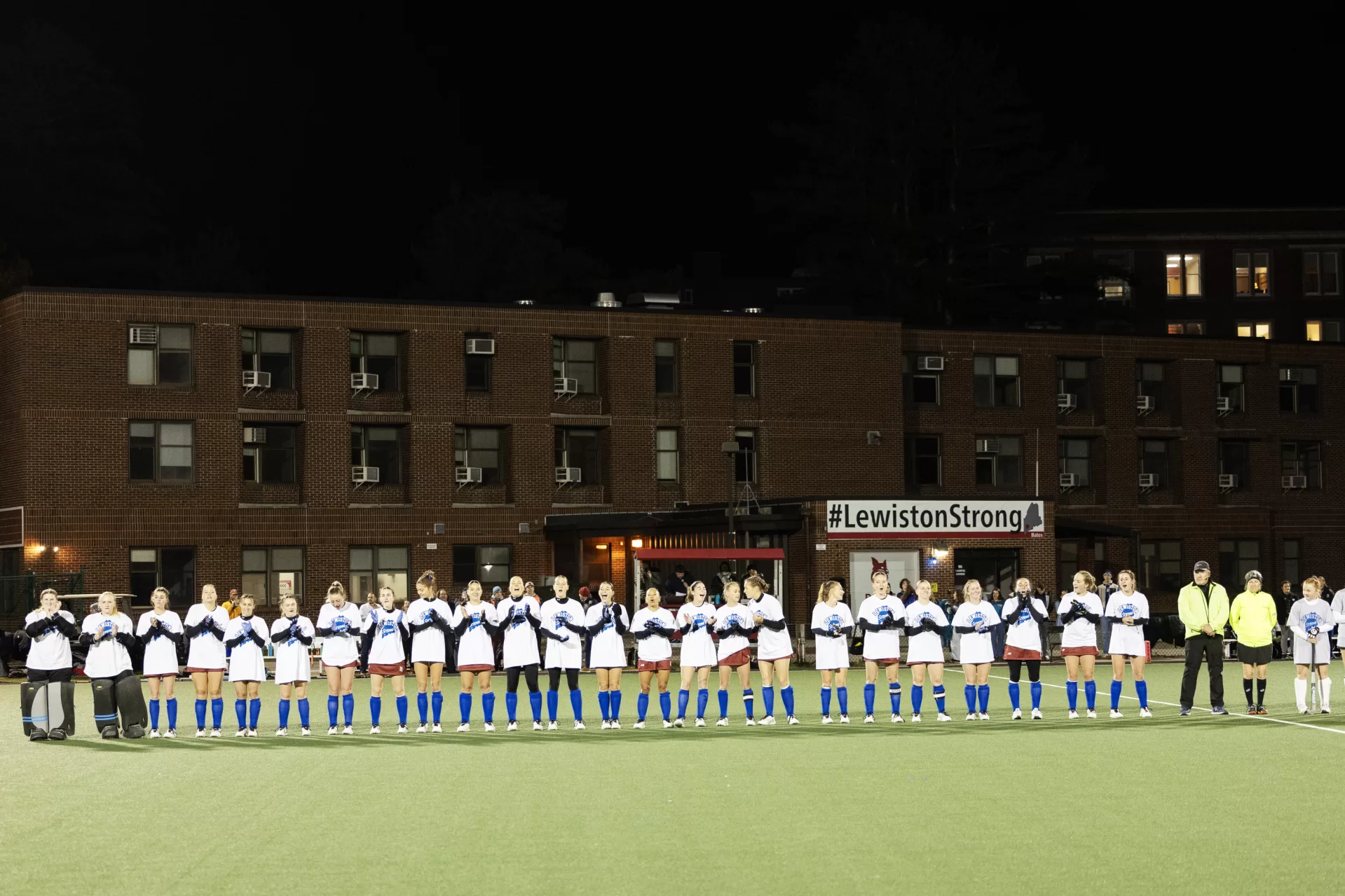 The Bates field hockey team — wearing blue socks in solidarity with the city of Lewiston — lines up for introductions before their double-overtime victory over Bowdoin in the NESCAC quarterfinals on Oct. 31 at the Campus Avenue Field.
---