Late on Tuesday afternoon, a 6-year-old girl and her family made their way down Alumni Walk, which had been transformed from a pedestrian walkway into a Halloween paradise by Bates students — with a candy assist from the Red Cross — as a way to show love for their Lewiston community.
It had been just six days since the shootings in Lewiston. Pain and worry ruled days and nights. But now, at twilight on a frosty fall day, there could be, and were, smiles everywhere as children and families flocked from the Lewiston community to the Bates campus.
On Alumni Walk, as well as around the corner on Bardwell Street and on nearby Frye Street, they were met with an outpouring of emotion, support, and bagfuls of treats from hundreds of Bates students who had, on short notice and in response to the tragedy, had tripled the size of a planned community trick-or-treat event for nearby Frye Street.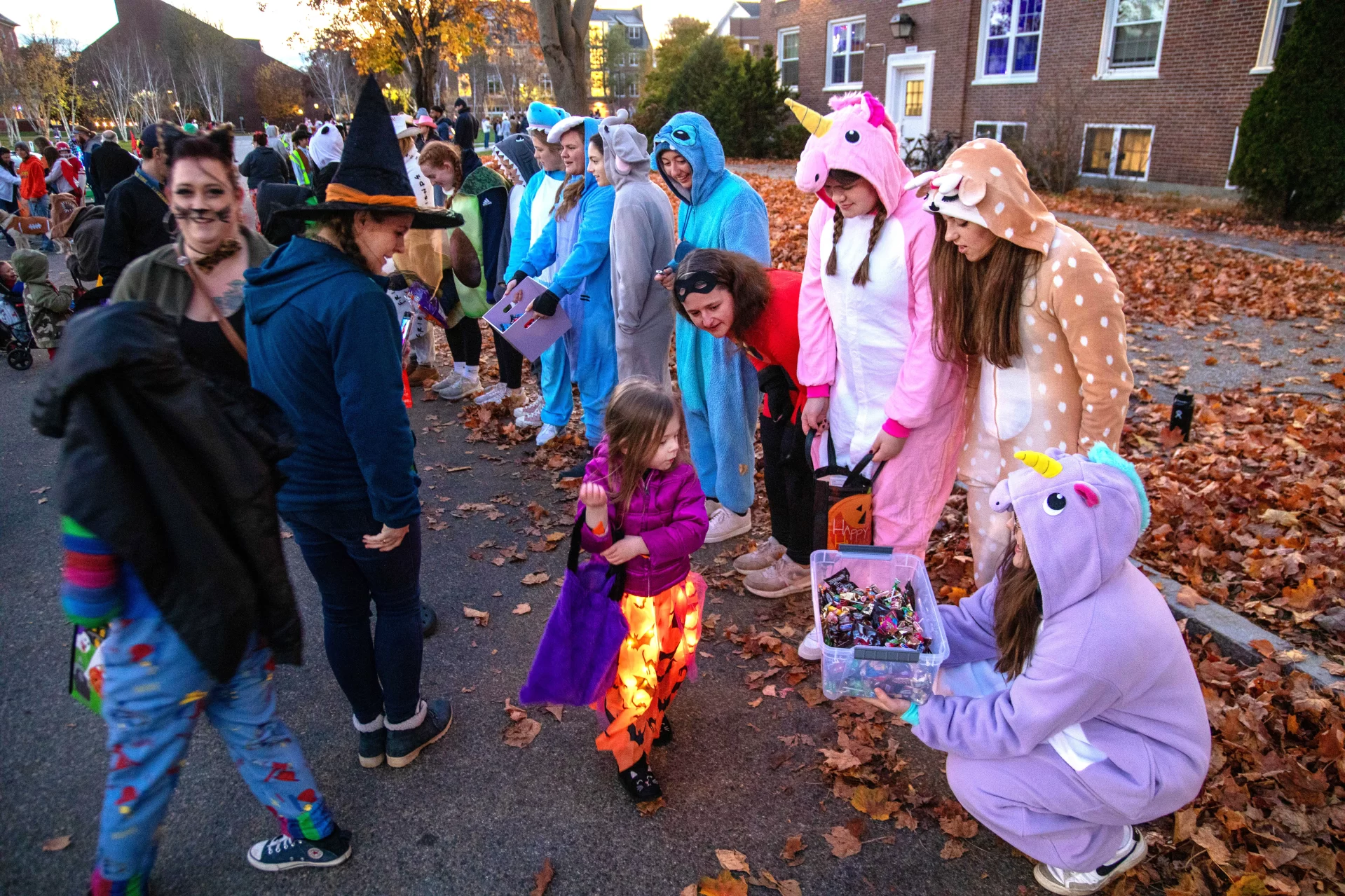 The smiling little girl, dressed as Cat Noir from the animated TV series Tales of Ladybug & Cat Noir, was trailed by her mom, Marissa Porter of Auburn, and her grandmother, Jennifer Randall of Lewiston. The young child, said Porter, had been too scared to return to school since the crisis. "She has been struggling."
Some of her family members are in the military, and the man who committed the shootings was an Army reservist. "She's scared," said Randall. "She's always known military people to be safe."
Randall watched as Bates students greeted her grandchild with great warmth. "The way they are engaging with her — it's so important. She needs this. We appreciate this so much."
Steven Wiles and Evelyn Wiles of Lewiston and Gardiner, respectively, had heard about the Bates Halloween event that morning and decided right away to come to campus with their child. After a week that has left everyone frayed and edgy, "Bates is the place to go," he said.
---
A crowd of Bates students happily dance with a trick-or-treater dressed as Wednesday from the Addams Family during the Halloween event held on campus:
Enclosed by some of Bates' most iconic buildings, Alumni Walk is only 16 years old, having opened in 2007. From what was once a paved access road running in front of Lane Hall, architects created both a wide campus walkway, connecting the east and west parts of campus, and a community gathering place, with funding from Jack Keiwin '57 and his wife, Beverly Keigwin.
As Bates News writer Doug Hubley reported at the time, "for the pair who made Alumni Walk possible, it's about the space, but more about the people who will use, enjoy, and ideally find some kind of sustenance there."
On Tuesday night, sustenance came not only from the surge of sugar treats, but from Bates students turning their high-wattage energy toward a community that was hurting, and that they love.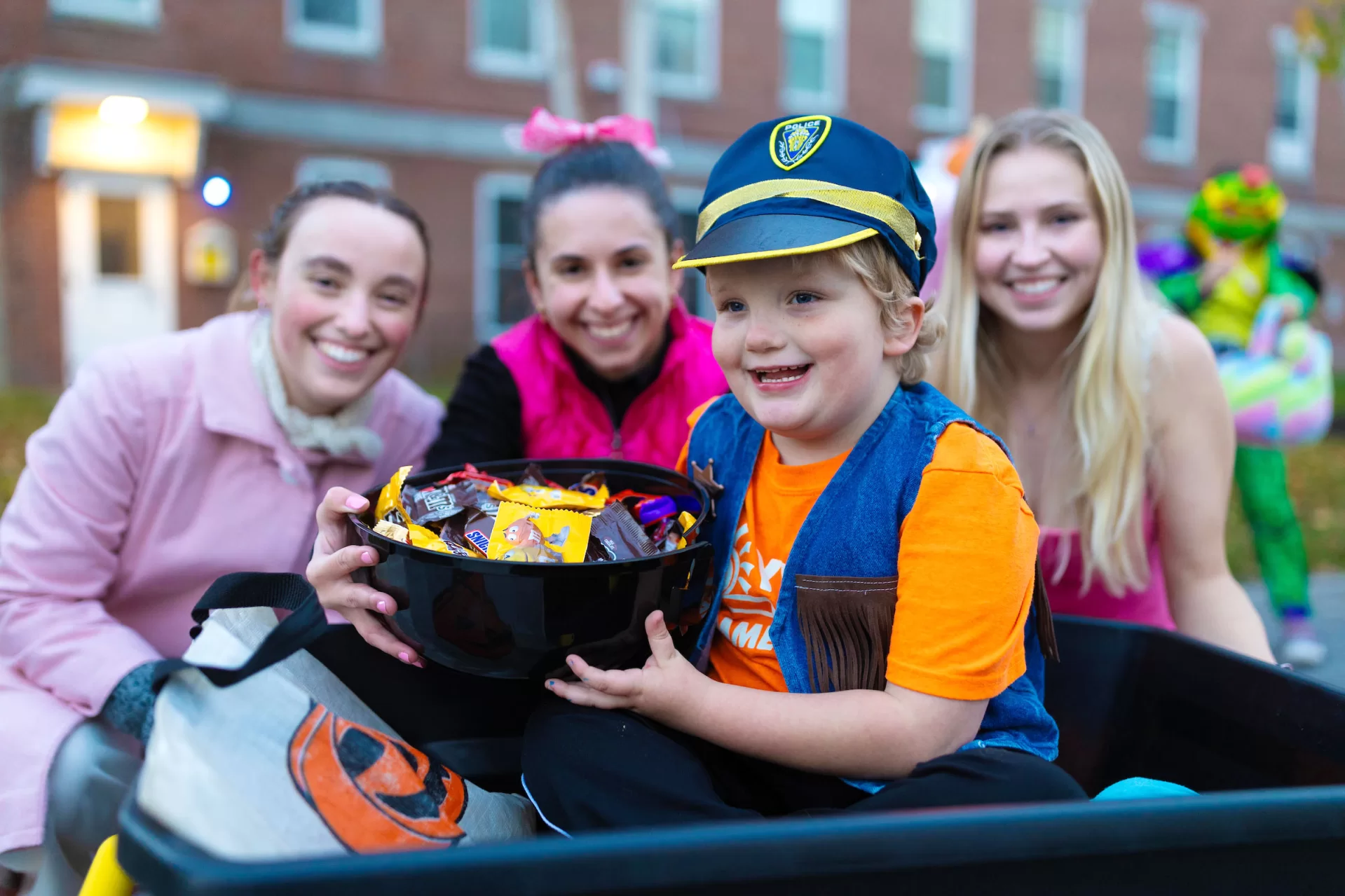 All along the Walk, Bates students gathered with their sports teams, clubs, and organizations — from the sailing club to The Bates Student — to staff treat stations to welcome the local trick-or-treaters.
Decked out in their own costumes (such as a lobster, including claws) and with faces brightly painted, the students handed out sweet treats, stickers, and novelties to local children, who, depending on their age, either trundled along on foot, rode in colorful wagons, or were carried on the backs of parents and family members.
Some children were swaddled in fleece blankets, newly received from Red Cross volunteers stationed at the head of Alumni Walk. They provided event support, along with staff from several college offices, including Facilities, Dining and Campus Events, Campus Safety, and the Harward Center for Community Partnerships.
Students cheered for each arriving trick-or-treater, and did dance moves to the music of Halloween standards like "Monster Mash" and "Thriller" played from Bluetooth speakers, along with plenty of Taylor Swift, including "Shake it Off."
Bates President Garry W. Jenkins and his husband, Jon Lee, did a circuit on Alumni Walk with a big wicker basket that was rapidly drained of candy. "Rather than stay in the [president's] house," Jenkins said, "we decided, let's make the candy mobile!"
Maggie Forger '25 of Norwell, Mass., was stationed with her sailing club teammates not far from Lane Hall. Like many Bates students, she has gotten to know Lewiston by taking courses with a specific community-engaged component, so she feels a strong personal connection to her college town.
One such course was "TechnoGenderCulture," taught by Assistant Professor of Digital and Computational Studies Anelise Hanson Shrout, which explores how technologies not only have histories and cultures, but that they are gendered as well.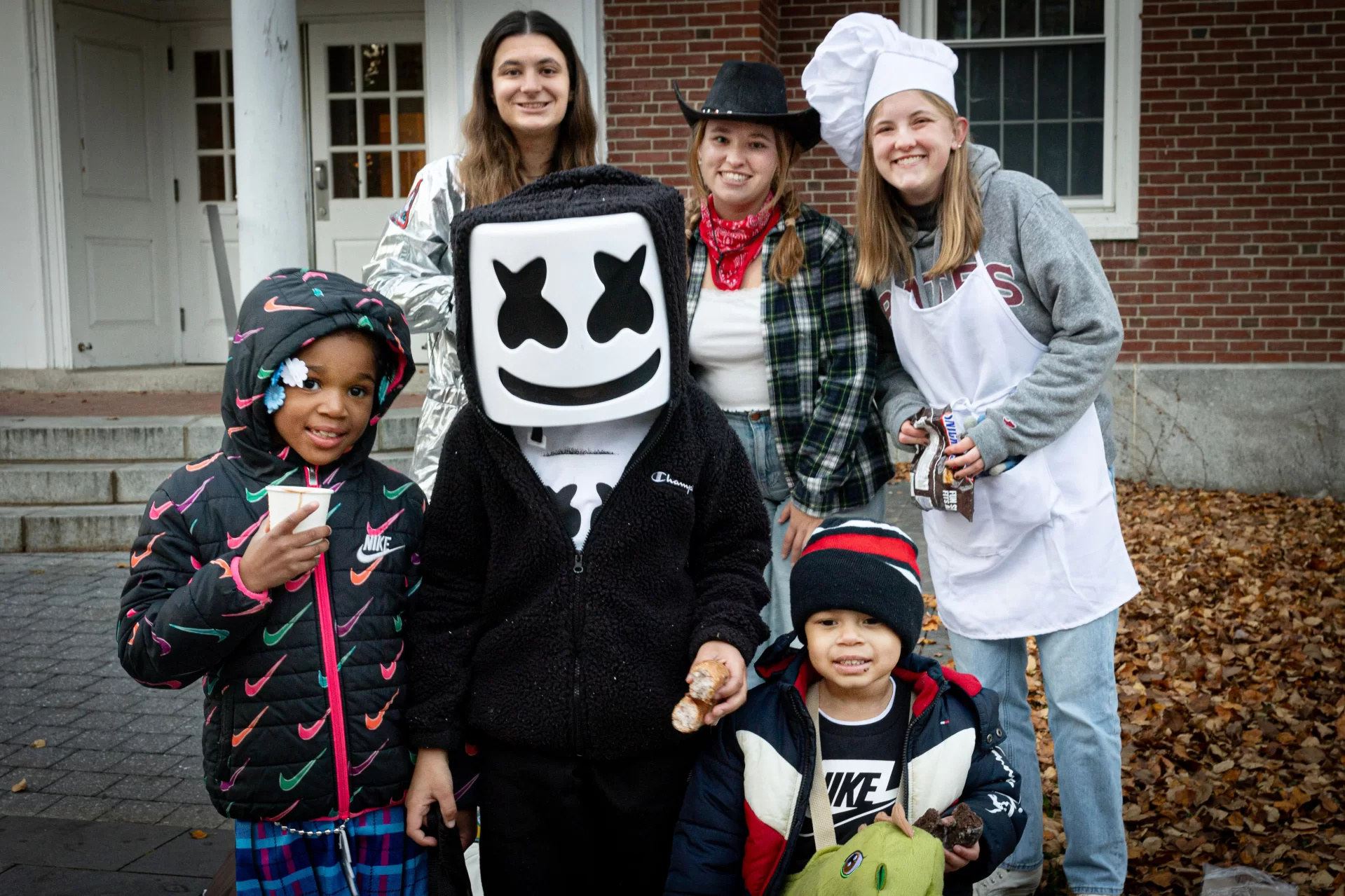 As part of the coursework, Forger and her classmates spent time at a few Lewiston locations, helping the community understand different facets of technology. Forger's group worked at Meadowview Apartments, a senior living center in Lewiston, where they spent time with the residents and helped them with their personal and communal technology.
"It felt really cool for so much of the Lewiston community to be with so much of the Bates community at once," Forger said. "And Bates students really brought the energy."
As she looked out over the little Buzz Lightyears, ladybugs, Spidermen, Barbies, and witches pulling parents along Alumni Walk, she said, "for the community to be able to come to Bates is the best of both worlds."