Senior Parent Gifts
Support the Senior Parent Gift

Families of the Class of 2024 Collaborative Work Space in Chase Hall.

Dear fellow Class of 2024 families,
From our "drive-by drop-off" in August 2020 to the excitement of a new president this fall, our seniors' time at Bates has been characterized by enthusiasm for seizing every opportunity, a willingness to take on challenges, and deep commitment to community. Class of 2024 families have been engaged partners at every turn.
Given the incredible tradition of support among Class of 2024 Families, we invite you to join us as we seek to raise $750,000 to name the Families of the Class of 2024 Collaborative Work Space in Chase Hall.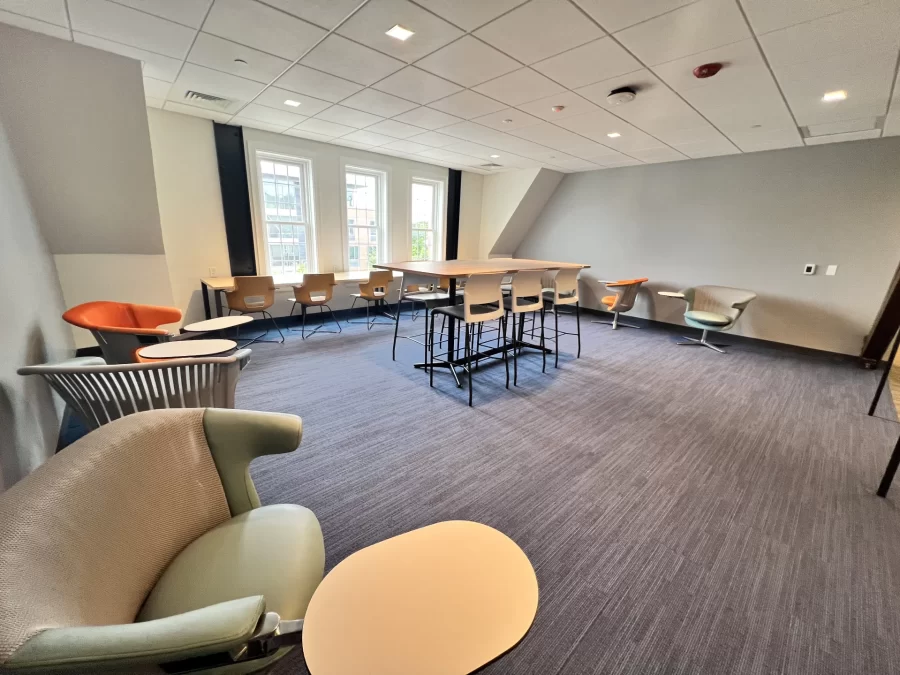 This newly renovated space is a modernized, central hub for our students and their peers to use for group work, meetings with professors and project partners, and more. Located at the heart of Chase Hall – a campus center for student engagement – our named space will embody connection, curiosity, and collaboration. What a legacy in honor of our seniors and in recognition of our own affection for Bates and its impact on our children.
There is a place for all in this effort, and we invite every Class of 2024 family to participate in the Senior Parent Gift in the way that is right for them.
Deepest thanks in advance for your engagement as donors, cheerleaders, and ambassadors for this effort. We look forward to gathering with you on Commencement weekend to celebrate our collective success.
On behalf of the committee,
Neen Koenigsbauer P'22 P'24
Senior Parent Gift Chair
Frequently asked questions about the Senior Parent Gift
How can I get involved as a volunteer?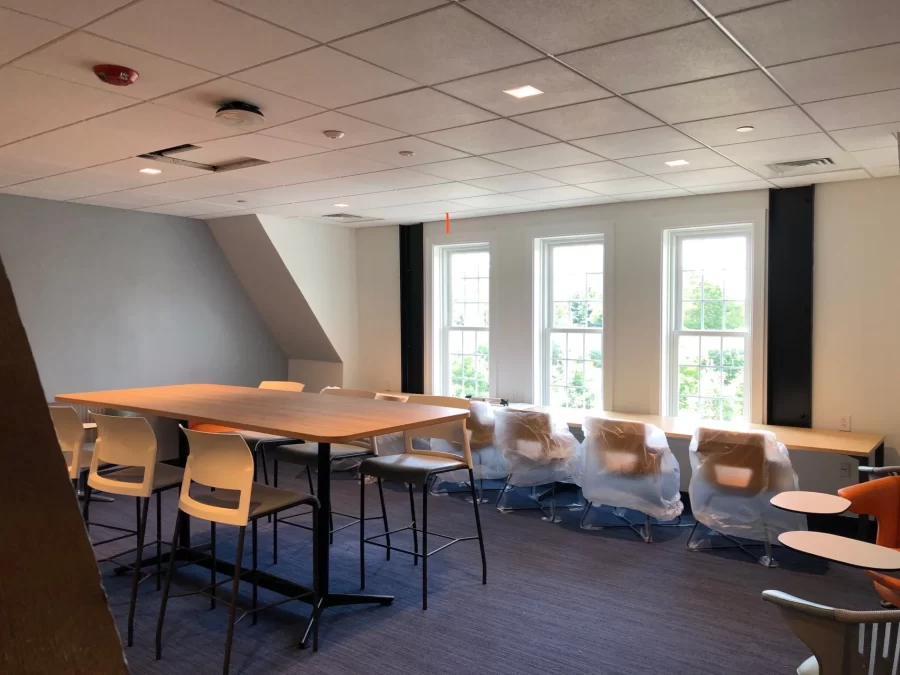 We would love to have you join the Senior Parent Gift Committee! Please reach out to Emily Bray Levine at Bates at elevine2@bates.edu to learn more and hear how we can make volunteering easy and rewarding for you.
Will I be asked for a Parents Fund gift as well?
Your Senior Parent Gift is your Parents Fund gift. With this in mind, we encourage you to stretch with your support of Bates and the Senior Parent Gift.
I usually support Friends of Bates Athletics as well. How does that factor in?
We know many parents support our student-athletes through the FBA while also supporting the Parents Fund. Both kinds of gifts count toward our goal, so we encourage you to continue to support your student's team while also stretching in support of the Senior Parent Gift.
I am a senior parent and a Bates alum. Does my Senior Parent Gift count toward my class total?
Yes! Your gift will count toward your class total while supporting this effort.
Past Parent Senior Gift
Families of 2023 Living Room, Dana Hall
The Class of 2023 families raised over $500,000 in the 2022-2023 academic year, allowing them to name the Dana Hall Living Room in their honor.
Acknowledgments
Bates College would like to recognize and thank all of our generous donors for their contributions to the Families of 2023 Living Room in Dana Hall.
Benjamin T. Ackley and Heidi M. Ackley P'23
Mir M. Alam and Sharmin H. Alam P'23
Gideon T. Alpert and Amy W. Alpert P'23
Brian D. Annese and Kathleen M. Annese P'23
Mitchell Arons and Penny Arons P'23
Guy J. Attal and Yuko Attal P'23
James Atwater and Bernadette Atwater P'23
Michael Axelrod and Julia Simovsky P'23
Francis Ballard Jr. and Lisa F. Ballard P'23
Arijit Banerjee and Swapna M. Banerjee P'23
Elizabeth P. Barratt-Brown P'23, P'24
Randall J. Bates '89 and Tara K. Bates P'23
John R. Baylor and Susan L. Baylor P'23
Henry N. Berry IV and Joan F. Berry P'09, P'23
Margaret P. Biddle P'23
Kate B. Boswell P'23
David M. Braslau '84 and Yain Y. Lu '84, P'23
Jessica Broda P'23
Christopher F. Brown and Elizabeth W. Brown P'19, P'23
Joshua Burden and Nancy Burden P'23
Gary H. Burdorf P'23
Sherry L. Burdorf P'23
Thomas E. Byrne III and Arden E. Byrne P'23
John Campbell and Jennifer L. Mogul P'23
Blaine D. Carter and Nancy J. Carter P'23
Michael I. Chung and Carol G. Chung P'23
Brian M. Cleasby '93 and Melissa J. Clay '93, P'23
James B. Coffey and Elizabeth R. Coffey P'23
Gerald D. Cohen and Katherine J. Reynolds-Cohen P'23
Jeffrey H. Coleman and Lisa O. Coleman P'23
Stephen C. Concannon '92 and Laura Concannon P'21, P'23
John R. Conkin and Allison Conkin P'23
John M. Connors III and Larisa E. Connors P'23
Kevin Conway P'23
Paul A. Cramer and Mary E. Gard P'23
John D'Addario III and Michelle D'Addario P'23
Peter A. Delamere and Jennifer S. Delamere P'23
Lance Depew and Pauline Depew P'23
Michael Devon and Ronit K. Devon P'23
R. Bosworth Dewey Jr. P'23, P'24
John P. DiBartolo Jr. and Patricia M. DiBartolo P'23
Timothy B. Dining and Jenny H. Boesch P'23
John Dotson III and Diana Dotson P'23
James A. Dun and Kelly J. Dun P'23
Bartlett Dunbar and Lisa Lewis P'23
Gregory A. Ehret '91 and Barbara L. Ehret P'23
John F. Ende and Amy S. Ende P'23
Anna Louise Englund '93 and Mark T. Arienti P'23
Robert J. Epstein '88 and Margot R. Berg P'23
David L. Ettinger and Lisa J. Ettinger P'23
Walter Faasen and Lynne Faasen P'23
Brian M. Fallon and LeeAnn Fallon P'23
Ting Fang and Stephanie R. Liu P'23
Frank Feist and Sarah C. Gates P'24
Clari Fennell P'23
Stephanie A. Fernald '85, P'23
Barry A. Fischman P'23
David E. Fitzgerald and Mia W. Fitzgerald P'24
Noah Fleischmann and Julie Fleischmann P'23
Peter M. Forester and Jacqueline W. Rider P'23, P'25
Peter M. Gadaleta and Jeannette T. Gadaleta P'23
Mark A. Gallegos and Evan vanDommelen-Gonzalez P'23
Steven L. Goldstein and Ellen R. Goldstein P'23
Andrew J. Gooding '89 and Grace Tallman Gooding '89, P'23
James C. Graff P'23
Rafael O. Gray and Cynthia G. Gray P'23
Chad A. Green and Kathryn L. Green P'23
Ellen M. Greenberg P'23
Gregory Greuel and Amy Greuel P'23
Daniel Griffin and Melanie Griffin P'23
Robert S. Gross and Mary A. Smith P'23
James B. Grossman and Joy D. Grossman P'15, P'23
Hans Gundersen '88 and Lisa M. Mainella P'20, P'23
Marjorie A. Haney P'23
Jason R. Hanley '93 and Renee L. Hanley P'23
William A. Harris and Allyson A. Harris P'23
Jordan Hayes and Lynn Hayes P'23
Richard C. Hoffman and Sarah F. Hoffman P'23
Frederick J. Hogan Jr. P'23
Mary Holt-Wilson '92 and Andrew M. Wilson P'23, P'27
Erin M. Horvat P'23
Christophe P. Hotermans and Nathalie M. Hotermans P'23, P'25
Steven J. Howard and Kathleen C. Howard P'19, P'23
Todd Howard and Elizabeth Howard P'23
Michael K. Ireland '90 and Ruth Loescher Ireland '90, P'23
Daniel J. Jandreau and Stacy W. Jandreau P'23
Jennifer J. Johnson '88 and Stephen O'Leary P'23
David A. Jones and Wendy A. Togneri P'23
J. C. Jones and Suzanne S. Jones P'23
William J. Kane and Valerie J. Kane P'23
Craig L. Kennedy and Elizabeth Y. Kennedy P'21, P'23
Thomas King and Rosaria King P'23
Robert V. Kleinbardt and Diane R. Ninos P'23
James D. Klingbeil Jr. and Sarah S. Klingbeil P'20, P'23, P'26
Martin P. Knauss and Kristine A. Kemmis P'23
Lawrence A. Kolenberg and Laura J. Moloney P'23, P'26
Steven G. Kovacs and Amy Kovacs P'23
Noah E. Kupferman and Jennifer K. Hiraga P'23
Chad M. LaCroix and Kirsten E. LaCroix P'23
Kimberly A. LaPointe and Steven Roberts P'23
Susan E. Lavoie-Sullivan and Mark Sullivan P'23
James R. Leonard and Susan Leonard P'23
Jonathan B. Littlefield and Bridget E. Littlefield P'23
Christopher M. Lovett Sr. and Mary Lou Lovett P'23
Benjamin A. Lowenstein '92 and Elizabeth E. Lowenstein P'23, P'25
Brian P. MacDonald and Lesley R. MacDonald P'23
Robert L. Marchman and Susan S. Marchman P'23
Joseph P. Marcolina and Kerry A. Marcolina P'23
Arthur J. McAfee III and Anita J. LaRue-McAfee P'23
Jim McCulloch and Kristin E. McCulloch P'23
Richard T. Meenan and Karen S. Meenan P'23
Emanuel G. Merisotis '90 and Teresa S. Merisotis P'23
Deborah Meshulam P'23
Oliver T. Middleton and Barbara A. Rowley P'23
Michael Mikulski and Jaynellen Mikulski P'23
Janet T. Moodie GP'23
Leslie J. Morison '88 and Anthony P. Hoag P'23
Kevin G. Murphy Jr. and Mara W. Murphy P'23
Terrence J. Murray and Nicole S. Murray P'23
Fredric D. Nadel and Jill S. Nadel P'23
Matthew E. Nespole '93 and Jennifer Lockhart Nespole '94, P'23
Jeffrey Neville and Lisa Neville P'23
Merlyn R. Nolan '90 and Heather Falk Nolan '92, P'23
Christian Nolen and Susan J. Denny P'23
Kevin M. O'Hare and Judith B. O'Hare P'23
James P. Parker and Amy F. Parker P'23
Jay Parkhill Jr. '91 and Hilary Parkhill P'23
James R. Paul and Wendy W. Paul P'23
Paul R. Petrie and Allison T. Hild P'18, P'23
Abiathar Phillips and Mary K. Bundorf P'23
Gregory S. Pilgrim and Sloane DeAngelis P'23
Leslie M. Pinto and Michael F. Grace P'23
Walter H. Platt '88 and Julie L. Sutherland-Platt '88, P'19, P'23
Jill B. Porter P'24
Gregory L. Pottle and Sallie E. Pottle P'23
Jason Pribilsky P'23
Elizabeth M. Ransom and Stephen B. Ransom P'23
Lawrence E. Reed Jr. P'23
Corey W. Richardson and Daphne L. Richardson P'23
Kevin S. Rose and Kimberly Rose P'23
Douglas B. Rosner and Erin K. Higgins P'23
Daryl Ross and Bryna Ross P'23
Stephen B. Ross and Patricia D. Ross P'23
Sean P. Ryan '85 and Yvonne Ryan P'23
William G. Schierwagen and Susan R. Schierwagen P'23
Matthew Schinabeck and Anne Schinabeck P'23
Douglas A. Schmidt and Rhonda S. Schmidt P'23
Philippe Z. Selendy and Jennifer M. Selendy
Jay C. Shambaugh and Lisa A. Shambaugh P'23
Waseem A. Sheikh and Annalisa Campanile P'23
William J. Sheils and Martha P. Sheils P'19, P'21, P'23
Patrick Shepherd and Arleen M. Shepherd P'23
Roger S. Sherman and Jennifer B. Schab P'23
Brett M. Shifrin and Sara W. Shifrin P'23
Yakir Siegal and Wendy Siegal P'23
Eric W. Smart and Stephanie N. Smart P'23
Robert C. Smith and Maura E. Daly P'23
Ronald S. Smith and Sharon R. Smith P'23
Lisa W. Sotir Parsons P'24
Rebecca E. Southard P'23
Nancy G. Stakun P'23
R. Reed Stevens and Carolyn Hoyt Stevens P'23
Pamela B. Stone P'10, P'23
Leslee L. Subak P'23
Sohei Sugimura and Miyuki Sugimura P'23
William F. Symmans and Luisa J. Orto-Symmans P'23
Gary W. Tamkin and Sandra S. Tamkin P'23
Jacob J. Taylor and Donna M. Taylor P'23
Henry Toulmin and Julia Toulmin P'23
Stephen D. Trafton and Melissa G. Trafton P'23
Thien Tran and Thi-Cam Truong P'24
Frank R. Trinity and Margaret T. Trinity P'23
Ellen P. Urquhart P'23
Jaime A. Urribarri and Kristen L. Urribarri P'23
Yves M. Van Damme and Wendy Van Damme P'23
Alissa Vance P'23
Marc J. Veilleux and Jennifer L. Pickard P'23
Margo Veskimagi and Inga Veskimagi P'23
Michael J. Walker and Terry A. Walker P'23
Jonathan S. Whittaker and Christee L. Whittaker P'23
Jon S. Wilkins Jr. and Elizabeth A. Cavanagh P'23
Christopher T. Williams and Michele L. Peterson P'23
Gregg Winter and Ellen Winter P'23
Joel W. Wolfe and Traci A. Wolfe P'23
Michael P. Wolter P'23
Howard S. Wynn and Valerie S. Wynn P'23
Peter Young and Amy Young P'23
Michael E. Zeilinger P'23
Arthur L. Zerbey III and Michelle M. Zerbey P'23
Eileen P. Zimmerman and Wayne V. Zimmerman P'23