Bates Community Letter: Fall 2013
Dear Members of the Bates Community,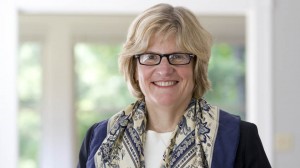 I write to share with you developments at the college as we welcome the Class of 2017 and begin a new academic year.
I have spent the past 12 months listening closely to students, faculty, and staff on campus and to alumni, trustees, and parents in the broader Bates community. This process has not only been great fun but has also allowed me to gain information and perspective about the college's distinctive history, our most powerful assets in the present day, and how we can best position ourselves to deal with the forces that are transforming higher education and the world into which our students are graduating. I am pleased to report that the college is doing very well, and I am highly optimistic about our future.
Let me begin by describing some key developments that bring us into this year with strong momentum. First, under the leadership of our new dean of admission and financial aid, Leigh Weisenburger, we had one of the most competitive admissions years in Bates history. We received 5,243 total applications for admission, the most ever. Significantly, 425 of these students applied early decision round one, meaning that Bates was their first choice, representing a 35 percent increase in early decision applications in one year.
The incoming class of 502 students not only was chosen from one of the most competitive applicant pools in our history, but also brings the greatest diversity. Twenty-five percent are U.S. students of color, and 72 students are the first in their families to go to college. The class comes from 38 U.S. states and the District of Columbia, and 32, or 7 percent, are international students, hailing from 25 different countries.
Last year also brought outstanding appointments to leadership positions throughout the college. In addition to Leigh Weisenburger, we have recruited Sarah Pearson '75, Matthew Auer, and Crystal Ann Williams to key roles. Sarah joined us last year as vice president for college advancement, following a career that took her from Harvard, to Cornell, to the University of Chicago, to Northwestern University, where she served for eight years as vice president. She has begun the process of building strength in fundraising and alumni engagement, while maintaining strong results in annual giving. The Bates Fund reached 50 percent participation for the second year in a row, and 93 percent of the Class of 2013 contributed to the class gift. Total dollars exceed $12 million.
Matt Auer, our newly appointed vice president for academic affairs and dean of the faculty, is a leading scholar and globally engaged expert in the arenas of environmental policy, energy policy, sustainable development, and foreign aid. A dynamic and effective academic leader, Matt received a doctorate in forestry and environmental studies from Yale, a master's from the Fletcher School of Law and Diplomacy at Tufts University, and his undergraduate degree from Harvard. He spent the past 12 years at Indiana University, where he served first as dean of undergraduate education at the School of Environmental and Public Policy and later as dean of the Hutton Honors College — the liberal arts program within the larger university.
Crystal Williams of Reed College will join Bates as associate vice president and chief diversity officer in November. Currently dean for institutional diversity at Reed College in Portland, Oregon, Crystal brings deep experience and passion to the task of reclaiming and refashioning for the present Bates' historic commitment to inclusion. She will oversee the Office of Equity and Diversity and the Office of Intercultural Education. Crystal is also a nationally recognized poet and author of creative nonfiction who will join the English department as a professor, adding depth and range to her work in diversity, while enriching the intellectual community on campus.
Academics remain the core of what we do. We offer 35 different majors, and all seniors complete a thesis or capstone project. Bates is ranked as a top producer of Fulbright grants, and 11 members of the Class of 2013 received Fulbrights to teach and conduct research in 10 different countries. One 2013 graduate received a Watson Fellowship to travel to Morocco, Madagascar, and Cambodia to conduct research on cultural perceptions of stroke as a medical condition. Sixty-seven percent of our students graduate with academic credit for studying abroad, placing Bates 16th in the nation in this category.
While being intensely engaged with students in the classroom, in labs, in thesis advising, and in research, our faculty remain exceptional scholars in their own right. Over the past three years, Bates faculty members authored 21 scholarly books and textbooks, and 237 scholarly journals or book chapters.
Building on the legacy of our sixth president, Don Harward, Bates is a national leader in community engaged learning. The Harward Center for Community Partnerships remains a vibrant focus of activity, led with energy and vision by its director, Darby Ray, who joined Bates last year and is the Donald W. and Ann M. Harward Professor of Civic Engagement. A third of our students take courses that incorporate interaction with the community, and two-thirds of our students volunteer in the 125 community organizations with which we have partnerships.
Last year was a very strong one for athletics as well. Cumulatively, Bates athletics had its highest finish since 2004 in the National Division III Director's Cup competition that measures overall athletic performance, placing 38th out of more than 450 institutions. The men's track and field team placed fifth at the NCAA Division III Indoor Track and Field Championships, the squad's best performance ever, and won its first-ever New England Division III Outdoor Championship. The football team went 5–3, beating Colby and Bowdoin en route to winning the CBB championship. Men's lacrosse went 5–1 on Garcelon Field and 7–7 overall, posting their best season since 2006. Baseball had its fourth consecutive winning season. And women's rowing placed second at the NCAA Division III Championships for the fifth year in a row.
With new leaders in place, strong alumni support, and a talented and diverse student body, Bates begins this new academic year in a strong position. Looking ahead, we have identified three institutional priorities on which we are already making concrete progress.
First, we want Bates to set the standard for the "engaged liberal arts." We are working every day to deliver the strongest possible residential liberal arts experience even as we engage the forces that are changing the way we live our lives and experience the world. With half of our faculty eligible to retire over the next 10 years, our central task as a college is to shape a forward-looking curriculum and hire the faculty to teach it. We are aided in this effort by a million-dollar grant from the Mellon Foundation supporting this work in our humanities departments. Likewise, we are approaching new developments in knowledge and pedagogy with zest and openness, as well as with a critical eye. Associate Professor of Classical and Medieval Studies Margaret Imber is leading a "project for innovation and collaboration in teaching, technology and research" that brings together faculty interested in exploring new developments in pedagogy and the science of learning and experimenting in their own classrooms.
Second, we have initiated a college-wide project focused on preparing our students for "purposeful work." This project grows out of the intellectual conviction that helping students understand and explore their relationship to work — in college and beyond — lies at the heart of the liberal arts mission. And it grows out of the practical recognition that our students are graduating into a highly competitive world, where it is increasingly challenging to find work of any kind, much less work that aligns with one's interests and skills. Accordingly, we will be developing programming over the arc of our students' four years here aimed at helping them to develop and discern their interests. And we will couple this process of self-discovery with an array of internships and other experiences aimed at building relevant skills. A working group composed of faculty, staff, and students, and led by Director of the Harward Center Darby Ray and Associate Professor of Psychology Michael Sargent, is driving forward with this project. The entire Bates community, on and off campus, will be invited to join the thinking of this group and consider proposals for action throughout this year.
As part of this effort, we are considering the addition of some practitioner-taught courses during Short Term. We will invite alumni and others to design and teach Short Term courses in their areas of professional expertise. Professor of Sociology Emily Kane is leading this effort, working closely with her faculty colleagues.
Third, our commitment to "opportunity and excellence" means attracting and enrolling the very best students from a broad range of backgrounds and marshaling the resources to provide generous financial aid to support their education. Our current financial aid program reflects our commitment to these values. Forty-seven percent of our students receive financial aid, and the average grant is over $35,000. Counter to national trends in student debt, our financial aid is largely composed of outright grants, and students with loans graduate with an average debt load of under $17,000, compared to the national average of over $27,000.
Supporting the college's generous program of financial aid will always top the list of fundraising priorities, and the Board of Trustees is firmly behind these efforts.
As we work to advance these priorities, we will need the engagement and support of the entire Bates community. I hope this letter gives you a taste of some of the exciting things we are up to, and I welcome any thoughts or suggestions you may have.
With all best wishes,
A. Clayton Spencer
18 Responses to "Bates Community Letter: Fall 2013"