Liz Lerman Dance Exchange premieres 'In Praise of the Creative Spirit'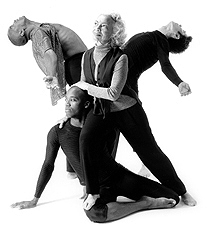 Liz Lerman Dance Exchange culminates a two-year Maine Millennium Celebration with its Bates Dance Festival performance of In Praise of the Creative Spirit at 8 p.m. Thursday, Aug. 16, and Friday, Aug. 17, in Schaeffer Theatre on the Bates campus. Tickets are $15/10 (students and seniors) and may be purchased by calling 207-786-6161.
In conjunction with this performance, dance scholar and critic Suzanne Carbonneau '76 presents Inside Dance: Understanding Contemporary Performance, a pre-performance discussion offering insight into Lerman's process and this project. The discussion takes place at 7:15 p.m. Friday, Aug. 17, in Schaeffer Theatre.
Following recent community projects in Eastport and Deer Isle, In Praise of the Creative Spirit combines movement, song and stories to celebrate the artistry of dancers and musicians. Developed in collaboration with members of the festival community, the work is part of Lerman's four-year Hallelujah Project being developed in communities nationwide.
For the past 22 years, choreographer and cultural activist Lerman has been a national pioneer in defining ways that innovative art making can be linked intrinsically to community building. Creating "visionary work of extraordinary elegance," according to The New York Times, Lerman engages audiences with her pioneering approach to dance making that includes people of all ages and abilities.
View Comments