James McBride to deliver convocation address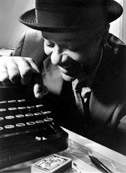 James McBride, an award-winning composer, saxophonist and best-selling author whose writing explores the complexities of racial identity, will officially open the 147th academic year at Bates College with the convocation address The Color of Water: A Meditation on Identity at 4:10 p.m. Wednesday, Sept. 5, on the college's main quadrangle. The public is invited to attend free of charge. The rain site will be the Clifton Daggett Gray Athletic Building.
McBride's critically acclaimed book debut, The Color of Water: "A Black Man's Tribute to His White Mother (Riverhead Books, 1997), explores his mother's past as well as his own upbringing and heritage. Translated into more than a dozen languages, his book rested on The New York Times bestseller list for more than two years. The Times called McBride's work "a triumph….The two stories, son's and mother's, beautifully juxtaposed, strike a graceful note at a time of racial polarization." Incoming members of the Bates class of 2005 and their faculty advisers have received a copy of McBride's book that will be a centerpiece for conversation as the academic year begins.
McBride recreates his mother's remarkable story in her searing and spirited voice. The daughter of an itinerant Orthodox rabbi, she was born in Poland. Her family immigrated to America and settled in Suffolk, Va. At 17, she ran away from home, married a black minister and founded an all-black Baptist church.
McBride shares candid, humorous and heart-warming recollections of his own experiences as a mixed-race child of poverty, his flirtations with drugs and violence and his mother's passionate teachings that love and kindness transcend race and religion.
McBride's jazz, hip-hop musical Bobos premiered in 1993 at the American Music Theater Festival in Philadelphia and won the prestigious Alton B. Jones Foundation Grant. His latest book, "Family: A Celebration of Humanity" (William Morrow, 2001), features pictures culled from the photo exhibit "Moments of Intimacy, Laughter and Kinship (MILK). He is currently writing a novel based in Italy.
A graduate of Oberlin College and the Columbia School of Journalism, McBride is the winner of the 1997 Anisfield Wolf Book Award. A former staff writer for The Boston Globe, People magazine and The Washington Post, he has contributed articles to Rolling Stone, The Philadelphia Inquirer and The New York Times.
A professional saxophonist and composer, McBride has received several awards for his work in musical theater composition, including the 1996 ASCAP Richard Rodgers Horizons Award, the 1993 Stephen Sondheim Award and the 1996 American Arts and Letters Richard Rodgers Development Award.
View Comments