Trio Parole to perform at Bates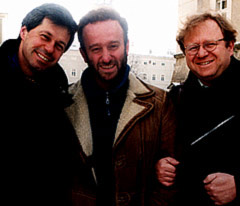 The 2001-02 Bates College Concert Series continues with a pair of performances by Trio Parole of the complete Mozart piano trios in two separate programs, at 8 p.m. on Saturday, Sept. 15, and Sunday, Sept. 16, in the Olin Arts Center Concert Hall. Admission is $15 general admission and $10 for seniors and students. For tickets call 207-786-6252.
Founded in 1997, Trio Parole began playing public performances in 1998. Since then, the trio has appeared in Italy, Germany and France, featuring works by Mozart, Haydn and Beethoven. Named after the three cities in which the members lived when the group met (PAris-ROme-LEipzig), and after the idea prevalent in the 18th century that music is to be presented as speech and chamber music as conversation, Trio Parole is composed of Philippe Couvert, violin; Andrea Fossa, cello; and fortepianist Zvi Meniker.
Born in Savoie, France, Couvert studied the violin at the Paris Conservatory with Jean Lenert. He has been concertmaster of the original instrument orchestra La Grande Ecurie at la Chambre du Roy under Jean-Claude Malgoire since 1986. In addition to playing in other ensembles such as La Petite Bande and Les Talens Lyriques, he teaches various master courses in Europe and has produced many recordings with his own ensemble, the Academie Sainte-Cecile.
Andrea Fossa was born in Rome. After completing his cello studies at the Florence Conservatory, he studied the baroque cello at the Schola Cantorum in Basel with Christophe Coin. Fossa plays in many original instrument ensembles under the direction of J.C. Malgoire, E. Garrido, S. Kuijcken and others, and teaches baroque cello and chamber music at the Palermo Conservatory.
Zvi Meniker was born in Moscow and raised in Israel. He began advanced musical studies at the age of 15 and has received diplomas with distinction from the Salzburg Mozarteum and the Zurich Academy of Music, studying with Nikolaus Harnoncourt and Johann Sonnleitner prior to moving on to the United States to study with Malcolm Bilson at Cornell University. Meniker taught harpsichord and performance practice at Duke University and is a regular member of the faculty at the annual Early Music Workshop in Jerusalem. He currently teaches harpsichord, fortepiano and performance practice at the Hannover Conservatory. Meniker has performed a program of Mozart on fortepiano and the Bach Goldberg Variations on harpsichord in earlier appearances at Bates, and will perform on the college's replica of a Walter fortepiano of 1790, crafted by Rodney Regier of Freeport.
View Comments