Poet and performance artist Jayne Cortez to read from work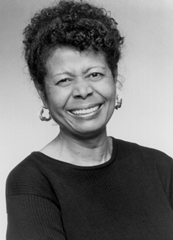 New York-based poet, performance artist and activist Jayne Cortez will read from her work at 7 p.m. Wednesday, Feb. 27, in the Edmund S. Muskie Archives.
A native of Fort Huachuca, Ariz., Cortez's books of poetry include Somewhere in Advance of Nowhere (1997), Coagulations: New and Selected Poems (1982), Poetic Magnetic (1991), Firespitter (1982), Mouth on Paper (1977), Scarifications (1973) and Pissstained Stairs and the Monkey Man's Wares (1969). Her work, noted for its fusion of politics, surrealism and lyricism, has been translated into 28 languages. Publishers Weekly called her poems "fiercely frank and urban."
Cortez has also released a number of recordings, many with her band, The Firespitters, including Taking the Blues Back Home (1997), Cheerful & Optimistic (1994), Everywhere Drums (1991) and Maintain Control (1986). The Washington Post has called her work with The Firespitters "the perfect fusion of jazz and poetry." Poet Maya Angelou calls Cortez "an explorer, probing the valleys and chasms of human existence. No ravine is too perilous, no abyss too threatening for Jayne Cortez."
Founder of the Watts Repertory Company in 1964 and her own publishing company, Bola Press, in 1972, Cortez has received fellowships from the National Endowment for the Arts, the New York Foundation for the Arts, the International African Festival Award and the American Book Award. Cortez has performed, lectured and taught at various universities, museums and festivals, including the Museum of Modern Art, UNESCO in Paris, the Berlin Jazz Festival and the Fourth World Congress on Women. Cortez is president of the Organization of Women Writers of Africa.
Sponsored by the English department, the public is invited to attend the event free of charge.
View Comments