Senior wins Watson Fellowship to study traditional medicine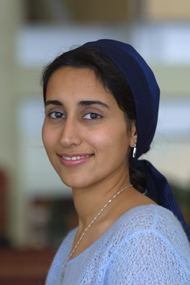 Diana Shaghayegh Sepehri, a Bates College senior born in Iran and now a resident of Sacramento, Calif., has received one of 60 prestigious research fellowships awarded this month by the Thomas J. Watson Fellowship Program. Sepheri, a pre-med student at Bates, is a double major in mathematics and biology, with a minor in Spanish. She won a $22,000 Watson Fellowship to research the lasting influence of the ancient Persian empire on the folk medicine of four countries: Turkey, India, Egypt and northwestern China, in the Xinjiang Uyghur Autonomous Region (or Eastern Turkistan).
The Watson Fellowship is intended to identify potential leaders and challenge them in ways that foster independence, a global perspective and adaptability to unfamiliar cultures. It funds a year of study focused on a topic of deep importance to the recipient and conducted outside both the formal academic environment and the recipient's home culture.
Sepehri's year of Watson-funded study, which begins in August, will precede her entry into medical school. Her research proposal evolved from an earlier project, funded in part by a Phillips Student Fellowship and a Hoffman-Mellon research grant from Bates and conducted in summer 2001: a survey of traditional medicine in Ecuador, Peru and Venezuela. This project led to a career goal of eventually combining Western and traditional approaches to medicine in her own practice.
"I realized I would never be able to just do one or the other," Sepehri says. "I have high expectations and high respect for Western scientific medicine. But also I find so much information and so much beauty and validation in the traditional medicine of many ancient cultures.
"I feel that if they've been around for 2,000 or 3,000 years, if they've had those traditions and they have worked, it is silly if we just completely ignore them because they are not what we call Western medicine."
Sepehri's connection to traditional medicine came through a folk-medicine course she took in Quito, Ecuador, during a junior semester in the Colby-Bates-Bowdoin Off-Campus Study Program. (The teacher of the course, Dr. Edgardo Ruiz, is a private physician in Quito who will spend a week this spring lecturing at Bates.)
Sepehri was surprised by the many commonalities between the practices explained in the course and home remedies her grandmother had used half a world away in Tehran. Ultimately this personal connection led her to a deeper consideration of her own background and to the Watson proposal.
Ecuador had a second key impact. As a community service project, Sepehri worked as a nursing aide in a Quito hospital. That work showed her, she says, that "I'd love to be a doctor. I'd love to be able to help and heal people." Hence a second career goal: to spend part of every year providing medical care to underserved people in urgent need through an international organization such as Doctors Without Borders.
Fifty selective private liberal arts institutions nominated nearly 1,000 students for this year's Watson Fellowships. At least one Bates student (and as many as three) has received a fellowship every year since 1985.
A program of the Thomas J. Watson Foundation, of Providence, R.I., the Watson Fellowship was established in 1968 by the wife and children of Thomas J. Watson Sr., the founder of IBM.
"We look for extraordinary young men and women of extraordinary promise, individuals who have the personality and drive to become the leaders of tomorrow," says Norvell E. Brasch, executive director of the fellowship program. "The program is designed to fund the most creative dreams of our fellows with a minimum of restrictions. The world is their canvas and we let them tell us how they want to paint it."
Leave a Reply
This is a forum for sharing your thoughts about the preceding post with the public. If you have a question for the author, please email the Bates Communications Office at communications@bates.edu.