Bates Concert Series presents legendary jazz guitarist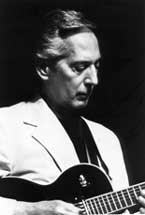 Known for his stylistic reach, his technical chops and his profoundly imaginative improvisations, jazz guitarist Pat Martino performs  at 8 p.m. Saturday, Jan. 18, in the Olin Arts Center Concert Hall, 75 Russell St. Admission to this entry in the Bates College Concert Series is $7 ($5 for seniors).
"[T]he experience of seeing Pat perform and/or meeting him goes beyond the music and sometimes well into the spiritual realm," wrote music critic Mike Brannon. "You come away with something undefinable."
Born Pat Azzara in Philadelphia in 1944, the guitarist was first exposed to jazz by his father, who sang in local clubs and briefly studied guitar with the great Eddie Lang. Martino picked up the guitar at age 12 and left school in 10th grade to devote himself to music. As a youth he met or heard play such figures as Wes Montgomery and the young John Coltrane.
Martino began playing professionally in 1961. Starting out in rock and rhythm & blues, including a stint with Lloyd Price ("Stagger Lee"), Martino soon devoted himself completely to jazz. By age 20 he had a recording contact with the Prestige label, releasing such titles as Strings!, Desperado, El Hombre and Baiyina (The Clear Evidence), one of the first jazz ventures into psychedelia.
Martino was recognized as one of the most distinctive figures in jazz by the 1970s. Late in that decade he began to experience excruciating headaches and other symptoms whose cause was ultimately diagnosed as aneurysms of the brain. Following surgery for the condition in 1980, Martino retained little memory of his personal history and none of his music. It took him seven years of determined effort to regain his musicianship and restart his career.
Today, Martino remains a vital presence in jazz. He has performed with countless jazz and R&B artists including Sonny Stitt, Gene Ammons, Chick Corea, Stanley Clark, Trudy Pitts, Willis Jackson, Woody Herman, Charles Earland and Barry Miles. He has recorded for such major labels as Vanguard, Warner Brothers, Columbia, Sony, Polydor, Concord, Fantasy, Atlantic and, most currently, Blue Note. Martino is on the adjunct faculty at the University of the Arts in Philadelphia.
In the Grammy judging process a year ago Martino received nearly 3,000 nominations, for Best Jazz Instrumental Album (Live at Yoshi's, Blue Note) and Best Jazz Instrumental Solo ("All Blues," from Live at Yoshi's). Last April, Blue Note Records President Bruce Lundvall presented him the prestigious National Association of Records and Sciences "Heroes Award."
Pianist Gil Goldstein accompanies Martino in this appearance. For more information, please call 207-786-6135.
View Comments