Pianist's program spans two centuries of music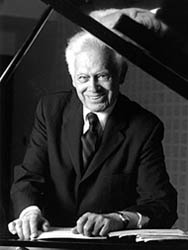 Frank Glazer, a resident artist since 1980 and arguably Maine's best-known pianist, ranges through some 200 years of music in a performance at 8 p.m. Friday, March 14, in the Olin Arts Center Concert Hall, 75 Russell St. Sponsored by the music department, the concert is open to the public at no charge.
In his third concert in three months, Glazer performs Bach's Toccata in C minor (BWV 911); two pieces by Beethoven, the Sonata in D major (Op. 10, No. 3) and Phantasie (Op. 77); Ravel's Valses Nobles et Sentimentales; and four works by Chopin — Ballade in A-flat major (Op. 47); Nocturne in C minor (Op. 48, No. 1); and two etudes from Op. 25, in A minor (No. 11) and C minor (No. 12).
Glazer is an artist of international stature who taught at the Eastman School of Music for 15 years before retiring to Maine with his wife, Ruth, in 1980. The couple founded the Saco River Festival, held in Cornish every summer. A student of pianist Artur Schnabel in the 1930s and '40s, Glazer is one of the few remaining proteges of that great musician. Glazer's long career includes numerous recordings, his own television program in the 1950s and countless solo recitals and ensemble performances around the world.
For more information, please call 207-786-6135.
View Comments