Campus watches, waits, reacts as war news arrives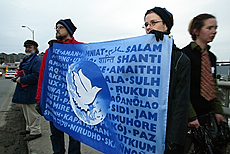 Peace prevailed on campus the week it ended in Iraq, but a close look revealed reactions that covered the spectrum — from student and faculty participation in a community war protest to remarks at Bates in support of the U.S.-led attack by national policy analyst Dinesh D'Souza.
Related stories:
March 22: A letter from President Hansen to the Bates College community
March 21: Advisory from the Chaplain's Office
March 21: Off-Campus Study update
March 21: Bates Alumni on the War
According to one estimate, Bates people constituted two-thirds of the roughly 140 participants in Thursday's antiwar demonstration at the Longley Bridge, connecting downtown Auburn and Lewiston. This latest in a series of community protests at the bridge was also the most contentious. Passing drivers shouted insults at the group and 17 demonstrators were arrested for failing to disperse and obstructing a public way. Eight Bates students were among those arrested. (The Lewiston Sun Journal has more about the protest.)
Five Bates students were also arrested Wednesday, along with 16 other protesters during an anti-war rally in Portland. All of the arrested students in both cities had been released by Thursday night.
Also Thursday evening, the  Chapel was open as a place of emotional and spiritual refuge, with music, candlelight, readings and periods of silence among the comforts. The session extended a daylong welcome to those concerned, angered or seeking support on the first day of war.
A different kind of gathering took place during the day Thursday at Frye Street Union, which was opened as a place for reflection, thought, discussion and action. ("All opinions are encouraged and will be respected," an e-mail announcement promised.) Students gathered throughout the day to watch war coverage on television and prepare for the evening protest walk.
The bridge demonstration was the latest in a six-month series of Bates student and faculty responses to an Iraq invasion. Those events have included teach-ins (one as recently as March 17), the Feb. 10 Representative Assembly resolution condemning a pre-emptive attack, and a March 5 youth demonstration in Lewiston's Kennedy Park that included about 100 students and faculty.
In addition, such Bates faculty members as James Richter, associate professor of political science, and psychology Professor Richard Wagner have offered expert commentary on issues around the war to news media including Maine Public Radio and The Associated Press.
A renowned conservative commentator supported the Bush administration's actions toward Iraq during a visit to Bates this week. Dinesh D'Souza, a Hoover Institute Fellow, domestic policy analyst in the Reagan White House and author of What's So Great About America (Regnery Publishing), advanced the case for war Wednesday evening, literally minutes before the war's official start. Before an SRO audience at the Mays Center, D'Souza suggested that intervention in another country's internal affairs is justified if it brings about a greater good for the people of that country and the world as a whole.
In addition, "9/11 does show the logic of pre-emption," D'Souza said. "If we had known three months in advance of 9/11, wouldn't we have done something?"
In essence, the theme common to both sides of the debate on both sides was action. Inside the Frye Street Union on the war's first day, the students making signs for the evening rally included Gene Stewart '05, of Harrington, Maine, who had been jailed in Portland.
One of the protestors who had blocked a Portland intersection by lying in the street, some cocooned in body bags, he was released on bail the evening of the arrest. The demonstration had targeted the office of U.S. Sen. Olympia Snowe, which was locked and staffed by security guards during the protest. Stewart had no regrets.
"It was totally worth it," he said. "I was where I wanted to be just before war was declared."
"In a democracy we all bear responsibility for the war," Stewart added. Considering the sacrifices others will make because of the war, he said, spending four hours in jail is "the least I could do."
View Comments