Zivian-Tomkins Duo opens Bates College Concert Series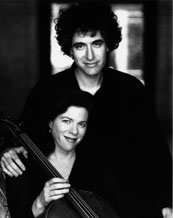 The 2003-04 Bates College Concert Series opens at 8 p.m. Friday, Oct. 24, with the Zivian-Tomkins Duo, performing Beethoven and Chopin on period fortepiano and cello.
Now in its 20th season, the Bates series has always been aimed at the discerning listener — the music lover seeking that extra edge of excitement, sophistication, fascination. This season won't disappoint, offering a thoughtful blend of classical music from European and Chinese traditions and cutting-edge jazz.
Friday's concert will be held in the Olin Arts Center Concert Hall, 75 Russell St. Admission is $8 for the general public and $5 for students and seniors. For reservations or information about the concert series, call 207-786-6135.
Cellist Tanya Tomkins and fortepianist Eric Zivian offer works by Chopin — a set of preludes for solo fortepiano and the Sonata for Piano and Cello in G minor (Op. 65) — and Beethoven's Sonata in D Major for Piano and Cello (Op. 102, No. 2). The pair has recorded a CD of the Beethoven sonatas.
Based in California's Bay Area, Tomkins and Zivian use period instruments yet are at ease with music from a variety of eras, including the present. Active in several Bay Area ensembles and series, Zivian is a composer who premiered a work with the Seattle Symphony in 1998. Tomkins, who has played and recorded with a variety of early music ensembles, belongs to the Philharmonia Baroque Orchestra and Parnassus Avenue Baroque. She also performs on the modern cello and has appeared in Lincoln Center's Great Performers series.
Following a 2002 Zivian-Tomkins concert of Beethoven and Bach, critic Jonathan Saville of the San Diego Reader wrote that "throughout this exceptional concert, the issue of 'early music' or 'early instruments' became moot. What one heard was first-rate musicmaking."
The Bates series continues with Kurt Elling, a singer acclaimed for his skill in setting lyrics to jazz instrumental solos. Boasting a Grammy nomination for each of his five Blue Note recordings, Elling comes to Olin at 8 p.m. Saturday, Nov. 15. Elling is a master of vocalese — the jazz art of setting lyrics to recorded horn solos. Adapting texts by such writers as Rilke, Proust and Kerouac to solos from Wayne Shorter, John Coltrane and others, Elling has breathed new life into this challenging form.
Since 1995, Elling has earned international acclaim as a composer, lyricist and director. He combined Beat poetry and music on stage to celebrate the life of Allen Ginsberg, and honored the city of Chicago with a piece featuring blues singer Buddy Guy, writer Studs Terkel and a 90-voice gospel choir.
But first and foremost, Elling sings. "In an era when bona fide young jazz singers are in perilously short supply," the Chicago Tribune wrote in 2001, ". . . Elling seems hell-bent on [redefining] what jazz singing is all about."
The series picks up in 2004 with acclaimed trumpeter Roy Hargrove, who brings an ensemble featuring Italian vocalist Roberta Gambarini to the Bates College Chapel, College Street, on Jan. 17. Closing the series on Jan. 24 is a concert of classical Chinese music by Tian Qing and Zhang Shan.
View Comments