Princeton scholar to discuss memory and civil rights in Bates lecture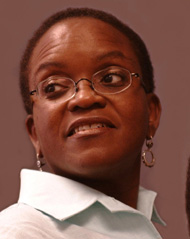 Valerie Smith, director of Princeton University's program in African American studies and a member of the Bates College Class of 1975, gives a lecture titled Memory and the United States Civil Rights Movement at 7 p.m. Monday, Feb. 9, in the Edmund S. Muskie Archives, 70 Campus Avenue. The public is invited to attend the talk, sponsored by the Multicultural Center, free of charge.
Smith, the Woodrow Wilson Professor of Literature and professor of English at Princeton, is a specialist in African American literature and culture, with particular interests in black feminist theory and film studies. She is the author of Not Just Race, Not Just Gender: Black Feminist Readings (Routledge, 1998) and Self-Discovery and Authority in Afro-American Narrative (Harvard University Press, 1987). She also edited African-American Writers (Scribners, 1991), New Essays on Song of Solomon (Cambridge University Press, 1994) and Representing Blackness: Issues in Film and Video (Rutgers University Press, 1997).
Smith taught at Princeton from 1980 to 1989, then joined the faculty at the University of California, Los Angeles, where she chaired UCLA's interdepartmental program in African American studies from 1997 to 2001 and co-directed cultural studies in the African Diaspora Project from 1996 to 1999. She returned to Princeton in 2001 and became director of the African American Studies program in 2002.
View Comments