Bates program links student volunteers, community needs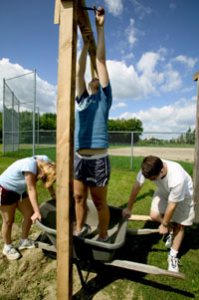 For the third year, Bates College students are leading a program to match fellow students with volunteer opportunities in Lewiston, Auburn and nearby communities.
The four Student Volunteer Fellows at Bates during the 2004-05 academic year are Ryan Conrad, a senior from Middletown, R.I.; Sara Gips, a sophomore from Cape Elizabeth; Brooke Miller, a sophomore from Anacortes, Wash.; and Meghan Thornton, a senior from Shaker Heights, Ohio.
Administered by the Center for Service-Learning, the volunteer program has involved hundreds of Bates students in dozens of projects — projects as diverse as reading with elementary-school students, tutoring seniors in computer use at Blake Street Towers and helping rehabilitate seven local residences with the Rebuilding Together program, whose local chapter was established by a recent Bates graduate, John Scott Johnson.
"It means more to the community that Bates students, rather than professors or administrators, are creating opportunities to volunteer," says Gips, whose role on the team is to promote volunteerism among student organizations and sports teams. "I'm really proud of that."
Bates students will have a chance to learn more about community volunteer opportunities on Sept. 20, when the volunteer fellows bring community organizations to campus for the annual Volunteer Fair. Organizations represented this year will include the Abused Women's Advocacy Project, Auburn Land Lab, Big Brothers Big Sisters, the Good Shepherd Food Bank, Maine Public Broadcasting, New Beginnings, the Rural Community Action Ministry and Lots to Gardens.
Conrad focuses on volunteer orientation and developing volunteer opportunities for students. Thornton administers children's programming, such as the Longley Elementary School Mentoring Program. Miller concentrates on producing monthly events for all-campus participation, such as the annual Make-a-Difference Day and the Martin Luther King Day Read-in at Martel School, Lewiston.
"If you get people interested in helping even just once," says Miller, "that makes a huge difference."
View Comments