Harward Center presents extensive program for grand opening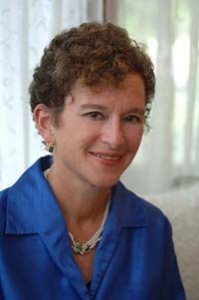 Marking a new chapter in Bates College's commitment to the Lewiston-Auburn community and to community-based education, the Donald W. and Ann. M. Harward Center for Community Partnerships presents a grand opening and welcome for its first director, David M. Scobey. The Jan. 25-27 celebration features three days of academic and cultural events, all of which are open free of charge to the Bates and Lewiston-Auburn communities. For more information call 207-786-6202.

The Donald W. and Ann M. Harward Center for Community Partnerships was created to assure that the valuable relationships forged between Bates College and the Lewiston-Auburn community during the tenure of President Emeritus Donald W. Harward and his wife, Ann M. Harward, endure and grow.
The three-day series kicks off with a two-hour "Welcome Gathering" reception at 3:30 p.m. Wednesday, Jan. 25, in the Harward Center, 161-163 Wood St. An exhibit showing the past and present of Bates involvement in the community is featured.
Later in the day (Jan. 25), at 7:30 p.m. in Chase Hall Lounge, 56 Campus Ave., Syracuse University Chancellor Nancy Cantor delivers the keynote address in a series of events highlighting the activities of the Harward Center. Titled "Going Down the Hill: The Educational Value of Community Engagement," Cantor's talk will be followed by a reception. (Cantor's biographical information appears below.)
The Harward Center series continues at 4:15 p.m. Thursday, Jan. 26,  in the Keck Classroom (G52), Pettengill Hall, 4 Andrews Road, with a panel discussion featuring Bates alumni who will look at "The Value of Community Engagement as Part of a Bates Education."
Later  that day (Jan. 26) at 7:30 p.m., the Harward Center presents a performance, "The 51st (Dream) State," by poet and composer Sekou Sundiata, New School University, in Schaeffer Theatre, 305 College St. A reception with the artist follows the presentation.
Sundiata is a poet who writes for print, performance, music and theater. His latest recording, Long Story Short, was released on Righteous Babe Records. He has been a Sundance Institute Screenwriting Fellow, a master artist in residence at the Atlantic Center for the Arts (Florida) and the first writer in residence at the New School University in New York. A professor at Eugene Lang College, Sekou was featured in the Bill Moyers PBS series on poetry, The Language of Life.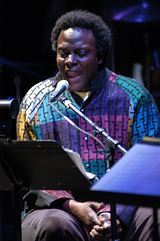 The Harward Center celebration concludes at 6 p.m. Friday, Jan. 27, with a community party co-hosted by the Lewiston Public Library's Marsden Hartley Center. The party will be held at the Hartley Center, 200 Lisbon St.
The 11th chancellor and president of Syracuse University, as well as Distinguished Professor of Psychology and Women's Studies in the College of Arts and Sciences, Cantor is a native New Yorker who came to Syracuse from the University of Illinois at Urbana-Champaign, where she was chancellor. She has held administrative positions encompassing all aspects of a research university — from chair of the department of psychology at Princeton to dean of the graduate school and then provost and executive vice president for academic affairs at the University of Michigan.
Cantor received her A.B. from Sarah Lawrence College and her Ph.D. in psychology from Stanford University. She is recognized for her scholarly contributions to the understanding of how individuals perceive and think about their social worlds, pursue personal goals and regulate their behavior to adapt to life's most challenging social environments.
An advocate for racial justice and for diversity in higher education, Cantor has written and lectured widely on these subjects. At Michigan she was closely involved in the university's defense of affirmative action in the cases "Grutter and Gratz," decided by the Supreme Court in 2003. Cantor has also lectured and written extensively on liberal education and the creative campus.
The Harward Center links the college's academic mission with its commitment to service and partnerships. It enhances the college's focus on and support of service-learning by integrating community service into academic coursework.  The Harward Center provides an institutional structure and resource for collaborations with the community.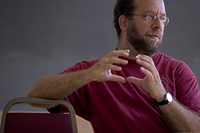 Scobey is the first director of the Harward Center for Community Partnerships and the Donald W. and Ann M. Harward Professor of Community Partnerships at Bates.  Scobey came to Bates from the University of Michigan, where he was an associate professor of architecture in the Taubman College of Architecture and Urban Planning and director of the Arts of Citizenship program.
View Comments