Video conference gives students access to U.N. leaders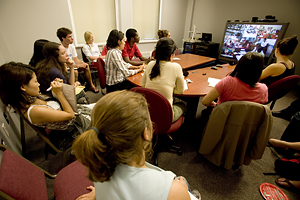 Americans for Informed Democracy, a non-partisan student organization, hosts an event this week that will allow Bates students some virtual face time via a live video link with leaders at the United Nations' 2005 World Summit. The session takes place from 1 to 2:30 p.m. Friday, Sept. 16, in Pettengill Hall, Room G13.
The video conference will begin with an overview of the World Summit from leaders directly involved in summit activities. Students will then have a chance to ask questions and comment briefly about how they can be involved in realizing the summit's goal of halving world poverty in the next decade.
The teleconference gives students a unique opportunity to communicate with international leaders. "Alleviating, if not completely eradicating, world poverty is everybody's responsibility, everybody's battle," said Jo Anne Villarosa '06, the campus coordinator for Americans for Informed Democracy at Bates. "Americans, being privileged citizens of a developed country, have the unique opportunity to lead this fight. Becoming aware of the issues is the first crucial step."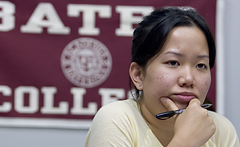 More than 170 world leaders are assembling at the United Nations in New York City through Sept. 16 for the 2005 World Summit. The gathering is intended to show the continued commitment of the international community to a set of "Millennium Development Goals" announced in 2000 by 191 countries including the United States. Participating countries seek to halve AIDS and extreme poverty and achieve universal primary education by 2015.
The video conference is part of a nationwide series of more than 100 town hall meetings and international video conferences that are part of the series "Fighting for What's Right." The AID-sponsored series seeks to raise awareness about pressing global development issues and to generate a nationwide dialogue about America's responsibilities to those living in extreme poverty halfway around the world.
An educational organization, AID works on more than 250 U.S. campuses to engage young Americans in discussion about the U.S role in the world.
Free pizza will be offered at the video conference.
View Comments