Tania Isaac Dance premieres at Bates Dance Festival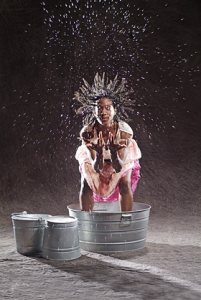 Tania Isaac Dance kicks off the 2006 Bates Dance Festival events series with an evening-length tale inspired by Caribbean village life. The festival presents Tania Isaac Dance at 8 p.m. Saturday, July 15, in Schaeffer Theatre, 365 College St., Bates College. Tickets are $18/$12 (students and seniors) and may be purchased by calling 207-786-6161 after July 8.
St. Lucian-born Tania Isaac is a rising star in Philadelphia's vibrant dance scene. The New York Times described Isaac, a featured performer on the recent Fall for Dance series in New York City, as "holding the stage with complete command."
In her New England debut at the Bates Dance Festival, Tania Isaac Dance presents "Standpipe." Drawing from the 'raconteur' style of island folk theater, Isaac melds movement with video and an original reggae-inspired score by composer Grisha Coleman into a physically explosive style. A sensual marriage of a modern and Caribbean aesthetic, "Standpipe" is part personal documentary and part social commentary — a raga-soca blend of movement, words and images. The work swings from irreverence to celebration, athleticism to pure emotion, creating a cultural bridge from the folkloric traditions of the Caribbean to a contemporary performance aesthetic.
Tania Isaac Dance has presented work throughout the United States, Japan, England and the Caribbean. Isaac is a recipient of a 2004 Rocky Award for her evening-length production 'home is where I am' and for her solo performance in Rennie Harris' "Facing Mekka." Her work is also a part of Urban Bushwomen repertory in "Soul Deep to the Bone." Her collaborative video work has been screened at the American Dance Festival's Dancing for the Camera Festival of International Film and Video Dance in North Carolina, at the International Festival of Video Dance in Buenos Aires and at the Prince Theater in Philadelphia.
Isaac is a former member of Rennie Harris Puremovement, Urban Bush Women and Li Chiao-Ping Dance. Her work has been supported by the Leeway Foundation, Dance Advance, The Independence Foundation and the National Performance Network. In 2005 Isaac was selected as a US/JAPAN Exchange Artist.
In addition to main stage performances, the festival offers a selection of free and low-cost events. Complete information is available at the website.
At press time the Bates Dance Festival gratefully acknowledges support from the National Endowment for the Arts, New England Foundation for the Arts, National Performance Network, Maine Arts Commission, Surdna Foundation, Asian Cultural Council, Altria, Fisher Charitable Foundation, Sam L. Cohen Foundation, Androscoggin Bank, Cole Hahn, Liberty Mutual Insurance, Mechanics Savings Bank and TD Banknorth.
View Comments