---
Class of 2010 at a glance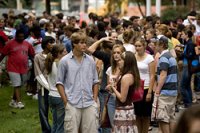 Bates welcomed 494 new first-year students and 17 transfer students as the fall semester started on Sept. 6. The college received 4,482 applications, second only to last year. According to the Office of Admissions, 87 percent graduated in the top fifth of their high school class. More than 10 percent are U.S. students from underrepresented minority groups, 5 percent are international students and 4 percent hold citizenships in both the United States and another country. First-generation-to-college students make up 8 percent of the entering class. New students have residences in 33 states and 32 foreign countries, from Bangladesh to Vietnam. Almost 80 percent of the new enrolled students had an admissions interview, either on campus or through the Alumni-In-Admissions network. Some 1,717 students are expected on campus this fall, with another 155 in Bates-sponsored programs off-campus.
---
Categories: Bates Now, Campus life, Class of 2010, Current students.
Tags: Class of 2010.
Contact Us