---
2006 Orientation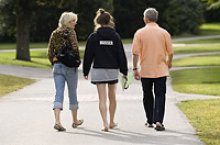 Orientation for the Class of 2010, held Aug. 28-Sept. 8, included a little something for everyone. From lugging belongings into residential halls to hiking the most pristine section of the Appalachian Trail, from dining with former mill workers involved in creating a museum of their experience to considering Bates poet Rob Farnsworth's Convocation talk, first-year students eased themselves into college life. Share a few of their experiences, now among the first Bates memories for these new students, in the accompanying slide show.
---
Categories: Annual events, Bates Now, Class of 2010, Slide show.
Tags: 2006 Orientation.
Contact Us