From carrots to zukes on Wood Street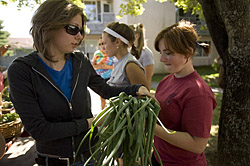 "Sharing the misery of weeding with a bunch of other people can be fun," says Molly Ladd '09, an environmental studies major from Somerville, Maine. She's right. On a cool and brilliant day in early fall, fun is reigning among the half-dozen or so students working in the Wood Street Service Garden.
In addition to weeding, the students are harvesting pumpkins, onions, and salad greens from this big garden next to the Harward Center for Community Partnerships at Bates. Also growing are carrots, chard, cucumbers, eggplants, green beans, green peppers, potatoes, and several varieties of tomato, zucchini, and winter squash, not to mention sunflowers that hang their heads in response to summer's end.
That's a lot of food — good food, raised organically (though not certified organic). The plot is overseen by Lots to Gardens, a nonprofit organization that Kirsten Walter '00 founded eight years ago to strengthen community in Lewiston-Auburn through gardening projects. As a community work-study project, Ladd coordinates activities at the Wood Street garden for the organization.
"The idea is to provide affordable fresh produce to people who can't afford it," she explains. What comes from this garden, one of 15 maintained by Lots to Gardens, goes to the farmers' market at Lewiston's Kennedy Park, community dinners, senior residences and local food pantries.
The garden depends on Bates student volunteers. "It's definitely a good way to get students involved with Lots to Gardens as well as community service in general," explains Bridgette Bartlett, of Greene, education and outreach coordinator for the organization. "It becomes a part of their education that you might not normally find."
Ladd, raised on a small farm in Somerville, has gardening in her blood. "It's tough, but really, really rewarding," she says. The Lots to Gardens gig is doubly satisfying for her.
"It's not only the pleasure of gardening and being outside," she adds, "but of really affecting other people's lives. We're showing the community we care."
Ladd and Bartlett welcome volunteer assistance at Wood Street from 10:30 a.m. until noon every Tuesday during the harvest season.
View Comments