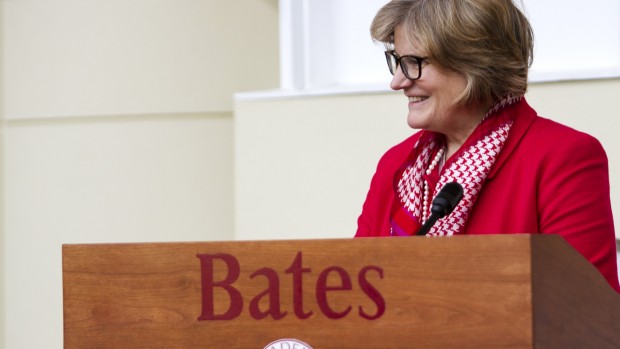 "We have ambitious goals for Bates, and I am inspired by this outpouring of support from the college community," said President Clayton Spencer.
Published on
Description

---

March 5, 2007
3:40 pm

More than 300 Bates students will take part in the sixth Mount David Summit, the college's annual celebration of student academic achievement Friday, March 30, in the Perry Atrium of Pettengill Hall.

March 3, 2007
9:30 am

About 1,000 Bates people put the new dining Commons to the test over dinner on Monday, Feb. 25, Dining Services director Christine Schwartz estimated the following day.

March 2, 2007
9:23 am

Due to inclement weather, Bates College offices are closed Friday, Mar. 2.

March 1, 2007
4:05 pm

A work by William Matthews, Alice Swanson Esty Professor of Music at Bates, is featured as musicians from the Portland Chamber Music Festival return to Bates for a concert Sunday, March 4, in the Olin Arts Center Concert Hall, 75 Russell St.

March 1, 2007
3:53 pm

Paul Kuritz, professor of theater, directs the Bates College theater department production of "The Contrast," an American comedy of manners written in 1787 by Royall Tyler. Performances take place March 9-11, 16-18 in Gannett Theater, Pettigrew Hall, 2 Andrews Road.