College presents students, eminent singer in Indonesian concert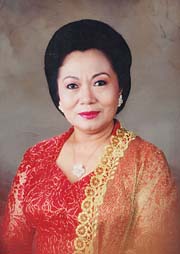 Bates College presents a concert of Indonesian music featuring student musicians and a singer who is one of the Pacific nation's leading classical recording artists at 8 p.m. Saturday, March 17, in the Olin Arts Center Concert Hall, 75 Russell St.
Sponsored by the Bates music department, the concert is open to the public at no charge. For more information, please call 207-786-6135 or 207-753-6968.
Euis Komariah is considered one of the most talented, knowledgeable and versatile musicians from West Java. She and her accompanist Gangan Garmana, an award-winning virtuoso on a type of zither called a "kacapi," will spend a 10-day residency at Bates, the first stop in a teaching and performing tour that will bring them also to Ohio, Pennsylvania, Georgia and California.
The concert also features the Bates gamelan ensemble and the concert debut of the college's new, built-to-order "gamelan degung" — a small, classical chamber ensemble of metallophones and gongs used in traditional music of the West Javanese (Sundanese) aristocracy.
"The degung ensemble has its own scale and repertoire that is distinct from other types of gamelan orchestras, making it uniquely West Javanese and a source of pride for the Sundanese people," explains assistant professor of music Gina Fatone, who directs Bates' gamelan orchestra. The new instruments, which arrived in February, were a gift from David Lydgate of Hawaii, a patron of the West Javanese arts who wishes to spread awareness of classical Indonesian music in the United States.
"We are doubly thrilled to be able to debut our new degung ensemble at Bates with such prominent Indonesian performers," Fatone says. "Opportunities for American gamelan students to study with Euis Komariah and her accompanist are very rare."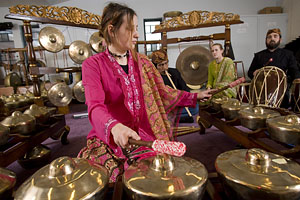 Komariah has received critical acclaim as a vocalist in several Sundanese music genres, from popular to classical. Her specialty is the highly ornamented and technically virtuosic vocal style called "tembang Sunda," another aristocratic musical genre of West Java. She is also a star in the "gamelan salendro" and "degung" music scenes in Bandung, West Java.
Unlike other female vocalists of her generation, Komariah plays musical instruments, which is typically the domain of male musicians. She is the primary artist on more than 50 recordings, including some that are available in the United States.
"It's always enlightening to experience the talents of stars in other musical cultures," Fatone adds. "The Bates music department is extremely lucky to be able to host these musicians. We are very excited."
Although her 40-year career has brought her around the world, the six-week U.S. tour is Komariah's first extended teaching engagement in this country.
She and Garmana will be in residence at Bates as Mellon Learning Associates, a program supported by the Andrew W. Mellon Foundation, March 9-18. They will work with members of the Bates gamelan orchestra in preparation for the joint performance on March 17.
View Comments