David Dorfman Dance performs at college's Dance Festival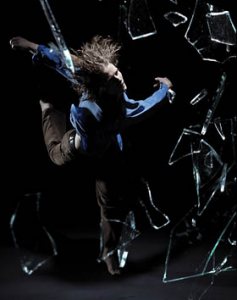 A Bates Dance Festival favorite, David Dorfman Dance returns to Maine with underground, a compelling and provocative exploration of political activism. The festival presents David Dorfman Dance at 8 p.m. Friday and Saturday, July 20 and 21, in Schaeffer Theatre, 305 College St., Bates College.
Inspired by social protest and the incendiary activities of the Weather Underground during the 1960s, Dorfman captures the era's restive mood and dangerous politics through an electrifying combination of live performance, cutting-edge LED technology, 60's music, a score by Jonathan Bepler (composer for Matthew Barney's Cremaster films) and video design by Jacob Pinholster (Spamalot and Wicked). The piece, underground , premiered at the American Dance Festival in June 2006, receiving its New York premiere at the Brooklyn Academy of Music in November 2006.
A dozen local dancers join Dorfman's company to create an atmosphere of political protest that challenges the audience with disturbing questions about the nature of protest: What happens when activism veers into violence? Can killing ever be justified? Dorfman and his skilled performers embody the urgency and desperation of these issues with their passionate performance.
Since its' founding in 1985, David Dorfman Dance has performed extensively in New York City and throughout North and South America, Great Britain, and Europe. Dorfman and the company's dancers and artistic collaborators have been honored with eight "Bessie" (New York Dance and Performance Awards).
The company marked its 20th anniversary season and the start of its third decade of performing in 2005 and 2006. David Dorfman Dance has been produced in New York City at venues ranging from Danspace Project to The Joyce Theater, where the company celebrated the start of its 20th anniversary season in June 2005.
Founder and director Dorfman most recently received a Guggenheim fellowship for his work on underground. He has been honored with four fellowships from the National Endowment for the Arts, three from the New York Foundation for the Arts, an American Choreographer's Award and a 1996 "Bessie" New York Dance and Performance Award for his community-based project" Familiar Movements" ("The Family Project"). His work has been commissioned widely in the United States and in Europe, and in 2003 he won a Barrymore Award for best choreography at Philadelphia's Prince Music Theater for the original musical "Green Violin."
In addition to main stage performances, the festival offers a selection of free and low-cost events. Complete information is available at the website.
View Comments