Bates' 'Measure for Measure' moves to 1970s New York City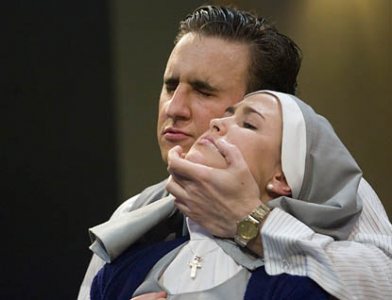 Martin Andrucki, Dana Professor of Theater at Bates, directs the college theater department production of "Measure for Measure," William Shakespeare's dark comedy about sex, public morality and private hypocrisy.
Performances take place at 7:30 p.m. Friday and Saturday, March 7, 8, 14 and 15; and at 2 p.m. Sunday, March 10 and 16, in Gannett Theater, Pettigrew Hall, 2 Andrews Road.
Admission is $6 general admission, and $3 for Bates faculty and staff, senior citizens and non-Bates students. For more information, please call 207-786-6161 or visit the online box office at www.bates.edu/boxoffice.
"Measure for Measure" is believed to have been written in 1603 or 1604. Though known as a comedy, it's also one of three Shakespeare plays that scholars term "problem plays" — meaning they address, but reach no conclusions about, problematic social issues such as the need for mercy in justice, the definition of gender roles in human sexuality, and, in particular, questions of sexual morality.
"Measure for Measure," says Andrucki, "raises more questions than it answers, leaving the audience without any final or settled sense of the moral stature of the major characters."
In the story, the Duke of Vienna has left the city in the hands of Angelo, a strict and austere judge. Though the Duke has rarely enforced the city's laws against fornication, Angelo is an outspoken supporter of them, and his control of the city spells trouble for young lovers.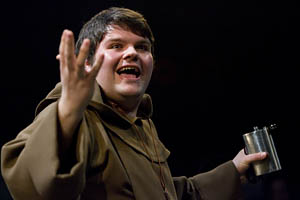 When one Claudio gets Juliet, his betrothed, pregnant, Angelo sentences him to death. But when Isabella, Claudio's distraught sister, pleads for mercy for her brother, Angelo tells her he will spare her brother's life only if she has sex with him.
Thus begins the commentary on the hypocrisy of public figures, and how social morality does not necessarily correlate with private morality. When it turns out that the Duke has not gone away at all, but stayed in Vienna incognito to observe the happenings without him, chaos reigns as the theme of secret identity prevails throughout the play.
Andrucki edited the play slightly, cutting a number of scenes, but is presenting the play essentially as it appears in standard editions of Shakespeare. But he has moved the action from Renaissance Vienna to New York in the 1970s, a setting for an urban breakdown parallel to that depicted in the Duke's Vienna .
Two Bates seniors feature prominently in the production. Stephen Lattanzi of Winchester, Mass., plays Angelo and Sam Leichter of Wallingford, Pa., portrays the Duke. Both students are using the play as their senior acting thesis production.
"I knew I had two strong actors to play the male leads," Andrucki says. "Then, I like the fact that the play has a lot of colorful and challenging cameo roles, which would allow a large number of students to get involved."
Leave a Reply
This is a forum for sharing your thoughts about the preceding post with the public. If you have a question for the author, please email the Bates Communications Office at communications@bates.edu.