---
More than a month old, dining Commons still a fresh Bates place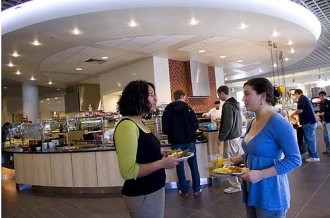 Spring's happy arrival after a long winter manifests itself in myriad ways, which is one way to explain the giddy reactions to the new dining Commons, open since Feb. 24. As one smitten student blogger noted, "If it were legal to marry an inanimate object I clearly would have tied the knot by now."
The tour: Check the slide show A Commons Scene, featuring students and spaces in the dining Commons
The first course: Watch a video depicting the opening of Commons
Snacks: Read a [intlink id="11427" type="post"]tidbit-filled story[/intlink] about Commons and its opening
Meal deal: Hear what students are saying about Commons
Farm fresh: Learn about [intlink id="10247" type="post"]the young alums[/intlink] who run a western Maine ranch that provides grass-finished beef to Dining Services
"Students have been blown away by the vast improvement in our offerings," Christine Schwartz, director of Dining Services, told the trade publication Food Service Director. "This is directly related to the fact that we are cooking to order instead of in large batches."
The blogger had just one worry about his new relationship — the apparent randomness of diner traffic through the open, marketplace-style servery. But putting on our institutional hat (chef's?), we can explain that any randomness is purposeful: to slow the dining experience, to give students a chance to view their food being prepared (often to order) and to increase the casual interaction between and among students and Dining Services staff.
---
Categories:
Campus life
,
Current students
,
Food and dining
,
Residential life
,
Slide show
,
Sustainability
.
Tags:
Bates Contemplates Food Initiative
,
Bates Dining Services
,
New Dining Commons
,
Spotlight on Bates Vision
.
---
Contact Us