Bates Dance Festival presents its 2008 season, July 15 through Aug. 9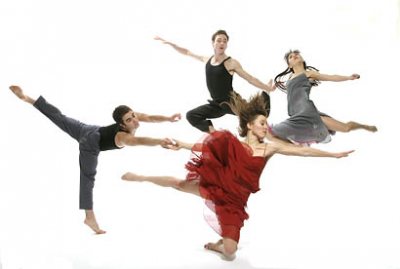 The Bates Dance Festival presents its 26th season of public events, July 15 through Aug. 9, 2008, on the campus of Bates College. The five-week festival will feature performances, panel discussions, films and lectures by more than 30 internationally recognized dance artists from throughout the United States and abroad. The season showcases compelling and visually arresting performances that blend dance, video, text and original music to address themes of political activism, human relationships, the natural world and our changing global environment.
Highlighting the 2008 festival will be one of NYC's hottest young dance troupes Keigwin + Company presenting the Maine premieres of two witty and entertaining new works "Elements" and "Love Songs" at 8 p.m. Friday and Saturday, July 18 and 19, in Schaeffer Theatre, 305 College St., Bates College.
Continuing a tradition of presenting contemporary dance from around the world, "Africa/NOW" is a shared evening featuring provocative new works by South African choreographer Gregory Maqoma and Zimbabwean performer Nora Chipaumire. A globetrotting phenomenon, Maqoma performs an excerpt from his compelling solo work "Beautiful Me" that looks at the beauty of humanity. Chipaumire is known for provocative and politically relevant multimedia dances that illuminate the struggles of human identity in an increasingly borderless world. She performs an excerpt from "Chimurenga," a post-revolution solo. The concerts take place at 8 p.m. Friday & Saturday, July 25 and 26, in Schaeffer Theatre, 305 College St., Bates College.
From Seattle comes the physically virtuosic and conceptually rigorous Zoe Scofield & Juniper Shuey performing the Maine premiere of "the devil you know is better than the devil you don't." Known for their mesmerizing intensity, technical precision and lush design, Scofield & Shuey recently received a prestigious National Dance Project award for the creation of this exceptional new work. The concerts take place at 8 p.m. Friday and Saturday, Aug. 1 and 2, in Schaeffer Theatre, 305 College St., Bates College.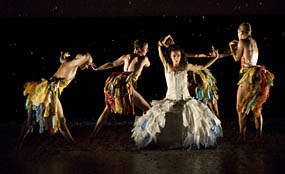 Showcasing diverse styles and perspectives "Different Voices" features an excerpt from "Not About Iraq" by Alpert-Award winning choreographer/filmmaker Victoria Marks that examines government rhetoric, "double-speak" and the outrage that occurs when words lose their meaning. Also on the program are excerpts of new works by artist/activist Ananya Chatterjea, the contemporary dance duos of Nugent + Matteson Dance and Chris Aiken & Angie Hauser, Japanese experimental movement artist Yutaka Joraku and emerging choreographers Christopher Williams and Heather Maloney. "Different Voices" takes place at 8 p.m. Thursday and Friday, Aug. 7 and 8, in Schaeffer Theatre, 305 College St., Bates College.
In addition to main stage performances, the festival offers a selection of free and low-cost events. "Global Exchange: Sharing Across Cultures," a panel discussion with international visiting artists, takes place at 8 p.m. Tuesday, July 22.  Filmmaker and scholar, Joan Frosch screens and discusses her acclaimed film "Movement (R)evolution," a portrait of the vibrant contemporary dance scene in Africa, at 8 p.m. Thursday, July 24, in the Olin Arts Center, 75 Russell St., Bates College.
The festival presents its annual "Musician's Concert," featuring a global mix of music, at 8 p.m. Tuesday, July 29, in the Olin Arts Center Concert Hall, 75 Russell St., Bates College. "Moving in the Moment," a spirited evening of improvisation dance by festival faculty takes place at 8 p.m. Tuesday, Aug. 5, in Alumni Gym, 130 Central Ave. Rounding out the festival's five-week season is the "Festival Finale," featuring dancers of all ages and abilities performing modern, ethnic and jazz dance works by Gabriel Masson, Cathy Young, Gregory Maqoma, Nora Chipaumire and our Youth Arts Program, at 7:30 p.m. Saturday, Aug. 9, in Alumni Gymnasium, 130 Central Ave.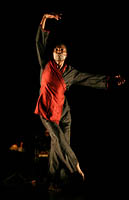 In conjunction with its performances, the festival presents "Inside Dance: Understanding Contemporary Dance," a series of lectures and post-performance talks led by dance scholars Joan Frosch, Debra Cash, and festival director Laura Faure. Offering audiences insight into the artists and their work, a lecture will accompany "Africa/NOW" at 7:15 p.m. Friday, July 25 and Zoe Scofield and Juniper Shuey at 7:15 p.m. Saturday, Aug. 2. Both lectures take place in Schaeffer Theater, 305 College St.  Post-performance talks take place following most Friday evening performances.
Information on tickets, event locations and further details will be available on our website in April at: http://www.batesdancefestival.org
About the Bates Dance Festival
Founded in 1982 at Bates College in Lewiston, Maine, the Bates Dance Festival brings together an international community of contemporary dance choreographers, performers, educators and students in cooperative community to study, perform and create new work. The festival serves as an annual destination for artists, students and audiences to engage in a full range of dance activities and performances that foster a creative exchange of ideas, encourage exploration of new ground and provide the opportunity to experience a wide spectrum of dance/movement disciplines.
View Comments