Bebe Miller Company presents 'Necessary Beauty' at dance festival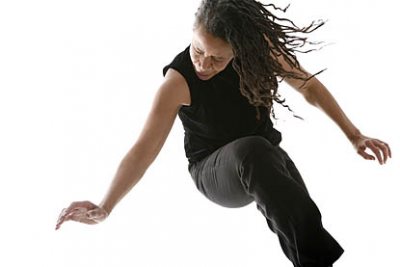 A longtime favorite at the Bates Dance Festival, the Bebe Miller Company returns to Lewiston with the mysterious, visionary piece "Necessary Beauty" in performances at 8 p.m. Friday and Saturday, July 31 and Aug. 1, in Bates College's Schaeffer Theatre, 305 College St.
Tickets are $20 for the general public and $12 for students and seniors and can be purchased by calling 207-786-6161 after July 6.
Additional upcoming festival events — open to the public at no cost, except as noted — include:
The annual "Moving in the Moment" concert, an evening of improvisational dance and music featuring contact improviser Nancy Stark Smith and artists in residence at the festival, at 7:30 p.m. Tuesday, Aug. 4, in Alumni Gym, 130 Central Ave.
"Different Voices," a diverse evening of new works by international and emerging choreographers, at 8 p.m. Thursday and Friday, Aug. 6 and 7, in Schaeffer Theatre, 305 College St. Among choreographers introducing dances are Opiyo Okach (Kenya), Qudus Onikeku (Nigeria), Jennifer Archibald, Kyle Abraham and Adele Myers. Admission is $20 for the general public and $12 for students and seniors.
"Young Choreographers/New Works," an informal, adjudicated showing of more than 20 new works by talented festival students from across the United States, at 1 p.m. Saturday, Aug. 8, in Schaeffer Theatre.
The "Festival Finale" at 7:30 p.m., Saturday, Aug. 8, in Alumni Gym. Admission is $6. Festival participants perform modern, Caribbean and hip hop works by Jennifer Archibald, Tania Isaac, Robert Battle, Mark Dendy and Bebe Miller, along with a new work by Youth Arts Program participants.
Miller, winner of the "Bessie" Award for dance and performance in New York, is considered one of the foremost creative forces in contemporary dance. Her vision is based on faith in the moving body as a record of thought, experience and sheer beauty.
Composed of intimate multimedia segments for five extraordinary dancers, "Necessary Beauty" investigates the convergence of dance, theater, music and digital technology through the rhythm of action and memory.
In creating a work, Miller relies on the interplay of a theme, its physicality and the contributions of company members to fashion its singular voice. Seeking to expand the language of dance, Miller integrates choreography with writing, moving images and digital media. Committed to keeping dance available to a wide spectrum of people, the company is dedicated to opening the creative process and expression to diverse people in a community.
The Bebe Miller Company celebrated its 20th year in 2005. After two decades as a traditional touring dance company, the troupe is now structured as a "virtual company," with members living across the U.S.
New work is developed in long-term residencies that bring BMC dancers and collaborators together for creative exploration, rehearsals and community-based activities. The company has pioneered the use of digital media to provide "process bulletins" that allow participants to communicate effectively.
BMC has toured extensively throughout the U.S. and in eight other countries. The company has been commissioned by the Brooklyn Academy of Music's Next Wave Festival; The Joyce Theater and Dance Theater Workshop, both in New York; the Wexner Center for the Arts at Ohio State University; Walker Art Center in Minneapolis; Jacob's Pillow Dance Festival; Dance Place in Washington, D.C.; and the Bates Dance Festival.
In addition to mainstage performances, the Bates Dance Festival offers a selection of free and low-cost events. Additional information, including ticket prices and event locations, is available on the festival Web site.
– Office of Communications and Media Relations
View Comments