Convocation 2008: Love, food and the liberal arts education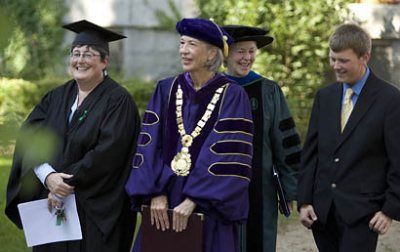 If any of the 550 or so members of the Class of 2012 wondered yesterday just why they were at Bates College, their academic home for the next four years, Margaret Imber had a straightforward answer.
"You are here to fall in love," said Imber, featured speaker at the College's [intlink id="11379″ type="post"]Convocation[/intlink] ceremony and an associate professor of classical and medieval studies.
Under a clear blue sky, Bates staff and upperclass students joined the [intlink id="11383″ type="post"]first-years[/intlink] and faculty on Bates' historic Quad for the ceremony that opened the college's 154th academic year. Imber shared the podium with Dean of the Faculty Jill Reich, student government president Paul Suitter '09, Multifaith Chaplain Bill Blaine-Wallace and President Elaine Tuttle Hansen, who used her turn at the microphone to introduce the yearlong initiative Nourishing Body and Mind: Bates Contemplates Food.
Having tickled her listeners with the L-word, Imber quickly clarified her intent. "The love of which I speak, however, is not romantic — although if you are lucky you will be seduced," she said.
"You are here at Bates to find an idea, a problem, a poem or a project in which you will become interested, and then engaged and finally enthralled."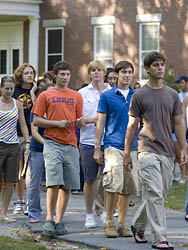 Titled How Not to Fall in Love, Imber's talk employed the rhetorical device "via negativa" — Latin for "negative way" — whose exaggerated arguments supporting one viewpoint actually prove the opposite.
Extending her metaphor equating love with a liberal arts education, Imber offered a few rules for "dating" — that is, pursuing Bates academics. One of her rules for not falling in love, for instance, involves the second date: "If you never call her after the first date, you can be darn sure you're not going to fall in love.
"Similarly, to be sure that you will not find the area of academic study that engages your passion, it is very important that you never re-read anything," a line that drew knowing chuckles from the faculty. "When you read something a second time you understand it better. You notice the subtleties of an argument."
In conclusion, said Imber, "I hope these rules and corollaries help you. If you follow them carefully, you'll find that in four years you'll have … transformed your College education into the equivalent of 'Thinking for Dummies…'
"If you break my rules, however, you may fall in love, and in that love find a transformative experience that will give you the will, and the strength, and the skill to engage the world and change it into a better place."
Following a guidance-heavy orientation weekend for the incoming class, and in contrast to Imber's humorous welcoming gift of a positive message wrapped up in negative advice, President Hansen started her address by telling the new students, "I am going to offer you no advice at all."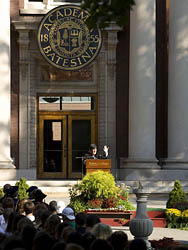 Instead, she reported on strategic developments affecting all members of the Bates community. One was the campus master planning process, whose first phase has found fruition in the [intlink id="3854″ type="post"]new student residence[/intlink] at 280 College St., the [intlink id="3854″ type="post"]new dining Commons[/intlink], the cross-campus [intlink id="6979″ type="post"]Alumni Walk[/intlink] and the repurposing, now under way, of two residences into academic buildings.
"It's time to dust off the plans for the second phase" of the planning process, Hansen said, "and re-examine our options in the light of what we have achieved and what has changed."
Involving what she described as "the more intangible structures that house this dynamic, evolving, ambitious intellectual community," Hansen also brought up the overall planning process for Bates' course into the 21st century. During the past year, drawing on the energies of hundreds of members of the Bates community, this wide-ranging process has generated three categories of initiatives for bettering Bates: ideas for administrative action; for further deliberation and exploration; and for College-wide engagement in the near future.
Hansen invited the participation of the entire campus as these initiatives are refined and considered.
Bates Contemplates Food concluded Hansen's talk. Bates' yearlong examination of food issues, she explained, was inspired by both the opening of the new Commons last February and an anonymous alum's [intlink id="5740″ type="post"]donation of $2.5 million[/intlink] to support the College's purchases of local, natural and organic foodstuffs.
"These circumstances underscore the already outstanding commitment of Bates Dining Services to sustainable local purchasing and operations. Initiated in 1986 — I think that's before some of you were born — ours is one of the longest-running such programs in the U.S.," she said, noting the college's achievements in both the sustainable sourcing of food and Dining Services' recycling of some 80 percent of its waste products.
Fresh from a summer of assigned books about knotty food-supply issues by authors Steve Ettlinger and Michael Pollan (who speaks at Bates Oct. 27), the Class of 2012 received a few additions to the bibliography from the president.
She pointed to Michael Specter's "Big Foot," a February 2008 New Yorker article, as an illustration of the complexity, the lack of ready answers, inherent in making sustainable food choices.
Bates Contemplates Food, Hansen said, would further invite students to ponder such questions as: "Why is a strong and healthy food culture important to both individuals and communities?" and "What is the relationship between how we eat and how we think?"
Providing an entrée into such questions was the centerpiece of Hansen's food discussion, two stories that she held up for consideration. Both illustrated the power of food and dining practices as cultural symbols.
Hansen's extended reading from Virginia Woolf's essay "A Room of One's Own" used vivid comparisons of two university meals — one lavish, one meager — to contrast the status of men and women in the early 20th century.
In sharp contrast to Woolf's stratified social milieu, the second story, of course, was about Bates and its new Commons, which brings into the 21st century the College's long tradition of dining as a community under one roof. The facility, she said, "lies at the center of our campus and of our educational mission. It reminds us that a liberal education prepares a whole human being — heart, body and mind.
"Today, in the high-speed, high-tech, competitive and distracting world where we eat too much and too fast and too often alone, it's critical to assure that thoughtful and ethical human interaction is still at the core of Bates."
View Comments