Kyle McAllister '10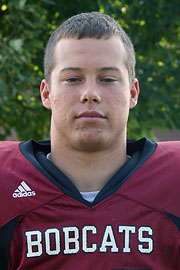 Bates College junior safety Kyle McAllister became the first Bobcat since Terence Ryan '07 in 2005 to capture NESCAC Football Defensive Player of the Week honors Sunday after his starring performance in Saturday's 17-7 loss at Trinity College.
McAllister (Exeter, N.H.) made a game-high 13 tackles, including one for a loss, in the game. The conference leader in interceptions last season with six (for a total of 144 return yards), McAllister also picked off a pass and returned it for 25 yards, and he recovered a Trinity fumble.
McAllister and the Bobcats will play at Tufts University on Saturday at 1 p.m. to try and even their record at 1-1.
Leave a Reply
This is a forum for sharing your thoughts about the preceding post with the public. If you have a question for the author, please email the Bates Communications Office at communications@bates.edu.