Concert offerings hit a crescendo at Bates this weekend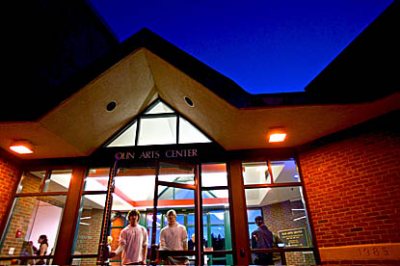 Music lovers might find themselves wanting to camp out at Bates College this weekend, as three concerts in the Olin Arts Center Concert Hall add up to a critical mass of great listening.
William Matthews, a composer and the Alice Swanson Esty Professor of Music at Bates, leads the Bates College Orchestra in a program that includes the premiere of one of his own compositions at 8 p.m. Friday, Jan. 30.
At 8 p.m. the following night, the 2008–09 Bates College Concert Series resumes with a performance by Sérgio and Odair Assad, Brazilian-born brothers who have set new standards of guitar innovation, ingenuity and expression.
At 3 p.m. Sunday, Feb. 1, renowned Maine pianist and Bates artist-in-residence Frank Glazer joins forces with musicians from the Portland Chamber Music Festival for a program commemorating Glazer's first performance of Mendelssohn's Piano Concerto — a debut that took place in 1929, when Glazer was 14.
The Olin Arts Center Concert Hall is located at 75 Russell St. The Bates orchestra and Glazer concerts are open to the public at no cost, but tickets are required. Admission to the Assad Brothers is $10 general admission and $4 for students and seniors. All tickets are available here. For more information, please call 207-786-6135 or or e-mail olinarts@batesedu.
View Comments